If you're considering a new Louis Vuitton InTheGo tote bag, then you're in the right place. In this guide, we go over our initial thoughts to this stunning designer tote bag, style it with different outfits for inspiration, and have pulled together a style and price list for comparison so that you can find the perfect OnTheGo tote bag for you.
History of the Louis Vuitton OnTheGo Tote Bag
The Louis Vuitton OnTheGo tote bag doesn't have a long legacy like the Neverfull or Speedy bag, as it was originally introduced as a new style to Louis Vuitton's armory of bag styles in 2019. The first Louis Vuitton OnTheGo tote bag was the giant monogram reverse monogram colorway in the GM (large) size made from coated canvas.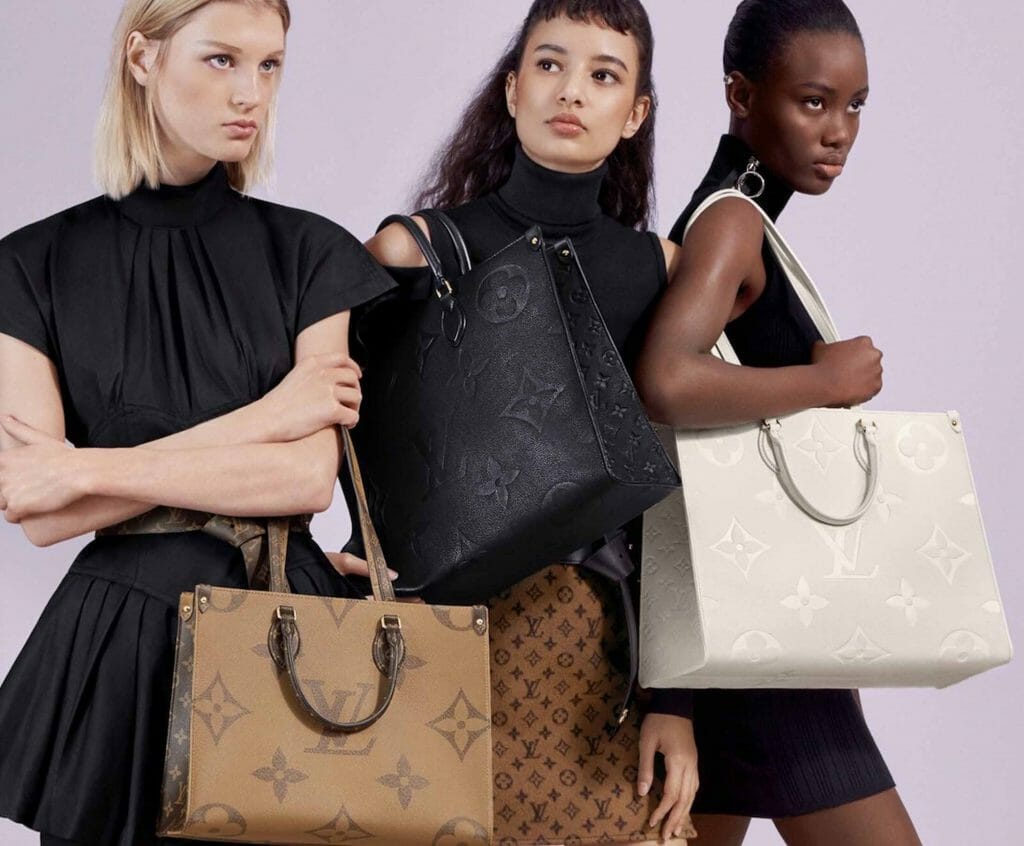 The bag was an instant hit with Louis Vuitton fans, constantly being sold-out and hard to get, however, it soon became clear the GM version of the tote bag was very large. Whilst the OnTheGo GM tote bag is perfect for carrying everything, literally everything, its size makes it feel more like a weekend bag and incredibly large for every day if you don't need to carry large items all the time. There's no doubt that the OnTheGo tote bag is a favourite designer bag to take to work, and it featured as one of the top picks from our top designer bags for work.
Louis Vuitton clearly listened to this feedback and then introduced the MM (medium) size OnTheGo tote bag in February 2020 and is arguably much more popular than the GM size. The MM size bag is a much better size for every day and much more similar to the most popular Louis Vuitton bag ever made – the Neverfull MM.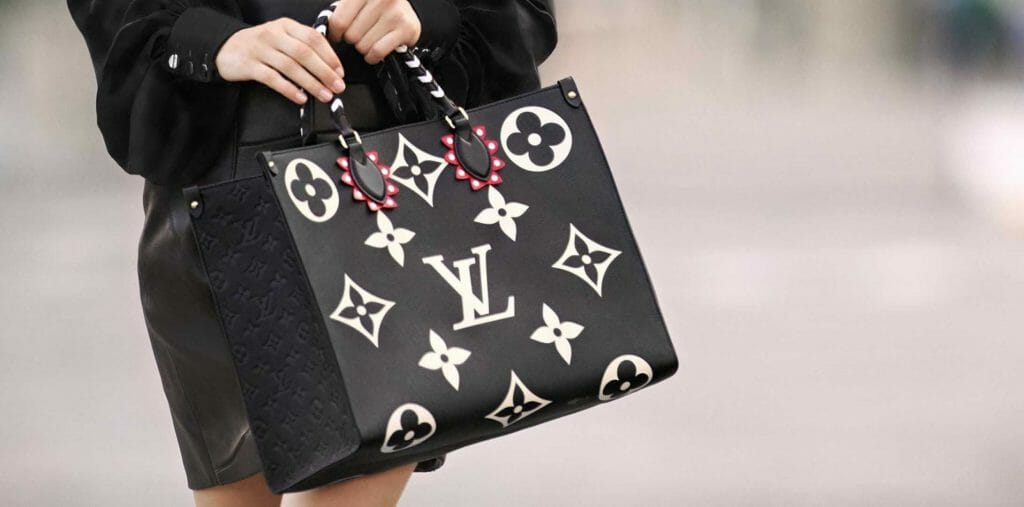 Since the launch of the OnTheGo tote bag, it has been included in nearly all of the limited edition seasonal collections from Louis Vuitton and has been created in many fun, limited edition prints. The OnTheGo bag is now also available in embossed leather at a higher price point than it's canvas counterparts.
Louis Vuitton OnTheGo Tote MM Bag Outfits Video
Watch one of our latest videos on YouTube featuring the Louis Vuitton OnTheGo MM tote bag worn with various outfits for inspiration on how to wear and style the bag.
LV OnTheGo Tote Bag Price + Size Comparison
The Louis Vuitton OnTheGo bag comes in various sizes as well as canvas and leather options.
Louis Vuitton OnTheGo Size Comparison + What Fits Inside
The OnTheGo tote bag is already proving incredibly popular and is currently available in two sizes to cater to different needs and occasions.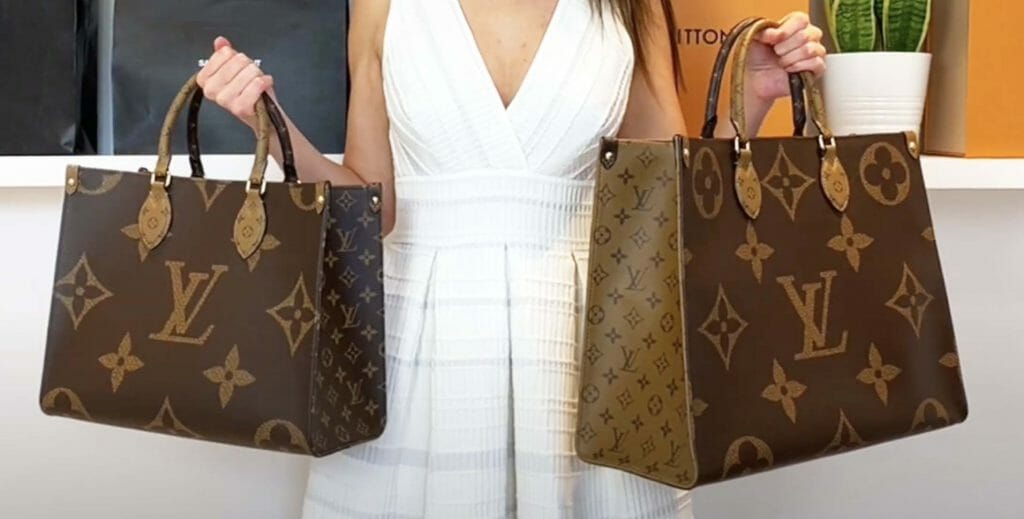 OnTheGo MM Tote Bag
The LV OnTheGo MM is a medium-sized tote bag. The MM OnTheGo tote bag is a very similar size to the Louis Vuitton Neverfull MM and is a medium-sized tote bag. It's perfect for every day and can *just* fit a normal 13″ laptop inside. It makes for a great work bag or bag where you need to carry more than just essentials.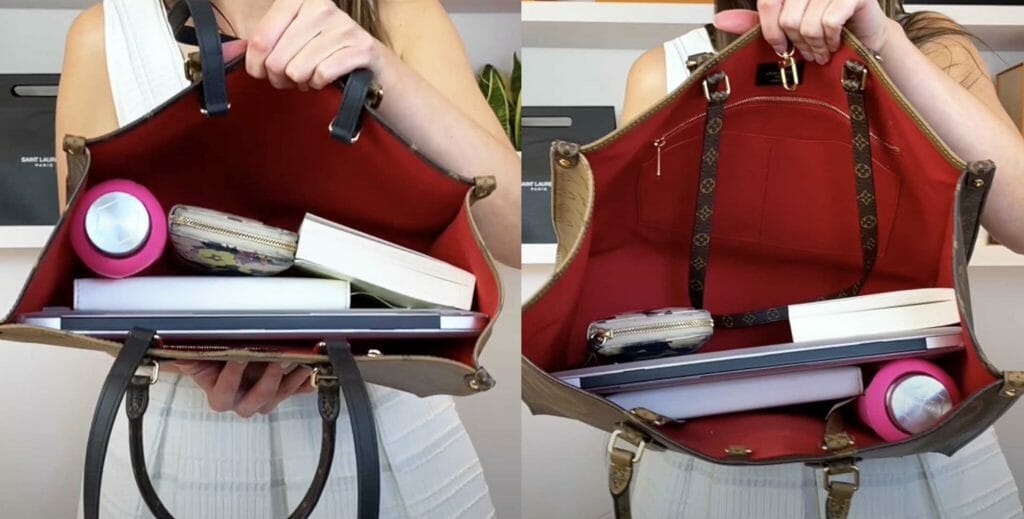 OnTheGo GM Tote Bag
The LV OnTheGo GM is a large size tote bag. The large OnTheGo tote bag is a similar size to the Neverfull GM tote bag. The bags large size makes it borderline a weekend sized bag in our opinion. Because it can carry so much, it does become a very heavy bag but can be incredibly practical and stylish if you need to carry a lot. It will hold a laptop, books, a diary, and a purse with total ease whilst boasting plenty more room.
Louis Vuitton OnTheGo Bag Materials / Canvas Options
The LV OnTheGo tote bag is now available in giant monogram canvas, as well as some limited edition canvas prints, embossed leather and EPI leather.
Which is the best Louis Vuitton OnTheGo Material to get?
Depending on how you plan to use your Louis Vuitton OnTheGo tote bag, there may be some colorways and canvas prints that are preferable to others.
The Giant Monogram reverse canvas version is a good in-between and the most popular, the canvas is a dark brown on one side and a reverse brighter toffee colour on the other. This makes the bag great for working with multiple outfits.
The Empreinte leather versions of the bag are also a great choice for heavy-duty use, in darker colors. Due to the logo being embossed into the leather rather than being printed on, the bag is a little less 'in your face' with its branding, but it still very clearly a Louis Vuitton bag. If you tend to wear more solid colour bags, the Empreinte version of the OnTheGo may be the better option as it comes in a full block colour such as black.
Limited Edition Louis Vuitton OnTheGo Bag Prints
Louis Vuitton generally releases two limited-edition collections every year for spring/summer and autumn/winter. Most limited edition collections feature the OnTheGo bag re-worked with the new, limited edition print.
Often, only one size of the OnTheGo bag will be re-worked with the limited edition print and they often fetch higher than retail value, as they sell out and become rare collector's items. Sadly, to date (July 2020) the GM is the only size of the OnTheGo tote bag that has been worked with a limited edition print – we can't wait to see the MM size included in one of the collections.
Limited Edition Louis Vuitton prints retail at a higher cost than the base canvas models. If you're searching for a limited edition Louis Vuitton bag that is no longer sold, the best places to find one are eBay and Vestaire Collective.
How to Clean and Care for a Louis Vuitton OnTheGo Bag
Taking care of your new designer Louis Vuitton OnTheGo bag is paramount to preserve its good looks, structure, and re-sale value. Here are our top tips on taking care of and cleaning your new designer tote bag.
Regularly wipe the canvas or leather clean. Read our full guide on how to care for Louis Vuitton Canvas here.
Wither the leather handles and straps, always ensure your hands are clean and free of excess oil such as hand sanitizer/lotion.
Use a leather cleanser and conditioner on the leather parts of your bag (the full exterior of the bag if you have an emprinete version).
Get a handbag liner to protect the lining of your new OnTheGo bag.
Use Brasso on any brass hardware to remove dirt and make the hardware much shinier.
Louis Vuitton OnTheGo Tote Bag Organisers
Handbag liners are a must for any designer bag. At just a fraction of the cost of a designer bag, a liner will help your bag to maintain its structure and protect the lining from any unwanted dirt and stains.
Shop the best luxury handbag liners here >
Is the Louis Vuitton OnTheGo Tote Bag a Good Investment?
If you're looking to purchase a Louis Vuitton OnTheGo tote bag, you may be wondering if the bag is a good investment.
It's very clear that the OnTheGo bag is here to stay and won't be out of fashion anytime soon, its timeless style means we think it's a great investment piece. Stick to reverse monogram for the best resale value, due to the leather versions being so significantly more expensive in the first place you may stand to lose more money on a full leather version. If well looked after, your OnTheGo will definitely stand the test of time, as well as getting most of your original investment back when you decide to part with it.
Which is Better, the LV OnTheGo Tote or Neverfull Tote Bag?
We LOVE the quality of the OnTheGo bag, however, it is priced significantly higher than it's main competitor, the Neverfull MM. The OnTheGo tote retails around £800 more than a standard Neverfull tote bag, and the neverfull comes with a detachable pouch (popular for use as a small clutch bag). Therefore, it can be hard to justify the much higher price of an OnTheGo tote bag. Watch our OnTheGo MM Vs Neverfull MM bag comparison on YouTube if you can't decide.
Where to Buy a Louis Vuitton OnTheGo Bag
The best place to purchase a brand new Louis Vuitton OnTheGo bag is directly from the Louis Vuitton website or a store, as Louis Vuitton does not sell via any other store.
If you're looking for a limited edition OnTheGo bag, a version that's currently sold out, or want to make a saving by buying pre-loved, eBay is a great option. Shop Louis Vuitton OnTheGo bags on eBay >