Fell in love with the Chanel Business Affinity bag? We don't blame you, it's one of our favorite Chanel bags for numerous reasons. We've devised the Ultimate Chanel Business Affinity Bag Guide to help you decide if this Chanel favorite is one for you too.
History of the Chanel Business Affinity Bag
First introduced in Chanel's Spring-Summer 2017 collection, the Chanel Business Affinity is now here to stay. The bag features a unique twist on a classic Chanel flap design, with its one-of-a-kind minimal yet feminine look. Boasting a grained leather finish, with iconic quilting and shiny hardware – the Business Affinity is instantly recognizable.
This sophisticated and elegant bag has been so popular that Chanel has now introduced a number of different styles into the Business Affinity line, including the backpack and tote bag.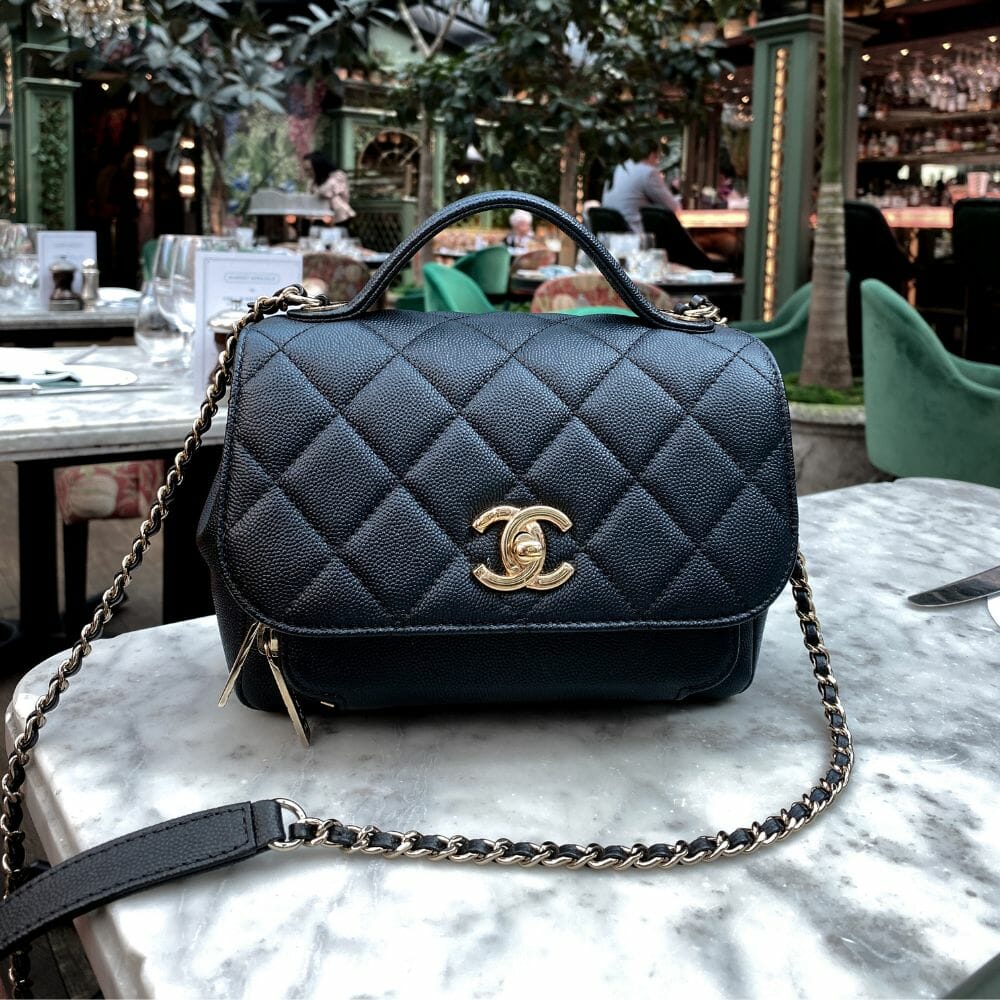 Chanel Business Affinity Sizes and Prices
The Business Affinity is a seasonal Chanel piece, however, due to popular demand, it is a style that is included in many collections. The Chanel business affinity bag comes in four different sizes which now include a business affinity woc (wallet on chain), a mini size (sometimes called small), a medium, and a large size. The best way to identify a size is to count the number of quilts on the front of the bag.
Since this is a seasonal bag, you might be wondering how much is the Chanel business affinity bag? Discover the full range of Chanel Business Affinity bags, complete with a current price list for 2023. All prices were correct as of June 2022. All prices refer to leather versions of the bags, other fabrics will vary in price. 
Chanel Wallet on Chain Business Affinity, Size
Chanel Small Business Affinity Flap Bag with Top Handle, $4,600
Chanel Medium Business Affinity Flap Bag with Top Handle, 17 x 23 x 8 cm $4,900
Chanel Large Business Affinity Flap Bag with Top Handle, 20 x 27 x 12 cm $5,300
| | | | | |
| --- | --- | --- | --- | --- |
| Image | Size | Price $ | Price £ | Dimensions |
| | Wallet On Chain | unknown | unknown | 15.5 x 10.5 x 4 cm |
| | Mini | $4,600 | £ | 14 x 19 x 7 cm |
| | Small | $4,900 | £ | 17 x 23 x 8 cm |
| | Medium | $5,300 | £ | 20 x 27 x 12 cm |
| | Backpack | $ | £ | |
Watch my Chanel Business Affinity Bag Size Comparison video to help decide which size is right for you.
Pros & Cons Of The Chanel BA Bag
The Chanel Business Affinity is currently one of the most desired Chanel bags. In comparison to the Classic Flap, the price point is a lot more reasonable; making it one of the more attainable Chanel bags available.
Undoubtedly one of the best features of the Business Affinity is that it can be worn in three different ways. You can simply use the top handle to use it as a hand-held bag and on the larger size place it on your arm. The bag also comes with a long non-detachable shoulder strap, which can be worn crossbody or on the shoulder.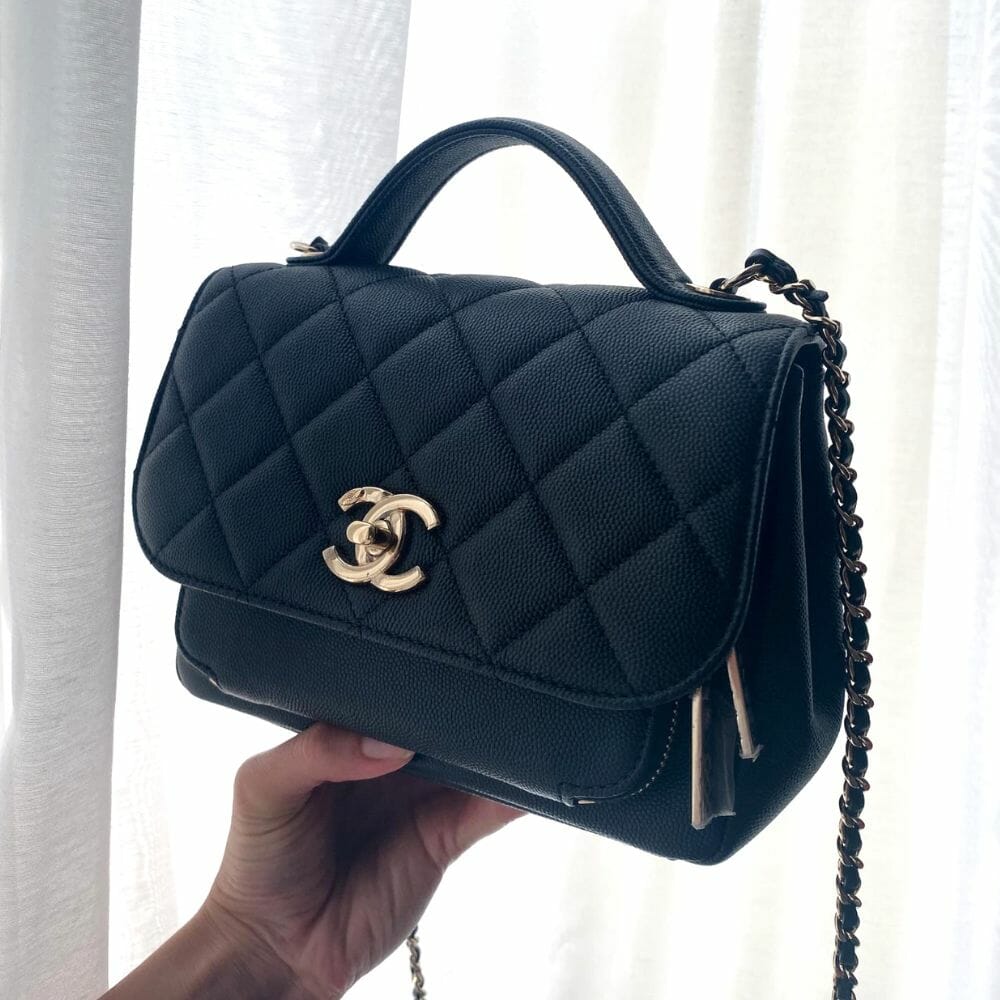 Not only is the Chanel Business Affinity an elegant and classy bag, but it is incredibly practical. There are multiple compartments and pockets within the bag; perfect for those who like an organized handbag. Additionally, the bag can be expanded when full using the poppers on the side.
However functional the Chanel Business Affinity may appear, it does come with its potential drawbacks. Although the front pocket detailing is one of the main characteristics of the bag, some may find that the bag actually falls over due to the actual weight of this feature. To resolve this issue we recommend that you purchase a bag hook, so your bag can be safely hung from any table. In addition to this, it is important that you make the right purchase for yourself with regard to the size of the bag. This is important as if the Business Affinity is over-stuffed, the flap closure will not close, and the bag itself could potentially lose its shape over time.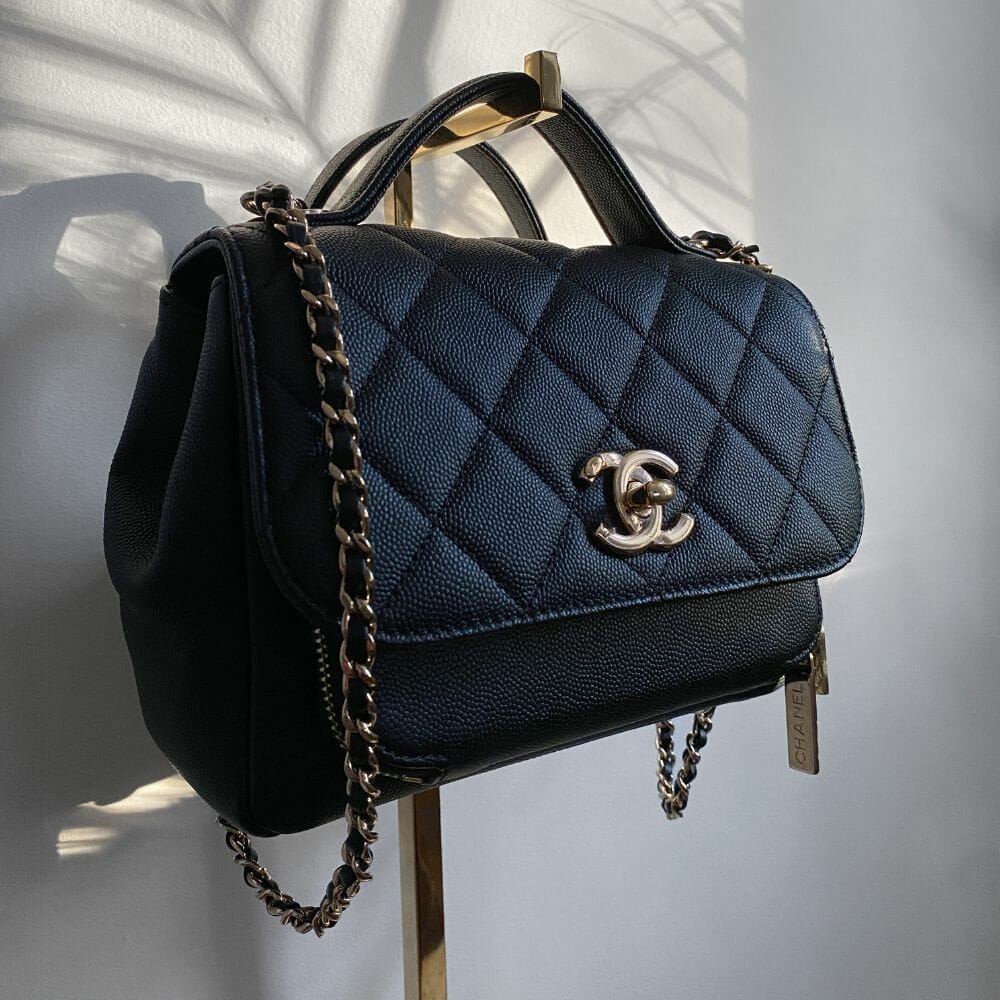 Is The Chanel Business Affinity Bag Discontinued?
So, is the rumor true that the Chanel Business Affinity Bag is being discontinued? No, however, it is a seasonal bag. As the Business Affinity is a seasonal piece, is it not deemed a main-line 'classic', therefore it depends if the bag style is included in the current season collection. Additionally, colors and sizes of the Business Affinity will vary depending on the season and the collection. Often, the business affinity will not appear on the Chanel website but can only be obtained via a Chanel boutique.
Much like other Chanel bags, the Business Affinity has become a good investment when it comes to handbags, due to its exclusivity.
Chanel Business Affinity Fabrics
The Chanel Business Affinity is a style that is only available in caviar leather. Chanel's caviar leather is a pebbled calfskin and is a highly durable material. This makes the Business Affinity a perfect bag for everyday use. Although caviar leather is hardwearing, it is important to mention the possibility of colour transfer on light-colored bags.
Watch our video review on the Chanel Business Affinity, including a close-up and personal look at what we love about the Business Affinity, what fits inside, and some outfit styling.
What do you think of your Chanel Business Affinity? Let us know in the comments of this video.
Where To Buy A Chanel Business Affinity Bag
To purchase a brand new Chanel Business Affinity Bag you need to visit your local Chanel Boutique. Much like other bag styles, the Business Affinity is becoming increasingly hard to get directly from Chanel due to popular demand, and minimal stock. However, if buying new is your preferred option, your local Chanel boutique can add you to the waitlist for the Business Affinity. For more options read our blog about where to buy a Chanel bag.
Preloved is a good option when it comes to the Business Affinity, as discontinued colours are more readily available on this market. When shopping for pre-loved luxury, ensure you are using a reputable site such as eBay or Vestiaire Collective. Likewise, it is also important to ensure you are getting your pre-loved bags authenticated by a reputable authentication service for protection and peace of mind. You can find our list of recommended authentication services here for further details.