Louis Vuitton starting using product codes in the early 1980s. A Louis Vuitton date code tells you when and where the bag was made. The date code can be an indicator of the authenticity of your Louis Vuitton bag.
A date code does not guarantee the authenticity of your Louis Vuitton handbag. This free Louis Vuitton Date Code Checker will help you to find out where your Louis Vuitton bag was manufactured and when.
FREE Louis Vuitton Date Code Checker
How do I check that my Louis Vuitton bag is Authentic?
Checking the date code is one way to determine if a bag is fake, however, this is not the only method. Checking the code is a good start, but you should also seek the opinion of a professional when in doubt. This site does not guarantee the accuracy of results, or that your Louis Vuitton handbag is authentic.
Discover the best authentication service providers here.
Louis Vuitton Country and Date Codes Explained
Louis Vuitton serial codes tell you when the bag was made and where. The date code does not guarantee the authenticity of the bag (they can be faked and aren't unique to each bag), but they are a great way to tell where the bag was originally made and when.
The date code is generally made up of two letters and four numbers eg. 'AR1108'. AR = Made in France. The first and third number indicates the WEEK the bag was made, this example equals the 10th week. The second and fourth number equals the year, this example is 18 (2018). This example would have been made in France on the 10th week of 2018.
Louis Vuitton Serial Codes and Factories
France A0, A1, A2, AA, AAS (Special Order), AH, AN, AR, AS, BA, BE, BJ, BU, DR, DU, CO, CT, ET, FL, LM (2019 onwards), LA (2019 onwards) LW, MB, MI, NO, RA, RI, SA, SD, SF, SL, SN, SP, SR, TJ, TH, TR, TS, TY, VI, VX
Germany LP
Italy BC, BO, CE, FO, MA, PL, RC, RE, SA, TB, TD, NZ
Spain BC (2015 onwards), CA, JJ (mostly straps), LO, LB, LM, LW, GI, UB
Switzerland DI, FA
USA FC, FH, LA, OS, SD, TX, FL
MISC DK – Relined and replaced items
This Louis Vuitton serial code table was last updated November 2020.
My Louis Vuitton Bag Doesn't have a Date Code – Is it a Fake?
Not all Louis Vuitton bags feature a serial or date code, there are a few reasons why it might not have one:

1) The date code was stamped originally but it has now rubbed off
Some date codes are stamped in a gold foil which can be rubbed away with general wear and tear. This may happen if the bag is older and has been heavily used. Date codes may be embossed into the leather and sometimes these aren't very deep depending on the heat press. They should be eligible but sometimes can fade. If they weren't very deeply embossed in the first place they can be hard to read as the bag gets older. Louis Vuitton Alcantra lining is known to wear and in some cases, this makes the serial code illegible and extremely hard to find.

2) Louis Vuitton bags manufactured before 1980 will not have a serial code.
Where can I find the Date / Serial code on my Louis Vuitton bag?
Finding the date code in your Louis Vuitton bag might be tricky, as they are located in different areas on different styles of bags. All date codes will be one of the below:
On a leather tab stitched into the lining of the bag and will be embossed into the leather tab.
The leather tab may be stitched into a pocket. Open out your pockets and feel for the leather tab.
Embossed directly on to the fabric of the bag often along a side seam.
On exterior leather strap close to a brass hinge.
Date code on Louis Vuitton wallets will be stamped on the inner edge of the notes compartment.
In Louis Vuitton agendas they will be stamped under the flap nearest to the seam
Louis Vuitton Date Code Locations on the Most Popular Bags
Louis Vuitton Speedy bag – The date code is located inside. Lift up the internal pocket and you'll see the code stamped on a leather tab.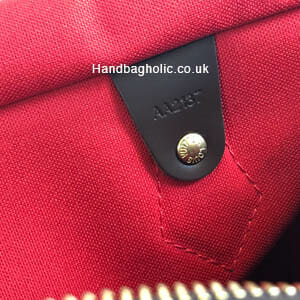 Louis Vuitton Neverfull bag: The date code is located inside the bag. Lift up the internal zipped pocket at the top on the right-hand side, you will find the date code stamped on a leather tab.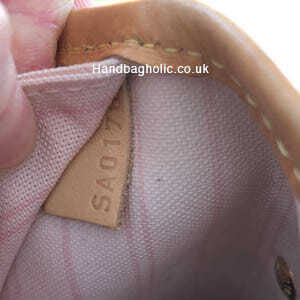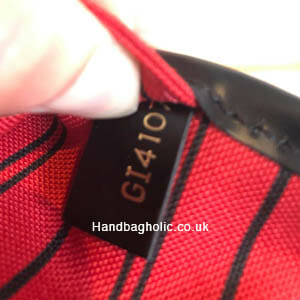 Louis Vuitton Pochette Metis bag: The date code is located in the metis on the right-hand side inside the zipped pocket on the back of the bag.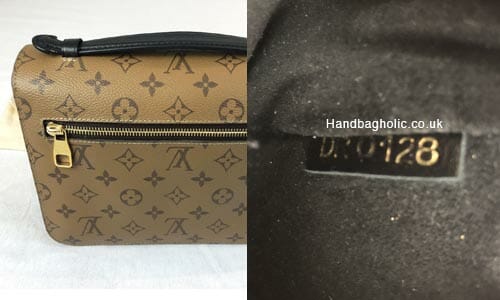 Louis Vuitton Artsy bag: The date code is located on the fabric of the lining inside one of the wall pockets. The artsy bag does not feature a leather tab.
Louis Vuitton Toiletry Pouch 26: The date code is embossed into the leather lining of the bag, along one of the side seams near the top.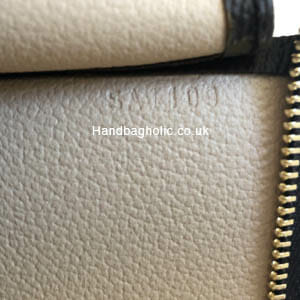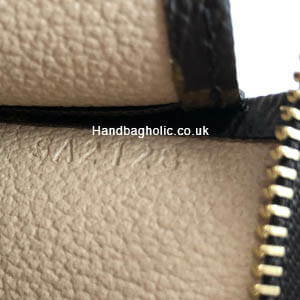 Louis Vuitton Palm Springs Mini Backpack: The serial code is located inside the bag. Feel inside the interior pocket on the back of the bag, the leather tab will be on the right-hand side.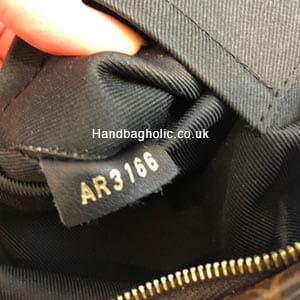 Why buying an authentic Louis Vuitton bag is better than a counterfeit or replica
Purchasing a designer handbag, such as a Louis Vuitton bag, it's important to do the correct due diligence to make sure your handbag is authentic. Here at Handbagholic we strongly believe authentic items can be fantastic investments, and we strongly disagree with the counterfeit market. Counterfeit items help to fund things like child trafficking, drugs, and criminal gangs. We advise saving hard and reaping the rewards of your hard work when you do finally get your dream designer handbag. Purchasing a second handbag can also make them a lot more affordable, payment plans may be available as well as credit via PayPal when required. Other points to note:
Counterfeit items are most likely of inferior quality, both in terms of the materials used and workmanship.

Counterfeit items are illegal, you cannot and should never sell them making their re-sale value £0.

If you try to re-sell a counterfeit item you're breaking the law and may be punishable by law.

You may be funding illegal activity when purchasing a replica designer handbag.

Fake designer bags are often spottable to the trained eye, bad replicas are much more easily noticed.
Why you should buy an authentic designer handbag
You're buying some of the best materials and workmanship in the world.

You can re-sell your designer handbag when you're ready. You can also often re-cooperate a good amount of the initial cost of the bag if the bag is still in good condition.

Top tip – always keep your documents for your designer handbag safe, such as receipts, authenticity cards and any accessories that it came with.

You won't be fueling any criminal sources.

You can wear your new designer handbag with pride knowing that it's the real deal!
How to find out if your Louis Vuitton bag is Authentic or Fake
The best way to guarantee the authenticity of your Louis Vuitton handbag is to purchase the bag directly from Louis Vuitton. Louis Vuitton do not sell via third parties, you can only buy their bags directly from their online store or stores across the world.
If you have purchased a second hand Louis Vuitton handbag…
Always look for the serial code on your Louis Vuitton bag and make sure it matches the 'made in' tag. For example, if your bag says 'Made in Spain', it should feature a serial code from Spain (e.g. CA). Date codes aren't hard to fake therefore it's important you still get your bag authenticated if you have doubts.
Here at Handbagholic we have years of experience handling authentic designer handbags and make sure all our bags come with the correct paperwork and authenticity certificate to give you peace of mind. Always purchase from a reputable re-seller of designer handbags, or use a professional authentication service (See our list of the best authentication services here) to get professionals to review and give their professional verdict on the authenticity of your new designer handbag.