History of the Chanel Classic Flap Bag
The story of the Chanel Classic Flap bag began in February 1955, when Gabrielle Coco Chanel revolutionized the fashion industry with a groundbreaking new bag design. In the 1950s it was common for women to have hand-held bags, and Gabrielle Chanel saw a need for comfort and practicality. The original Classic Flap also known as the 2.55; (a homage to the date it was originally created) featured a chain shoulder strap, which was incredibly innovative of the time. The bag was originally crafted in jersey fabric, with the iconic matelasse quilting throughout, and double flap.
The original 2.55 has been re-designed over the years, most significantly during the 1980s. Karl Lagerfeld re-designed the Classic Flap into an all-leather bag, and changed the Mademoiselle lock to the iconic interlocking CC clasp.
Over 75 years later, the Chanel Classic Flap remains a truly iconic piece within fashion.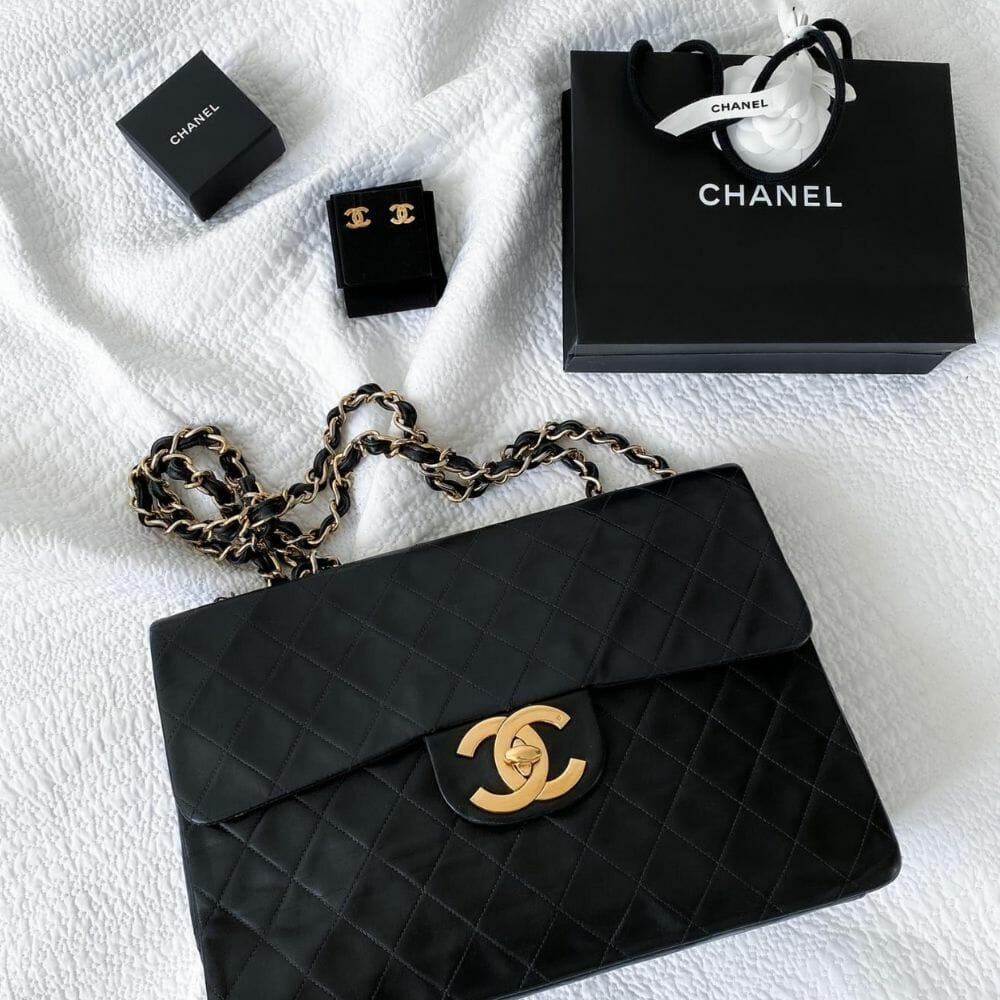 Chanel Classic Flap Sizes and Prices
Discover the full range of Chanel Classic Flap bags, complete with a current price list. All prices were correct as of June 2022. All prices refer to leather versions of the bags. Tweed and other fabric prices will vary.
Chanel Mini Square Flap Handbag, £3190, $, 13.5 x 17 x 8 cm
Chanel Mini Rectangular Flap Handbag, £3360, $, 12 x 20 x 6 cm
Chanel Small Classic Flap Handbag, £6510, $8200, 14.5 x 23 x 6 cm
Chanel Medium Classic Flap Handbag, £6930, $8800, 15.5 x 25.5 x 6.5 cm
Chanel Jumbo Classic Flap Handbag, £7475, $9500, 19.5 x 30 x 10 cm
Chanel Maxi Classic Flap Handbag, £7935, $10000, 23 x 33 x 10 cm
What is the most popular size of Classic Flap Bag?
As the Chanel Classic Flap bag comes in multiple sizes, you may be asking which is the most popular size? When it comes to the Classic Flap, the medium size in caviar leather tends to be the most coveted. The medium tends to be the most popular, as the small size is a little too compact for everyday use. Despite this, there isn't a huge size difference between the small and medium, due to the nature of the double flap itself; the Classic Flap is small but perfectly formed. 
Why Is The Classic Flap so popular?
The Chanel Classic Flap remains at the forefront of iconic handbags within the luxury world. Since its debut in 1955, the bag has had multiple design adjustments over the years, to become the Classic Flap we all know and love today. The bag in its multiple sizes, and colour-ways has been worn by countless celebrities throughout the decades and remains timeless.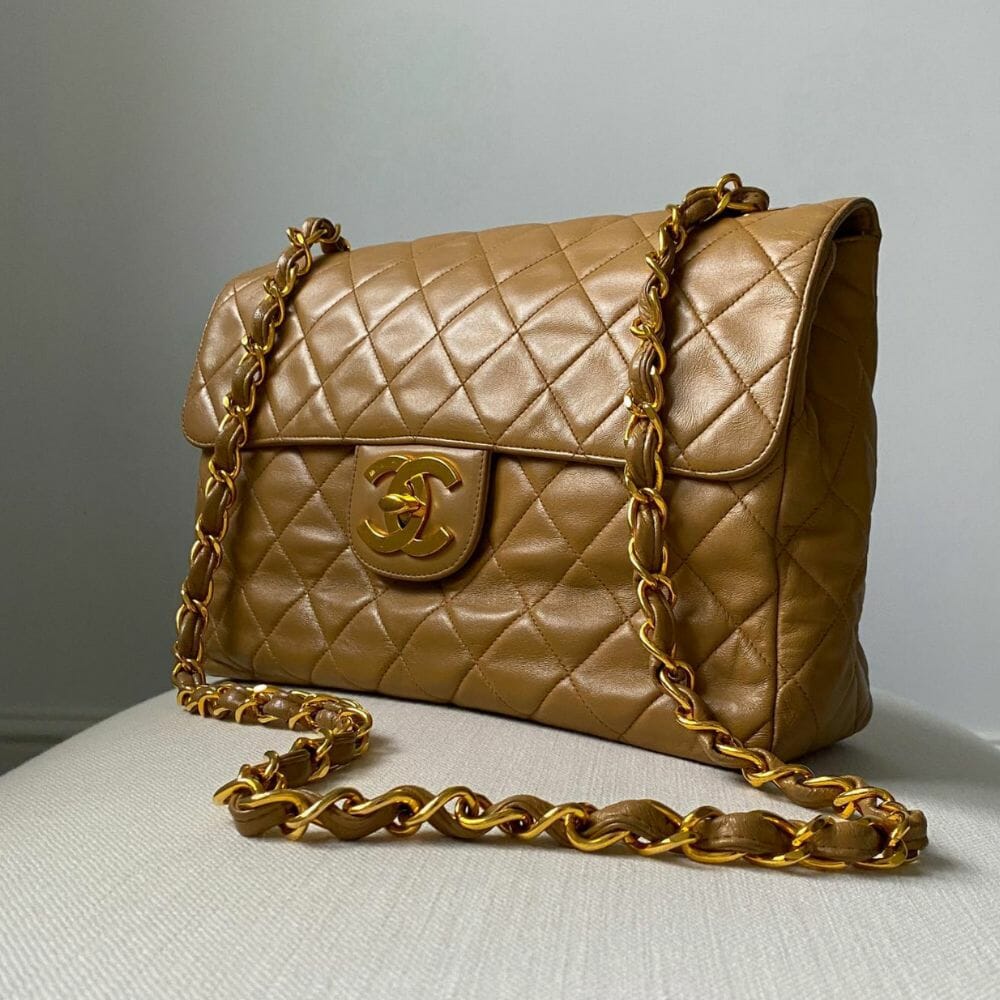 Quality is key when it comes to luxury fashion and leather goods. Due to the extensive and meticulous construction process of the Classic Flap, Chanel simply cannot keep up with customer demand. Therefore waitlists are common, which in turn creates even more desirability.
The combination of Chanel's high level of craftsmanship, quality materials, and exclusivity ensures that the Classic Flap remains one of the most popular handbags to be ever made.
Chanel Classic Flap Leather / Fabric Options
The Classic Flap bag is available in a variety of different fabrics; the most popular fabric being leather.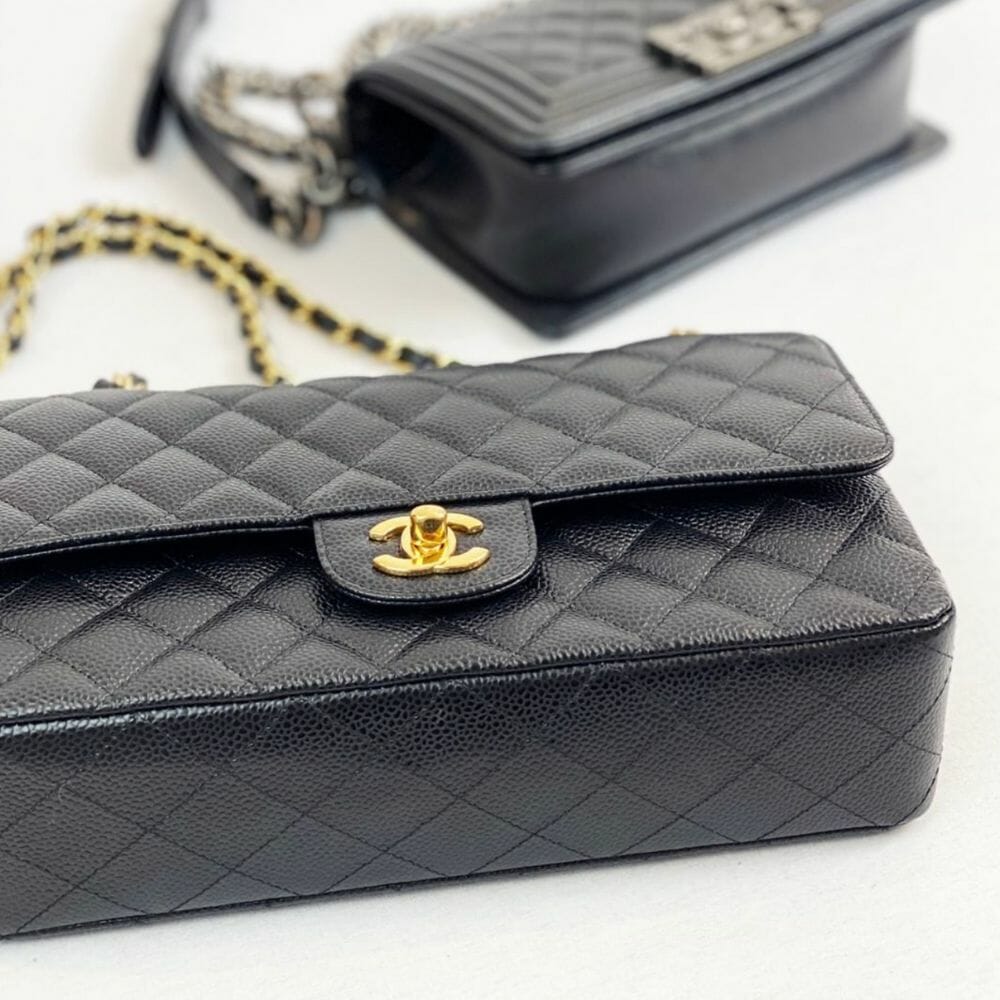 Chanel Bag Leathers
When it comes to the Chanel Classic Flap, there are two variations when it comes to leather; lambskin and caviar. Both of these different types of leather have different properties and characteristics, which can alter the style and look of the bag itself. Like all natural materials, the leather (both caviar and lambskin) can vary ever so slightly from season to season.
Lambskin leather is sometimes deemed the most classic option when it comes to Chanel. Lambskin has a smooth, shiny finish, known for its buttery soft feel and appearance. Despite lambskin's reputation of being incredibly delicate, it is more durable than you may originally think, especially in a smaller size bag. However, it is still not best suited for daily use.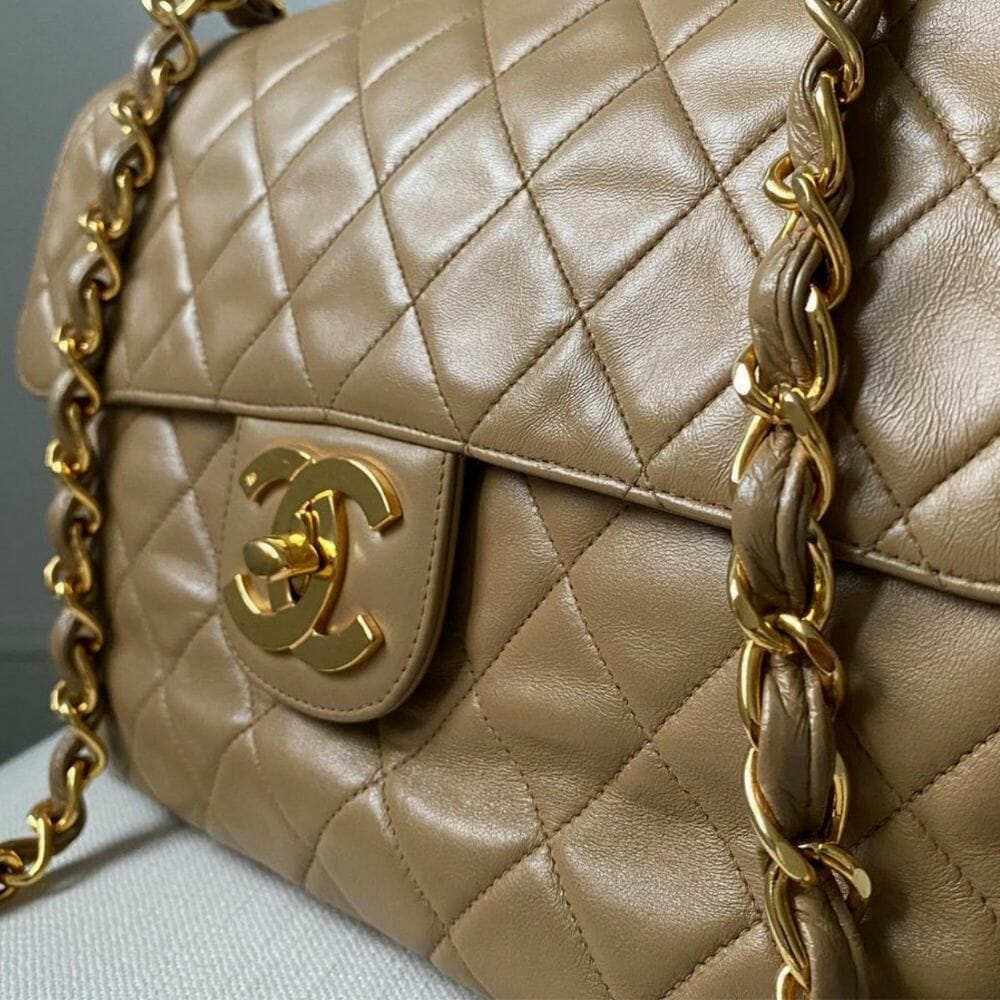 Caviar leather on the other hand is an incredibly durable and carefree leather. Made from a pebbled calfskin, caviar leather is perfect for those looking to use their Classic Flap on a regular basis. Caviar leather can come in a few different finishes, such as matte, soft and shiny.
As there are two leather options for the Classic Flap, which is the better option? It definitely comes down to personal preference when it comes to leather choice, however, you do need to factor in how you plan to use your bag. Generally speaking, if you are considering lambskin – the larger the surface area, the more prone to wear and tear the bag will be. Therefore smaller styles of the Chanel Classic Flap may be more suited to the lambskin leather, as the smaller the bag, the easier to care for! Caviar on the other hand, is suited for everyday use and has a better resale value due to this. 
Exotic Leathers
Although Chanel announced in December 2018 that they will no longer use exotic leathers in their collections, Classic Flap bags in a variety of exotics can still be found on the pre-loved market. Exotic skins that have been previously used include, python, lizard, crocodile, and stingray.
Fabrics
Gabrielle Chanel originally made the Classic Flap in a jersey fabric, a material that Chanel still produces bags in. The bag is actually produced in multiple fabrics, ranging from soft jersey, canvas, and denim. The most popular fabric choice tends to be tweed – which Chanel is well known for incorporating into their collections, and the Classic Flap is no exception.
Classic Flap Hardware options
Chanel Classic Flap bags come in Gold and Silver tone hardware options. More recently, champagne gold hardware (sometimes known as light gold) has been introduced into current collections. Pre-2008, Chanel plated all their hardware with real 24k gold, however, the hardware is now simply gold-toned. Occasionally Chanel introduces a new hardware colour way including brushed gold for seasonal pieces. The coveted 'so black' and 'rainbow' hardware has been featured in previous collections.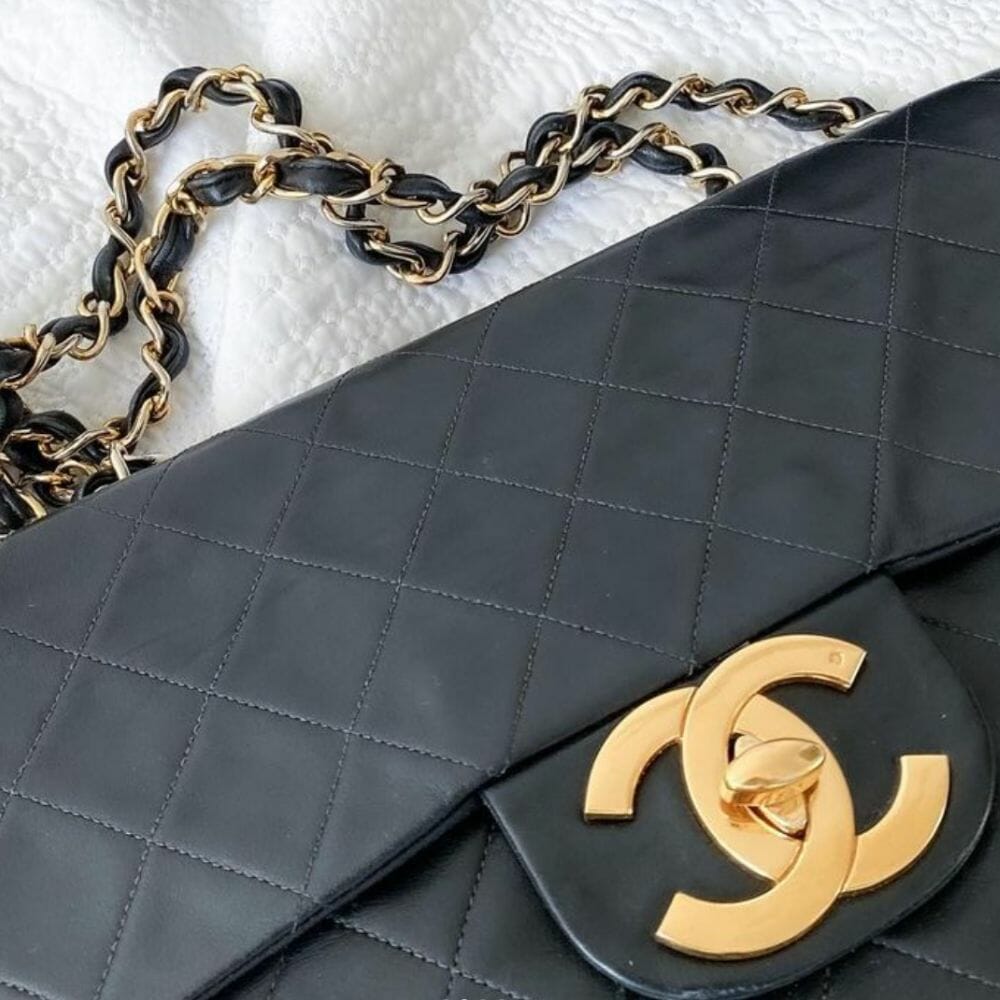 Difference Between Single Flap and Double Flap
What's the difference between a single and double-flap bag? Single flaps are simply bags with just a single, exterior flap. The double flap has an additional flap inside the bag to conceal the contents, as well as to add some additional structure to the bag. Chanel no longer produces single-flap bags (other than mini's), so these are now in higher demand on the pre-loved market.
So which is the better option? It is totally down to personal preference when it comes to single or double flap Chanel bags. Generally speaking, the single flap bags tend to be significantly lighter to use on a day-to-day basis – especially when it comes to jumbo Classic Flap. The double flap tends to add additional weight to the bag due to the extra leather used in construction. Double flaps are also sometimes described as harder to get into and use, as you have to hold open two flaps, instead of one, to access the contents of your bag. This is something to consider when choosing your perfect Chanel bag. 
Pros and Cons of the Chanel Classic Flap Bag
The Chanel Classic Flap is one of the most iconic handbags in the world. A signature of the House of Chanel, and a true classic and timeless piece. Classic Flap bags are incredibly versatile in how they can be worn, and come in multiple variants when it comes to size, material and colour; there is a perfect bag for everyone.
Despite the ever-increasing price, the Chanel Classic Flap retains its value incredibly well. With prices increasing 1 – 2 times a year, you are almost guaranteed to get your money back (if not more), if you did decide to sell your bag in the future, making it easily one of the best investment bags in the luxury market. See our blog post on the Best Chanel Bags To Invest In (COMING SOON).
So are there any downsides to Chanel bags? Luxury bags all come with their minor drawbacks, and the Classic Flap is no exception. Chanel prices are constantly on the rise, and the Classic Flap bags are at the forefront. The price of a medium Classic Flap in 1990 was $1150, and today is $8800, and this doesn't seem to be slowing down anytime soon. See the Chanel 2023 price increases in further detail here. 
Alongside the price increases, the demand for these bags is constantly increasing. The sheer popularity of the Classic Flap is starting to have an impact on Chanel's production, and they simply cannot keep up with demand whilst maintaining superior quality. You may now find yourself having to put your name down on a wait-list for your dream Classic Flap bag, due to exclusivity.
Although price increases may make the Classic Flap a great investment piece, customers now expect the quality to surpass that of a bag produced a number of years ago. However, as of late it seems that the quality of Chanel Classic Flap bags has generally decreased. Some Chanel lovers have reported quality control issues, including popped stitches, tarnished hardware, uneven alignment, and inconsistent stitching to the quilting. In addition, the decline in quality may not quite match up to customers expectations when it comes to purchasing a luxury bag, and certainly doesn't reflect the price tag.
What do you wear with a Chanel classic flap bag?
The beauty of the Chanel Classic Flap bag is that it elevates any outfit, from a casual look to occasion wear. As the bag is such a timeless and iconic piece, it can look great with a casual sports luxe look, as well as a classic tailored outfit. The Classic Flap looks amazing paired down with denim jeans, a simple white t-shirt, and loafers for a casual yet polished.
Watch our video review on the Chanel Classic Flap Bag, including a close-up and personal look at what we love about the Chanel Classic, what fits inside, and some outfit styling.
What do you think of your Chanel Classic Flap Bag? Let us know in the comments of this video.
Where to buy a Chanel Classic Flap Bag
To purchase a brand new Chanel Classic Flap bag you need to buy one directly from a Chanel Boutique. However, unless you already have an existing and strong relationship with a SA (Sales Associate), Classic Flap bags are becoming increasingly hard to come by in boutiques. It is strongly advised to visit your local boutique and join the waitlist, as these can be common for the most popular sizes, the small and medium, particularly in black caviar. For more options read our blog about where to buy a Chanel bag.
Buying a Chanel Classic Flap Bag Pre-Loved
Chanel price increases have had a huge impact on the pre-loved market. Long gone are the days in which you could find a Classic Flap for less than retail on the pre-loved market.
However, if you are looking for a past season colour-way, or sold out combination the pre-loved market may be your best option. When it comes to pre-loved luxury bags, we strongly recommend shopping via reputable resellers on eBay and Vestiaire Collective. When purchasing any pre-loved designer bag, always ensure to get it authenticated by a reputable authentication service for peace of mind and protection. See our list of recommended authentication services here.
Vintage Chanel Classic Flap Bags
Many avid Chanel collectors are convinced that the vintage Classic Flap bags are of far superior quality than those produced today, due to their 24k gold plated hardware. With Chanel prices rising, the vintage market is becoming increasingly popular. Currently, 1990s bags are becoming more and more popular, in particular the jumbo and maxi Classic Flap with oversized logos. This is why we love to shop via reputable resellers on eBay.
Which do you prefer the vintage or modern Chanel Classic Flap Bag? Let us know in the comments of this video.
To buy a modern Classic flap bag in similar proportion sizes to the vintage classic flap bags (which tended to be bigger), you'd be looking at paying $9,000 for a new one (jumbo size), Vs around $4-5000 for a vintage version. There's also an argument for vintage bags being of higher quality, but they will have seen wear and tear over the years, so we say go for the bag which you find more beautiful.