This blog is your Ultimate Chanel Trendy Bag Guide, we cover all the pros and cons of the Chanel Trendy Bag so that you can make your luxury purchase in confidence. Discover the different sizes, fabrics, and history of the Chanel Trendy bag in this blog.
History of the Chanel Trendy Bag
The Chanel Trendy CC Bag was first launched in Chanel's Spring 2014 collection and instantly became one of the most coveted and sought-after Chanel bags. Initially, the Trendy bag was only a seasonal piece, however, driven by huge demand, the bag now remains in Chanel's permanent collection.
A must-have for all avid Chanel collectors, the Trendy CC bag features all the classic elements of the Classic Flap, with a luxurious and modern twist. But what makes the Chanel Trendy so sought after? The signature gold plate with the house's name engraved is irresistible; a true twist on a classic. This iconic and statement hardware has proven so popular that Chanel has now introduced a number of different styles into the Trendy line, including the Wallet on Chain, and Bowling
Watch my video review on the Chanel Trendy Bag, including a close-up and personal look at what we love about the Chanel Trendy, what fits inside, and some outfit styling.
Chanel Trendy Range Price and Size
The must-have Chanel Trendy CC is priced only slightly lower than the Classic Flap bags. Discover the full range of Chanel Trendy bags, complete with a current price list. All prices were correct as of June 2022. All prices refer to leather versions of the bags, other fabrics will vary in price.
| | | | | |
| --- | --- | --- | --- | --- |
| Image | Bag | Price $ | Price £ | Dimensions |
| | Chanel Trendy CC Wallet On Chain | $ | £ | |
| | Chanel Mini Trendy CC | $ | £ | |
| | Chanel Small Trendy CC | $ | £5800 | 17 x 25 x 12 cm |
| | Chanel Medium Trendy CC | $ | £ | 19 x 30 x 12 cm |
| | Chanel Large Trendy CC | $ | £ | 26 x 31 x 16 cm |
Chanel Trendy Leather / Fabric Options
Crafted only in Lambskin leather, the Chanel Trendy CC has a truly luxurious feel. However, it is important to note that lambskin is a much more delicate leather from Chanel, and can be prone to marks and scratches. So be sure to handle your Trendy CC with care, as unfortunately it is not produced in caviar leather.
Although the Chanel Trendy only comes in lambskin leather, it does come in two variations of quilting. For those wanting a slightly different take on the classic Chanel look, the Trendy CC comes in a chevron-quilted pattern, as well as the classic diamond quilting. The classic and chevron quilting are equally in demand when it comes to the Chanel Trendy.
Occasionally Chanel has introduced a fabric variation of the Trendy CC. The Trendy bag has been produced in fabrics such as jersey and denim but has yet to be seen in a tweed variation. However, it is important to note that the fabric variations of the Trendy bag are seasonal pieces, and therefore not always available.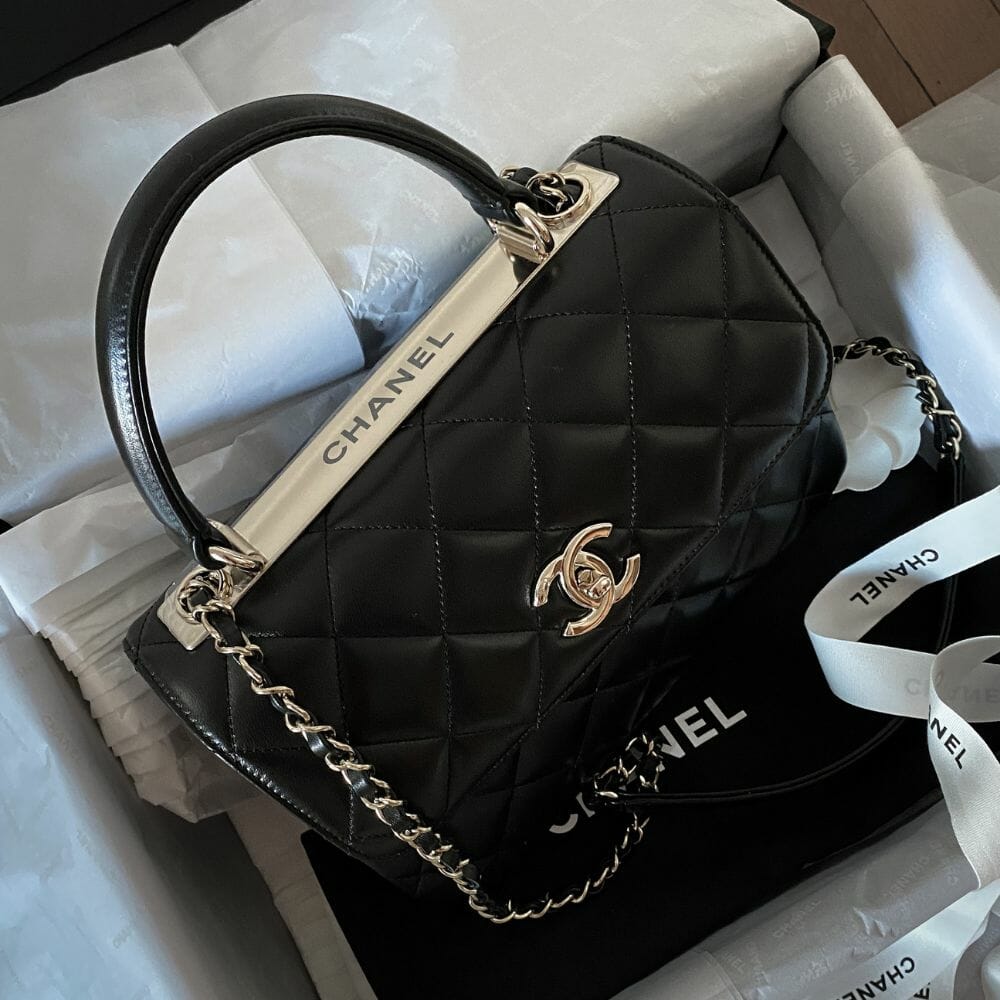 Pros and Cons of the Chanel Trendy Bag
Why is the Trendy CC bag so sought after? The Chanel Trendy has all the beautiful and iconic characteristics of the Classic Flap with some more modern additions. The classic puffy and luxurious quilting is synonymous with Chanel features on the Trendy CC bag, as well as the interwoven chain strap we all know and love. It could be said that the Chanel Trendy has pros over the Classic Flap, as it has multiple compartments, and a top handle. The bag itself comes with 3 internal compartments, which are fairly roomy for a Chanel bag and perfect for organisation. Despite these additional compartments, you cannot quite fit any bulky items inside the bag such as a water bottle as they are not wide enough.
PROS
Simple yet classic look makes it an easy bag to style and wear
3 internal compartments for organization
Large top-handle suitable to wear with knitwear / coats
Easy to use, the turn lock is smooth and the bag is easy to get in and out of, whilst remaining secure
Lined with luxurious leather
Multiple sizes
The versatility of how the Chanel Trendy bag can be worn is important to note. The bag not only comes with a classic interwoven leather and chain shoulder strap but also with the welcome addition of a top handle. The flexibility of how the Chanel Trendy CC can be worn makes it suitable for day-to-night wear, as it can be worn with the top handle, as well as on the shoulder or crossbody.
However, the Chanel Trendy bag doesn't come without its minor flaws. Unlike the Chanel Business Affinity, the Trendy CC comes without feet on the base of the bag. Additionally, as this bag only comes in lambskin leather, extra care must be taken when it is worn, as it is much more delicate.
CONS
Can be heavy, especially larger sizes
No feet on the bag, corners can become worn if not cared for properly (lay the bag on it's back)
Lambskin leather can show scratches and marks much more easily than caviar leather
Top metal plate can scratch
The lambskin leather used for the construction of the Chanel Trendy is incredibly soft and supple, this means that when it is at full capacity the bag can actually begin to bulk out at the bottom. This could potentially lead to corner wear, and a misshapen bag if not careful!
The combination of no feet on the bag and the lambskin leather does make it much more prone to marks and scratches, especially on the base. You should be careful about where and how you place your Trendy CC bag down to avoid any unwanted surprises!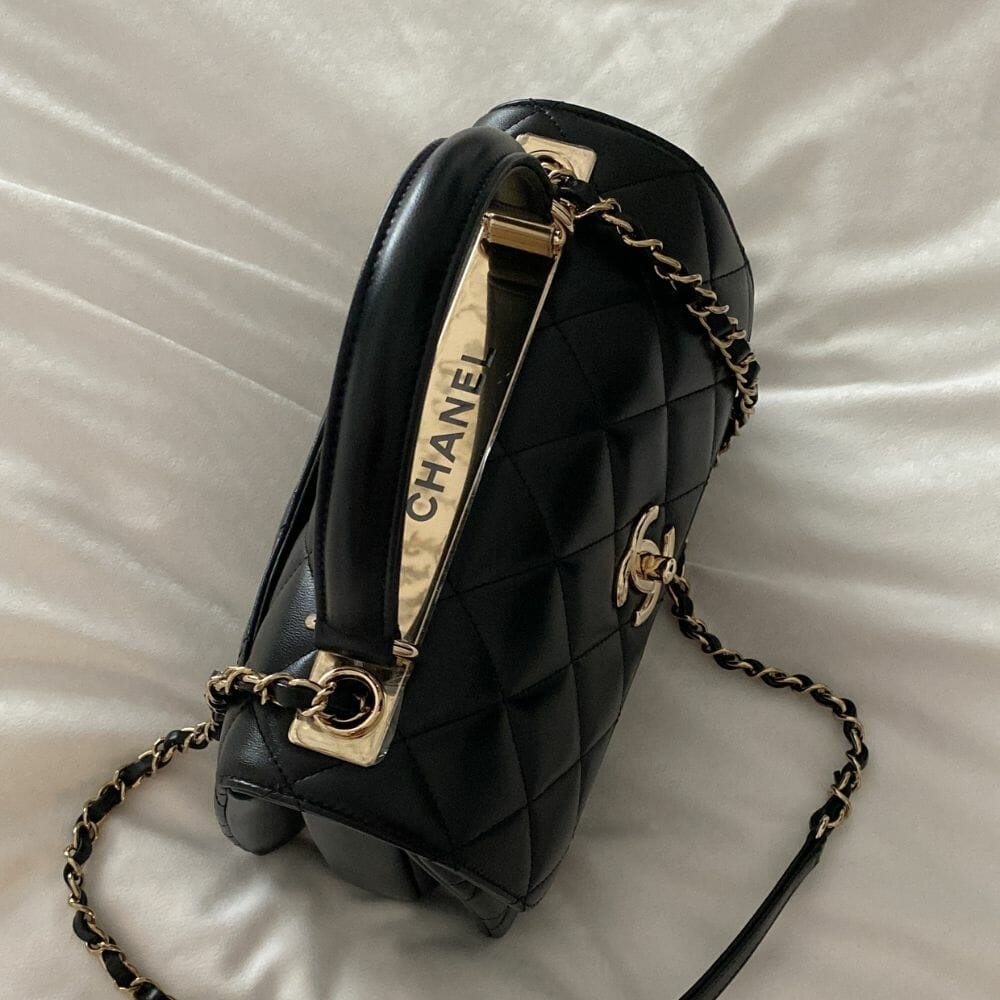 As beautiful and unique as the large gold Chanel plate on top of the Chanel Trendy is, it is incredibly prone to scratches. We would advise that you purchase hardware protectors to avoid this. For a more hard-wearing bag, we recommend the Chanel Business Affinity which only comes in Chanel's famous caviar leather, see our guide to the Business Affinity bag here.
Chanel is notorious for annual price increases of their bags, and the Trendy CC bag is no exception to this. In 2022 alone, the Chanel Trendy has gone up by 3% in price from £4560 to £4700. The prices of all Chanel bags including the Trendy CC will continue to rise as demand continuously grows, in order to remain at the forefront of luxury brands. See the Chanel 2023 price increases in further detail here.
Has the Chanel Trendy CC been Discontinued?
So, has the Chanel Trendy CC been discontinued? Although there have been many rumours in the past, the Chanel Trendy CC bag is here to stay and is not being discontinued. The popularity of the Trendy bag has meant that it has become a permanent line in the Chanel collection. Due to price increases and the high level of demand, the Chanel Trendy bag is now one of the best bags to invest in.
Where to Buy a Chanel Trendy Bag
To purchase a Chanel Trendy Bag you need to visit your local Chanel boutique. However, due to popular demand, you may find yourself having to join a waitlist. Waitlists are now increasingly common for the Chanel Trendy, especially if you are looking for the most popular combination – size small and black leather. For more options read our blog about where to buy a Chanel bag.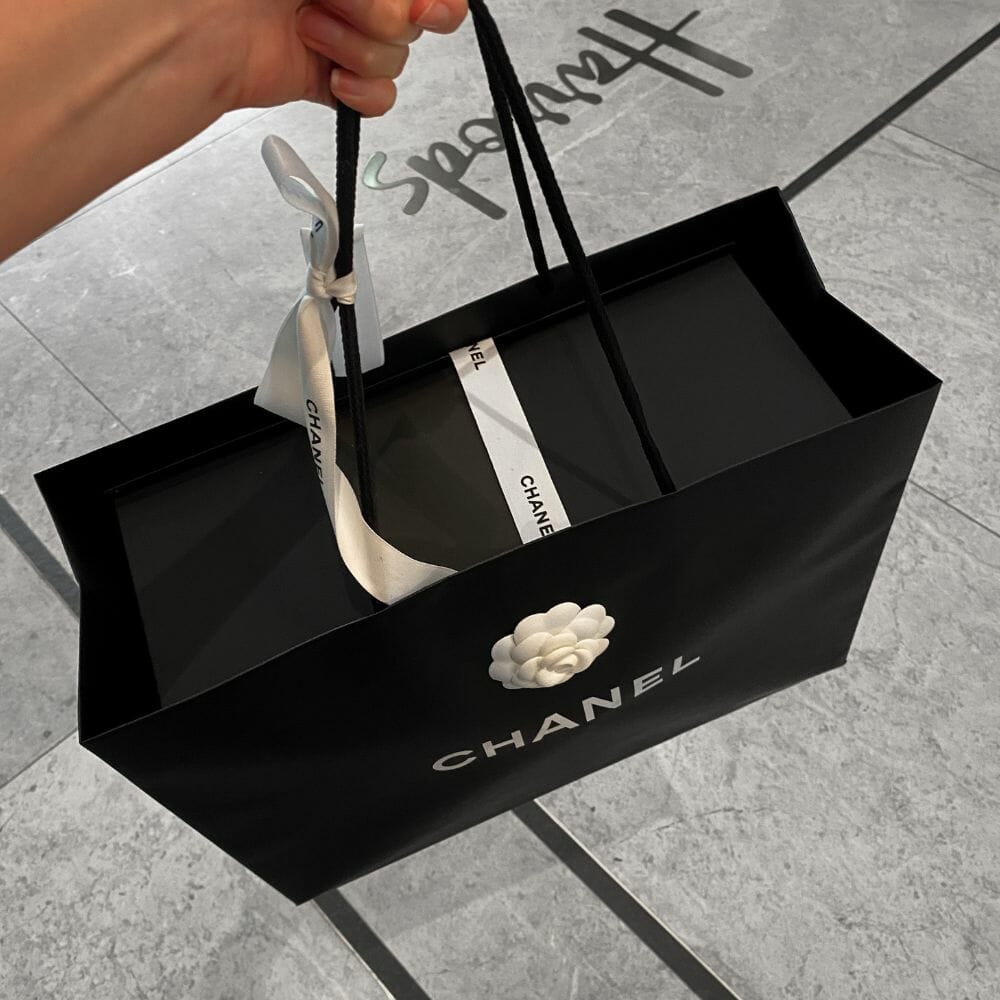 Buy Chanel Trendy Bag Pre-Loved
If you are looking for a seasonal colour-way or a discontinued piece, the pre-loved luxury market may be the best place to score your Chanel Trendy bag. When it comes to pre-loved luxury bags, we strongly recommend shopping via reputable resellers on eBay and Vestiaire Collective.
As price increases continue at Chanel, the pre-loved market prices have also increased to reflect this. However, you still may make a saving on the recommended retail price, depending on how popular the bag is, and its condition. When purchasing any pre-loved designer piece, please always ensure to get it authenticated by a reputable authentication service for peace of mind and protection. You can find our list of recommended authentication services here for further details.