The Chanel Le Boy Bag is perhaps one of the more popular handbags amongst fashion influencers and socialites alike. Designed and created as a homage to the men in founder Coco's life, Le Boy has a structured, sleek shaping with a slightly more masculine aesthetic than Chanel's classic feminine themes.
History of the Chanel Le Boy Bag
Boy Capel was Gabrielle Chanel's first great love, which is why the late Karl Largerfeld chose to name this versatile bag Le Boy.
First released in 2012, this edgy, modern bag was instantly celebrated by the fashion world. With a chunky chain and more angular take on a flap bag silhouette, Le Boy gained instant icon status and remains a popular choice amongst Chanel stans of all ages.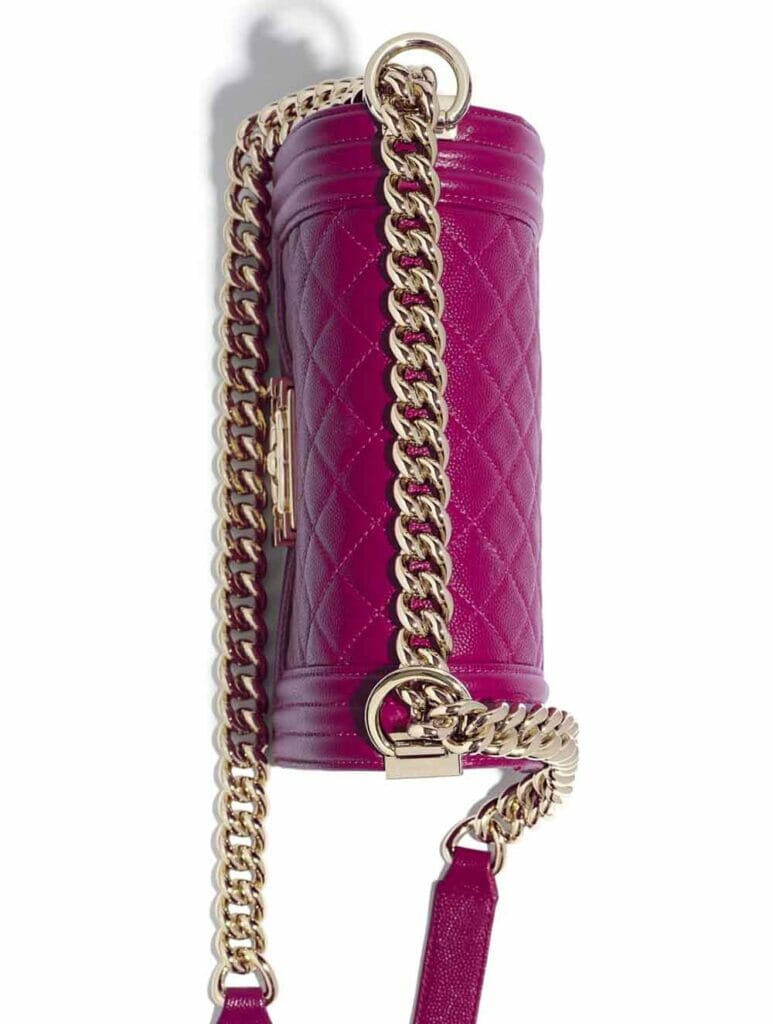 Due to this popularity, Chanel set to work producing the Le Boy bag in multiple sizes, further increasing its appeal and useability for a number of settings.
Does Chanel Still Make The Boy Bag?
Yes, Chanel does still make the Boy bag and for each new season, the boy bag is re-invented in different fabrics and colour combinations. Since the boy bag has seen so much success and still proves to be a popular choice, a lot of Chanel lovers consider this a classic style.
How Much Is A Chanel Boy?
A Chanel Boy bag retails from $4,900 to $5,600. The price of a Chanel boy bag varies based on the size and particular model, but base models (all leather) prices are outlined in the table below.
Chanel regularly increases their prices making the bags more premium and exclusive, therefore how much a Chanel boy bag costs will often be increased 1-2 times per year.
Chanel Boy Bag Range, Size and Price List
Discover the full Chanel Le Boy range complete with a price list below. All prices were correct as of the day of publication – September 2021 – and prices refer to the leather versions. For alternative fabrics, prices will vary.
| | | | | |
| --- | --- | --- | --- | --- |
| Image | Boy Bag Style | Price £* | Price $* | Dimensions (cm) (Width x Length x Depth) |
| | Boy Wallet on a Chain | £2220 | $3000 | 12.3 x 19.2 x 3.5 cm |
| | Small Boy Bag | £4040 | $5400 | 12 x 20.5 x 8.5 cm |
| | Medium Boy Bag | £4380 | $5900 | 15 x 25 x 9 cm |
| | Large Boy Bag (Old medium size) | £4640 | $6200 | 17.5 x 28 x 7.5 cm |
Chanel Boy Bag Prices Correct As Of September 2021
Chanel Boy Bag Sizes
Le Boy Chanel has been created in 5 different sizes now – Mini, Small, Medium, New Medium and Large – however, the Mini and New Medium are no longer featured on the official Chanel website with the original medium being the only option currently. The 'old' Medium is the most highly-favoured size of the Boy bag as it is extremely practical for carrying that little bit more (but not too much) around with you while working day-to-night looks.
The "Boy" branding has been adapted to include many other products, such as the below, so you could have a whole set of this quilted range:
Boy Card Holder
Boy Flap Card Holder
Boy Wallet on a Chain
Boy Zipped Coin Purse
Boy Zipped Wallet
Boy Small Flap Wallet
Boy Flap Wallet
Boy Long Flap Wallet (2 sizes)
Boy Long Zipped Wallet
Boy Small Pouch
Boy Pouch
Boy Large Pouch
Chanel Boy Bag Small
The Small Le Boy Chanel bag is a great size for nights out when you only need a couple of things with you, but isn't ideal for those who like to carry a few extra bits and bobs. From the front, the bag looks bigger than it is, but when viewed from the side you can see it is actually quite small.
When using the small-sized Boy bag you can fit a coin or card purse (not a full-sized longer purse), a set of keys and some smaller makeup items inside of the bag comfortably, but then there isn't much room for anything else. The bag is big enough to fit in most phones, which is really good.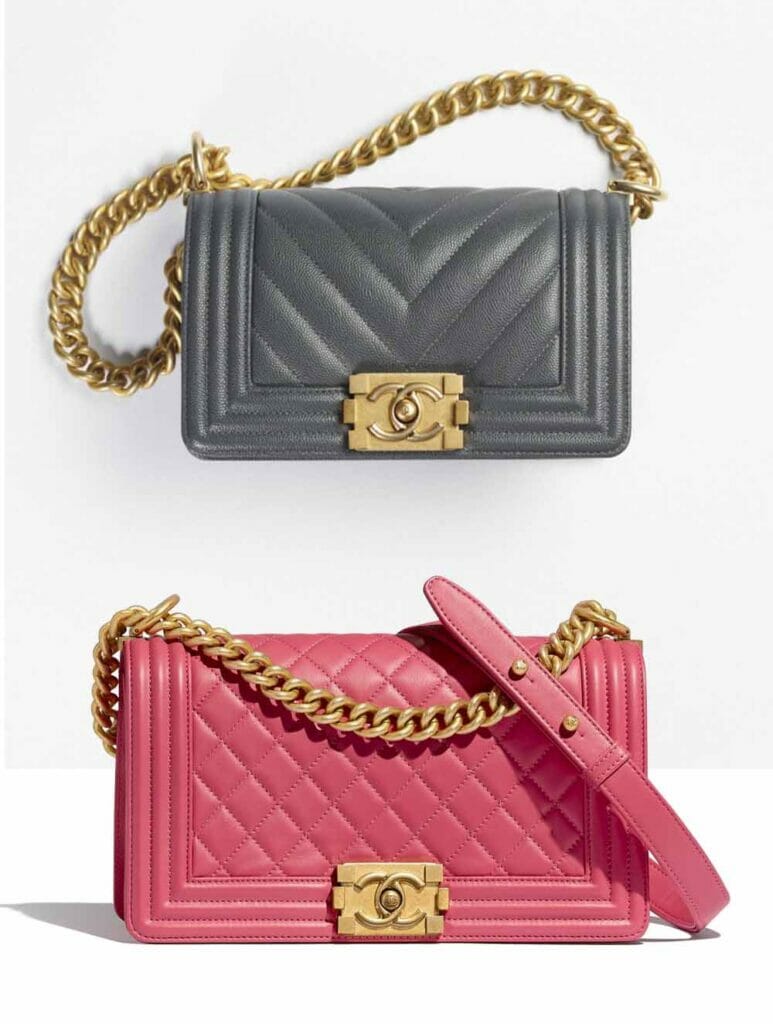 Chanel Boy Bag Old Medium
The most popular of the Boy bag sizes is the Medium size, which is actually available again as the Medium option (for a brief time, it was called the old medium) on Chanel's official website. This size is perfect for everyday and evening wear and looks good worn crossbody or over-shoulder.
With the 'old' Medium Chanel Boy bag, you can fit in a full-sized purse but this leaves little room for anything else, so opt for a card or coin purse to use with this bag. You'll also get in your keys, sunglasses and a small makeup item or two. Still not the biggest interior for a bag, but a really practical size for running errands or heading out shopping.
Chanel Boy Bag New Medium
No longer available on the Chanel website, the 'new' Medium was slightly larger than the 'old' Medium and so perhaps more practical for some, with more room for everyday essentials. You could probably fit an A5 notebook into this size of bag which may be handy for work.
Chanel Boy Bag Large
The Large Chanel Boy bag doesn't quite have the same appeal as the Medium size as it can look a little cumbersome. The sizing resembles that of a satchel bag, which is practical, but the styling of the Boy is better suited to a smaller scale in my opinion. Let me know what you think – do you own a Large-sized Boy bag and love it?
You can fit any phone model, a full sized purse, keys, makeup and maybe even a small notebook or mini diary.
Most Popular Chanel Boy Bag Size
The 'old' Medium is the most popular size, due to the way it looks when worn as well as the ability to fit all you need inside for general day-to-day wear. A great thing is that it can fit any size mobile phone and a few extras inside, where as the Small size would only have room for smaller models of mobile with little room left for extras.
The Small is almost a 'mini' bag which is fun and playful and would pair well with a little dress for a night out, but would leave you with limited options for what you could take with you. However, all you really need are keys, money/cards and a lippy.
The Large isn't the most aesthetically pleasing, but would be the better option for you if you tend to carry more items with you on a daily basis. Worn over-shoulder with the chain strap doubled up is perhaps the most 'stylish' way to wear this bag and could make it look a little smaller when it's tucked under your arm a little more.
Check out my video below for a size comparison of Chanel Boy bags in Small and 'old' Medium sizings:
Chanel Boy Bag Fabrics / Leathers
The Boy bag comes in a wide range of fabrics as well as colours, with new limited-edition designs experimenting with an array of materials, finishes and embellishments.
Caviar Leather
Caviar leather is the most popular options and has a textured surface which means it does not show scratches as readily as lambskin leather. It is also more hard-wearing, so is the ideal choice if you're hoping to use your bag regularly but retain its value as much as possible.
Caring for caviar leather is easy – dry wipe with a clean, soft cloth to remove any dust or grime, then treat the leather with a specialist conditioner like this one here.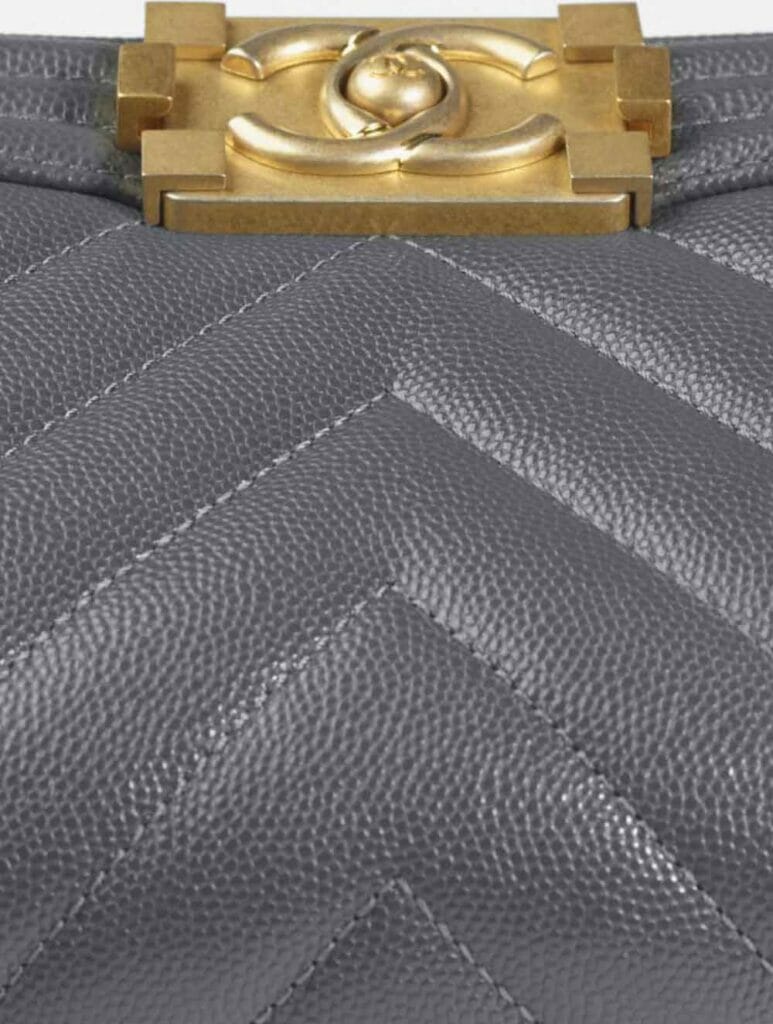 Lambskin leather
Lambskin leather has the most luxurious look and feel but is softer than caviar leather and can scratch relatively easily. If you're buying a Chanel lambskin leather bag, it may be better suited as an investment piece which only gets worn for special occasions.
Use a specialist handbag leather protector to help deter dirt and stains from ruining your bag and make it much easier to clean when needed.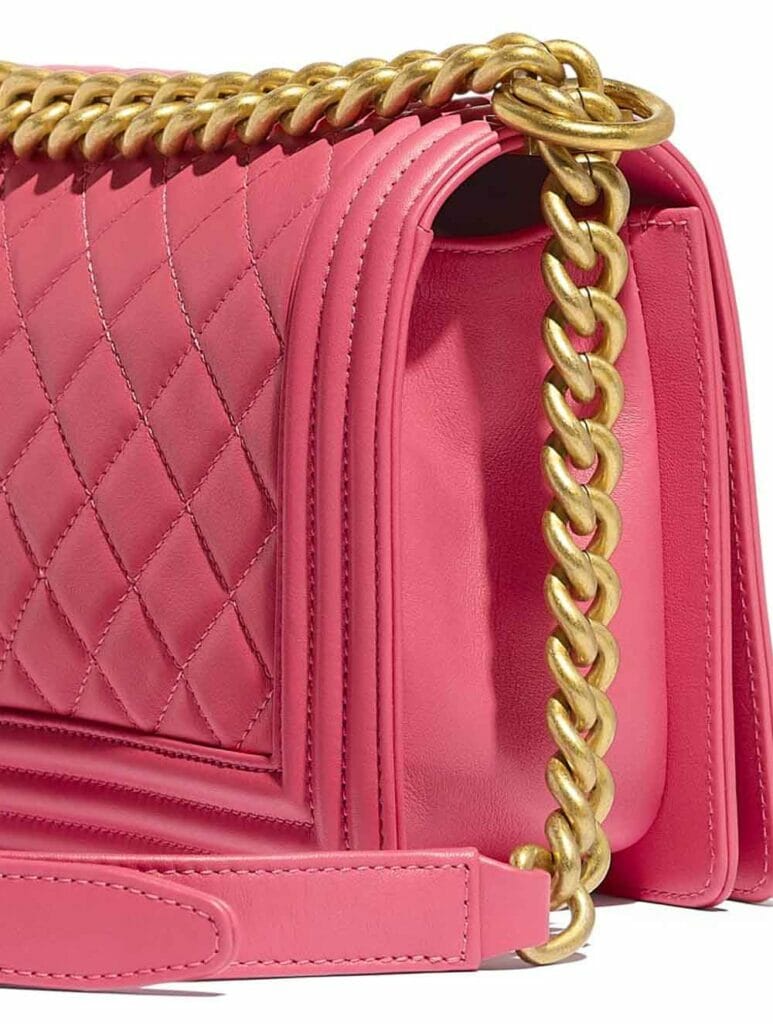 Tweeds
Tweed is a pretty iconic Chanel look, so if you do opt for this fabric, be aware that it will wear over time and could go 'bald' with a lot of use. If you're hoping to resell your tweed Chanel handbag then it could be best to only wear it for limited occasions to maintain fabric quality and appeal.
Fabrics
Other fabrics like velvet, fur and exotic leathers are included in some collections and as with tweed, they can be prone to wearing faster than more hardy leather bags.
Velvet may go 'bald' with extended wear – particularly in areas which are handled regularly or sit against the body when worn.
Furs will need to be kept dry as they can begin to look 'clumpy' if exposed to rain. Use a small comb to keep fur fluffy and dust-free.
Exotic leathers need extra care and should be reserved for special occasions as they can dry out and even fade if exposed to too much sunlight and pollution. Invest in exotic leather care products to keep your Chanel bag looking tip-top!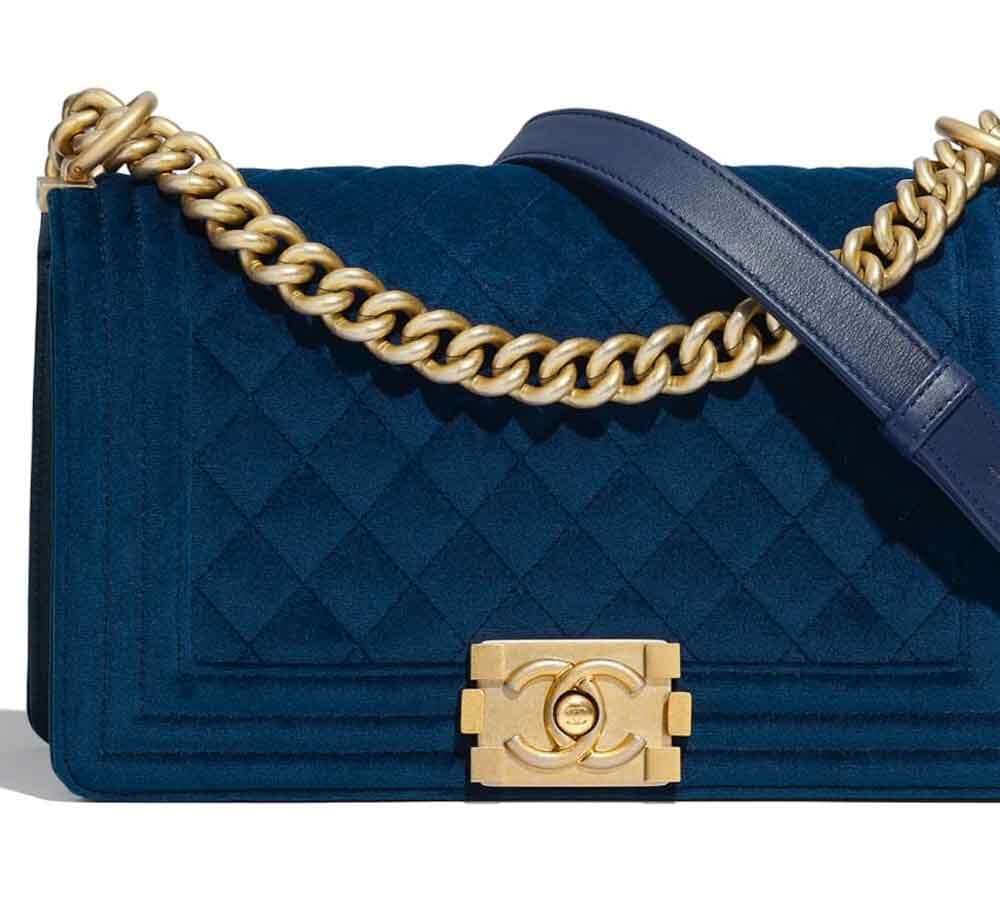 Chanel Boy Bag Hardware Options
One of the Chanel Le Boy bag's key features is a chunky curb chain handle, described as 'gourmette' on the official Chanel website – this and, of course, the graphic clasp on the front of the bag flap.
Le Boy hardware comes in numerous colourways and finishes, so there is something to suit all tastes. Tones of silver, gold and gunmetal are available in shiny or antiqued finishes.
The graphic clasp on the Chanel Le Boy bag actually has a number of different styles as well as colourways, especially on special-edition versions. The Paris-Edinburgh and Paris-Dallas clasps have additional details which add more interest to the clasp. The majority of Boy bags have the same classic double C fastening mechanism.
Chanel Boy Bag Outfit Styling
When it comes to styling the Chanel Boy bag, you'll most likely find it works with loads of outfits – especially if you purchased a neutral colour. Check out my video below, where I show you some styling ideas for the small Chanel Le Boy bag.
How To Wear and Style The Chanel Boy Bag
The Boy bag can be worn in three ways, making it even more versatile with a range of outfits.
The chunky chain strap can be worn long and over the shoulder or doubled up to create a shorter shoulder strap.
When left long, the chain will easily fit as a crossbody bag, which is great for security if in a busy place. This is also my favourite way to wear the Chanel Boy on a day-to-day basis for comfort and practicality.
Rare Chanel Boy Bags
If you're a keen collector and love the more unique designs from Chanel, then you'll more than likely have an interest in rare handbags. The Chanel Boy bag has been created in some absolutely beautiful limited edition designs since its 2012 release and is set for more in the future.
Every season (around every 6 months) Chanel will produce new colourways or collaborate with other designers and artists, creating limited-edition versions of their bags which are more expensive than standard leather versions. These bags are often reserved for the rich, famous and influential so can be almost unobtainable unless you're on Chanel's top list.
Once limited-edition bags are sold out, they will never be reproduced, so you will have to keep your eyes closely on the pre-loved market for a chance to nab your favourite design.
Let's take a quick look at some of the more notable rare Chanel Boy bags:
Chanel Boy Bag Rainbow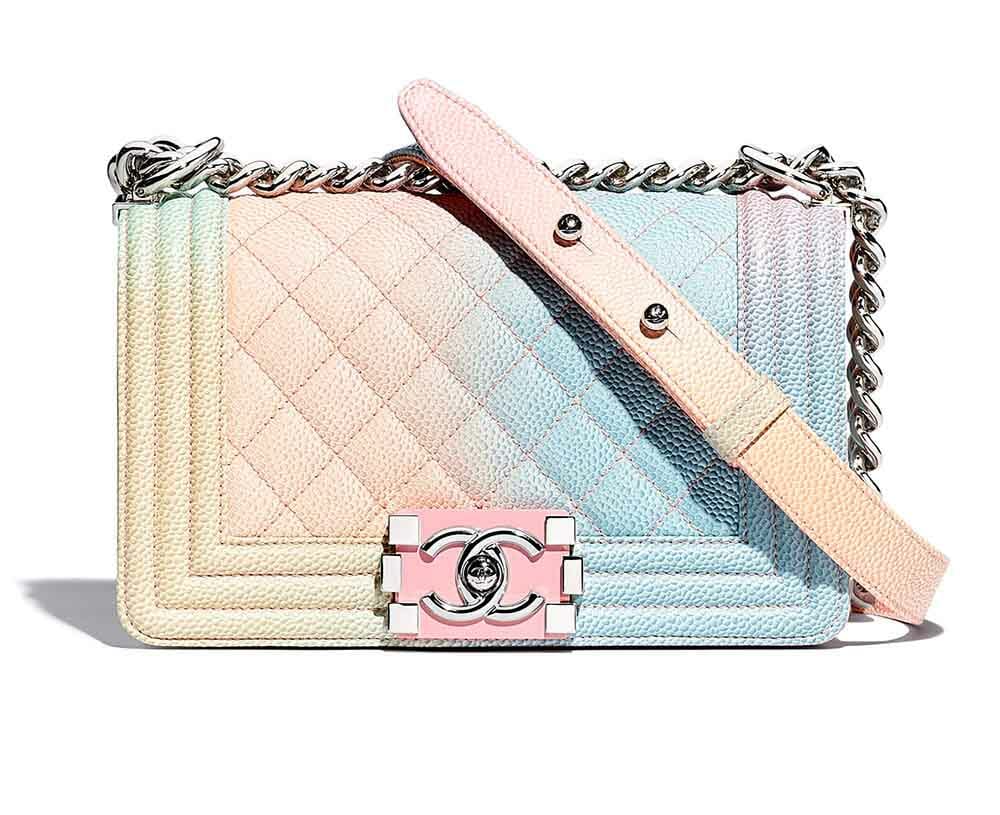 If you have a penchant for pastels, then you will love the Rainbow Chanel Boy bag with its dreamy pale tints of blue, lemon, turquoise, peach and pink.
This bag was released as part of the 2018 Spring collection, as a pastel retelling of the 2017 Chanel Cuba Cruise rainbow-inspired Boy bag, which sold out almost instantly. The 2018 Chanel rainbow boy bag was available in Small, Medium and (the now discontinued) Mini.
Iridescent Boy Bag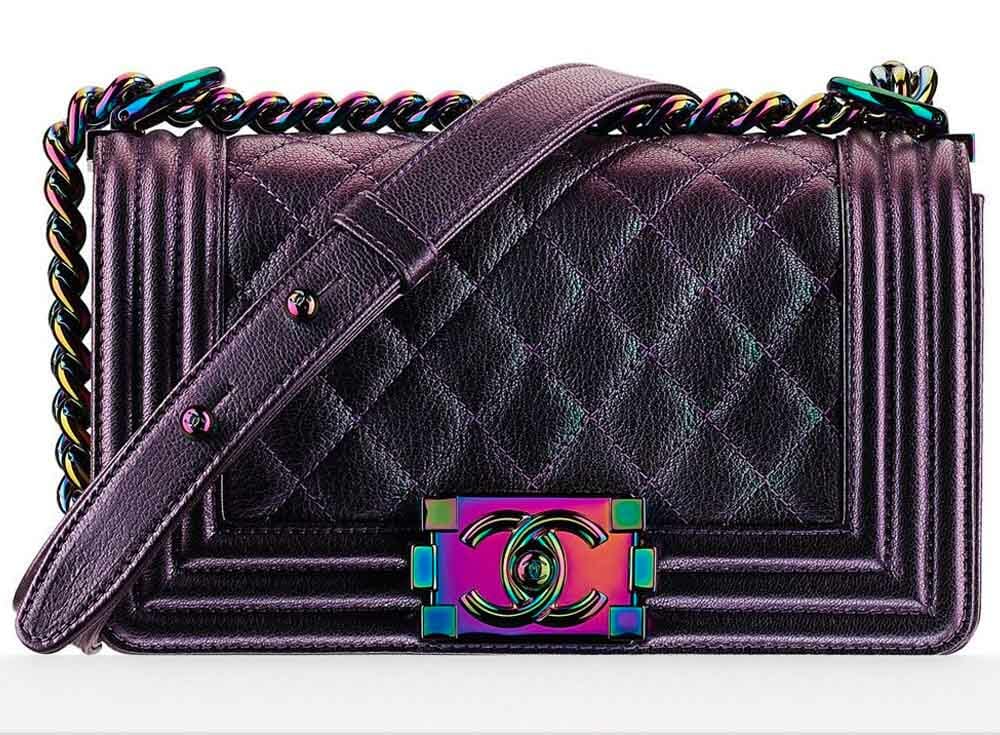 When it comes to special editions, the iridescent Boy bag is pretty darn special. With an almost magical look created by the aura coated hardware against the black leather with a subtle petrol sheen. This purple iridescent is also sometimes reffered to as the mermaid boy bag.
Created for Chanel's 2016 Cruise collection, the Mermaid Boy bag was a major hit and gained further hype when Kylie Jenner was seen sporting her iridescent Chanel, despite not being "a Boy bag type of girl".
Pearl Chanel Boy Bag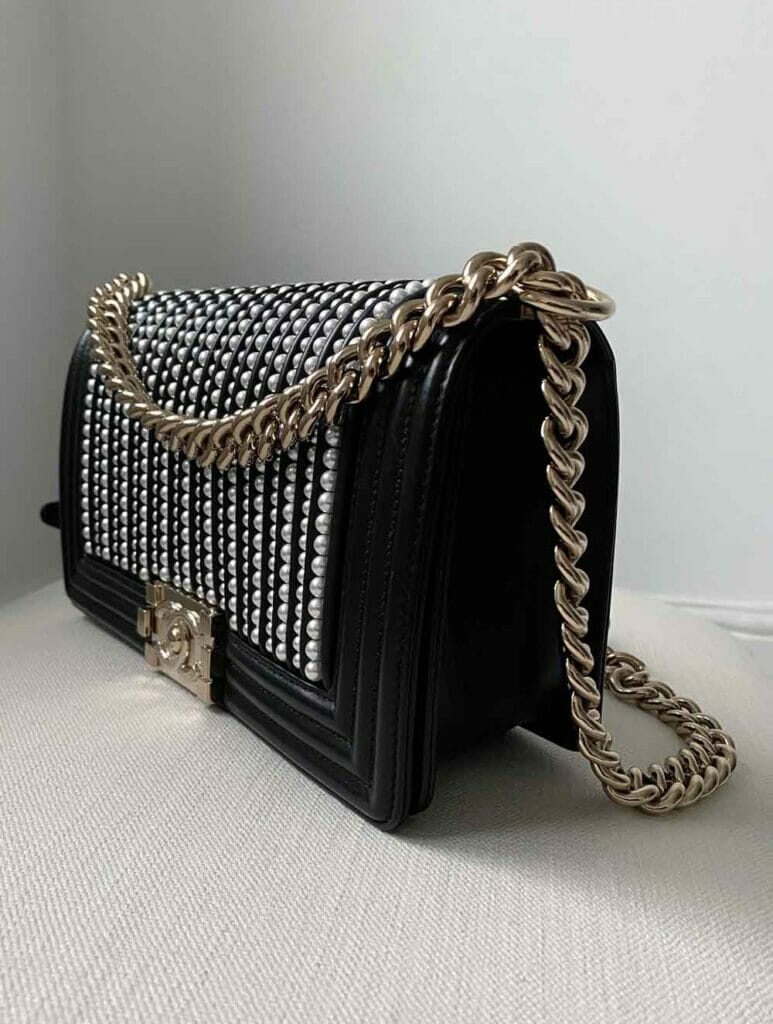 If there's one thing that screams Coco Chanel, it's pearls, so this pearly Chanel Boy bag is already totally on-brand, just with an edgy Boy bag twist! Made with black calfskin leather and appliqued with imitation pearls forming a chevron design, this bag is the perfect look for evenings.
At the time of writing this post, the Pearl Boy bag is still available and will set you back £5,020. Will you be adding this limited edition to your Chanel bag collection?
Popular Colours of Chanel Boy Bag
Despite the allure of a rare Chanel Boy bag, there are some more classic and neutral colourways which are extremely popular.
Black Boy Bag with Gold Hardware
This classic look will be a welcome addition to any wardrobe, pairing perfectly with pretty much any outfit – day or evening.
Grey Boy Bag with Gold hardware
If you already have a go-to LBB (little black bag) then perhaps changing things up slightly with a grey Boy bag would be a great option for you. I love my grey Boy bag and think it's ideal for Spring and Summer, paired with lighter-weight clothing in neutral or pastel tones.
Neutral Boy Bag with Gold hardware
In a similar vein to the grey version, a neutral Chanel Boy bag will work with so many outfits and is perfect as an everyday bag for running errands – especially in the old Medium size.
Red Boy Bag with Gold Hardware
Taking things up a notch, is the red colourway with gold hardware. This vibrant shade still has a classic look for those who like their bags to bring a pop of colour to a simple chic outfit.
Do Chanel Boy Bags Hold Their Value?
Generally speaking, yes – Chanel boy bags can hold their value well and be considered investments by some collectors. When making a sizeable financial investment in a Chanel bag, you ideally hope that the bag will retain its value well so that in years to come if you decide to sell, it'll recuperate most of the original cost.
The best Boy bag to purchase in terms of re-sale value would be an old medium size, as this is the most popular and practical size. Opt for a simple colour such as black, and gold coloured hardware generally fetches more than silver.
Limited edition boy bags such as the iridescent and pearl versions often fetch a premium since they're highly desirable.
Chanel Boy Bag Vs Chanel 19 Bag Which Is Best?
The Chanel 19 and Chanel boy bag are often debating since both bags feature an edgy style from the sophisticated fashion house.
In my opinion, the Chanel 19 bag looks a little more 'dramatic' with the chain and it easier to use, as the turn-lock closure on the front is easier than the boys clasp.
The boy however looks great all the time as it's very well structured, where has the Chanel 19 bag is less structured and much softer in nature.
Discover the ultimate guide to the Chanel 19 bag here.
Where To Buy A Chanel Boy Bag
Of course, buying directly from Chanel is an option and this will guarantee authenticity and give you the boutique experience of choosing your bag directly from the shelf. However, if your budget doesn't quite stretch to new, you may find pre-loved is best for you.
Opting for pre-loved Chanel bags is also ideal if you're looking for a 'no-longer sold' colour or limited-edition design.
My favourite places to shop pre-loved designer handbags are eBay and Vestiaire Collective.
When purchasing any designer or luxury bag from pre-loved marketplaces, always get it authenticated by a reputable authentication service to help combat fakes and scammers. See our list of recommended authentication services here.
Are you a fan of the Chanel Le Boy bag? I have 2 in my Chanel collection so far, but there could definitely be room for another if one happens to call my name in the future. How many Boy bags is too many?