The Chanel 19 Bag History
There's no doubt about it – the new Chanel 19 bag is becoming one of the hottest bags for 2021. The bag was originally first brought into production in 2019 (hence being named the 19 bags) and was the last bag designer that the late Karl Largerfeld worked on.

The Chanel 19 bag's designer has been inspired by the classic 2.55 bag which coco Chanel original created in 1955.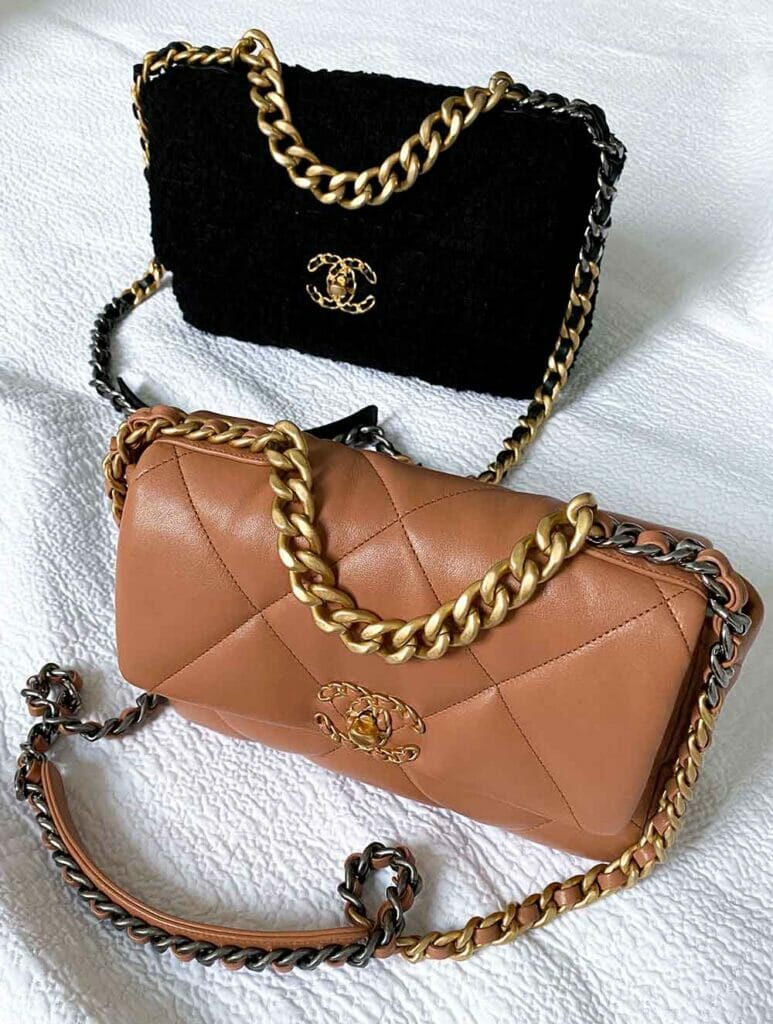 Chanel lovers and designer bag collectors all over the world are loving this bag's unique twist on a classic, with its over-sized puffy quilting and more casual look. We think that the 19 flap bag marries up both the structured, sophisticated style of the 2.55 bag and the edginess of the Boy bag with its gourmet over-sized chain.
If you enjoy this guide check out our other guides to Chanel bags on the blog here. We also release regular price increase updates on Chanel bags here.
Video Review
Watch our video reviews on the Chanel 19 bag, including a close-up and personal look at the small 21p caramel leather, large black tweed version, and a comparison video of both small and medium sizes on YouTube.
Don't forget to leave a comment on the videos, what do you think to the 19 bag?
Chanel 19 Bag Range, Size & Price List
Discover the full Chanel 19 bag range complete with a price list. All prices were correct as of 14th Feb 2021. All prices refer to leather versions of the bags. Tweed and other fabric prices will vary.
| | | | | |
| --- | --- | --- | --- | --- |
| Image | Bag Style | Price £ * | Price $ * | Dimensions (cm) (Width x length x depth) |
| | Chanel 19 Wallet on Chain | £2650 | $3250 | 12.3 × 19.2 × 3.5 cm |
| | Chanel 19 Waist Bag | £ | $3600 | 10.9 x 20 x 5.3 cm |
| | 19 Small Flap Bag | £4130 | $5100 | 16 × 26 × 9 cm |
| | 19 Large Flap Bag | £4590 | $5600 | 20 × 30 × 10 cm |
| | 19 Maxi Flap Bag | £5040 | $6200 | 25 × 36 × 11 cm |
*Prices correct as of 14th Feb 2021.
Chanel 19 Bag Sizes
The Chanel 19 bag comes in a variety of sizes and styles to accommodate all needs. If you are debating which size might be the best for you, then take a look at our guide below to each of the sizes.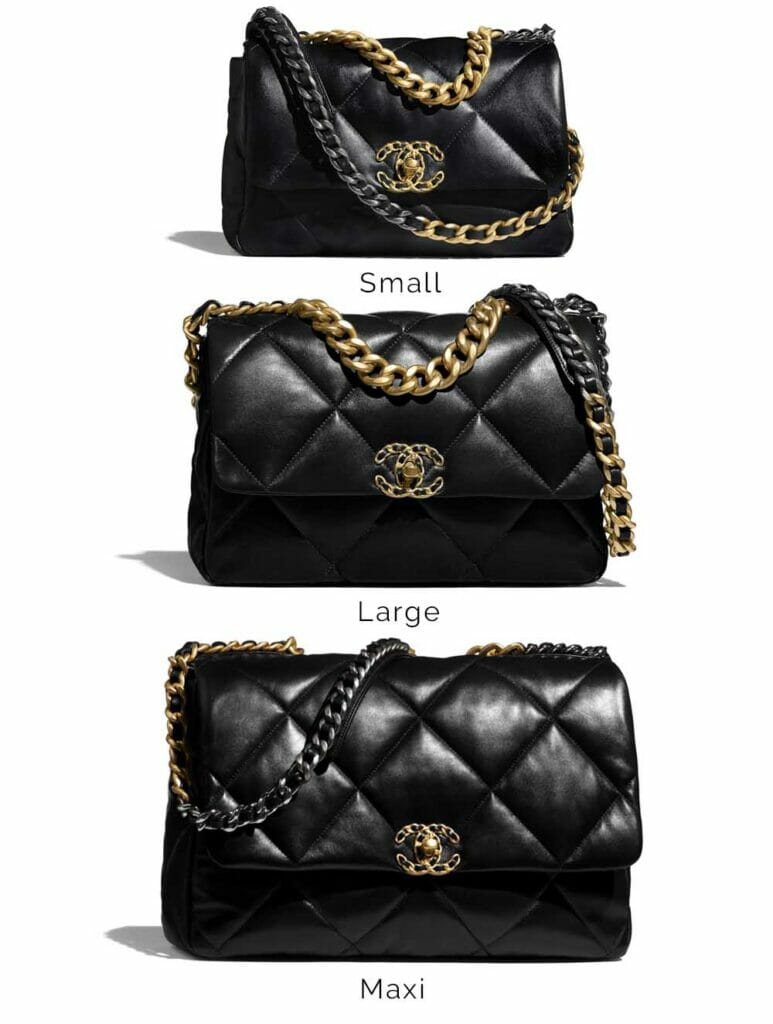 Chanel 19 Waist Bag
The 19 waist bag is effectively a small bumbag / fanny pack that you wear around the waist.
Dimensions: 7.8 Width x 4.3 Length x 2.1 Depth (inches)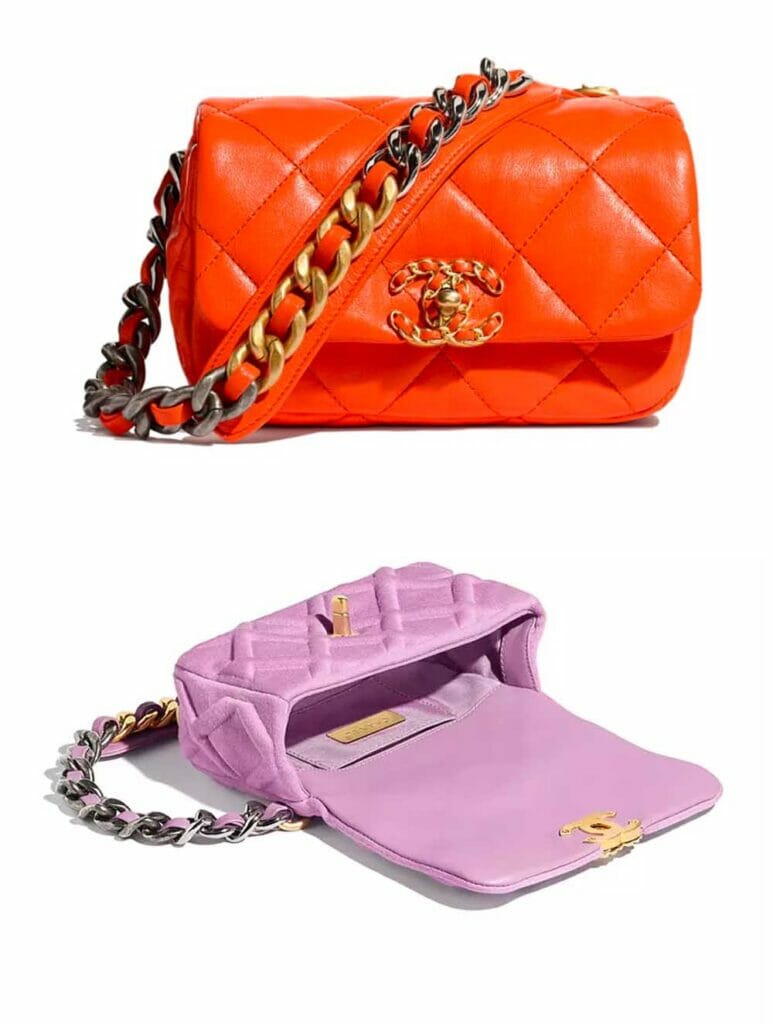 Chanel 19 WOC (wallet on chain)
The Chanel WOC or Wallet on Chain bag is the smallest of the bags. This bag is exactly as described – it is effectively a wallet / small purse on a chain. A WOC bag is great for stylish occasions when you don't need to carry much more than a few credit cards and a mobile phone.
Dimensions: 7.5 Width x 4.8 Length x 1.4 Depth (inches)
Chanel 19 Small Bag
The most popular size of the 19 bag is the small size. Whilst this bag is the smallest of the larger flap bags, its soft shape is perfect for accommodating all your everyday essentials. The small size can easily fit a mobile phone, a small book and a small purse. It can also fit a larger sized purse (full size) if required.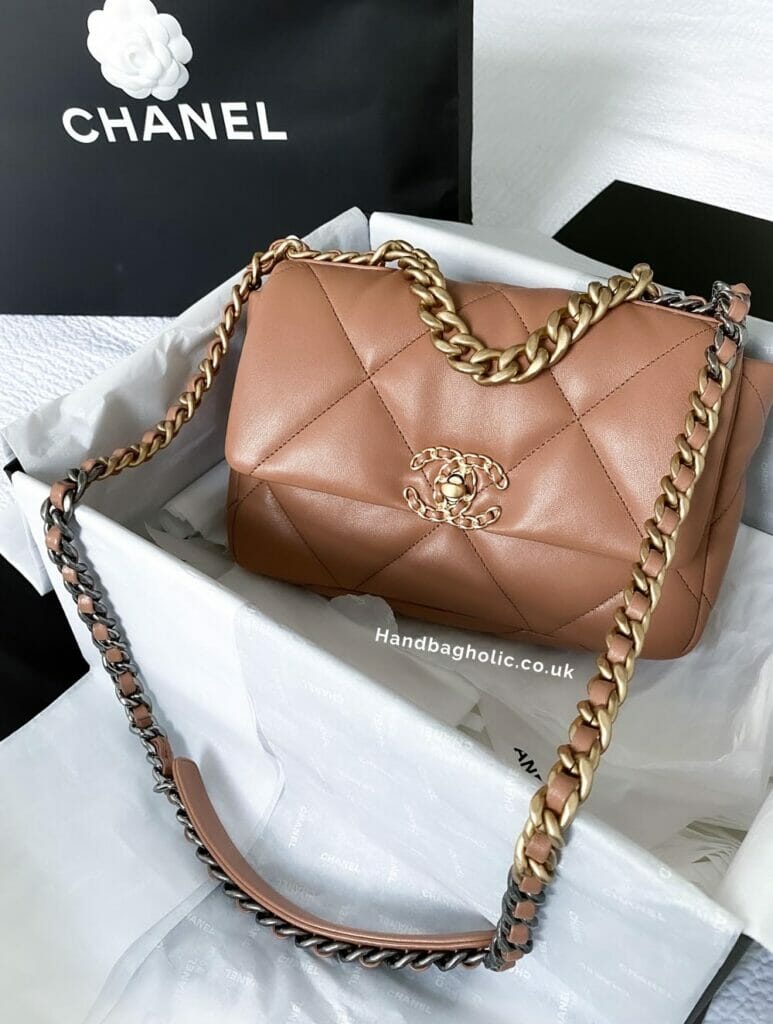 The size is perfect for every day, however, you will need the larger size if you want to carry notebooks / diaries / ipads for work occasions.
Small Dimensions: 6.2 Length x 10.1 Width x 3.5 Depth (inches) / 16 × 26 × 9 cm
Chanel 19 Medium / Large
Another popular size for those that want to carry that bit more, the large Chanel 19 bag can easily accommodate all your work and everyday essentials (except a laptop).
Large dimensions: 7.8 Length x 11.7 Width x 3.9 Depth (inches) / 20 × 30 × 10 cm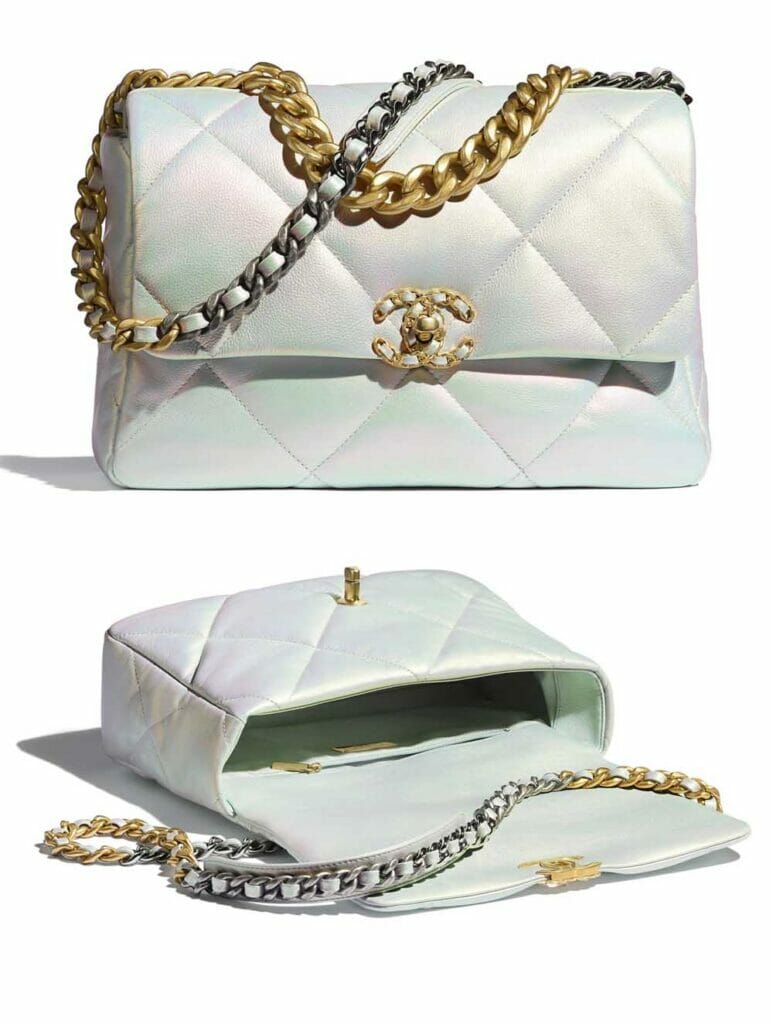 Chanel 19 Maxi Bag
The Maxi size is the largest of the Chanel 19 family. This maxi size is suitable for everyday essentials and even more. It has more height that then large size and could fit an A4 sized notebook.
Maxi dimensions: 9.8 x 14 x 4.3 inches / 25 × 36 × 11 cm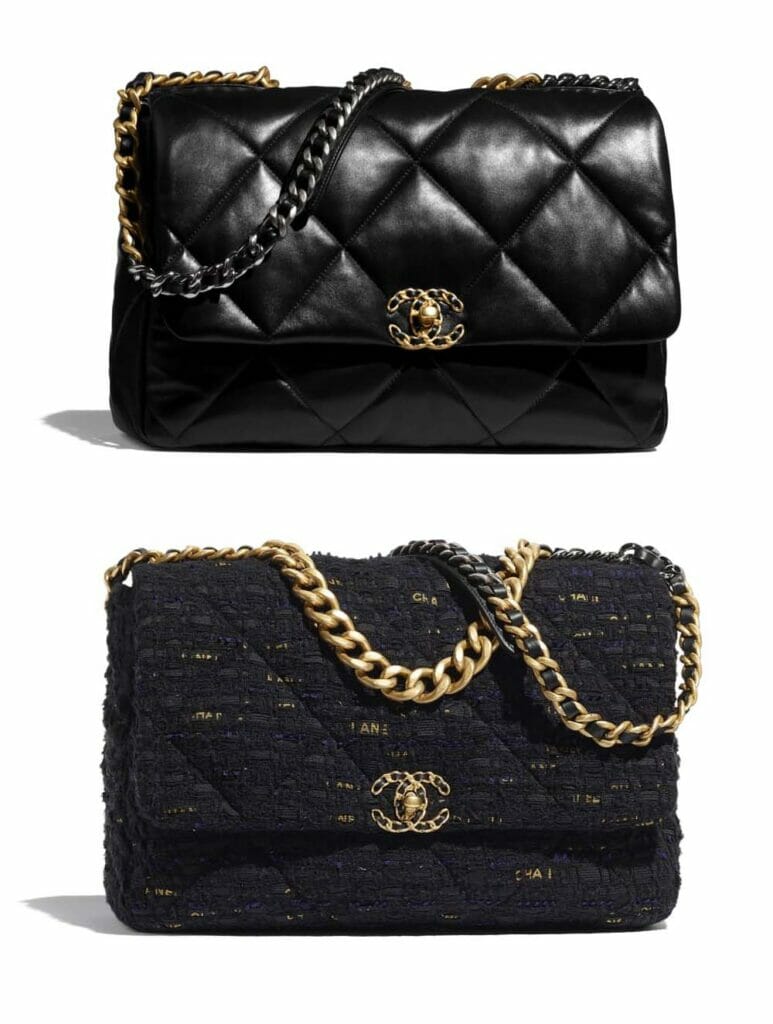 Chanel 19 Bag Fabrics
From leather 19 bags to luxurious tweeds and silk, there are many fabrics and colors to choose from. Here we'll take a look that the various fabrics and materials that the 19 flap bag is available in and their characteristics.
19 Flap Bag Leathers
Possibly the most popular fabric that the Chanel 19 bag is made from is leather. There are currently two options when it comes to leather which are goatskin and lambskin leather. Both types of leather have slightly different properties and characteristics that we'll cover here.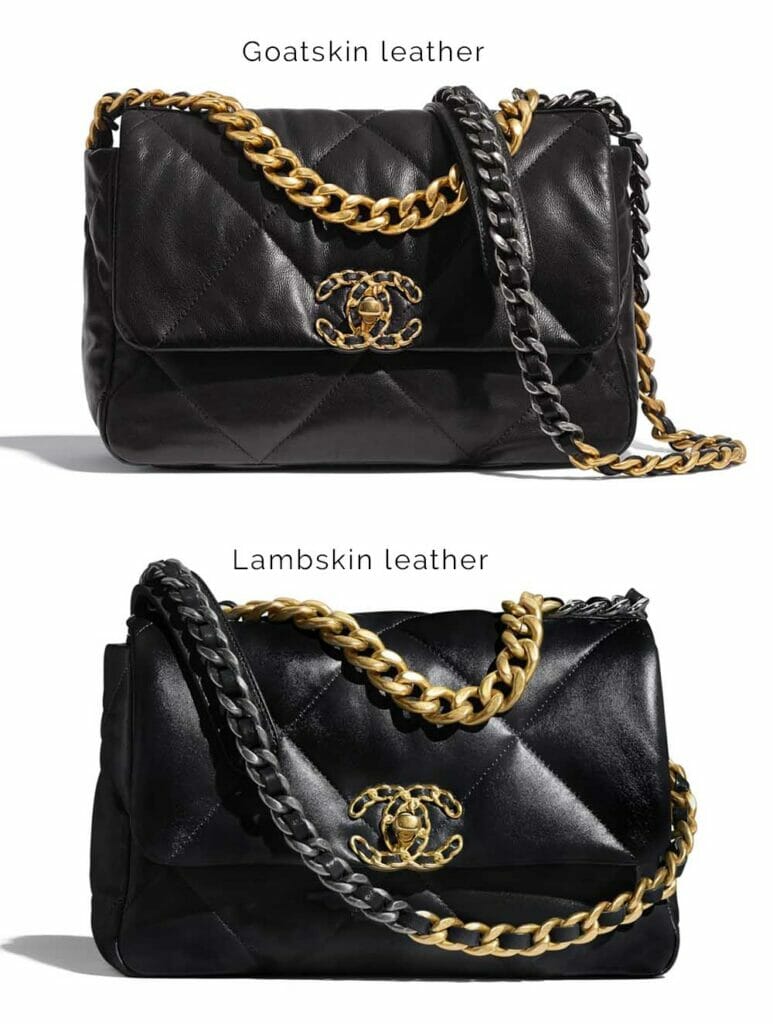 Chanel 19 Goatskin Leather VS Lambskin
Since there are two leather options for the 19 bag, which is the better option? It mostly depends on what your personal preference is and how you plan to use the bag.
Goatskin is seen as more durable and whilst soft to the touch, it's not as soft and 'buttery' as lambskin. Lambskin is softer and has a smoother more 'matte' finish. Goatskin is shinier than lambskin and often wrinkles due to the type of leather.
If you plan to use the bag day-to-day and value a more durable bag then goatskin is the preferred leather. If you prioritize a soft, puffier, and matte look then opt for the lambskin.
19 Flap Bag Tweeds
Chanel is well known for using tweeds in their fashion since Gabrielle 'CoCo' Chanel was one of the first designers to use the fabric in clothing in 1925. Originally tweed was not seen as a luxurious fabric, but Gabrielle Chanel had a desire to use this under-used fabric thanks to its versatility and wonderful texture. First introducing it to suits for women, tweed is still a popular fabric type and the new Chanel 19 bag is no exception with multiple tweed options available.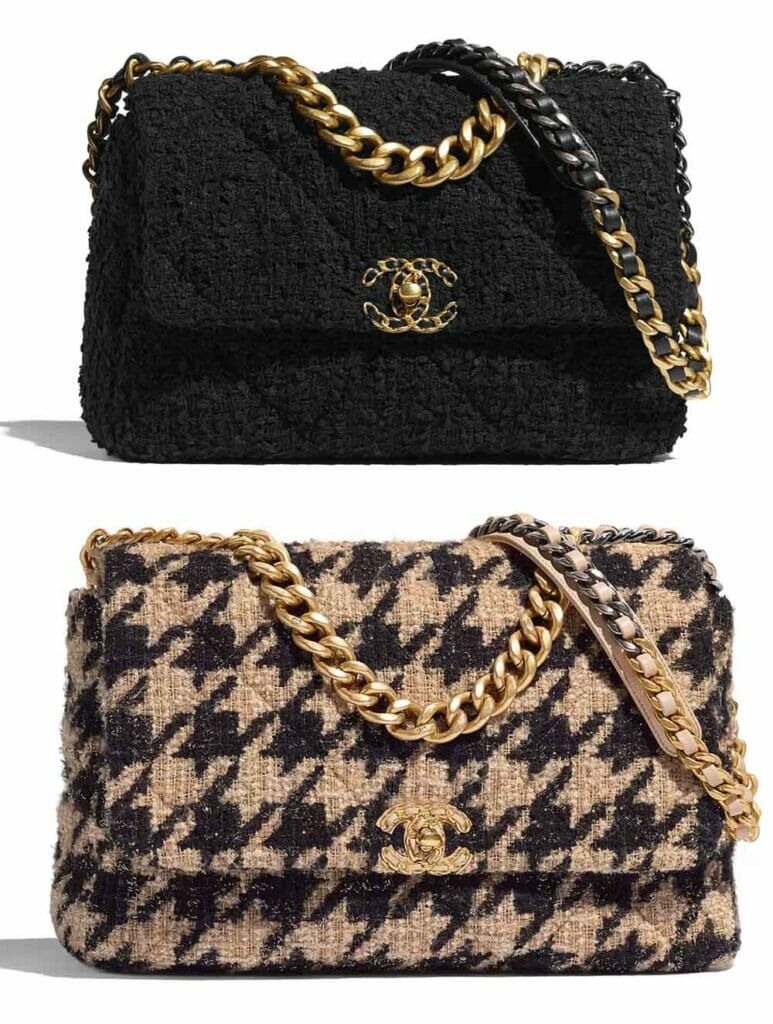 The characteristics of tweed bags are that the tweed is fairly weather-proof, no water-mark stains here, and it is flexible as well as being fairly hard wearing. Like any fabric, they can be prone to wear and go 'bald' in places, especially places where the bag is under excess stress such as the flap and corners of the bag.
If you get a stain in your tweed bag, you do have the option to get is spot dry-cleaned by a specialist.
Other Chanel 19 Bag Fabrics
After leather and tweed, the 19 is also available in a few other fabrics. Whilst the colors and prints may vary, they have introduced velvet and printed silk.
Both of these fabrics are also prone to wear, with velvet being a fabric that with lots of wear and become 'bald' in sections that are heavily used/rubbed against. Printed silk doesn't go bald but can become 'threadbare' overtime with excessive rubbing and use.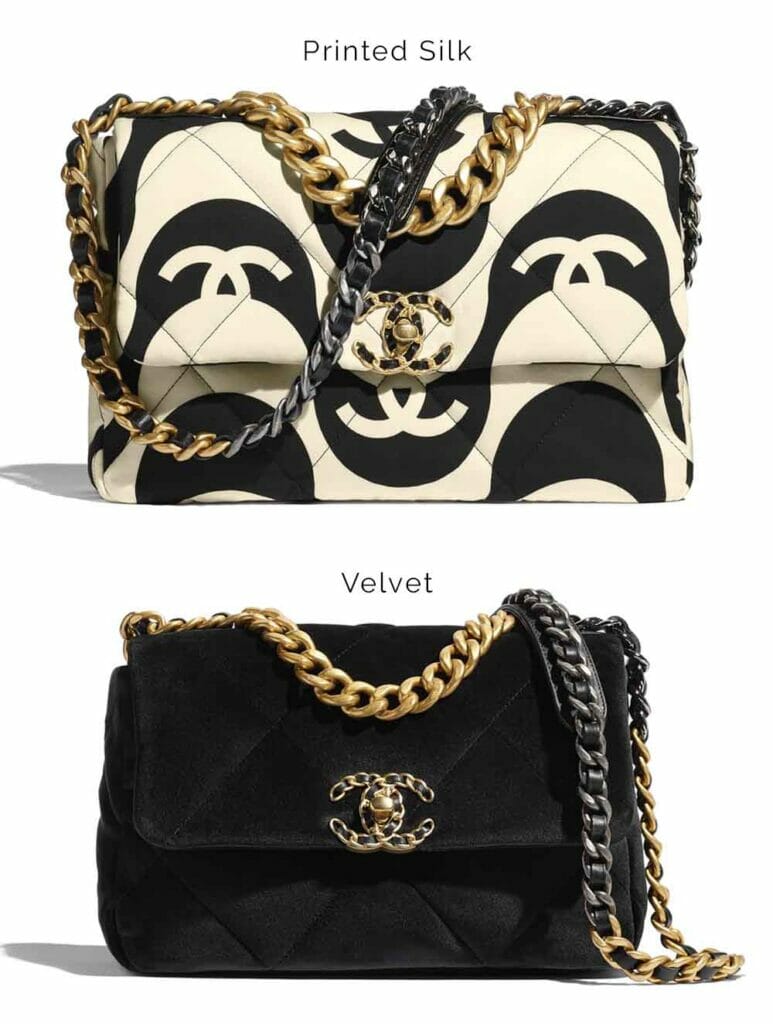 The 19 bag has also been made available in a show-stopping all-sequin fabric and cotton / jersey.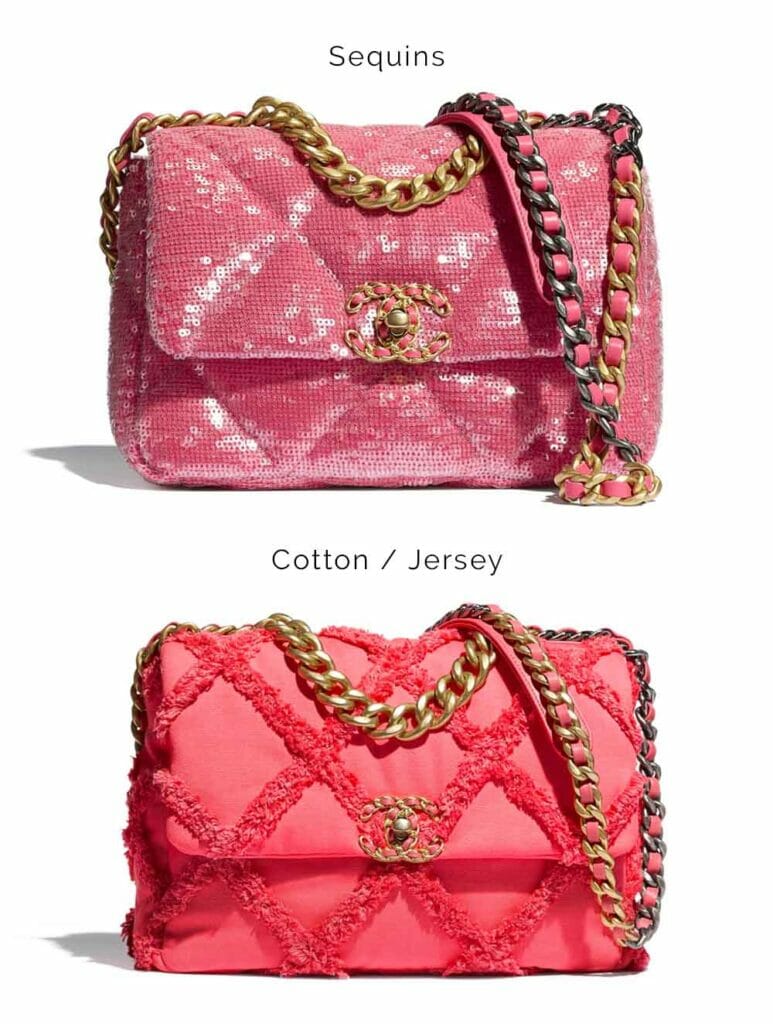 Celebrities Wearing the Chanel 19 Bag
Chanel 19 Bag Outfits & Styling
How to Style the Chanel 19 bag
For more inspiration on how to style and what to wear a Chanel 19 bag with, see our Pinterest board here dedicated to this stunning designer bag!
How To Wear the Chanel 19 Bag
There are three ways that the 19 bags can be worn. You can use the chain top handle to carry in your handle or place it on your arm. You can then use the longer strap as a shoulder bag, or a crossbody bag (the maxi, however, cannot be used crossbody).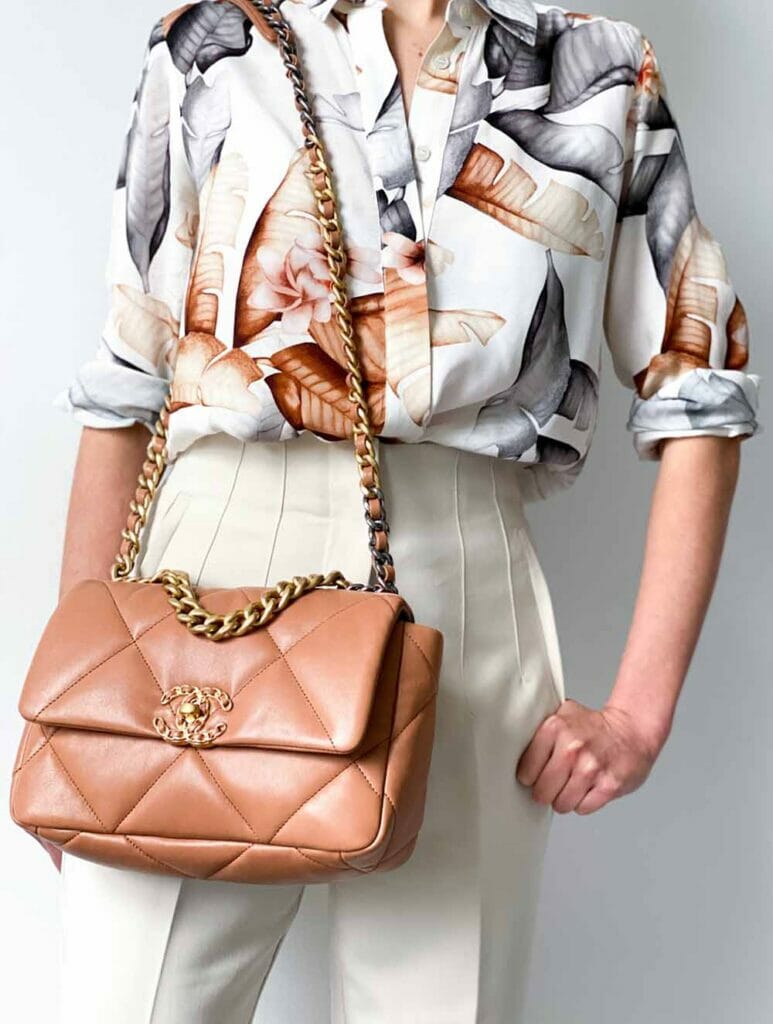 With the larger Chanel flap bags (small, large and maxi), they each shine in their own way in terms of how they can be worn.
The small size is perfect as a cross-body bag for care-free casual use. It can also be used (as all the other sizes) with the top chain strap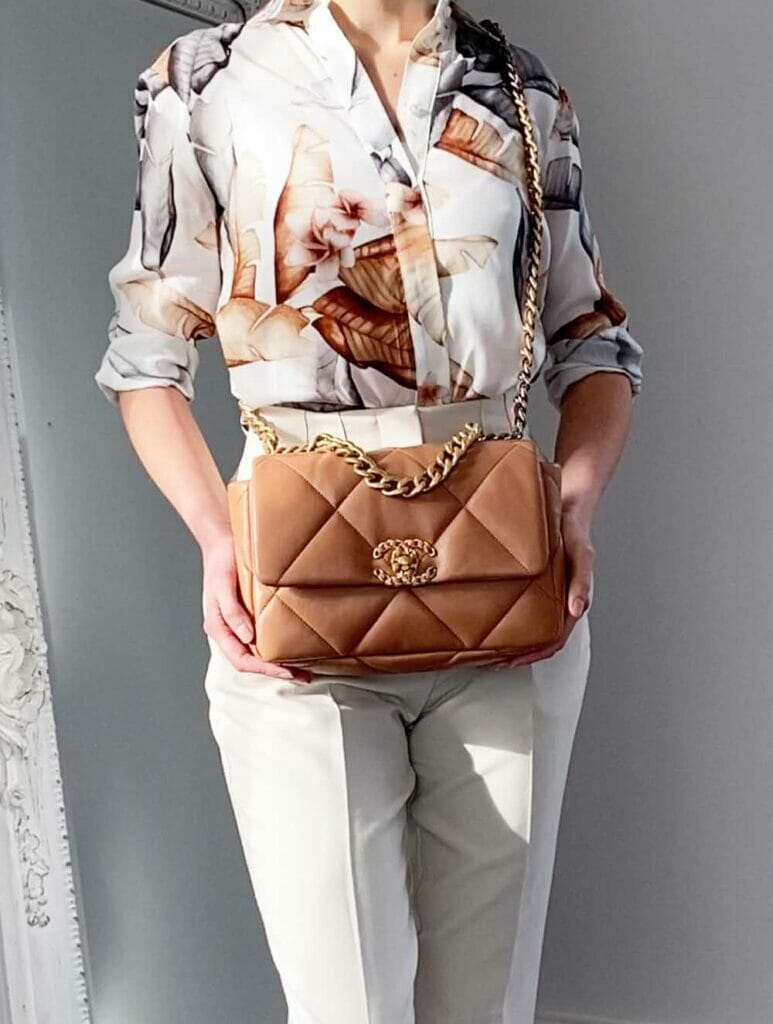 The large size looks can be used in all the same ways as the small, with it looking even more show-stopping on the shoulder.
The maxi size cannot be worn as a crossbody bag, so this bag is limited to a top-handle bag or shoulder bag.
Where to Buy A Chanel 19 Bag
To purchase a brand new Chanel 19 bag you need to buy one directly from a Chanel boutique. You can locate your nearest boutique via the Chanel website. If you are unable to visit a boutique in person, contact their customer services page and mail order is an option to have a bag delivered directly to you.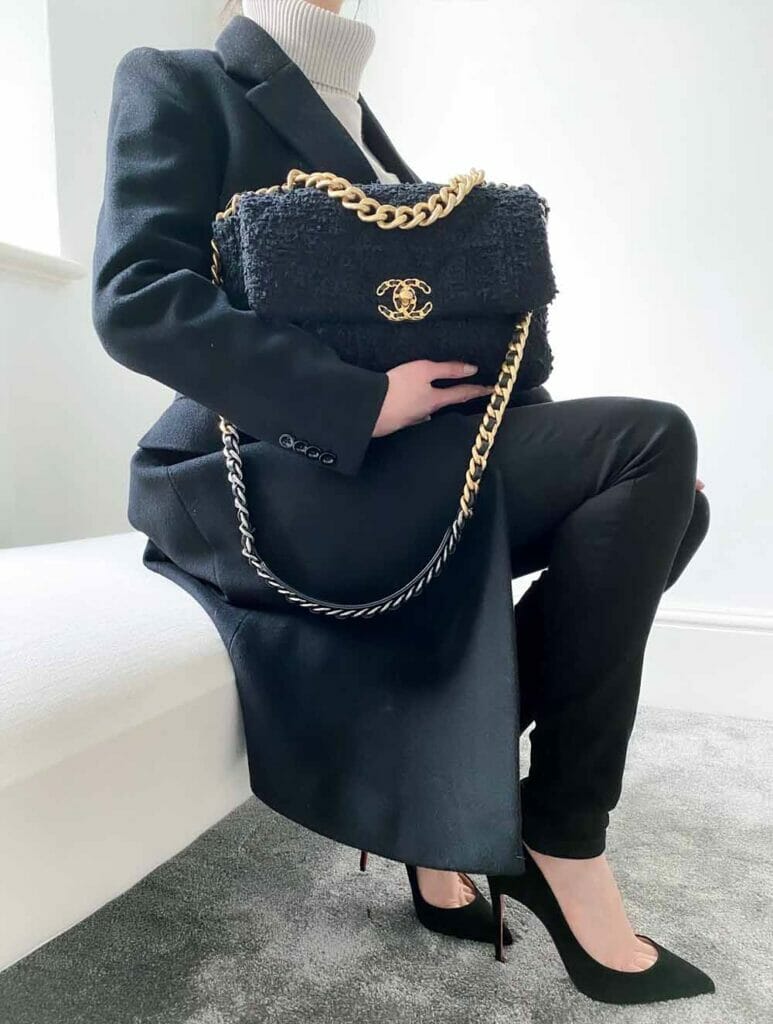 If you are looking for a no-longer sold colour or want to try to make a saving on the recommended retail price, then my favourite places to shop pre-loved are eBay and Vestaire Collective.
When purchasing any designer or luxury bag pre-loved, always get it authenticated by a reputable authentication service to help combat fakes and scammers. See our list of recommended authentication services here.