As you will probably already know, buying designer brand bags can get pretty pricey and before you know it you've spent more than you'd been expecting. Goodbye this months paycheck…
The temptation of a stunning leather clutch or a perfectly practical tote is real! So we've pieced together a list of the best designer bags under £1,000, just for you! After all, every designer bag purchased is an investment, so you want to buy smart.
This selection of bags is ideal for those looking to get into designer handbag collecting – you may want to start a little smaller and work your way up to more expensive bags from there.
The Best Designer Bags Brands Under 1000
Before we head into our list, we thought we'd let you know which designer brands to look out for who frequently have bags available for under the £1,000 mark – especially if you're buying pre-loved:
Oftentimes you might find that bags under £1,000 will be made from canvas or another non-leather textile – this is especially true for larger bag designs. Canvas bags are still highly desirable and are extremely durable if you're looking for practical bags you can wear frequently and enjoy using for a long time.
Best Designer Bags Under £1000
The Speedy Bag from Louis Vuitton is the perfect bag for everyday use or for small weekend trips. It is crafted from checkerboard-patterned Damier Azur canvas and comes in 3 great sizes – 25, 30 and 35. These numbers refer to the width of the bag (in centimetres) and each size is priced as follows:
Speedy 25 Bag – £820.00
Speedy 30 Bag – £830.00
Speedy 35 Bag – £850.00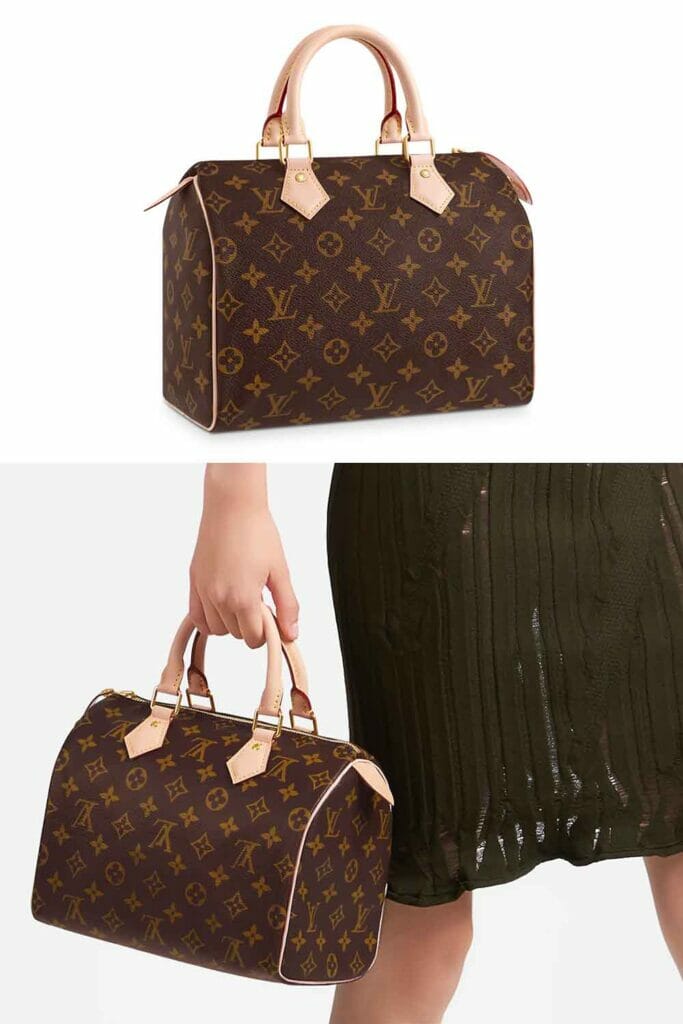 This specific LV design was actually launched in 1930 and was inspired by the need for fast transit and travel. This is where the name Speedy came from and the influence for a simple, yet highly-practical bag for commuting! The LV Speedy Bag features 2 thick rolled leather handles, cowhide leather trim, an internal zip pocket, and delightful gold-color hardware. A classic and unmistakable silhouette!
Despite being labelled as a pouch for toiletries, this design is ideal as a clutch bag! Alternatively, you can use this conversion kit and turn it into a crossbody bag for ease of wear. The LV Toiletry Pouch in size 26 is the largest of 3 (with pouches in widths of 15 and 19 also being available), making it a great size for the essentials for a night out or for running small errands.
Toiletry Pouch 15 – £270.00
Toiletry Pouch 19 – £300.00
Toiletry Pouch 26 – £325.00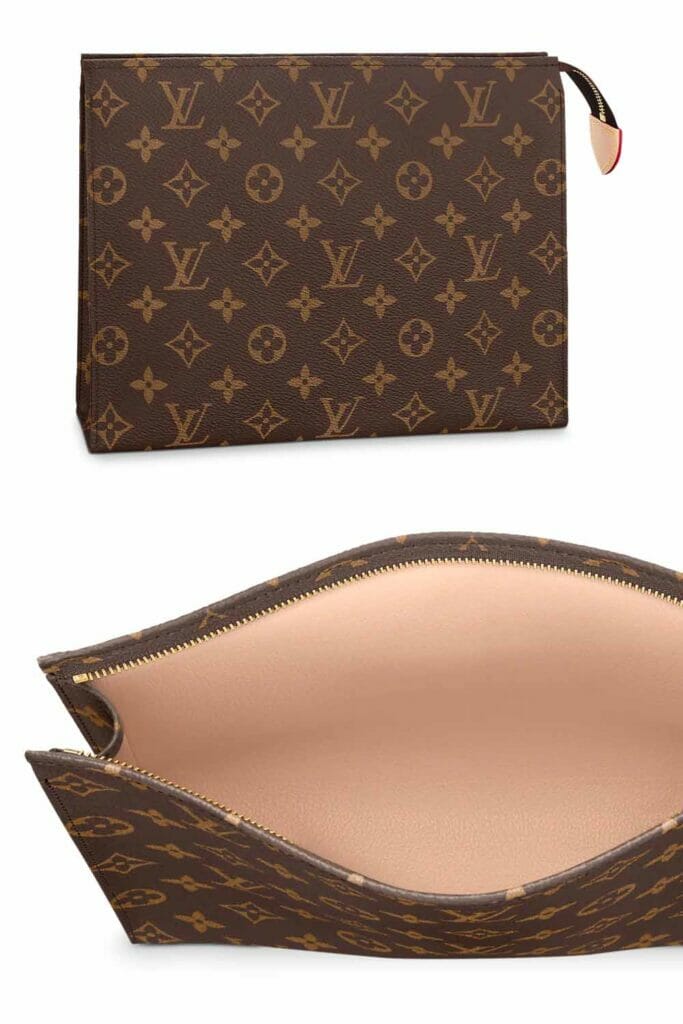 Made from LV's signature monogrammed canvas, this smaller but still perfectly formed bag is a great option for those starting their journey into designer bag collecting. The Toiletry Pouch 26 features a spacious interior, gusset sides and a sturdy brass zip closure to keep your belongings secure.
Here's another LV bag on our list – the Alma BB. This compact beauty was first introduced in 1934 which explains the Art Deco influences in its design and the practical and classic silhouette. Carry by the two rolled leather handles or choose to add the strap for hands-free, crossbody wear – the ideal size for shopping or heading out to brunch with friends.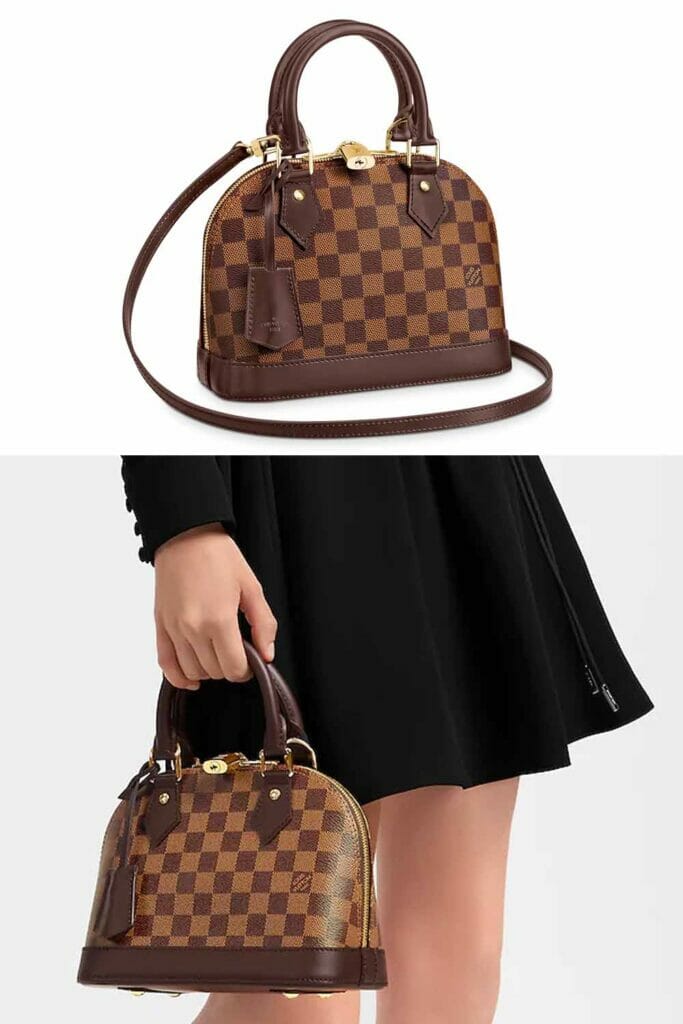 Alma BB – £1030.00
The BB is the smallest size in the Alma range (other sizes being PM and MM) and the monogrammed canvas version comes in at just under a grand. This fabulous little bag has beautiful Toron handles, cowhide leather trim, a key bell, double zip closure, a brass padlock with keys, and 4 protective metal bottom studs.
This little cutie from Saint Laurent is the perfect mini bag for the days when you just want to travel light – the ideal choice for going out for a meal or drinks. This leather bag has a long detachable chain and leather strap which allows it to be worn as a shoulder or crossbody bag and has a zip closure across the top of the bag to keep your items safe inside.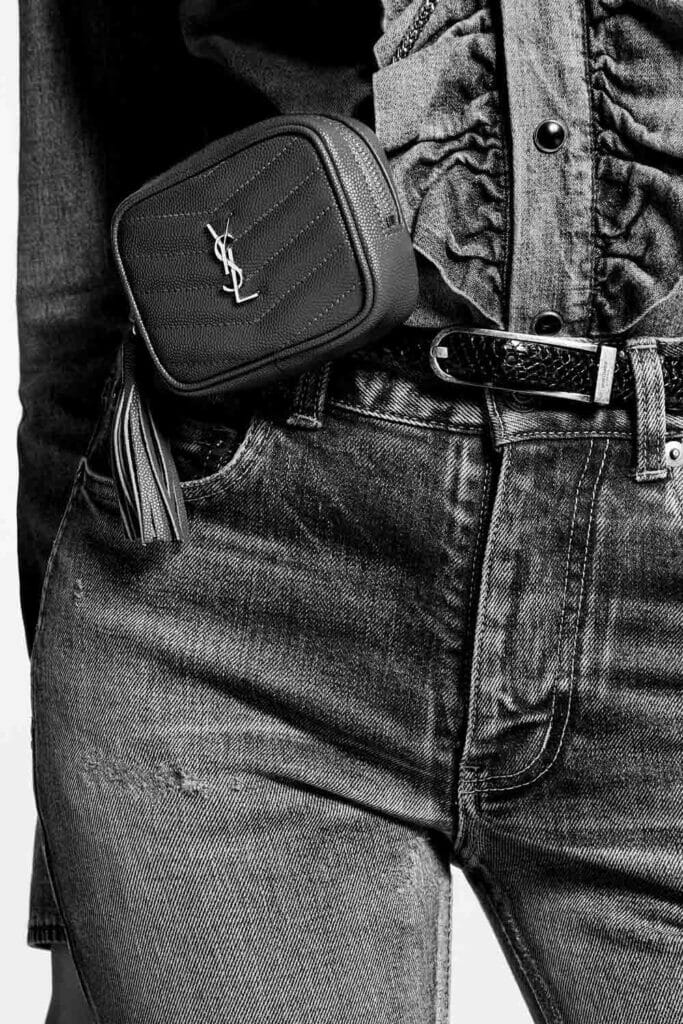 Blogger (Lou Baby) Bag – £550.00
The strangely named "Blogger" bag is said to have been Hedi Slimane's way of poking fun at fashion bloggers, who were often spotted sporting YSL emblazoned bags from their more 'price-accessible' ranges outside of fashion week venues. Well, we love the blogger bag and its popularity still remains today!
We would forgive you if you get a bit tongue-tied with the name of this new faux suede bag from Stella McCartney – the Falabella. Not yet released at the time of writing, this gorgeous mini shoulder bag makes the perfect evening bag when you only need a couple of essential items with you and will work with pretty much any outfit.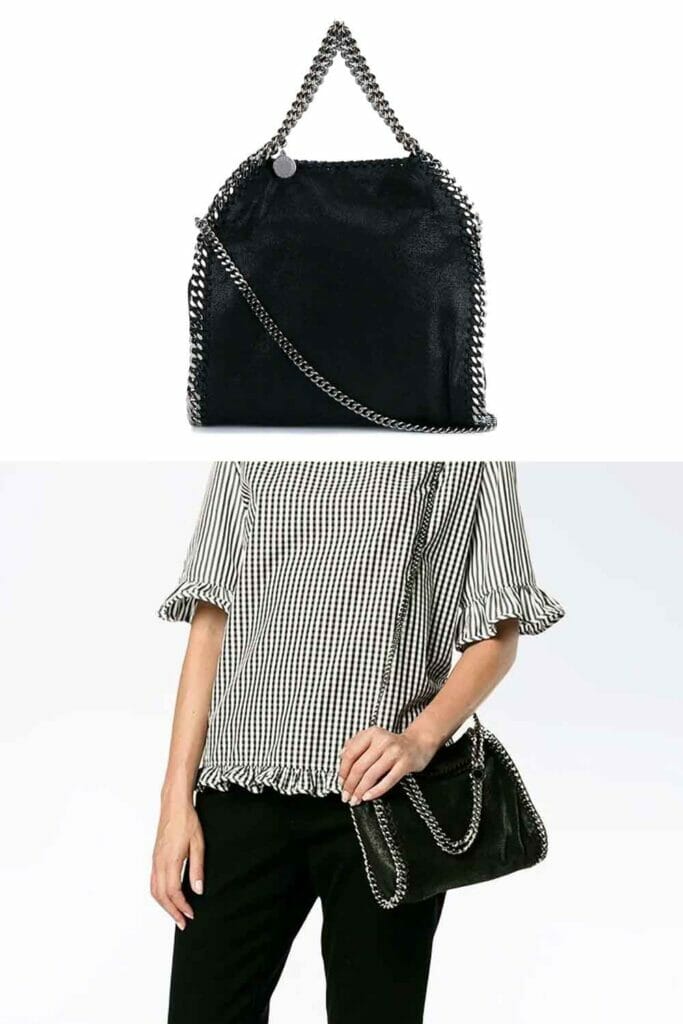 Falabella Mini – £610.00
Stella McCartney's Falabella features a chunky silver curb chain strap which can be worn as a shoulder bag or tucked inside to be used as a clutch. We love a versatile bag! The soft, crackled faux suede fabric and recycled polyester lining both align perfectly with the ethos of the brand and the vegetarian designer's environmentally conscious stance. The internal slip pocket and the magnetic closure of the Falabella will keep your belongings organised and safe while keeping you and your outfit looking on point!
If you're looking for a bag with a more bohemian allure, then this grained leather bag from Chloe could be just what you're looking for. The See is a crossbody bag that is ideal for everyday wear with an accordion-shaped design featuring 2 compartments separated by a slim central slip pocket – helping to keep your items much more organised.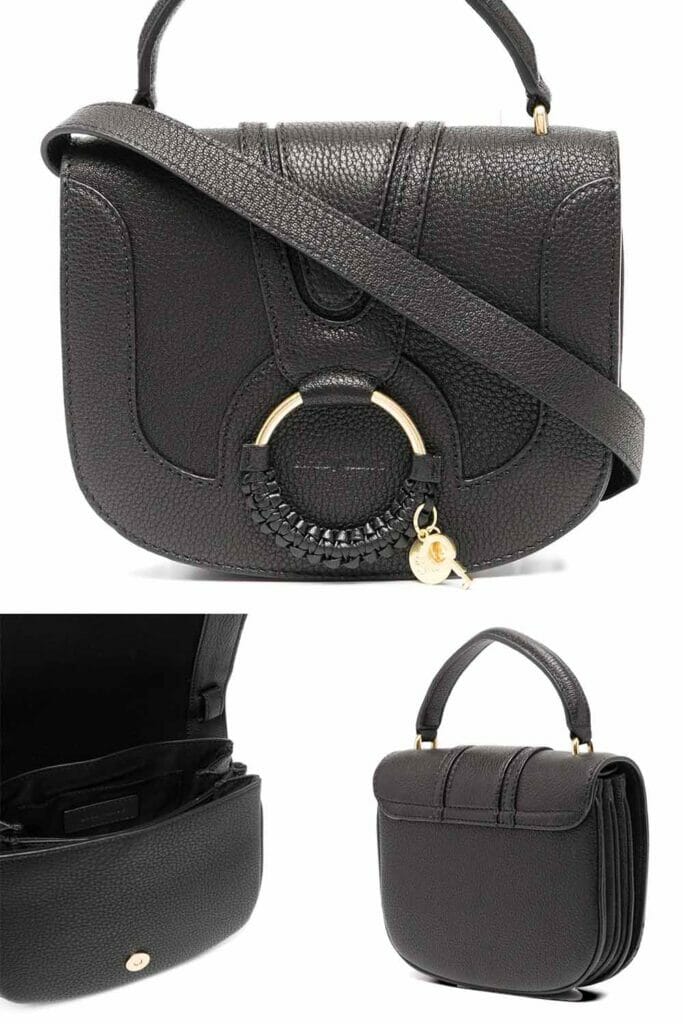 See (Hana small) – £435.00
The See can be worn as a shoulder bag, crossbody, or perhaps even as a clutch since the adjustable strap is fully detachable. A unique gold-tone metal ring adorns the front of the bag and is embellished with woven leather trim and a disc and key pendant. The light beige colour of the bag keeps things neutral for ease of wear and the press stud closure is a practical way to keep everything securely inside.
This gorgeous Saffiano leather bag from Prada is small but perfectly formed and works wonderfully as an evening bag or small everyday bag. Due to the detachable strap, this bag can be used as a clutch as well as a crossbody and has slots inside for 3 credit cards as well as a pocket for keeping your keys safe.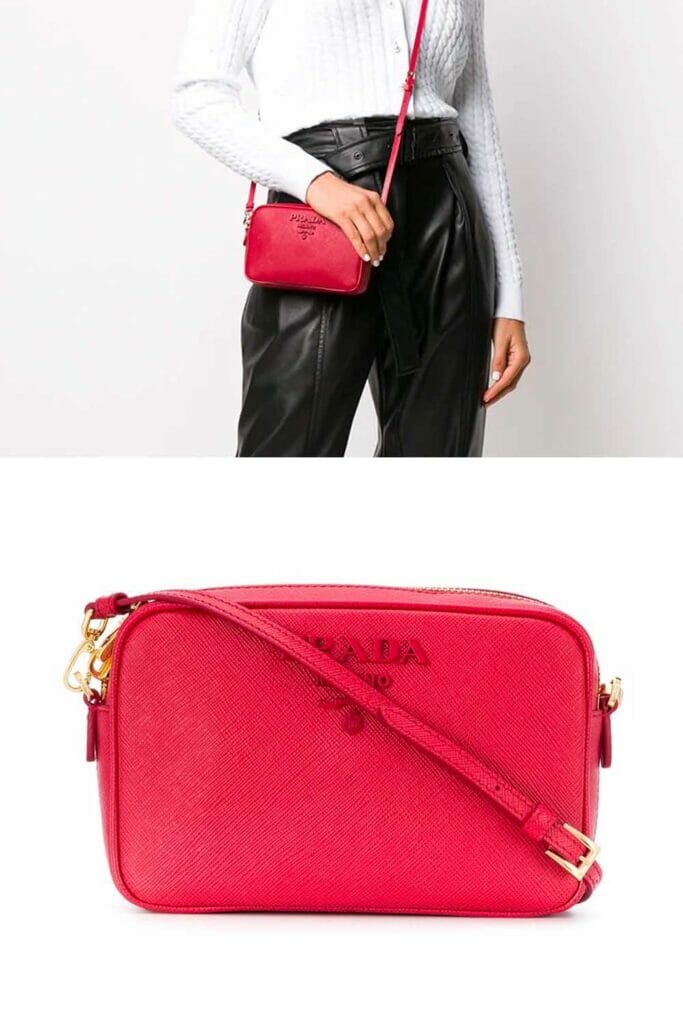 Saffiano Crossbody – £905.00
The Prada Saffiano is available in a multitude of colours, so you can choose the hue that suits your personality best – perhaps Sunny Yellow for a real statement pop, or chic Bluette for a classic-without-being-black look. All colours feature glorious gold hardware and signature Prada lettering, so there's no mistaking your designer bag for a regular leather crossbody.
This quilted leather clutch is a YSL signature! Starting life in 1961, created by graphic designer, Cassandre, this simple yet beautiful bag remains popular today due to its classic and timeless design. The YSL quilted clutch makes the perfect evening bag and is sure to complement any outfit.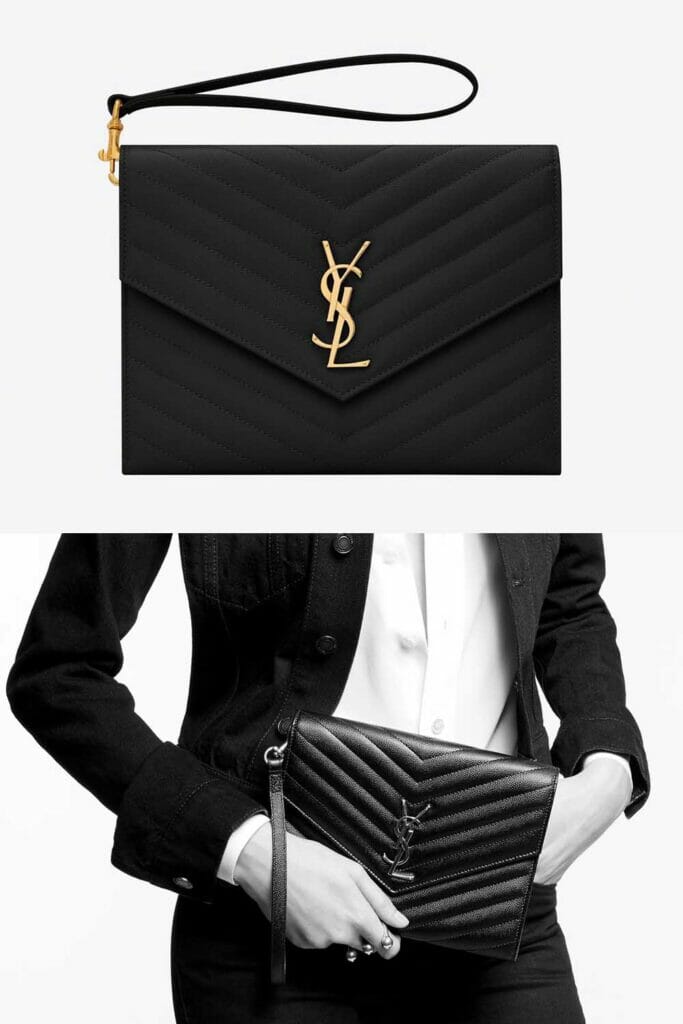 YSL Logo Quilted Pouch – £520.00
A leather wristlet is not only an elegant addition to this pouch but it provides a safe way to wear your clutch without accidentally dropping it and the flap closure keeps all of your belongings secure. Gorgeous gold hardware and a YSL logo plaque add a small pop of detail to this chic and ever-stylish clutch bag.
It wouldn't be Alexander McQueen without that little bit of edge – this skull-clasped, croc-effect leather bag is simple, but statement all at the same time. Patent leather and vibrant gold are a match made in heaven when it comes to designer evening bags, so this McQueen crossbody does not disappoint!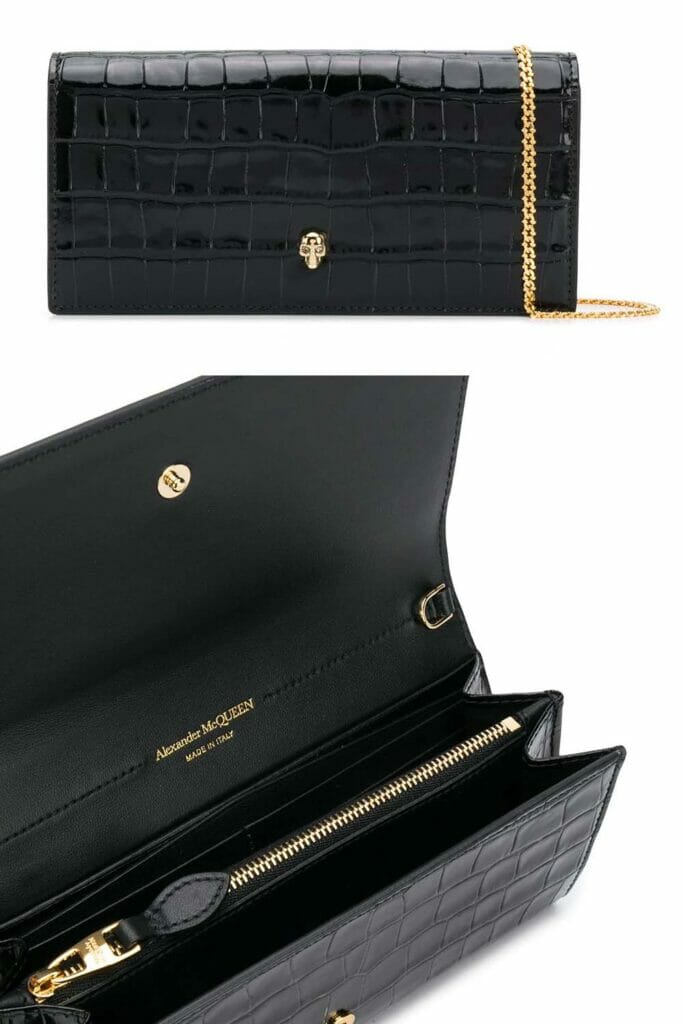 McQueen Skull Croc-Effect Crossbody – £590.00
This leather-lined bag is the ideal size for your night-out essentials, with a slot especially for your credit card – how perfect?! Closing with a magnetic fastening, this structured crossbody can also be held as a clutch, just simply tuck the chain strap inside of the bag. However you wear your McQueen, you're sure to make a statement!
Get 2 bags for the price of one (well, kind of… you get a matching envelope pouch) and still get change from your £1,000 budget! The Saint Laurent shopping tote is the perfect everyday bag for those who don't travel so lightly. This spacious, unstructured bag would be perfect for work and the understated styling means you could rock it with any outfit and the flat top straps are the perfect length for carrying over the shoulder, in the crook of your arm or in your hand.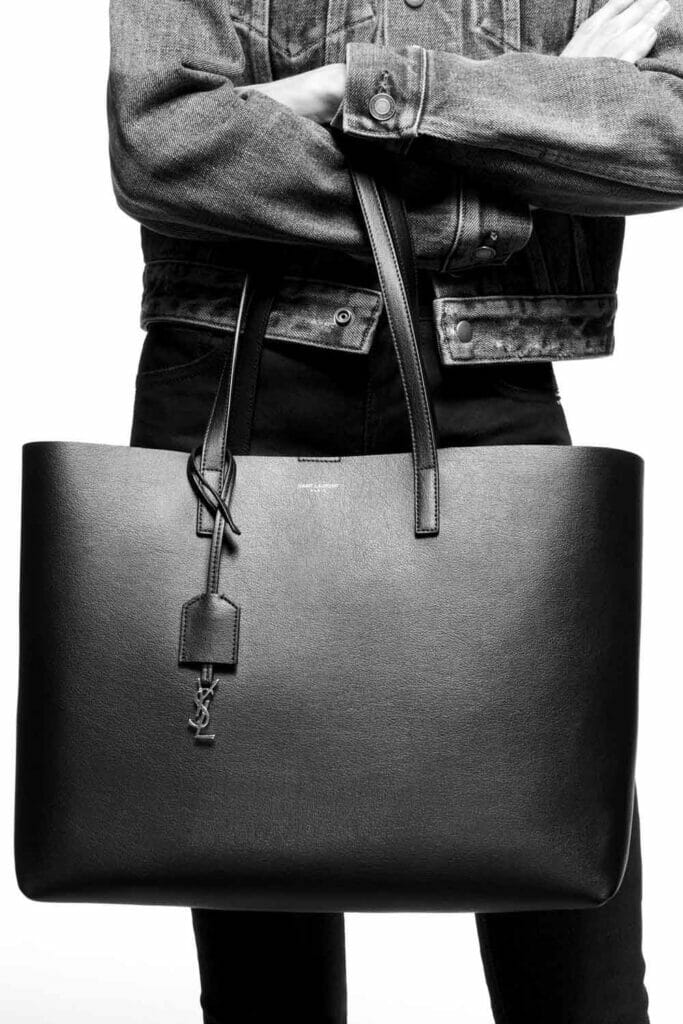 Saint Laurent Shopping Tote – £810.00
Made from gorgeous grained leather, with a YSL leather and gold charm attachment and hallmarked with a small gold hot-stamped logo, this tote is possibly one of the most versatile bags when it comes to matching your wardrobe.
Crafted in Italy from quilted leather, this bag is pretty as well as practical – especially in the beige-pink colorway. Although small, the GG Marmont is perfect for running errands and should fit in your main essentials inside and keep things organised by using the internal slip pocket.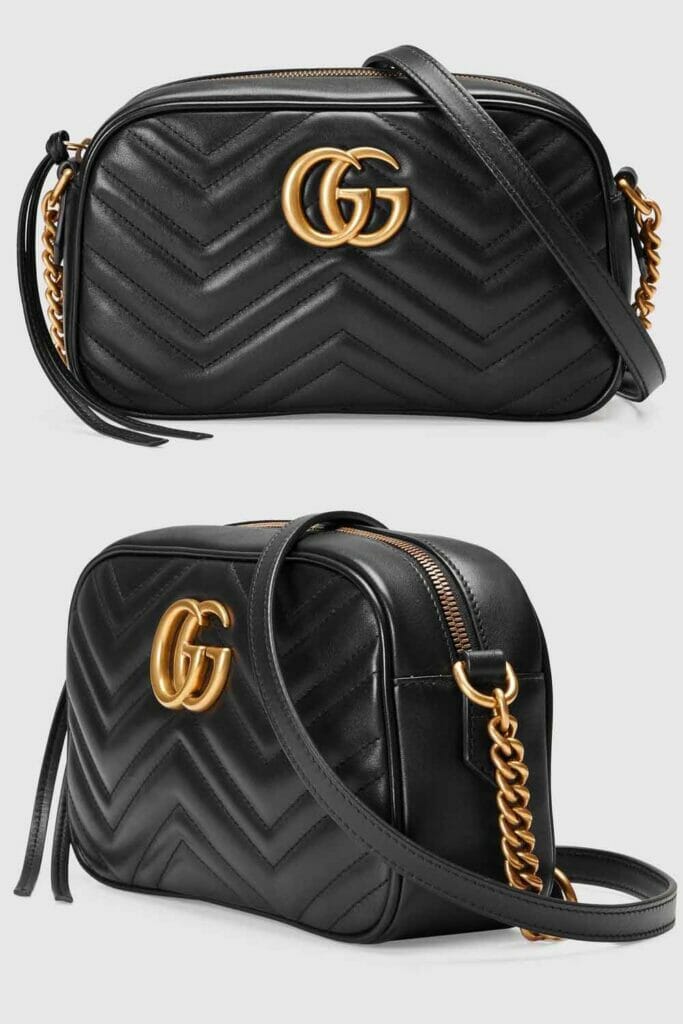 Small Gucci Marmont in Black – £970
Embellished with an antique gold GG plaque with a matching chain and leather strap, this bag is timeless and would make a great first-buy for someone getting into designer bag collecting. This small, neat camera-silhouette bag can be worn over the shoulder or crossbody and has a zipper closure for added security.
Another entry from Gucci here – the Ophidia Supreme Mini. This bag may not be as versatile as the GG Marmont, but it surely packs a punch when it comes to emanating Gucci's style, with GG printed canvas and red and green Web stripes as the most striking features of this design. This mini bag is the ideal size for shopping or for taking in the local sights and sounds of your latest holiday destination.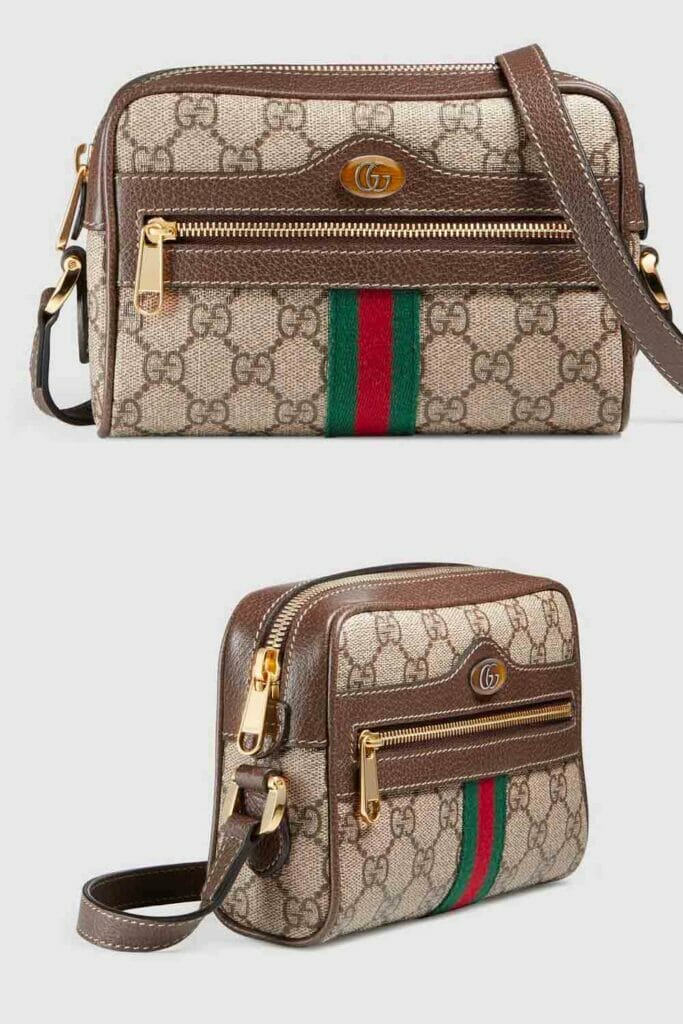 Ophidia Mini GG Supreme – £715.00
The Ophidia Mini has an adjustable strap so it can be worn crossbody or as a shoulder bag and a front zip pocket allows for added space to organise your items. The brown leather trim with signature GG Supreme canvas is perfectly set off with gold-tone metal hardware and the all-important GG plaque.
If you're looking for a classic, sophisticated, brilliant-all-round designer bag, then look no further that the Soho Disco from Gucci. This GG embroidered, grained leather shoulder (or crossbody) bag is perfect for almost everything you could need from a bag and will work wherever you take it – night out, shopping, island hopping… the world is your oyster!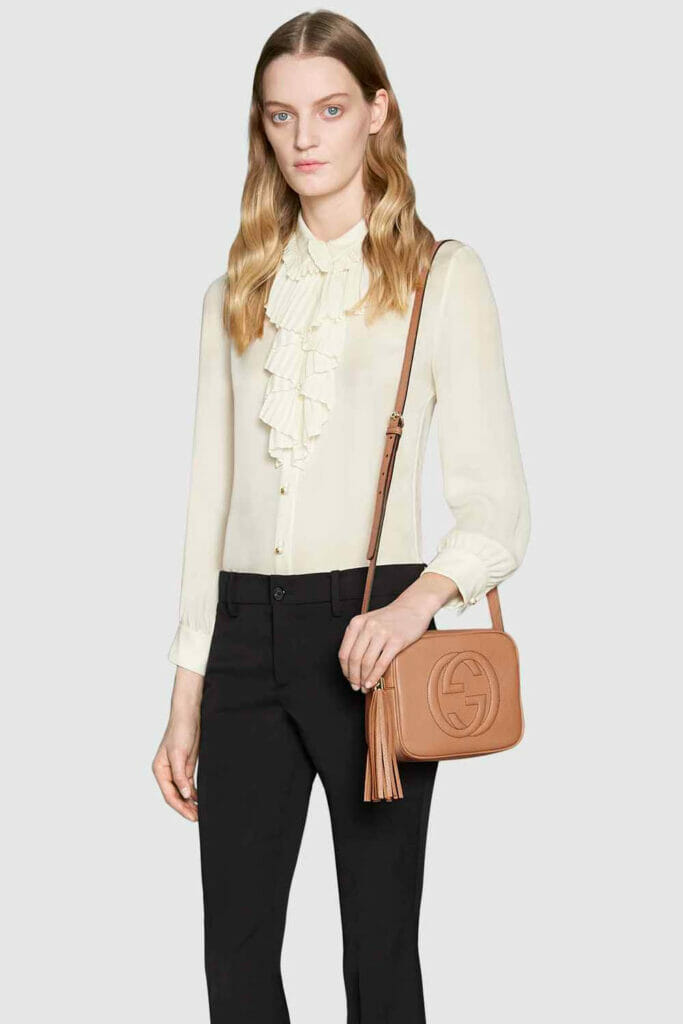 Soho Disco – £865.00
The Soho GG small features an adjustable leather strap, quilted GG motif, and funky coordinating leather tassel zip pull, creating a truly unique but ultra-versatile design that will look fabulous season after season after season.
If you liked the look of the Ophidia Mini Supreme, but you like to carry a little more with you and perhaps find a designer bag to use for work, then the monogrammed Supreme Canvas tote will be right up your street. This medium-sized, highly practical shoulder bag has the same red and green Web stripe with signature GG canvas and long handles for ease of wear.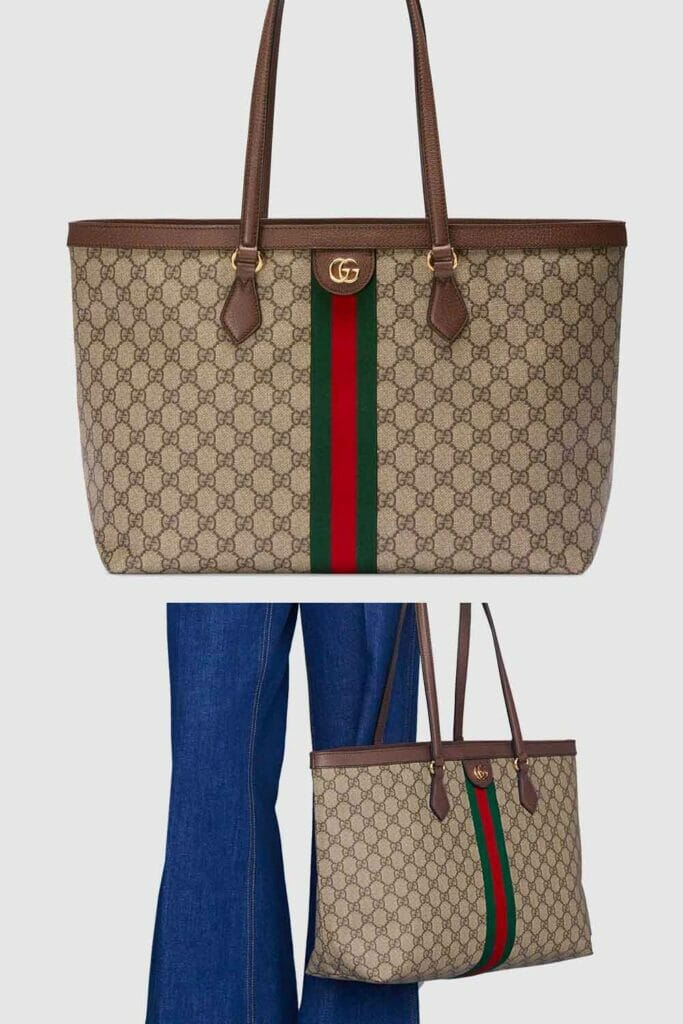 Ophidia GG Medium Tote – £865.00
Of course, a Gucci Ophidia bag would not be complete without some gold hardware, in the form of the more than memorable double G logo. Inside the tote is a zipped pocket for security added organisation and there is a central magnetic fastening to keep your bag snapped shut.
Another designer bag for those who need more room for their essentials – the Saint Laurent Tote is the perfect everyday bag and ideal to take to work. Printed with the words 'Rive Gauche', this bag pays homage to the founder's first-ever boutique address.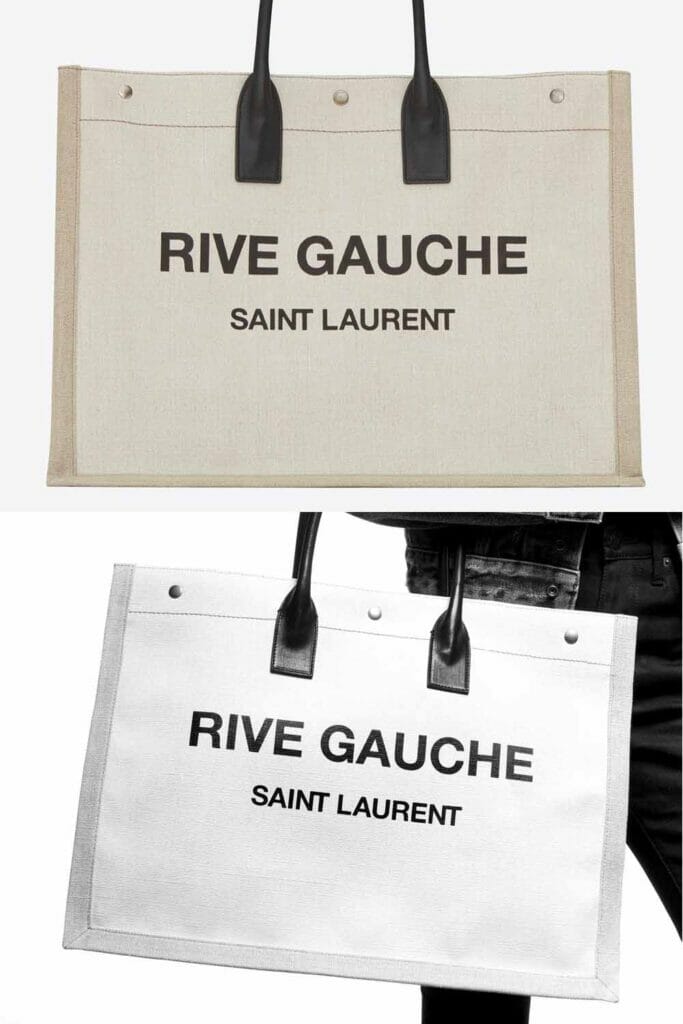 Rive Gauche Logo Tote – £945.00
Made from quality linen canvas fabric, the Rive Gauche Tote is a sturdy boxy-shaped bag fitted with an internal zipped pocket, leather handles, and 3 silver snap closures to make sure your items stay safe inside. This is a feature we love about this tote, as many others have large gaps even when fastened.
If versatility is what you're looking for, then the B-Army Small Crossbody bag from Balmain is the ideal choice for you. The adjustable strap allows this bag to be worn over the shoulder or crossbody. The neutral colour palette featuring a tan leather trim is sure to complement any wardrobe style.
B-Arm Small Crossbody – £775
The perfect bag for running errands, shopping, or just an everyday bag for those who travel light. The YSL Lou Camera bag is a beautiful chevron-quilted suede shoulder bag that can also be worn crossbody for a different look, as well as for increased security!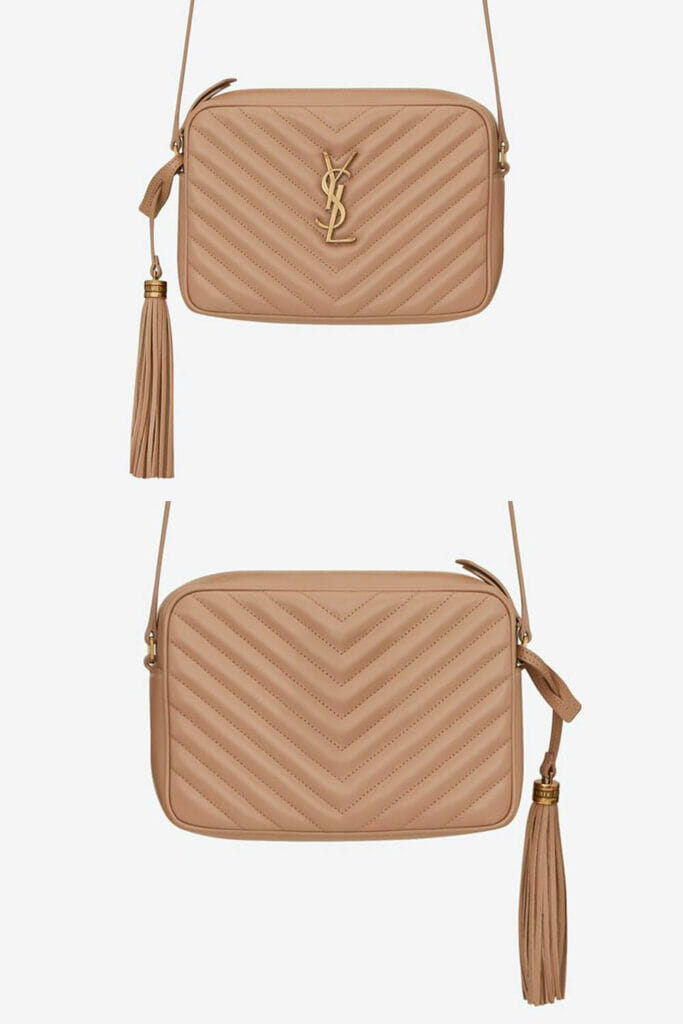 Lou Medium – £1000.00
This zipper closure bag does not have any internal pockets, but it is small enough to not lose anything in there. We love the removable leather tassel which adds a touch of bohemian to this classic rectangular bag and, of course, the signature 1961 YSL logo plaque in a complimentary antique gold coloring.
This YSL handbag is actually on the nose of £1,000, but we couldn't leave it out of this list as it's such a cool little bag which is perfect for pretty much any occasion. The smooth black quilted leather keeps things simple, so you can match it to your outfit day or night.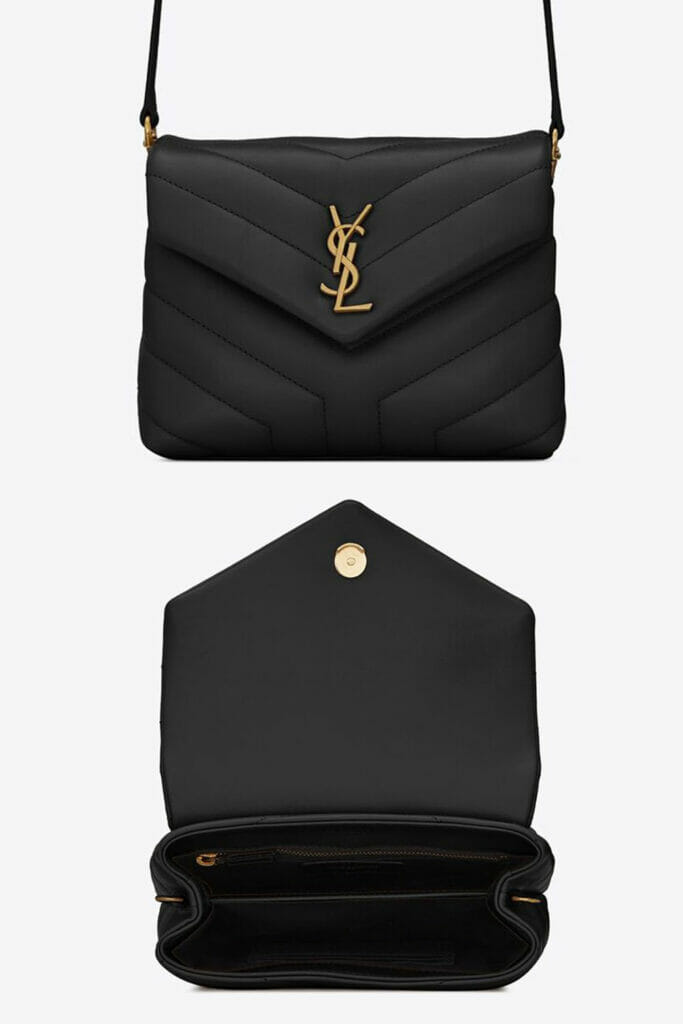 LouLou Medium – £945
The luxurious chevron quilting is adorned with a glossy black iconic YSL plaque – statement without being OTT! Internally, there is a zipped pocket and slip pocket, to keep all of your items neat, tidy, and safe. Simply pop shut with the magnetic fastening and you're good to go, whether you wear it crossbody, over the shoulder, or clutch style.
If you've spent a lot of your designer budget on some stunning Louboutin shoes and need a bag for under £1,000, why not opt for the Louboutin Tote!? This fabulous black leather Cabata bag is a twist on a practical tote with statement studded loops adorning the base of the handles. Perfectly spacious for everyday use and a great choice for those who like an edgy look to their designer handbags.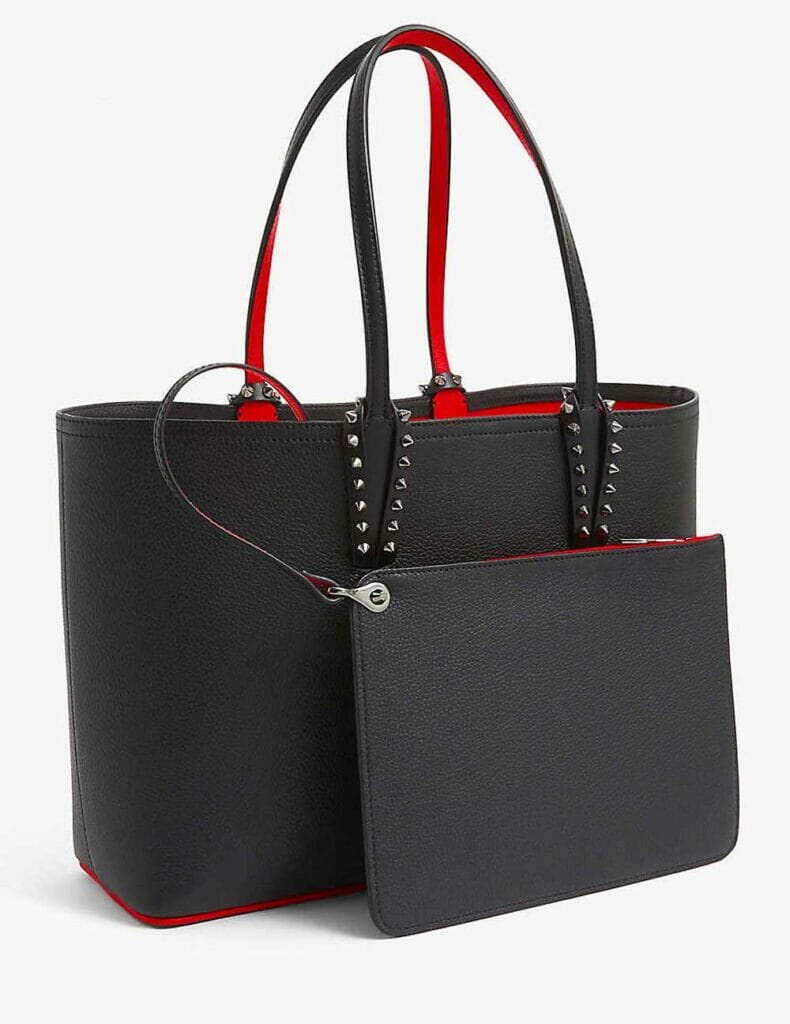 Cabata Studded Tote – £945.00
Of course, the signature Louboutin red is still present in this tote and is just visible peeking out on the underside of the straps and the entirety of the lining is also red leather. A detachable shoulder strap means you can choose whether to wear your Cabata tote over your shoulder or on the crook of your arm.
This Nylon tote bag from Prada will go with so many outfits and is perfect for everyday wear. It is a little more casual than some of the other bags in our list, but the archival Prada logo really adds a chic touch to what could be described as a simple black tote. You won't get much change from your £1,000 budget, but you will get a bag that you will get so many years out of.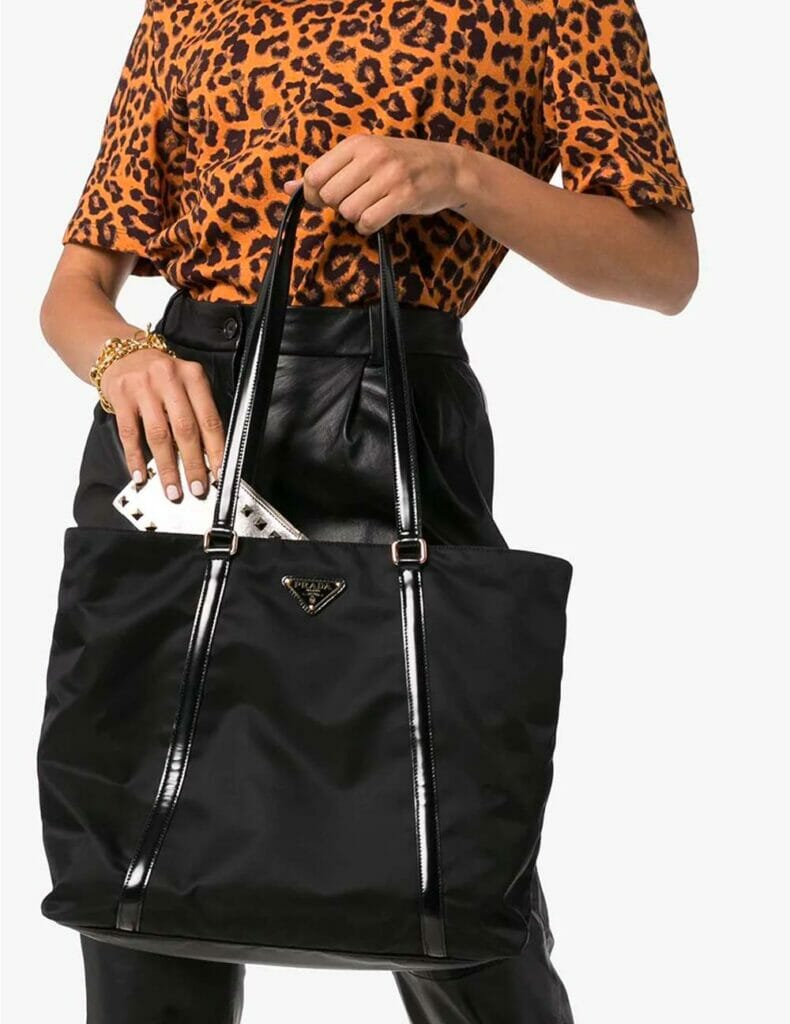 Logo-Embroidered Nylon Tote – £900.00
Spacious and secure, this medium-sized, zipper-top bag is ideal for those on the go, with the added bonus of internal zipped and slip pockets for extra organisation. Flat Saffiano leather handles make this tote comfortable to be worn over the shoulder, in the crook of your arm or in your hand.
Beautiful, classic, and ultra-functional, the Mulberry Bayswater is an ideal everyday or work bag. With plenty of room inside this microfibre-lined handbag, you can carry all you need and perhaps even more – especially when you adjust the sides of the bag to give you extra space. The Bayswater is available in a number of neutral leather colours, perfect for matching to any outfit (we wouldn't blame you if you wanted one in every colour).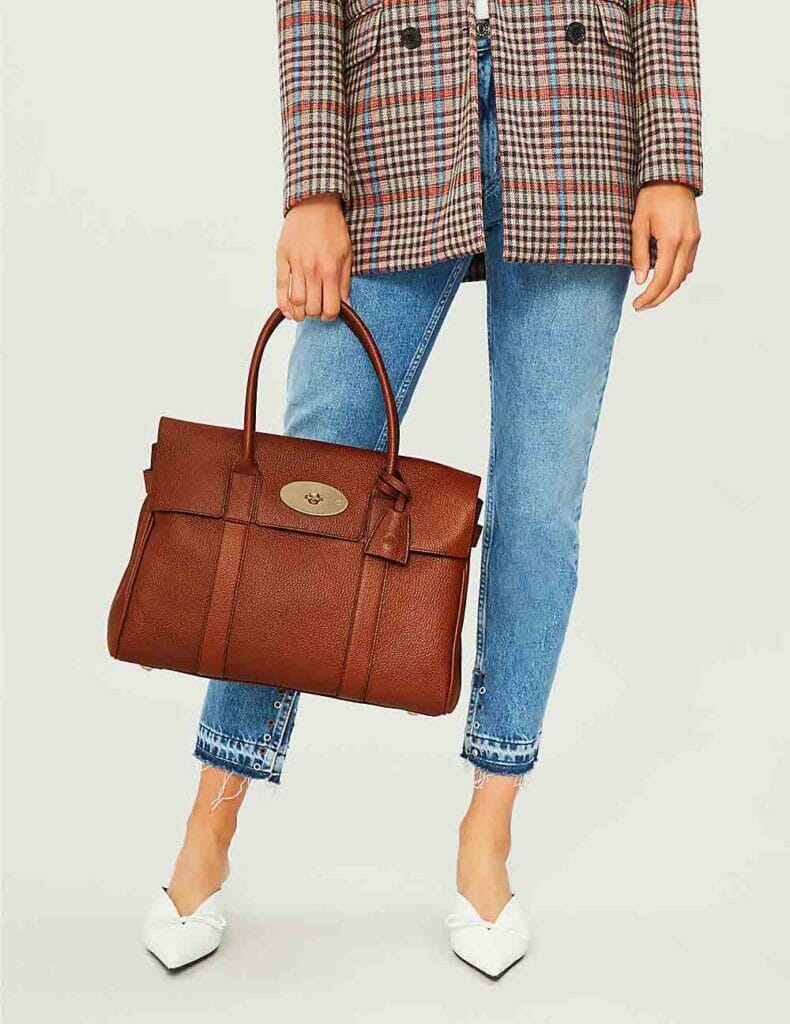 Bayswater Small – £995.00
The Bayswater features brass hardware in the form of a signature postman's lock and a Mulberry logo charm. Keep your keys and money safe in the internal zipped pocket and use of the additional slip pockets to store those essentials you need to have at hand. Well structured leather handles mean you can wear this bag over your shoulder, in the crook of your arm, or carry it in your hand.