What are the 7 BEST Everyday Chanel Bags?
Are you looking for luxury that can be part of your everyday life? Read on to discover the 7 best everyday Chanel Bags.
Gabrielle Coco Chanel prided herself on designing beautiful handbags that were still functional; and insisted on creating bags that had hands-free options as this was a crucial element for daily use. All Chanel bags were always designed with the everyday woman in mind, and this is still the case in 2022.
Chanel bags will always be the epitome of luxury, and will forever remain a status symbol within the fashion world. As luxurious as they may be, you may find yourself asking, what are the best everyday Chanel bags that are currently available in 2022?
Find out which 7 Chanel bags I think are the best for everyday use…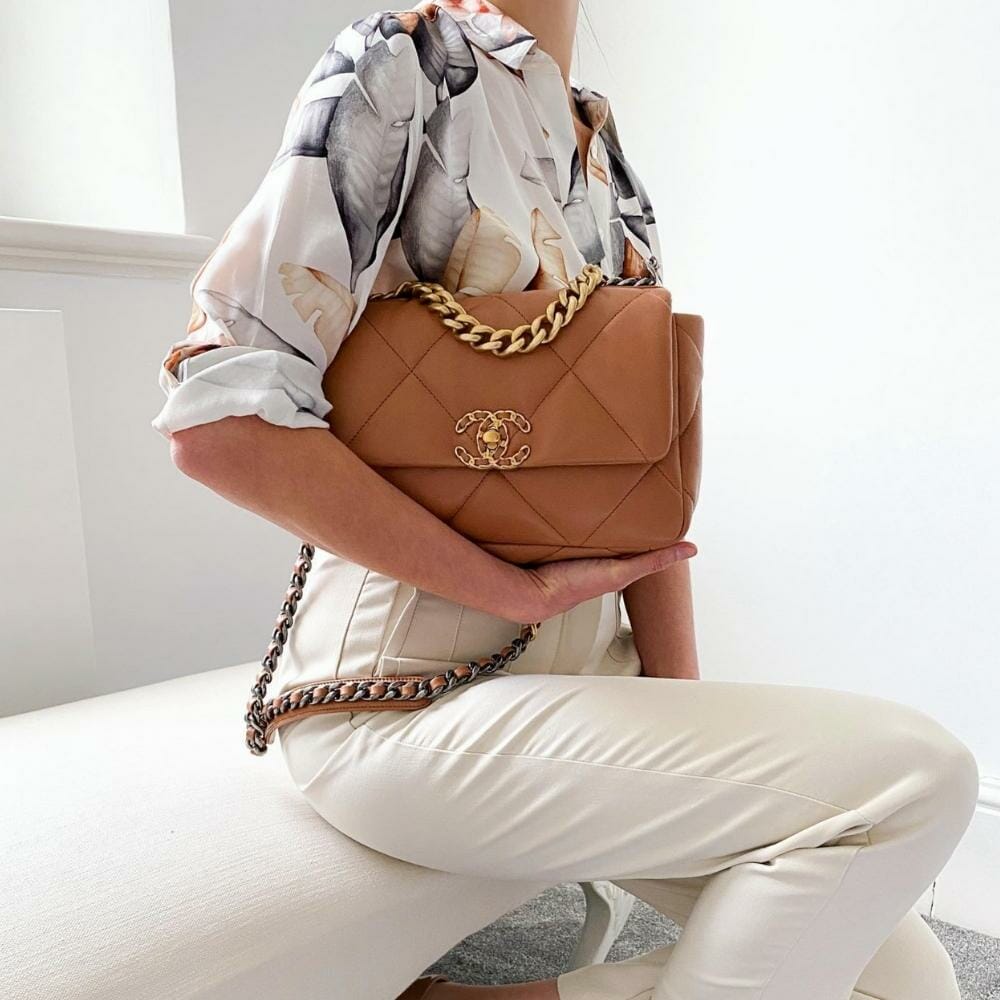 There is no question about it – the Chanel 19 bag is one of the most sought-after bags on the luxury market. The 19 bag is a Chanel lover's dream with its luxurious and puffy quilting, and oversized chunky crossbody chain; a perfect everyday bag.
The Chanel 19 bag is available in various sizes, ranging from a small crossbody to a maxi flap size. However, the small and large flap bag variations of the 19 bag are most suited for everyday use. The small size of the Chanel 19 is roomy enough to carry all your daily essentials and works perfectly as a crossbody making it one of the best everyday Chanel bags.
However, if you are hoping to carry an iPad and diary, the large size may be better suited. We cover all the sizes of the Chanel 19 with further details in our dedicated blog post here.
One of the standout features of the Chanel 19, is the multiple ways in which it can be worn. You can simply use the top handle to carry the bag in your hand or arm, or you can use the long strap on your shoulder or cross-body. The Chanel 19 has a casual yet luxurious feel to it; the ultimate combination for an everyday bag.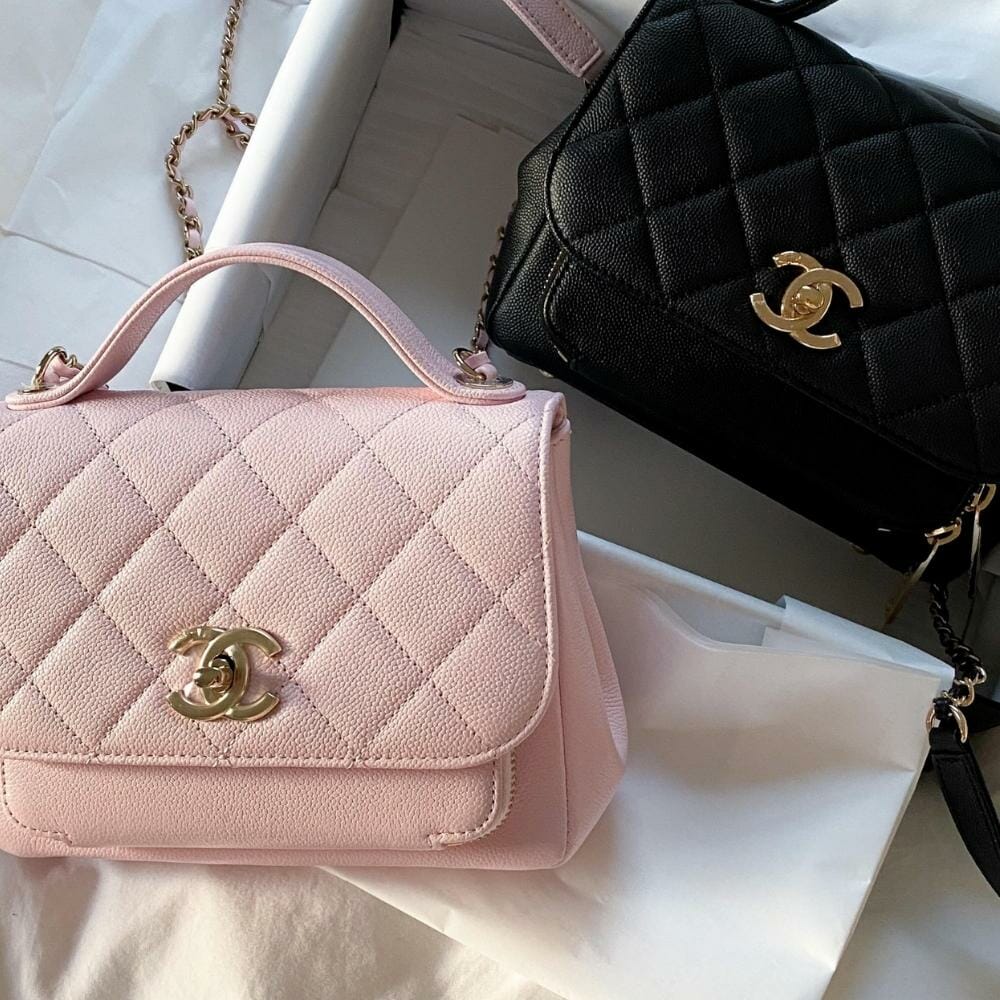 First launched in 2017, the Business Affinity remains part of Chanel's core collection. The Business Affinity has a fresh new twist on the Classic Flap design; with a much more minimal aesthetic. In comparison to the Classic Flap Bag, the Business Affinity's price point is a lot more reasonable; therefore you may feel a little bit more comfortable using this bag on a daily basis.
The Business Affinity has all the features needed to make it an incredibly functional bag. There are multiple compartments and pockets within the bag for organization. The bag is also slightly adjustable when it comes to size – the bag can actually be expanded ever so slightly when needed by using the carefully designed poppers on the side. Not only is the Business Affinity functional when it comes to capacity but it can also be worn in a variety of ways, including crossbody. Currently, the Chanel Business Affinity is one of the most sought-after bags due to its practicality, price tag, and carefree vibe.

Find out everything you need to know from size options to prices of the Chanel Business Affinity bag in this blog here.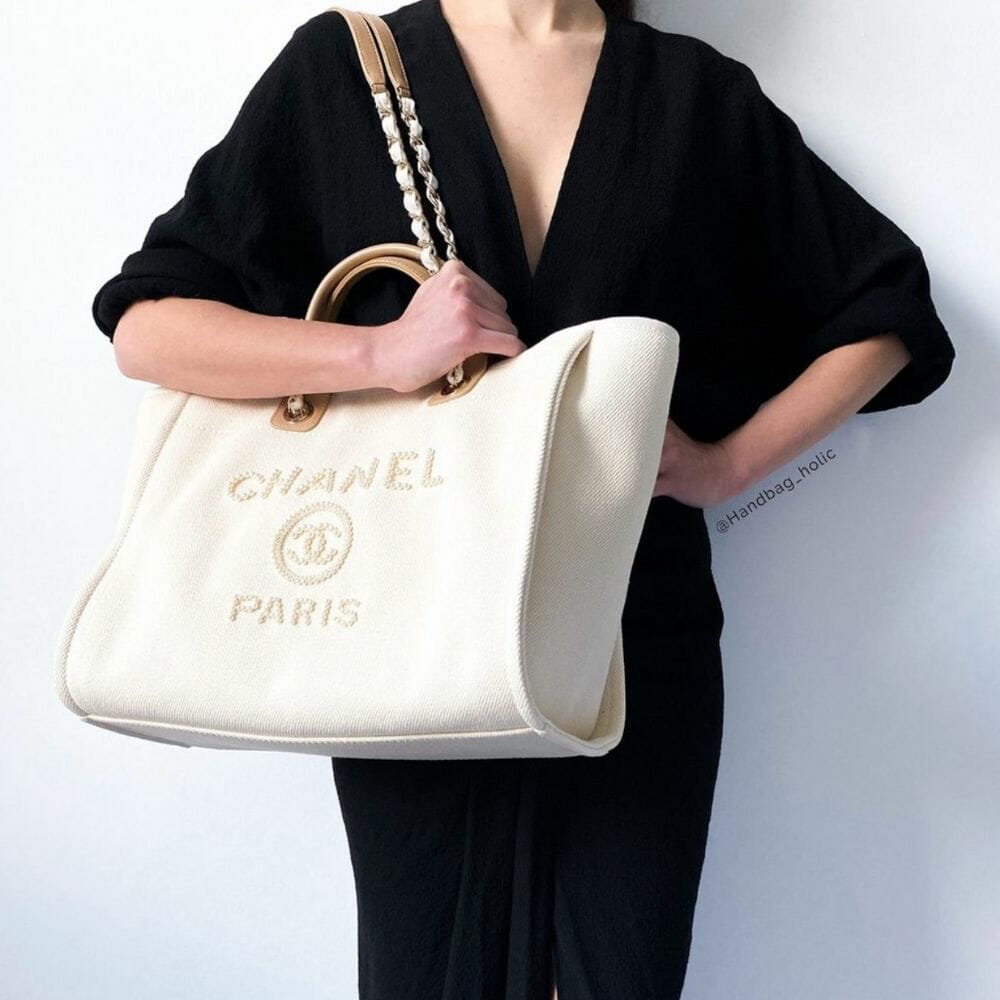 The Chanel Deauville tote bag became an instant hit after it first made its appearance back in 2012. With all the classic characteristics we love from the fashion house, the Deauville tote is one of Chanel's most casual pieces within their core collection and therefore one of the most functional. The Deauville has an incredibly casual aesthetic, yet the signature Chanel Rue Cambon print and chain shoulder straps add luxury appeal.
The Deauville is available in multiple different sizes, ranging from small to extra large. See our complete guide to the Chanel Deauville tote to see what size would work best for you, as well as the range of fabrics the bag is available in.
This iconic tote bag can be worn in multiple ways, depending on the size you go for. The medium, large, and extra large sizes of the Deauville all come equipped with sturdy leather handles, and a canvas interweaved chain shoulder strap. It is important to note that the larger the size of the Chanel Deauville tote, the more you tend to fill it, and it can quickly become an incredibly heavy bag! Chanel has recently introduced a new small-size Deauville tote that can work perfectly for running daily errands, whilst still fitting all your essentials.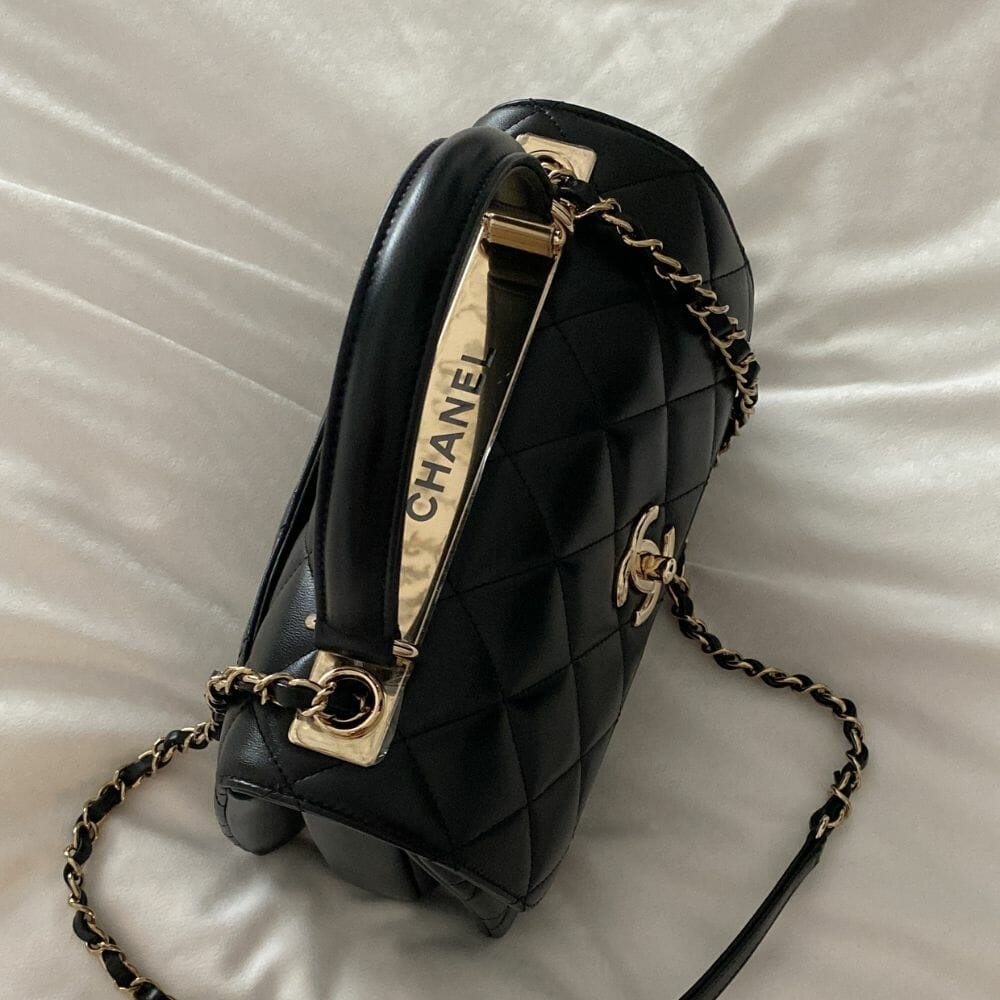 A definite must-have for all Chanel fans; the Trendy CC bag features all the iconic and much-loved elements of the Classic Flap, with a much more modern and functional twist.
The practicality of the Trendy cannot be overlooked; with multiple compartments and a top handle, the bag is incredibly user-friendly. This functional Chanel bag comes with 3 rather roomy internal compartments which are ideal for organizing all your daily essentials.
Additionally, the Chanel Trendy bag can be worn in multiple ways which makes it very versatile for everyday use; perfect for day and night. The handbag not only comes with a classic interwoven leather and chain shoulder strap but also with the ever-so-welcome addition of a top handle. These modern additions make the Trendy CC a perfect everyday bag as it can suit all occasions; it truly is a luxurious yet practical bag.  
Watch our video on the Chanel Trendy CC, including a detailed review of the pros and cons and if I think it's worth it.
A modern twist on the classic Chanel flap bag silhouette we all know and love, the Chanel Boy bag is a much more practical alternative. With its chunkier and more versatile chain strap, the Boy bag works perfectly for everyday use and can be used as a crossbody bag and shoulder bag. The Boy bag is best suited to crossbody wear, and sits perfectly against the body, making it functional and practical for daily use.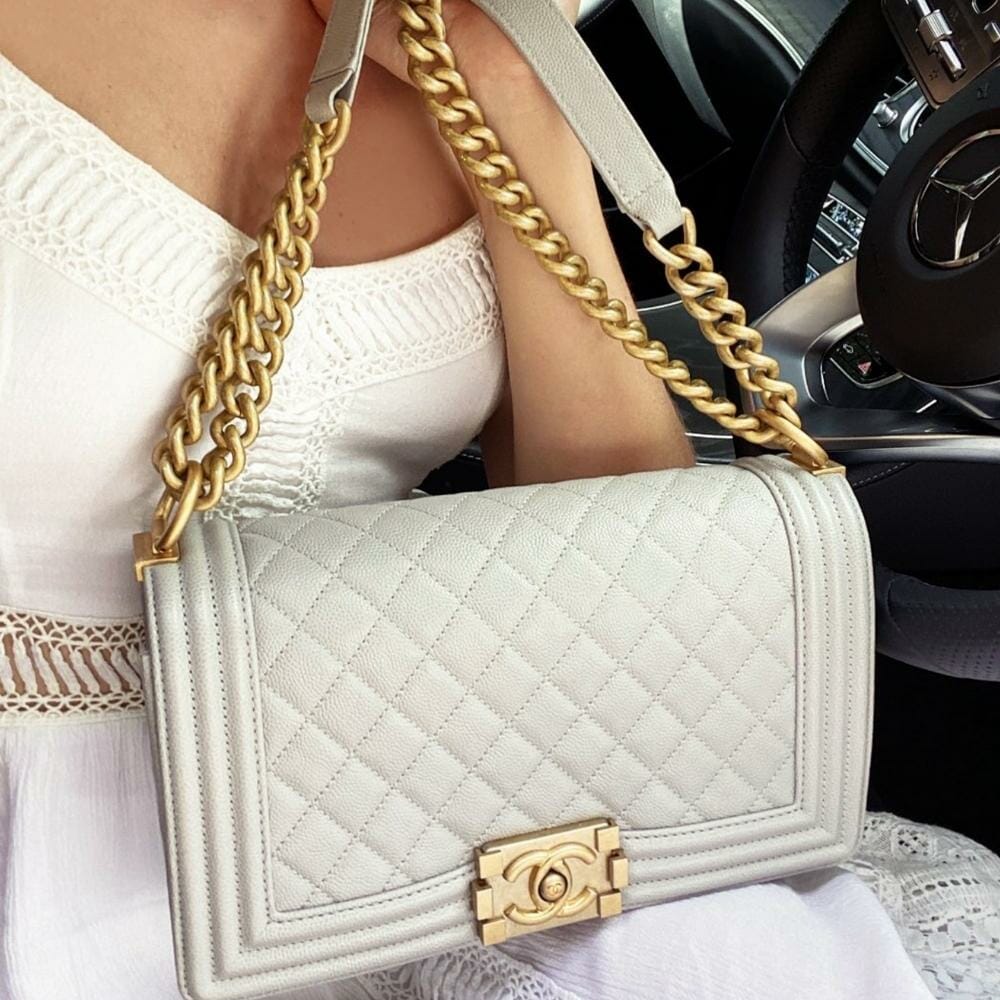 Unlike the Classic Flap, the Boy bag features a single flap design, making it roomier bag for all your daily essentials. See our ultimate guide on the Chanel Boy bag for further details on sizing and details on what fits inside here.
A recent addition to the Chanel Boy bag range is the new Small Boy Chanel messenger bag. Available in grained calfskin; this new style of Boy Bag boasts a saddle shape that works perfectly as a small crossbody.
One of the latest additions to the Chanel handbag range is the all-new Chanel 22 bag. A completely new look for Chanel, the 22 bag is a new and exciting, fresh design from the luxury house. The 22 bag is proving to be highly popular due to its laid-back and carefree aesthetic.
Crafted from glossy and resilient calfskin leather, the 22-bag is incredibly lightweight and functional to use. The 22 bag is currently available in three different sizes; small, medium, and large, as well as a backpack variation. With a magnetic button closure and drawstring, the Chanel 22 is the perfect bag to fit all your daily essentials. The matching removable pouch is a welcome addition to the bag's design, for added security and organization.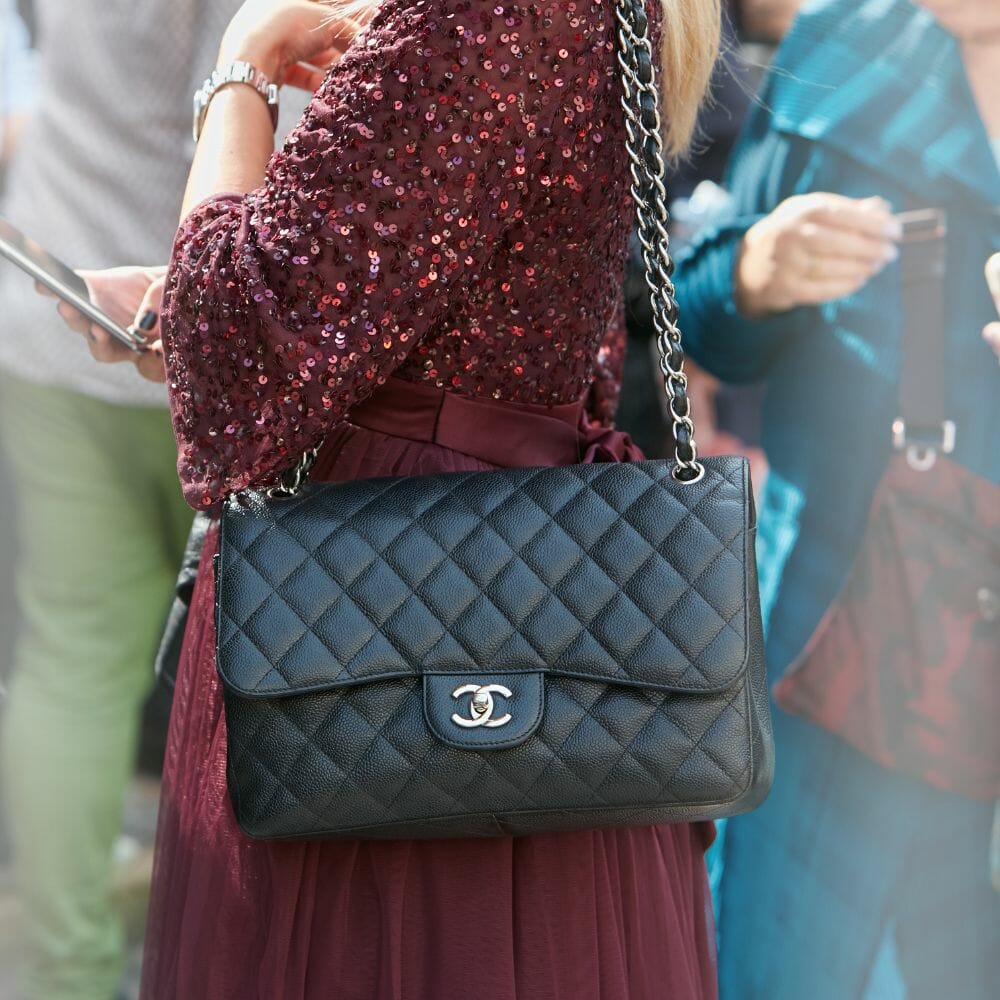 One of the most iconic handbags in the world has to be the Chanel Classic Flap. This bag will forever remain one of the most sought-after bags in the luxury fashion world; as not only are they beautiful but also functional. Available in multiple size variants, materials, leathers, and colors; there is a perfect Chanel Classic Flap bag for everyone.
When it comes to everyday use, what size Chanel Classic Flap is best? If you are looking for a bag you can easily run your daily errands with, we would suggest looking at the larger sizes of the Classic Flap. The medium-size Classic Flap and Jumbo are the most practical options when it comes to everyday use. The Classic Flap in the jumbo size works well every day if you are looking for a bag that can be easily worn crossbody, or comfortably on the shoulder.
You may also consider the single flap variation of the Classic Flap Bag, as these styles can hold significantly more than the double flap variation. In addition, single-flap bags tend to be much lighter to use on an everyday basis, especially in jumbo size. This is something you may want to consider when choosing your perfect everyday Chanel Classic Flap.
Find out everything you need to know about the Chanel Classic Flap including sizes and prices here.
Best Casual Chanel Bag For Everyday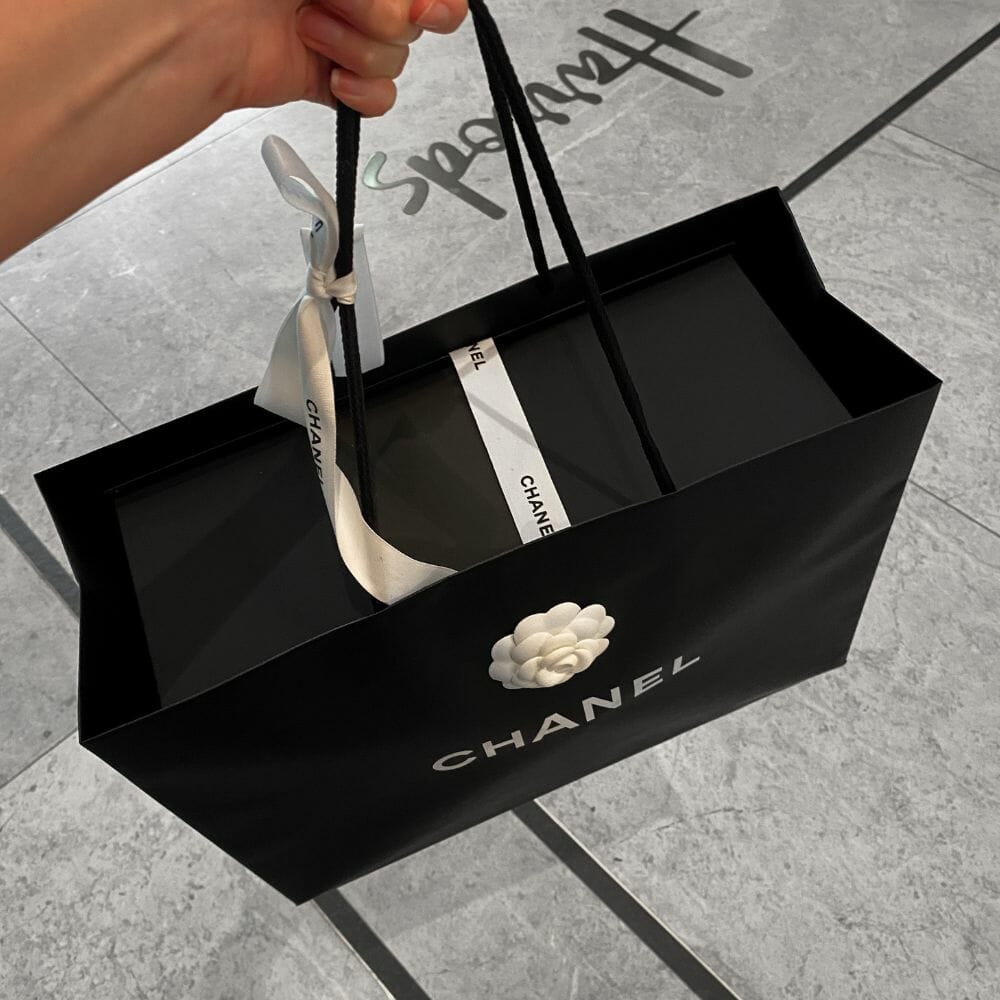 So you may be asking yourself, what is the best Chanel bag for everyday use? Well, it all comes down to personal preference and is dependent on what size bag suits your daily needs best.
However, if you are looking for a more casual bag suitable for everyday use, the Chanel Deauville tote, 19, and 22 are some of the best options. All of these options have a much more laid-back look and are incredibly practical. In particular, the Chanel 19 and Deauville tote can be worn in multiple different ways, making them incredibly functional. The new Chanel 22 is also classic in appearance, yet much more user-friendly than some of Chanel's smaller crossbody bags. Not only do these bags have a much more casual aesthetic when it comes to Chanel, but they are all available in a variety of sizes, as well as fabrics and leathers; so there is one to suit everyone.
At the end of the day handbags are made to be worn, so finding a Chanel bag that you can comfortably wear every day can really elevate your look. These bags are expensive, so finding one that works for all occasions, can really be the perfect luxury addition to your wardrobe.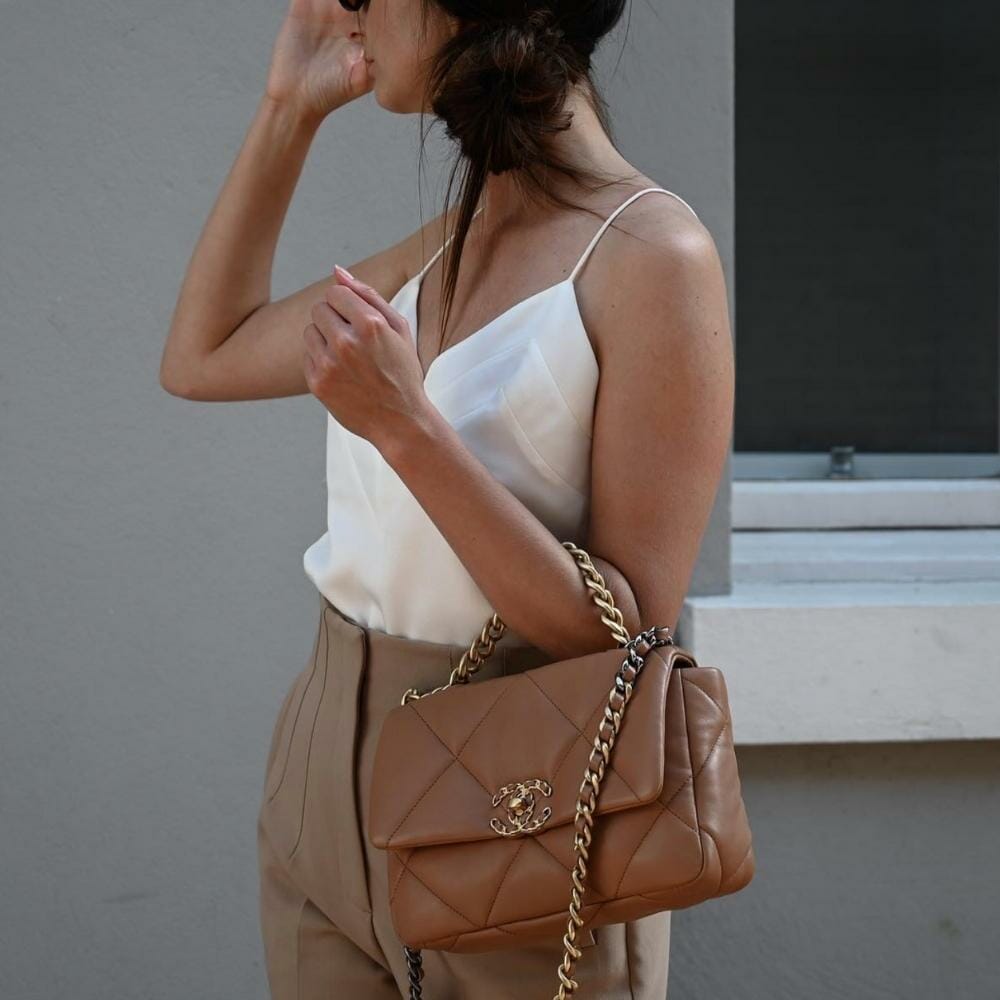 If you're looking to add to your collection, why not browse the preloved market to find something a little different? Some of our favourite places to find the best bags are: