The Chanel Deauville Tote Bag
The Chanel Deauville tote bag first appeared on the runway of Chanel's SS12 collection and was clearly an instant classic in the fashion world. The simple yet beautiful design of this bag struck a chord with many and the Deauville proceeded to become a fast favourite. Chanel has continued to bring out this shape in a multitude of their collections, updating colours, hardware and materials to suit the season and collection themes.
Named after one of Coco Chanel's favourite beach resorts in Normandy, the Deauville screams summer and has us picturing ourselves on the beach with our Chanel tote by our side. With a stunning polished-yet-casual look, this large, slouchy handbag is ideal for holidays by the sea and also perfect for those who need to carry a lot with them on the daily. Inside the bag are a large zipped pocket, 2 smaller open pockets, and a handy key clasp to help organise your belongings. If you are wanting to use this bag day-to-day, you may want to purchase a handbag liner to keep things even tidier, as well as cleaner and more structured.
In true Chanel style, this bag makes a statement – with the design featuring Chanel, the CC logo and the address of Coco's first boutique; 31 Rue Cambon – there's no mistaking that this is a Chanel bag! The addition of fabric woven chain straps and engraved hardware give you an elevated beach bag look that only Chanel could do so well.
You can find the Deauville in small, medium, large and extra-large sizes and a number of different colourways and fabrics. We talk about size variations and these different fabrics later on in our post, so keep reading if you're still unsure about which size or fabric would suit your needs the most.
We do love this bag and we're super excited to tell you all about it – what fits in, how to style it, how to care for it – so you can make your buying decisions with a lot more knowledge and thought, as the Deauville is quite a large investment.
Chanel Deauville For Sale
If you're already hooked on this gorgeous bag, then you will be wondering where to buy a Chanel Deauville tote. There are many ways in which you can get your hands on one of these highly sought-after Chanel bags, but it all depends on what you're looking for.
The obvious way to purchase your Chanel Deauville is to head to your nearest Chanel boutique and see what they have available, handle the bag, and make sure it's exactly what you're looking for. It may be a good idea to put your name on waiting lists at a variety of stores to find out when they have the design you're lusting after in stock if you can't find the one you want. Buying new will set you back a fair bit, so if you don't mind pre-loved, there are plenty of options for going this route.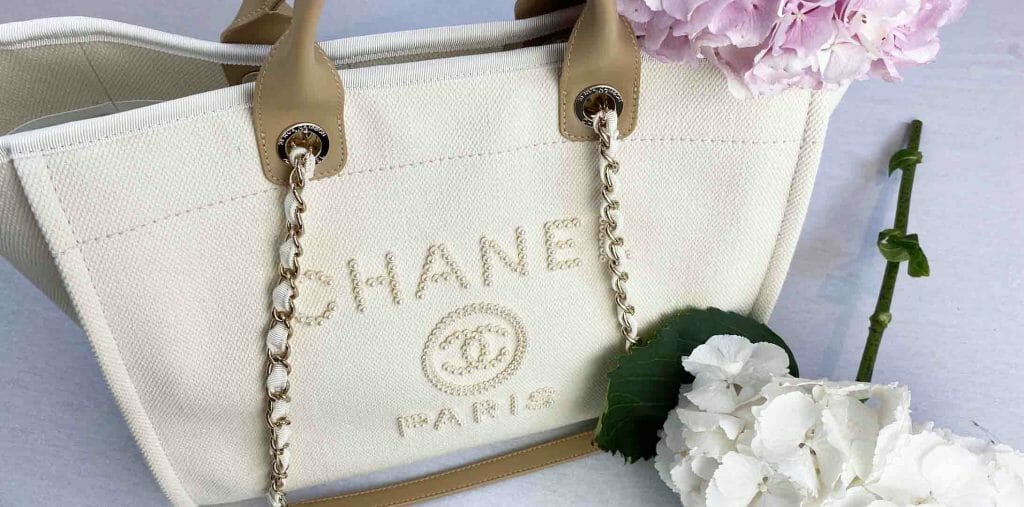 Online marketplaces make it so easy to find this bag and you get a huge variety of options in style, condition, and price. If you are looking to buy pre-loved then you will want to check out eBay, Vestiaire Collective, Depop, and Tradesy to name just a few of the online marketplaces on offer. It is so important that sellers provide all of the information and evidence of the bag's authenticity – don't buy from a seller if there is any chance they are being dishonest with you or selling a fake. We strongly advise always getting a professional authentication service to check your pre-loved bag once purchased, see our list of recommended authentication services here.
Keep your eyes peeled on sites like ours – we often update our shop with our latest acquisitions and regularly feature top Chanel bag finds from across the internet on our Top Designer Deals Page.

Chanel Deauville Tote Bag Size and Price Comparison
By design, the Deauville bag is on the big side, since it was designed to hold larger items such as beach towels making it the ideal beach bag. Despite this underlying function, it can be used for so much more and the availability of multiple sizes of this bag mean you can find the one that best suits your lifestyle. Be aware, however, that this bag only has a snap closure and no zip along the top, so make sure items such as your purse and important documents make their way into the zipped pocket inside.
The Chanel Deauville Tote Sizes
Image
Size
Dimensions CM
(Width x Height x Depth)
Dimensions Inches
(Width x Height x Depth)
Approx. Price
Small
34cm x 30cm x 15cm
13.5″ x 11.75″ x 6″
$3000
Medium
39cm x 30cm x 22cm
15″ x 11.7″ x 8.6″
$3300
Large
44cm x 32cm x 21cm
17"x 12.5"x 8.2"
$3900
Extra Large
51cm x 38cm x 20.5cm
20" x 15" x 8"
$4100
*Minimum prices for each size correct in June 2020.
What fits inside the Small Chanel Deauville Tote Bag
Unlike the larger sizes of this bag, the small doesn't have the additional leather handles. Instead, it just features the classic woven Chanel chain shoulder straps which both have leather tops. This can make this bag lighter in weight than the larger models, but it does limit the ways in which the bag can be carried.
The small Chanel Deauville tote is the perfect size for many, with the ability to carry a number of everyday essentials as well as larger items for work or travel. Investing in a handbag liner to fit inside your tote is a really great idea as it will keep all of your belongings in place and easy to find. As an example, this bag can comfortably fit in the following items:
Small 13″ laptop e.g. Macbook Air (may not fit in leather versions due to more structured shape)
Phone
Water bottle
Purse/Card pouch
Keys
Notebook and pen
Small makeup pouch
Hairbrush
Handcream or other care products
What fits inside the Medium Chanel Deauville Tote Bag
The medium Deauville tote isn't vastly different in size to the small (just a few cms in it), but it does feature the added bonus of leather handles for carrying the bag in hand or comfortably in the crook of the elbow. The longer shoulder chain straps are still an option too, so this can be worn in that way too.
If you don't need too many items for work (or for your day-to-day routine) then the medium could be the choice for you. As we said, the sizing isn't too different from the small, so the example list of items is not much different:
Small 13″ laptop e.g. Macbook Air (may not fit in leather versions due to more structured shape)
Phone
Water bottle
Purse/Card pouch
Keys
Notebook and pen
Small makeup pouch
Hairbrush
Mirror
Handcream or other care products
Small snack
What fits inside the Large Chanel Deauville Tote Bag
It is highly recommended that you get a liner for this size of Deauville tote, especially the woven fabric designs, as they can start to slouch over time. This sagging can leave your bag with wrinkles and could cause your items to collect right in the middle of the bottom of the tote – totally misshaping the bag.
As it is a large single compartment bag, you can fit plenty in it. Below is an example list of what would comfortably fit into a large Chanel Deauville tote. It may get a little on the heavy side if you were to carry all of these items, but they would fit with room to spare:
15″ laptop (slimline – Macbook air)
iPad Pro
Camera
Water bottle
Purse
Sunglasses
Keys
Notebook
Small makeup pouch
Perfume
Hairbrush
Mirror
Handcream or other care products
Small snacks
Spare clothes or small lightweight shoes
What fits inside the Extra Large Chanel Deauville Tote Bag
The extra-large Chanel Deauville tote is huge. This sizing makes it ideal for beach trips as it can fit in some really bulky items, like your favourite beach towel, spare clothes and underwear, spare shoes… basically, anything you would want with you when you're beachbound. After all, Deauville is Coco Chanel's favourite beach resort which inspired the name of this bag.
This tote would work for those who love an oversized, statement handbag for everyday wear but it is also ideal for travel – due to the huge single compartment, you could fit enough in here to use as an overnight bag (in summer, it could be used for a long weekend). Mums might find this large bag ideal for carrying all of the kids and babies paraphernalia around with them on a day-to-day basis. For an everyday work bag, you could fit in all of the essentials and more! Again, filling the bag to maximum capacity will make it extremely heavy, so be aware of this.
15″ laptop (slimline – Macbook air)
iPad Pro
Camera
Water bottle
Purse
Sunglasses
Keys
Notebook
Small makeup pouch
Perfume
Hairbrush
Mirror
Handcream or other care products
Small snacks
Spare clothes or small lightweight shoes
Chanel Deauville Tote Bag Fabrics
Due to the size of this particular Chanel bag, there's lots of scope for fabric variations/mixes as well as colours and hardware. Each season the Chanel Deauville tote gets reimagined and more fabrics and colours become available. The original design of this tote was created in canvas and was available in limited colours, but, it has since been released in many more styles and fabrics including the following:
Calf-skin & Caviar leather
Canvas
Denim
Raffia
Mixed Fibres – including Viscose, Lurex and Cotton
Canvas
This is perhaps the most iconic fabric for the Chanel Deauville to be made from. The softer canvas fabric gives the bag that semi-slouchy beach vibe, while still looking absolutely fabulous. Chanel Deauville canvas tote bag does not have metal feet on the base (like some leather versions do), so you must be careful where you set your bag down and ensure you keep it off the floor where possible. The canvas is slightly water-resistant, so some stains should be very easy to clean, but it is best practice to avoid situations which could damage the fabric of the bag – be particularly cautious with lighter coloured canvas.
Chanel Deauville Denim Tote
If you've ever worn jeans, then you'll know how durable denim can be. Made using heavy-duty woven cotton fibres, denim can withstand a lot of wear and tear. Denim adds a more casual air to this handbag design, perfect for the slouchy, beach bag tote design.
The Deauville tote has also been made in denim (sometimes listed as denim blue canvas), this fabric colourway was actually one of the first-ever made in the Deauville debut of 2012. Denim made a feature again in the Métiers d'art collection of 2019 and featured gorgeous gold hardware and a gold lurex running through the fabric of the bag.
Chanel Deauville Leather Tote
All of the Deauville tote handles and top binding are made from calf-skin leather which gives the bag a really polished look and stops it from being just a simple tote and turns it into a gorgeous Chanel designer handbag. These handles are super durable and give your bag even more longevity as well as adding another way to carry the Deauville.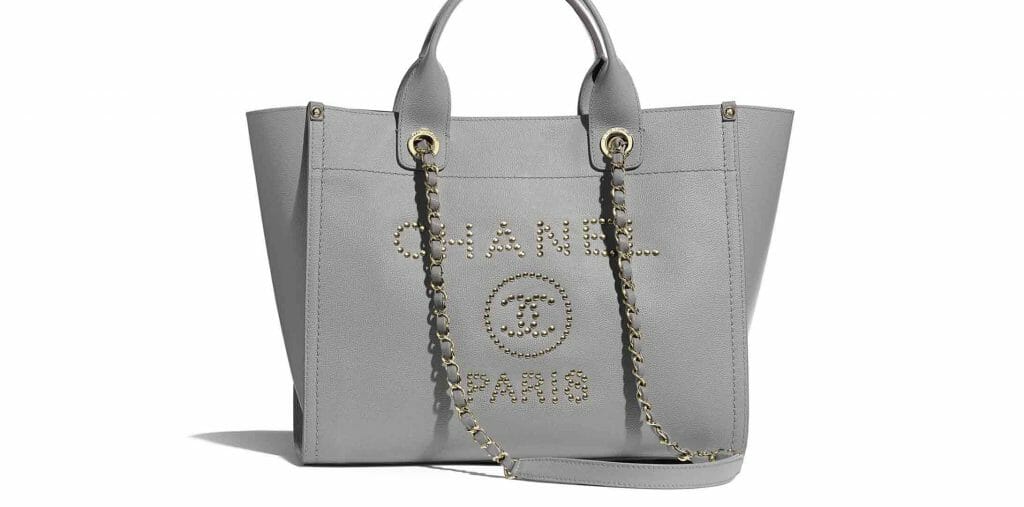 The Chanel Deauville Leather tote is made from caviar leather – a textured calfskin. This leather looks and feels extremely luxurious and makes this model of the tote bag more structured than its canvas counterparts. Caviar leather means your bag is less prone to visible scratches, so your expensive Chanel investment should stay looking beautiful for longer. Because of the high quality of this leather, it must be cleaned and cared for with leather conditioning products.
Embellishments
Every Chanel Deauville tote features the Chanel branding and the CC logo which can be embroidered onto the bag or is created using sequins, studs or imitation pearls.
Hardware on each version of the bag is mostly available in gold, champagne gold, pewter or silver.
The Chanel Pearl Deauville Tote Bag
In 2020 Chanel released a limited edition version of the Deauville tote bag which features the logo in imitation pearls on the front. The pearl logo version of the bag is available in two colors, black, and Ecru beige and has since become an influencer must-have.
The Chanel Pearl Deauville tote bag is set at a premium price compared to basic models retailing at £2860 / $3500. The pearl deauville is currently only available in the medium size.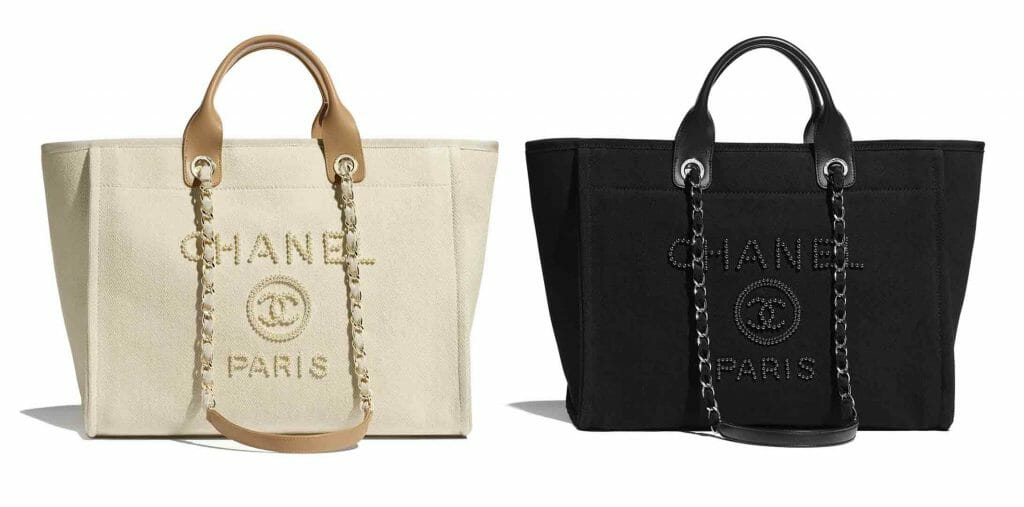 Does the Chanel Deauville scratch / show marks easily?
Light colours do tend to show marks but these can easily be cleaned from the fabric with proper designer bag cleaning products. Check your bag after every wear and treat any stains or marks immediately to avoid them setting in. If a spillage occurs, clean and dry as quickly as you can.
Another kind of marking that can occur is colour transfer from your clothing onto the bag – more likely on lighter colours – so be very aware of wearing items like jeans with your bag.
As mentioned above, the caviar leather is very durable and does not show marks much at all – darker colours are of course the most resilient.
Sadly, the corners of some models of the Deauville tote can get damaged rather easily due to the lack of metal feet on the bottom. Some of the leather versions do have metal feet, but canvas Deauvilles do not. To deter scuffing or fraying of the base of your bag, do not drag it across any surfaces and always place it down very carefully – avoid placing your handbag on the floor where possible.
How to style the Chanel Deauville Bag
The Chanel Deauville tote bag can be styled in a multitude of ways, depending on which handles/straps you use to carry it. The newer models in Medium, Large and Extra Large sizes come equipped with both leather handles and the fabric woven chain straps.
The leather top handles of this bag mean you can carry this bag in your hand or in the crook of your arm. If your bag is too heavy or you need both hands then you could opt to use the chain straps.
The chain straps are short enough to carry the bag in the crook of your elbow, but are also long enough that you could wear the Deauville as a shoulder bag. The bag sits comfortably under the arm as long as it isn't overfilled.
Here are some of our favourite influencers on Instagram styling the Chanel Deauville tote bag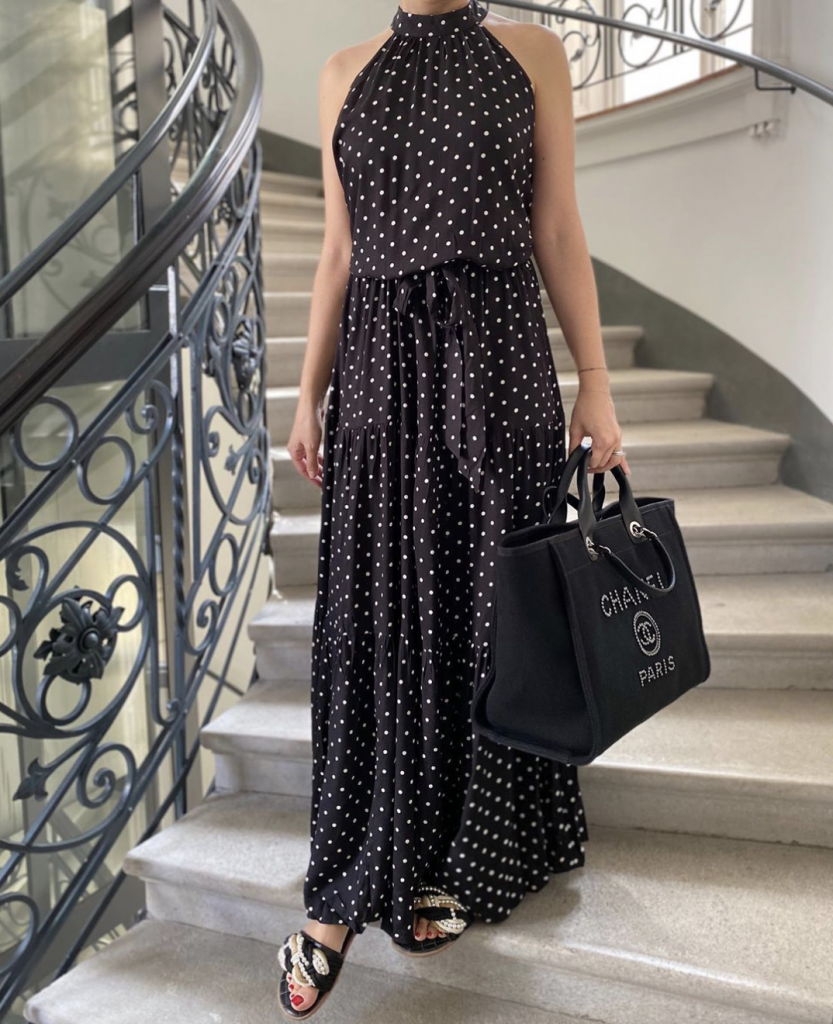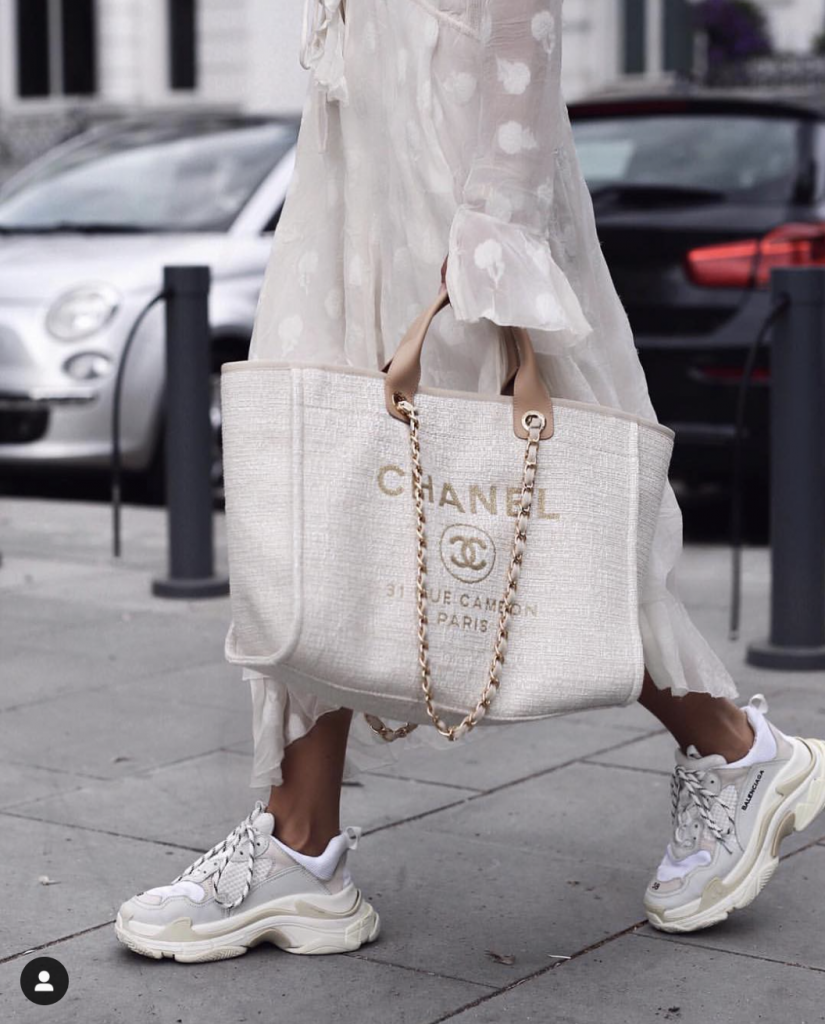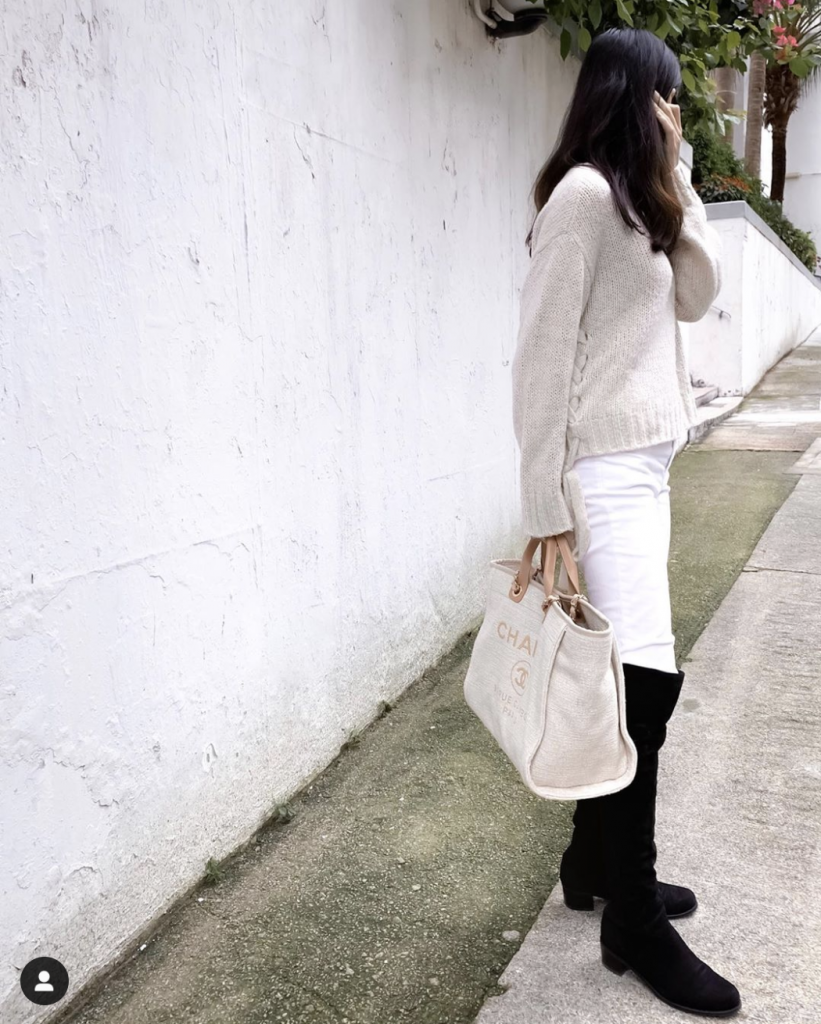 The Best Uses for the Chanel Deauville Tote Bag
The larger sizes of the Chanel Deauville canvas tote bag make great beach bags – perfect for summer and for those all-important holidays by the sea. If you're staycationing, the larger bags are ideal for picnics or summer days spent lazing in the park. You could opt to use the Deauville as a work bag due to its ability to carry a laptop, books and so much more, but it can get quite heavy when full and doesn't have a zip across the top to make it secure. If you like the easy access of the snap closure, then this is a really great handbag for busy bees.
If the security of the bag is an issue for you but you still love this tote, then you could buy a liner with a zipped top to keep all of your items safe within the bag.
The smaller bags are still large enough to make them a little unsuitable to be evening bags and they can be quite heavy, even without any belongings inside. If you have fewer items in your current work bag, then the Small or Medium would be perfect for you and you could still fit in your laptop if needed.
The Chanel Deauville tote bag may not be the best everyday bag – especially the larger sizes – as it may prove too heavy to carry for an extended period of time.
Is the Chanel Deauville Handbag a Good Investment?
When it comes to investing in designer handbags, Chanel is always a good investment. The best investment pieces are the classic designs which never fall out of favour in the fashion world, for example, the Chanel Classic Flap bag which is still highly sought-after since it's release in 1955. The Chanel Deauville tote bag is proving to be extremely popular amongst Chanel and designer bag collectors alike and is definitely still trending since it's debut in 2012, so it could definitely be a bag to invest in. Chanel prices are constantly on the rise, so making an investment today is going to have benefits further down the line.
If you love the style, love the design and love the brand, then the Deauville is a great investment. Knowing you will get plenty of use out of your bag and knowing that the design has remained so popular since its release gives you even more great reasons to invest in a Chanel Deauville tote bag.
The Chanel Deauville tote bag will generally see sales rise during warmer months as people plan their summer vacations. The most popular colour ways of the deauville tote bag which make better investments are grey and black colour ways, along with nude and pink colour-ways.
Protect and organise the lining of your Chanel Deauville with a bag liner
To keep your Deauville tote looking at its best, you may want to invest in a handbag liner – not only will this keep your belongings more organised within the bag, but it will help your bag to maintain its shape.
When bags have no large compartments or have limited pockets, adding a liner will really help to keep your bag neater and easier to navigate. The perfect liner to fit your Chanel Deauville tote could provide you with multiple pockets and compartments for water bottles, keys, phones, notebooks, purses… you name it. You can even get a liner with a zip – added security for all of your treasured possessions!
Over time, bags can get a little slouchy, especially those made from the lighter weight canvas, so keeping the structure of the bag intact makes it look newer for longer. Handbag liners are a small fraction of the price of a designer bag but make a big impact on the longevity and possible saleability of your bag – a liner is a must if you plan on selling your Chanel tote one day. A designer handbag liner will also protect your investment from stains and spillages, meaning the condition of your bag won't be let down by watermarks, pen marks or even makeup stains on the interior.