Are you looking to purchase your first designer bag? Then you're in the right place! You've thought long and hard and now you're ready to treat yourself to your first ever designer bag. But, you want to make sure it's a perfect choice.
In this blog and video reviews we'll guide you step by step for things to consider before making your first luxury handbag purchase.
We've compiled a list featuring seven of the best first designer bags, to make this decision a whole lot easier and ensure you get the right bag for your needs. Check out our consideration points later in this post to make sure you choose the right first designer bag to buy 2021.
7 Best First Designer Bag Recommendations

Louis Vuitton Speedy BB
LV Speedy 25 – from £820
LV Speedy 30 – from £830
Speedy 35 – from £850
Speedy 40 – from £860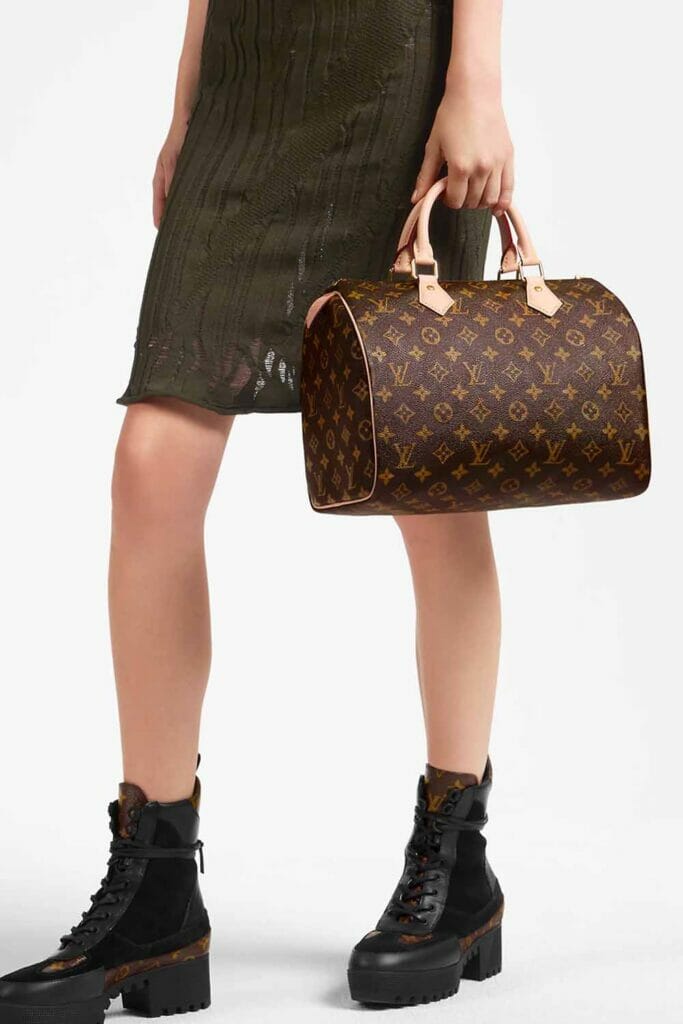 The compact and elegant Speedy bag is a very popular choice for first-time designer bag purchases due to how practical it is and how easy it is to pair with a multitude of outfits. First launched in 1930, this bag encapsulates the Louis Vuitton brand and remains a timeless classic and House icon!
Available in 4 different sizes, you may find that one will suit your needs more than another. The numbers in the names of the bags reference the width of the bag i.e. 25cm, 30cm, 35cm and 40cm.
When it comes to choosing which colourway to opt for, the Damier Ebene print is ideal for a first designer bag as the handle is made from darker leather that won't discolour or show wear as much as lighter colours can.
We would definitely recommend opting for the Speedy Bandoulière if you have the extra funding as this makes it so much more practical when it can be worn over the shoulder or as a cross-body – ideal for hands-free shopping. The Bandoulière version will set you back £1,120 new, but it is totally worth saving up the extra if you can.
Pros
Well structured, so should hold its shape.
Available in 5 sizes.
An iconic bag so should hold its value well (if looked after correctly).
Multiple ways to wear (Speedy Bandoulière with detachable strap).
Cons
The non-Bandoulière version isn't as practical with just handles and no strap option.
Only one compartment with just a separate zipped pocket internally.
Overall Rating: 7/10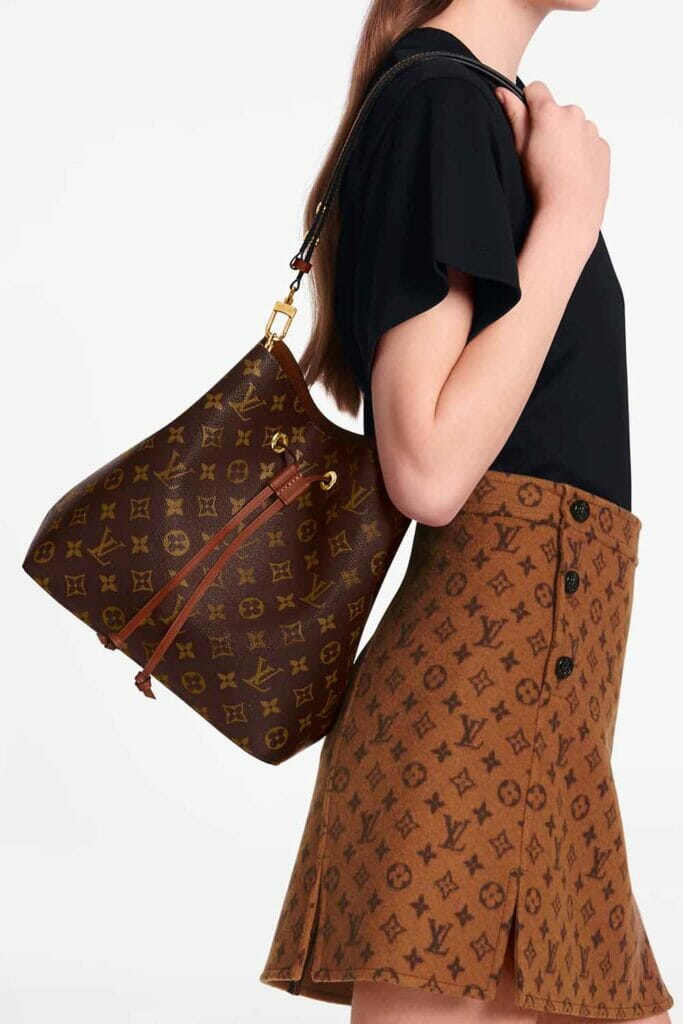 The NéoNoé bucket bag was originally created in 1932 to carry bottles of Champagne in the most stylish way possible. The modern take features monogrammed LV canvas with sleek leather trim and matching lining. This classic look is finished with gold-tone hardware and an adjustable strap for ease of wear and versatility.
The LV NéoNoé strikes a great balance between smart and casual with its obvious designer look, but easy-to-wear, relaxed bucket shape. It's a pretty fun bag, so it ideal for everyday wear if you carry a few extra things with you on a daily basis.
Having an adjustable strap means that this bag can be worn in lots of different ways – on your arm, over-shoulder or cross-body and the drawstring closure can be kept safe under your arm. When it comes to space, this bag has plenty. With a zipper compartment (perfect for keeping your keys and cards) right in the centre, creating 2 separate compartments on either side, you can fit in your everyday essentials and a little bit more.
Pros
3 separate compartments – one central zipper pocket for extra security.
Soft, but maintains structure well.
Good-sized bag for work – can fit in plenty of necessities.
Adjustable strap to change how you wear the bag.
Highly practical.
Cons
Drawstring closure may not feel like the most secure bag.
Thin leather on drawstring may rip with extended use, so care must be taken.
The cross-body strap is quite long, so the bag sits low on the hip.
Overall Rating: 8/10
LV Pochette Metis – from £1,500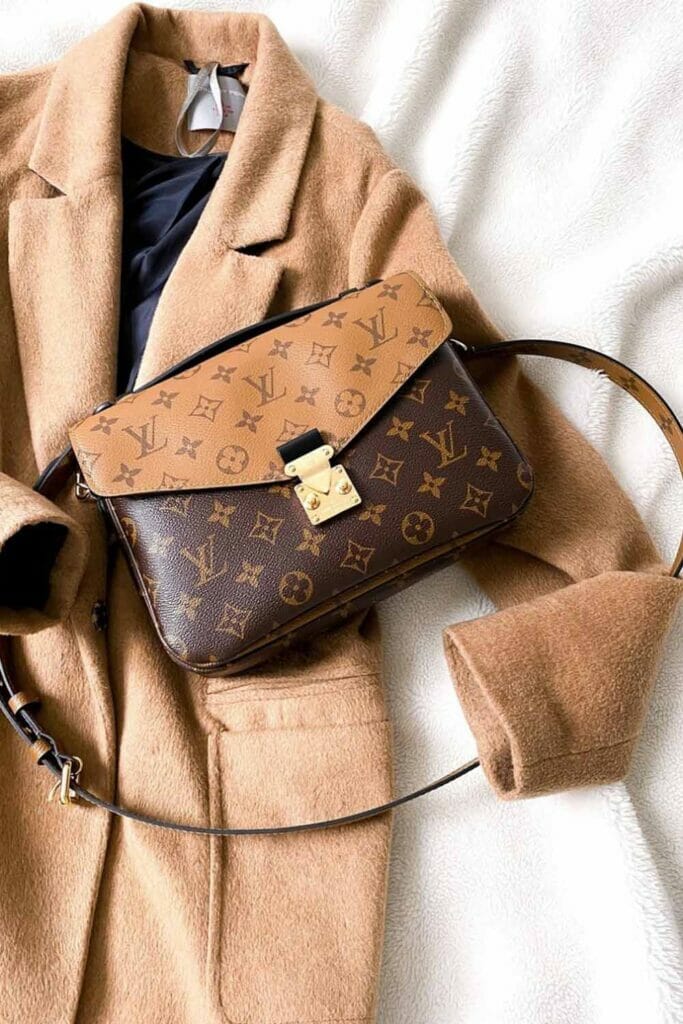 Yet another Louis Vuitton in our top 7 best first designer bags list.
Popularised by many Instagram influencers, the Pochette Metis is a petite handbag that is guaranteed to add elegance to your outfit and bring you lots of joy in the process. The small size makes it ideal as an everyday bag for your main necessities – perfect for running errands or for long shopping days, where you want a bag that can be worn hands-free, across your body and isn't too heavy or cumbersome.
This sought-after designer handbag has three main compartments – 2 internal and one zipped to the back. There is also a small slip pocket inside of the bag which is ideal for keys or a small card purse.
Pros
Good size for everyday wear.
Can be carried by the top handle or worn on the body for hands-free wearing.
Relatively structured, so maintains its shape well.
Has a good number of compartments to keep belongings organised.
Cons
Regular monogrammed version has a light-coloured leather handle and strap which will darken visibly over time.
Not big enough to use as a work bag.
Overall Rating: 9/10
Gucci Super Mini GG Marmont – from £750
Gucci Mini GG Marmont – from £1,420
Gucci Small GG Marmont – from £1,600
Gucci Medium GG Marmont – from £1,890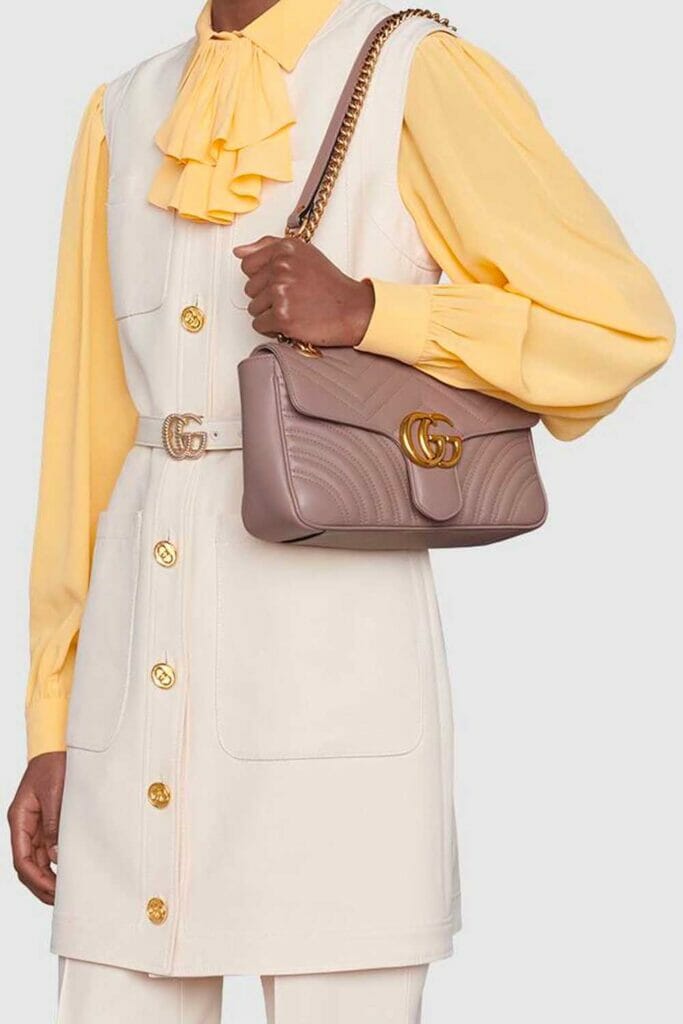 The ideal bag for all occasions – the GG Marmont from Gucci has a classic, practical design but with that glamorous edge that takes it from day to night. Choose your ideal size and colour to suit your styling in one of the most versatile handbags in this list of first designer bag recommendations.
Such an easy bag to use, the GG Marmont features an adjustable metallic chain strap, meaning you can wear it cross-body or over your shoulder. This chain creates a statement feature to go perfectly with the Double G hardware on the clasp of the bag.
The small size of the GG Marmont is ideal for a first-time designer bag buyer, as it is practical to use for any occasion and looks amazing with everything. Although there is just one main compartment, the size of the bag should mean you're not digging around to find your keys at the end of the evening, and you could always pop them in the zippered pocket at the back of the bag. It is a timeless design, so should maintain value if taken proper care of.
Pros
Great design.
Available in 4 sizes.
Features iconic Double G hardware.
Matelassé design leather adds extra high-end detail.
Can be worn over-shoulder or cross-body.
Cons
Quite expensive for a first time buyer.
Only one compartment inside.
Overall Rating: 8/10
YSL Kate Mini – from £1,190
YSL Kate Small – from £1,225
YSL Kate Medium – from £1,415
YSL Kate 99 (shorter handle and tassel) – from £1,415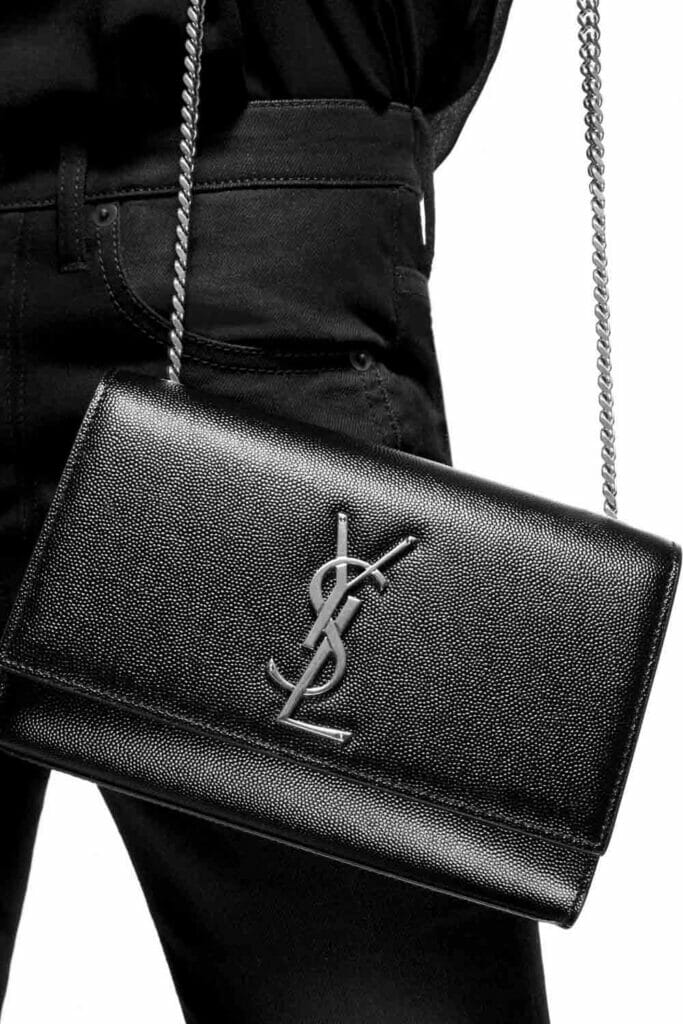 The YSL Kate is definitely more of an evening bag based on its size and style, however, you could still use this as a day-to-day bag if you tend to travel light. The chunky chain strap gives this bag some extra va-va-voom and works so well with the YSL hardware on the front, making it perfect for dressier occasions.
Wear the Kate cross-body, over the shoulder or even as a clutch (just tuck the chain inside) – this bag is so versatile and ideal for working with a multitude of different outfits. There isn't much room inside of the smaller bags, but who wants to carry loads with them on a night out anyway?!
Pros
Simple, elegant design – timeless.
Can be worn in multiple ways.
YSL logo hardware.
Chunky chain handle.
Available in a range of sizes.
Cons
Smaller interior, so may not be suited to everyday wear.
A little more expensive than other bags, especially for the size.
Overall Rating: 7/10
Givenchy Antigona Mini – from £1,250
Givenchy Antigona Small – from £1,590
Givenchy Antigona Medium – from £1,890
Givenchy Antigona Large
With a range of sizes and colours to choose from, the Givenchy Antigona could be your new best friend for everyday wear or even as your work bag if you opt for the Medium size. We've got a great post and video all about the Antigona sizings, so you can find out what the difference between each size is and what fits inside them – check the post out here to help with your first designer bag purchase decision.
The Medium Antigona is ideal for carrying everything you need for work – laptop, notebook, iPad, pens, makeup, keys, purse, water bottle – you name it! The only downside is that it can get a little heavy. The bag itself is a bit on the weighty side even when empty, so adding in a lot of items could see you working out your arms on the way to work. But, this bag looks amazing with pretty much every outfit, so it really is ideal.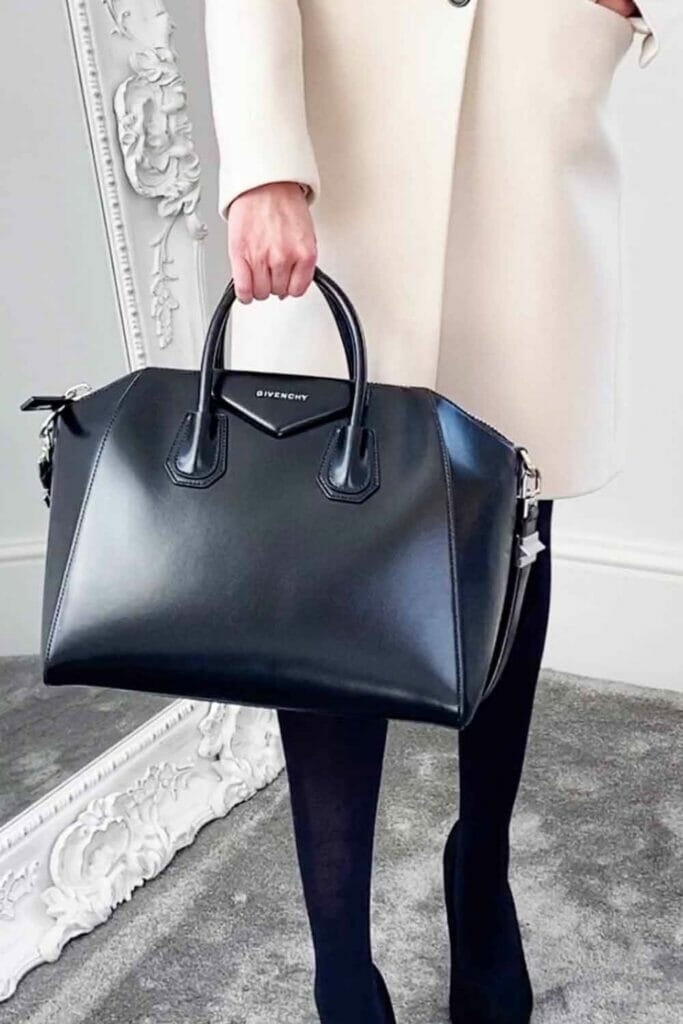 If you're looking for more of a day-to-day handbag, then the Mini is great for running errands and shopping and the Small is perfect for every day if you need to carry a few more things with you.
This sturdy, gorgeous-looking and long-lasting bag really is a great first designer bag choice!
Pros
Available in multiple sizes.
Available in lots of colours, fabrics and styles.
Nicely structured – simple design ideal for every day.
The Medium size is great for work.
Sturdy and keeps its shape when looked after.
Cons
Can be a little heavier than some other bags.
Corners can be prone to scuffing (be careful where you put your bag down!)
Overall Rating: 9/10
LV Neverfull PM – £1,020
LV Neverfull MM – £1,070
LV Neverfull GM – £1,120
The Neverfull is probably right up there with the Louis Vuitton Speedy as one of the most popular choices for a first designer bag. Both have great features and are ideal for first-time designer buyers.
The LV Neverfull is more casual in design and quite a lot roomier, with its tote-shaped styling. This relaxed look is ideal for an everyday bag and it can be worn very comfortably over your shoulder, sitting nicely under your arm. Internally there is a large single compartment for your belongings with a zipped pocket for money, keys or cards, so it's great for everyday use and even for an overnight bag if you're travelling fairly light. To make the Neverfull more practical and protect the lining, we recommend designer bag organiser inserts and liners – adding more pockets and compartments to keep your bits and bobs organised inside of the bag.
Our favourite of the LV Neverfulls has to be the MM, as it works perfectly as a day-to-day handbag – casual and relaxed but still classy and extremely practical.
Pros
Available in 3 great sizes.
Casual design is perfect for everyday wear.
Available in multiple design styles.
Easy to wear and pairs well with loads of outfits.
Cons
Can't be worn cross-body.
Lining can be damaged easily with dirt or stains.
Overall Rating: 10/10
Things to Consider When Making Your First Luxury Bag Purchase
When it comes to buying your first designer bag, there are a few things you should consider before you spend such a large chunk of your hard-earned cash. Make sure you think before you buy – this is an investment purchase, so you don't want to go for the latest trend, as it may lose its appeal just months later.
Here are some great questions to ask yourself before you dive into your first designer bag purchase:
1. How will you use the designer bag?
What is the main reason for buying your first designer bag? Are you looking to use it every day or just for special occasions? Will your bag need to be roomy or just big enough for keys, money and lippy?
Knowing the answers to these questions will help you to make the best possible choice.
The Best First Designer Bag to Use Everyday
A bag for everyday use can mean different things to different people, so you need to be clear as to what you carry around on a daily and whether it will fit into your favourite designer bag. If you travel light and only need the bare necessities, then the Louis Vuitton Pochette Metis or Gucci Marmont may be the perfect option for you.
If you like to take a few more "necessities" with you wherever you go, perhaps the Louis Vuitton Speedy 25 or 30 is the first designer bag you should choose. We would recommend getting the Bandoulière version of this bag, so you can carry it completely hands-free when needed.
First Designer Bags for Evening and Special Occasions
Having a luxe designer bag for evenings out and special occasions is a very popular option, as this means your bag will be worn less and should retain its value for a lot longer (so long as you look after it well)! Evening bags can be smaller and potentially more detailed/special as they won't see as much wear and tear as bags you use daily and for work, so you may want to invest in something special if the styling suits your usual look, better than a simple black leather bag would.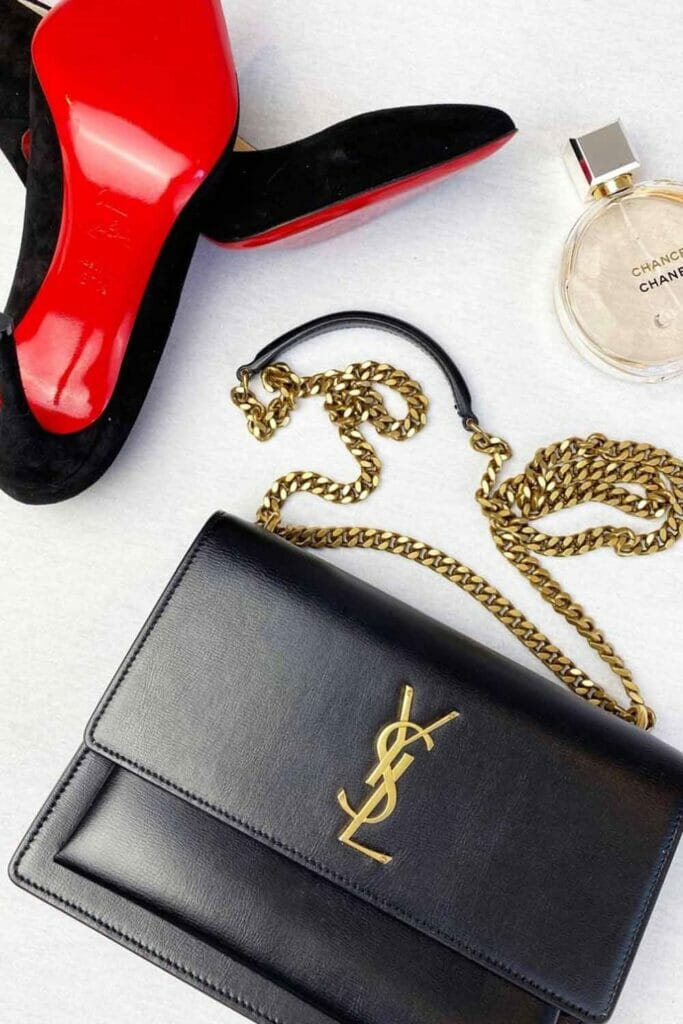 For a first designer evening bag, we would definitely opt for the YSL Kate, as this design is perfect to wear with more glamorous attire and can be worn in so many ways, including as a clutch – the perfect pairing for your favourite LBD! The Kate bags which feature a metallic chain tassel detail have even more of a night-out look, so if your budget stretches, this tasselled beauty will not disappoint.
Again, the Gucci GG Marmont would translate well from day to night, so would definitely make a good choice for your new go-to evening bag if you like a little more space for your things.
Check out our post and video with the 10 best designer evening bags for more potential first designer bag inspiration.
First Designer Bag for Work
Choosing a designer bag for work can be a little trickier, especially if you require space for a laptop or tablet. As well as size considerations, your work bag needs to be functional, sturdy and hard-wearing, as you want it to stay looking great for as long as possible – resale value can be important for many designer bag enthusiasts. Take a look at our list of designer bags that are ideal for work to get even more work bag ideas.
Our top choices for a first designer bag for work are the Givenchy Antigona Medium and the Louis Vuitton Neverfull MM or GM. It all depends on which look you like the best. The Antigona has a strong, structured outline and handbag shaping, which may suit those who work in a more corporate environment, whereas the Neverfull is a relaxed, tote shape that comes off as a little more casual. Both bags have a roomy interior which should fit in smaller sized laptops or large tablets as well as other work necessities, like a water bottle, pens, a notebook, your phone, makeup and even your mid-morning snack (elevenses are after all integral to afternoon productivity)!
If you like the look of the Neverfull tote, you may want to check out our list of the best designer tote bags for more inspiration before making your final decision.
2. What is your budget?
The big B-word… budget! This is perhaps the most important consideration when looking to buy your first designer bag, as it has to be realistic. There's no point bankrupting yourself to get the latest LV release, no matter how much it's calling to you, so be savvy when it comes to setting a budget. It's not the right bag if it means you're not eating for 3 months.
Check out our list of 21 of the best designer bags under £1000.
If you've already saved up and you're just unsure about which bag to invest in, then check out our other questions above to discover which bag you should invest in. If you've just begun saving for your dream designer handbag, then setting achievable saving targets is going to be a great place to start.
Top Tip: Use a saving space or separate bank account to start saving for your first designer bag. This can make the process fun and stop buyers' regret. You never want to overspend on a designer bag and then end up resenting it.
I use Starling bank and use their 'space' technology to set up a saving space for new designer bags. Once you've saved the money, you can be confident making such a high-priced purchase. If you're still nervous about buying your first designer bag, leave the money for a few months just to make sure you don't need it for emergencies. When you're confident you don't, you'll feel much more comfortable treating yourself to your new piece of arm candy!
The ideal way to set your saving aim is to choose a bag that you know will fulfill your designer handbag needs and aim for that exact amount. This means it can be split between your next paydays in an affordable way for you – giving you a timeframe and a date to look forward to when you come to make your purchase.
3. What additional items might you need to protect your new designer bag?
If you're making your first designer bag purchase as an investment with the aim of selling it on further down the line, then looking after it is your first priority. Even if you don't intend on selling, you still want your bag to look at its best for as long as possible.
You may need a couple of extra pounds saved for the products you need to ensure you can care for your bag once you have it. These aren't big-money items but could be a saving grace if your pen decided to pop inside your bag or your bottled drink spills out.
Not only will bag liners protect the interior of your handbag, but they can also provide extra organisation and security, ensuring your items have a place and are tucked into pockets securely.
There are handbag liners and organisers available in loads of colourways and are made to slot perfectly into specific models and sizes of bags. Check them out here and start protecting your designer bag lining today.
It's not just protection while in use that these bags need, but in storage too! Bags which do not naturally hold their shape can become creased or mishapen if stored away in boxes or even their dust bags, so it's important to make sure they maintain their structure.
Pillows that fit perfectly into your bag will help to avoid creasing or warping while your bag is not in use and are great if you keep your bags on show i.e. in a display unit or on shelving. Take a look at these bag storage pillows to find the perfect fit for your first designer bag.
Keep fabrics safe by protecting them before you use your bag and carrying out regular cleaning and care. There are a number of products that can help to waterproof your bag, clean any stains and even care for your bag's hardware. Check out a selection of handbag care products here.
Leather is a natural material and will show wear with extended use. Keep leather conditioned to stop it from drying out.
4. Fabric Types
When choosing your first designer handbag, you will notice that there are a set few materials these bags are made from – the most popular being leather, canvas and suede. These fabrics require different care techniques and leathers can vary from brand to brand so you should do your homework before jumping into a purchase.
Always check the fabric content and details on any designer bag product listing so you're sure on what you're getting.
Leather
Perhaps the most used material for designer handbags is leather, but even under the umbrella term 'leather' lies a myriad of different types:
Box calf leather
Smooth calf leather
Patent calf leather
Rubberised canvas leather
Sugar-grained goat leather
Nubuck
It is best to avoid smooth leathers like calf leather, as they can scratch very easily which is pretty devastating when it happens, especially for a first-time bag investment. More textured leathers will disguise any scuffs that may occur much more effectively than semi-shiny smooth leather.
Opting for black and darker toned leather (especially on handles and fastenings – areas that will be touched the most) means your bag will look newer for longer. Vachetta leather absorbs everything, so can look older much faster.
Specialist Skins
These are often featured on limited edition and higher-priced bags, so we wouldn't recommend them for a first-time designer bag buyer unless you can find a great pre-loved bag at a more accessible price point. These skins can also be less hard-wearing and much easier to damage:
Ostrich
Elaphe
Anaconda
Python
Other Fabrics
Fabric bags wear like normal clothing fabric, so if your bag is going to be used heavily, try to avoid softer more delicate materials. Below are some of the fabrics you may find designer handbags are made from:
Coated canvas
Linen
Velvet
Silk/Satin
Coated canvas can be pretty hardy, so long as you look after it well. Many LV handbags use coated cotton canvas which looks a lot like leather but is actually hardier and more water-resistant, so therefore should look great for longer.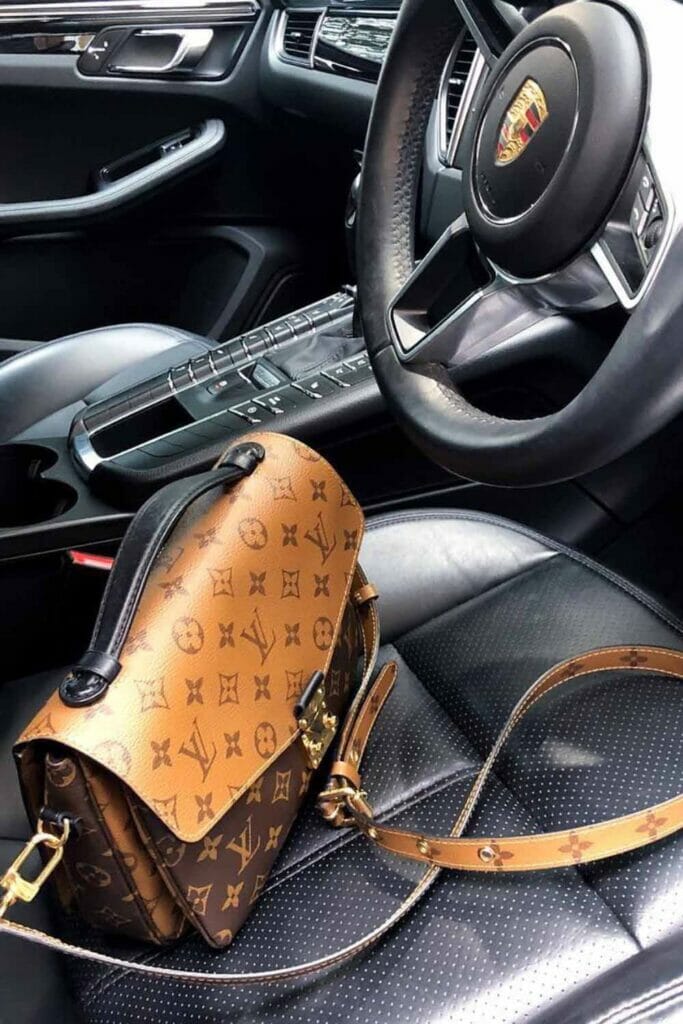 5. Designer Bag Colours
When it comes to choosing a colour for your first ever designer bag purchase, it's important to think about your personal style and what colour you're likely to wear. Take a look at your wardrobe. Is there a common theme? Is there a certain colour that jumps out at you? Do you need a neutral bag to match every outfit?
Make sure you're choosing a bag colour that won't be totally out of fashion in the next season – unless you're ride-or-die is hot pink and you know you're going to wear that bag no matter what!
Darker colours do tend to look newer for longer as they don't show stains or dirt as readily as light colours. Light coloured bags can look so great but may experience colour transfer from things like rubbing against jeans. Lighter-coloured leathers will start to turn darker if they come into contact with any oils, for example, hand cream or even just natural skin oils from handling a bag.
As a rule of thumb, we'd say opt for a black, navy or dark brown bag for your first purchase as it will be much more forgiving and look fresher for longer – especially with extended use. If you only intend to wear your designer handbag on special occasions, perhaps you could get away with a lighter tone, but just make sure it's one that will go with a wide number of outfits!
Brand new or Pre-Loved for Your First Designer Bag?
Now the last question we have for you is – should you buy pre-loved for your first designer bag or do you go straight to the brand's own shop? Both can be a great choice, it's just down to what you prefer.
Brand New
Buying direct from the brand's own shop means you're guaranteed authenticity and you get the experience of being in-store and browsing all of the gorgeous bags before making your purchase. Not to mention getting all of the little extras guaranteed – dust bag, branded box… you know the stuff.
Getting a fresh new designer handbag as your first ever purchase is such an exciting feeling, one you'll never forget, so if you know what you want, you have the funds and you're ready to invest, buying new for your first designer bag is definitely recommended!
Pre-Loved
If there is a designer bag on your dream list but buying new would have your bank card crying, then shopping for a pre-loved designer bag could be the best option for you. There is a chance your dream bag could be for sale on a marketplace website for a much nicer price, just pre-owned. By opting for pre-loved designer handbags, you could make huge savings or even get a rare version of a bag that you can no longer get.
Be aware that the resale market can have scammers, so always use an authentications service if you're buying pre-loved. Check out our list of the top authentication services here including pricing and which designer brands they can authenticate.