So you're ready to buy your first Chanel bag but which Chanel bag should you buy first?
For many people, the name Chanel is synonymous with N∞5 perfume. But, for those of us who appreciate luxury goods and have a deep passion for fashion, the name Chanel symbolizes more than just the scent of a floral bouquet of May rose and jasmine, and a hint of vanilla. To those of us who love fashion, art, and history, the name Chanel conjures up images of camellia flowers, a little black dress, pink tweed suits, a black and white colour scheme, and last, but certainly not least, iconic bags.
What Was The First Chanel Bag Ever Made?
Oh, the bags! More specifically, diamond quilted bags adorned with leather woven chains, a burgundy interior with a pocket for lipstick, a secret compartment for love letters, and a golden double CC logo – of course, we're describing the 11.12 bag, also known as the Classic Flap. Although the 11.12 is typically the first Chanel bag that comes to mind when thinking about the brand, the Classic Flap was not actually the first Chanel bag ever made – the Classic Flap was introduced to the world of Chanel by Karl Lagerfeld in the 1980s.
In fact, before the creation of the 11.12, there were two predecessors: The first Chanel bag was created in 1929, which was deemed a hassle since it was carried by hand, followed by the infamous, and hands-free, 2.55 bag. The 2.55 – which was designed in February 1955 and is often (mistakenly) referred to as the Reissue – is similar to the Classic Flap; but instead of chain straps laced with leather, the 2.55 bag contains an all-chain strap. What's more, the original design of the Flap bag was fastened with a rectangular, low-key Mademoiselle Lock, versus the flashier double CC logo that is commonly associated with a Chanel bag.
Although many people associate Chanel (both the person and the brand) with the quilted handbags described above, Chanel (the person), interestingly, began as a milliner, designing expertly crafted hats for the wealthy. Thus, the number of bags that used to be offered by the fashion house was rather humble. These days, that is definitely not the case. 
While there are certain bags from Chanel that could be considered the 'core classics', and are the bags that come to mind when thinking about the brand (i.e., the bags that are sold every season and are highly sought-after, such as the Classic Flap, the 2.55, and the Boy bag), it is important to recognize that Chanel has 6 collections each calendar year, and therefore, design and produce a lot of seasonal bags every year. And, when you factor in the different sizes, colours, patterns, materials, and hardware that are used to modify those 'core classics' and combine that with the bags that are solely produced for each of those 6 seasons, well, that's a LOT of Chanel bags!
What's The Best First Chanel Bag?
Here at HandbagHolic, we have a deep love and appreciation for all things Chanel…especially bags. We know firsthand just how expensive Chanel bags are, which means we also understand and appreciate just how hard it can be to choose which bag to purchase, especially if you are in the market to buy your first Chanel bag. Something to consider when purchasing your first Chanel bag is the history of the brand, which is partly what makes a Chanel bag so special.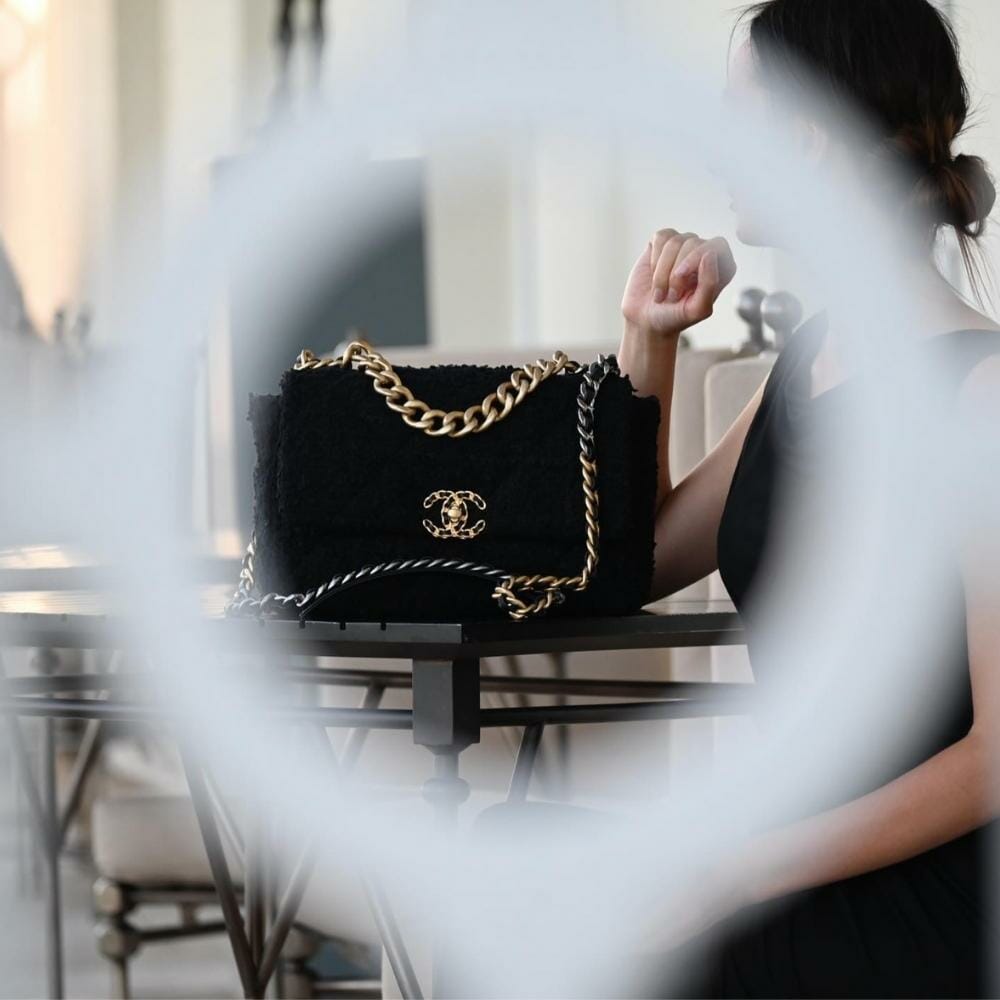 Chanel Bags: A History
As mentioned above, Chanel bags have quite the history – and not just because they have been around since the 1920s. Gabrielle Coco Chanel, herself, is shrouded in mystery; with many journalists, bloggers, biographers, artists, and couturiers all wanting to know as much as possible about her life, such that Chanel's experiences highly influenced her designs.(1,2) In fact, Chanel was raised by nuns in an orphanage – Aubazine Abbey in Corrèze, France – and much of what she saw and experienced helped shape the brand as we know it today; with the orphanage heavily influenced the creation of the 2.55 bag and the 11.12 bag.(1,2)
For example, the shape of the stained glass windows at the orphanage was the inspiration behind the well-known diamond quilted pattern featured on many Chanel bags, as well as the infamous double CC logo.(3) The beautiful chain straps included on so many Chanel bags were inspired by the keychains worn by caretakers at the orphanage; while the gorgeous burgundy interior of both the 11.12 and the 2.55 references the red uniforms donned by Coco Chanel and the other orphans at Aubazine.(3) Although Coco Chanel did not have the coziest of childhoods, she turned her rough beginnings into something beautiful and created a fashion empire.
Another element that makes Chanel bags so special is how they are made. Find out where and how Chanel bags are made in this blog here.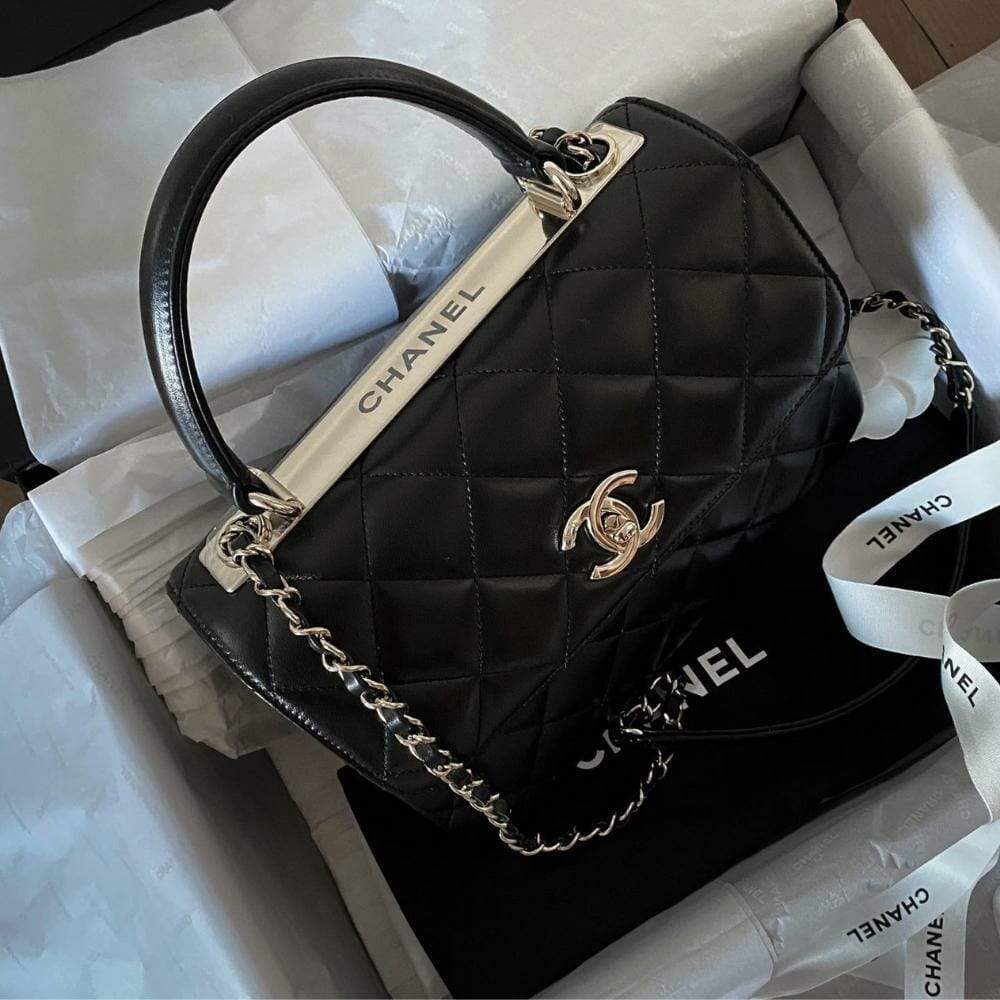 Questions to Consider When Buying Your First Chanel Bag
While Coco Chanel's personal story helped to create the highly sought-after 11.12 and 2.55 bags that we know and love today, the brand Chanel has greatly evolved over time. Resultantly, if the style, colour, size, shape, and straps of the 'core classic' Chanel bags are not for you and your lifestyle, then there are many other designs to choose from.
Choosing the Best Style of Chanel Bag for You
Chanel bags require a hefty investment. They cost thousands of dollars, and regardless of whether or not you are looking to purchase your first Chanel bag or your tenth Chanel bag, you should buy something that you love and that fits your lifestyle. 
Something important to consider when buying your first Chanel bag is the type of straps that you are looking for, and how you would like to carry your Chanel bag. Ask yourself these important questions before committing to a bag:
What do I want out of this bag? 
What occasions will I want to wear it for?
How do I intend to use this bag?
What do I want/need to fit inside this bag?
How do I want to carry this bag? On my shoulder? Crossbody? By hand? In the crook my arm? Multiple ways?
If the bag is heavy before I put my items inside, will I be able to carry it once everything is inside?
Where and when do I want to use this bag? Is this bag meant to be an everyday bag? Is this bag meant to be for special occasions and certain events? Will I use the bag in multiple settings?
Because most Chanel bags are made with leather and metal chains, these bags tend to be heavy…empty. Therefore, it is crucial to think about the best style of Chanel bag FOR YOU. Here at HandbagHolic, we love a crossbody bag! Thus, this is something that we consider when buying our bags. However, we are also partial toward bags that can be worn on our shoulders. Our absolute favourite style of bags, though, are ones that can be worn in multiple ways.
Before spending thousands of dollars on your first (and maybe only) Chanel bag, ask yourself if the style of Chanel bag that you are buying will actually work FOR YOU and your lifestyle.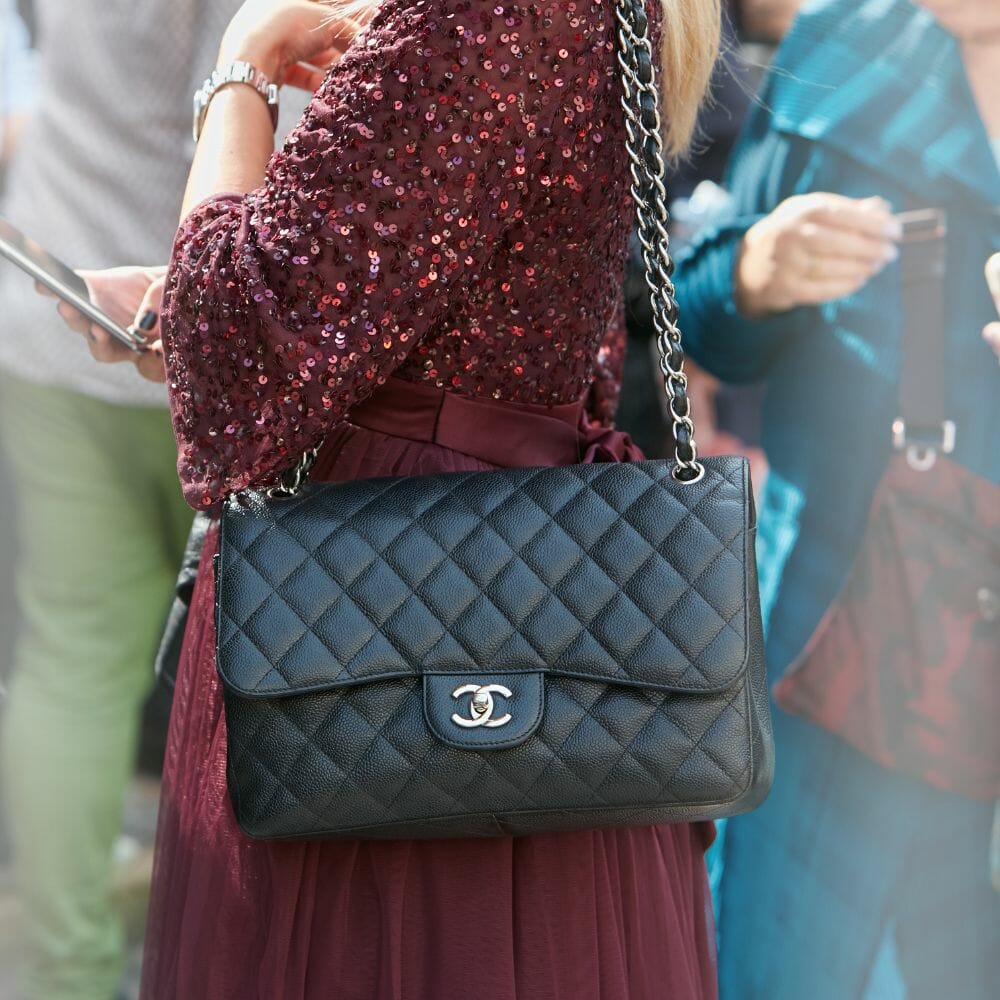 Chasing Colours: Choosing the Best Colour for You
"I imposed black; it's still going strong today, for black wipes out everything else around."(1) Well, it's no secret that Coco Chanel adored black. Black, however, is not everyone's cup of tea. Since Chanel bags are so expensive, black is always a safe choice. If your first Chanel bag might also be the only one you purchase, then black is a great option: It's classic and pairs well with everything in your wardrobe. Black never goes out of style!
Chanel bags come in a number of colourways such as red, caramel, pink, beige, green, yellow, and purple – and there are numerous shades of each of these colours! Really, the options are endless. However, it is important to ask yourself what you will actually use. Again, Chanel bags are an investment. Do you want to spend a lot of money on your first Chanel bag and have it be something that is in a classic colour that will go with everything? Or, since you're spending so much money on your first Chanel bag, do you want it to be in a colourway that is fun and different?
Whatever you wind up choosing, just remember to always pick the best colour FOR YOU!
The Best Colours and Size Chanel Bags
As we just mentioned, buying a bag in a colourway that is favourable to you and your lifestyle is important. However, it is also important to consider the resale value. While many people take this to mean a bag that is very expensive, but one that will be used and loved forever, others interpret an investment piece as something that can be re-sold for the same price that you paid or higher (such that you will not lose any money on the item that you purchased).
Thus, it's important to consider which colours will have the best resale value. Obscure colours and patterns (e.g., neon colours, patchwork patterns) might not be as in-demand as classic colours, such as black and beige. If you plan to eventually sell your Chanel bag, then you might want to consider a classic colour, such as black; if not, have fun with your purchase and go ahead and choose a fun colourway!
If you gravitate towards something unusual, bright and bold maybe the Chanel 22 Small Handbag is for you.
Chanel bags come in all shapes and sizes. When deciding which Chanel bag you should buy first, it's a good idea to think about how you want to use this bag and what you would like to fit inside. Mini, nano, and micro bags are all the rage these days, but you have to ask yourself if a super tiny bag is going to be practical for your lifestyle. The same goes for a bag that is very big. Given that Chanel bags come with a hefty price tag, it's likely that you want your first Chanel bag to be practical.
If you're looking for a bag that can fit your phone, keys, hand sanitizer, facial tissues, gum, a card case, and potentially a wallet, then you'll want to look at bags that are small to medium in size. Should you be interested in carrying a laptop and/or folders in your bag, then you should look at larger bags, such as tote bags (e.g., the Deauville) or Flap bags that are sized as jumbo and maxi. If you're looking to purchase a small evening bag, then it would be best to look at Chanel bags that are sized as small and mini, as well as clutches, pouches, and the popular WOC (wallet on chain).
Whatever you decide, just make sure that the Chanel bag you wind up choosing is in a size that is the best FOR YOU!
Should You Buy a New Chanel Bag or Go Pre-Loved for Your First Bag?
When it comes to buying your first Chanel bag, it's important to ask yourself a few questions: Is the Chanel bag I want easy to get in a boutique? How much money am I willing to spend on a Chanel bag? Do I live close to a Chanel boutique? What kind of experience do I want when purchasing my first Chanel bag? Is it better to buy vintage Chanel?
Really, whether you choose to buy a bag brand new from the boutique or choose to buy a vintage Chanel bag, both are great options. However, there are pros and cons associated with both options.
Is it Better to Buy Vintage Chanel? Pros and Cons
Buying a vintage or pre-loved Chanel bag can potentially save you hundreds (and sometimes even thousands) of dollars. And, if you're looking for a style or colour that is no longer produced, the vintage Chanel market is a great place to try and source the item you want. Further, if you do not live in an area that is close to a Chanel boutique and do not have any purchase history with a boutique, then the pre-loved and vintage Chanel market might be the only way that you can buy a bag.
On the other hand, buying a vintage Chanel bag comes with risks, as you have to be 100% sure that the item you are receiving is authentic (click here to find links about authentication services). It's also possible that the bag you are purchasing will be in poorer condition than described by the seller. You also take a huge risk when purchasing a pre-loved bag online, especially if the online reseller does not allow returns. Lastly, if the luxury experience is important to you, with respect to purchasing your first Chanel bag, then purchasing a vintage Chanel bag may not be the right option for you.
Should I Buy a New Chanel Bag? Pros and Cons
There is nothing wrong with buying a new Chanel bag. The prices of Chanel bags tend to increase every 6-12 months, so even if you change your mind about the bag that you wind up purchasing, you will likely be able to sell your bag and make all of your money back (sometimes more!). Chanel bags are luxury items, and when it comes to buying your first Chanel bag, it might be a more fun experience to purchase your dream bag directly from the boutique.
However, not everyone will care about the luxury experience; and truthfully, buying the bag of your dreams is all that matters at the end of the day. Although purchasing from a boutique can be fun, it can also be difficult, such that it is not always easy to find the item that you want. Buying a bag from the Chanel boutique comes with benefits, however, that will not be received when buying vintage or pre-loved. Chanel offers the Chanel & moi warranty program, which provides buyers with 5 years' worth of protection "to help you preserve and safeguard the incomparable quality of each creation."(4)
Recommendations on the Best First Chanel Bag to Buy
At this point, you're probably feeling a little bit confused and overwhelmed. Don't worry! We're here to help! Buying a Chanel bag, especially your first can be daunting. The following is a list of our recommendations when considering which Chanel bag would be best to buy as your first.
1. Chanel Business Affinity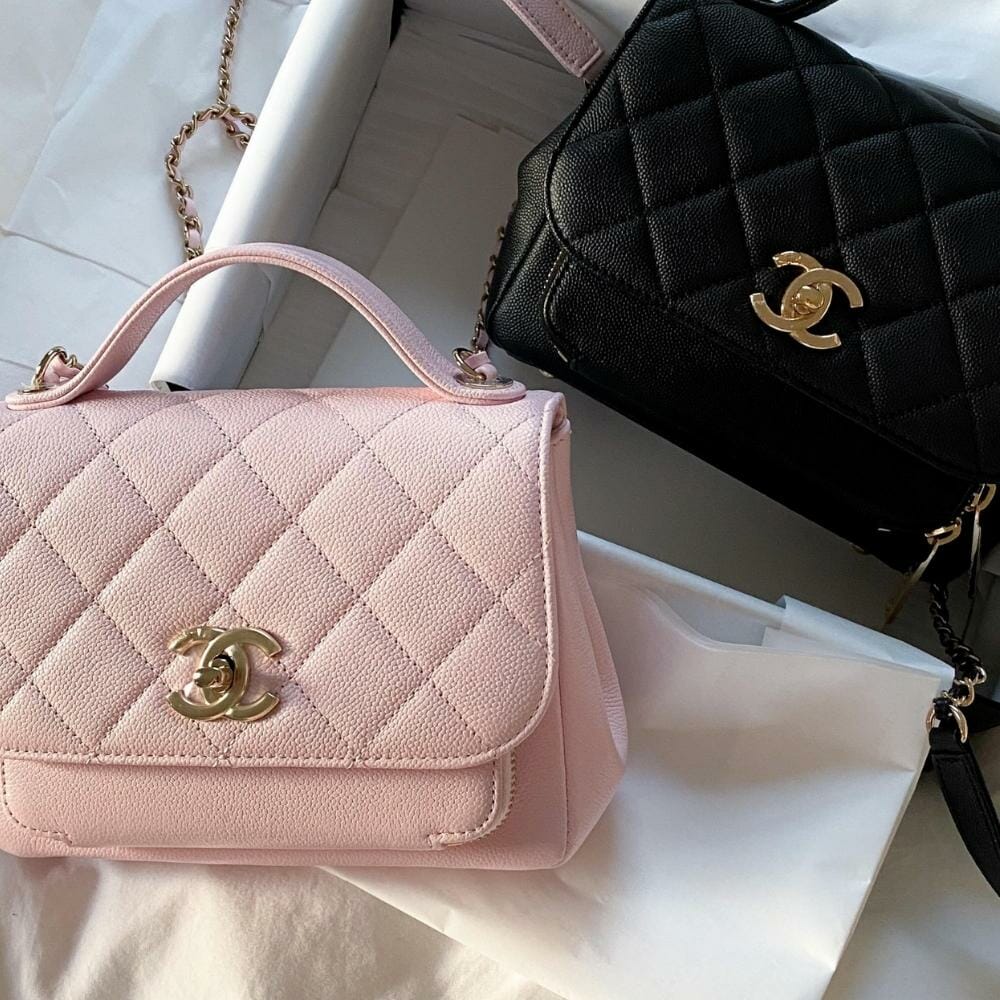 One of our top choices for a first Chanel bag is the Business Affinity (BA). This bag comes in a nice range of sizes from mini to large. The BA has a number of features that are characteristic of Chanel, such as the diamond quilted pattern, the double CC logo, leather woven chains, and a flap compartment. Compared to the Classic Flap, the BA has a much better price point, making it a more feasible option. Additionally, the BA can be worn multiple ways, including on your shoulder, carried by hand (the BA has a cute top handle!), and even crossbody, making it a bag that can easily transition from day to night. 
2. Chanel 19 Bag
Another great option to consider as your first Chanel bag is the 19. The bag's name is a nod to the year of its creation, 2019; while its design pays tribute to the 2.55 bag. The Chanel 19 has been created with soft, supple leather, which provides the bag with an easy and less rigid structure. Like the BA, the 19 also contains elements of the Classic Flap, such as the diamond quilted pattern, the double CC logo, leather woven chains (*this bag actually features a trio of chains, making it a really unique piece!), and a flap compartment.
The 19 comes in a range of sizes from small to maxi. This bag is easy to use and is great for everyday styling. Due to the 19's size and shape, this bag is more suited toward daytime activities versus more formal occasions. In terms of carrying the 19, it can be worn in a number of ways, including on your shoulder, on the crook of your arm, carried by hand (the 19 has a chain top handle), or even crossbody.
3. Chanel WOC (Wallet on Chain)
When it comes to more affordable Chanel bags – we know, we know: Chanel and affordable don't really belong in the same sentence…but, here we are – a great option is the WOC. While the brand considers a WOC to be a small leather good (SLG), many users deem the WOC to be a bag – albeit a very small one. WOCs come in a range of styles that mimic their larger counterparts, such as the Classic Flap, the Boy bag, the 2.55, and the 19. WOCs also have a much better price point compared to full-size bags, making them more affordable Chanel bags; and thus, a great choice for a first Chanel bag.
The WOC has a very long chain making this a great crossbody bag; however, many people do complain that the chain is too long. The chain can be shortened by wrapping it around the bag, or by using a special clip (which is complimentary at Chanel). While the WOC is a more affordable Chanel bag, it is very small, which makes it better for use in the evening or for running errands. The WOC is truly a great option for a first Chanel bag, but its small size prevents it from being a true everyday bag (unless you don't carry much with you).
4. Chanel Boy Bag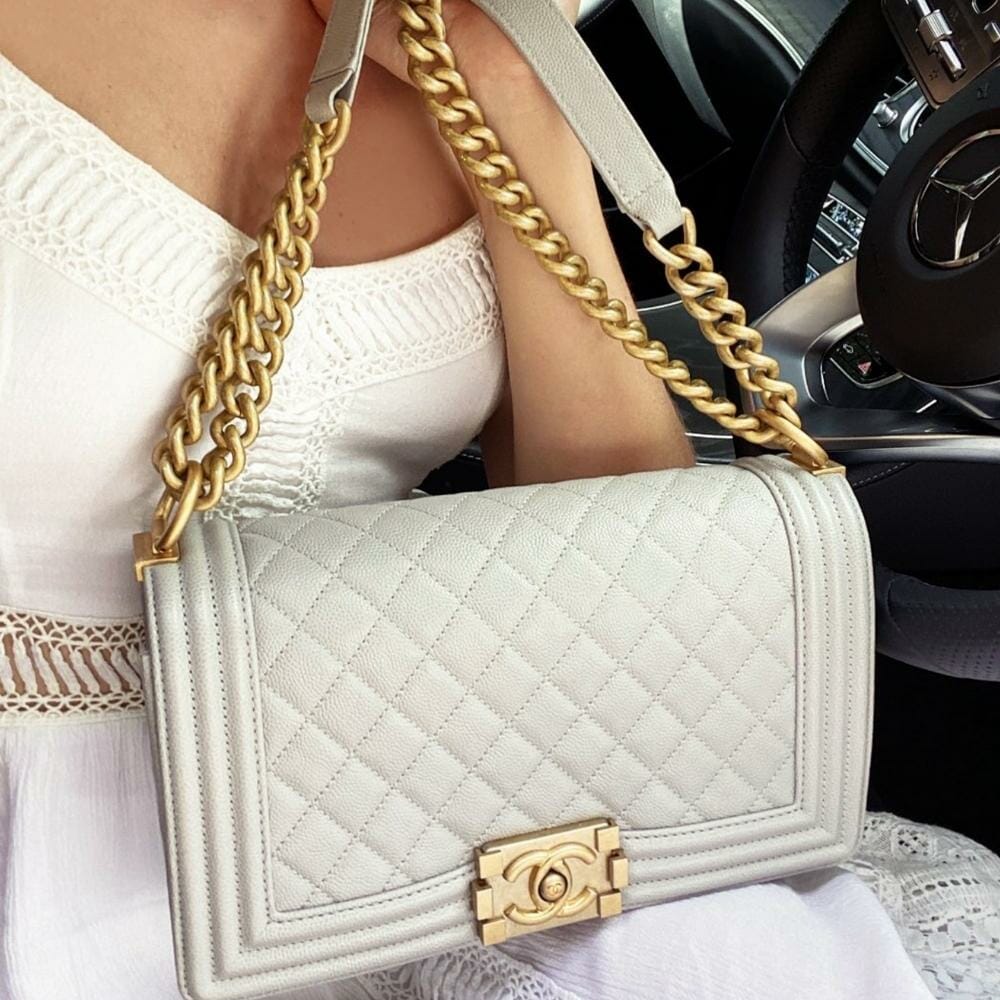 Named after Coco Chanel's paramour, Arthur "Boy" Capel, the rectangular Boy bag is one that we would definitely recommend as a first Chanel bag. This single-flap bag is the Classic Flap's younger, cooler, and edgier cousin. The Boy bag comes in several sizes ranging from mini to large, making it a versatile piece that can be used as an everyday bag or in the evening.
Effortlessly cool, the Boy bag comes in the classic diamond quilted pattern, as well as a chevron pattern. The strap on a Boy bag is a gourmette chain, meaning it is a large and chunky metal chain. The gourmette chain – while not woven with leather – is attached to a piece of leather, which is meant to make it more comfortable to wear. Due to the chain on this bag, the Boy bag is less versatile, and can really only be worn crossbody or on your shoulder. Despite the bag's chain, the Boy bag is still one of the best first Chanel bags to buy.
5. Chanel Classic Flap 
Although this bag is quintessentially Chanel, the Flap bag comes with a very substantial price tag. But, despite the price, the Classic Flap is one of the most sought-after bags; which is evident by the very long waiting lists people place themselves on in order to bring this bag home and into their closets.
The Classic Flap comes in a range of sizes from mini to maxi, and the many different colourways and patterns this bag comes in make it a great piece that can be dressed up or down and can be used in a variety of settings. But, due to the price point, this isn't our top recommendation, even though it is certainly the most classic Chanel bag. If you truly have your heart set on a Classic Flap as your first Chanel bag, then you should go for it! And, if you are interested in the bag but are wanting to save as much money as possible, then it might be best to purchase a vintage Chanel bag.
Read more about the Chanel classic flap bag here.
Final Verdict: The Best First Chanel Bag to Buy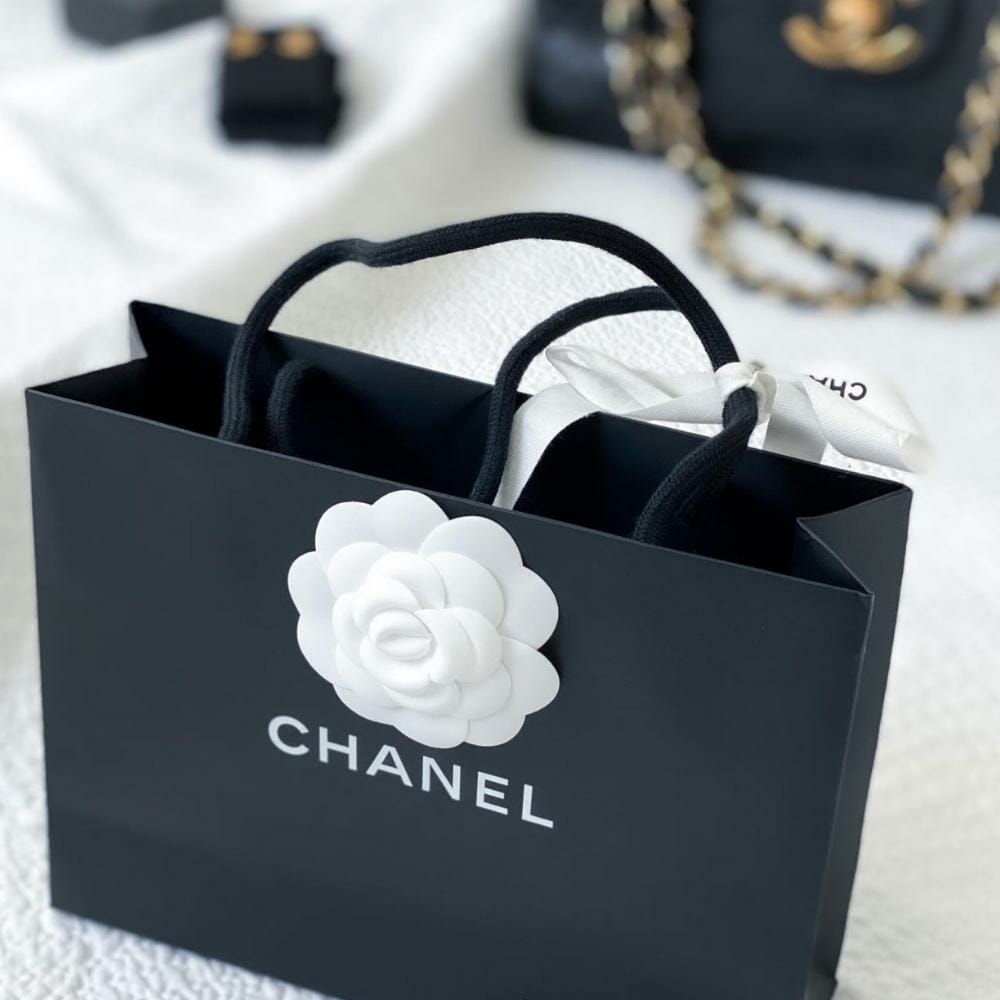 No matter which bag you choose as your first Chanel bag, make sure that you buy a bag that works with your lifestyle (and bank account!). Personally, the Chanel Business affinity bag is my most used Chanel bag and would be the first one I'd buy back. I love a crossbody bag, it'd nice a secure and fits all my everyday essentials for a shopping trip. The best first bag for you can only be determined, ultimately by you and what you want to use the bag for.
Where to Buy Your First Chanel Bag
When going to buy your first Chanel bag, it is important to remember that authentic Chanel products may only be purchased through a stand-alone, authorized Chanel boutique, or an authorized Chanel boutique that is inside of a department store (i.e., Harrod's, Saks Fifth Avenue, Neiman Marcus, Holt Renfrew).
Chanel does not sell their items online, thus, you cannot buy your first Chanel bag online.
If you are interested in buying your first Chanel bag, you may visit Chanel's official website to find a boutique near you:
If you are unable to visit an authorized boutique or would prefer to buy your first Chanel bag from the pre-loved or vintage market, you may do so via several online retailers:
Disclaimer: *Always be sure to have your Chanel bags and pre-loved items authenticated by a third party to guarantee authenticity. Read more here*