Can You Finance A Chanel Bag
Chanel is well known as one of the most expensive luxury fashion houses in the world. Have you ever wondered if you can finance one of these iconic Chanel bags? Although Chanel doesn't offer exclusive payment plans in their boutiques, buying your dream bag can easily be done by credit card and other alternative methods.
Even though we are discussing ways in which you can finance a Chanel bag, we cannot emphasize enough that you should never get into financial difficulty for a luxury item. Please do not shop beyond your means, as no Chanel bag is worth getting into debt for! The last thing you want is to end up resenting your beautiful new Chanel knowing you've still got to pay the rent. However, if you're confident about making the repayments since Chanel bags are such a big investment, below we cover everything you need to know about financing a Chanel bag.
Can you buy now and pay later for a Chanel bag?
So, is it possible to buy now and pay later for a Chanel bag? The simple answer to this is no! Unfortunately, it comes as no surprise that the 'buy now and pay later' option is not available in Chanel boutiques. Despite this, there are alternative ways in which you can purchase your dream bag and pay in installments.
We would advise that you apply for a 0% APR credit card; that way you can still purchase your bag in the Chanel boutique, and pay in equal installments, with no additional costs. Currently, this is the only way you can buy now and pay later for a Chanel bag.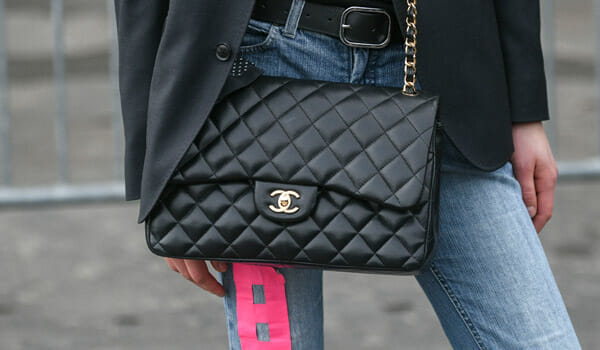 Best Way to Buy a Chanel bag
When it comes to buying a Chanel bag, what is the best way to make your purchase?
If you want the experience of purchasing from the Chanel boutique, the best way to buy your bag is with a 0% interest credit card. Purchasing this way allows you to have the in-store experience and Chanel warranty scheme; all with the added protection from your credit card provider. Just be sure that you have a 0% interest credit card prior to purchase, as you don't want to get stung with additional costs for your bag!
There are additional benefits when it comes to buying directly from Chanel. Not only do you know for certain you are buying an authentic Chanel piece, but you gain the additional protection of the 'Chanel et Moi' warranty for any bag purchase. Chanel et Moi gives you a 5 year warranty on your bag, which can give you the ultimate peace of mind when making such an expensive purchase.
Purchasing pre-loved Chanel bags can also be a fantastic way to save some money. You can find amazing deals on bags from reputable sites such as Vestiaire Collective and eBay. It is also possible to purchase using credit cards, including PayPal credit and other pay later platforms on some pre-loved sites. Therefore you may find that shopping for Chanel bags on the pre-loved market is much more attainable. 
Chanel Payment Methods
Chanel accepts all major credit and debit cards in their boutiques.
How to Pay for a Chanel bag in monthly payments
Can you buy now and pay later in a Chanel boutique? Unfortunately, you cannot buy now and pay later in a Chanel boutique, however, there are solutions to this.  
If you are adamant that you only want to buy your bag directly from the boutique; you should pay for your purchase with a 0% interest credit card. This is the best solution when it comes to purchasing directly from the store, and gives you all-around added protection for your purchase; from Chanel, as well as your credit card provider. 
Much like any luxury purchase, you just need to ensure that you are in the financial position to make regular payments to clear the outstanding balance. 
Does Chanel Offer Payment Plans?
Unfortunately, Chanel does not offer payment plans. 
Does Chanel accept Paypal?
No, Chanel does not accept Paypal. PayPal does however offer credit cards, so you can go down the route of getting a credit card from Paypal to make the purchase. Interest rates will vary and not everyone will be accepted for credit.
Does Chanel use Klarna?
No, Chanel does not accept Klarna.
Does Chanel use Afterpay?
No, Chanel does not accept Afterpay.
Can you Pay at Chanel with Affirm?
No, Chanel does not accept Affirm. However, you can use the Affirm payment method when shopping on Vestiaire Collective.
Tips on How To Save For A Chanel Bag
Chanel will firmly remain one of the world's leading luxury fashion houses, and for that reason, Chanel bags are a fantastic investment to make. See our blog post on the Best Chanel Bags To Invest In (COMING SOON). Although it may seem daunting at first to save for a bag, here we cover our top tips to get you motivated and on your way to making your purchase. 
Work! It sounds silly, but before making any luxury purchase, ensure you have a secure job. You can save much more comfortably without cutting back on essentials if you have a consistent income.
Speaking of work, we would advise starting a side job. This could be anything from another part-time position, freelance work, or even selling your wanted clothing online on sites such as eBay for additional cash.
Ensure you have paid off any debts you may have before starting to save for your Chanel bag. Whether it's credit or store card debt; make sure these are all cleared first.
Start saving directly into a specially designated 'Chanel Fund' account. You will be less likely to withdraw money, and you can keep fully focused on your goal.
Know your priorities! If all you've ever dreamed of is owning your first Chanel bag, then that is what you need to focus on! Try to avoid all miscellaneous shopping; whether that's an extra dinner out in the week, or a random beauty product here and there – it all adds up. Keep your eyes firmly on that beautiful Chanel bag, and try your best to avoid all unnecessary purchases.
If saving for a Chanel bag still seems intimidating and unattainable with these hefty price increases, you could consider shopping pre-loved. When purchasing any pre-loved Chanel bag, please ensure to get it authenticated for protection and peace of mind.
Finally, and most importantly, happy shopping! 
If you want to find out more about how much Chanel Bags Cost, check out our recent post documenting the Chanel price increase featuring before and after prices in this blog.