Have you ever wondered about the world's most expensive designer bag? I mean, how big a price tag can you put on a handbag? Well… a pretty massive one when it's covered in gold and draped in diamonds!
So let's get into this list of 21 of the world's most expensive designer bags!
What is the Most Expensive Bag in the World?
The most expensive bag in the world is currently worth an astonishing €6 million (7.18 million US dollars) and was only unveiled in November of 2020.
This turquoise alligator skin handbag adorned with diamond and sapphire encrusted butterflies was designed by Italian luxury handbag designer Maison Boarini Milanesi. The ocean hues are inspired by his boat trips with his father, where he noticed an increasing amount of plastic waste in the sea. The bag was designed and created to bring awareness to protecting our marine life – €800,000 of every bag sold is being donated to causes working to rid the oceans of plastic.
The Guinness World Record holder position for the world's most expensive bag previously belonged to the Mouawads 1001 Nights diamond purse which you will find below in our top 15 list. However, this bag definitely takes the crown now!
Most Expensive Handbag Brand
As far as designer handbags go, some of the most expensive come from fashion house Hermès, with not one but four entries into our top 16 most expensive designer bags.
Here are some of the most expensive purse brands at the moment:
Hermès
Judith Leiber
Chanel
Prada
Mouawad
Christian Dior
Louis Vuitton
Lana Marks
Hilde Palladino
Fendi
Despite the opinion of many, these expensive designer purses and bags are investment pieces and not just a fashion-based whim. Some of the prices may seem ridiculous and of course, these high-ticket bags are reserved for the most lucrative, however, it is interesting to understand what makes these designer bags so expensive. Learning these things could help you to make more of an informed decision when investing in your own slice of the designer goods pie.
"Out of the recession, we've seen women looking at their handbags as an asset and not just a frivolous accessory… We're seeing this female collector emerge. They're starting to look at these pieces in the same way that perhaps men were traditionally looking at watch collections. There's an awareness in terms of what a collectable handbag means and the value of these pieces on the primary and secondary market… Bags is one of the only women-centric collection categories, even in jewellery men still make up the majority of bidders."

Rachel Koffsky, head of the London department of Christie's International Handbags and Accessories.
15 Most Expensive Handbags In The World
1. Debbie Wingham's Upcycled Egg Purse
Price: $6.7 million
When a mega-rich New York client approached Debbie Wingham with a selection of her old jewellery and a designer scarf, with the intentions of it being incorporated into something new for Easter, magic happened.
This egg-shaped bag was custom-made using an emu egg (yes, an actual emu eggshell), a silk Hermès scarf and almost 8,000 diamonds set in 24k gold and platinum, with a pair of Cartier earrings to form the clasp. The earrings alone had a cool price of $40,000! Due to this collaboration of 'last season' materials, the bag was named 'Reborn' by Wingham.
After the design was finalised, this work of art took 3 months to make. From coating the eggshell in blue diamond dust, to creating the organic gold caging using knarled wood as a mould, this bag truly is a thing of beauty and is possibly the most unique bag we've ever seen.
Would you carry an 'upcycled' emu egg as a handbag, or would this be one for the display cabinet?
2. Mouawads 1001 Nights Diamond Purse
Price: $3.8 million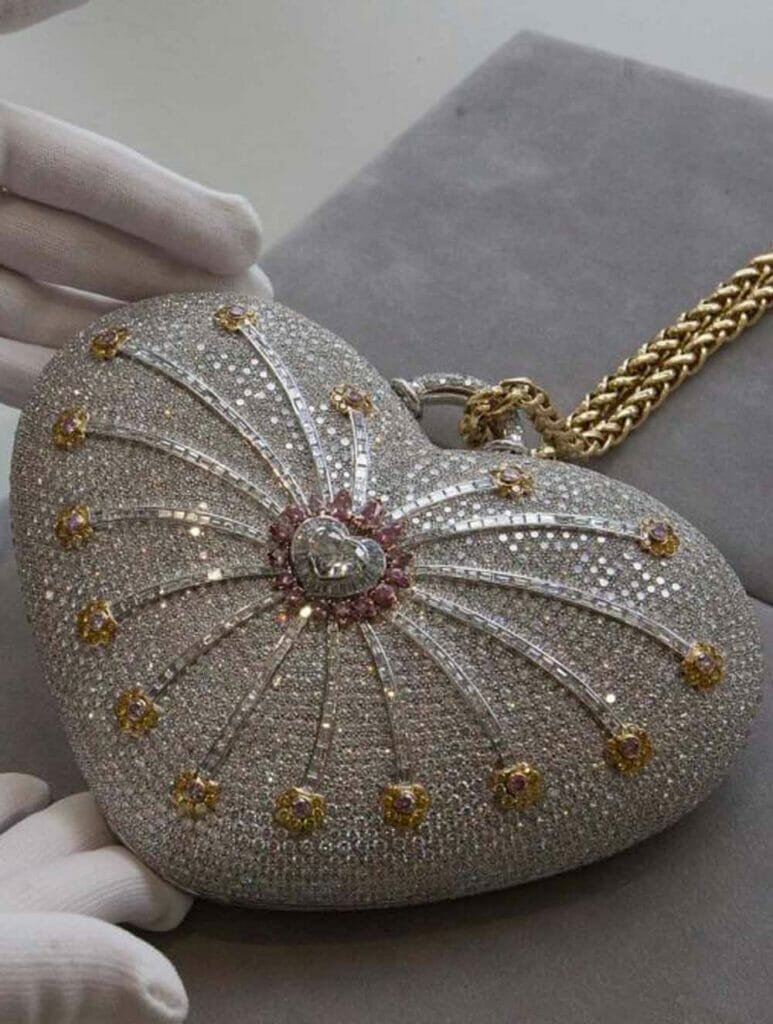 As we mentioned earlier, this 18k gold, heart-shaped bag was the previous title-holder for the world's most expensive designer handbag (from 2010 onwards) with its original price of 3.8 million dollars. With over 4,500 diamonds of the pink, yellow and colourless variety and 8,800 hours of work by ten highly-skilled artisans, it's no wonder the purse carries such a high price tag.
Mouawads 1001 Nights was privately sold at the Christie's Auction House in Hong Kong in 2017. We just have to wonder who bought it and how much they paid.
3. Hermès Kelly Rose Gold Bag
(https://www.admiddleeast.com/style/watches-jewellery/bejewelled-birkin-bag-underscores-hermes-latest-collection)
Price: $2 million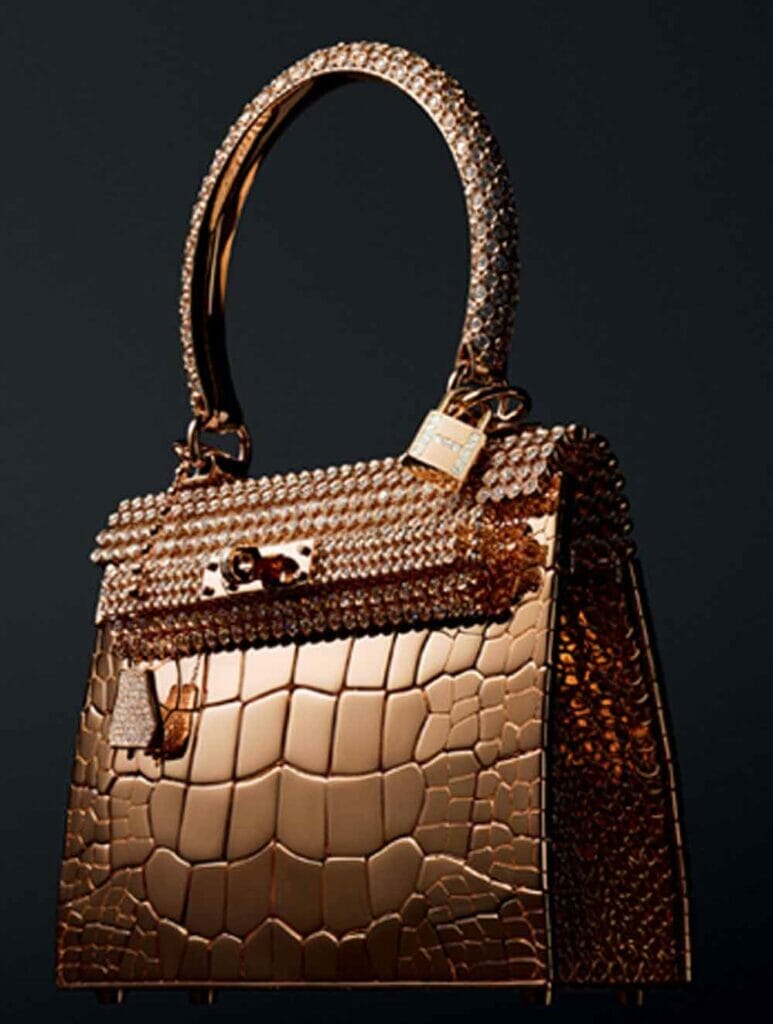 Renowned jeweller Pierre Hardy was approached to collaborate with Hermès to recreate one of their signature handbags using solid rose gold. The croc-effect bag features 1,160 diamonds and a working clasp, however, it is too small to fit much of anything inside, perhaps your favourite lipstick maybe…
Created in 4 styles, with just 3 of each design made, there are only 12 in the world, which is one of the contributing factors as to why the price tag is so high.
The rose gold Kelly bag can be carried as a conventional handbag or alternatively worn on the wrist to create a bag-bracelet look – baglet, anyone?!
4. Hermès Birkin Bag by Ginza Tanaka
Price: $1.4 Million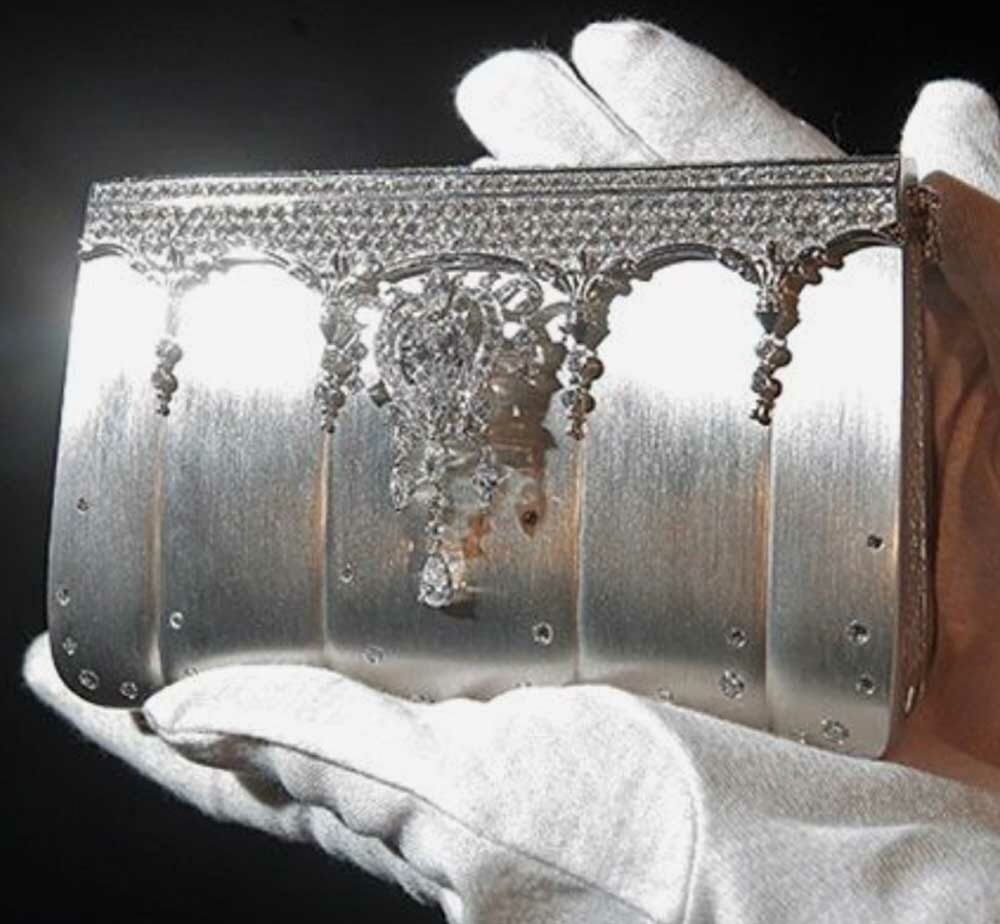 Another collaboration featuring fashion house, Hermès, this time with Japanese designer Ginza Tanaka. This entirely platinum Birkin bag features 2,000 diamonds, including a stunning 8k pear-shaped giant which forms the clasp.
The removable diamond-encrusted handle can be removed so the bag can be used as a clutch and not only is this a bag, that fabulous clasp can be detached and worn as a brooch. Who doesn't love a versatile piece? Especially one that will set you back in excess of 1 million!
5. Hermès Himalaya Birkin Bag
Price: $379,000
Hermès again, with their third entry into the top 21 most expensive designer bags. The Himalaya Birkin is one of the single-most sought after bags amongst collectors and investors alike and could be considered the rarest handbag in the world.
Despite the name 'Himalaya' this bag is fashioned from Nile crocodile hide and it is the colour of the bag which gave it its name – snowy white tops fading gently into smoky grey. This gradation of colour is an extremely time-consuming process and one that can only be carried out by a highly-skilled artisan, which is a factor in contributing to the high price. However, possibly the biggest contributors are the 214 diamonds and 8k gold hardware.
6. Chanel Diamond Forever
Price: $261,000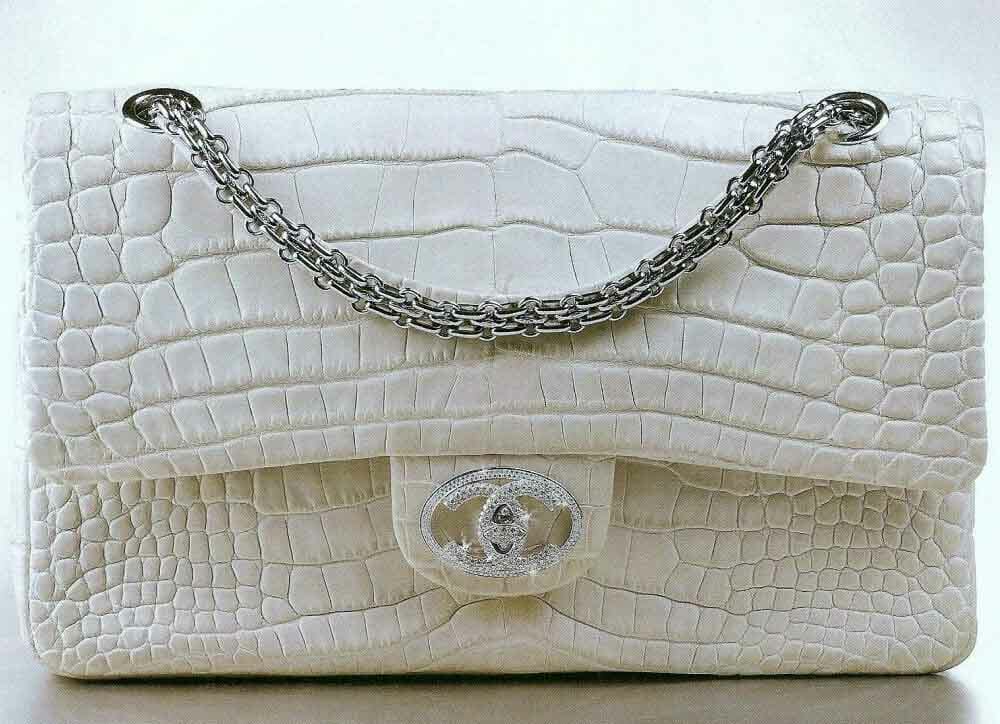 The first Chanel bag on our list is the Diamond Forever, of which only 13 were made. Using the finest matte white alligator hide and playing host to a detachable 18k white gold chain strap and 334-diamond-encrusted white gold clasp, it's easy to see why these Chanel handbags were immediately sought after.
This upscaled version of the Chanel Classic Flap bag maintains the classic styling of the brand with the subtle addition of diamonds and white gold, creating an absolutely stunning, coveted designer handbag. Since Chanel ceased their use of fur and exotic leathers, this bag is even rarer and will likely only grow in value over time.
7. Hermès Fuchsia Diamond Studded Birkin Bag
Price: $222,000
As if 10.87ct of diamonds and 18k white gold wasn't extra enough, Hermès created their infamous Birkin in a vibrant fuchsia crocodile leather. This is a look and we love it! As the pressure increases for design houses to stop using exotic skins, the price of bags like this one will only go higher.
This Birkin once held a record for the most expensive bag sold at auction when a mystery phone bidder purchased the bag for a cool 220,000 dollars.
8. Louis Vuitton Urban Satchel
Price: $150,000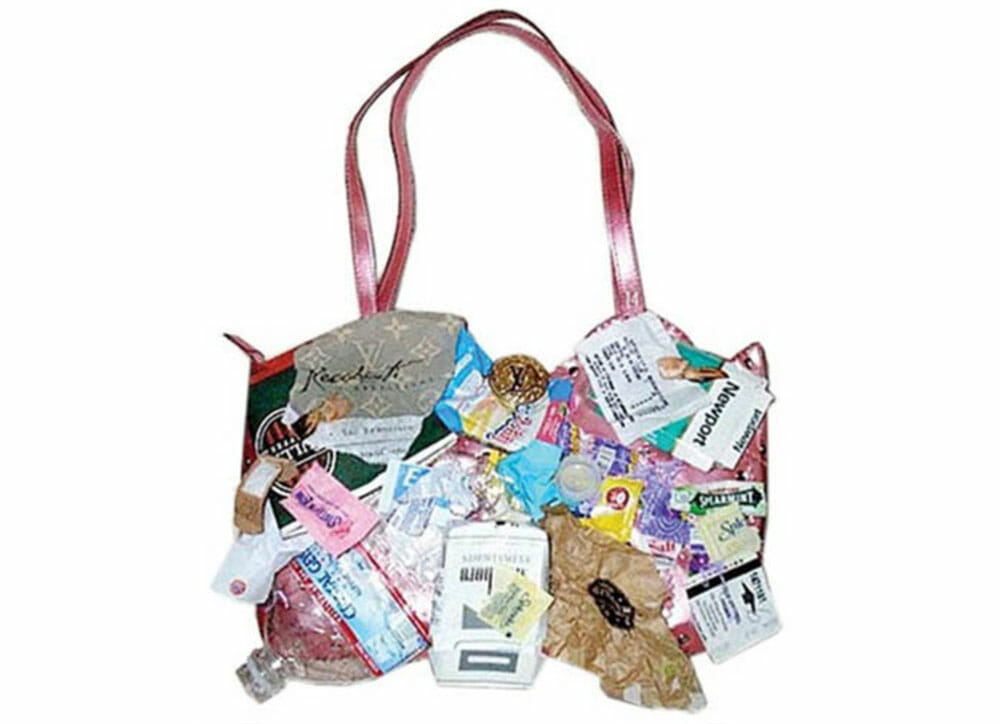 Now this one may not be everyone's cup of tea, but it certainly gained major media attention as a statement piece to illustrate the issues we have around rubbish and the environment. The bag is in fact made from LV's usual luxury leather but instead of this being the main feature, it is covered with a selection of… well… trash! There are cigarette packets, plastic bottles, coffee cups, chewing gum wrappers and even sticky plasters.
Regular fashion FROW member Ashley Olsen (of the Olsen Twins) signed an (allegedly) multi-million dollar contract to promote the bag! And despite the 'urban gems' forming the facade of the bag, it is still pretty sought after due to it's unique nature and limited number in circulation.
Would you like to get your hands on the LV Urban Satchel?
9. Kusama Pumpkin Minaudiere Jewel Bag
Price: $133,400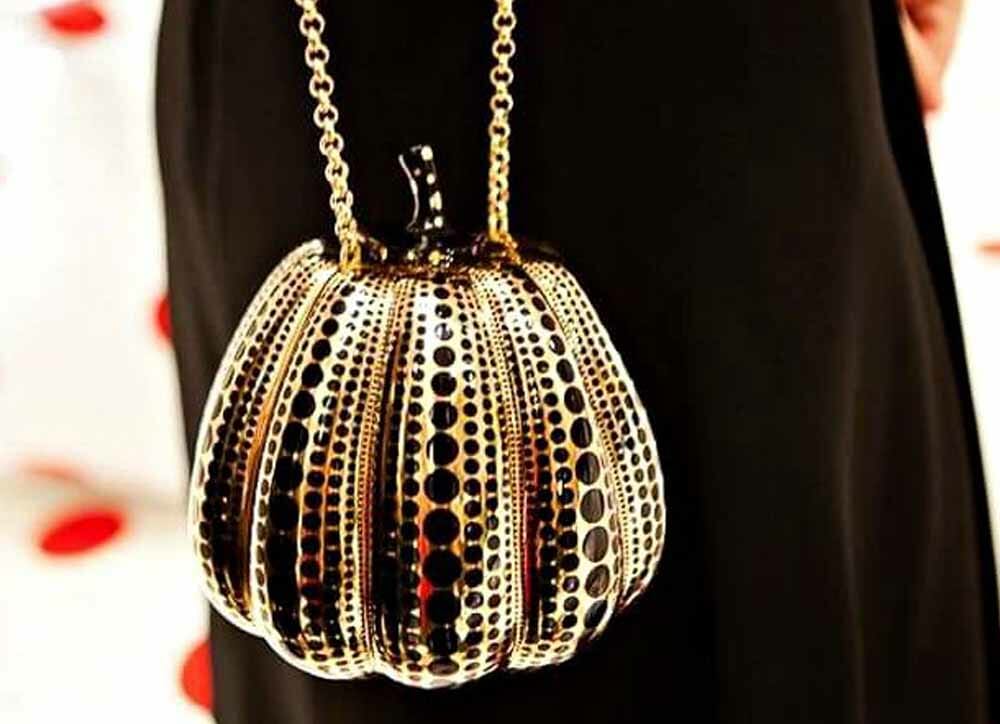 Collaboration pieces between fashion houses, designers, artists, and artisan creators are always going to be limited edition and therefore more expensive. This Minaudiere bag by artist Yayoi Kusama and Louis Vuitton is one of those lusted-after, rare bags (just 5 were made) and has a price tag to prove it.
Kusama's signature polka dots adorn this golden pumpkin-shaped bag which is made from black resin and a mix of precious metals. The golden chain just finishes this Minaudiere jewel bag so nicely – this is the perfect bag to pair with a funky LBD. Now just to start saving up…
10. Leiber Precious Rose
Price: $92,000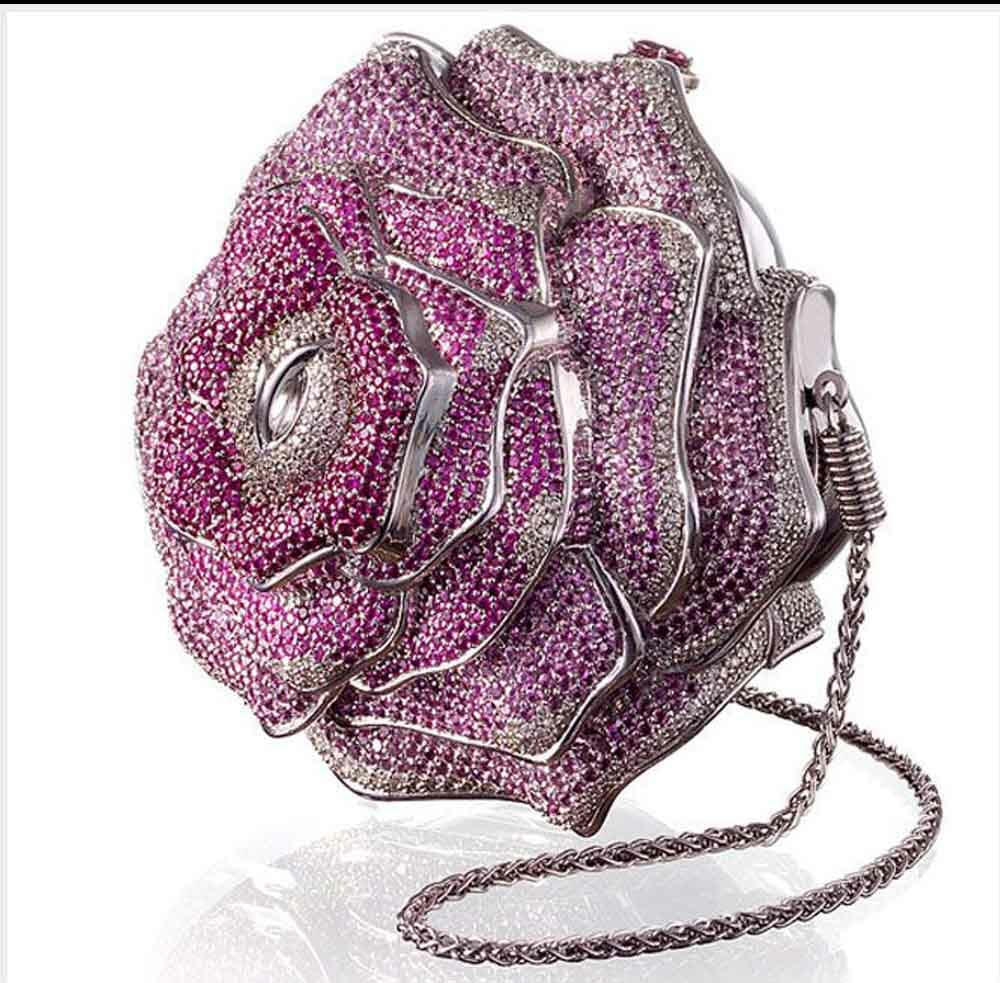 Another novelty handbag in our list of the most expensive designer bags in the world is this rose-shaped, jewel-encrusted design from the late Judith Leiber – a leading designer of luxury, unique and quirky minauderies of all shapes.
The Precious Rose bag is embellished with 1,016 diamonds, 1,169 pink sapphires and 800 tourmaline cut crystals and is made from 18k white gold. Only one of this design exists and was purchased by an anonymous buyer for the princely sum of 92,000 dollars.
We love Leiber's fun and playful designs and wouldn't mind adding one to our collection, now do we want the French fries or the popcorn?!
11. Louis Vuitton Capucines Crocodile Bag
Price: £32,000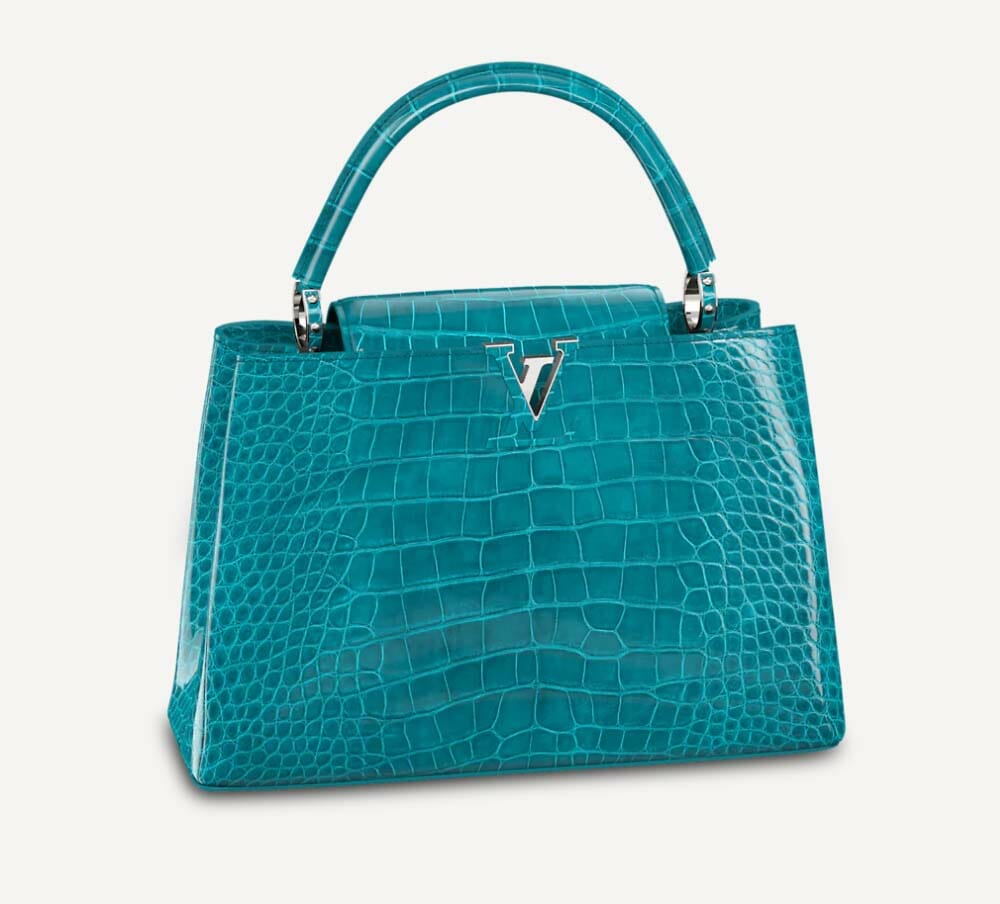 The big price tag for this Louis Vuitton Capucines bag comes from the material it is made from – stunning, glossy alligator leather in a serene azure hue. Such vibrant and even colouration can be difficult to achieve with alligator skins and it requires an extremely time-consuming process that is carried out by highly skilled artisans.
As we mentioned earlier, brands are phasing out their use of exotic skins, so bags like these are most likely to increase in value due to their rarity.
12. Louis Vuitton Airplane Monogram Bag
Price $39,000 / £28,000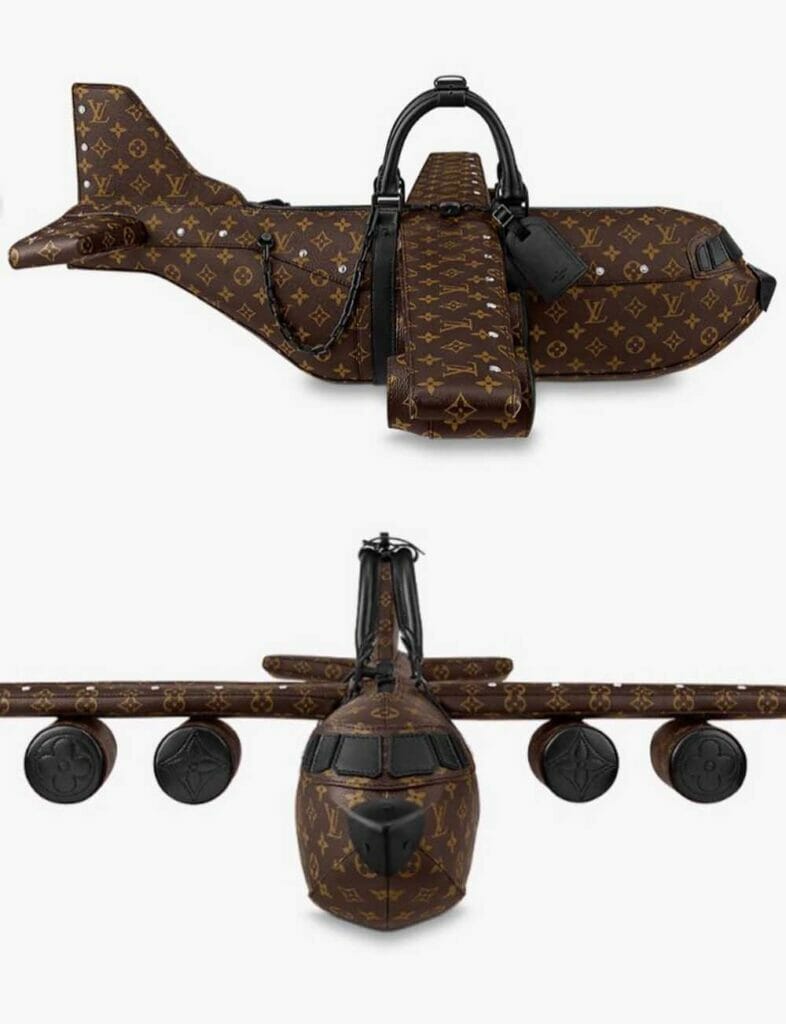 Get jet-set with this Louis Vuitton Airplane monogram gram for a staggering £28,000! Even though you could buy a private jet for around 30K, who needs one of those? This bag is a statement for the uber-rich who have no desire to blend into the crowd. This monogram work of art boasts luxurious leather detail and silver studs

The mastermind behind this take-off piece is Louis Vuitton's current creative director, Virgin Abloh.

"It's my organizing principle for my point of view when I make things," Abloh told Vogue. "A tourist is someone who's eager to learn, who wants to see the Eiffel Tower when they come to Paris. The purist is the person who knows everything about everything."
If travel if high on your list of loves and you have a spare $40,000 burning a hole in your pocket, then this piece might just be perfect for you.
https://www.yahoo.com/lifestyle/louis-vuitton-airplane-themed-purse-171913432.html
13.  Chanel Double Flap Alligator
Price: from $18,000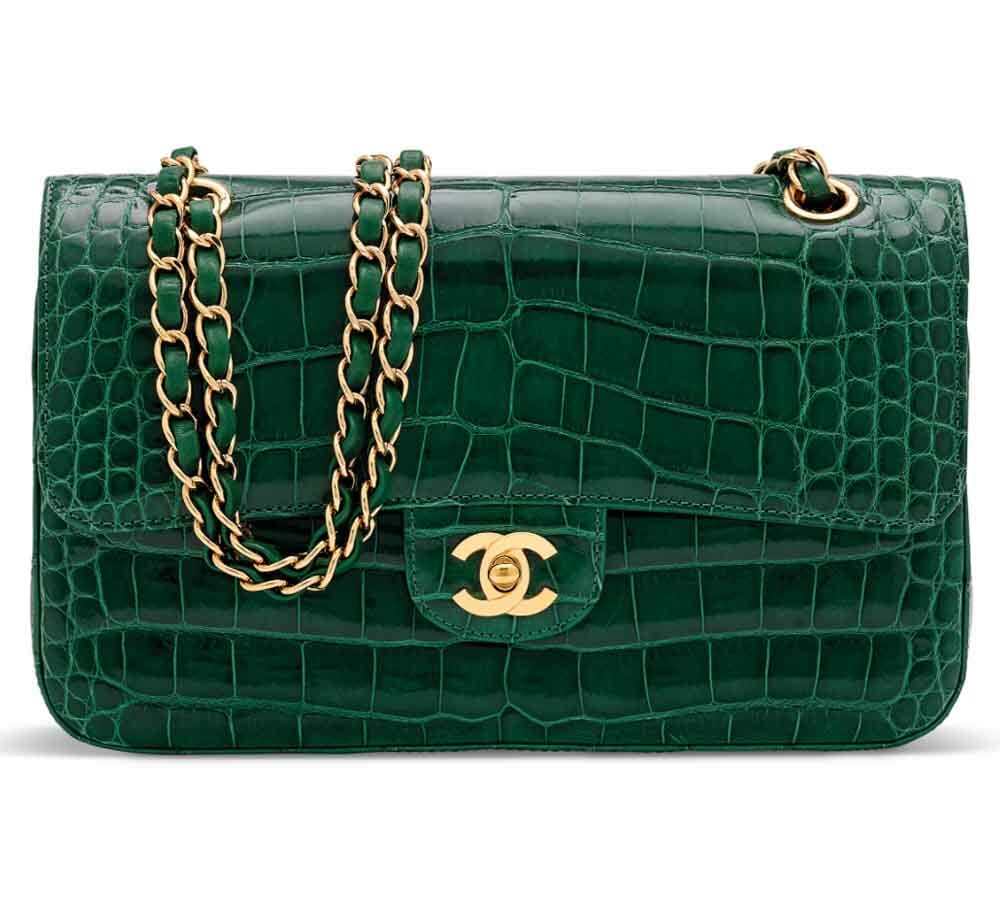 Another exotic skin handbag from fashion house Chanel, this time in the Jumbo Double Flap design. Made from alligator leather, this unexpected, bright orange bag has so much going for it. Stunning symmetry, glossy texture, and a signature chain strap to keep this tangerine bag looking a little more like Chanel's timeless self.
The Jumbo Double Flap Alligator comes in a multitude of colours which all vary in price – if you have almost £20,000 to spare, you could treat yourself to this alluring purple beauty.
14. Gucci Crocodile Marmont Shoulder Bag
Price: £17,600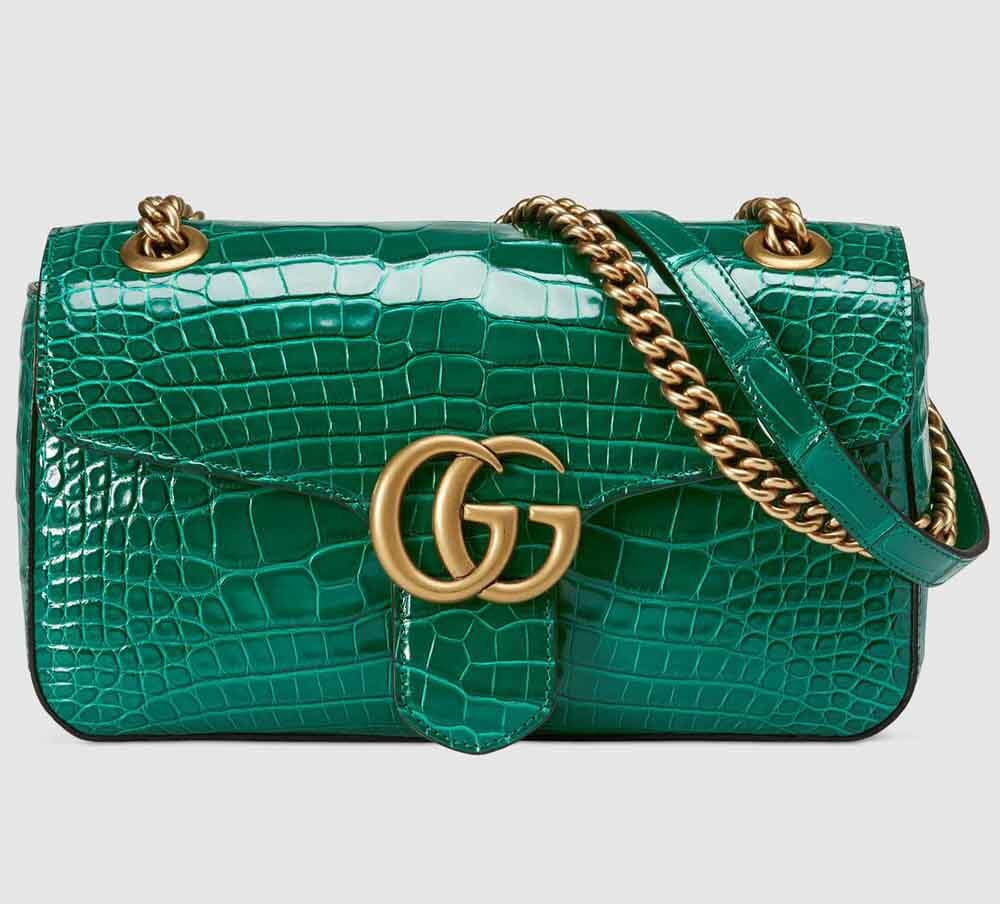 Here we have another crocodile skin bag on our list, this time from Gucci. The Marmont Shoulder Bag is one of this fashion house's most popular designs, so it's no wonder the exotic leather version of this bag is so highly coveted.
Glossy croc-skin in a luxurious emerald green hue makes this bag a sight to behold. The complimentary antique gold hardware and chunky chain strap take this bag from day to night – we love versatility, especially when the price is almost 10 times higher than a Marmont in standard leather.
If you love the stylings of a Gucci Marmont Shoulder Bag, but a £17,600 exotic leather version isn't quite in your budget, check out our list of the 7 Best First Designer Bags to find out more about this handbag.
15. Chanel Pearl Lego Clutch
Price: $15,500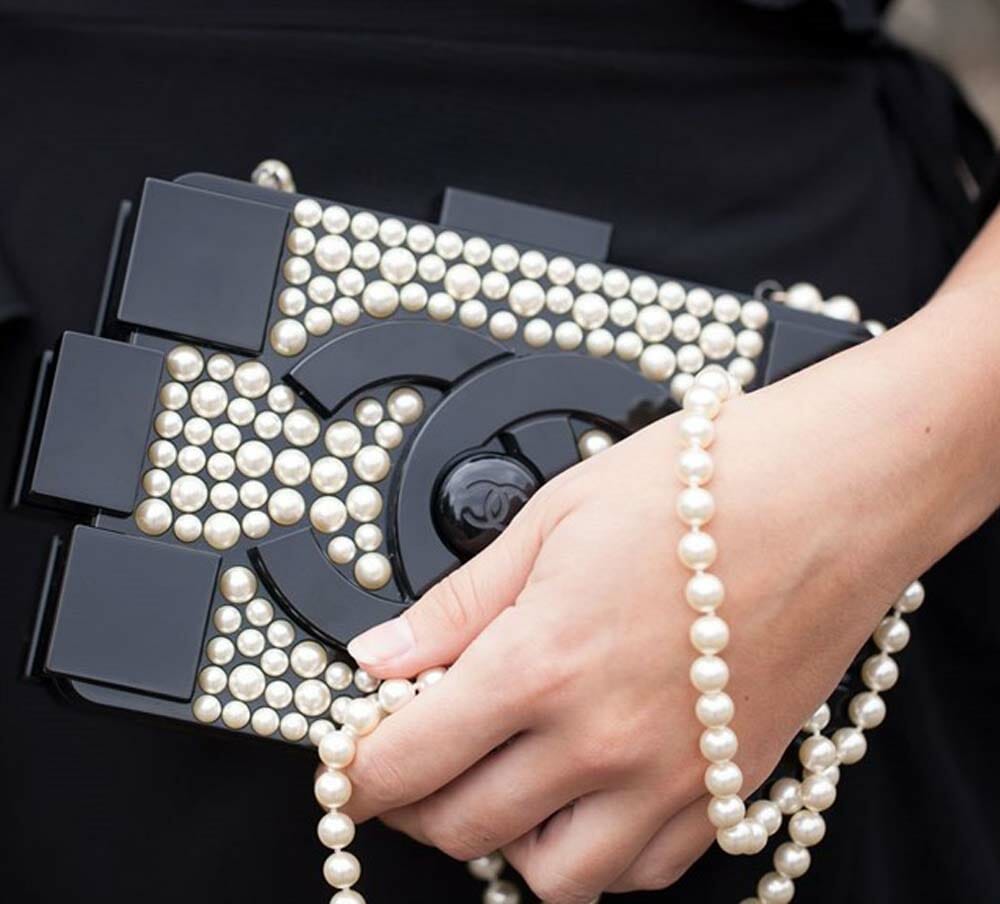 This little boxy design has to be one of the more quirky designs we've seen come out of the house of Chanel, with a structured plexiglass body and signature CC logo embossed proudly on the front. This range comes in a multitude of bright and popping colours, but the one we're honing in on here is the pearl version.
The black blocky plexiglass with an entirely pearl beaded handle and gorgeous pearls littering the face of the bag, make it obvious why this bag ended up in our world's most expensive designer handbags list – though not quite as pricey as its predecessors, the Chanel Pearl Lego Clutch is a pure delight to lay eyes on and does come with a larger price tag.
16. Chanel Perfume Bottle Bags
Price: around $10,000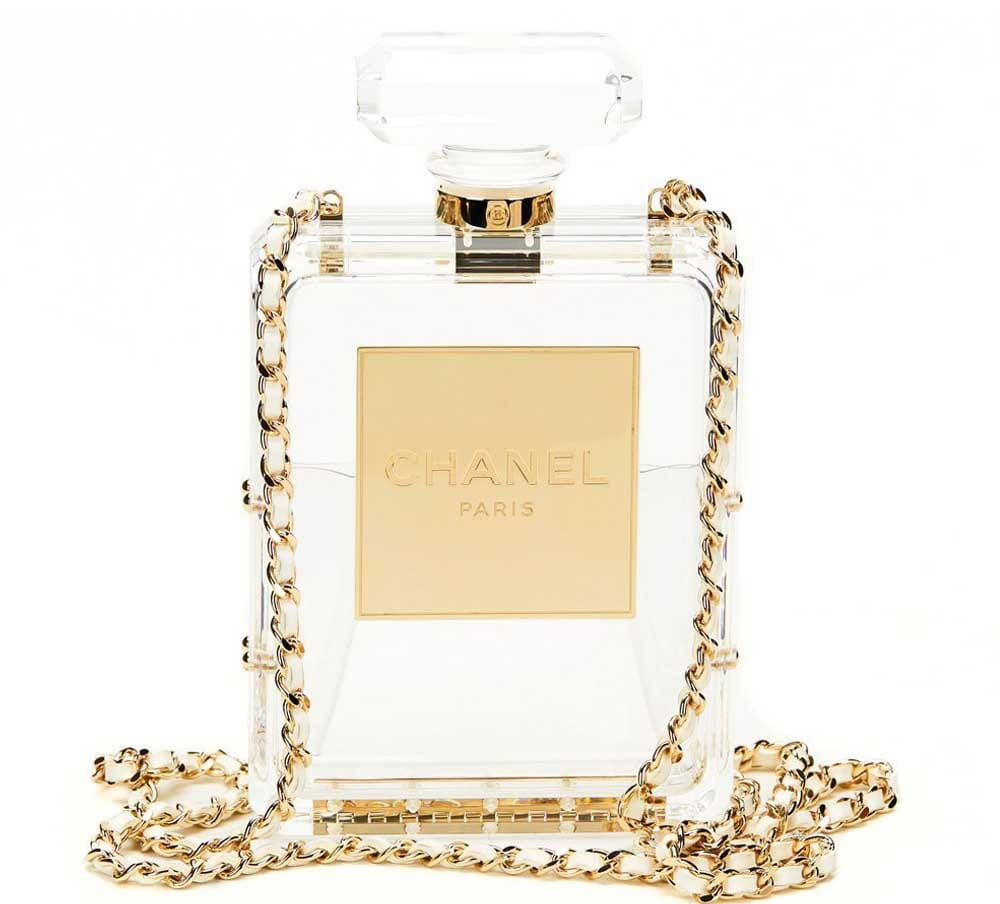 Chanel No.5 has an iconic status and is well known all over the world by many people – Marylin Monroe famously claimed to wear 'only' Chanel No.5 for bed which raised the perfume's popularity greatly.
For lovers of any of the Chanel scents and their chic perfume bottles, this bag will definitely get you checking if your credit card can handle it! Made from clear or black plexiglass, this perfume-bottle-shaped bag may not be one for everyday wear but would be a fabulous addition to your party outfits and would be great for photo setups.
Most Expensive Bag Hermès
As you may have seen in the above list, this fashion house took more than one spot with some extremely pricey bags. In fact, Hermès is very well known for designing and creating some of the most expensive bags in the world – the Birkin Bag being one of their most collectable designs.
The Hermès Birkin was designed after Jean-Louis Dumas had a chance encounter with British actress Jane Birkin on an Air France flight from Paris to London. As the actress was pushing her handbag into the overhead compartment, all of her belongings tumbled out onto the floor, leading Dumas to enquire why she didn't have a handbag with pockets, to which she replied "I will when Hermès makes one."
The two then discussed Birkin's ideal handbag while she doodled her specifications on a sick bag – and so the Birkin was born!
You can't just walk into a store to buy one of these bags and only very good customers will be offered exotic skins and limited editions. They're very much 'collectors' items and the brand plays heavily upon the rare element, making resale values sky-high.
What's the Most Expensive Birkin Bag
You will have spotted the most expensive (full-sized) Birkin Bag coming in at number 5 in our top 15 above – the Hermès Himalaya Birkin.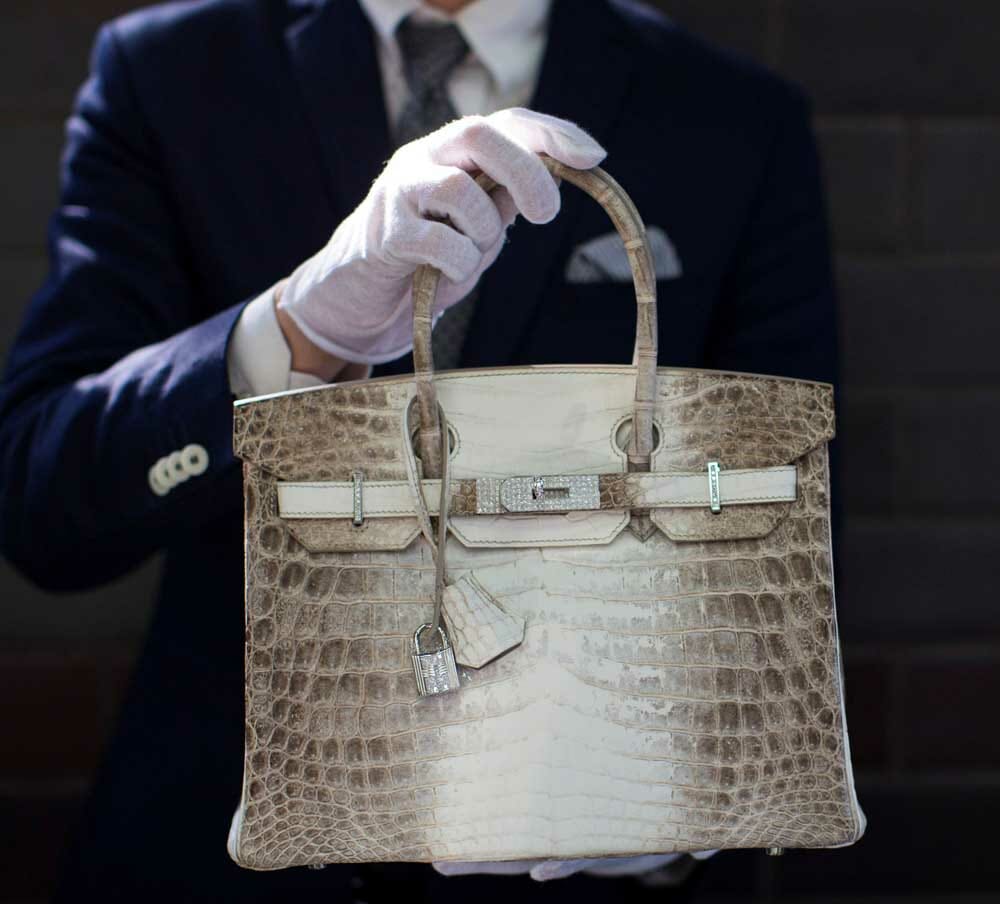 This absolute stunner of a bag is truly a work of art, with amazing gradation in colour from stony grey to pure white – an effect that is extremely difficult to achieve on crocodile leather. To achieve the lightest colours on the leather, the hide must be rubbed back and forth on a wooden dowel – leaving a light and soft surface on the fabric.
The Most Expensive Birkin Bag 2021
The Hermès Birkin Bag designed by Ginza Tanaka (found at number 4 in our list) is probably the most expensive Birkin bag in the world coming in at around $1.9 million. This platinum handbag-cum-clutch has a diamond handle that can be removed and worn as a necklace as well as a removable clasp which becomes a stunning pear-shaped diamond brooch. There are over 2000 diamonds adorning this bag, all of which are set into one of the most expensive metals – platinum.
This may not be your typical full-sized Birkin bag, but if it was, that price tag would definitely make it the world's most expensive designer bag!
Another of the world's most expensive Hermès bags is the Kelly Rose Gold Bag which is number 3 in our top 15.
This impressive little bag is made entirely from rose gold which has been moulded to look like crocodile skin and features 1,160 diamonds in total. Only 12 of this bag were produced and there are 4 variations, meaning just 3 of each type are in existence – driving the price up to a cool $2 million.
For a 'more accessible' design, an exotic alligator skin Birkin doesn't quite reach the breathtaking heights of a million dollars. For under half a million you could get the glorious Hermès Himalaya Birkin (if you're Kylie Jenner or Jeffree Starr) we've mentioned above, or you could opt for a diamond-studded Birkin for just shy of a quarter of a million.
No matter which Birkin you've got your eye on, your eyes will most likely be watering at the price!
Most Expensive Louis Vuitton Bag 2021
Louis Vuitton has also had its fair share of limited edition designer handbags which have been reserved for the rich and famous. A notable design would be the Patchwork Louis Vuitton Handbag – you may have seen this being sported by Beyoncé – which split the fashion jury on whether it was hideous or a work of genius.
No matter this difference of opinion, it did not stop the bag having a $45,800 price tag – but this isn't the most expensive LV bag in existence!
The Urban Satchel Bag
Perhaps not the most fashion-forward bag design to ever come from the house of LV but certainly one with a strong message. This statement designer handbag is covered in items we throw in the trash on a daily basis, and was made to bring attention to the problems litter and waste create in the environment, with a plastic bottle and disposable coffee cup being extremely visible in the design.
Perhaps the litter look isn't quite your vibe and even if you had a spare $150,000, you'd rather opt for something a little more timeless and wearable. This is where the LV Capucines MM bag comes in. At £32,000, you could buy 3 of these crocodilian leather stunners.
Jeffree Star's Most Expensive Bag
When it comes to expensive designer bag collections, Jeffree Star definitely knows a thing or two. His home has a purpose-built, pink vault with a fingerprint and retina scan security system and permanent armed guard, that houses many of his high-end designer handbags.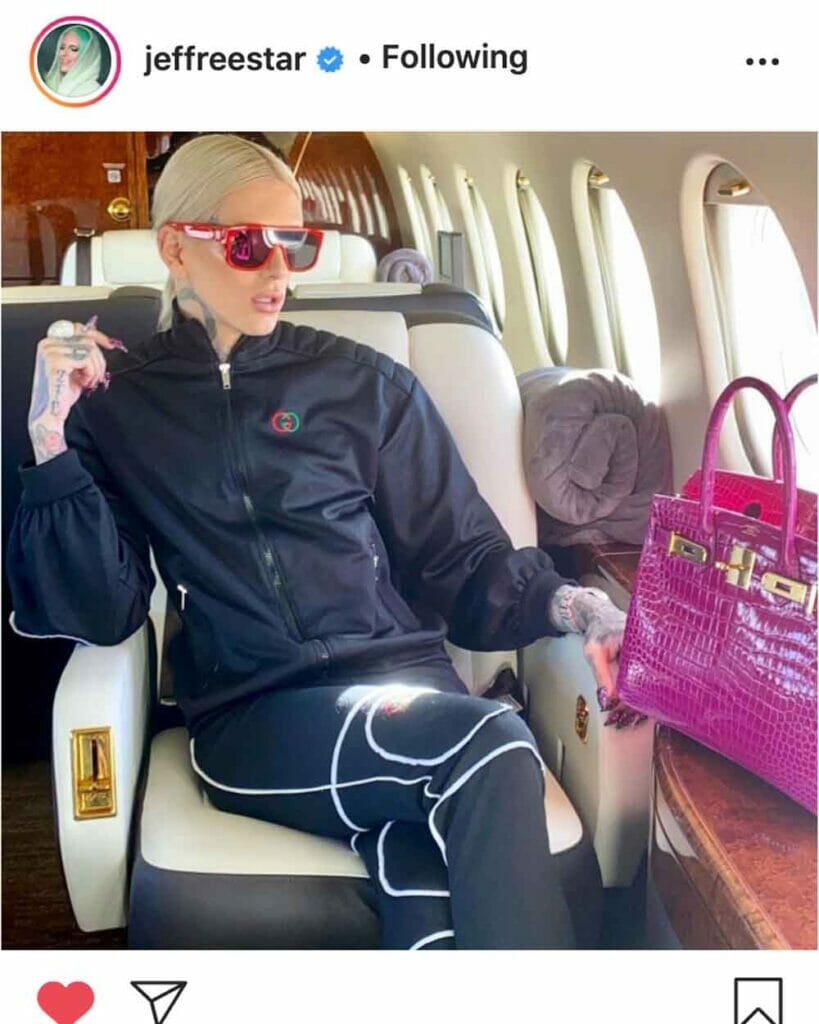 This vast collection including the coveted Hermès Himalaya Birkin bag – probably the most expensive bag in his ginormous walk-in closet. He even owns the Hermès Himalaya Kelly bag too. We definitely recommend giving his designer closet tour video a watch, just try not to get too jealous, which you might if you too have a penchant for pink designer handbags!
References:
https://firstclasse.com.my/world-most-expensive-bag-e6-million/
https://www.vogue.co.uk/article/the-worlds-most-expensive-bags
https://lvbagaholic.com/blogs/lv_bagaholic/a-list-of-most-expensive-and-exclusive-designer-handbags-in-the-world-of-2020
https://luxatic.com/the-10-most-expensive-handbag-brands-in-the-world/
https://www.luxhabitat.ae/the-journal/top-10-most-expensive-handbags-in-the-world/
https://www.dailymail.co.uk/femail/article-6906463/Debbie-Wingham-bag-costs-6-7million-upcycled-designer-Herm-s-scarf-Cartier-earrings.html
https://www.christies.com/about-us/press-archive/details?PressReleaseID=8845&lid=1
https://www.insider.com/jeffree-star-closet-tour-valuable-items-designer-clothes-2019-5