If you're considering a new Louis Vuitton Speedy bag, then look no further than this ultimate guide to the speedy bag for size, price, and general wear and tear information.
History of the Louis Vuitton Speedy bag
If you've ever considered a Louis Vuitton speedy bag, then you'll definitely have come across the iconic Speedy bag. The first speedy bag created was in 1930 by the fashion house which was the Speedy 30 bag. 29 years later icon Audrey Hepburn requested that the Speedy bag was made in a smaller size, and in 1959 we saw the birth of the Speedy 25 which was 25 cm in length rather than the normal 30cm.
Since then, Louis Vuitton has introduced the Speedy nano, BB (limited edition), 25, 30, 35, and 40 to meet the varying needs of its customers.
If none of these Speedy bags meet your size requirements, the 'keepall' range features larger travel bags, which is essentially the Speedy on a larger scale.
Louis Vuitton Speedy Bag Outfits Video
Watch out latest video on YouTube featuring a giant monogram Louis Vuitton Speedy 30 bag with a variety of outifts.
Louis Vuitton Speedy Bag Price + Size Comparison
The Louis Vuitton Speedy bag comes in various sizes as well as canvas and leather options. Leather options are more expensive than canvas versions, but are often rarer and not available in all of the sizes.
Below we take a look at the Louis Vuitton speedy bag size range and price comparison.
Image
Style / Size
Dimensions
(length x height x width)
Price £*
Price $*
Speedy Nano
6.3 x 4.3 x 3.5 inches
£755
$1180
LVXLOL Speedy BB (Limited Edition Only)
6.89 x 5.51 x 4.33 inches
£1280
$1770
Speedy 25
9.84 x 7.48 x 5.91 inches
£820
$1140
Speedy Bandoulière 25
9.84 x 7.48 x 5.91 inches
£1070
$1610
Speedy 30
11.81 x 8.27 x 6.69 inches
£830
$1160
Speedy Bandoulière 30
11.81 x 8.27 x 6.69 inches
£1090
$1640
Speedy 35
13.78 x 9.06 x 7.09 inches
£850
$1180
Speedy Bandoulière 35
13.78 x 9.06 x 7.09 inches
£1110
$1660
Speedy 40
15.75 x 9.84 x 7.48 inches
£860
$1200
Speedy Bandoulière 40
15.75 x 9.84 x 7.48 inches
£1140
$1680
*Speedy price comparison correct as of July 2020
Louis Vuitton Speedy Size Comparison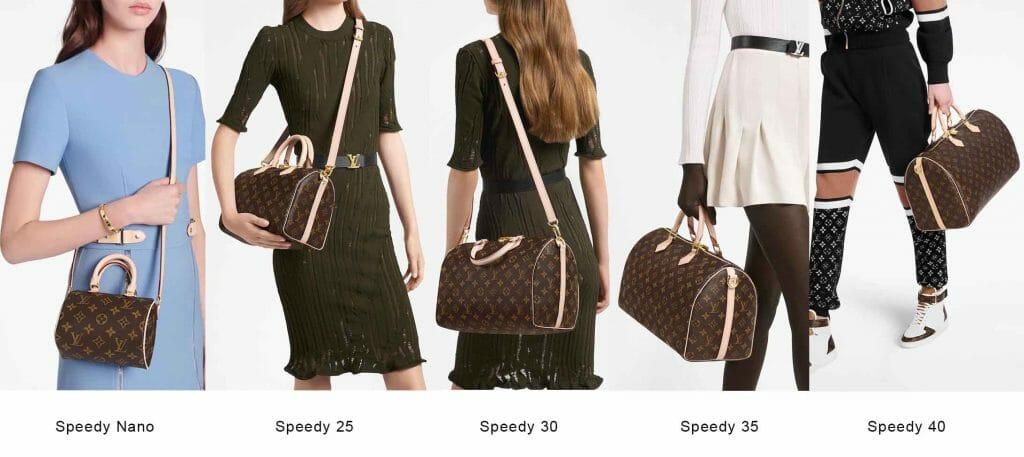 The Speedy bag is incredibly popular and is available in numerous sizes to cater to different needs and occasions. The most popular Louis Vuitton Speedy size is the 30. The number referrers to how many centimeters the bag is wide.
The Nano Speedy – This bag is good for a small zippy coin purse and mobile phone, other than that, the bag isn't designed to carry much but it does look great!
The Speedy 25 – This is a very popular size due to it being practical but not oversized. This bag can easily fit all of your essential items inside without encouraging you to take more than necessary.
Speedy 30 – Perfect for all your essentials and larger items such as books and a bottle of water. The Speedy 30 is a great everyday/work bag size
Speedy 35 Bag – The 35 is a medium to large bag, and again, even better if you want to take more with you or have a weekend away where you don't need much.
The Speedy 40 – The largest bag in the Speedy range, this bag is great for all your essentials and more. Best used as a 'small' weekend or travel bag, this bag is great for carrying more than you need for the day.
Louis Vuitton Speedy Nano Bag
The smallest Speedy bag introduced by Louis Vuitton is the nano bag. Originally referred to at the 'mini' speedy, the name changed to 'nano' in 2019. This ultra-cute, mini bag features top handles and a non-detachable cross-body strap.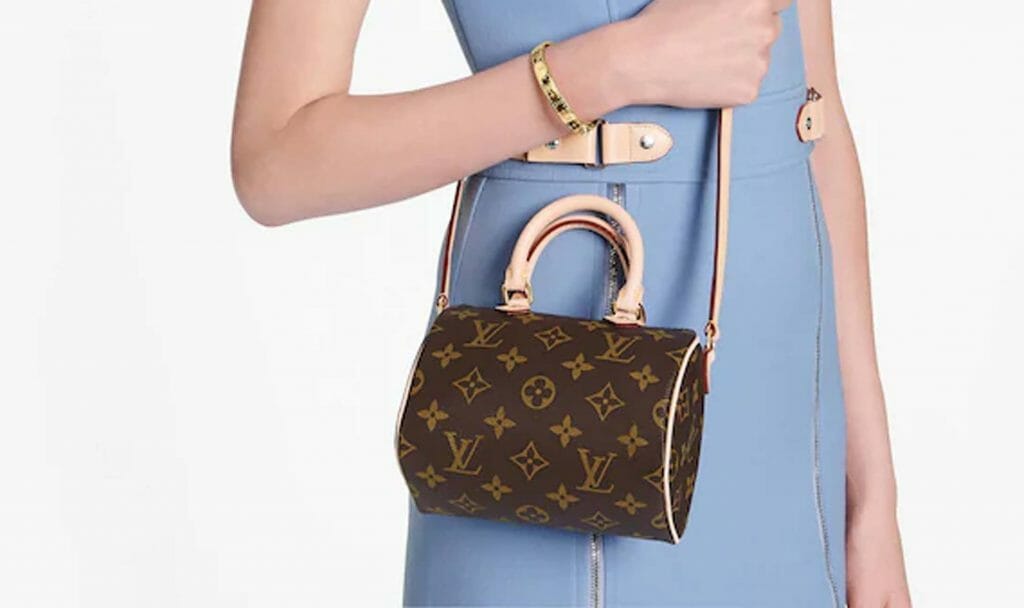 This nano version of the Speedy bag has proved popular with people purchasing the nano for when they don't need to carry a lot, or purchasing one for their children so that their Louis Vuitton bags are matching. Watch our review video on YouTube featuring the Nano Speedy bag.
What's the Difference Between and Speedy and Speedy Bandoulière Bag?
All the Louis Vuitton Speedy bags in canvas material are also generally available in a Bandoulière version. The difference between a normal Louis Vuitton Speedy bag and Bandoulière Speedy bag is that the Bandoulière version features a detachable leather shoulder/crossbody strap. The sides also feature leather strips that are used to put the side hooks onto the bag to attach the strap to.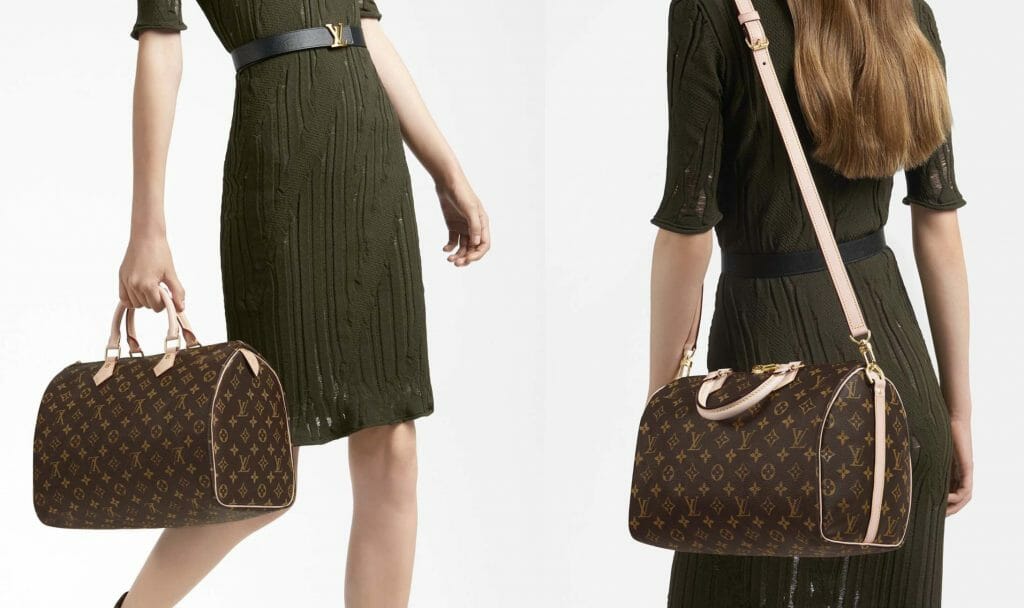 The detachable strap makes the bag more versatile and allows the bag to be worn in 3 ways, rather than just one.
Is the Bandoulière Speedy worth the extra cost? In our opinion, definitely. The bandoulière versions are more sort-after than the normal speedy bags, and whilst they cost around £250 more than the standard model of the bag, we think it's well worth it. The Speedy bag can get heavy if carried for a longer period of time, and the detachable strap allows you to free up the use of your hands.
Louis Vuitton Speedy Bag Materials / Canvas Options
The Louis Vuitton Speedy bag is available in monogram canvas, Damier ebene canvas, and Damier Azur canvas. Some sizes are also available in all-leather options made from Empreinte leather, where the famous monogram pattern is embossed into the leather.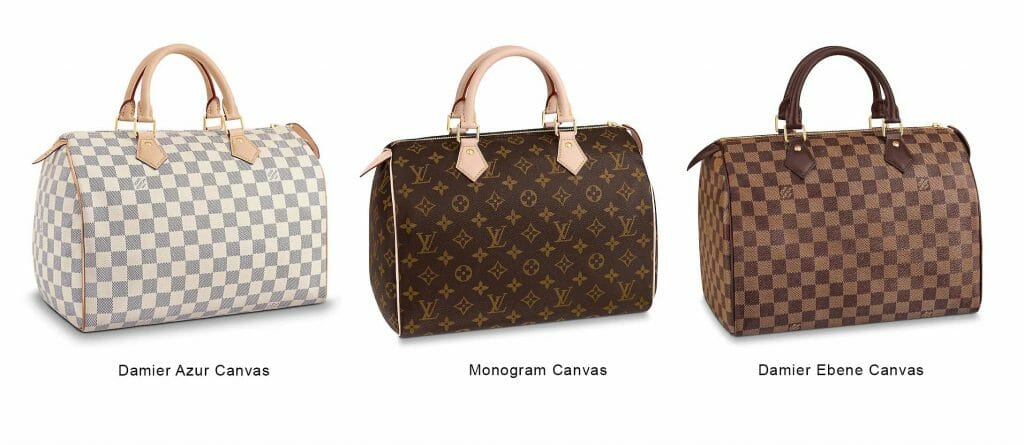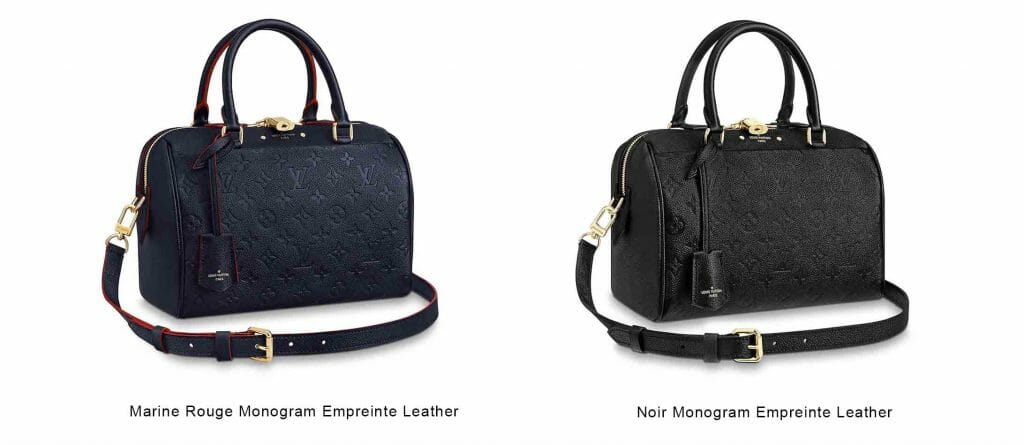 Which is the best Louis Vuitton Speedy Material to get?
Depending on how you plan to use your Louis Vuitton Speedy bag, there may be some colorways and canvas prints that are preferable to others.
The Damier Azur (light chequer square) print feels summery, however, will show dirt and marks easier. If you plan to take care of the bag and regularly clean it, the Azur can be a great choice.
If you're looking for a more 'heavy-duty' bag for everyday use, the Damier Ebene print is highly recommended. Not only will the canvas not show dirt and marks as easily as it's lighter coloured counterpart, but it also features dark brown leather handles/strap. With the leather handles and strap not being vachetta leather, the bag is much more likely to look newer for longer.
The Monogram canvas version is a good in-between and the most popular, the canvas is a dark brown, however, the vachetta leather handles will over time darken and show dirt. This is a natural aging process of this type of leather.
The Empreinte leather versions of the bag are also a great choice for heavy-duty use, in darker colours. The leather is strong and supple, however, the embossed print can slowly fade out of the leather over time as the leather softens. This tends to happen to areas of the bag such as the corners, where the bag will experience more rubbing.
Limited Edition Louis Vuitton Speedy Bag Prints
Louis Vuitton generally releases two limited-edition collections every year for spring/summer and autumn/winter. Most limited edition collections feature the Speedy bag re-worked with the new, limited edition print.
Often, only one size of the Speedy bag will be re-worked with the limited edition print and they often fetch higher than retail value, as they sell out and become rare collector's items.
Limited Edition Louis Vuitton prints retail at a higher cost than the base canvas models. If you're searching for a limited edition Louis Vuitton Speedy bag that is no longer sold, the best places to find one are eBay and Vestaire Collective.
| | | |
| --- | --- | --- |
| Style | Speedy Collection Name | Year |
| | Camouflage 'Monogramouflage' Muraki Speedy 35 | 2008 |
| | Steven Sprouse Collaboration. Graffiti Print – Pink | 2009 |
| | Steven Sprouse Collaboration. Roses Print | 2009 |
| | Fleur De Jais Speedy 25 | 2010 |
| | Mirror Silver Speedy 35 | 2010 |
| | Jungle Print Speedy 30 | 2016 |
| | Watercolour Speedy 30 | 2016 |
| | Jeff Koons Collaboration – Masters Speedy 30 | 2017 |
| | Summer Trunks Speedy 30 | 2018 |
| | Royal Wedding Union Jack Speedy 30 | 2018 |
| | Giant Monogram Speedy 30 | 2018 |
| | Shearling Teddy Speedy 25 Bag | 2019 |
| | Catogram Speedy 30 | 2019 |
| | Escale – Tie-Dye Monogram | 2020 |
Common Wear and Tear of Speedy Bags
The Louis Vuitton Speedy bag after many uses will, as all bags, show wear and tear after some time. Some of the main wear and tear issues with the Speedy bag are as follows: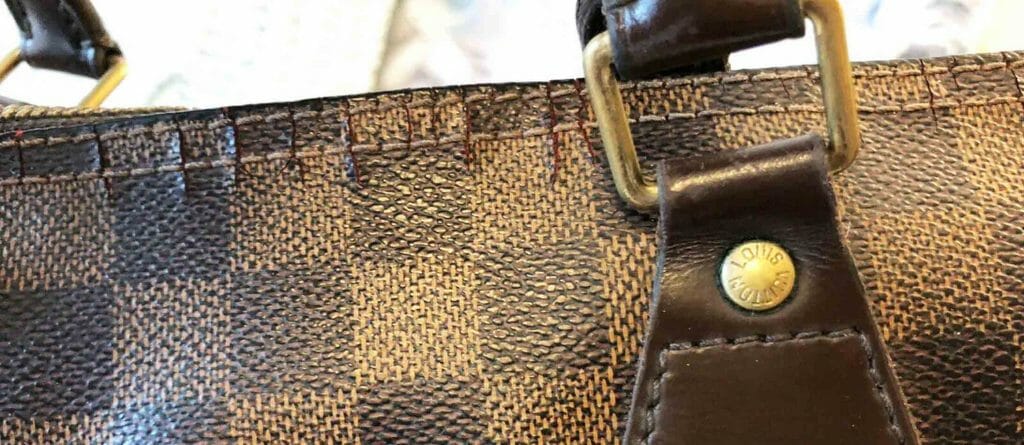 Bottom corners of the bag rip/tear. This is due to the bottom of the bag coming into the most contact with surfaces, however, the main culprit of this is plastic or firm base shapers. Over time, a base shaper can put extra pressure on the canvas. We strongly advise using a luxury handbag liner, not a base shaper in your designer bags.
Cracks to the canvas – especially along the zipper area, this is due to the canvas constantly being moved/jolted when opening the bag. Use a leather conditioner to help the canvas stay supple.
Stains/marks to the interior.
How to Clean and Care for a Louis Vuitton Speedy Bag
Taking care of your new designer Louis Vuitton Speedy bag is paramount to preserve its good looks, structure, and re-sale value. Here are our top tips on taking care and cleaning your Louis Vuitton Speedy bag.
Regularly wipe the canvas clean. Read our full guide on how to care for Louis Vuitton Canvas here.
Wither the leather handles and straps, always ensure your hands are clean and free of excess oil such as hand sanitizer/lotion, as this will darken vachetta leather faster.
Use a leather cleanser and conditioner on the leather parts of your bag (the full exterior of the bag if you have an emprinete version).
Get a handbag liner to protect the lining of your new Speedy Bag.
Use Brasso on any brass hardware to remove dirt and make the hardware much shinier.
Louis Vuitton Speedy Bag Organisers
Handbag liners are a must for any designer bag. At just a fraction of the cost of a designer bag, a liner will help your bag to maintain its structure and protect the lining from any unwanted dirt and stains.
Shop the best luxury handbag liners here >
Is the Louis Vuitton Speedy Bag a Good Investment?
If you're looking to purchase a Louis Vuitton Speedy bag, you may be wondering if the bag is a good investment. There are a few ways to look at this bag in terms of being an investment.
Is a Speedy bag worth the money?
If you like the bag, then the Speedy can be a great investment. Whilst the Neverfull tote bag is the most popular Louis Vuitton style, the Speedy offers better structure and more security with its zip fastening. There is also a padlock to make the bag extra secure for travel.
If the bag is taken care of, the bag will last many, many years. As mentioned further up, we highly recommend the Damier Ebene print or all-leather versions are these will look newer for longer.
2. Do Speedy Bags Hold Their Value?
The Speedy is such a classic style and with annual price increases, the Speedy does retain its value well on the resale market. Always keep documents, boxes and dust bags, and use a handbag liner from day one to help increase the value of the bag. If kept in good condition over a few years, it's highly likely you'll get most of your money back on this purchase.
Where to Buy a Louis Vuitton Speedy Bag
The best place to purchase a brand new Louis Vuitton Speedy bag is directly from the Louis Vuitton website or a store, as Louis Vuitton does not sell via any other store.
If you're looking for a limited edition Speedy bag, a version that's currently sold out, or want to make a saving by buying pre-loved, eBay is a great option. Shop Louis Vuitton Speedy bags on eBay >