Louis Vuitton LV Crafty 2020 Collection First Thoughts
Louis Vuitton has done it again with another vibrant, eye-catching fun limited edition print – introducing the new LV crafty collection for Autumn/Winter 2020. The Crafty collection is a fun ultra-graphic print that worked onto some of the brand's classic bag styles and accessories.
The print is almost tribal-esque in its appearance with bold lines and giant monogram and comes in a range of bright, yet autumn/winter feel colour palette. From deep reds to caramel, creams, and black, this new crafty collection lends itself beautifully to becoming a 'stand out' piece of any autumn/winter outfit. However, with its tribal vibes, the collection is also perfect for travel and isn't just limited to the darker months.
The Crafty collection is fairly similar to last year's (2019) jungle collection, which featured the same giant monogram print with black, rustic orange tones and animal patterns worked into the monogram print.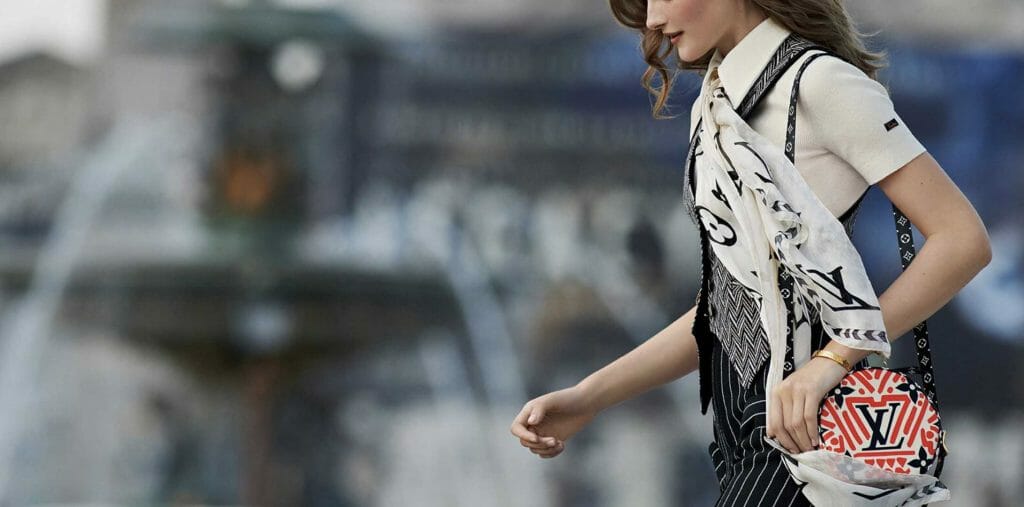 LV Crafty Collection Full Range and Price List
Below is the full bag collection in this new limited edition print from Louis Vuitton with UK and US price comparisons.
It's clear the new Louis Vuitton 2020 price increase is now in full swing after the COVID-19 outbreak, with some of the base models in this collection being at least £100 more than the last limited edition Escale collection which was released earlier in the year.
Image
LV Crafty Bag Style
Colour Options
Price £
Price $
Crafty Capucines PM
– Black
£4200
$
OnTheGo GM Embossed Leather
– Cream
-Noir
£2800
$4100
Crafty OnTheGo GM
– Cream / Caramel
– Cream / Red
£1910
$2860
Crafty Twist MM
– Black
– Cream
£2760
$3900
Crafty Alma PM
– Black
£2290
$3300
Crafty Pochette Metis
– Cream
– Noir
£2150
$3100
Crafty Keepall BANDOULIÈRE 45
– Cream / Caramel
£1810
$2630
Crafty NÉONOÉ MM
– Cream / Red
£1600
$2400
Crafty NÉONOÉ MM Embossed Leather
– Cream
– Caramel
£2060
$3100
Crafty Speedy BANDOULIÈRE 25
– Cream / Caramel
£1540
$2310
Crafty Neverfull MM
– Cream / Caramel
– Cream / Red
£1430
$2170
Crafty Trio Pouch
– Cream / Caramel / Black
£1300
$
Crafty Double Zip Pochette
– Cream / Caramel
£1000
$1570
Crafty Zippy Wallet
– Cream / Caramel
£635
$990
Crafty Pochette Toilette 26
– Cream / Caramel
£425
$675
*Please note, prices are correct as of the 24th July 2020 and may change.
LV Crafty Collection Video Review
Watch one of our latest videos on YouTube where we chat about initial thoughts on this collection, our favorite pieces, and where to buy limited edition Louis Vuitton bags if they're sold out.
Our Top Picks from the LV Crafty Collection
After reviewing the entire collection, our favourite pieces from the Louis Vuitton Crafty collection are listed below. Don't forget to comment below and let us know your favourite piece from this stunning collection.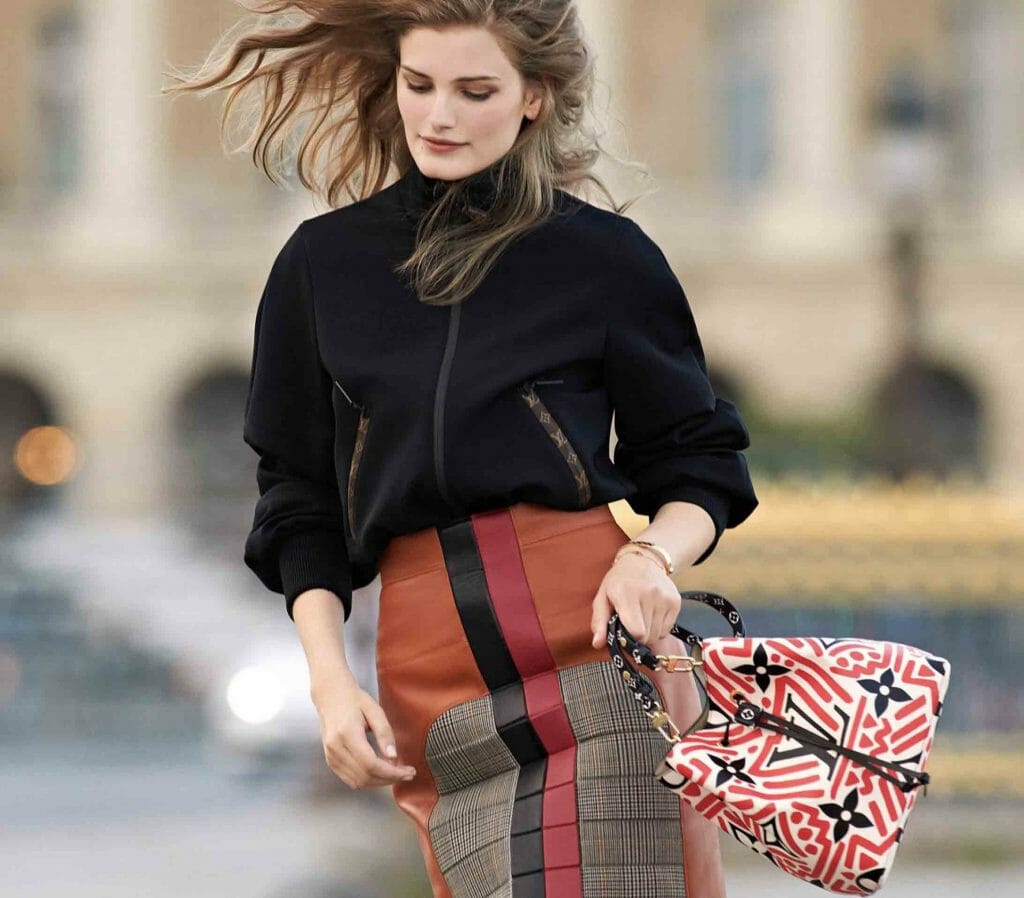 1. Crafty Neverfull MM In Cream / Caramel
Out of this entire collection, when we consider print, price, and the overall look the must-have piece from this collection has got to be the Neverfull MM.
It packs as much of a punch as the OnTheGo tote in the cream and caramel colour combination, yet has a much more reasonable price tag. The Neverfull bag's more casual look lends itself to the fun, light-hearted nature of this bold collection nicely and we particularly love the mini-monogram lining.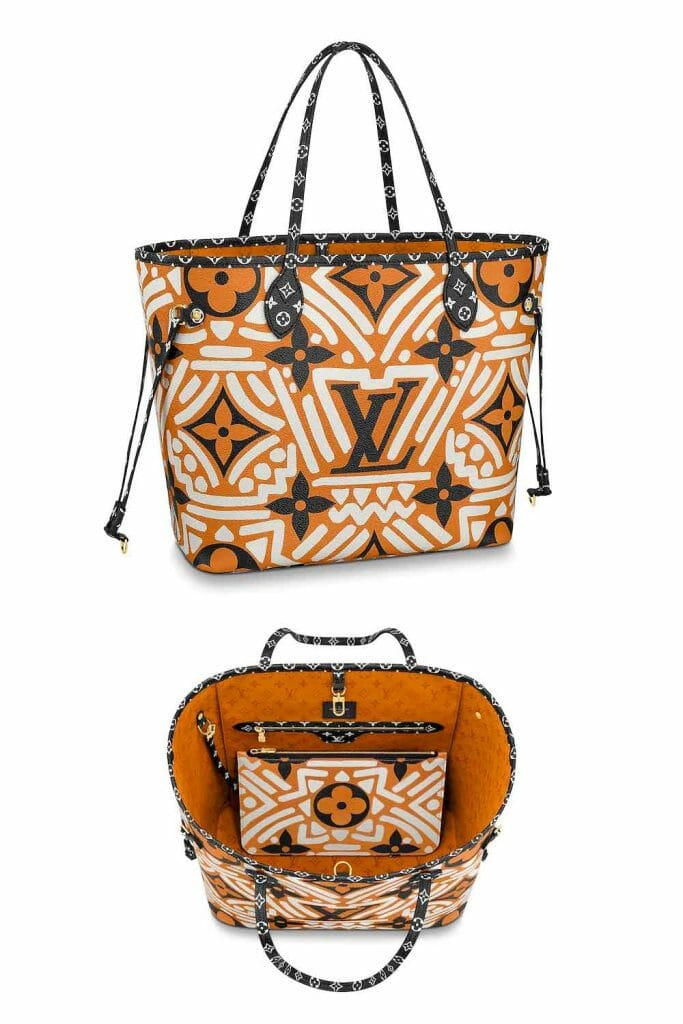 2. Crafty Speedy Bandouliere 25 in Cream / Caramel
Our second choice is another classic that looks great with this print, the Speedy bag. We love that this limited edition crafty print has been worked onto the smaller Speedy 25 – most limited edition speedy bags are the 30 size.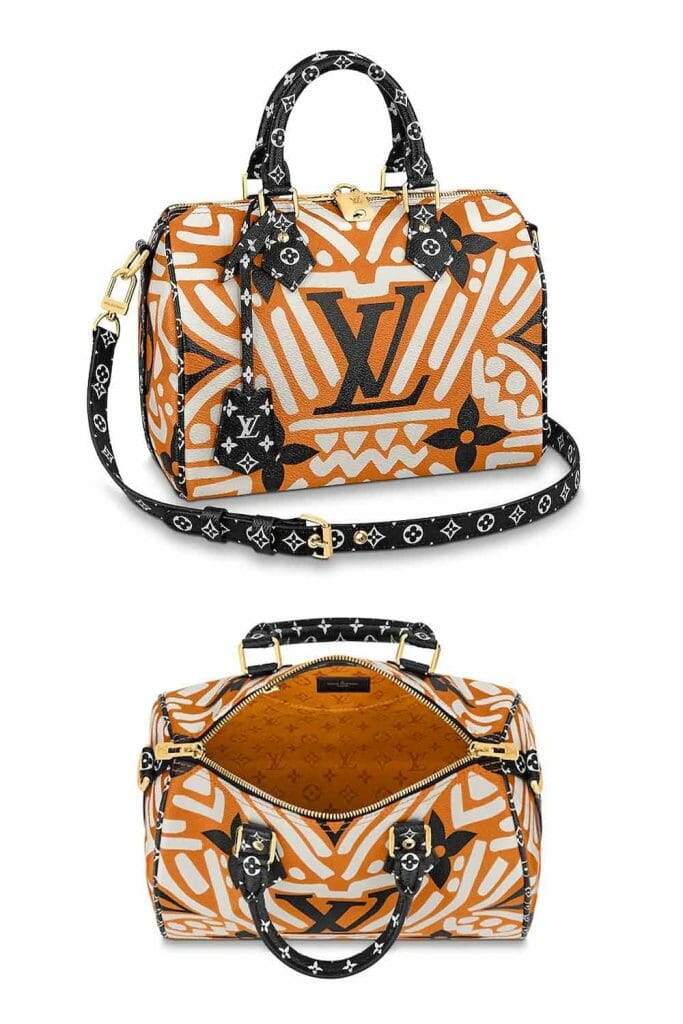 3. Crafty Pochette Toilette / Toiletry 26 Pouch
The Louis Vuitton Toiletry Pouch 26 is incredibly popular due to its much more reasonable price point that other bags from Louis Vuitton, and it lends itself to becoming a clutch bag easily.
Due to the simple shape and size of the toilette pouch, we think this print combination is a clear winner. Don't forget your toiletry pouch conversion kit to turn your bag into a shoulder/crossbody bag for even more ways to wear it.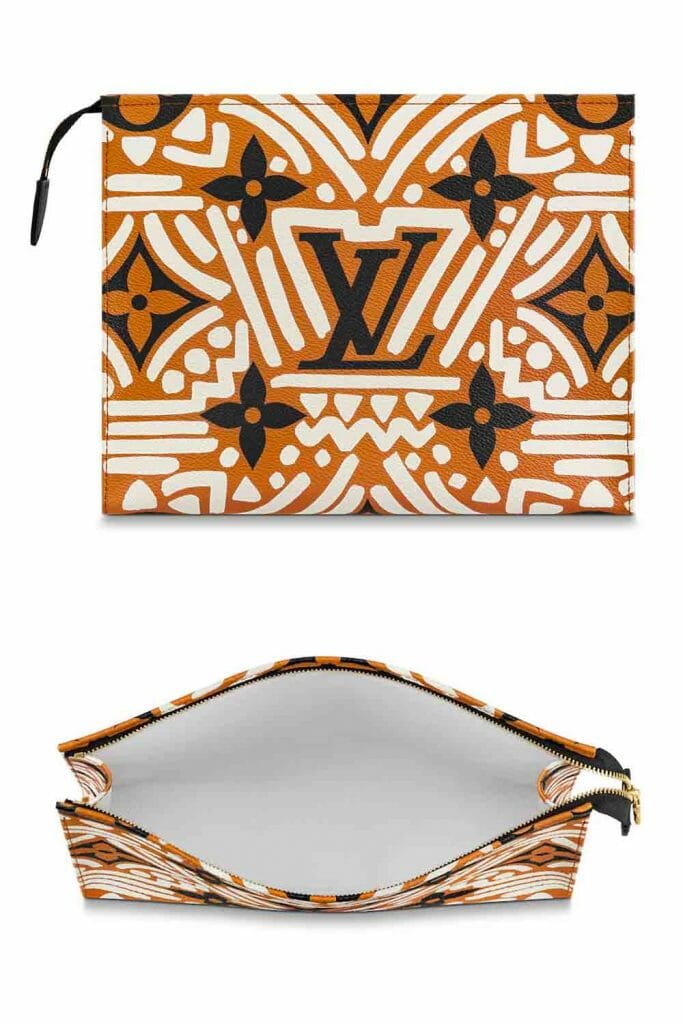 Louis Vuitton Crafty Collection Materials and Colour Ways
LV Crafty Collection Materials
The new collection from LV features two main types of materials, the first is the coated canvas version of bags, the second is the embossed leather versions of bags which demand a higher premium.
Personally, we think the coated canvas versions of this collection look more fun than the embossed leather versions and are much more reasonable in terms of price. For example, the coated canvas OnTheGo tote bag retails at £1910 with its leather counterpart retailing at £2800 – a price difference of a whopping £890.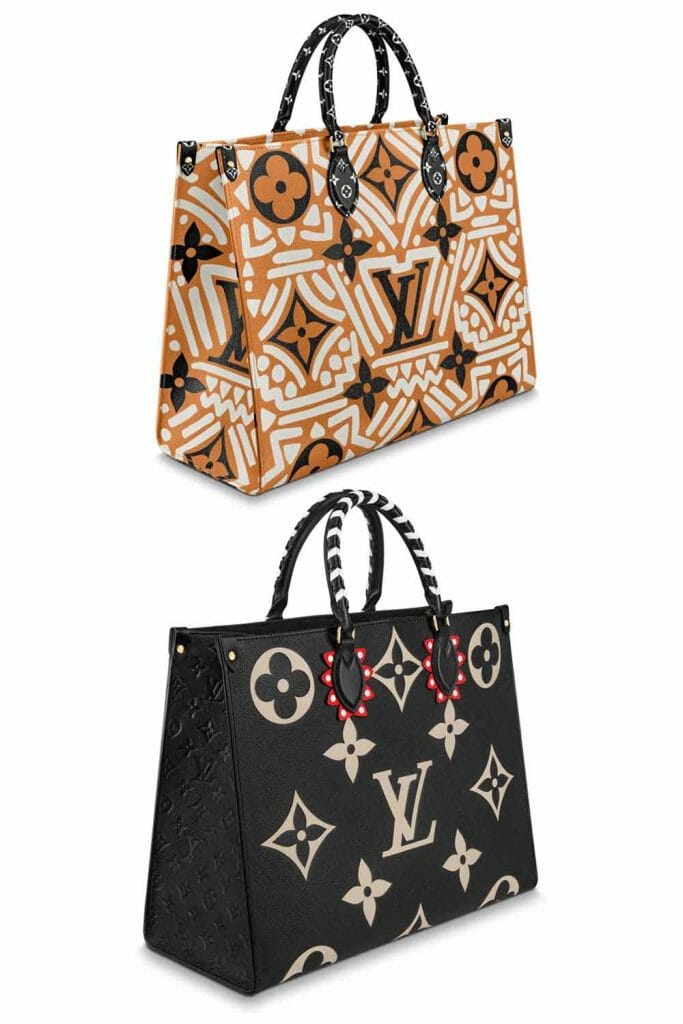 LV Crafty Collection Colour Ways
The colours in this collection are beautiful, with our favourite being the cream and caramel canvas versions (can you already tell by our top picks?). Other colours ways include cream and red, and cream and black. The more premium bags in this range, such as the capucines and twist-lock mainly feature black leather with the crafty print as accents and accessories.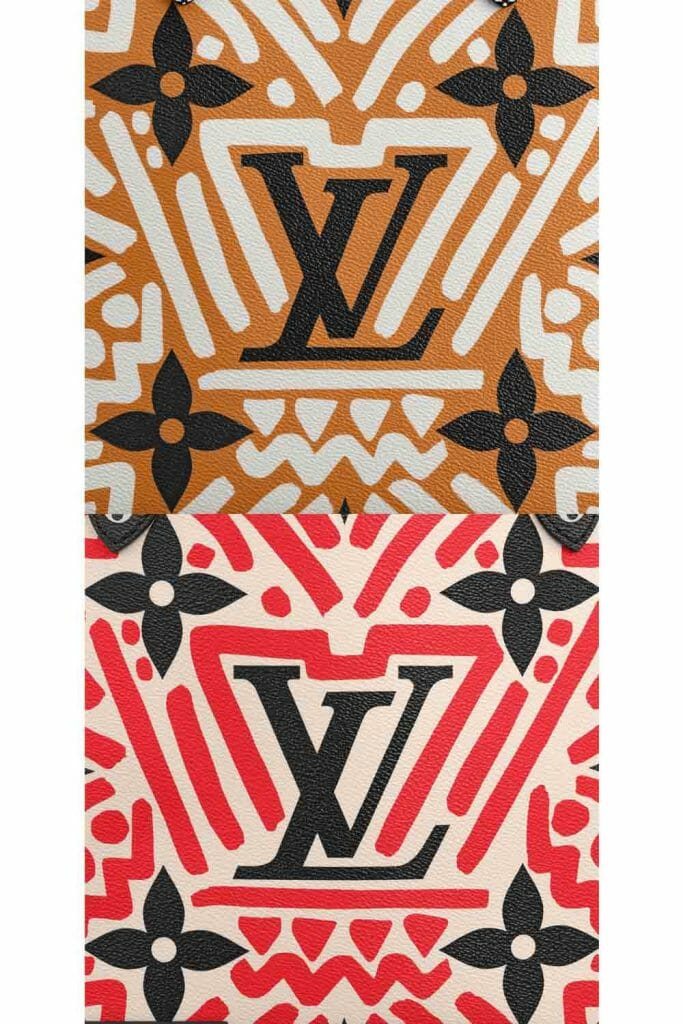 How to care for a Louis Vuitton Crafty Bag
The LV Crafty bag collection is mostly made from its standard monogram canvas with leather trims and calf leather. To care for your new crafty bag, care for this in the same way you would any Louis Vuitton monogram and leather. We recommend a leather cleanser to regularly wipe down the exterior of your bag and then use a conditioner on the leather trims of the bag. Apply this with a clean, soft cloth. We highly recommended this deep cleanser and conditioner set and completing this every few months, or more often if you use the bag on a daily basis.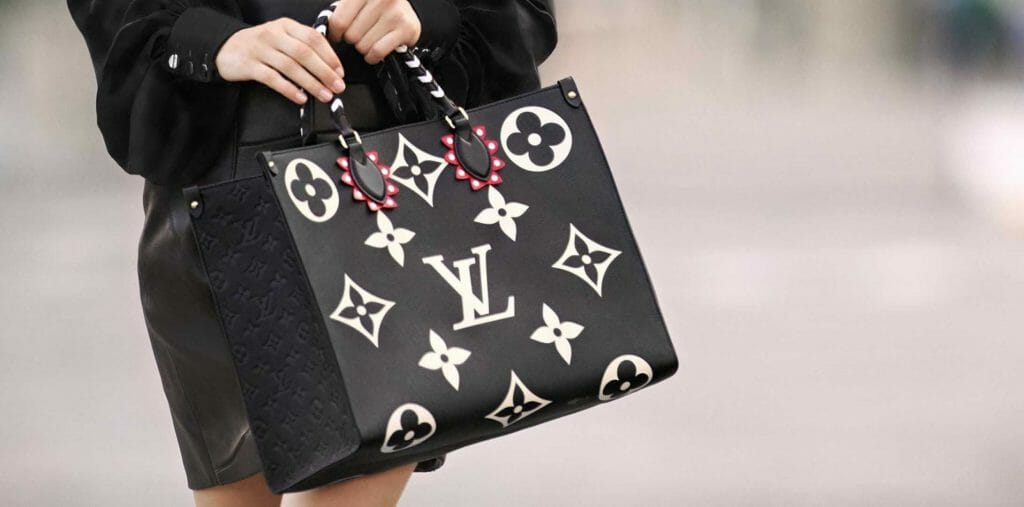 Luxury Handbag Liners for you Louis Vuitton Bags
If you're a lucky new owner of a Louis Vuitton Crafty collection bag or plan to own one soon, don't forget your handbag essentials such as a luxury handbag liner. With the Neverfull, Speedy, and Neo Noe bag in this crafty print, the linings are a bright vivid orange that would easily show-up marks and dirt, so a liner is a no-brainer investment.
Where to Buy a Limited Edition Louis Vuitton Crafty Bag
The Louis Vuitton crafty bag collection is only sold directly via Louis Vuitton from one of their boutiques worldwide or website. Sadly, collections like this sell out and it may mean that you can no longer get your dream bag via the brand directly. If this is the case, we advise checking out the range of pre-loved bags on eBay. We also regularly feature limited edition, hard to find Louis Vuitton bags on our top designer bag deals page, so don't forget to check back on a regular basis to see what rare finds we feature!