The Louis Vuitton Escale Spring / Summer 2020 Collection Review
With its pastel tones and bold brights, the Louis Vuitton Spring / Summer Escale collection of 2020 has well and truly landed. Despite this collection launching at a time of global uncertainty as the world is in the grip of the Coronavirus epidemic, this collection is a breath of fresh air and its fun and charming nature is a nod to the hopes of a brighter future coming soon.
The collection is called Escale – which is french for 'to call in at' and 'stopover', so there are no questions that this range was designed for spontaneous escapes and weekend getaways. With around 1/3rd of the world now in lockdown scenarios, this collection is stealing the hearts of collectors and Louis Vuitton lovers who're preparing to embrace their freedom and venture out when it's safe to do so.
This range features a tie-dye print inspired by the ancient Japanese Shibori technique, with the giant monogram in various colour combinations, including a pastel rainbow print, an ocean-blue and vivid red and pink version. This collection is one of the more light-hearted collections by Louis Vuitton and follows in the footsteps of previous collections such as the Jungle A/W range and Teddy Shearling 2019 A/W range which plays on both prints and fabrics.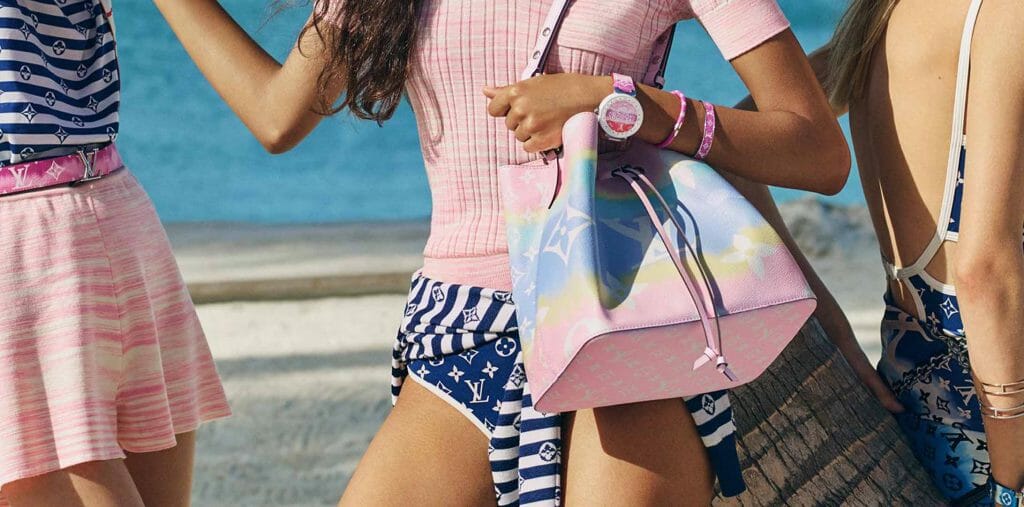 LV Escale Collection Full Range and Price List
Image
LV Escale Bag Style
Colour Options
Style Code
Price £
Price $
OnTheGo GM
– Pastel
– Blue
– Red
– M45119
– M45120
– M45121
£1,820
$2,720
Keepall BANDOULIÈRE 50
– Blue
– M45117
£1,730
$2,510
NÉONOÉ MM
– Pastel
– Blue
– M45124
– M45126
£1,510
$2,290
Speedy BANDOULIÈRE 30
– Pastel
– Blue
– M45123
– M45146
£1,470
$2,220
Neverfull MM
– Pastel
– Blue
– Red
– M45270
– M45128
– M45127
£1,430
$2,060
Escale Pochette Kirigami
One Set
– M69119
£650
$1,020
Poche Toilette 26
– Pastel
– Blue
– M69137
– M69136
£385
$615
Mini Pochette Accessories
– Pastel
– M69269
£355
$565
*Please note, prices are correct as of the 1st of April 2020 and may change.
Our Top Picks from the Summer LV Escale Collection
So, if you can't have them all, which one would you pick? We can see some clear winners in this collection that we absolutely adore.
Our favourite bag from the Escale collection is Toiletry Pouch 26 in pastel. Whilst this is just a pouch, you can use a conversion kit to turn this into a crossbody bag. This would then be perfect for taking out all the essentials with that beautiful summer dress – and a much more accessible price point that a bag.

If looking for a conversion kit for you Toiletry Pouch 26, we recommend Whisper Pink for the Escale pastel lining and Midnight Blue for the ocean blue escale pouch 26.

Our second favourite is the NÉONOÉ MM bucket bag in pastel. Whilst this is one of the higher price points in the collection, that bags smaller shape seems to look great with this print. Another great point is you can use this bag as a crossbody bag, and it has multiple compartments making it easier to access things like your purse and sunglasses!

Our third and final favourite is the Neverfull MM in Pastel or Red / Pink. The neverfull MM is a classic bag and again, the softer edges and style of this bag suit the fun-loving print. We also love that the Neverfull MM comes in all the colour options so you can choose to go for a soft pastel rainbow, or one of the bolder colour combinations such as a red or ocean blue.
LV Escale Collection Video Review
Watch this collection come to life as we get hold of the Louis Vuitton Escale NÉONOÉ bag and Mini Pochette Accessories and do a video review on our YouTube channel. Please don't forget to hit subscribe if you'd like to see more designer handbag reviews and comparisons + we LOVE to hear from you so don't be afraid to leave a comment and let us know what you think to this collection.
How to care for a Louis Vuitton Escale Collection Piece
The LV Escale Tie-Dye handbag collection is mostly made from its standard monogram canvas with leather trims. To care for your new escale piece, care for this in the same way you would any Louis Vuitton monogram and leather. We recommend a leather cleanser to regularly wipe down the exterior of your bag and then use a conditioner on the leather trims of the bag. Apply this with a clean, soft cloth. We highly recommended this deep cleanser and conditioner set and completing this every few months, or more often if you use the bag on a daily basis.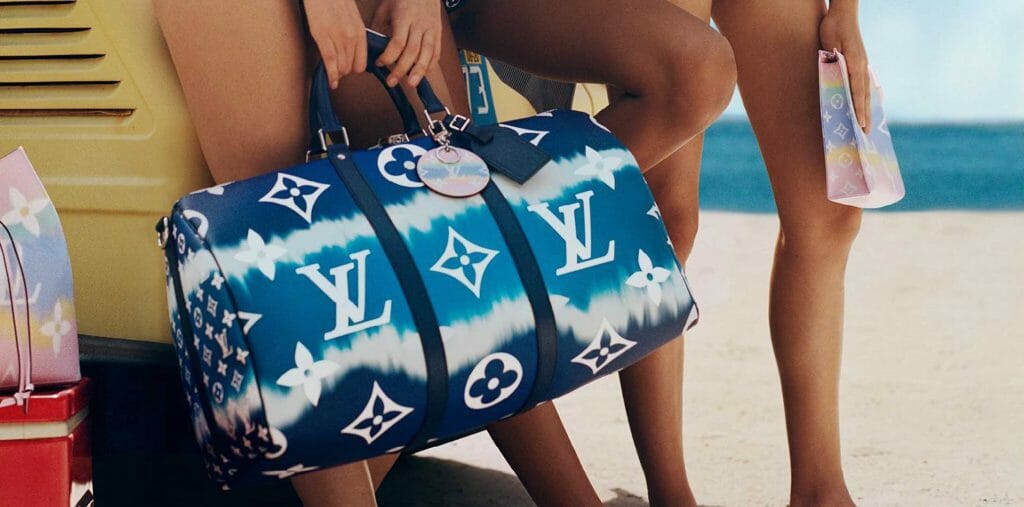 Luxury Handbag Liners for you Louis Vuitton Bags
If you're one of the lucky new owners of a Louis Vuitton Escale collection piece or plan to own one soon, don't forget your handbag essentials such as a luxury handbag liner. With the Neverfull, Speedy and Neo Noe bag in pastel tie-dye print being some of the most popular bags in this range, the linings consist of light colours including pastel pink for the Neo-Noe and pale blue for the Neverfull. Due to the linings being soft, pastel colours, don't let dirt, crumbs and spills ruin your designer handbag – investing in a luxury liner will simply pay for itself.
Where to Buy a Louis Vuitton Escale Handbag
If you're already a Louis Vuitton fan you'll know that the only place to purchase a Louis Vuitton bag is via a Louis Vuitton store or their website. They do not sell their bags via any third parties, so this means limited edition ranges like this can be hard to get hold of once they're sold out.
One of the best ways is, therefore, to purchase an Escale piece via eBay. With incredible seller protection, eBay is the best option if you're looking to purchase a piece pre-loved or many sellers will sell brand new handbags. Be prepared, however, as popular collections such as the Escale collection will sell above retail prices due to demand and scarcity.