Introducing the Louis Vuitton Fleece Teddy Bear Handbag Range
In fall 2019 Louis Vuitton introduced one of the cutest, softest ranges to their armory of highly desired leather goods in the form of soft, luxurious limited edition shearling handbags referred to as the Teddy Collection.
The Teddy collection is a testament to Louis Vuitton's highly skilled craftsmanship when it comes to luxury leather goods. The range comes in muted, neutral tones including creams, black and chocolate browns to represent the classic 'teddy bear' brown. The cowhide leather trims featured on these bags come in a much darker brown than normal vachette leather to aesthetically work with the muted tones and will result in the bag looking better for longer, as dirt and marks are less likely to show up.

The Teddy Bear Louis Vuitton Full Range
If you're looking to add some teddy inspired vibes to your winter outfits, discover the full range of bags produced in this collection below. From the large teddy OnTheGo tote bag to the most sort after fleece bumbag amongst influencers and celebrities alike, there's some soft Louis Vuitton shearling waiting to make its way into your handbag collection.
Image
Vuitton Teddy Bag Style
Size and Dimensions (Inches)
Key Features
TEDDY BEACH POUCH
Length – 6.5″
Height – 4.3″
Width – 3.1″ inches
– Brown and Cream Colour
– Microfibre lining
– Internal Pocket
SPEEDY BANDOULIÈRE 25
Length – 9.84″
Height – 7.48″
Width – 5.91″ inches

– Brown and Black Colours Available
– Lockable Zip Closure
– Removable and adjustable strap
– 2 Toron handles
SHEARLING TEDDY BUMBAG
Length – 14.57″
Height – 5.51″ 
Width – 5.12″ inches
-Cream Beige / Brown
– Cowhide leather trim
– Zipped back pocket
SHEARLING TEDDY ONTHEGO TOTE
Length – 16.14″
Height – 13.39″
Width – 7.48″ inches
– Brown and Black Colours Available
– Microfibre lining
– Gold-colored Hardware
– Inside zipped pocket
TWIST MM
Length – 9.06″
Height – 6.69″ 
Width – 3.74″ inches
– Shearling and EPI Leather
– LV Twist Lock
– Inside pocket with removable mirror
CAPUCINES PM
Length – 12.40″
Height – 7.87″
Width – 4.33″ inches
– Lamb Shearling
– Ecru White Colour
– Removable and adjustable strap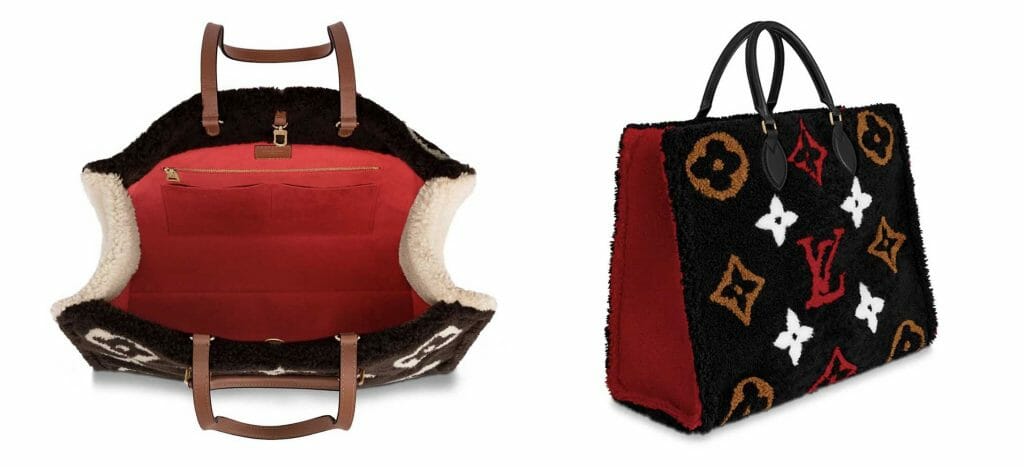 The Vuitton Fleece Handbag Range and Prices
Due to the limited nature of this collection (it's estimated only X pieces of this collection has been made), and the shearling used to produce the bags are set at a premium price compared to their normal monogram counterparts.
Vuitton Teddy Handbag Style
Style Code
Price (UK £)
Price (US $)
Teddy Beach Pouch
Unknown
Unknown (est. £1200)
$2,200
Speedy Bandouliere 25
M55422 (Brown)
M55423 (Black)
£2,380
$3,600
Teddy Shearling BumBag
M55425
£2,580
$3,750
Twist MM
M55450
£2,880
$4,250
Teddy OnTheGo Tote Bag
M55420 (Brown)
M55421 (Black)
£3,250
$4,900
Shearling Capucines PM
M55371
£4,450
Unknown
*Please note, all prices were correct at the time of publishing (Dec 2019) and are to be used as a guide only.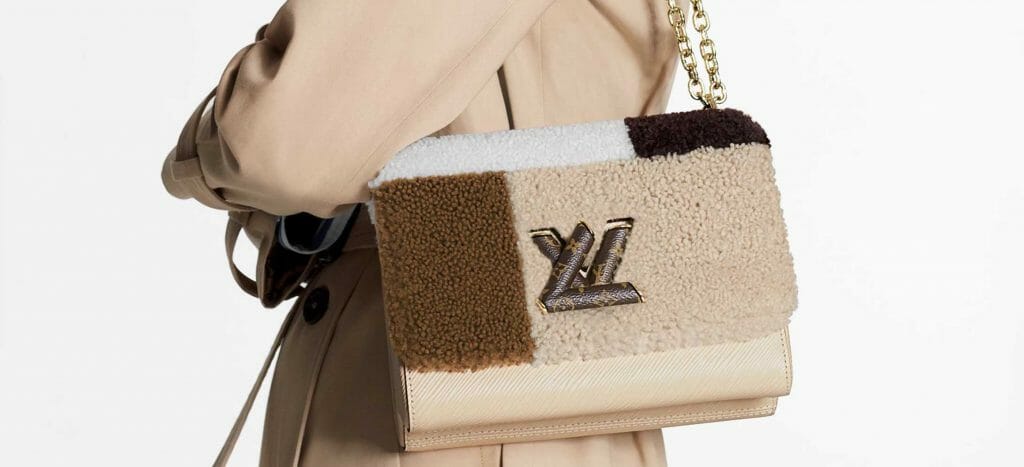 How to care for a Vuitton Teddy Shearling Bag
If you're the lucky owner of a Louis Vuitton Shearling Teddy bag in any style, it's important to take great care of your latest investment. Taking care of your new Vuitton Teddy bag will ensure it lasts for many years to come, as well as increasing the resale value of your bag if you decide to part with it one day.
How to clean and care for your Louis Vuitton Shearling Teddy Bag
Shearling is taken from sheep and is the sheepskin of a young lamb. The shearling process cuts the wool to a uniform length and generally has a suede surface on the inside. To best care for your Louis Vuitton shearling bags, keep them away from direct sunlight and when stored away the bag should always be able to breathe and not stored in a plastic or vinyl bag (these are not breathable).
Avoid taking your shearling bag to general dry cleaners, instead, it's strongly advised that you take the bag to a leather and sheepskin specialist. Remember, prevention is better than a cure. Always be aware of where you're putting your shearling bag down as it can easily absorb unwanted stains and liquids.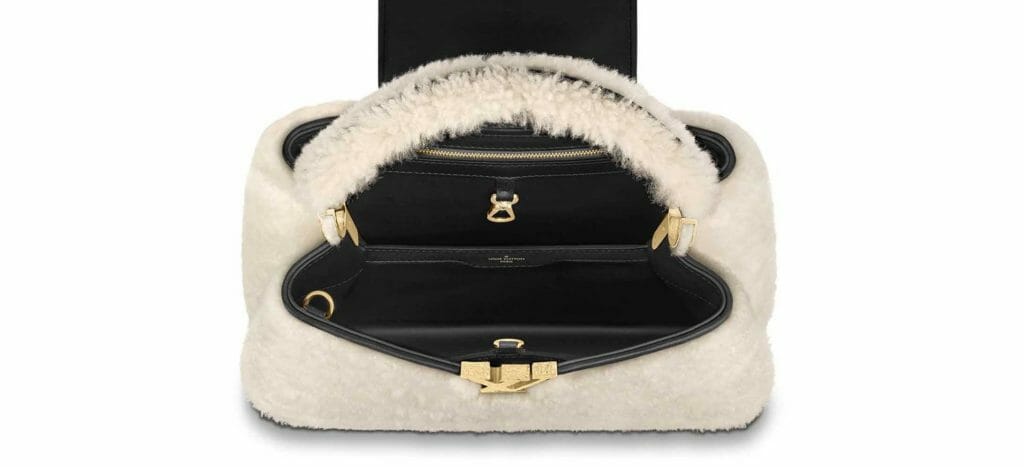 Luxury Handbag Liners for your Louis Vuitton Bags
Protecting the lining of your designer handbags is paramount. A luxury handbag liner can protect the lining of your bag from unwanted stains, dirt, and scratches as well as enable you to organise your belongings much easier.
We highly recommend a liner for your Speedy Teddy 25, and we find the Neverfull MM handbag liner is a great investment and *nearly* perfectly fits the OnTheGo tote bag. A zipped version allows for more privacy inside your bag too and helps to keep your belongings safe. Discover more luxury handbag liners here.
The Best Styling of the Louis Vuitton Teddy Handbag Collection
The Louis Vuitton Teddy Collection of handbags, whilst rare, are making an appearance in celebrities and influencers collections alike. Discover some of the best stylings of this collection that we've seen so far this year for inspiration on how to wear this incredible collection.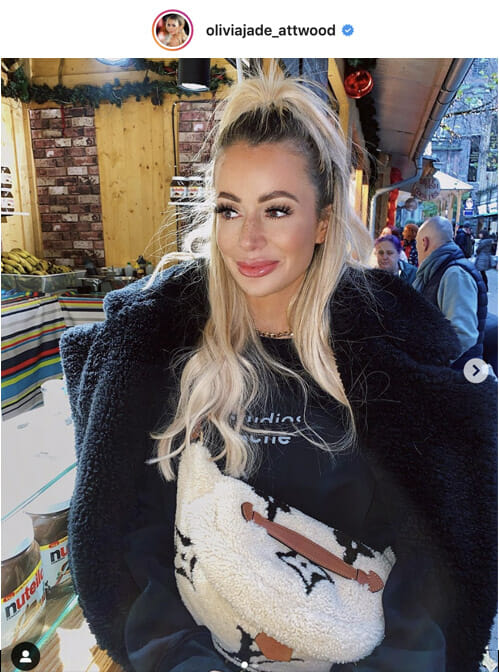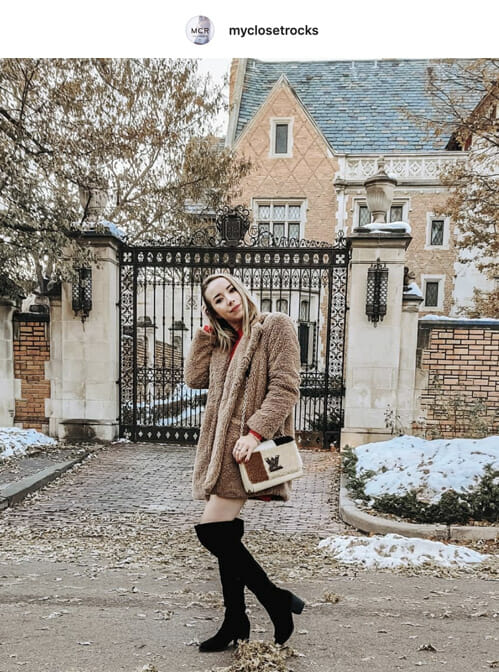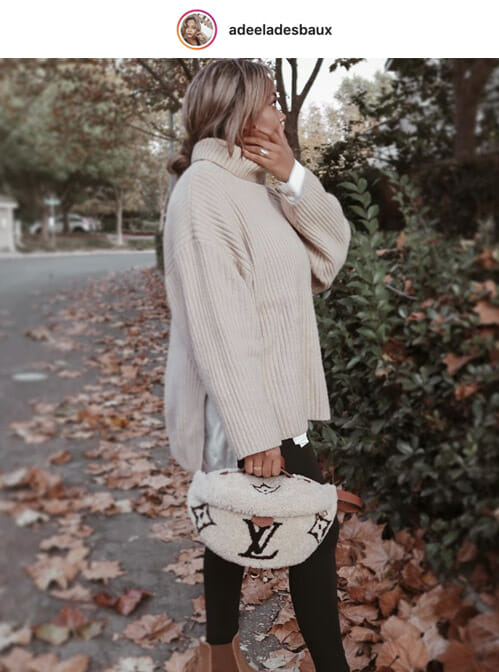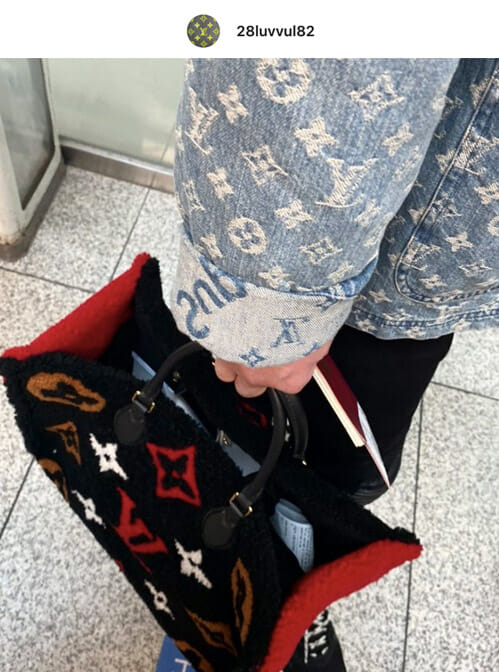 Where to Buy a Louis Vuitton Teddy Shearling Bag
Since the Louis Vuitton Teddy Shearling Collection is a limited edition, Louis Vuitton generally has only allowed orders via phone and in-store only. Due to the rarity of these handbags getting your hands on one can feel close to impossible, but this is where the second-hand market can help you obtain your dream shearling handbag quickly! Re-sale prices may be higher than normal retail prices, but providing you keep your new purchase in good condition this value is likely to continue to increase, as the collection becomes incredibly eluding over time.