So – you've recently invested in a new Louis Vuitton designer handbag, you've loved it and shown it off to the world, but now it's very much in desperate need of some love and attention – a deep clean! In this blog, we'll take a closer look at what Louis Vuitton canvas actually is, the different canvas prints and how you can best take care of you Louis Vuitton canvas.
Read our full blog on how to clean a Louis Vuitton Bag Inside and Outside here, including a step by step guide to cleaning a textile lining of a Louis Vuitton bag.
What is Louis Vuitton Canvas Made From?
Before we start on how to clean Louis Vuitton's famous canvas, first we need to understand what Louis Vuitton canvas is made from. Some Louis Vuitton lovers may be shocked to find out that canvas IS NOT a leather. In fact, Louis Vuitton canvas is made from a cotton base that is then treated with a plastic called polyvinylchloride (often referred to at coated canvas).
Other elements of your Louis Vuitton bag such as the handles, however, are made from leather and should be cared for and treated differently to the durable canvas – especially vachetta leather (this is the light brown coloured leather that is often used with Monogram Canvas and Damier Azur canvas Louis Vuitton bags). Read our full guide on how to care for vachetta leather here.
The Benefits of Louis Vuitton Coated Canvas Vs Leather
Due to the polyvinylchloride that the bag's cotton is coated in, this makes your Louis Vuitton canvas bag much more durable, resistant to heat, water, and most chemicals. Whilst your Louis Vuitton canvas bag is not indestructible the canvas bags are generally more durable than all-leather bags and with proper care and delicate treatment they can last many, many years.

Why are Louis Vuitton Canvas Bags so expensive?
Since we now know that Louis Vuitton coated canvas bags are made from relatively cheap materials such as cotton with a polyvinyl chloride coating, you may be wondering why the canvas bags are so expensive. There a few factors at play here, one being that Louis Vuitton claims that you're not only paying for the materials that the bag is made from, but also the exquisite craftsmanship of their bags and quality checks. You're also, obviously, paying for the brand. Louis Vuitton wouldn't be the most recognised luxury brand in the world if they were to sell cheap bags – you don't buy a Louis Vuitton bag for the 'cheapness' of the bag, in fact, you pay for quite the opposite.
However, if you take a closer look at the Louis Vuitton bag offering, their coated canvas bags including the Neverfull and Speedy styles ARE actually some of the cheapest handbags the brand sells. If you look towards a full leather Louis Vuitton bag such as a Capucines, they retail at around three to four times the price that a canvas bag does. So whilst Louis Vuitton bags made from canvas aren't 'cheap' compared to the market, the Louis Vuitton canvas bags are actually the cheapest bags the brand sells.
Buying a Louis Vuitton bag has other benefits which include maintaining their value well due to the fact the brand and their bags are so desirable, and they can even increase way above retail prices making some Louis Vuitton bags good investments (especially limited edition prints).
The Best Way to Clean LV Canvas
Since we now have a better understanding of what Louis Vuitton canvas is made from, we can better care for our lovely LV monogram with better care.
LV canvas is much easier to look after than normal leather and can be cleaned much more easily due to its hard-wearing properties. To clean your Louis Vuitton canvas, if you're using the bag every day simply take a clean, damp cloth and wipe the bag down to remove any surface dirt. If you want a deeper clean, we advise using a deep leather cleaner. Whilst the canvas isn't leather, a leather cleaner will still help to remove stains, odors and any dirt and bacteria on the canvas. We highly recommend Simply Leather deep cleanser and conditioner, for a small price this is a fantastic cleaner that can also be used on leather parts (such as the handles) on your Louis Vuitton bag.
The Different Types of Louis Vuitton Canvas
There are three types of canvas that Louis Vuitton make a selection of their bags in. The range includes the famous Monogram print which features the LV and fleur logo. The Damier Ebene (dark brown) and Damier Azur (white / grey) both consist of a checker-board print made up of two different colours.
Louis Vuitton Damier Ebene Canvas is one of the easier types of canvas to care for and look newer for longer, this is primarily due to its darker colour canvas print, but also the treated leather that a-companies this canvas print. Damier Ebene canvas is paired with a dark brown leather which has been treated, this means it doesn't show up water marks and doesn't darken like Vachetta leather. However, this darker leather that comes with Damier Ebene canvas bags can sometimes 'peel' at the coating may come off the handles. It is often seen at the most 'care free' canvas choice from Louis Vuitton due to these reasons.
| | | |
| --- | --- | --- |
| LV Canvas Image | Canvas Name | Leather Handles |
| | Monogram Canvas | Vachetta |
| | Damier Ebene Canvas | Treated Leather |
| | Damier Azur Canvas | Vachetta |
| | Coloured / Limited Edition Canvas | Varies |
How to clean louis vuitton damier azur canvas
Since Louis Vuittons Damier Azur Canvas is the lightest of the canvas options with a white and grey / blue colouring, this can be the canvas which shows up the most marks. It's worth noting that the Damier Azur canvas is just as strong as the monogram and Damier Ebene canvas, but it is prone to showing more dirt and stains, and therefore requires more daily care if it's used heavily or ever has anything spilt on it.
How to clean coloured / printed Limited Edition Louis Vuitton Canvas
Louis Vuitton often releases limited edition prints onto their canvas, including colour prints as well as overlays on things like the classic monogram canvas. Generally, a limited edition print doesn't effect the canvas fabric and the bag can be cleaned as normal. Some limited edition LV canvas bags may be lighter in colour, and these bags are worth taking extra care of to avoid marks and stains. To clean a printed or limited edition canvas follow the same procedure and wipe the canvas down with a soft, clean, damp cloth daily and use a cleaner and nourishing conditioner once every 6 – 12 months on the bag.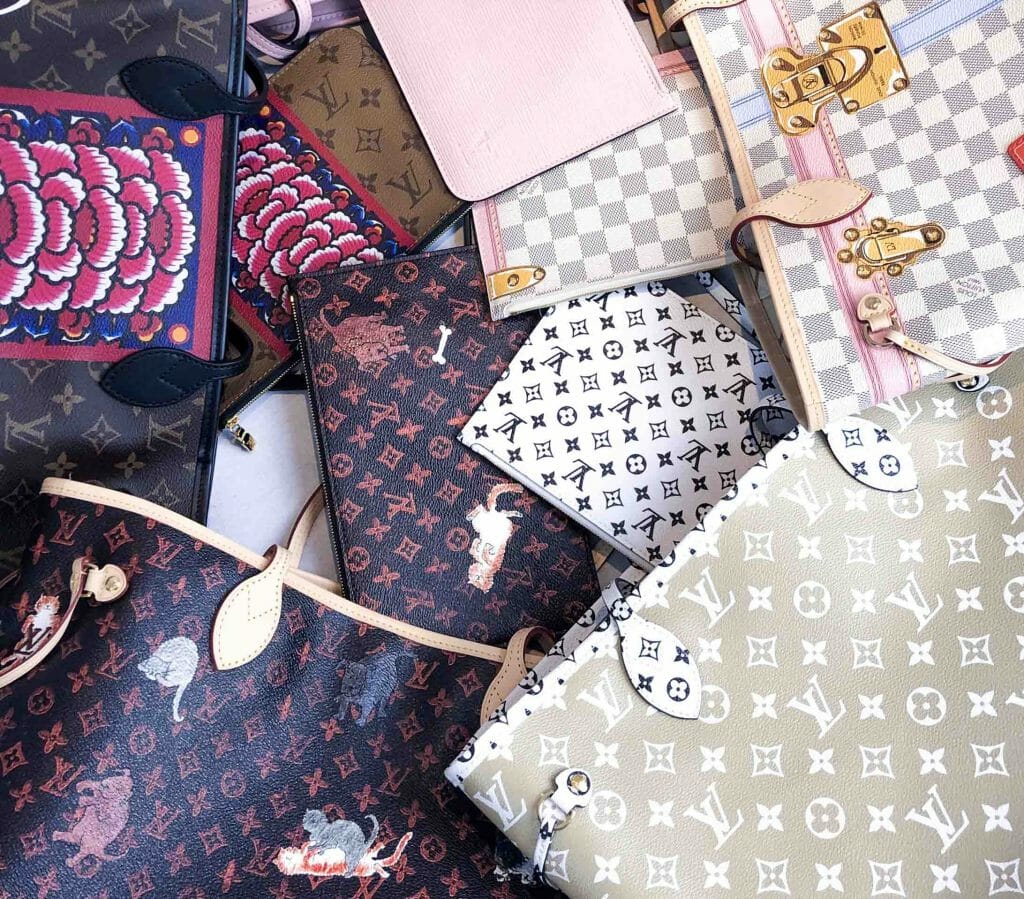 The best products for cleaning LV canvas
How to clean Louis Vuitton Canvas Daily
To clean your canvas LV bag daily simply take a damp, clean cloth (ideally white or light-colored) and gently wipe the canvas down. We advise doing this very carefully and avoiding contact with any of the vachetta leather trim, as water can damage the leather and leave marks.
How to get a stain out of your Louis Vuitton Canvas
If you've split something more substantial on your Louis Vuitton canvas bag such as coffee or food, try to remove this with a clean cloth and water straight away. We then advise a deeper cleaning product, such as Simply Leather care cleanser. Designed for leather, this cleanser will help to deep-clean the canvas whilst still being gentle on the canvas. To use this cleanser, simply put a small amount on a clean white cloth, then gently rub this into the canvas in a circular motion.
Why does Louis Vuitton canvas crack?
Despite its hard-wearing and durable nature, Louis Vuitton canvas is not indestructible and if not properly cared for it can split and crack.
Canvas is more hard-wearing than leather, but canvas can crack due to being folded for long periods, becoming brittle from sitting in sunlight often / not being conditioned, or trauma from brute force (e.g, strain from too much weight, or a pull/tear).
It's also worth pointing out that certain Louis Vuitton handbag styles are more prone to the canvas cracking than others. Louis Vuitton bag styles which feature a cow-hide leather trim are less likely to crack, whereas bags that are fully canvas with no leather trim are more likely to crack. This again, can be due to trauma and use over time and particularly prevalent in canvas that forms the opening of the bag. It's advised, especially with an older canvas bag, to clean and condition your canvas and leather at least once a year. Conditioning canvas and leather helps to restore a level of moisture in the materials, meaning they're less likely to become bittle and to crack.
How to repair Louis Vuitton Canvas
How to repair cracked Louis Vuitton Canvas
If you already own a Louis Vuitton bag that unfortunately features some cracks already, it's worth noting that cracks often don't get much worse and don't usually spread if the bag is used carefully.
To repair cracked canvas we advise sending this to a professional handbag repair service to avoid any costly mistakes. Usually, the cracked canvas will be fixed using very strong glue to help bring the canvas back together. However, it's much easier to prevent cracks in the first place by being careful with your Louis Vuitton canvas bag, our care tips include:
Storing the bag in its dust bag (not box) so it can breathe.
Do not expose the bag to direct sunlight when storing away or when in-use as much as possible.
Do not bend the canvas or store the bag bent / crumpled up.
Avoid over-filling the bag or putting too much weight inside the bag.
Use a conditioner on the canvas and leather every 6 – 12 months depending on how often you use your LV canvas bag.
How to repair scratched Louis Vuitton Canvas
Even though Louis Vuitton canvas is highly durable, the canvas bags can still be susceptible to scratches if they come into contact with abrasive surfaces or sharp objects. Always consider where you're putting your bag down, as if it's on the floor / being dragged across a surface, expect damage such as scratches to the bottom of the bag, especially the corners (common on Neverfull and Speedy bags if they are not looked after very well). Unfortunately, once Louis Vuitton canvas is scratched or worn it cannot easily be repaired.
We advise sending your canvas bag to a restoration specialist, but before this, you can use a gentle leather cleanser to try to remove any colour and dirt from the scratch to make it less visible.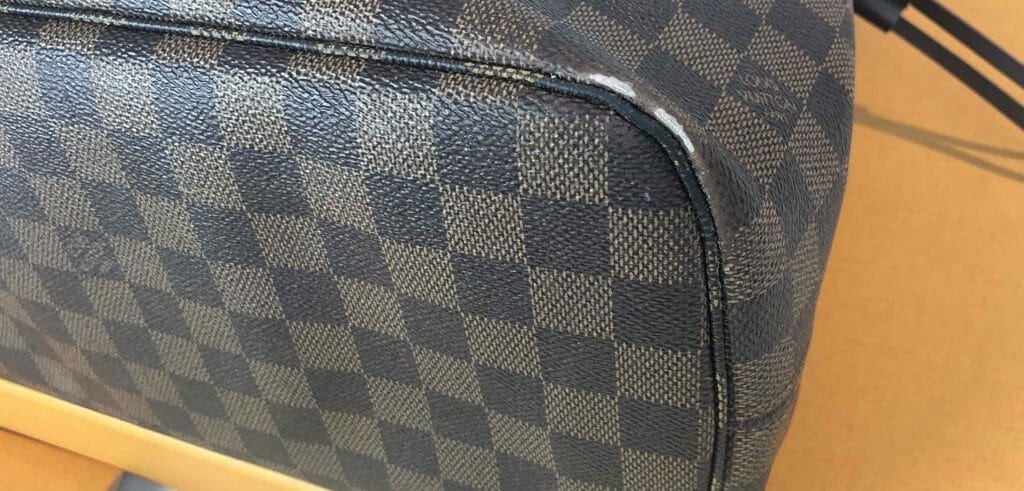 How to repair Torn Louis Vuitton Canvas
If your Louis Vuitton canvas bag has come into contact with a sharp object or has gotten caught on something sharp, then this can result in a tearing of the canvas. A tear may also penetrate the bag and damage the textile lining. A tear in the canvas would be similar to cracking but could be more severe. This would require a professional repair service and involve the use of glue and craftmanship to repair the canvas. If you do get a tear repaired, remember this area will be more susceptible to tearing again and will require much more careful use.
Will Louis Vuitton Repair Damaged Canvas?
Louis Vuitton will often refuse to repair damaged bags and do not repair daily wear and tear issues. They will, however, repair any craftsmanship issues such as some glazing issues, as well as stitching but not canvas tears or cracks. Louis Vuitton also offers replacement of leather such as handles and trims. In order for Louis Vuitton to replace leather, the canvas of the bag needs to be in perfect condition. Leather replacements (such as handles) can be incredibly expensive (approx. half the cost of the bag).
If you're looking to repair your Louis Vuitton canvas bag a professional third-party repair service is recommended. Make sure you do your homework and always choose with a reputable brand who can demonstrate their craftsmanship through previous repairs on similar bags.
The Benefits of taking Care of you Louis Vuitton Canvas Bag
Louis Vuitton is the world's more recognisable luxury brand and is therefore generally in high demand, as people seek a piece of this luxurious world. The Louis Vuitton canvas in all prints is instantly recognisable and therefore, these classic bags (especially the Neverfull and Speedy) often command high prices even after many years of use. Therefore, the better the condition of your Louis Vuitton bag remains in, the higher the resale price will be if you decide to part with it one day. The benefits to cleaning and taking care of your Louis Vuitton canvas bag are:
A higher resale price
A more desirable bag to use
Many more years of use compared to a damaged and un-loved bag
Our top tips for caring for your Louis Vuitton Canvas bag
Be very careful where you place your bag down and never drag it across a surface. Always 'place' the bag lightly on a clean surface.
Wipe the bag down with a clean damp cloth daily
Deep cleanse and condition your bag every 3-12 months depending on how often you use the bag.
Store the bag away when not in use away from direct sunlight in its dustbag
Purchase a luxury handbag liner to protect the lining of your bag from dirt and spills. A liner will also help to improve the shape of your bag when in use and storage.