Ways to Clean a Louis Vuitton Bag Inside and Outside
You've finally got your hands on the designer bag of your dreams and the investment is real! Although Louis Vuitton is said to have some of the most durable designer bags, to keep everything spick and span and looking perfect, you might want to stock up on protective and cleaning products that will help to keep your LV handbag looking as good as new. Our post today is about just that – how to clean a Louis Vuitton bag. 
In fact, this is the beginning of a new series, in which we will detail all the best ways to clean your handbags, no matter what they're made from. We've even got a great video with even more tips and tricks on prolonging the life of your Louis Vuitton bag.
How to clean the outside of a Louis Vuitton bag
Now, this is the side that everyone sees as you carry your bag around – the outside. So it's best to keep it looking shiny and new – especially if it happens to be a patent leather LV!
Louis Vuitton bags are made from a variety of different materials, so naturally, there are a few different methods for cleaning. Let's take a quick look at a few of those here:
How to Clean Louis Vuitton Canvas
Louis Vuitton canvas is a fabric which can pick up dirt rather readily and on a handbag there are lots of points of contact with skin, clothes and possibly dirty surfaces which can make a bag look grubby over time. Areas that you may notice looking mucky first might be the bottom of the bag, the area around a zip or fastening and the side of the bag which touches your clothes as you carry it.
Use a damp cloth to gently rub any stains before using a dry cloth to take away the moisture – this should successfully remove light stains. For tougher marks, you can dip your clean cloth into a mild soap solution first (make sure this soap is suitable for vinyl cleaning) and then use a damp cloth to clean away any suds before drying the bag with a clean cloth.
Avoid any printed areas as much as possible when cleaning, to reduce fading and always use a soft cloth.
Read our full guide on how to clean and repair Louis Vuitton Canvas here >
How to Clean Vachetta Leather
Vachetta leather is Louis Vuitton's usual leather of choice, especially for their signature brown accents, bag handles and areas on which hardware is attached. This leather does get darker with age (intentionally chosen due to this trait), starting as a light beige/brown and darkening to a gorgeous patina. 
If you want to hinder this process from happening too quickly, make sure to keep on top of your cleaning regime. Alcohol-free baby wipes are ideal for regular cleaning of handles etc. 
For already darkened leather, use a good leather conditioner to stop cracks from forming. You can also use a leather waterproofing agent to help protect your bag, once clean, from rain or snow.
READ OUR GUIDE ON HOW TO CARE FOR VACHETTA LEATHER HERE >
How to Clean Louis Vuitton Vernis Leather
Vernis leather is a patent variety which is also regularly used in LV handbags. This textile can be at risk of fading and is susceptible to marking quite easily, so it is important to take extra care when wearing a Vernis leather bag and only use water and a non-abrasive damp cloth when cleaning it – this will ensure you maintain the shiny surface of your arm candy.
Top Tip – If you notice an oily stain on your bag, rub the affected area with a small amount of cornstarch and then vacuum said area. Cornstarch will absorb grease and help to reduce the stain – the faster you catch the mark, the more successful the removal will be.
We have more in-depth posts in our series about cleaning Louis Vuitton handbags where we look closely at the variety of fabrics, such as canvas and the selection of leather types LV offer.
How to Clean Louis Vuitton Bag Inside Step by Step
Cleaning the inside of your Louis Vuitton bag is just as important as the outer, if not more! Your handbag could be full to the brim with bacteria that nobody wants… so keeping on top of the cleaning of the inside of your bag is crucial. Looking after your Louis Vuitton bag lining will help to preserve it and make sure that more of its value is retained – after all, these bags are investment pieces! 
Cotton / textile lining 
The lighter the colour of your handbag lining, the quicker and more likely it is to show wear. Staining from makeup, water spillages, food, and general debris can really ruin the interior of your bag, so keep on top of any marks and act quickly in the case of spillages.
Step by Step – Cleaning the Inside Textile Lining
We'll now take you through a step by step guide to cleaning the textile lining of your Louis Vuitton bag. In this example, we have a Louis Vuitton Neverfull MM bag. Remember, not all Louis Vuitton bags are lined with a textile lining, so this process is only suitable for bags with one such as the Louis Vuitton Neverfull and Speedy bags.
Products you will need to clean the inside of your Louis Vuitton bag
A Hoover
A soft, clean white cloth
Fabric / Carpet Cleaner Spray (We recommend Vanish Gold Carpet and Upholstery Cleaner)
Cotton Buds (Ideally bamboo to reduce plastic waste)
Firstly you'll need to turn the bag inside out (do this gently and use your fists and palms rather than fingers). This can take some time to do delicately, so be patient.

Hoover any dirt from the lining of the bag, paying close attention to the corners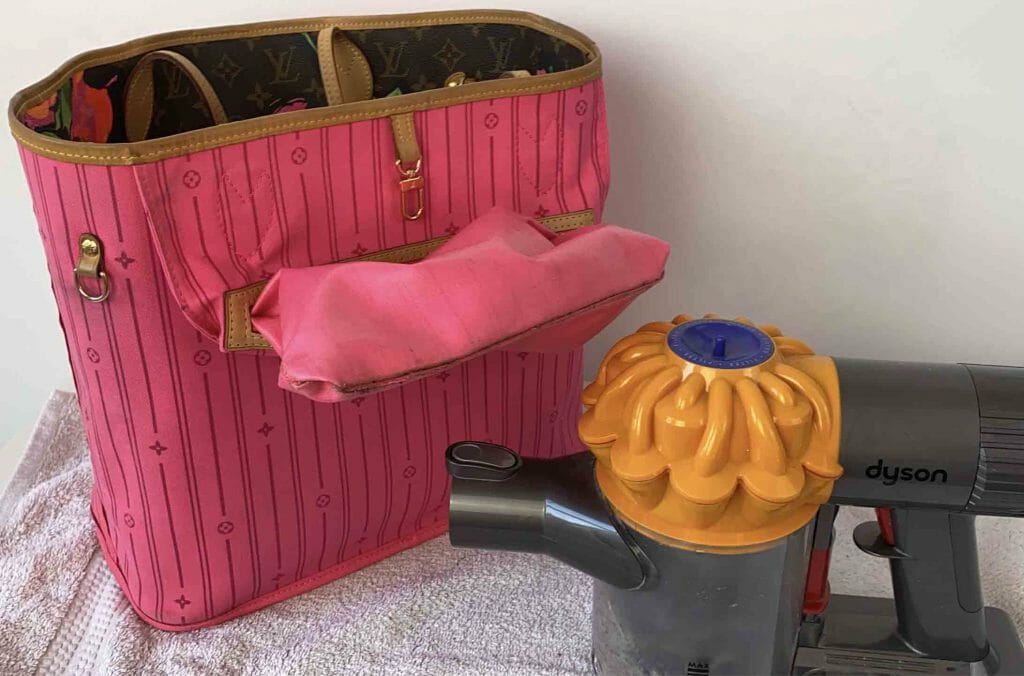 Spray a gentle carpet cleaner solution onto dirty and stained areas of the lining.
Gently rub the cleaner in a circular motion with a damp cloth (ideally this should be white).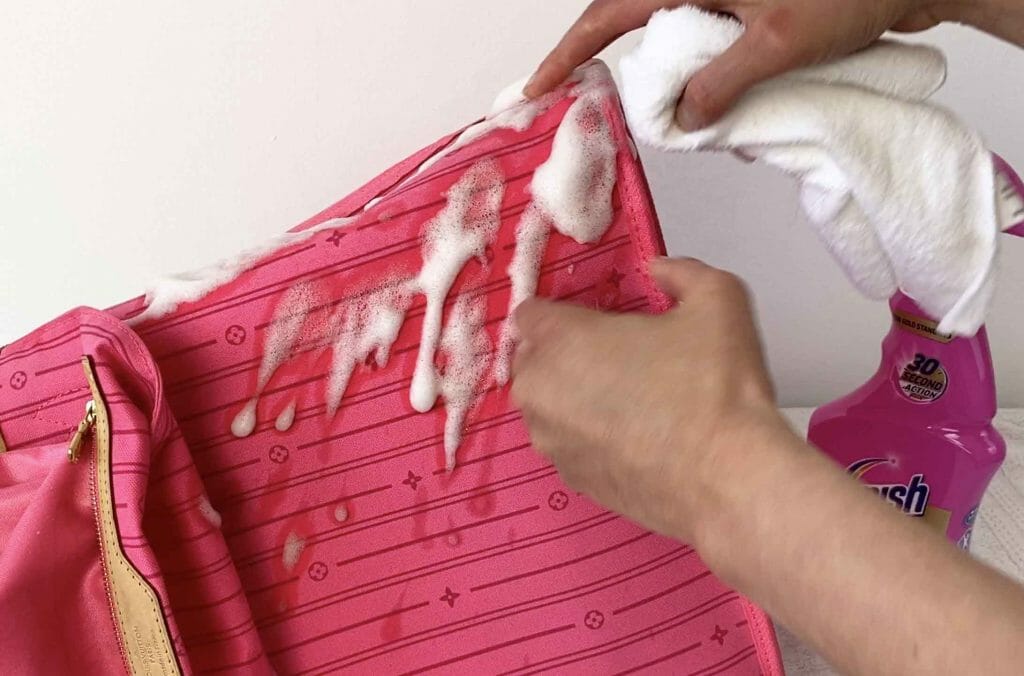 Use a cotton bud to get into the cracks and crevices of the lining to lift dirt.
Once this has been thoroughly done, gently rinse the lining of the bag in a sink and hang out to dry. (outside on a warm day is best, although avoid putting the bag in direct sunlight.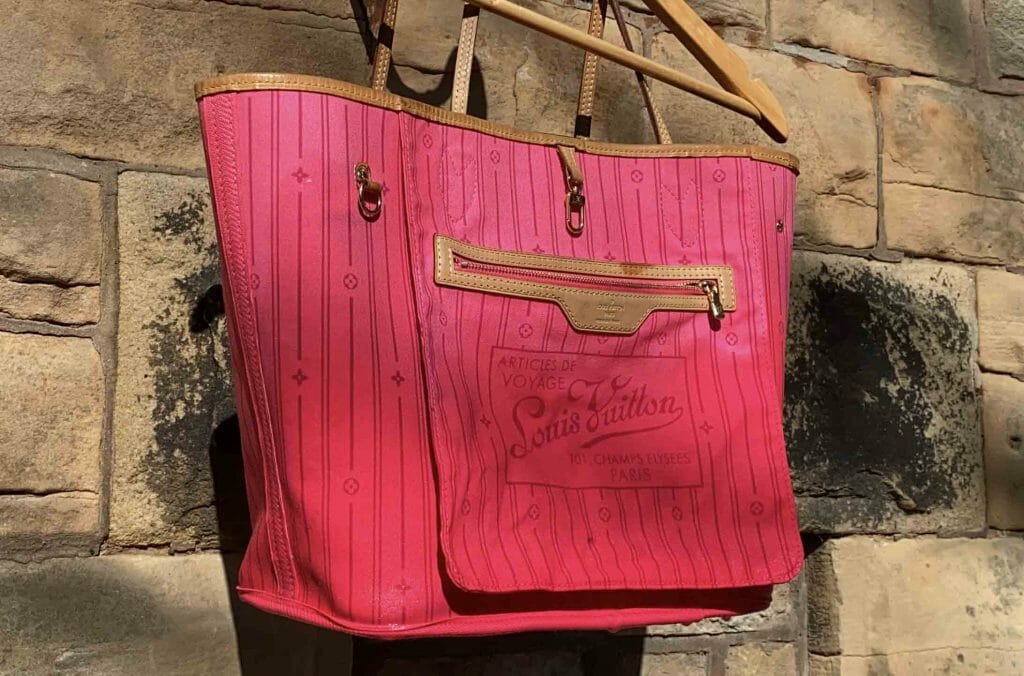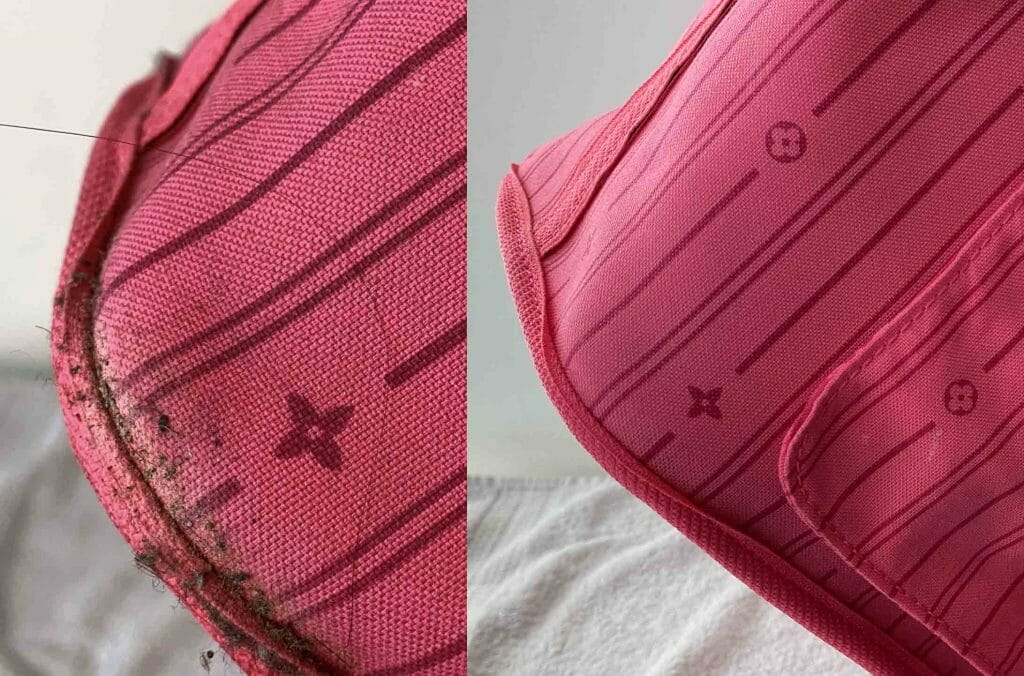 Once clean, gently turn the bag inside out again so it's the correct way.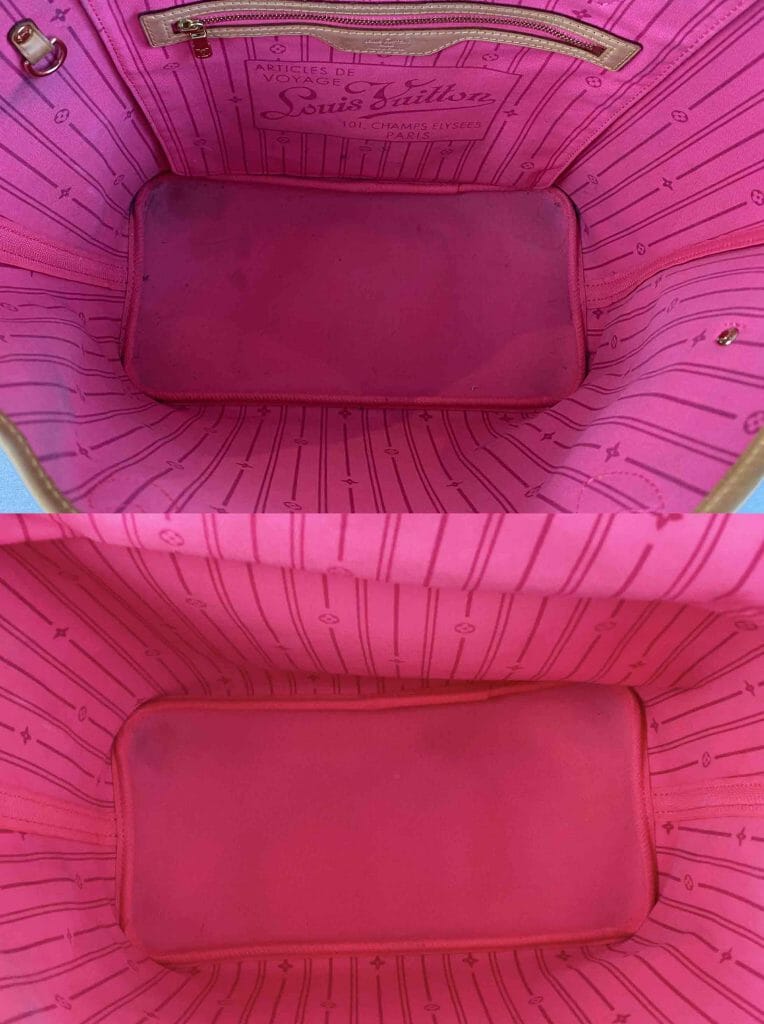 Purchase a handbag liner / organizer to protect the lining of your designer handbag from general wear and tear, dirt and stains.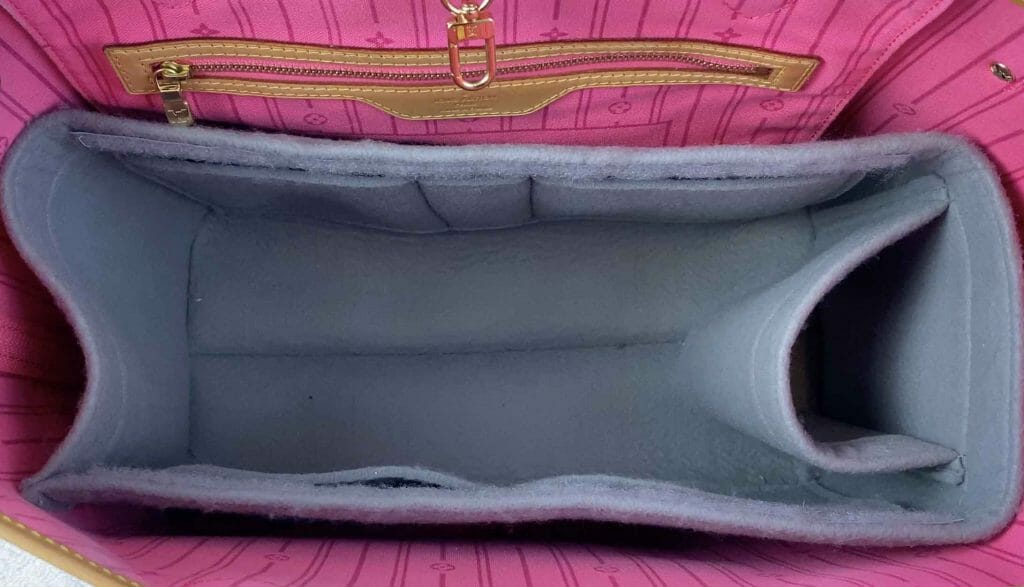 This fabric cleaner by Scotchguard is ideal for cleaning your handbag lining as it lifts stains with ease and even helps to give more life to your bag's lining. Once the cleaning has been carried out, this product will provide future protection which will make it harder for any liquids to penetrate the fabric lining, meaning damage/staining is less likely. 
As with any designer item, be gentle when cleaning any part of your handbag, always use soft, light-colored (ideally white) cloths and don't soak the fabric.
As with any designer handbags, we strongly believe prevention is better than cure, so we highly advise a luxury handbag liner (which will cost a small fraction of the bags RRP), to live inside your bag. Not only will a good handbag liner help you to organise your handbag much better with structure, compartments, and pockets, it will also help to stop general dirt and grime from every touching the inside lining of your beautiful new Louis Vuitton!

Leather lining 
To clean a Louis Vuitton leather lining it is recommended that only water is used and is applied with a soft, lint-free cloth – this cloth need only be damp as soaking the leather would be more of a hindrance than a help!
For a deeper clean, use a leather cleanser and conditioner on the outside and inside of your Louis Vuitton leather bag. This is great for a bag such as the Louis Vuitton Capucines bag which has a calf-leather interior.
Suede lining
Due to suede's nappy, textured surface, it is important that you clean it in a certain way. Suede can mark quite easily – constant contact with a dyed material or any form of spillage can render suede quite grubby and sometimes ruined, so avoid these where possible.
The Simply Leather Suede and Nubuck Cleaner kit is ideal for the cleaning of suede interiors and could not be simpler to use. Begin by using a suede brush to gently brush the surface of your handbag lining. Then apply the spray cleaner onto the soft cloth that is provided in the kit and begin to rub this into the suede. We recommend you clean one panel at a time to ensure the cleaner spray is evenly covered across all of the suede. Once you have covered each panel of the lining with the cleaning solution, leave the suede to dry (for around 10-20 minutes). To raise the nap of the suede again, use a suede brush again, gently over the lining.
When your suede lining is clean, it is a great idea to protect it with a suede protector spray, to keep it looking great for longer!
How to clean brass on a Louis Vuitton bag
It's not just the fabric that needs regular cleaning – your bag's hardware needs a bit of a polish every now and then. If you want to keep your bag looking shiny and new, then you may want to consider protecting the bag's hardware by using clear hardware protectors. These will help to avoid scratches or tarnishing from contact with your skin.
For brass (or copper, chrome and pewter) that has lost its original shine, you can use a bit of Brasso to get things looking just like new again! Use a cotton bud to apply a small amount of Brasso to the hardware you want to polish, and buff it in lightly (be careful not to get too much on any surrounding leather). Wipe off the excess with a soft cloth.
How to clean a Louis Vuitton Speedy Bag
The LV Speedy bag is one of the brand's most iconic creations and continues to have a place in the world of fashion, so if you're a lucky owner of one of these monogrammed beauties, then you'll want to look after it well.
Keep it clean using a mild soap to gently rub over the entire outside of the bag and then wipe away with a damp cloth. If your Speedy is made from leather, just use a damp cloth and no soap. Once you have cleaned the outer of the bag, you may want to condition any leather parts of the bag. Use a lint roller on the inside of the bag to pick up any loose debris and clean the interior using the method suggested above for whichever lining type your Speedy has. Finally, use Brasso or a similar metal cleaning product to go over any tarnished hardware.
Keep your bag in its dust bag when not using it, this will help to keep all of that cleaning work you just did worth it!
To keep the inside of your bag as clean and undamaged as possible, you can get handbag liners that fit a Louis Vuitton Speedy bag perfectly. These compartmentalised liners are available in a multitude of colours and they are available to fit each size of the Louis Vuitton Speedy – 25, 30 and 35. Not only do you get to protect the interior of your handbag, but you can actually increase the practicality with the addition of more pockets – no more digging to find your phone or keys!
How to clean Louis Vuitton Neverfull Bag
The Neverfull bag from Louis Vuitton is made from coated canvas and so can be cleaned with a mild soap solution and a damp cloth. Be careful when cleaning the bag and hardware, so that any soaps or cleansers which are unsuitable for leather do not come into contact with the handles or other leather embellishments. Use a lint roller inside the bag to catch any loose bits of dust or fluff and cleanse the interior using whichever method suits the lining fabric.
As with the LV Speedy, the Neverfull can also be protected by using a handbag liner. The interior of this specific model of bag is pretty large, so adding little pockets and compartments can increase the practical usage of your designer baby! Liners come in lots of great colours and in sizes to suit – PM, MM and GM. You can opt for a zipped insert or a liner with handy pockets for all of your everyday essentials.
Always store your bag in its dust bag to ensure it looks great for longer and keep it somewhere cool and out of direct sunlight. Caring for your designer handbag means it will retain more value – after all, many of us go for a designer item as an investment.
Top tips to keep your Louis Vuitton bag clean
One of the best ways to ensure your bag's longevity is to avoid putting it in certain situations and to look after it during use and during storage. Here are our top tips for keeping Louis Vuitton bags clean:
Only place your bag down on clean, dry, non-greasy surfaces
Keep the bag out of direct sunlight
Carry alcohol-free baby wipes for emergencies
Store the bag in its dust bag, not in the box, so fabrics can breathe – also keep the bag in a cool room
Use a handbag liner to help preserve the interior of your bag
Use a water-repellent protector such as Carbon Pro on leather bags to help stop watermarks and stains.
Use hardware protectors to keep any brass (or other metallic components) from getting scratched or tarnished
If any stain or mark looks too tough, hire the services of a professional handbag cleaner to avoid any costly mistakes!