If you're looking to invest in a new Louis Vuitton bag, or own a piece already and want to know how to properly care for your leather LV bag then we've got you covered with the ultimate guide to Louis Vuitton leathers below.
From full leather Louis Vuitton bag styles such as the Capucines, to bags that feature leather trims and handles such as a Neverfull, Louis Vuitton use different leathers and they should be cared for in different ways.
Read our full blog on how to clean a Louis Vuitton bag here >
The Different Types of Louis Vuitton Leather
In order for you to pick your dream Louis Vuitton handbag, it's worth first doing some research on the exquisite materials that the brand uses. Some more rare and exotic leathers will cost a lot more and may require special care and cleaning routines. Some leathers will be more durable and better suited to everyday use, such as EPI leather and Taurillon leather.
It's worth noting that the table below includes most of the leathers Louis Vuitton uses when creating a designer piece. However, this table does not include canvas (such as the famous monogram canvas), as the canvas is not leather. Read our full blog on how to care for Louis Vuitton canvas here >
| | | | |
| --- | --- | --- | --- |
| Image | Leather Type | Leather Properties | Durability |
| | Vachetta Leather | Calf-hide leather. Durable. Soft to the touch. Will darken with age. | 7/10 |
| | Taurillon Leather | Hardwearing leather. Will soften and may show signs of wear on corners over time. | 8/10 |
| | EPI Leather | Very sturdy and hardwearing. | 9/10 |
| | Empreinte Leather | Hardwearing Leather. Leather will soften over time and embossing may fade. | 8/10 |
| | Vernis Leather | Shiny / Patent finished leather. Water repellent. Prone to damage from direct sunlight. Prone to colour transfer from non colour-fast items. | 7/10 |
| | Lambskin Leather | Made from young sheep. Lambskin is luxuriously soft and lightweight. | 5/10 |
| | Ostrich Leather | Very durable. Soft to the touch. One of the strongest leathers available. Very flexible. | 9/10 |
| | Crocodile / Alligator Leather | Soft to the touch. Highly durable. Very expensive due to the rarity of the leather. | 8/10 |
| | Exotic Leather (e.g. Python) | Expensive due to the rarity of the leather. Durable, but special care is needed for scales as these raise over time. | 6/10 |
How to clean LV leather
Taking care and cleaning your Louis Vuitton leather bags is important to reduce dirt and bacteria building up on your beautiful new handbag. To clean your LV leather we advise using a simple leather cleanser followed by a conditioner for most of the leathers to remove dirt gently without damaging the leather, then followed by a conditioner to help to restore and nourish the leather.
The Best Louis Vuitton Leather Cleaner
We've found one of the best leather cleaners for Louis Vuitton bags is the simply leather cleanser and conditioner. At an incredible price point, these small bottles go a long way towards cleaning a large collection, or lasting a long time if you have a smaller collection.
This leather cleaner and conditioner set is advised to be used on all Louis Vuitton leather EXCEPT vachetta leather (read below first), as the conditioner will slightly darken the vachetta leather, and exotic leather skins such as python and crocodile leather. For cleaning exotic skins such as crocodile and python always seek a professional cleaning service and direct advice from the brand on how to care for these rare leathers.
How to Clean and Care for Louis Vuitton Vachetta Leather 
One of the most used leathers that Louis Vuitton uses is vachetta leather, in-fact – the brand is well known for it. Vachetta leather is an un-treated calf-hide leather that is durable and soft to the touch. However, vachetta leather will also naturally darken over time due to sunlight and natural oils absorbed by the untreated leather. This means it's important to care for your vachetta leather Louis Vuitton piece carefully and means you can try to slow or speed up the aging process, depending on your preference of what you like your vachetta leather to look like.
Is Vachetta leather durable?
Yes, vachetta is durable and can last many, many years. However, due to its untreated nature it can be a harder leather to look after and it can be scratched and scuffed if it comes into contact with a rough or sharp surface.
The durability of a thick vachetta leather means your bag is not likely to break or tear easily, so it should function if used correctly for many many years. Some people will see a whole lifetime from a Louis Vuitton bag such as a keepall travel bag. Durability, however, does not mean that the leather will stay looking like new forever.
Vachetta leather Care
The best way to care for vachetta leather on a daily basis is by running a clean, damp cloth over the vachetta leather straps and handles when it's needed. This will help to remove dirt from the leather and make sure the patina stays even. Some people prefer to use alcohol-free baby wipes.
For a deeper clean every 6 – 12 months, we advise a special leather cleanser to gently kill bacteria and remove dirt, followed by a nourishing conditioner. We love the Simply Leather cleaning set (below), as it is incredibly soft on leathers but strong on dirt and stains at a great price. However – it's worth noting that this deeper cleaning process (especially the conditioning), will slightly darken vachetta leather. Always test this process on a small patch of leather to make sure that you're happy with the results.
Vachetta Leather Patina – What this is and what it means
What is Vachetta Patina?
Patina is a process that vachetta leather goes through as it ages, which results in the darkening of the leather.
What does Patina mean?
The Vachetta patina process means that over time and with use of this untreated leather, it will darken over time. When you first purchase a bag that features vachetta leather the leather will be a light brown colour. As the leather comes into contact with sunlight and oils on the skin, as well as everyday wear and tear, the leather will naturally start to darken. Vachetta leather will generally start to darken to a natural honey (dark golden brown) colour and after many years and heavy use, it will eventually go very dark brown, almost black. Proper care and cleaning of vachetta leather can either speed up the ageing process of the leather, or help to slow it down and remove additional dirt from the leather to lighten it up slightly.

It's worth noting that the patina process (darkening) of vachetta cannot be stopped and is a natural process. For people that don't like the darkening of the leather over time, it's best to avoid Louis Vuitton bag styles that use untreated vachetta leather – a good alternative is the Damier Ebene print which is paired with treated vachetta leather in a dark brown colour.
How to stop Patina or speed it up
The natural patina process of vachetta leather cannot be stopped, however, it can be slowed down with proper care. There are a few key things to follow to help slow this process down:
Make sure your hands are clean and avoid touching the leather after applying things like hand cream or hand sanitiser.
Store your bag in its dust bag and make sure it avoids natural sunlight.
Avoid conditioning the leather as this will naturally darken the leather. Conditioning vachetta leather is good for the leather to help stop cracking, but this isn't advised on a new bag where the owner wants the patina to stay as light as possible. It's only advised on older bags that are already a natural honey colour.
If you like a natural patina of your vachetta leather and have a new bag with new leather, you can speed the process up to darken the leather. These include:
Placing your bag in sunlight (avoid doing this for too long, as it can dry the leather out).
Conditioning the leather with a leather conditioner
Cleaning vachetta leather with baby wipes
Cleaning your vachetta leather without the leather darkening much can be done with an oil and alcohol-free baby wipe. This will help to remove surface dirt from the leather without darkening it too much.
Some people prefer to clean vachetta leather with a damp, clean cloth. This will darken the leather slightly, but done lightly and evenly this can also be an effective cleaning method. Remember, try this on a small piece of the leather before fully committing to doing this on the entire bag. Expect the vachetta to darken as it absorbs the water, but it will dry and lighten back up – phew!
Does LV Vachetta leather stain?
Yes, untreated vachetta leather means the leather is in a natural state and hasn't been coated with any protective membranes. This means that the leather is susceptible to 'soak up' stains and also water. Once vachetta is stained it can be incredibly hard to remove.
One of the main issues with Louis Vuitton vachetta leather is water stains. If you have a new bag which features vachetta leather and you want to avoid watermarks such as rain marks, keep reading for tips on how you can water-proof your vachetta leather. After all, no one wants to be caught in a rain shower but if this happens you don't want to be in total fear that your new Louis Vuitton will be ruined!
Using a Magic Eraser on Louis Vuitton Vachetta
Some people who have aged vachetta leather may want to try to lighten the leather back up. One of the ways to do this is by using a magic eraser, but proper research and precaution are advised before trying to use a magic eraser on vachetta leather. A magic eraser should be used with precaution as this is a very strong treatment for the leather and can dry the leather out and cause cracking.
If you're planning to use a magic eraser on vachetta leather, always make sure the leather has been treated with a conditioner BEFORE using the eraser (and given time to dry properly). The magic eraser should only be gently rubbed (not scrubbed) on the leather for 10-30 seconds. It's always worth doing this on a small patch of leather before completing this on a larger area.
How to waterproof and stop water stains on vachetta leather
Water can damage and leave marks on vachetta leather, so lets take a look at how we can try to prevent this from happening.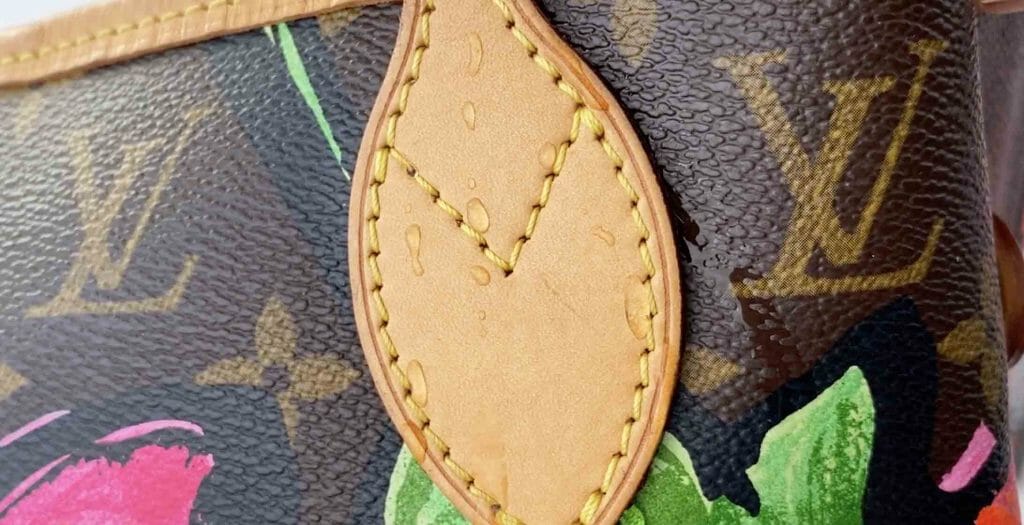 How to stop water marks on your vachetta leather
You want to enjoy your new designer bag instead of living in fear of being caught in a rain shower, right? So taking the proper precautionary measures to reduce the chances of this is needed. To do this you can use leather sprays to create a protective membrane on vachetta leather, which will repel water and significantly reduce watermarks.
Watch our video on how to clean a Louis Vuitton bag here > After the bag has been fully cleaned we demonstrate spraying the vachetta leather with Carbon Pro to waterproof it, and evidence that this works by pouring water onto one of the vachetta straps! If you use your bag daily it's worth repeating this process every 2-3 months. If you use it irregularly, every 6-12 months as the membrane will be removed over time.
How to remove water marks from vachetta leather
If you already have water stains on your lovely vachetta leather, there's no easy way to remove them. The only thing you can do to help ease the stain is to take a damp, clean cloth and gently run this over all the vachetta leather. This will help to even the marks out a little, but it will slightly darken the leather.
Once you've completed this and are happy with the results, always use Carbon Pro to waterproof your vachetta so it doesn't happen again.
Why does Louis Vuitton vachetta leather crack?
Vachetta leather is ultimately an animal skin and skin needs to breathe and be moisturised from time to time. This means that if vachetta leather is left to dry out and not properly conditioned, especially as it gets older, it can become brittle and crack. Cracking of vachetta mainly happens on the opening and handles of a designer bag, as these parts of the bag are under the most strain and are constantly rubbed and moved.
How to fix cracked vachetta leather
There is no easy way to fix cracked vachetta leather or Louis Vuittons canvas. We advise sending your Louis Vuitton bag to a vachetta repair specialist for the leather to be repaired or replaced. Louis Vuitton does offer a leather replacement service, but the bag must be in good condition and they may refuse the repair. A leather replacement from the brand directly can also be expensive.
How to get Louis Vuitton vachetta leather replacement
There are two ways to get your Louis Vuitton vachetta replacement, one is to take your bag into a Louis Vuitton store and request the replacement. If the brand is happy to help replace the leather they will give you a quote to do this. It can be expensive and may take weeks, if not months for you to receive your bag back.
The other option is to take your bag to a third-party repair service, ideally which specialises in designer handbags. It's worth noting, however, that the value of the bag could be impacted if the replacement doesn't look good, and hasn't been done directly by the Louis Vuitton.
How to stop vachetta leather cracking
Whilst it's impossible to protect your vachetta leather completely from cracking, you can take precautionary measures to help prevent this from happening. These are:
Avoid the bag being in direct sunlight
Avoid the bag being exposed to extreme temperature changes (e.g. very hot and very cold)
Always store the bag in a breathable cotton dust bag (the one provided from Louis Vuitton, ideally)
Condition the leather every 6-12 months once it has started to develop a natural patina
What happens when you condition vachetta leather?
Conditioning your vachetta leather is like applying moisturiser to your skin. It helps to replenish the moisture in the leather and avoids it from becoming brittle and cracking. We highly recommend a leather cleansing and conditioning set to remove dirt first, then to condition the clean leather.
When you apply a conditioner to your leather, expect it to slightly darken the leather. This works best with a natural honey patina and won't effect the colour much once the leather has a natural golden colour. Conditioning the leather can also help to even the patina of the leather out.