In 1845 Louis Vuitton Malletier launched the most successful luxury brand in the world, Louis Vuitton. Louis Vuitton branding is now recognised worldwide, and many of the classic handbag styles are at the top of many handbag enthusiasts' hit-list. But what are Louis Vuitton bags actually made of? We'll take a closer look and explore the materials Louis Vuitton use to create their iconic range of luxury bags in this blog.
What are Louis Vuitton bags made out of?
Louis Vuitton is well known for using some of the finest materials and craftsmanship to create their designer bags. The key materials they use to produce their range of iconic bags are coated canvas, leather, and exotic skins. The hardware of the bags will be made from brass or gold.
What a Louis Vuitton bag is made from varies from handbag style to style. For example, classic bags such as the Neverfull and Speedy are mostly made from coated canvas, but full leather options such as full EPI leather are generally available too.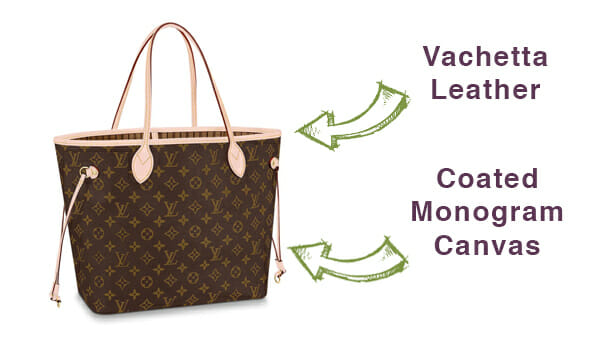 Are Louis Vuitton bags made of leather?
The simple answer to this question is mostly, yes. Nearly all Louis Vuitton bags are made from leather or feature leather trims such as handles. One of the main misconceptions, however, is that Louis Vuitton canvas (the monogram, Damier Ebene or Damier Azur prints) is made from leather. Louis Vuitton canvas is not made from leather, but most bags that are made from a coated canvas feature leather trims and handles.
There are some exceptions to this rule, however, with some bags being made completely from coated canvas and no leather, such as some versions of the new OnTheGo tote bag. It is worth noting that although the OnTheGo tote bag may not be made from leather, it will feature leather tabs with logo prints inside of the bag as well as a date code tab.
The classic styles of Louis Vuitton bags including the most popular, Neverfull, Speedy, Alma and NeoNoe all feature leather trims such as leather handles and straps. Bags like the LockMe and Capucine's ranges are made from all leather generally, with the Capucines bag also being lined with leather.
Louis Vuitton uses different leathers throughout its range of designer bags, including vachetta leather, EPI leather, Taurillon leather, and Empreinte leather. The most popular leather the brand is known for using is Vachetta leather, which can be notorious to maintain and develops a patina over time.
Read our full guide on Louis Vuitton leathers and how to care for them here >
What is Louis Vuitton Coated Canvas Made of?
The famous Louis Vuitton monogram is printed on a cotton canvas, as well as the dark brown Damier ebene print and lighter coloured Damier azur checker-board print. This canvas is made from 100% cotton which is then coated with a plastic called polyvinylchloride. This process then forms the hard-wearing nature of Louis Vuitton's coated canvas, the canvas, therefore, is not made from leather.
Read our full guide on how to care for a Louis Vuitton Canvas bag here >

Are Louis Vuitton bags made of Animal Skin?
Yes, Louis Vuitton bags are made from animal skin (leather), or most at least feature leather handles and trims.
Louis Vuitton also creates some bags using exotic animal skins, with python being a favourite. Some rare Louis Vuitton bags may also be made from rare exotic skins like crocodile, stingray, and ostrich.
There are some rare examples of handbags from Louis Vuitton which are made fully from coated canvas, however, date code tabs and logo tabs inside of the bag will be made from leather. This means any vegans or vegetarians who choose not to support items that use animal skins to create their bags are unable to purchase any bag from Louis Vuitton.
Where are Louis Vuitton Bags Made?
Louis Vuitton bags are made around the world in specific countries. These countries currently include France, Germany, Italy, Spain, Switzerland and USA.
Louis Vuitton bags are currently NOT made in China. Any Louis Vuitton bag that shows this is certainly a counterfeit item. Use our Free Louis Vuitton date code checker to see where your bag was made by entering the date code in your authentic Louis Vuitton bag.
Are Louis Vuitton bags Handmade?
Yes, Louis Vuitton bags are fully handmade by expert craftsmen and women. The brand is well known for its attention to detail and the high quality of its products, especially handbags. If you ever experience an issue with a new Louis Vuitton bag, the brand will often be more than accommodating to repair or replace the product. It is claimed that a Louis Vuitton bag will undergo around 100 processes and checks before being made available for sale.
If you're the owner of a luxury Louis Vuitton bag or are thinking about getting one, read our care guide on how to clean a Louis Vuitton bag inside and outside, so you can keep your LV bag in the best condition.