A common theme with luxury purchases is buyer's remorse, especially when it comes to costly Louis Vuitton purchases. The expensive price tag that comes with an LV bag may leave you feeling guilty if you've splurged without planning the purchase, so you might be wondering, can you return Louis Vuitton? It's so easy to buy your dream bag with the swipe of a credit card, but you might be left with a pit in your stomach if you purchased on a whim. Thankfully Louis Vuitton does have a return policy in place that allows you to get a full refund, so you can undo any financial damage and not break your bank account.
Can You Return Louis Vuitton?
Louis Vuitton has a return policy that allows you to return your purchase within 30 days. The full return policy from the official website is below: 
* Complimentary exchanges & returns within 30 days.
* Item in perfect & sellable condition.
* The item much be in its original packaging.
* Original invoice, leaflets, and certificates.
* No exchanges and returns for personalized items, My LV Heritage, My LV World Tour, hot-stamped products, personalized sneakers, engraved products, Made-to-Order items, high watches, and high jewelry.
* Mask covers cannot be returned or exchanged for sanitary reasons.
PayPal and Apple Pay purchases may be returned online or exchanged at a free-standing store for exchanges & returns within 30 days.
As stated in the policy, anything customized or made-to-order like the My LV Heritage line is non-refundable because it's personalized with the buyers' initials. Similarly, World Tour bags are a customized design and therefore are not refundable, as with hot-stamped items.
How Strict is Louis Vuitton's return policy?
The return policy is pretty strict as it states that any return items must be in "perfect" sellable condition and include all original packaging, certificates, and leaflets that they came with. Anything that is not in mint condition or showing any evidence of wear and tear will result in the return being rejected. 
Can I return Louis Vuitton without a box?
No, the Louis Vuitton returns policy states that items must be returned with all labels and original packaging. This means you should return the box your order came in should also be returned in order to receive a refund. If you ordered your item in a Louis Vuitton store and chose not to receive a box, Louis Vuitton will still refund your purchase providing you still have all the correct documents. If your box is damaged in some way, or you'd like to keep it, always contact Louis Vuitton customer services for clarification on this.
Louis Vuitton exchange policy with no receipt?
It is possible to exchange a purchase without a receipt however it does depend on the circumstances and the SA (sales associate) that you're dealing with. You will need to provide some sort of proof of purchase like a bank statement showing the transaction took place. You also may be asked to provide some details like your name and address because Louis Vuitton usually asks for that information when you're making a purchase. 
When making a purchase at Louis Vuitton you may give details in-store or online which involve you having an account assigned to your email address. This account can prove your purchase and therefore you'll be more likely to have a successful return even if you no longer have a physical copy of the receipt if purchased in-store. These are referred to as 'digital receipts'.
Can You Return Louis Vuitton To A Different Store?
Yes, you can return a Louis Vuttion product to a different store than which you purchased the item, providing it is in the same country. Providing the return is within 30 days (or guidelines of your country), you can exchange, get store credit, or a refund for the item in-line with the LV returns policy.
Can you return Louis Vuitton in a different country?
Did you buy an LV item whilst away or traveling and now aren't so in love? Providing you are within the 30-day returns period and have a receipt, Louis Vuitton will mostly accept an exchange or store credit if your item was purchased in a different county. They will not process refunds for items purchased in a different country.
There are some exclusions to this rule, where items purchased in certain countries cannot be exchanged due to tax/import reasons. Always check with the store you're buying from and might return to before making the purchase to avoid disappointment.
Can you return a Louis Vuitton after 30 days?
Louis Vuitton is pretty strict when it comes to its return policy, including the 30-day timeframe. However, if it's a day or two over, you could probably talk to an SA and explain your situation and they might make an exception depending on the circumstances. In general, though, the 30-day policy is pretty much set in place.
Can You Return Louis Vuitton from a concession store?
There is a difference between Louis Vuitton stand-alone stores (boutiques) and concession stores. A concession store is when LV is located within another store or brand, whether online or in-store. An example of this is Bloomingdales, Saks, Nordstrom, Harrods, and Selfridges.
It's important to check the returns policy of Louis Vuitton in each concession store as they may vary from the main Louis Vuitton returns. For example, when purchasing Louis Vuitton from Harrods in the UK the returns period is 14 days and exclusions apply to certain products.
Can You Return Louis Vuitton Items from 24s.com?
If you didn't know, 24s.com is owned by LVHM and regularly has Louis Vuitton stock which is genuine and new. If you purchase a Louis Vuitton item from 24s.com you can return the item within 30 days providing it is in brand new, unused condition. All packaging and labels must be present. You can arrange for the company to pick up your return safely, or you can use a returns shipping label to make a free return. Once your return has been received, you can expect your refund to be in your bank within 15 working days.
Louis Vuitton Faulty Returns Policy
If you've purchased an LV product that is defective in some way, you may be able to exchange it for a brand new one or get a store credit if a substitute is not available. Louis Vuitton prides itself on the remarkable craftsmanship of its pieces and takes defects seriously to not tarnish its reputation. So if you think your purchase is faulty, definitely seek out an SA (sales associate) to help rectify the situation.
If you placed your order online, contact their customer care team via phone, email or live chat from the main website and they will help resolve your situation.
How to Return Louis Vuitton Online
To return a purchase online you can either register your return through the website or you can contact customer service to assist with the process.
To return through the website: register your return through your 'my LV' account. Once logged into your account navigate to the 'My Orders' section. Select the order from which the item you want to return is in. Click 'Request Return' on the item.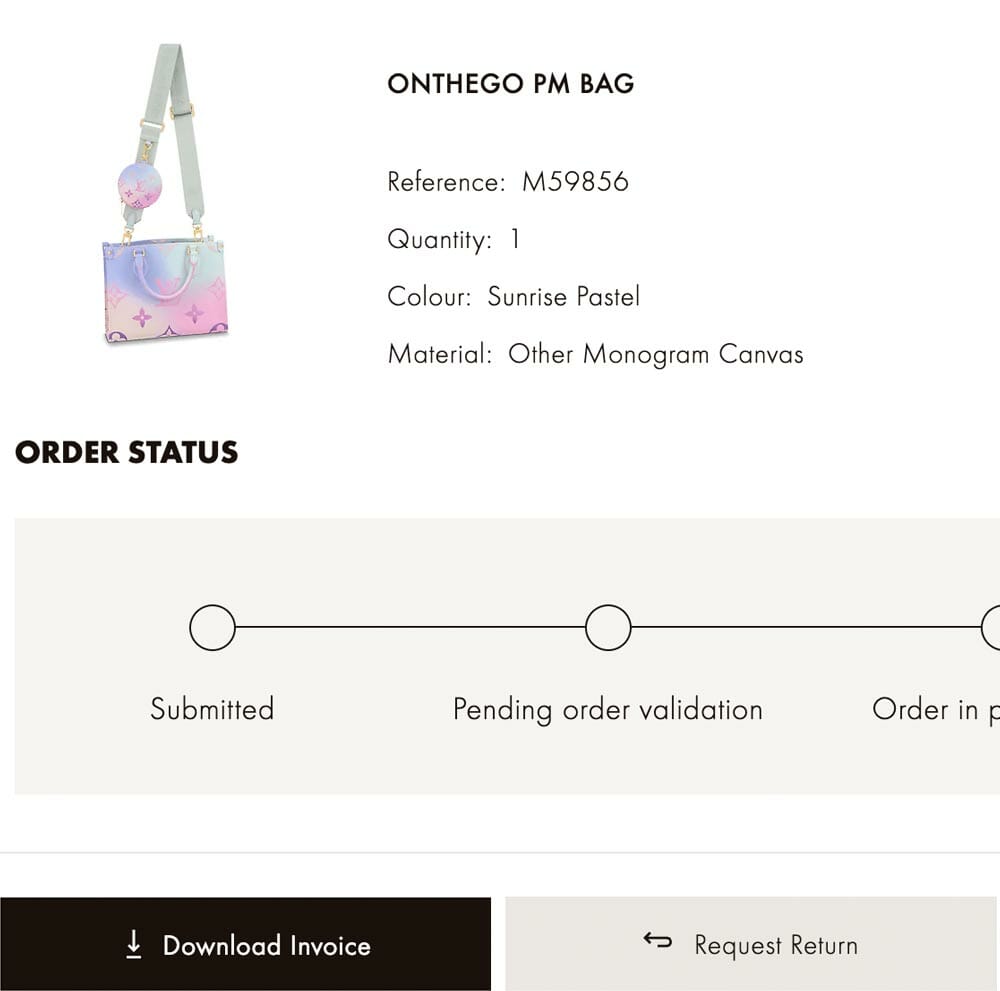 From there you will be able to print off a complimentary return label and once you've prepared the package you can drop it off at the local shipping facility specific to your region. The courier will be the same as the one that delivered the order. 
To return via customer service: call the LV client service number specific to your region and they will arrange a pick up to your address. 
Can Online Orders Be Returned To A Louis Vuitton Store?
Yes, you can take your online order from Louis Vuitton to a stand-alone store (not a concession store) to process your return. The store will send the items for you to their eCommerce team and you can expect a refund to appear in your bank account within approx. 14 working days.
Is the Louis Vuitton item you're lusting after out of stock? Find out why Louis Vuitton is always out of stock in this blog.
Louis Vuitton Refund Time
When shipping a return to Louis Vuitton, the item must be inspected and verified at the return facility before the refund is issued. Once this process has taken place it will take 10-14 business days for the refund to appear in your account. The refund will be in the same method and currency you originally purchased it in.
For in-store returns, the same 10-14 business day period will apply.