If you're a luxury lover then there's no doubt you've admired the classic Saint Laurent (also known as YSL) range of amazing designer bags. But as we all know, any luxury investment can be a hefty one so I've pulled together this blog covering the 13 cheapest YSL bags you can buy in 2022.
13 Cheapest Bags from YSL
These prices are correct as of April 2022, however luxury brands including Saint Laurent do have regular price increases. This blog will be kept up to date in line with price increases.
Make sure you're subscribed to the Handbagholic email list and I'll let you know when a popular luxury brand has had a price increase, with a before and after price list.YSL City Toy Backpack
Price: £760 / $1090 | STYLE ID 495833FAAD31000
The City Toy Backpack is one of the least expensive YSL bags you can buy from Saint Laurent. This is a simple backpack made from nylon with leather details, featuring a small 'Saint Laurent' logo on the front of the backpack. This is the cheapest full-size bag from Saint Laurent and one of the most practical if you have larger items to carry long distances.
Price: £865 / $1050 | STYLE ID 600281CSV0J1112
If you're looking for the perfect, everyday work bag that's designer yet understated, there's no better choice than the YSL shopping tote bag. A full-leather tote bag in a gorgeous array of color options means you're bound to find the perfect tote bag. Being the second cheapest bag on the list, you don't see many leather tote bags from other brands at this rock-bottom price.
Price: £880 / $1290 | STYLE ID 617481FAABR9054
Looking for a more statement piece, but still with a more subtle approach than most other luxury brands? The Rive Gauche range from Saint Laurent is simple yet effortlessly stylish. The Rive Gauche tote bag from YSL has been popular with influencers and celebrities since it was first released, and I can see why. Multiple color options are available, perfect for those lazy summer days.
Price: £880 / $1290 | STYLE ID 685618GAAAC2080
The Panier raffia tote bag has the ultimate summer-time vibe, the team with a flowing dress when the sun's out for a super-chic look. The raffia fabric teamed with the tan leather and gold YSL hardware is one of my favorite combinations.
Price: £945 / $1290 | STYLE ID 6337530U0IW1722
The YSL small grace chain bag is made up of tassels and a small YSL logo drop – perfect for a boho-chic vibe. This bag isn't taking itself too seriously and encompasses pure joy with dangling tassels for texture and movement. Available in neutral colors as well as bold brights, this one's perfect for chilled evenings/days out.
Price: £1020 / $1490 | STYLE ID 669299FAABK9053
A newer addition to the Rive Gauche range from Saint Laurent is the bucket bag. This bucket bag encompasses the stylish simplicity that the rest of the range does, yet offers a cross-body option for people who like to be hands-free. The thing I love most about the Rive Gauche bucket bag is its size, it's not a small bucket bag like some other brands' options, giving the ability to carry all your everyday/beach essentials such as water bottles and lotions with ease.
Price: £1040 / $1390 | STYLE ID 6104361GF071000
If you're bored with the standard square / rectangle-shaped bags, then the Vinyle Round bag from Saint Laurent could be the perfect next addition to your designer bag collection. This gorgeous YSL bag made from leather, featuring YSL on the front is roomy enough for everyday essentials, and quirky enough to stand out amongst the crowd. Available in some stunning neutral colors, I'm loving the white vintage blanc color with gold hardware to brighten up any outfit.
Price: £1090 / $1490 | STYLE ID 612544DV7072721
Easily one of the most popular crossbody styles of the bag from YSL, the Lou camera bag – it's easy to see why. This camera bag is a great size for everyday essentials and can take you from day tonight. With a vast array of color options from neutrals to bold brights, this bag is simple yet elegant. I love the dusty beige color with gold hardware, which color would you go for?
Price: £1225 / $1750 | STYLE ID 469390BOW012721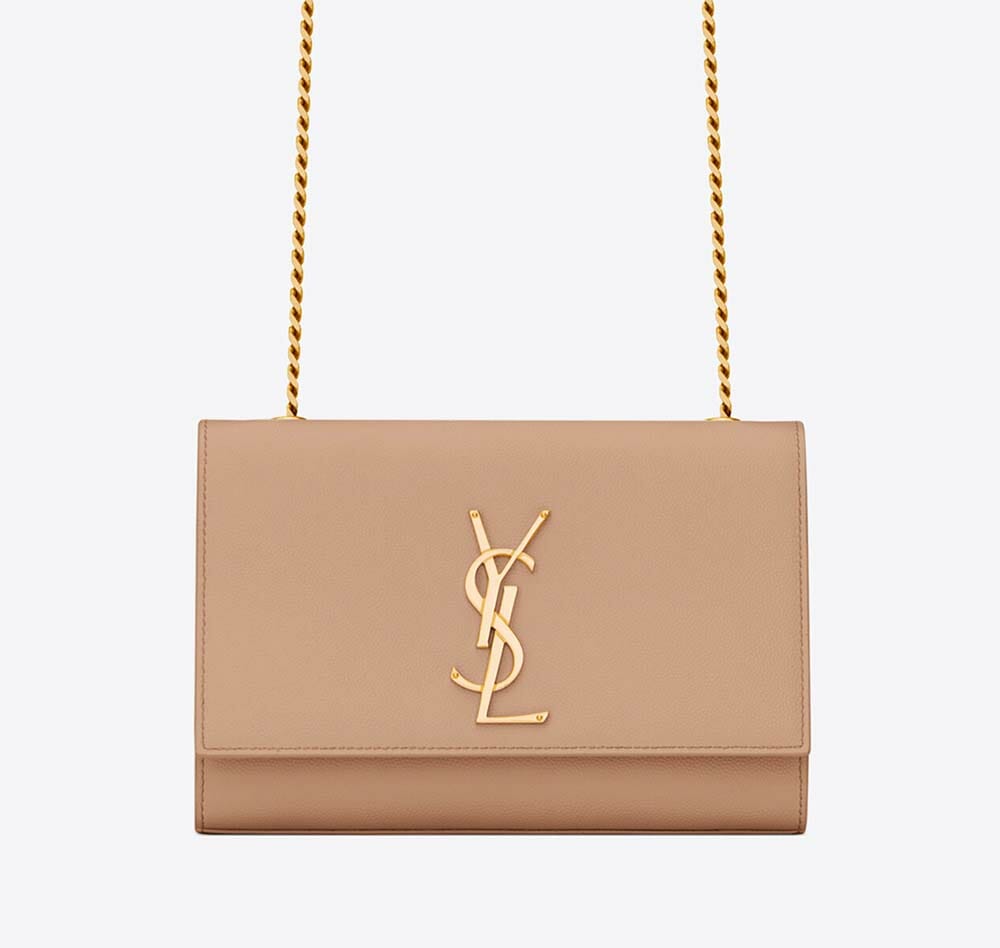 Up to yet, most styles of cheapest YSL bags have been more of a casual stance… but fear not, one of my favorite evening bags has made it into the list – the Kate bag! This bag is a no-frills, simple show stopper that literally can be teamed with any outfit. Choose a classic such as black with gold hardware combination if you're wanting to add a forever-piece to your collection. Despite its simple styling, it will never fail to elevate your look.
Price: £1225 / $1750 | STYLE ID 6550041EL011000
Do you love a luxurious-looking clutch bag? The Sade large lambskin leather clutch from Saint Laurent is big in size, suitable for larger items, and plays up to the current 'pillow' trend. This clutch looks so comfortable, I've no doubt it could double up as a pillow (if required). The only thing left to decide is what color you want your gorgeous new clutch bag!
Price: £1285 / $1690 | STYLE ID 619740BWR0W1000
Do you love going about your day hands-free with a simple, yes classic bag draped across your body for effect? Enter the Kaia bag. This satchel-style bag has to be one of my favorite styles of a designer crossbody bag. If you're looking for a work-horse bag to carry your phone, keys, and a small purse, this is the bag you've been searching for!
Price: £1285 / $1690 | STYLE ID 649779DME279207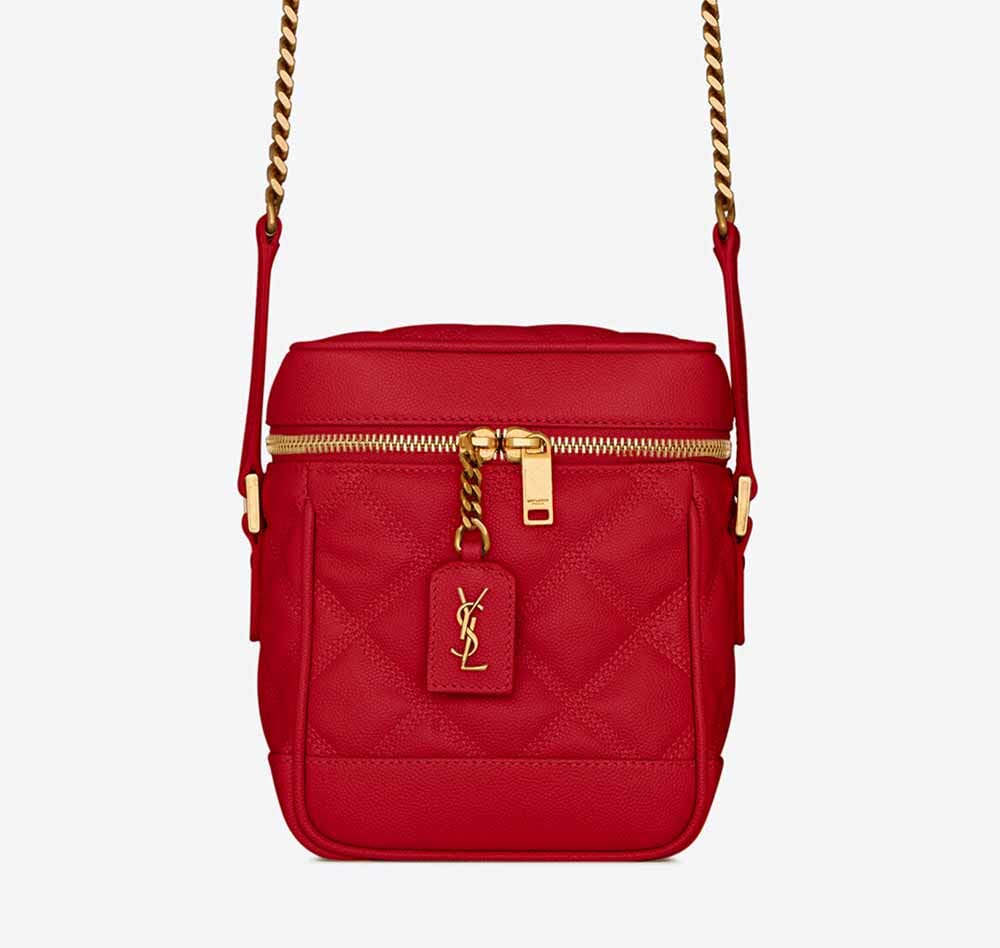 Vanity style bags are IN right now, defying the traditional shape of the bag, this vanity-inspired shaped bag sure is a show-stopper. Its cute dimensions cater to bulkier items and I love the combination of quilted detail mixed with the smooth leather. The cherry on top is the cute tag featuring the YSL logo plaque. Complete with an adjustable strap, this little beauty is sure to add something new to your collection.
Price: £1350 / $2150 | STYLE ID 6867422R20W1000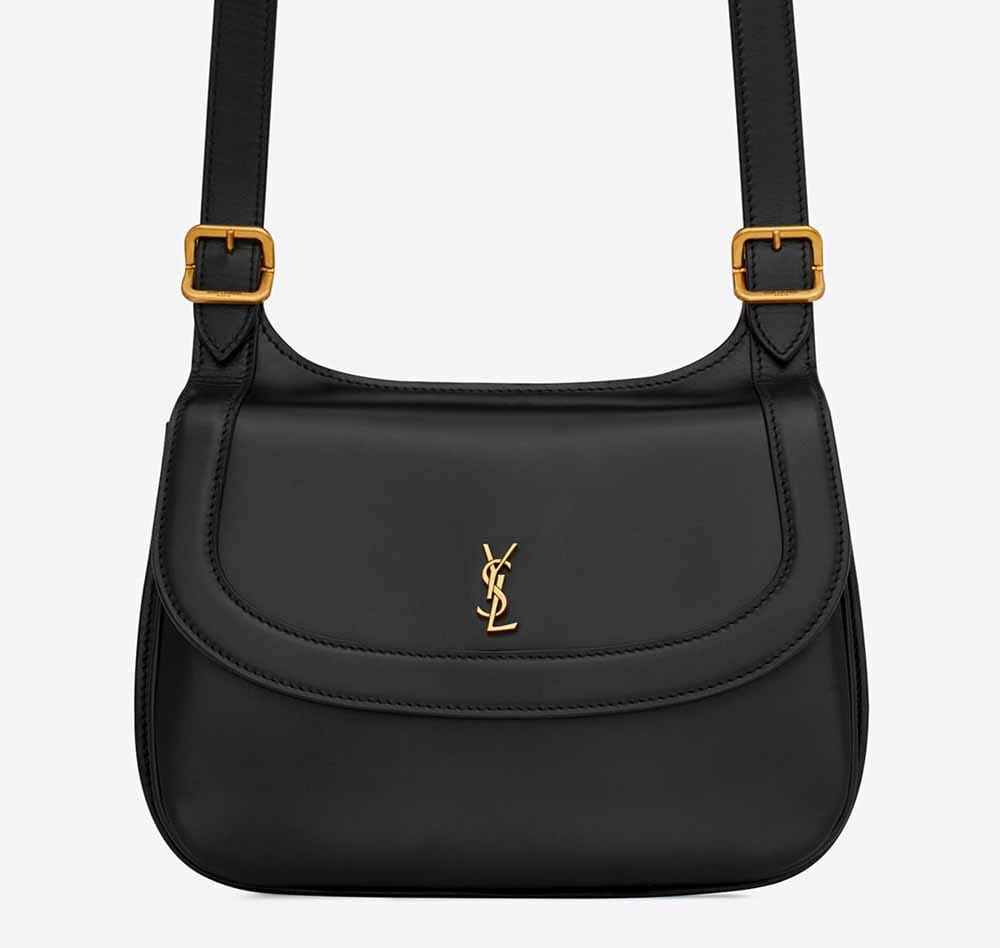 With an equestrian-style vibe, the Charlie bag from Saint Laurent is the last on our list for the cheapest YSL bags, but most definitely not the leather. This bag encompasses all that's great about the brand – quality yet understated simplicity. Void of bold logos plastered all over it, this crossbody bag is clearly a designer piece, without the need to shout. I love the smaller YSL plaque on the front of this bag, which features a simple flap opening and adjustable crossbody/shoulder strap.
Cheapest YSL Crossbody Bag
What's the cheapest crossbody bag available from YSL? This one has been featured in our list already and is probably the most popular style of bag from Saint Laurent thanks to its easy-to-use design and fantastic price point – the Lou camera bag. This is the cheapest full-leather crossbody bag from the brand retailing at, and available in a wide range of color options.
Looking for something a little different? Then the Rive Gauche bucket bag is also a crossbody option retailing at £1020 / $1490, and the Kate tassel bag for a boho-chic look retails at £945 / $1290.
Do YSL Bags Ever Go On Sale?
The answer is yes, YSL bags do go on sale. YSL sales happen via their outlets and some third-party retailers who will discount stock. YSL also has multiple outlets around the world which sell discount stock – one of my personal favorites is Bicester Village in Oxford, UK. Check out my vlogs on YouTube, where I regularly visit the outlet and film before and after prices of popular discounted YSL bags. However, the brand no longer has many, if any sales on the main website as it is trying to position itself as a luxury brand that doesn't discount on a frequent basis.
Some popular brands that discount YSL bags in the US are Nordstrom and RueLaLa, as well as Selfridges, Flannels, and Browns Fashion in the UK.