The Louis Vuitton multi pochette accessoires bag is the utilitarian bag with multiple pouches that has been a complete SELL OUT since it was first launched in late 2019. In this guide, we're going to reveal our first thoughts to this bag, what fits inside, how to style, and where to buy one.
With influencers all over the internet as well as A-list celebrities such as Hayley Beiber and Rihanna supporting the casual looking designer bag, it's no surprise demand for this bag has been so high. It's now incredibly hard to get hold of one. But is all the hype around this bag clouding people's judgement to the bag's actual usefulness? We'll be taking a closer look in this blog.
Multi Pochette Accessoires Bag Video Review
Want to get up-close and personal with one of the hottest bags Louis Vuitton has to offer? Watch our latest review on Handbagholic's YouTube channel. We review the bag in general and take a closer look at what fits inside.
History of the Louis Vuitton Multi Pochette Accessoires Bag
The LV Multi Pochette Accesoires bag doesn't have a long history, with the bag being released in late 2019. The multi pochette bag consists of three small bags, including the Pochette Accessoires, Mini Pochette Accessoires, and round Zip Coin Purse. These three smaller bags are available to be purchased individually from Louis Vuitton, but the multi pochette comes with a detachable shoulder strap that brings all the bags together.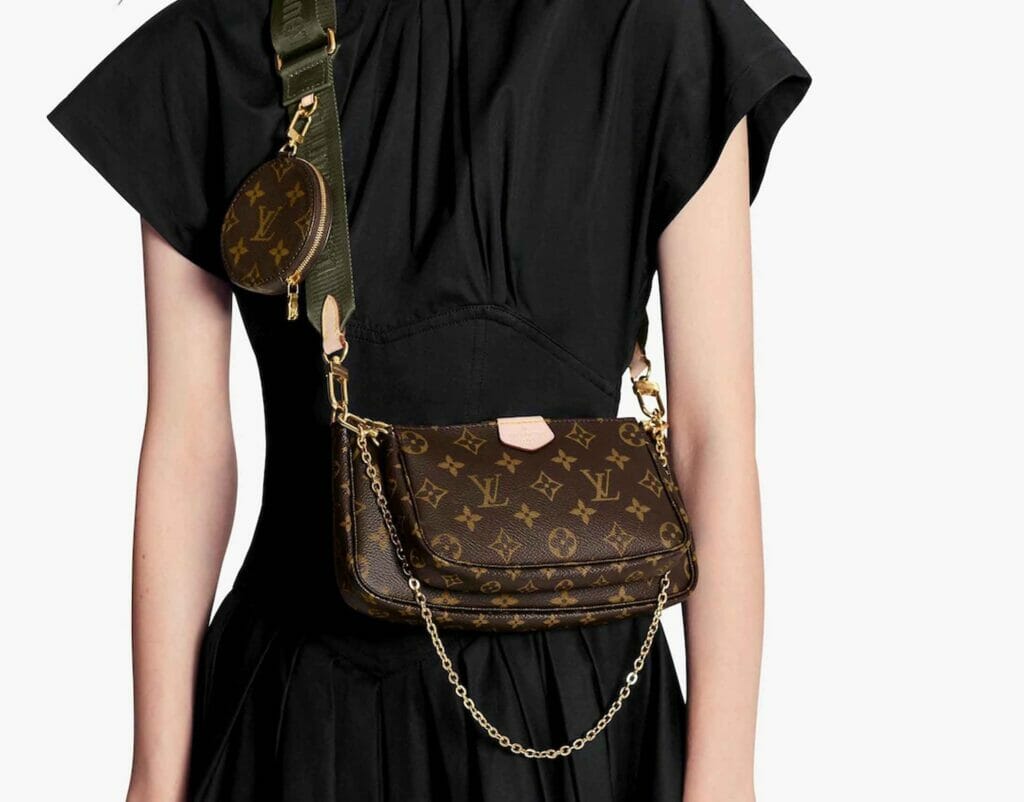 The bag has fast become an icon for the brand, with its casual vibe it feels very different to other bags sold by the brand.
The bag was originally released in monogram canvas with two options of strap colour, rose chiaro (light pink) and khaki. In early 2020 the brand then released a 'new wave' version of the bag. The new wave version is made from leather, features the twist lock LV logo and only features one main pouch.
Louis Vuitton Multi Pochette Accessoires Bag Outfits Video
Watch one of our latest videos on YouTube featuring the Louis Vuitton multi pochette accessories bag worn with various outfits for inspiration on how to style the bag.
LV Multi Pochette Accessoires Bag Price + Size Comparison
The Louis Vuitton Multi Pochette Accessoires bag comes in various sizes as well as canvas and leather options. See the full range and price list below, correct as of September 2020.
| | | | |
| --- | --- | --- | --- |
| Image | Style | Price £* | Price $* |
| | MULTI POCHETTE ACCESSOIRES – Rose Chiaro | £1330 | $1860 |
| | MULTI POCHETTE ACCESSOIRES – Khaki | £1330 | $1860 |
| | MULTI POCHETTE ACCESSOIRES – World Tour | £1610 | $2250 |
| | New Wave Multi-Pochette – Khaki | £1610 | $2300 |
| | New Wave Multi-Pochette – Snow (White) | £1610 | $2300 |
| | New Wave Multi-Pochette – Black | £1610 | $2300 |
*Prices correct as of September 2020
How Influencers are Styling the Louis Vuitton Multi Pochette Accessories Bag
Below are some of our favourite influencers styling the Louis Vuitton multi pochette bag.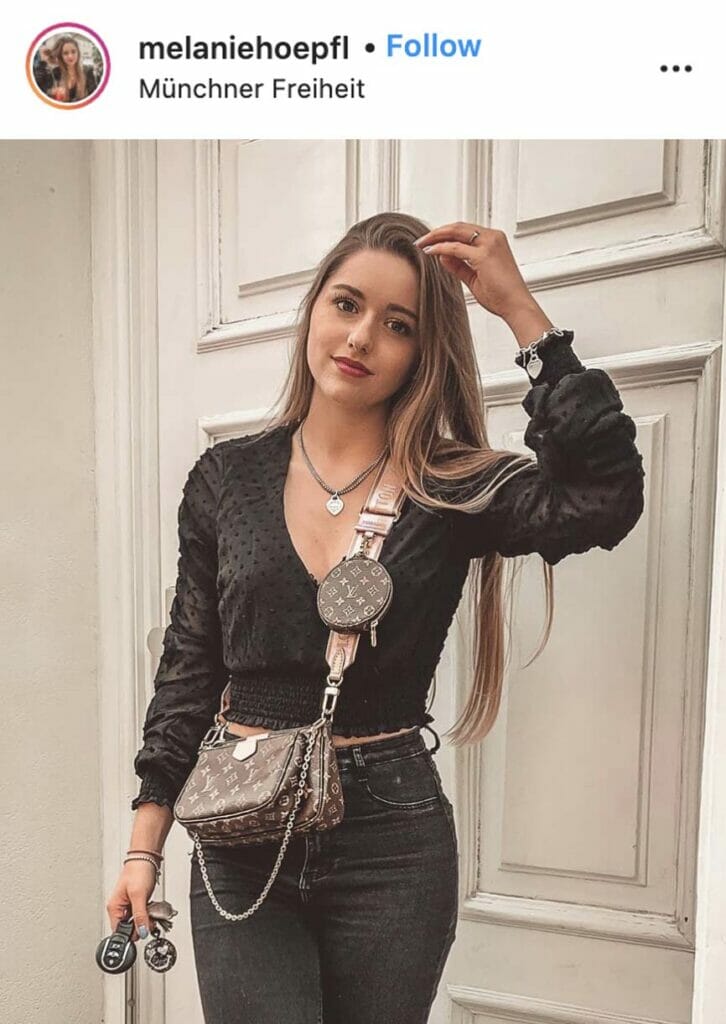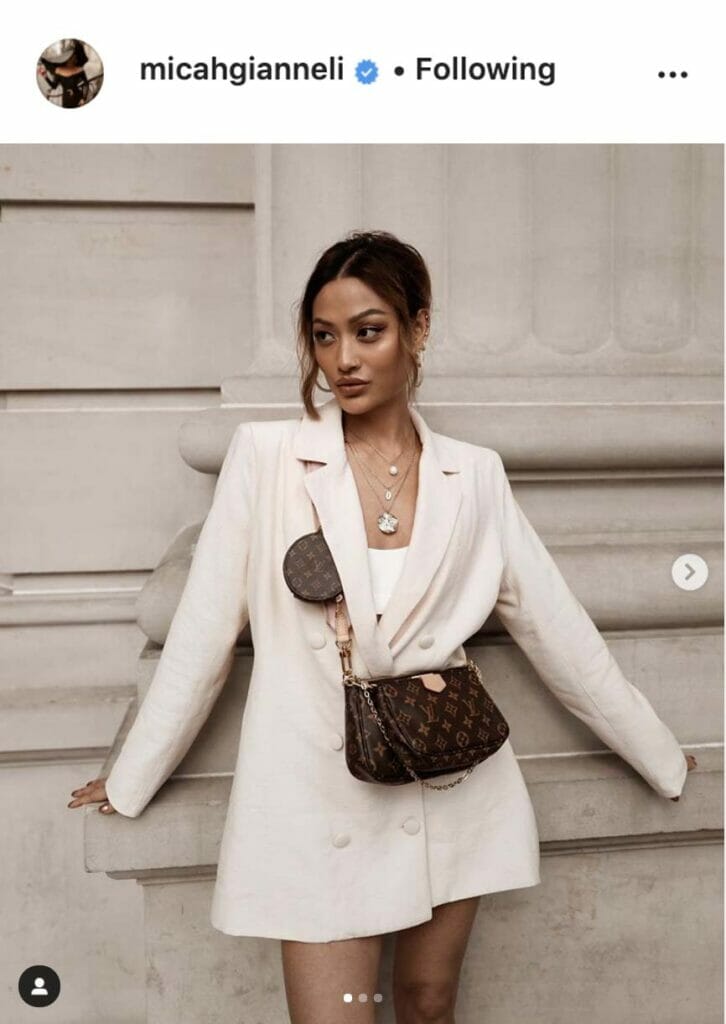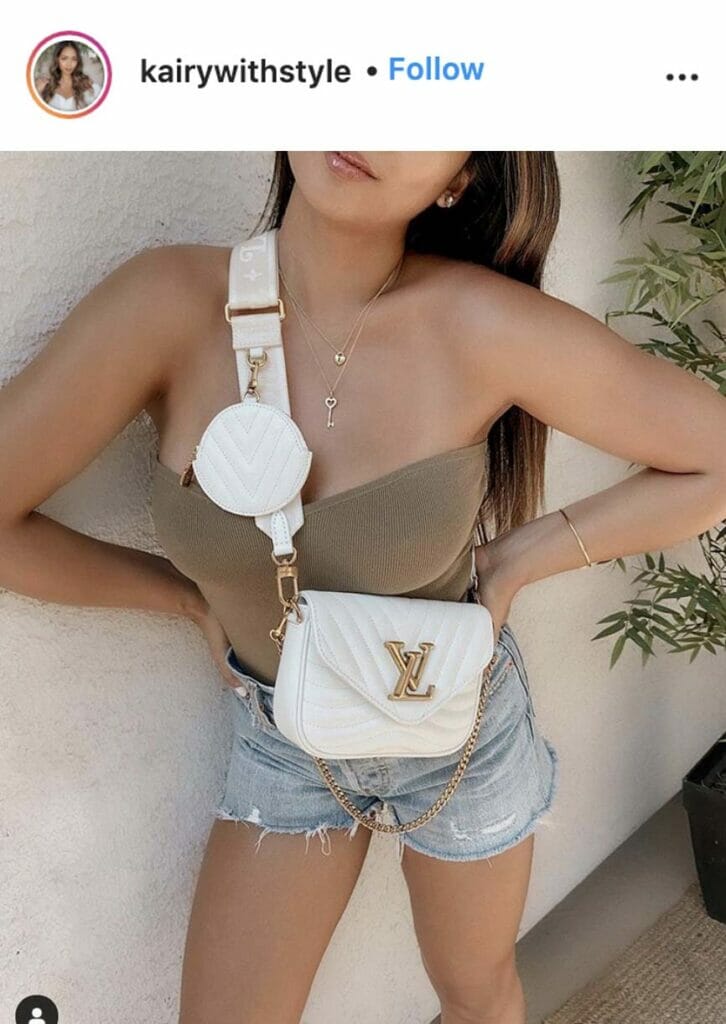 What fits inside the LV Multi Pochette Bag
Since this bag is made up of three smaller bags, we decided to take a look at what actually fits inside the multi pochette to determine what it would be most useful for.
The Coin Purse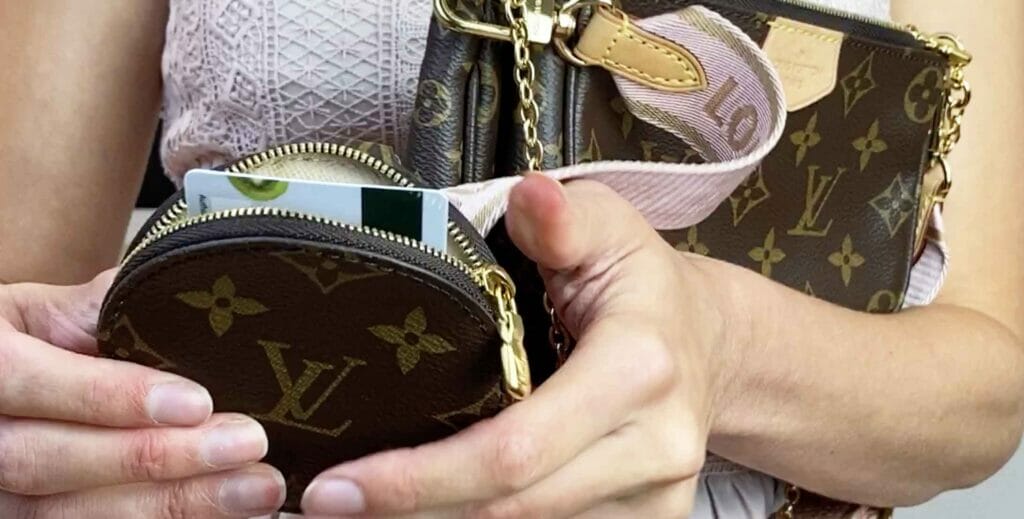 The Louis Vuitton coin purse that comes with this bag is 3.5 inches in length, 3.5 inches in height, and 0.8 inches wide. The coin purse is exactly what Louis Vuitton describes it as, it's a coin purse, and unfortunately not much use for anything else. To our total disappointment, the coin purse does not fit a standard credit card inside, which makes it close to useless other than for carrying cash. However, if you're like most people you'll already have a purse with your coins and cards inside, and won't be wanting them to be loose in the coin purse.
The Large Pochette Accessoires
The largest of the two pouches of this bag looks larger than what it actually is. Again, we were disappointed to try a standard purse size in this pouch and frustrated to see that it simply won't fit.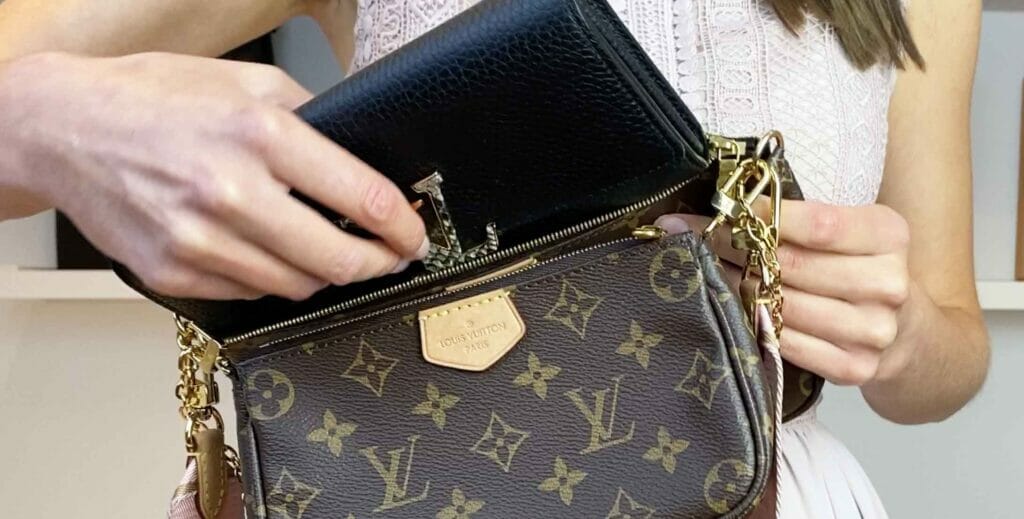 The larger of the two pochette pouches is 9.25 inches in length, 5.3 inches heigh and 1.6 inches wide.
This pouch is suitable for a small coin purse, mobile phone (including plus sizes), and other objects like a smallish bottle of perfume / deodorant / key will fit inside. It's worth noting that the stranger the shape of the objects you put inside, the more this pochette will look strange when in use.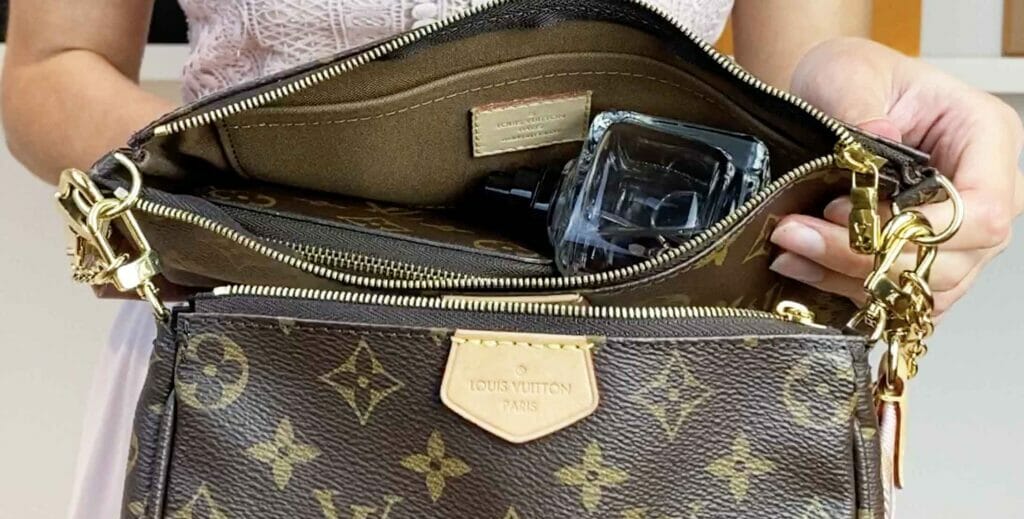 If you wanted to take just one pouch out as an evening bag, however, with the gold chain then it's worth noting that the larger pouch cannot be attached to the gold chain on its own. Again, this is a huge shame as your only options would be to take the mini pochette or both.
The Mini Pochette Accessoires
The smaller of the two pouches is the mini pochette which is 5.5 inches in length, 3.5 inches in height, and 0.8 inches deep. This mini pouch can also fit a small coin purse and other smallish, flat objects.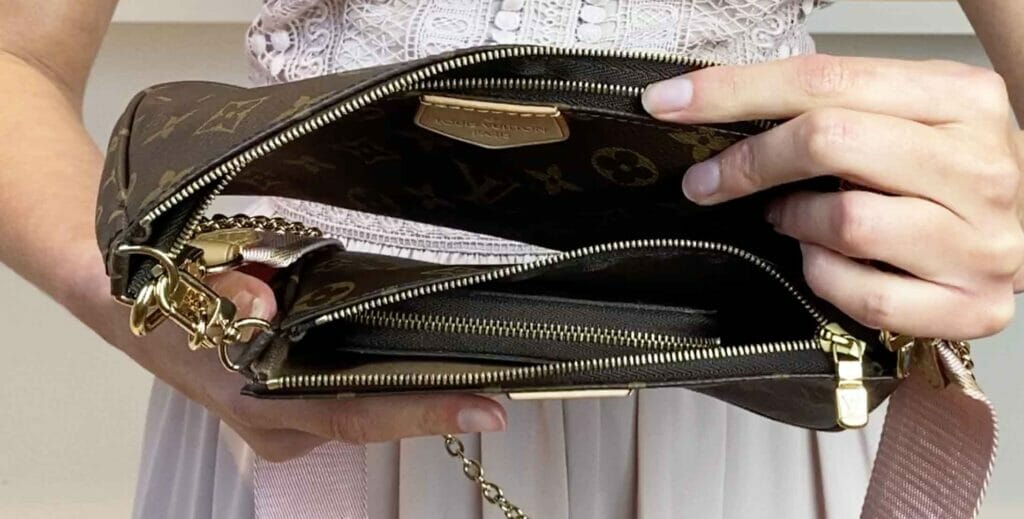 Louis Vuitton Multi Pochette Accessoires Bag Materials / Canvas Options
The original (and arguably most popular) multi pochette bag was released in monogram canvas, with a cotton strap. Later on the brand released the 'new wave' version which is made from leather instead of the coated canvas.
The monogram canvas option is still the most popular, due to its easily identifiable luxury logo, as well as being a very hard-wearing fabric that can take the stress and strain of every day life well and last for many, many years.
The leather versions however are arguably more 'luxurious', however, do have the properties any other leather bag has. Leather can be victim to colour transfer from clothes (avoid using the snow-white colour with black or blue jeans, for example), and can scratch over time. The new wave multi pochette bags will need slightly more care than canvas.
Which is the best Louis Vuitton Multi Pochette Accessoires Material to get?
If you're planning to use the bag daily, or on a very frequent basis then we advise going for a monogram canvas version of the multi pochette accessoires bag. The monogram also has a better resale value (currently fetching more than retail) than the leather new wave versions of the bag.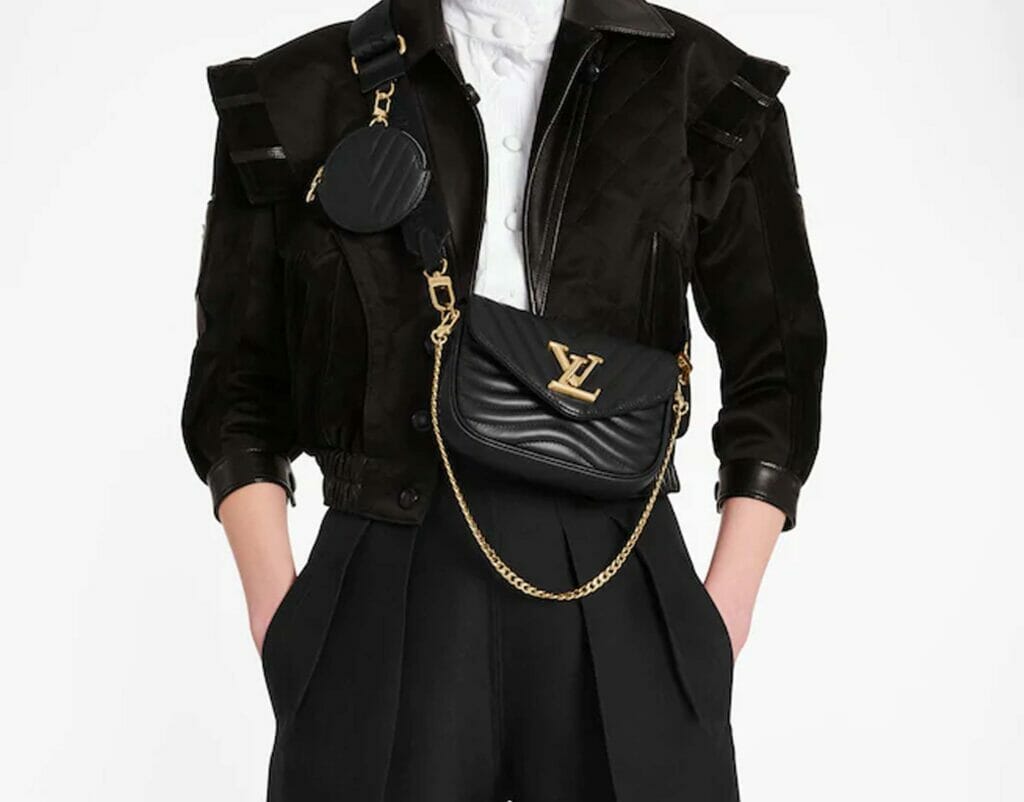 The new leather versions of the multi pochette bag offer more colour variations and will be seen less than the more popular monogram versions – making it more unique.
Ultimately, it comes down to personal preference and what colour bag would most suit your style and wardrobe.
How to Clean and Care for a Louis Vuitton Multi Pochette Accessoires Bag
Taking care of your new designer Louis Vuitton Multi Pochette Accessoires bag is paramount to preserve its good looks, structure, and re-sale value. Here are our top tips on taking care of and cleaning your new designer tote bag.
Regularly wipe the canvas or leather clean. Read our full guide on how to care for Louis Vuitton Canvas here.
Wither the leather handles and straps, always ensure your hands are clean and free of excess oil such as hand sanitizer/lotion.
Use a leather cleanser and conditioner on the leather parts of your bag (the full exterior of the bag if you have an emprinete version).
Get a handbag liner to protect the lining of your new LV multi pochette bag.
Use Brasso on any brass hardware to remove dirt and make the hardware much shinier.
Louis Vuitton Multi Pochette Accessoires Bag Organisers
Handbag liners are a must for any designer bag. At just a fraction of the cost of a designer bag, a liner will help your bag to maintain its structure and protect the lining from any unwanted dirt and stains.
Shop the best luxury handbag liners here >
Is the Louis Vuitton Multi Pochette Accessoires Bag a Good Investment?
As it currently stands, due to this bags' popularity it is a great investment. Despite it only being on sale for just over a year, the bag has seen some of the steepest (percentage wide) price increases across the entire range from Louis Vuitton, read the full details of the 2020 price increase here. This makes this bag a good investment, and due to its hard-to-get status, will often leave you in-pocket if you decide to sell.
A lot of people who have one of these bags will say they use it very frequently due to its versatility, so it can also be seen as a good investment if you know you'll get a lot of use out of it.
Where to Buy a Louis Vuitton Multi Pochette Accessoires Bag
The best place to purchase a brand new Louis Vuitton Multi Pochette Accessoires bag is directly from the Louis Vuitton website or a store, as Louis Vuitton does not sell via any other store. However, we all know that this bag is very rarely in stock, so purchasing a pre-loved option is the best way to obtain the bag if you'd like one sooner rather than later to enjoy.
Shop Louis Vuitton Multi Pochette Accessoires bags on eBay >