We think the neonoe bag could be one of the most underrated bags from the luxury brand, so lets deep-dive into how this bag originated and what styles are available in this Louis Vuitton NeoNoe review.
History of the LV Neo & NeoNoe Bucket bag
In the 1930s Gaston Louis Vuitton primarily made luxury travel bags, until 1932 when a client asked Louis to create a bag that could carry 5 bottles of champagne (a man after our own hearts!). This was when the Louis Vuitton Neo bag was born – the bag can carry four bottles of champagne in each corner and a fifth bottle in the centre of the bag when turned upside down. No one thought the neo bag had longevity, but fans soon fell in love with the style and the rest is history – cheers to that!
In 2017 the brand updated the neo bag and brought out an updated style, now called the neonoe bag. The key difference between the neo and the neonoe bag is that the neonoe has a zipped central compartment and no leather vachetta trim on the bottom of the bag. Quite frankly, we're SO glad they updated this bag, it combines a modern look with the versatility of the neonoe bag. After all, who doesn't need to carry bottles of champagne around with them?
An Honest Review of the NeoNoe Bag
Now let's get honest; is the Louis Vuitton NéoNoé actually a good bag?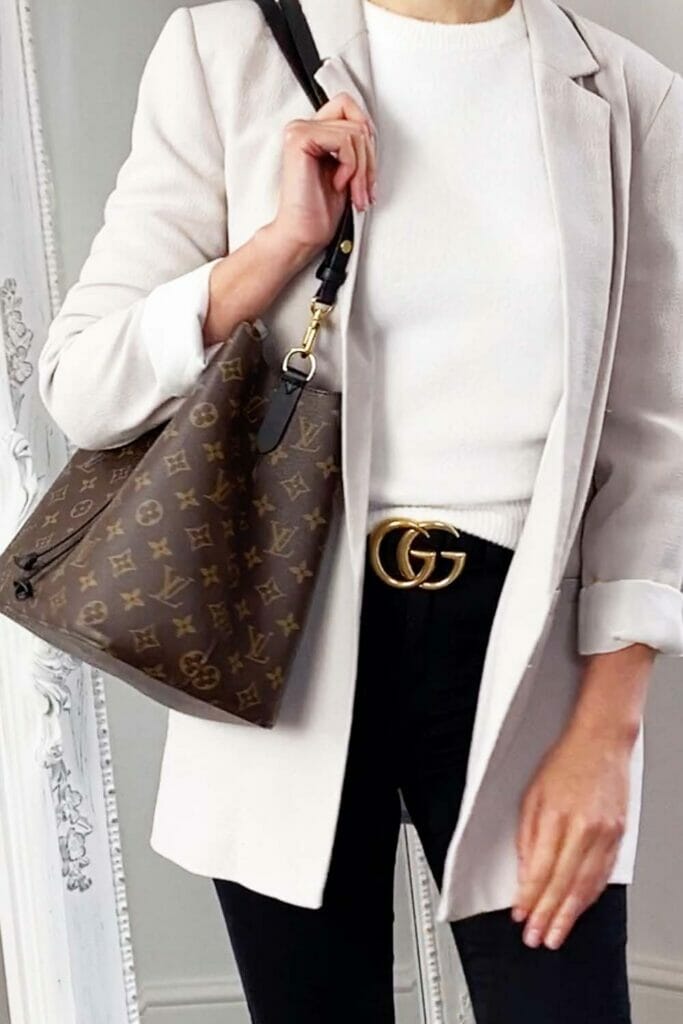 Personally, I debated getting this bag for years before actually buying one and I can now reveal that I wish I had purchased one sooner. This bag completely surprised me and is actually my most used designer bag.
Pros
It can carry all your everyday essentials
It holds its structure well and always looks good 
You can use the strap as a shoulder strap or adjust it to use as a crossbody strap
You have the option of attaching a different strap to the bag
The three compartments inside the neonoe bag allow you to organise your belongings
It can hold a full-size bottle of water
The central zipper compartment enables some security for a small purse and keys.
Cons
There are no protective feet on the bottom of the bag
The leather drawstring is thin and can be prone to snapping if not taking care of
This bag is generally lined with suede which can overtime show marks, particularly lighter colours
The glazing around the top of the bag can come away and show signs of wear
Louis Vuitton NeoNoe Bag Price Range Comparison
The Louis Vuitton Neonoe bag comes in various fabrics such as canvas and emprinete leather. Below is a table comparison featuring the range of Neonoe bags with prices, correct as of October 2020.
| | | | |
| --- | --- | --- | --- |
| Image | Style | Price £* | Price $* |
| | NÉONOÉ BUCKET BAG – Noir / Black | £1190 | $1780 |
| | NÉONOÉ BUCKET BAG – Rose Poudre / Pink | £1190 | $1780 |
| | NÉONOÉ BUCKET BAG – Coquelicot / Red | £1190 | $1780 |
| | NÉONOÉ BUCKET BAG – Caramel / Brown | £1190 | $1780 |
| | NÉONOÉ BUCKET BAG Damier Ebene Canvas | £1190 | $1780 |
| | NÉONOÉ BUCKET BAG EPI Leather | £1610 | $2390 |
| | NÉONOÉ BUCKET BAG Empreinte Leather | £1800 | $2700 |
| | NEW 2020 NÉONOÉ Monogram Braided handle | £1550 | $2320 |
| | NEW 2020 NÉONOÉ Damier Azur Braided handle | £1560 | $2320 |
| | NÉONOÉ BUCKET BAG Monogram World Tour | £1470 | $2200 |
| | Lockme Bucket Bag | £2050 | $3150 |
*Prices correct as of October 2020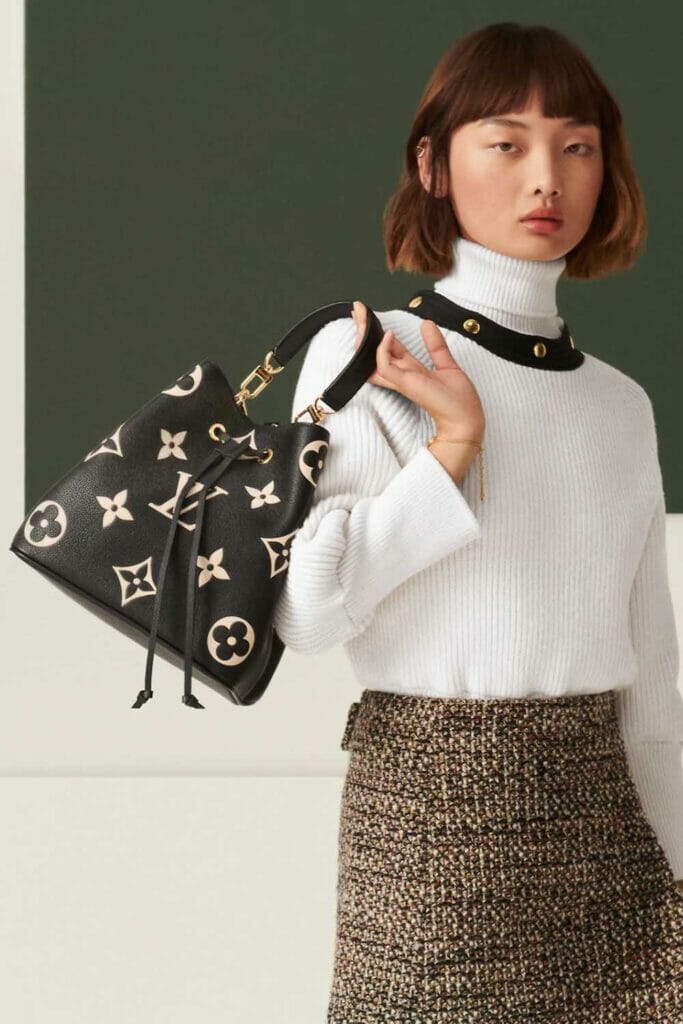 Louis Vuitton Neonoe Limited Edition Prints
In recent years Louis Vuitton has brought the neonoe bucket bag out in limited edition prints. The bag really lends itself well to fun, one-off collection prints with some of our favorites being the Escale (summer 2020) pastel colour and crafty giant monogram (Autumn/winter 2020). 
Listed below are a few of the limited-edition versions of the bag. If you are trying to purchase a style from a previous year you will need to shop on the Preloved market here.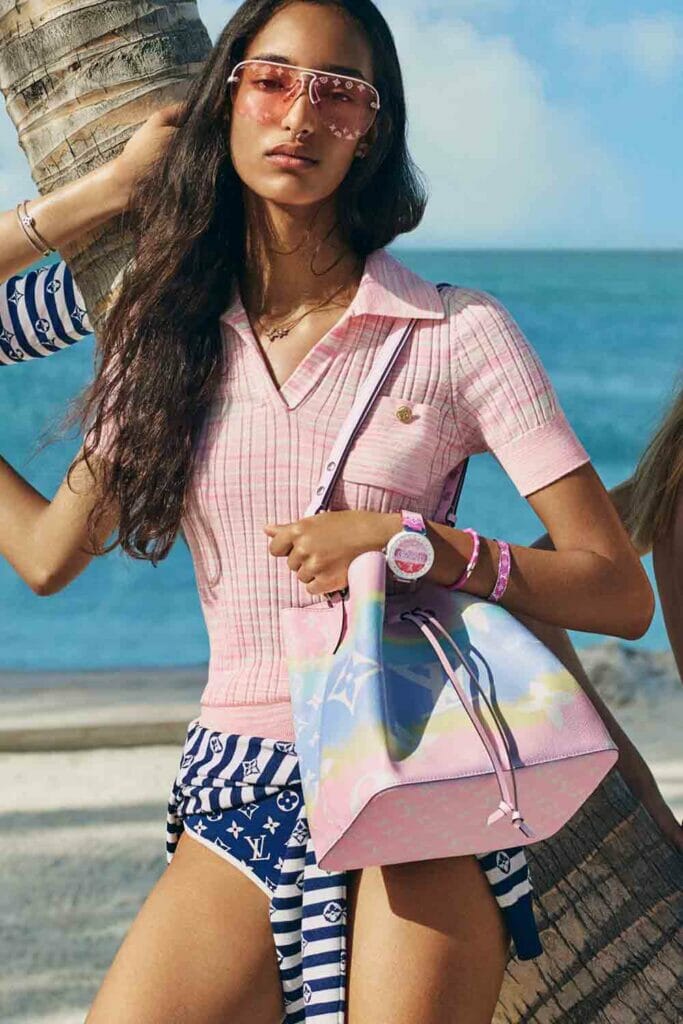 | | | | | |
| --- | --- | --- | --- | --- |
| Image | Style | Collection Year | Price £* | Price $* |
| | MNÉONOÉ BUCKET BAG – Escale | 2020 | £1590 | $UNKNOWN |
| | NÉONOÉ BUCKET BAG – Crafty Canvas | 2020 | £1600 | $2400 |
| | NÉONOÉ BUCKET BAG – Crafty Leather | 2020 | £2060 | $3100 |
| | NÉONOÉ BUCKET BAG – Jungle Print | 2019 | £1380 | $UNKNOWN |
| | NÉONOÉ BUCKET BAG – Summer Trunks | 2018 | £UNKNOWN | $UNKNOWN |
| | NÉONOÉ BUCKET BAG – Jeff Koons | 2017 | £UNKNOWN | $UNKNOWN |
*Prices correct as of September 2020
New 2020 Louis Vuitton NeoNoe Empreinte Leather Versions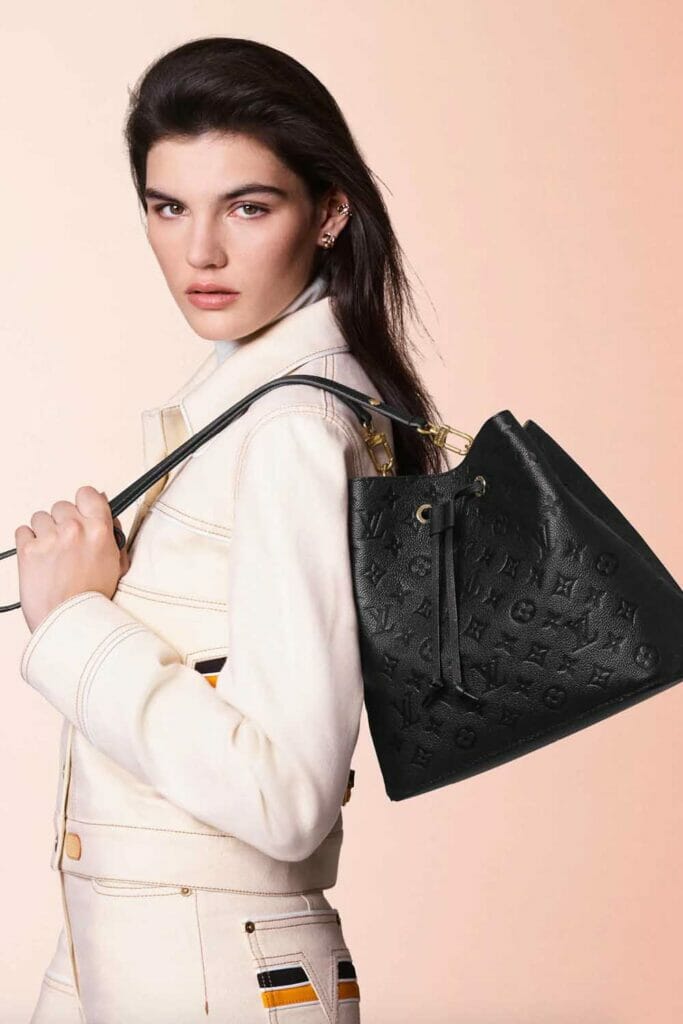 If you're looking for a sophisticated Louis Vuitton bag then the Embossed Monogram Empreinte leather neonoe bucket bag might be just the bag that you're looking for. This version of the bag is more understated than the brand's monogram canvas bag and is made from full leather. The leather is embossed with the monogram print and currently comes in 3 different colorways, including cream and tan, black and navy with red trim. Due to the nature of this bag being made from top-quality leather, it retails at a much higher price point than the standard monogram version, currently retailing at £1,800 in the UK. 
The cream and tan version has completely stolen our hearts (and it appears many others, as it's always SOLD OUT!)
Louis Vuitton Neonoe EPI Leather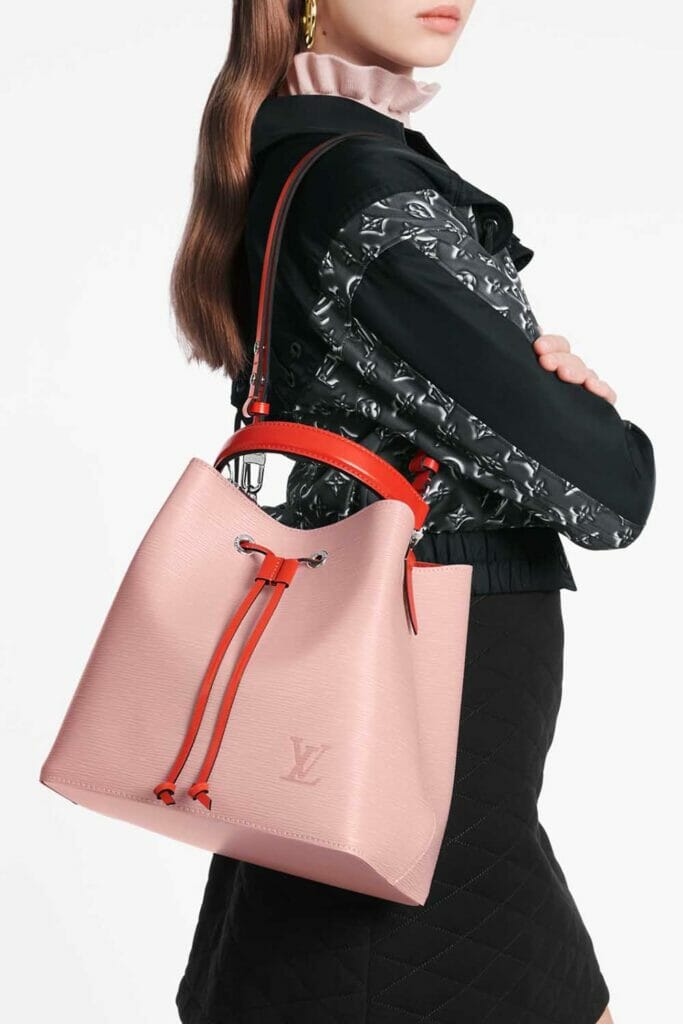 If you're looking for a designer bag that's more understated than the normal monogram canvas print, look no further than the neonoe in epi leather. The epi leather version of this bag comes in an array of colours including black, pink, red and blue. Due to the fact this bag is made from all leather as opposed to coated-canvas, it retails at a higher price point which is currently £1590 in the UK. 
EPI versions of this bag also come with a detachable shorter strap, which is perfect for wearing on the crook of your arm. It's worth noting that the monogram canvas versions of this bag currently do not come with this detachable smaller strap.
Louis Vuitton Neonoe Outfit
If you're looking for some inspiration on how to style the neonoe bag, watch our video on YouTube where I try the bag on with 11 different outfits. To demonstrate, I've worn the bag as both a shoulder bag and a crossbody bag to show how you can wear and style this incredible Louis Vuitton bag.
Louis Vuitton Neonoe Jungle Print
The jungle print neonoe is arguably one of the most popular limited edition prints that this bag has been brought out in. We were lucky enough to get our hands on the caramel jungle print neonoe bag, so before it sold I filmed a comparison video of the normal monogram and the jungle print. If you are looking for the neonoe bag in the limited edition jungle print from 2019,  we advise browsing a second-hand marketplace like Vestaire Collective or eBay.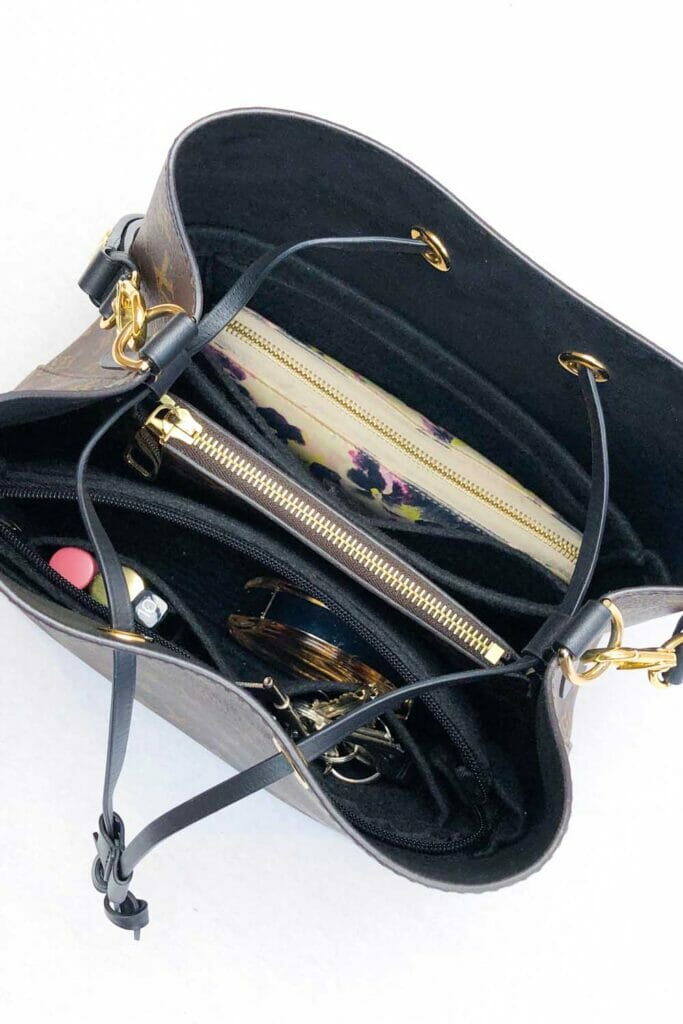 Louis Vuitton Neonoe Organizer
As with any designer bag we highly recommend purchasing a luxury handbag organizer for your new bag. A luxury handbag liner will not only help to protect the lining of your bag from dirt and stains, but it will also keep your belongings much more organized and accessible.
In some of the lighter coloured neonoe bags, they feature a lightly coloured suede leather lining and are therefore highly susceptible to dirt and stains ruining them. For a relatively small investment of a handbag organizer your bag will look a lot newer for longer and help increase the resale value of the bag – A good handbag liner will pay for itself!
Louis Vuitton Neonoe Mini
The nano Neo bag, which is a miniature version of the neonoe bag, was released in 2019 and retails at £755. This tiny bag is 5 inches in length, 5.9 inches in height, and 3.5 inches in width. This teeny-tiny bag can carry small essentials like your smartphone phone, keys, and a small purse. It features a drawstring closure and a non-removable, non-adjustable crossbody/shoulder strap.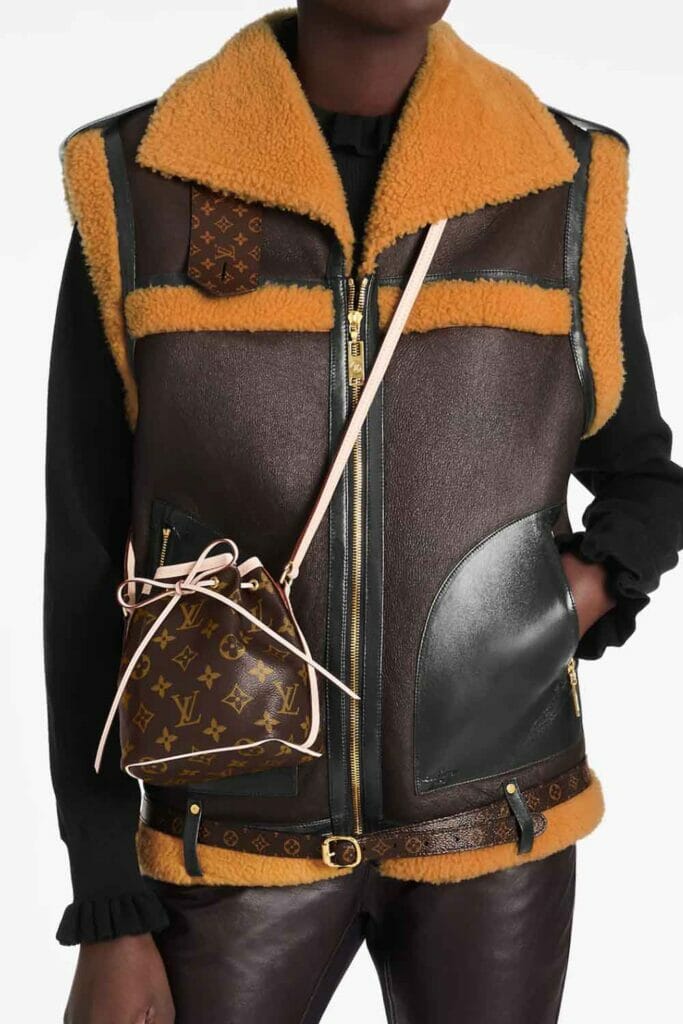 If you are looking for a super cute designer bag for small essentials, then this is a great bag to pick and will save carrying excess weight unnecessarily. 
Due to its popularity, the nano Neo bucket bag is often sold out, therefore, browsing the second-hand market is generally one of the best ways to get hold of this bag.
The difference between the Neo and NeoNoe Bag
The neo bucket bag was first designed by Gaston Louis Vuitton in 1932 for a client who wanted to transport 5 bottles of champagne. The Neo bag features a drawstring closure, leather shoulder/crossbody strap and a leather trim bottom.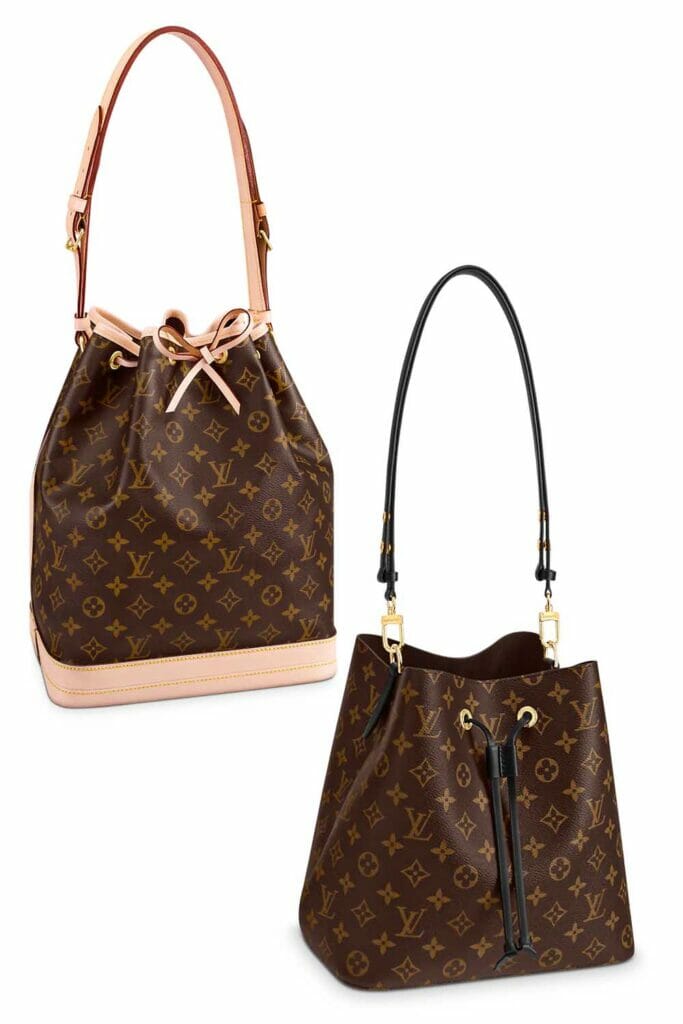 The neonoe bag is an updated and more modern looking version of this classic. The updated version of this bag features less leather on the exterior of the bag, and has a shoulder strap that can be adjusted easily with poppers rather than a buckle fastening on the neo bucket bags strap.
Whilst we recognise that the neo is a classic Louis Vuitton bag, we feel that the updated neonoe version will look better for longer and in general looks more on-trend.
It's also worth noting that the neo bag is only available in monogram and vachetta leather, but the updated neonoe bag features different colour leather trims and is often available in limited edition prints.
What fits inside the NeoNeo Bucket Bag?
This bag is a surprisingly roomy bag, perfectly capable of carrying everything you need and more. The bag generally consists of two larger compartments (it does differ depending on the style you purchase), and a smaller zipper compartment in the centre of the bag.  In the two larger compartments you can fit things like a full-size water bottle, an A5 diary, and a book. In the centre zipper compartment, you can fit smaller items that are flat. The zipper compartment for example would be great to keep a small zip purse and a small set of keys.
It's worth noting that a plus-size iPad add or laptop won't fit in the neonoe bucket bag, but a normal or mini size iPad will.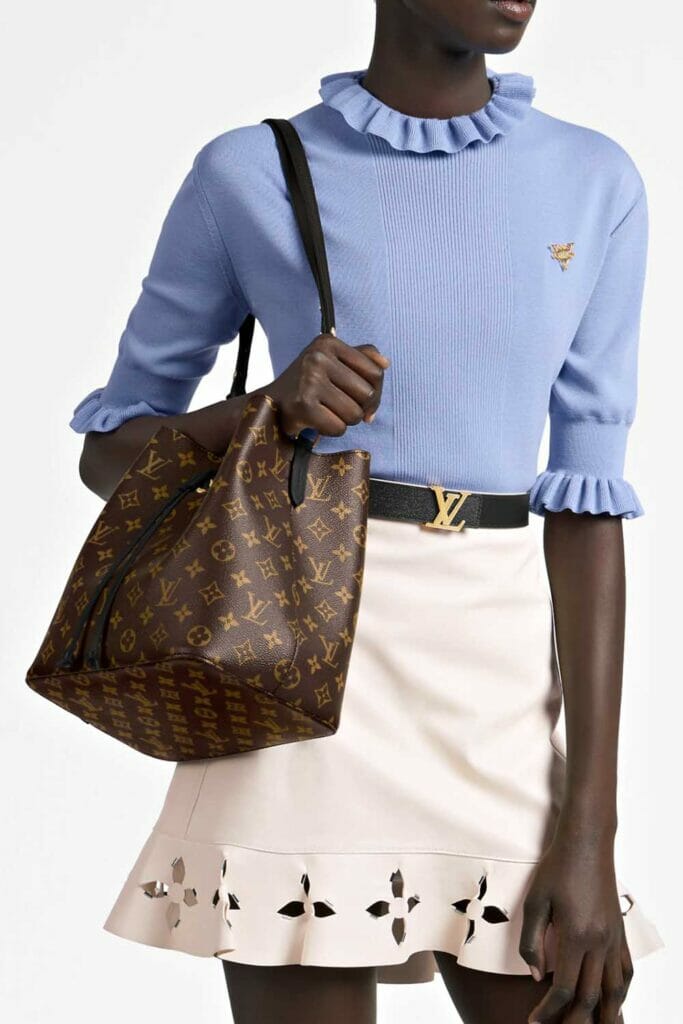 Is the NeoNoe Bag a good investment?
We definitely think so! This bag is incredibly versatile and suitable for everyday use. It's not as common as the Neverfull or Speedy bag and in our opinion, it looks better and you are less likely to see someone else wearing the same bag.
The resale value of a Neonoe bag is generally good. Whilst the bag remains in stock most of the time, (therefore you won't get more than RRP if it is), the bag is generally very popular and even on the resale market will command prices near the recommended retail price.
Louis Vuitton Neo Noe Date Code
The date code location in the Louis Vuitton neonoe bucket bag is inside the zipper compartment in the center of the bag. The date code should be on a leather tab stitched into the side seam of the center compartment. To understand the date code in your Louis Vuitton Neonoe bucket bag, head over to our Louis Vuitton date code checker where you can enter your date code for free to find out when and where your Louis Vuitton bag was made.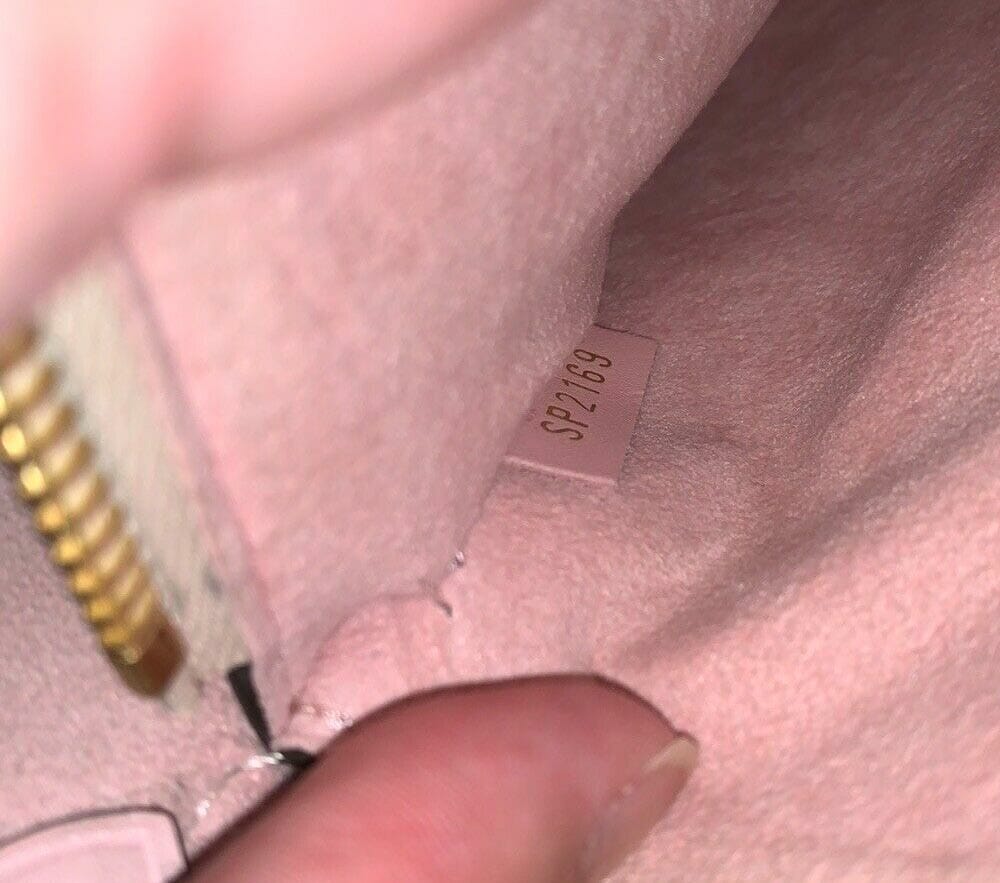 Where to buy a LV NeoNeo Bucket Bag
As with all Louis Vuitton bags the neonoe bucket bag can be purchased directly from a Louis Vuitton Boutique or on their website. If you are looking for a sold-out or limited edition neonoe bucket bag, you will have to buy a preloved bag. The best places to purchase a neonoe bag, if it's not available on the Louis Vuitton website are Vestiaire Collective and eBay. 
If you are purchasing a preloved designer bag we highly recommend using a professional authentication service to confirm that the bag you have purchased is authentic. For a list of the best and most reputable authenticators, visit our best authentication services page here.