The Louis Vuitton Capucines Bag 
Louis Vuitton is a fashion house best known for its handbags, specifically the ones covered with the LV monogram which many of us coveted back in the 90s, but here we're focusing specifically on the Capucines handbag style.
First released in the A/W 2013 collection, this design was named specifically to pay homage to the street on which the first Louis Vuitton shop stood, in 1854 – Rue des Capucines, a street in Paris. This tribute to the past has fast become a highly sought after classic, and with artist collaborations "Artycapucines" (1) and limited edition designs, the desire to own one of these elegant and stylish bags has increased tenfold.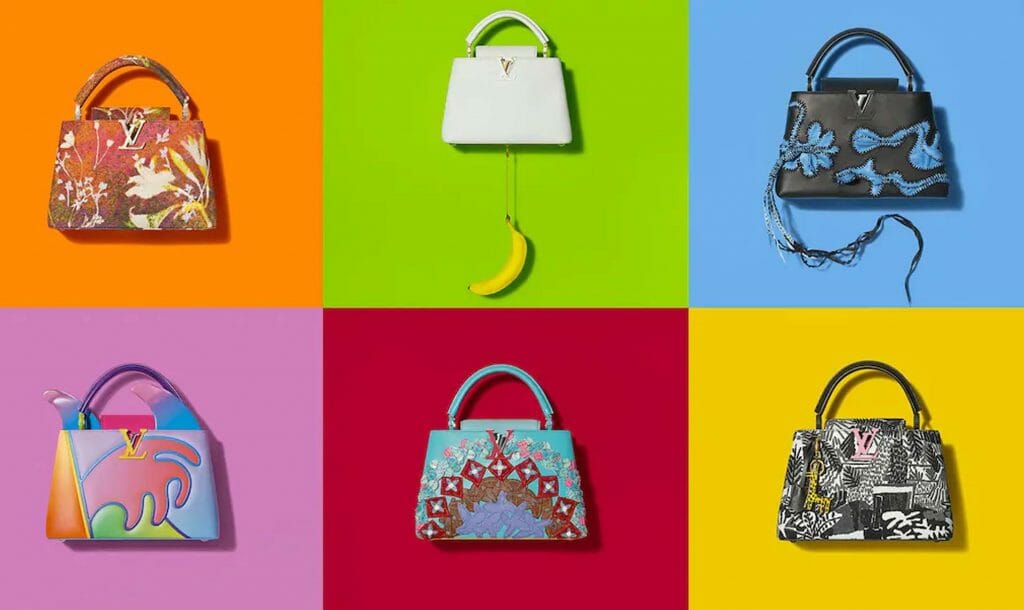 Why the Capucines Bag? This bag's distinctive, almost vintage-styled design and silhouette goes perfectly with so many styles of clothing and stands the test of time. The obvious longevity of the Capucines handbag design (7 years strong already) means that it would be ideal to add to your collection – with a variety of fabrics, colours, and designs to choose from, you can make a clever investment while sticking to your signature look.
Check out our Pros and Cons later in this post to find out our favourite and least favourite things about the Louis Vuitton Capucines handbag range.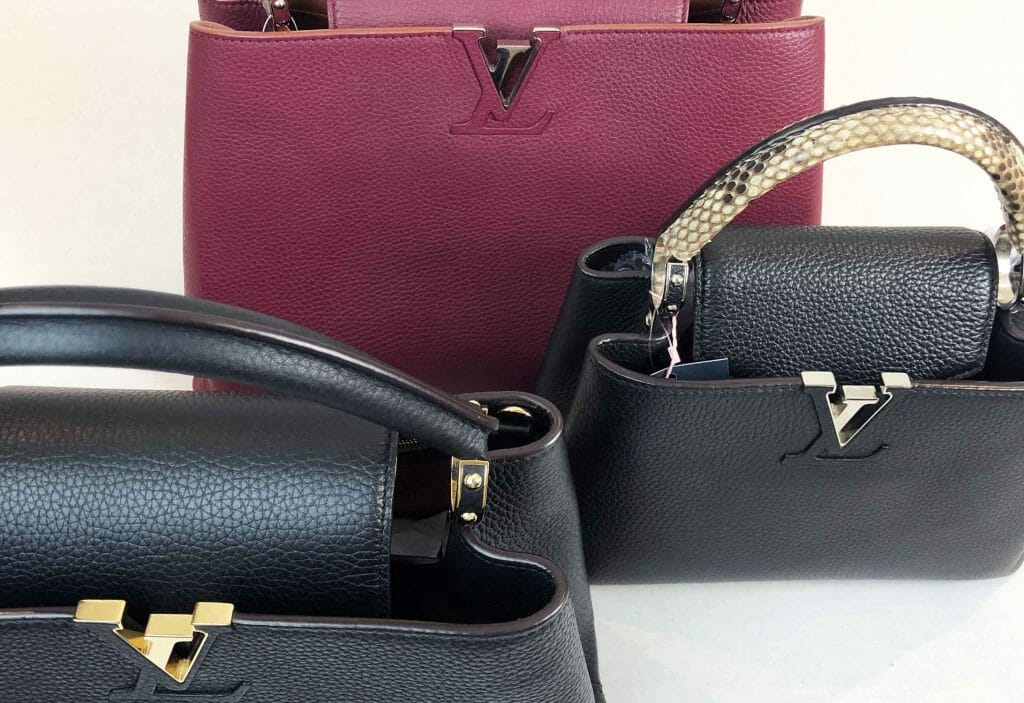 Louis Vuitton Capucines Size Comparison
Each of the Capucines family has the same boxy shape and the Louis Vuitton monogram, there's also a flap which can be worn over the outside or left inside of the bag and each size has a semi-rigid handle attached with studded rings (2).
With the capucines available in so many different styles and sizes, it's important to get the perfect sized Louis Vuitton capucines for you, so we've pulled together the below table to help you compare the five different Capucines handbag sizes.
| | | | | | | |
| --- | --- | --- | --- | --- | --- | --- |
| Image | Capucines Size | Length | Height | Width | Weight | Price (Base model price) |
| | Capucines Mini | 8.27 inches / 21 cm | 5.51 inches / 14 cm | 3.15 inches / 8 cm | N/A | £3,350 |
| | Capucines BB | 10.5 inches / 26.5 cm | 7 inches / 17.5 cm | 4 inches / 10 cm | Approx. 800 grams | £3,650 |
| | Capucines PM | 12 inches / 30 cm | 7.5 inches / 19 cm | 4.5 inches / 11.5 cm | Approx. 950 grams | £3,650 |
| | Capucines MM | 14 inches / 35.5 cm | 9 inches / 23 cm | 5.5 inches / 14 cm | Approx 1500 grams / 1.5 KG | £3,700 |
| | Capucines GM | 15.7 inches / 40 cm | 10.6 inches / 27 cm | 6.3 inches / 16 cm | N/A | No Longer Available |
*Prices correct for basic leather models of the capucines as of January 2020 (not exotic skin or limited edition versions). Please refer to the Louis Vuitton website for the latest capucines range available and prices.
Important Points when choosing your Capucines Size
The Mini and MM sizes are suitable for essentials only and will only carry smaller items. These sizes are perfect for the evenings.
The PM size is a great sized bag that can fit larger sized essentials (such as a full-sized purse), without the weight increasing massively from the BB.
The MM size is much larger and can fit everything inside, however, it won't fit a full-sized laptop (13 inches), but would be suitable for a smaller notebook or tablet. This bag however increased significantly in weight, so this should be considered.
The GM size is the workhorse of the Capucines world. It can fit everything, however, suffers from being so large that weight again can be an issue.
Louis Vuitton Capucines Size Comparison Video
To see the Louis Vuitton Capucines bag in action, watch our video comparing the BB, PM, and MM sizes side by side to help you pick the perfect size for you.
What fits inside the new Capucines Mini Bag
The baby of the Capucines family is relatively new to the fashion world and it comes in the form of the Capucines Mini. This small handbag is great for anyone who likes to travel light, but still, in style – the Mini is available in some really great prints and fabrics, including exotic leathers. 
When it comes to what you can fit into the Louis Vuitton Capucines Mini, you will definitely get a small purse or wallet, your phone and perhaps a small perfume bottle and a lippy, but not much else. Opt for the Mini if you plan on using this bag for special occasions, where you don't need too much with you.
What fits inside the Louis Vuttion Capucines BB Bag
The Louis Vuitton Capucines BB is the ideal size for those on the go and has a zipped pocket internally for important items, such as money and bank cards. It easily fits a small purse (a large zip-around purse takes up a lot of room) or wallet, your phone, a small perfume bottle, your keys, a packet of tissues, deodorant, lipstick, eyeliner and perhaps even a small eyeshadow. This is quite a lot for one of the smallest of the Capucines – so if you know you travel with more, then perhaps the PM or MM size would be the one for you.
Something to note about the Capucines BB is that the crossbody strap is not adjustable, so you may want to purchase a separate strap with a buckle if this is a problem for you.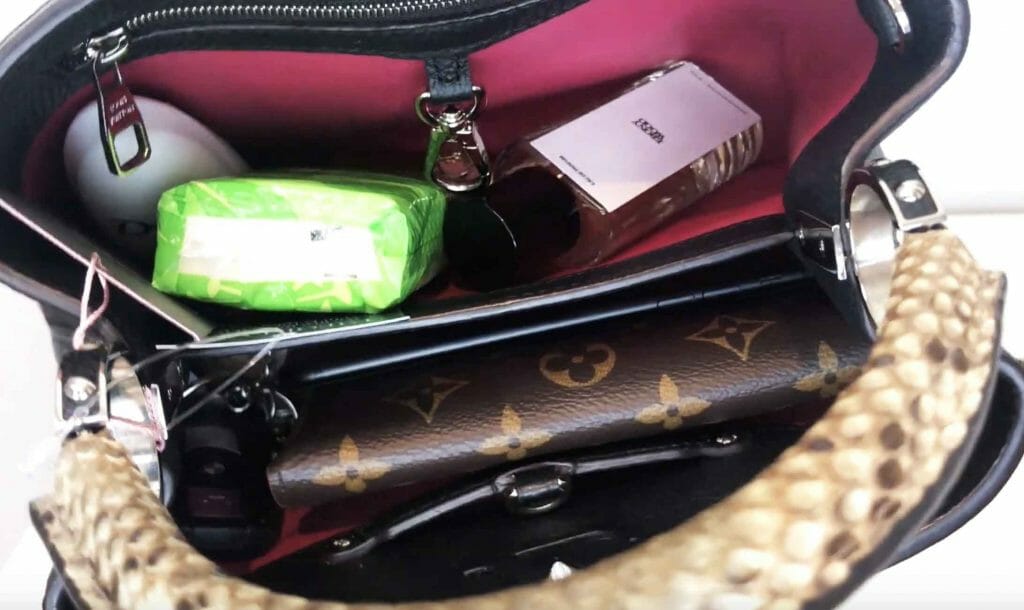 What fits inside the Louis Vuitton Capucines PM Bag
The PM size also features a handy zipped compartment at the back, which can be used to keep your cash or even your phone. If you tend to carry a little more with you, then this bag is perfect! You can comfortably fit in an A5 diary, iPad, your phone, a large purse, perfume, your keys, a packet of tissues, deodorant and a couple of makeup items. The Capucines PM does get a bit heavy when full, so it might be best not to carry a diary and an iPad at the same time if you intend to carry this bag for a long portion of the day.
Unlike the BB, the Capucines PM does have an adjustable strap and also, the handle drop is larger, so it is very easy to "throw" into the crook of your arm.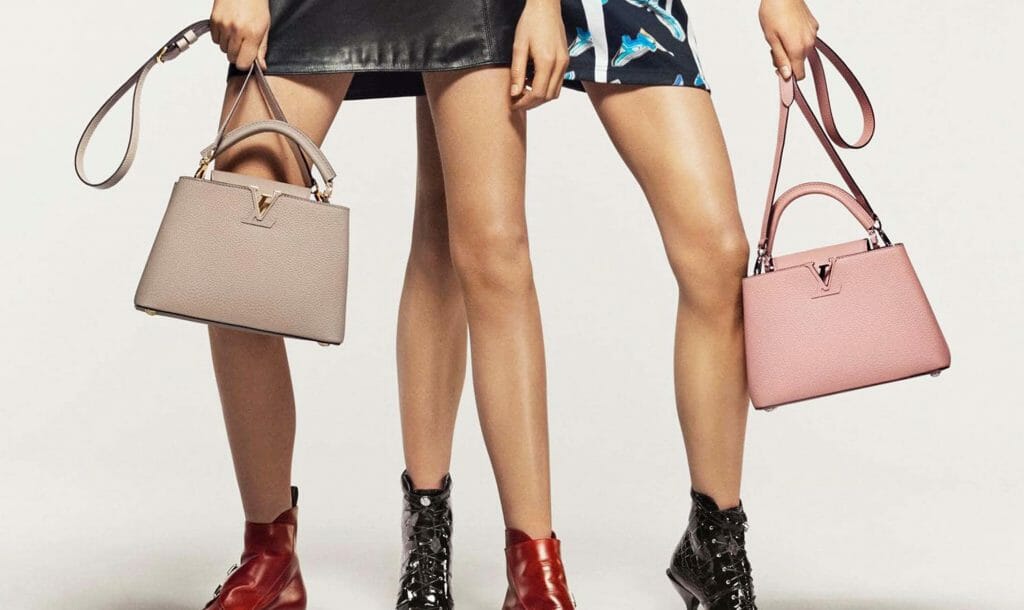 What fits inside the Louis Vuitton Capucines MM Bag
The second largest of the Louis Vuitton Capucines family is the MM, which is very obviously larger both visibly and in weight – it's a whole 450g heavier than the PM size. Rather than having a zipped pocket at the back of the bag, it is in the centre (between the two main compartments) and there is an open pocket to the back of the bag instead.
Despite being considerably larger, this bag will not fit a laptop inside, so it would not be the best choice for those who need a bag for work (check out our post on the Givenchy Antigona handbags here which make great work bags)! What you can fit into the Capucines MM is an A5 diary, an iPad, a large bottle of water, your keys, a packet of tissues, deodorant, perfume, makeup, a large purse and your phone – all this and room to spare!
The Capucines MM doesn't actually come with a crossbody strap at all, so you would have to purchase a strap separately if this is how you would intend to wear the bag. Due to the size of the bag and its handle, however, it does sit well in the crook of the arm. We wouldn't recommend trying to wear it over your shoulder as is, because it really isn't comfortable sitting so closely under your arm.
What fits inside the Louis Vuitton Capucines GM Bag
The largest of all of the Capucines is the GM size, however, it is no longer available to purchase on the Louis Vuitton website, so will be harder to get a hold of. There will be pre-owned Capucines GM bags on some of the high-end resale websites, but you will be hard pushed to find a new model.
This bag should fit in a small to an average-sized laptop (13-15"), a notebook or diary, your phone, a large purse, a large water bottle, keys, an iPad, some tissues, deodorant, perfume and makeup. Do bear in mind that this bag is already quite heavy, even when empty, so filling it to full capacity could see you with a sore arm by the end of the day! 
Again, no over-shoulder strap comes with this handbag, so you would have to purchase one separately if you did want to wear the GM crossbody or over your shoulder.
Louis Vuitton Capucines Fabrics 
As we mentioned earlier in this post, the fabrics used to manufacture the gorgeous Capucines bags are of the utmost quality, some designs even feature exotic skins and one comes with silicone fruit and veg which you can suspend below the bag with a gold chain… yes, there's a design for everyone! 
The signature look of the Capucines bag is made using strong, bull-calf leather for the exterior, with a softer, more silken calfskin on the interior (Reference 3), but there are a myriad of intriguing and limited edition designs on offer, which means the different finishes, fabrics, and colours are almost endless, so let's take a look at these amazing leathers and fabrics in a little more detail.
Image of Capucines Fabric
Name of Fabric
Key Features
Full- Grain Taurillon Leather
– Supple
– Thick and Heavy
– Durable
– Attractive grain pattern
Smooth Calf
– Firm
– Soft to the touch
– Reduced grain pattern
– Slight shine to the surface
Lambskin
– Firm
– Glossy Finish
– Smooth and soft to the touch
Patent Crocodile
– Firm
– Highly shiny
– Smooth, reflective, lacquered surface
– Attractive texture/pattern
– Highly prized exotic skin which is incredibly expensive
Ostrich
– Exotic & Rare/Expensive
– Supple
– Durable
– Unique, small bumps on surface
Python
– Exotic & Rare/Expensive
– Durable
– Water-resistant
– Unique snakeskin patterning
Lizard Skin
– Exotic & Rare/Expensive
– Durable
– Water-resistant
– Unique skin patterning
Various Furs
– Exotic
– Quirky & Unique
– Soft
Tweed
– Classic & Traditional
– Hard-wearing
– Scratch-resistant
Sequinned Fabric
– Stand-out and Interesting
– Party perfect
Is the Louis Vuitton Capucines Handbag a Good Investment?
The Louis Vuitton Capucines bag is definitely a great investment in our eyes – it's a timeless style, it's practical and it has already been a key Louis Vuitton handbag style for 7 years and counting. 
If you buy bags as collector's pieces with no intention of wearing/using them, then you might want to opt for one of the quirkier or limited edition designs, as they will more than likely increase in value as they become more and more "vintage". 
If wearing your bags is more your… bag… then buying the Capucines in your favourite size is a good idea – if you know you will use it and you look after it well, you could recoup some of your money back selling it later down the line, if you even want to sell it that is.
Where to Buy a Louis Vuitton Capucines Handbag
The Capucines is probably one of the more high-end bags being sold by Louis Vuitton, as the use of exquisite quality materials and exotic leathers is just so special. You will need a healthier bank balance if you want to get your hands on one of these gorgeous bags, but luckily it is available in multiple sizes and styles to suit your budget. 
If you've fallen hard for the structured, boxy design, subtle LV monogram and glitzy hardware then you can grab yourself a Louis Vuitton Capucines handbag on our site if we have one in stock here.
Handbagholic has an everchanging stock of new and second-hand designer handbags and other luxury items. So why not sign up to our email newsletter or subscribe to our YouTube Channel to make sure you don't miss out on your favourite designer brands as and when we get them – they don't hang around for long!
Louis Vuitton Capucines Handbag Pros and Cons
We've come up with a few pros and cons of the Louis Vuitton Capucines bag family which might help you make your decision when it comes to spending a fair amount of hard-earned cash on a new handbag.
Capucines Bag Pros:
The bag holds its shape really well, even when they are full.
The Capucines design is elegant, sophisticated and timeless.
It goes perfectly with lots of clothes and fits alongside many styles.
It's understated – the logo is coverable (with the flap) if you did want to.
The flap of the bag gives added security.
They come in a multitude of styles – including limited editions and artist collaborations.
There is a vast choice when it comes to the bag's colour and fabrics.
Most come with a shoulder strap which is detachable – perfect for preserving exotic handles or for wearing to different occasions.
Every bag is lined with leather so it is soft and hard-wearing and gives the bag a real luxe finish.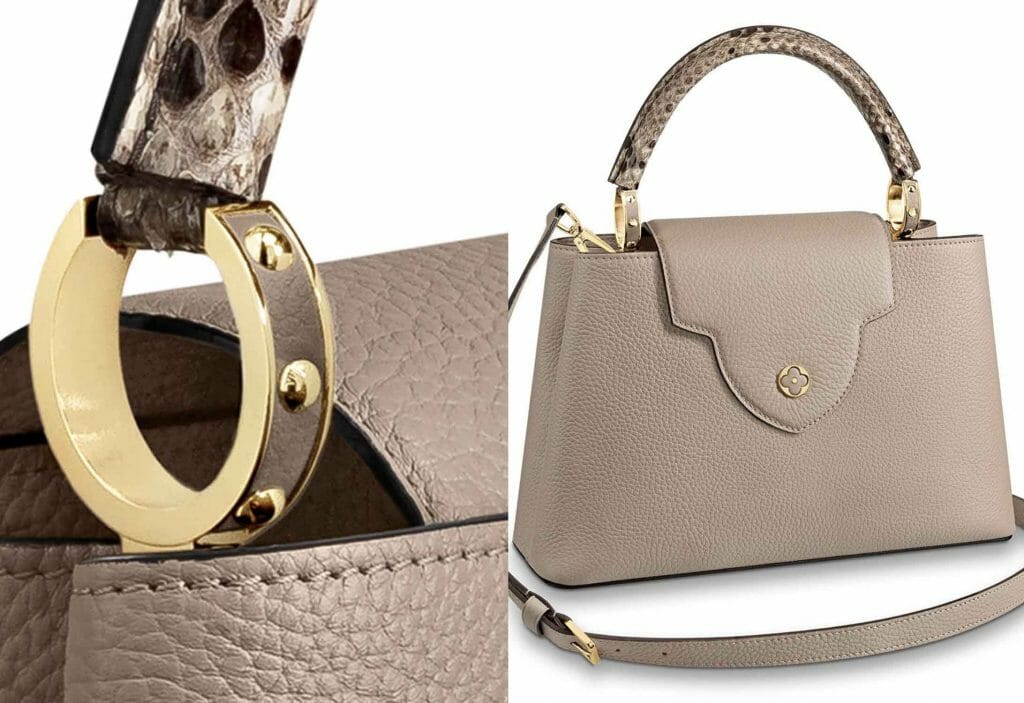 Capucines Bag Cons:
Bigger bag = heavier bag (the weight of the PM to MM is a huge jump) – and quite noticeably so.
As mentioned earlier, the MM doesn't come with a crossbody strap so you would have to expend more money when you buy one separately.
The bags which have a handle in an exotic skin finish will be subject to obvious wearing over time from carrying it and exposing to the elements – this limits when and where you can wear it slightly.
The glazing (around the opening of the bag and any raw leather edges) cracks quite obviously with extended use of the bag – this can decrease value or appeal to some, so it must be stored with good ventilation to avoid excess cracking.
The Capucines PM size especially (but BB too) has a little bit of a slouched shape to the front corners – it folds and dints in on the corners due to the weight of the leather of the bag. It would be best to pad out your bag with bubble wrap or tissue when you store it.
How to clean Louis Vuitton Capucines Taurillon Leather
It is important to clean your Capucines handbag relatively regularly if you tend to use it quite a lot, as grime and dirt can build up from handling and from the outside elements. Regular cleaning can extend the life of your bag, as long as you use the correct cleaning supplies.
Check your bag every few days for scuffs or stains and do spot cleaning when necessary. At least once a month, do a full clean of your handbag to keep it looking at it's best – any more frequently and you could risk weakening or wearing the leather (reference 4). Remember to lightly dust the interior of your handbag, as debris can build up – you can use a feather duster or a lower-powered vacuum cleaner.
Don't use products with alcohol, perfumes or chlorine. This handbag cleaning kit is ideal for the Taurillon leather which a lot of Capucines bags tend to be made out of.
There are 3 simple steps to using a leather cleaner, conditioner and protector on your Capucines bag:
Use the deep cleanser and lightly clean the entire handbag with a soft, dry cloth to remove dirt and debris.

Next, condition the leather with the deep protection conditioner. This luxurious protection cream re-instates the leather scent back into old and new leather products.

Let the handbag air-dry and leave the conditioner to start nourishing the leather. After 10 minutes, we advise gently buffing the conditioner away with a clean, dry cloth before storing your leather product away in a dust bag with any other precautions you usually take when storing your bag.
For extra cleaning and maintenance advice, specifically for Louis Vuitton handbags, then take a look at the official brand website's care and cleaning FAQs. 

References
(1) https://uk.louisvuitton.com/eng-gb/articles/arty-capucines-introducing-the-collection; Louis Vuitton: LV Now; January 6th 2020
(2) https://www.pursebop.com/will-the-louis-vuitton-capucines-be-lvs-next-classic/; Maura Carlin – Editor; November 2nd 2015
(3) https://www.purseblog.com/louis-vuitton/louis-vuitton-capucines/; Megs Mahoney Dusil; July 1st 2014(4) https://baghunter.com/blogs/insights/how-to-clean-maintain-designer-handbags; Baghunter; July 2016