The Saint Laurent Sunset Bag
Are you looking for a designer bag that constantly looks great and can go from day to evening effortlessly? Then look no further than the Saint Laurent Sunset Bag.

The YSL sunset bag was first released in 2016 and is arguably the BEST style of bag currently available. It features the Iconic YSL logo on the front, an easy-to-use flap opening, and has a long chain strap which means that the sunset bag can be used as a shoulder or crossbody bag.
YSL Sunset Bag Review Video
In one of my latest YouTube videos, I review the Yves Saint Laurent sunset bag in more detail and show you a size comparison between the medium and wallet-on-chain sunset bags. The review video features a look at both of these sizes of the sunset bag, pros and cons, and some outfit videos for inspiration. 
Overall I think the Saint Laurent Sunset bag is a great investment. Whilst they come in a wide range of colors and materials, I personally prefer a classic look when it comes to designer bags so I can use them as much as possible for as long as possible. For me the medium sunset bag is perfect, it can fit a lot inside and is my go-to evening bag.
 Watch the full video on YouTube here.
YSL Sunset Bag Pros & Cons
I've had my medium Sunset bag for over a year now and wanted to highlight some of the pros and cons that I have experienced whilst owning this bag.
Pros of the YSL Sunset Bag Include:
 It keeps its structure no matter whether the bag is empty or full
 It makes a great day bag, as well as an evening bag
 The chain strap enables it to be worn in multiple different ways
Wide range of sizes
 Extensive range of colours with different hardware colors to suit your personal preferences
 Cons of the YSL Sunset Bag Include:
The larger sizes of this bag can be quite heavy
You need to make sure the closure has fully clipped or the flap won't be secure
The smooth leather does show up dints, so be careful what you place inside the bag.
YSL Sunset Bag Size Comparison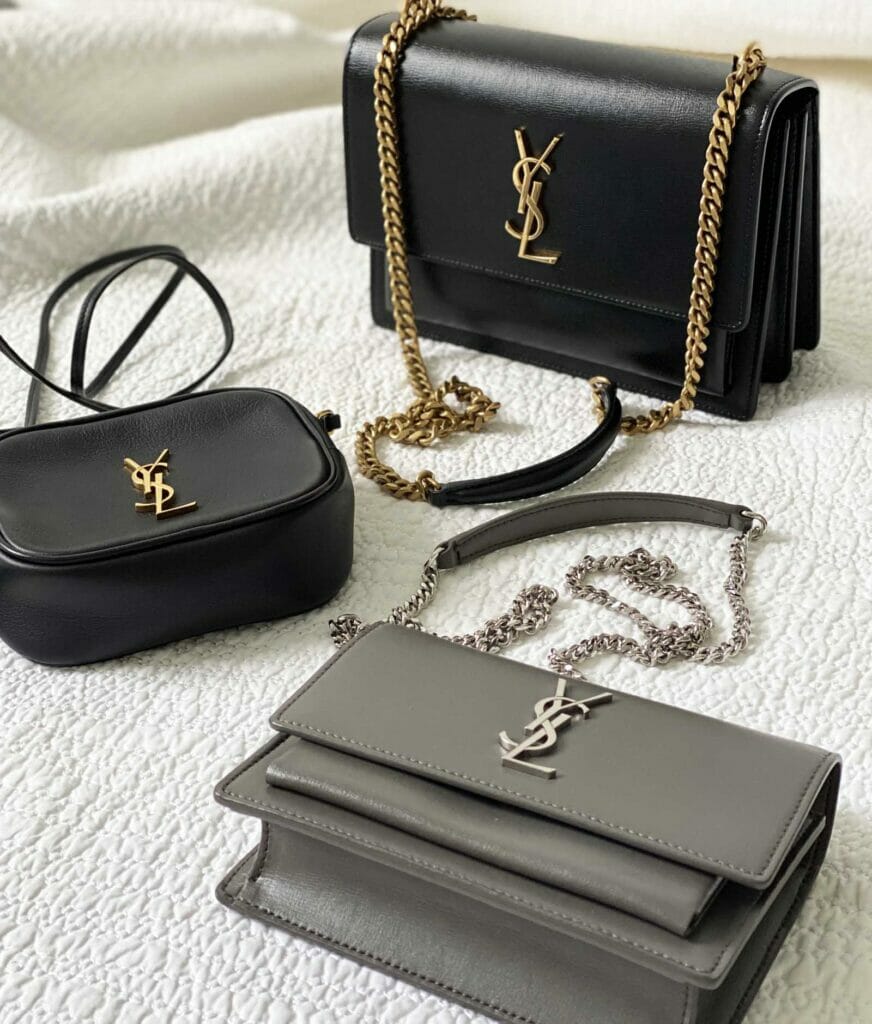 The YSL sunset bags come in a variety of sizes to suit all occasions and preferences. Below, we will cover all the sunset bag sizes revealing their dimensions, what fits inside each of them, and what occasions each size is most useful for. 
YSL Sunset Large Bag
The largest option for the Saint Laurent Sunset bag, this bag is large enough for everyday essentials such as a purse and note pad, but not large enough for a laptop. The large size is appealing due to its good looks, but it is heavy even when empty.
DIMENSIONS: 27 X 18 X 8 CM / 10.6 X 7 X 3.1 INCHES
Two central compartments
One pocket on the back
One open pocket on the inside of the bag
What fits inside the Sunset large size?
Everyday essentials fit inside the large Saint Laurent sunset bag, including any sized mobile phone, a smaller iPad, note book and full-size purse.
The Best Occasions to Use a Sunset Large Bag
The large Saint Laurent sunset bag is often used more as a day-time bag, when you might need to carry more items. With its classic and elegant look, it could either be the perfect work-bag to smarten up any outfit as well as transition well to glamorous day-time lunches.
YSL Sunset Medium Bag
DIMENSIONS: 22 X 16 X 8 CM / 8.6 X 6.2 X 3.1 INCHES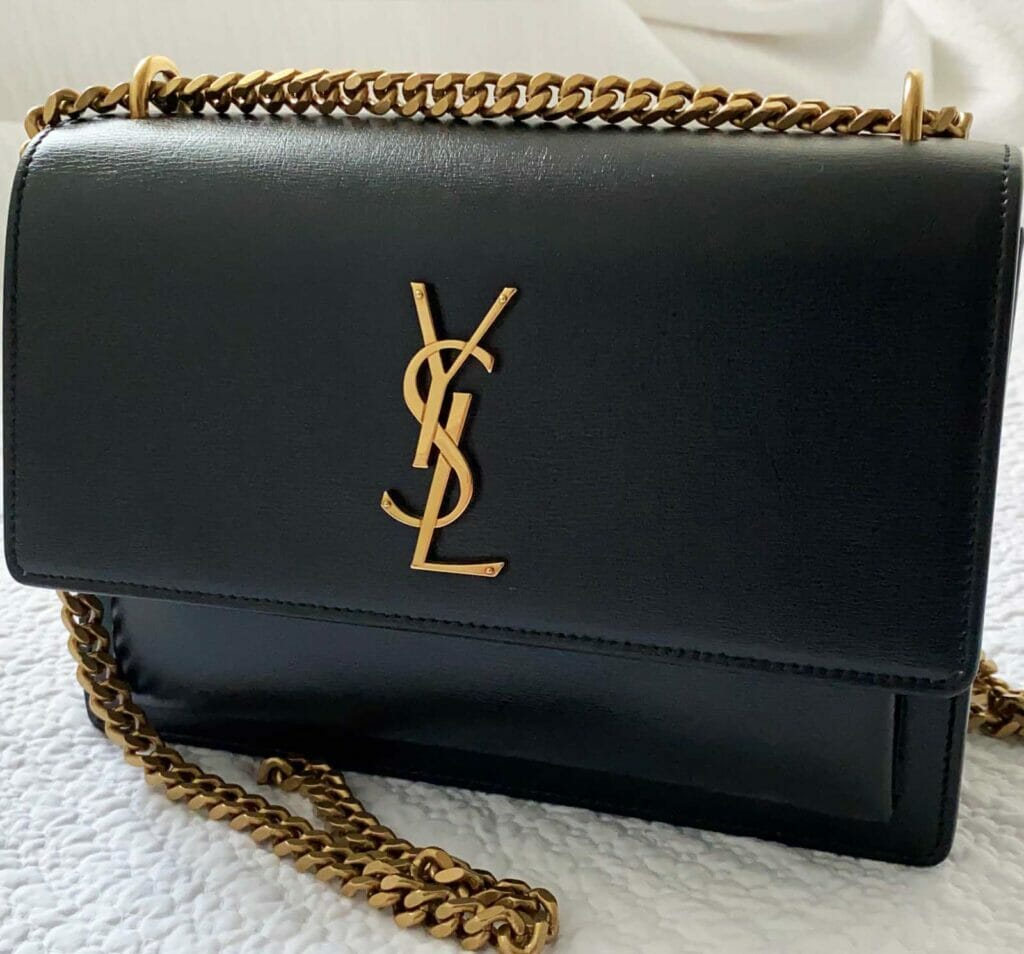 What fits inside the Sunset medium size?
The medium size is my personal favourite size of this bag. It's big enough for evening essentials and a large mobile phone, without being too big.
If you're anything like me and like to carry your phone, keys, a small purse, and a few make-up essentials then the medium size is the perfect compromise between practicality and weight.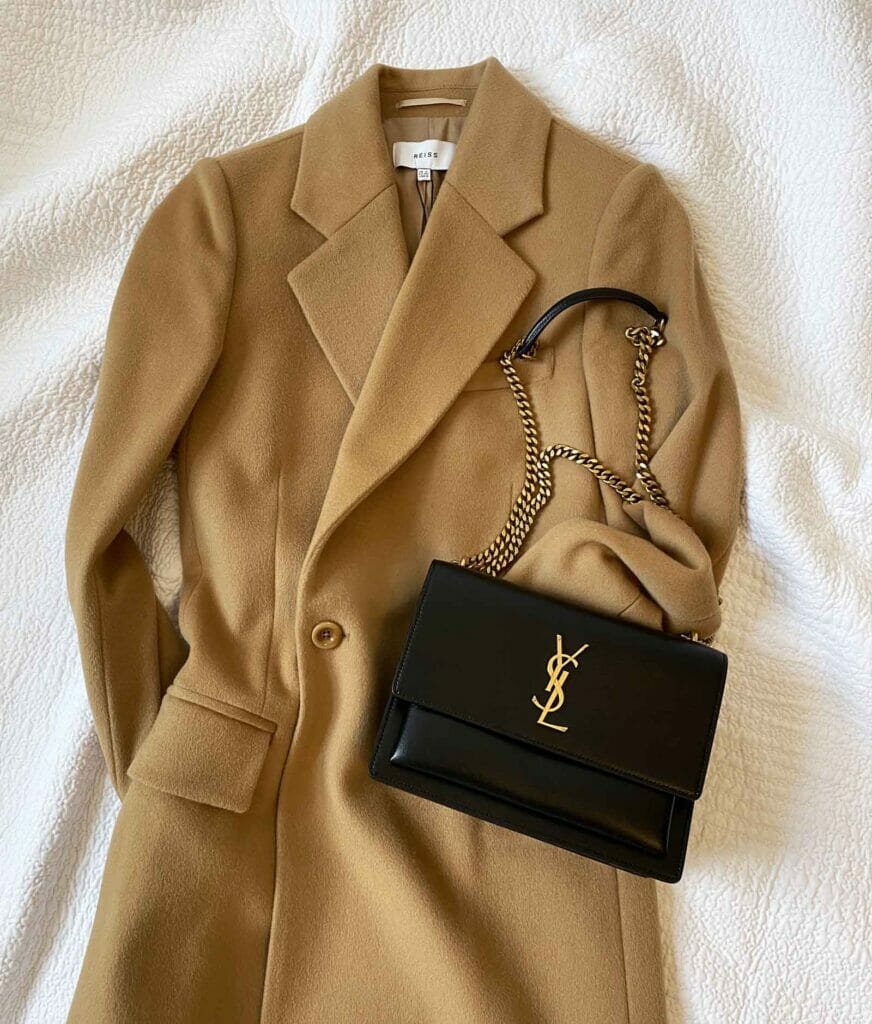 The best occasions to use a Sunset medium bag
I find that the Saint Laurent Sunset medium bag works for both night and day occasions. The bag looks great in the day as a cross-body bag, then it transitions seamlessly into a statement shoulder bag, (I like to double the chains up) for food and drinks for the evening.
YSL Sunset Small Bag
DIMENSIONS: 19 X 14 X 5,5 CM / 7.4 X 5.5 X 2.1 INCHES
What fits inside the Sunset small size?
If you're a small bag lover and want your bag to be as light-weight as possible, then the YSL Small Sunset bag could be a great choice. This bag can fit a large size mobile phone and a few small essentials, but leaves no room for excess.
The best occasions to use a Sunset small bag
The small bag is a great evening bag when you only need a minimum amount of things (such as your phone and purse). It's easy to carry and with three different ways to carry these bags, it can make the perfect outfit companion.
YSL Sunset Chain Wallet / Mini Bag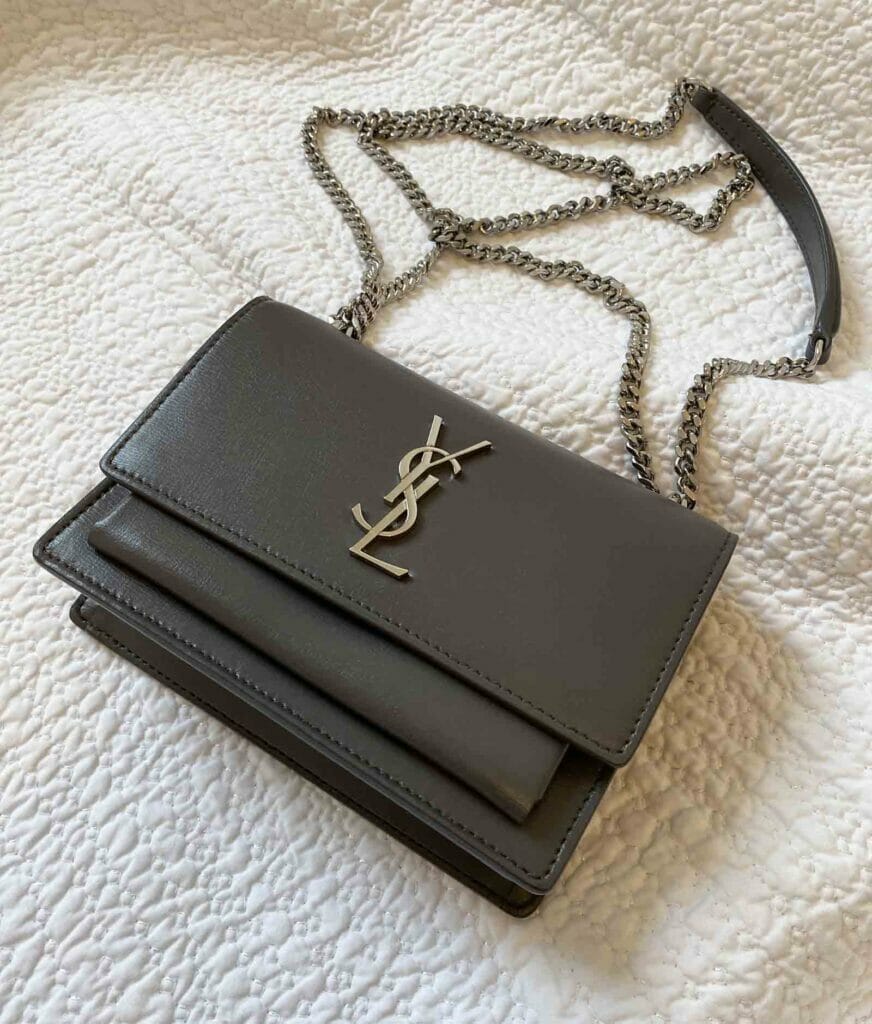 DIMENSIONS: 19 X 14 X 5,5 CM / 7.4 X 5.5 X 2.1 INCHES
8 card Slots
One central compartment
One zipped coin purse
One pocket on back
One internal slot for bills
What fits inside the Sunset chain wallet size?
The smallest of the Saint Laurent sunset bag family, the chain wallet is exactly as it's described – a wallet on a chain. This mini version of the bag has 8 card slots and a zipped section for things like cash and cards. The idea with this wallet on chain is to not need to take out a purse or any bulky items.
Beware iPhone plus users and anyone with a larger sized mobile phone – the Chain Wallet will no accommodate your phone.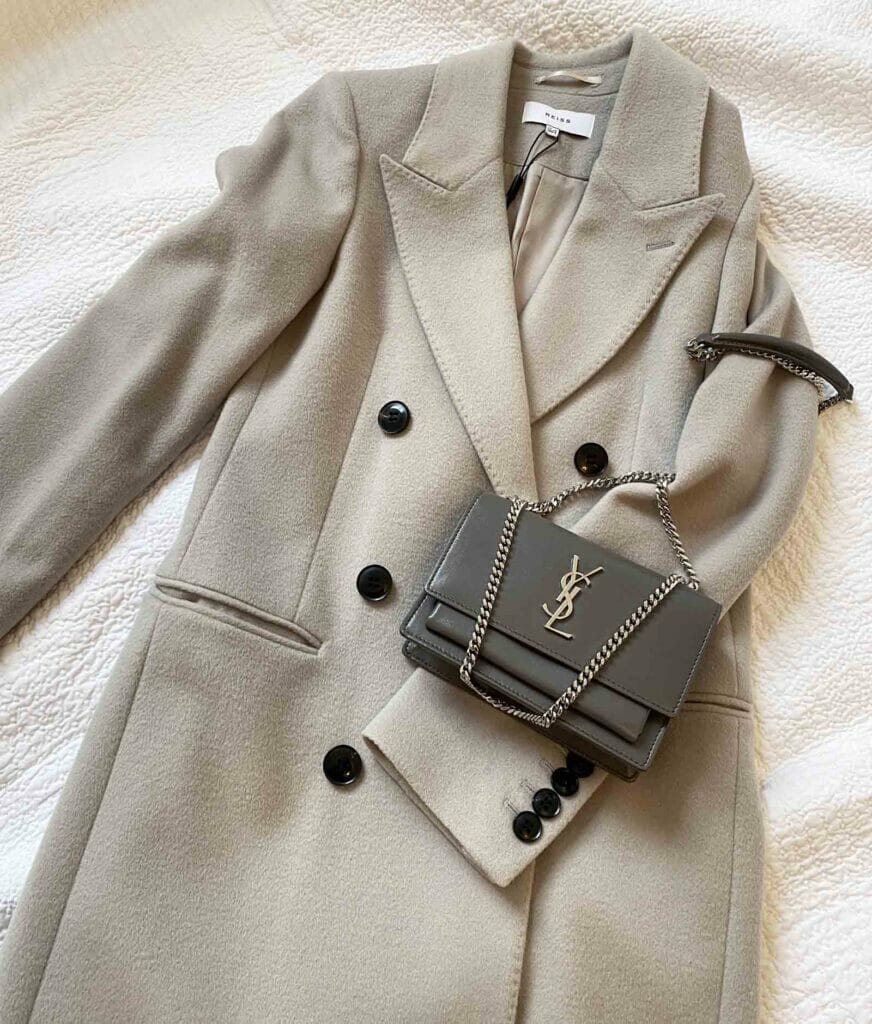 The Best Occasions to Use a Sunset Chain Wallet Bag
If you like to spend your days exceptionally light and want to minimize carrying unnecessary weight around then the chain wallet bag could be a great solution. I personally would only use this in the evening for a short dinner/drinks, where things like additional bits of makeup aren't required.

YSL Sunset Bag Price Comparison
Discover the latest prices of some Saint Laurent sunset bags that are currently available on the Saint Laurent website. Colours, hardware and fabrics will alternate every season. Some colours / fabrics may be more expensive than their more basic leather counter parts.
*Prices correct as of December 2020
Ways to Wear the YSL Sunset Bag
Due to the YSL sunset bag's long-chain, the bag can be worn in multiple different ways. You can extend the chain out fully and use it as a long shoulder bag, or crossbody bag. Another way that you can wear the sunset bag would be to double the chain strap up and use it as a shoulder bag that sits higher up. You could even double the strap up and wear it on the crook of your arm.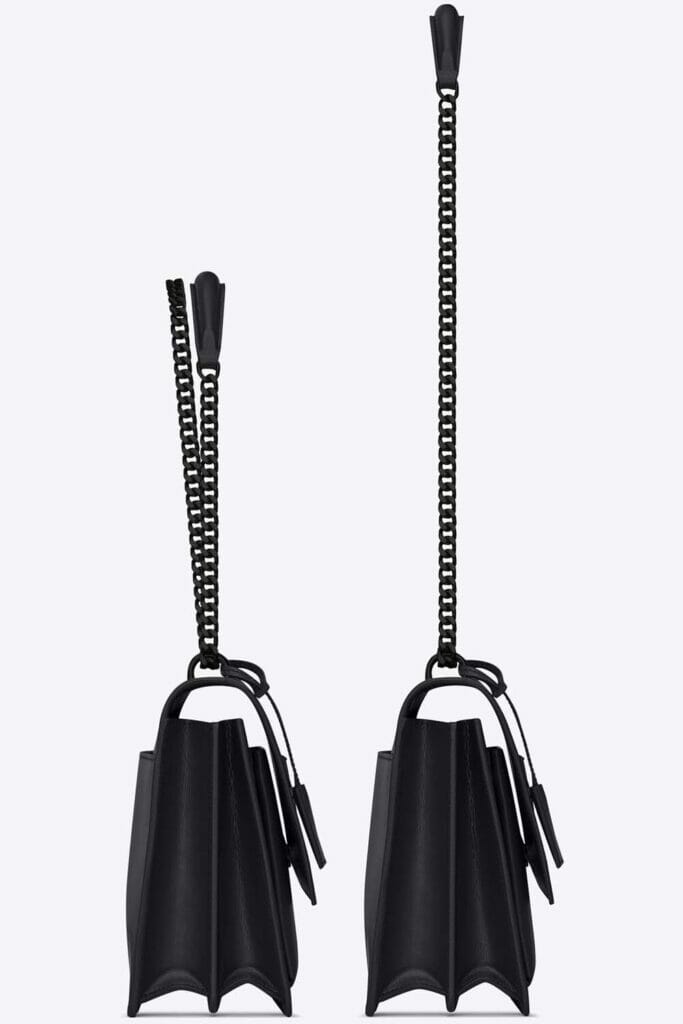 The versatility around how you can wear and style the sunset bag is what makes it so appealing.  For a more casual day look, wear the bag as an effortless cross-body and for the evening double the strap up and use it as a classic, eye-catching shoulder bag.
Saint Laurent New 2020 Satchel Version
In 2020 Saint Laurent released a new satchel version of the Sunset bag due to its ongoing popularity and timeless elegance.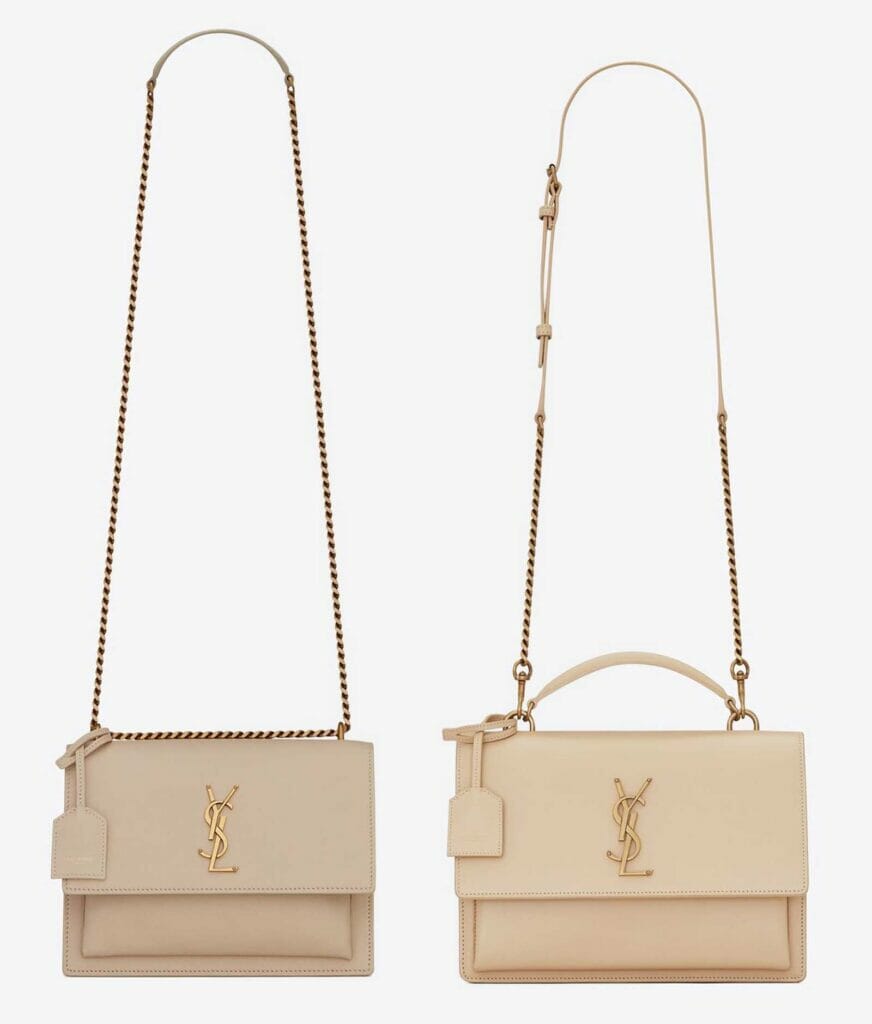 The Sunset satchel bag retails are the same price as its original counterpart. The main differences between the original and satchel version include:
A leather top handle
An adjustable leather strap
The long strap is removable, so the bag can be used with just the top handle
The satchel has less compartments in the center of the bag
The original and satchel version of the bags are very similar. It's clear that the satchel bag has been created to better suit a day-time / work bag, and the original is better suited to an evening bag.
Saint Laurent Sunset Interior
The Saint Laurent Sunset bag interior differs based on the size of the bag, but the medium and larger sizes of the bag feature two main compartments, a front pocket, and a back pocket.
The new satchel style features one main compartment, front pocket and smaller back pocket.
The sunset interiors feature a luxurious suede lining which match the colour of the bag.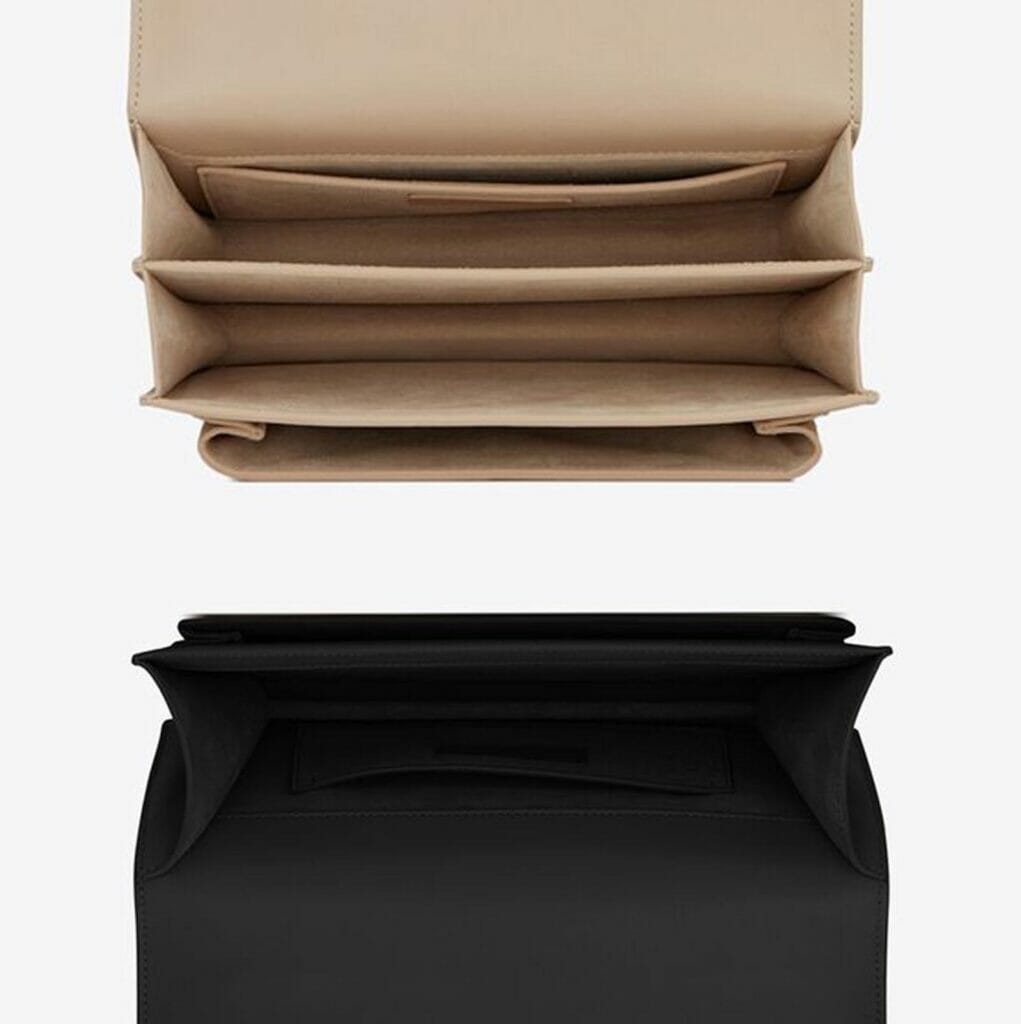 How to Style the YSL Sunset Bag Outfit
If you're looking for a stylish, elegant bag for everyday or evening use then the YSL sunset bag could be a great choice. This bag looks great even when it's empty or full of your belongings.
Personally, I love how this bag goes so easily from day to night. I would wear the sunset bag as a cross-body during the day with a nice long-line coat or blouse. For the evening I'd team with bag with a simple black evening dress and double up the chain strap to make it a shoulder bag.
Watch your review video and outfit styling video on YouTube here. I style the Medium and Chain Wallet bags with over 10 different outfits for inspiration on how to style and wear the YSL Sunset bag.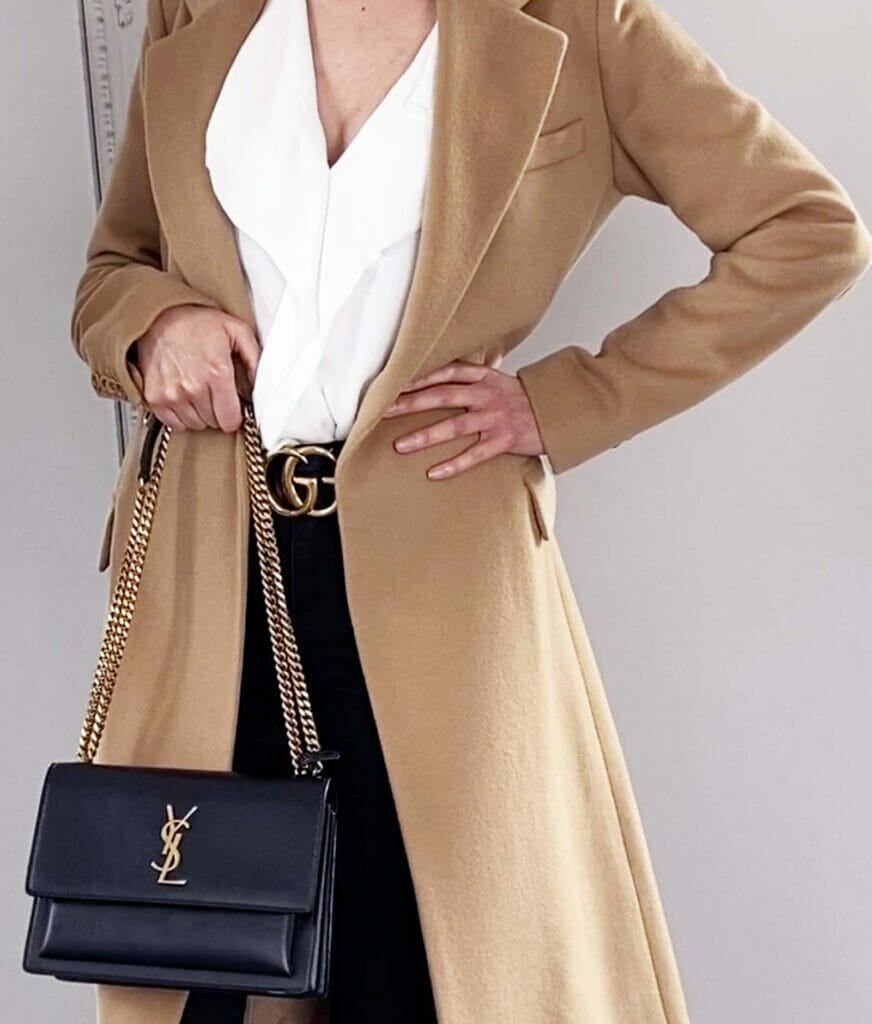 YSL Sunset Bag Materials
The Saint Laurent sunset bag comes in a variety of different materials including leather (the most popular), mock croc (leather with croc print) and velvet to name a few.
YSL Sunset Leather
The majority of Saint Laurent sunset bags are made from a smooth leather. This leather comes in many different colours and hardware combinations. Overall the leather is hardwearing, but can show 'dint's in the leather due to its smooth nature.
YSL Sunset Velvet
The sunset bag has been released in velvet fabric. Whilst we love the look of velvet, it doesn't tend to stand up well the regular wear and tear. We advise a velvet version for a 'special occasion' bag and not one that needs to be used everyday.
YSL Sunset Croc
A popular print is the Saint Laurent 'mock croc' leather print. This print makes the leather less likely to dint and show up scratches, compared to the smooth leather counterparts.
Where to Buy a YSL Sunset Bag
To shop the latest range of Saint Laurent Sunset Bags as well as the wider YSL bag range, visit the Saint Laurent online store here.
Other retailers such as NET-A-PORTER and Selfridges stock Saint Laurent Sunset bags on a regular basis and may have different versions, colorways of fabrics available.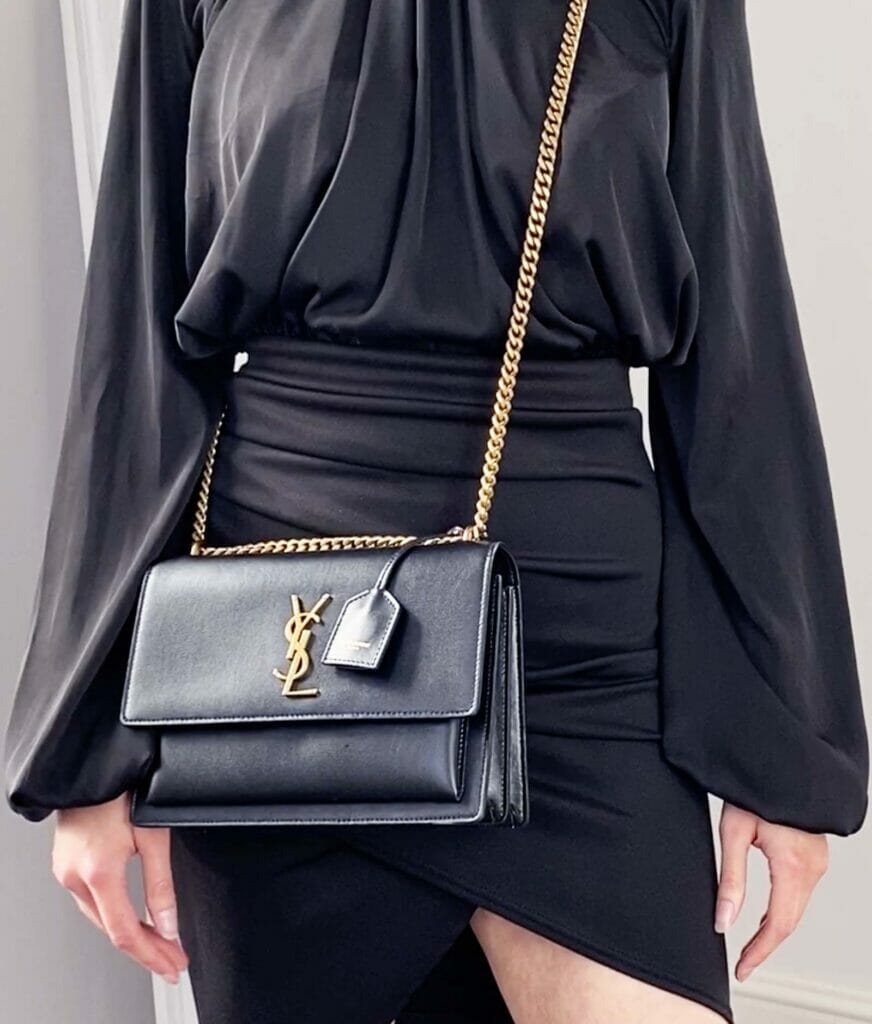 Looking to hopefully make a saving or buy a no longer available Saint Laurent Sunset bag? My favorite place to buy pre-loved designer bags is eBay for their buyer protection and Vestaire Collective.
When buying a pre-loved Saint Laurent Sunset bag, or any designer bag we always recommend using a professional authentication service to double-check the authenticity of your new designer bag. Authentication certificates are a small investment for huge peace of mind!