Disclaimer: This best investment designer bags blog is for entertainment purposes only. We do not guarantee that you will make money on any designer bag investment. We accept no liability if you decide to invest and do not see a return on the investment.
Are Designer Bags a Good Investment?
If you're a designer bag lover or a financial investor, chances are you've seen the two worlds collide in recent years as designer bags top the charts in terms of return on investment.
Handbags were the number one collectible investment in 2019, beating out art, stamps, and rare whisky, among other categories, according to a new report.

(CNBC | March 2020)
It's clear that there are a few frontrunners in terms of what designer bags make a good investment, the main one being Hermes bags.
But like any investment, not all designer bags are a good investment. In this blog, we will be looking in more detail at what brands and styles of handbags will most likely give you the best return on investment in the years to come.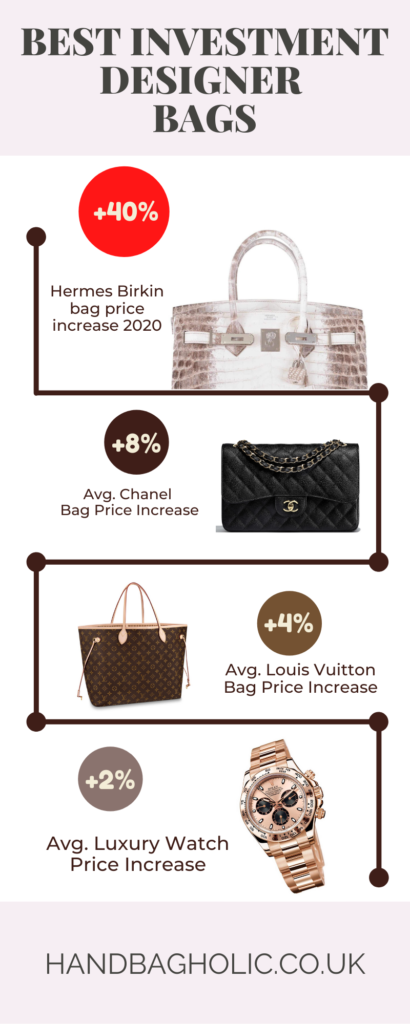 Why are Designer Bags a Good Investment?
So, why are designer bags a good investment? There are a few reasons why designer bags can make great investments. Like any luxury item scarcity and desirability (supply and demand) drive collectors to pay premium prices for certain bags.
The great thing about bags is that they are universal and aren't dependent on size, making them a superior investment to things like clothes or shoes. A designer bag investment can be compared to a luxury car or designer watch investment. Whilst designer bags might be considered extravagant by some, to others it's a sport of finding the perfect luxury item.
Some people justify purchasing a designer bag due to the fact they can enjoy and use the bag, whilst it will also potentially increase in value
These are a few key ingredients on what makes anything, including designer bags, a good investment:
Price Increases
One of the main factors making a bag a good investment for the future is regular price increases on classic styles of bag. A bag will never be worth more than what you can purchase it for from the brand (unless it's sold out). Therefore, when considering a bag as an investment the brand needs to have regular price increases to drive up the value of the product.
As the price of a bag increases, collectors may look to the preloved market to find the same bag for less than retail. This tactic of investment works best with classic bags such as Chanel and Hermes, as they both sell universal classic styles of bag and regularly have price increases. This style of investment may take years to pay off, if ever, and is largely dependent on the condition of the bag and how popular it is when sold on.
See the Chanel 2020 prices increases here.
See the Louis Vuitton 2020 prices increases here.
What Makes a Good Investment Designer Bag?
Watch the full video on what makes a good investment designer bag on our YouTube channel.
Brand Popularity
Despite there being classic styles of designer bags such as the Chanel classic flap, Chanel boy bag, and Hermès Birkin, the popularity of a particular bag is also dependent on the popularity of the brand at that moment in time.
The best way to reduce your risk of making a bad investment in a designer bag is to buy from brands that have been around for years, and that are still highly desired to this day.
The Aesthetic Value of the Bag
Another key ingredient is what the bag actually looks like! If the bag is classically beautiful with a universal appeal it is much more likely to sell for a higher price and faster.
It's best to avoid bright colorways and print combinations that may be loved by some but not others. However, there are cases especially with certain limited edition prints, materials, and craftsmanship on particular bags become so rare and highly desired, that they take on a life of their own regarding demand and resale price.
Colour of the Bag
The general rule of thumb is to stick to neutral colours such as black, nude, or grey. However some bright colours with nice hardware combinations e.g. red and gold can also be popular as collectors seek 'stand out' pieces.
Most designer bags also feature some type of hardware, which are metal parts on the bag such as closures and straps. The combination of the material used to produce the bag (often leather) and hardware is also something that should be considered.

A lot of bags come with silver and gold hardware options. A general rule of thumb is that gold hardware is often more desired than silver, as psychologically gold looks more expensive as the metal is significantly more expensive to buy than silver.
The Fabric of the Bag
Once you've decided on the style of bag you wish to invest in, then comes the consideration of what leather type to choose. Collectors of designer bags are often particular about the type of fabric they want to purchase.
Some bags may feature leather with exotic skin such as snakeskin. Others may be made fully from exotic skin such as crocodile or ostrich. The rarer the material used to create the bag, often the more expensive the bag costs to purchase in the first place.
Some designer bags are made of fur and these generally retail higher than standard leather versions. However, it's worth noting that in recent years animal rights activists have protested and raised awareness of how it has been sourced in the past. This new awareness amongst consumers is driving down the value of fur bags, as less consumers want to be associated with this potentially cruel practice.
A great rule of thumb to decide what type of fabric or leather to purchase the bag in as an investment is to choose a hard-wearing but an aesthetically pleasing choice. For example, a lot of people opt for Chanel caviar leather as this generally shows fewer marks than it's lambskin counterpart.
Demand for the bag
When buying a designer bag as an investment, understanding the demand for the particular style and brand of the bag that you're looking at is paramount.
One of the best luxury brands to invest in Hermes, with it's a highly popular Birkin bag followed by the Kelly bag. The Birkin bag, however, is worn by more influencers and celebrities and is therefore desired more than the Kelly bag.
Providing this love affair continues with the Birkin bag, it is considered to be a better investment than the Kelly bag.
Which designer bag is the best investment?
The best designer bags for investment are classic styles from brands that don't go in and out of fashion. Since the designer bag market is very much a global one, the brand should also have a high global awareness creating more buyers around the world.
The Best Investment Bag Brands
If you're looking for a good investment bag brand is paramount. Three of my main favourite brands to invest in are:
Hermes
Chanel
Louis Vuitton
Why? Because these brands control their stock and prices by only selling via their own stores and websites. This stops the market from becoming flooded with discounted items. None of these brands ever put their bags into a sale, making them a more reliable investment.
Hermes
Hermes is a French luxury goods manufacturer established in 1837. Over the years it has established itself as one of the most premium designer bag brands in the world.
It's success in the designer bag world is a testament to the impeccable craftsmanship of their bags, and in-accessibility to purchase.
To create more exclusivity and demand, you can't simply walk into a Hermes store or visit their website and purchase one of their most popular bags. These include the famous Birkin bag and the Kelly bag. In order to be able to purchase one of these bags, it's rumored they are only offered to top clients that regularly purchase products.
The inaccessibility of these highly desired bags, (worn by the likes of the Kardashians and Victoria Beckham), means that the resale market is the only place to be able to get one of these bags if you aren't a top client.
Since the Hermes bag range is crafted by hand, they only produce a certain amount of bags each year. Some of the rarest combinations such as exotic leathers being incredibly limited.
Whilst this strategy is frustrating for someone trying to purchase a Hermes bag, it makes these bags some of the best investment bags in the world.
Chanel
Founded in 1910 by Coco Chanel, the Chanel brand and iconic CC logo is recognised around the world. The Chanel designer bag range features some classic styles that generally become staple pieces in collections.
Chanel is a good brand to invest in when it comes to designer bags as it generally has one to two price increases every year. Each season the brands will release classic styles in limited colorways and hardware combinations.

The most highly desired colourways of classic bags that are no longer available can demand high prices as collectors try to source these rare pieces.
Louis Vuitton
Louis Vuitton is one of the world's most recognised brands. This global recognition of luxury means that a designer bag from the brand can be highly desirable.
Whilst Chanel has more classic styles of bags that are often used as evening bags, Louis Vuitton generally has a much wider range. Louis Vuitton makes a lot of their bags from canvas. Monogram canvas is much cheaper to produce than leather bags and therefore can be more 'obtainable'.
Louis Vuitton limits the stock of some of its bags, and when these bags become popular with celebrities and influencers they can fetch more than the recommended retail price. When it comes to buying Louis Vuitton as an investment, the best option is often to purchase highly popular limited edition pieces. As there becomes less and less of these pieces as the resale market sees collectors purchasing them, this can drive demand up incredibly high years after the collection was available.
Good Investment Bags
The Best Louis Vuitton Investment Bags
Limited Edition Louis Vuitton Investment Bags
Louis Vuitton releases limited edition prints twice a year as well as a cruise collection. These collections tend to sell out quickly if the print is particularly desirable. Once the collection has sold out and eventually is no longer sold then your limited edition Louis Vuitton bag could well be a great investment.
Some of the most memorable and desirable limited edition collections and collaborations Louis Vuitton has had are:
Watercolour Collection Collaboration with Richard Prince (2008)
Arguably one of the most beautiful collaborations was Richard prince in 2008 with the watercolor collection. This collection saw the classic monogram print painted in stunning watercolors. The watercolors were either painted on a white or black canvas. The most popular bag from this collection was a speedy 35 with white canvas. The watercolor speedy bag in good condition now commands the price tag of anything between £2,000 and £5,000.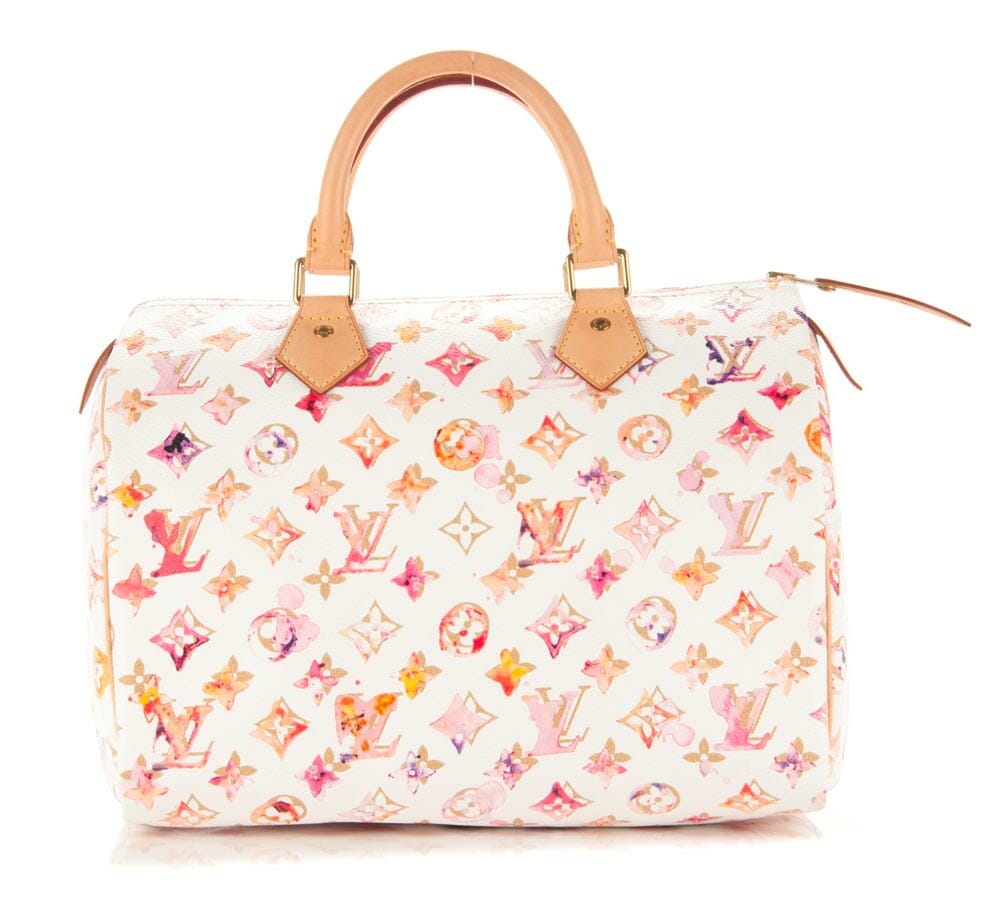 Steven Sprouse Collaboration (2011)
Stephen Sprouse brought a graffiti-esque roses print collaboration in 2011. This limited edition collaboration so bright roses painted all over the classic monogram, as well as Louis Vuitton graffiti in bright pink and green.
Whilst the graffiti logo print is popular the roses print is arguably one of the most beautiful prints to be combined with the neverfull bag. A roses print never full and speedy bag are to this day still highly desired.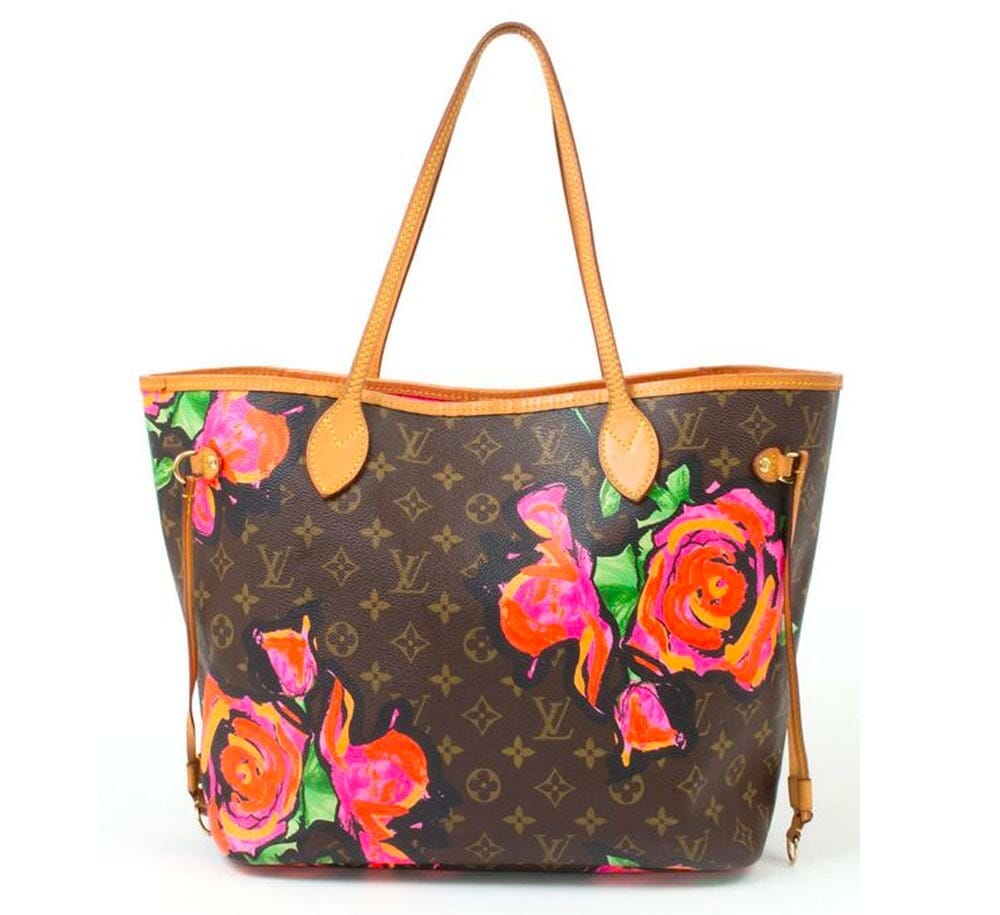 Catogram (Collaboration with Grace Coddington) Collection (2019)
More recent collaboration with Grace Coddington in 2019, saw the monogram be reworked in a dark Orange paint like Style, with adorable dogs and cats featured around the print. Since there are so many cat and dog lovers in the world this collection was an instant hit and now commands thousands above the original retail prices.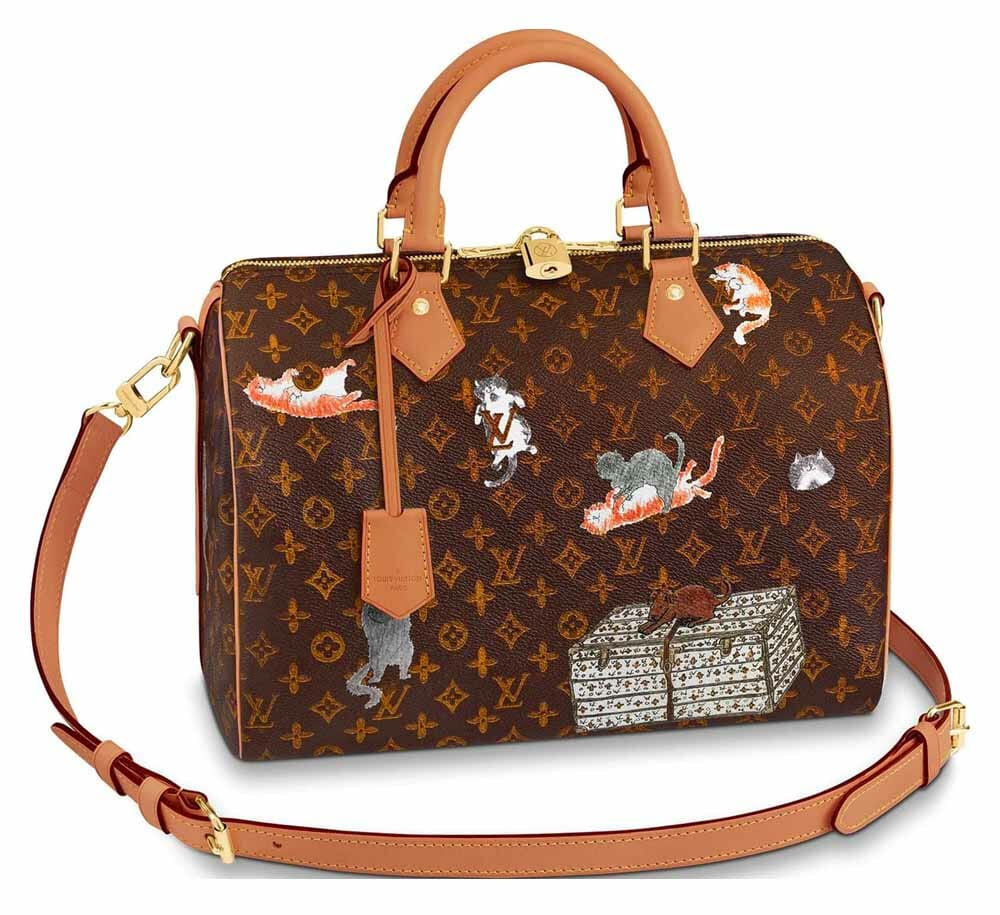 In 2019 we were first introduced to the giant monogram print. For the first time ever Louis Vuitton enlarged it's print beyond what anyone thought possible. Enter the giant monogram collection..
Whilst the giant monogram print remains a staple for some of its styles of bags like the OnTheGo tote bag, the Speedy 30-in giant monogram is no longer available to purchase. The Speedy and Keepall in the reverse giant monogram are now incredibly rare and command well above what they retailed for.
The Best Hermes Investment Bags
Hermes Birkin Bag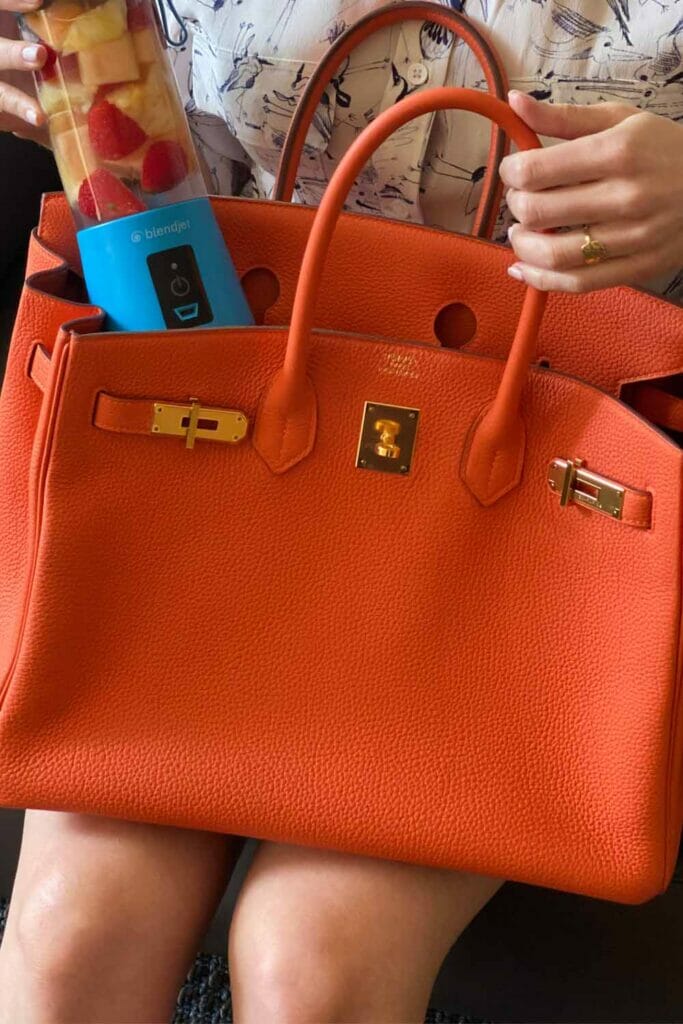 The price of the Hermes Birkin bag increases by no less than 14% each year.
It should come as no surprise but one of the best investment designer bags is the Hermes Birkin bag. Often featured in the news for increasing percentage-wise more than the stock market, gold, and other common investments, the desirability of this bag teamed with the scarcity of owning one, means buying a Birkin can be a great investment.
The tricky part of a Hermes bag investment is sourcing one in the first place. If you are a frequent customer you may well be offered the elusive Birkin bag to purchase. If however you are not a regular customer and want to purchase one of these incredible bags, your only option may be to source one from the preloved market.
Hermes Kelly Bag
Another popular bag from the Hermes brand is the Kelly bag. well it's not as popular as the birkin bag some people prefer the simplicity of the carry bag.
The Kelly bag is also fairly hard to obtain from the brand but is available on the Preloved market. It's worth noting that there is less demand for the Kelly bag, therefore it might be considered not as good an investment as the birkin.
The Best Chanel Investment Bags
The Chanel Classic Flap
Chanel classic flap bag, is probably considered the most classic and timeless bag style from the brand. It's universally desired, and comes in a range of sizes, colours and fabrics. Due to this bag being a Chanel classic comma in recent years it has seen huge price increases. As we know, price increases drive the value of preloved bags up. The Chanel classic flap bag could be a great investment if you're not looking to sell for many years.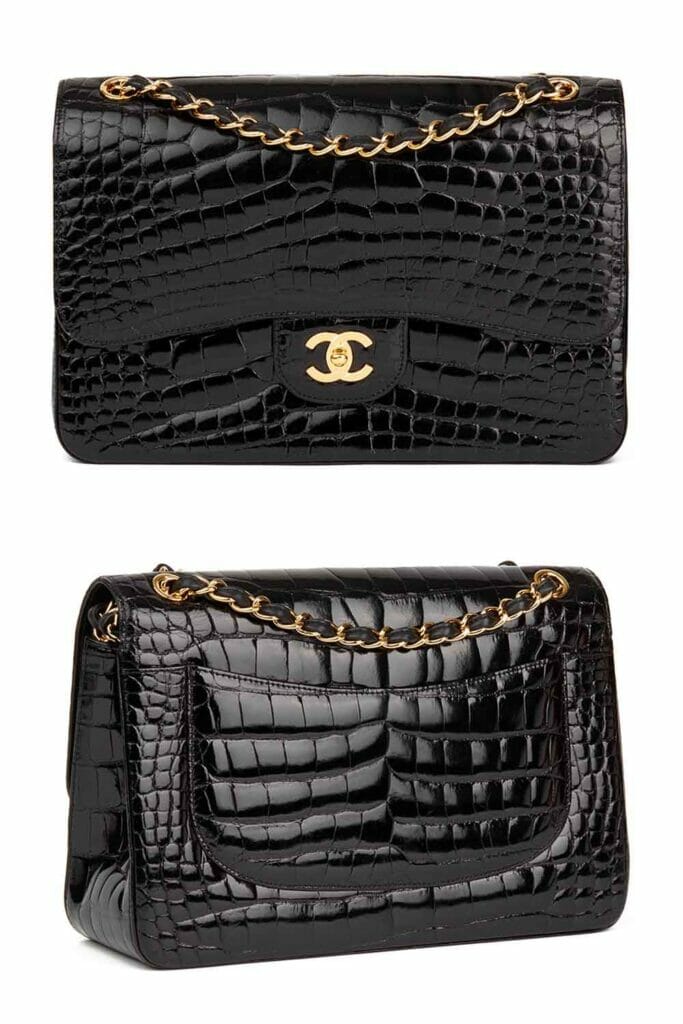 Chanel Le Boy Bag
The Chanel boy bag is arguably more masculine and modern looking than the Chanel classic flap. When people are looking to invest in a Chanel bag these are often the 2 most debated Styles. The boy bag is available in a wide range of colours, sizes and fabrics.
Since boy bag is quite popular, the best Chanel boy bags to invest in are hard-to-find colorways such as grey and pink with gold hardware, as well as exotic and limited-edition versions.
The Chanel 19 Bag
Chanel 19 bag is a very recent addition to the line of Chanel classic bags its puffy Style on-chain CC logo is a breath of fresh air to Chanel collectors. Being part of the classic collection, there's no doubt that the desirable color ways of this bag will be a good investment for the future.
Iridescent Chanel bags
Similar to Louis Vuitton's rare limited-edition versions of Chanel bags that are universally beautiful, some of the biggest markups on the resale market have been iridescent versions of classic bags.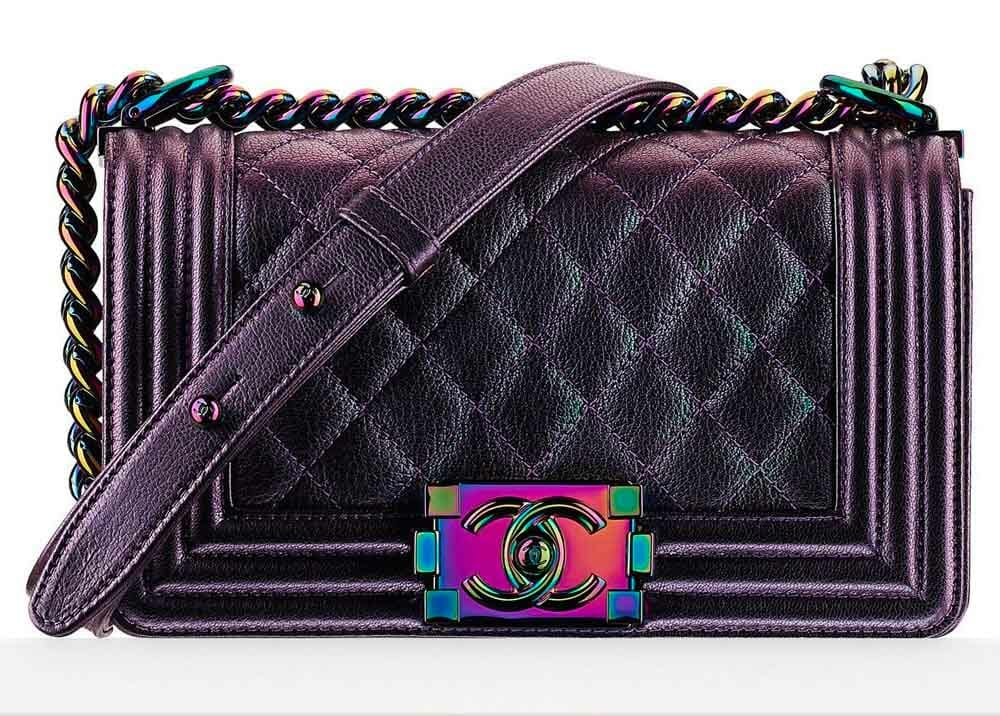 The Worst Investment Designer Bags
There's no guarantee that when purchasing a designer bag that the Investment will pay off, however, we can make educated purchasing decisions to maximize the opportunity of a return. Therefore some of the worst investment bags are from brands that are less desirable, have more stock, and are easy to obtain.
There's no doubt some of these brands create some beautiful bags, they are often purchased for more functional reasons, as opposed to becoming rare collector's items. Brands that are generally not the best to consider for investment are:
Gucci
Valentino
Fendi
Balenciaga
Saint Laurent
There are, of course, always exceptions to these rules with all brands. Some styles may become incredibly popular and no longer be available.
The best investment bags under £1000
If you're looking to invest in a designer bag under £1,000 the best option would most likely be a popular Louis Vuitton bag. Due to the high price points of bags from CHANEL and Hermes, unless you find a bargain on the preloved market, there wouldn't be a bag that retails under £1,000.
The two most popular Louis Vuitton bags are the Neverfull Tote bag in MM size and the Speedy bag. Due to the popularity of these Louis Vuitton bags, they often fetch very close to retail on the Preloved market. Therefore if you were to purchase one of these bags, with regular price increases their resale value will also increase.

It's worth noting, however, that if you decide to use this bag in the meantime the condition of the bag will determine what someone is prepared to pay / irreparable damage to canvas such as cracks, holes, and stains will significantly reduce the value of the item.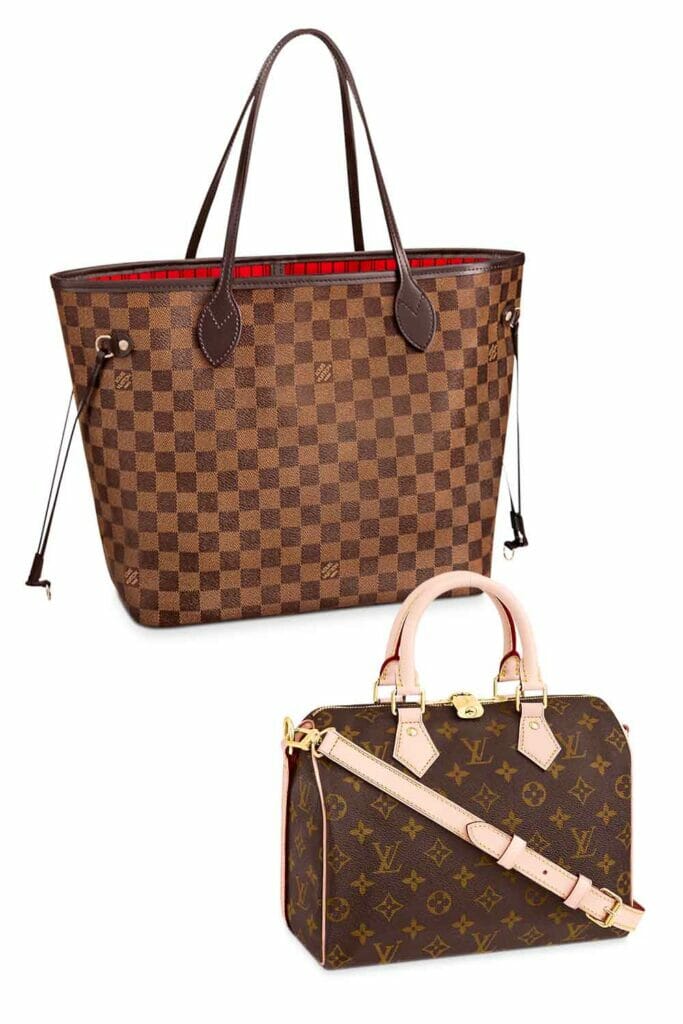 You can also look at other designer brands such as Givenchy, Gucci, and Saint Laurent for bags that retail under £1,000. In general, these brands are less likely to see a big return on investment. Why is that? They tend to have better supply, meaning they are less likely to sell out, and simply don't see the demand the other brands do.
Buying pre-loved designer bags as Investments
Buying a pre-loved designer bag can be one of the most strategic moves when it comes to investing in a designer bag. The pre-loved market opens up the opportunity to purchase a bag under retail price, and also so highly desirable limited-edition pieces that are no longer available.
There are some key things to consider if you're purchasing a designer bag as an investment from the pre-loved market; these include:
The Bags Authenticity
When purchasing a pre-loved designer bag it's essential to have professionals review the bag to help determine whether or not it's authentic. See our list of top designer bag authentication services here.
Always make payment via a service such as Paypal and eBay, which guarantee your money back if the bag is shown to be not authentic. We never advise paying cash or by bank transfer for a pre-loved designer bag in any circumstance.
2. Missing Key Packaging / Storage Items / Documents
Most collectors prefer to receive a designer bag with its original packaging, ideally a receipt, and any informational cards and booklets.
3. Condition of the Bag
Bags that have been previously used may feature wear and stains that make the bag less desirable. If you're able to get these issues fixed this will add to the overall cost of the bag both in terms of money and time.
Using your Investment Bag Before Selling?
Condition is key to what return you may get on your designer bag investment. Therefore, it's really worth putting some protective measures in place; You can do this by:
Purchasing a luxury bag liner to protect the lining of your bag from dirt and stains.
Buy some handbag hardware protectors made especially for your designer bag to stop it from scratching.
When not in use store the bag away safely. Store the bag in a dust bag and stuff with a luxury bag pad to help the bag keep its structure.
Clean the bag every few weeks if it's used regularly, to keep it sanitized and free from dirt. If the bag is leather, it will also need conditioning to keep it supple and stop it from drying out.
If you plan to use the bag, then there might be the chance that it rains whilst you're out and about. Sadly, rain can damage designer bags, especially leather ones. It's therefore paramount to protect and waterproof your new designer arm-candy before taking it outdoors. To effectively waterproof your designer bag, we recommend Carbon Pro, which creates a clear protective membrane.
We hope this guide to the best investment designer bags has helped you to make great future investments!