Have you ever been getting ready to go out – your makeup is on point and your outfit looks amazing – but you just can't decide which bag to take? We're here to help with our top 10 designer bag choices including Chanel, Saint Laurent, and Givenchy. Some people swear by their handbags having to match their shoes, but if you've got the right bag, you could throw this rule out of the window.
We've pulled together a list of the 10 best designer evening bags to help make your choice an easy one for your next night out. With a range of designer names, styles and prices, there's sure to be something to suit you in our list!
What is a Designer Evening Bag?
By dictionary definition, an evening bag is a small handbag usually carried at dressy or formal occasions – often being made from luxe fabrics or featuring elaborate beading or other embellishments. An evening bag is often smaller than a normal-sized handbag, with a few exceptions, and generally looks a little more glamorous or fancy than your usual day-to-day bag.
Obviously, personal preference will dictate to you which handbags you refer to as evening bags and which are for daytime use, but some can cover both bases and be used for day and nighttime activities – perfect for those drinks after work or last-minute events which call for more formal attire.
Different Types of Evening Bag Styles
Evening bags can come in all shapes and sizes, but they are mostly categorised by how they are carried. Whether your evening bag is a pouch, baguette, envelope or even a giant pair of lips, it will more than likely be carried in one of the below ways:
Clutch Evening Bags
A clutch bag can be simply held in the hand or carried under the arm. These bags often have no straps (or detachable straps) so they require you to manually carry them at all times. This can sometimes feel a little risky in crowded places as it could be so easily knocked from your hand or taken from you.
Clutch bags are the go-to style for a formal, evening look as they don't take away from the outfit you are wearing – no straps to cover or crease your clothes. They are a chance to add a pop of colour to your ensemble or maybe a hint of glitter.
When the clutch bag first gained popularity in the 1920s-1930s, it could be seen on the red carpet and at the most distinguished parties. Van Cleef and Arpels introduced the Minaudière – a hard-cased clutch bag inspired by the cigarette case of socialite Florence Gould – which soon became the go-to shape that many a designer tried their hand at. There are now multiple shapes of clutch bags available and it is still the preferred accessory of the stars on the red carpet as well as socialites attending the swankiest parties and events.
Clutches are usually quite small to make them easier to carry, so you will need to travel relatively light if you want to use a clutch bag.
Types of Clutch & Handheld Bags:
Basket Bag
Bermuda Bag
Box Clutch
Bracelet Bag
Envelope Clutch
Hat Box
Kiss Lock Clutch
Minaudière
Pochette
Pouch
Wristlet
Shoulder Bags
As the name implies, a shoulder bag is worn over your shoulder to one side of your body. Depending on the length of the strap, the bag could also be used as a crossbody (described below).
This type of bag has been seen throughout history in a multitude of designs as the shoulder strap was deemed the most practical way to carry a bag. With regards to the shoulder bag's fashion history, the Hermes mailbag (Sac a Depeches) of 1935 and the Chanel 2.55 of 1955 would probably mark the rise of the shoulder bag in modern fashion. In the 60s, crochet and fringed leather bags of all sizes were being embraced by many, especially those from the hippie culture. The 80s saw the introduction of the Birkin bag which maintains its popularity today.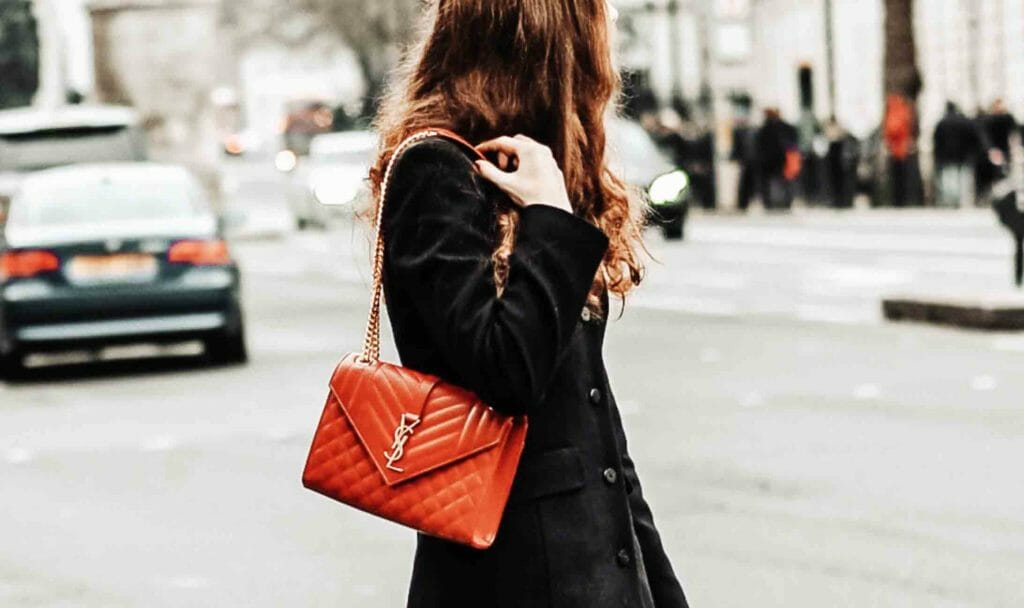 Like the clutch bag, there are many styles and shapes of shoulder bag available but those worn for formal, evening events are often smaller and made from finer materials, such as animal skins and leathers with high-quality metal hardware.
If a shoulder bag has a long strap (or is adjustable) then it could be worn in the crossbody style.
Crossbody Evening Bag
These can be similar to shoulder bags and can often be used in that vein, however, a crossbody bag strap is usually longer to account for crossing over the body – over the opposite shoulder to the side in which the bag sits.
This style of bag is great for those who are very safety conscious, as it would be much harder to have your bag stolen from this position on your body. With your bag sitting neatly at your hip, you have both hands free to enjoy a cocktail and still have one hand free.
Crossbody bag straps will sit over the top of your outfit, so make sure your bag strap is looking at its best by taking care of the leather or chain!
Types of Shoulder and Crossbody Bags:
Accordion Bag
Baguette Bag
Bucket Bag
Canteen Bag
Fringe Bag
Haversack
Hobo Bag
Lady Camera Bag
Muff Bag
Quilted Sling Bag
Saddle Bag
Satchel Bag
Shopper Bag
Sling Bag
Straw Bag
Tote Bag
Woven Tote
What Brands Make the Best Designer Evening Bags?
There are a lot of designer brands that make amazing evening bags, some more elaborate than others. When it comes to a staple evening bag that goes with almost every outfit, some of the best brands are Saint Laurent, Chanel, Louis Vuitton, Alexander McQueen and Givenchy.
Saint Laurent / YSL
Despite dropping the Yves part of the brand name over 7 years ago, most of their designer bags will still feature the iconic YSL logo. Saint Laurent make beautiful classic designs with a wide variety of colours, materials and finishes to suit any outfit and any personality.
Chanel
Chanel is very well known for its bags – adding a classy accessory to many an outfit over the decades. Coco Chanel revolutionised women's fashion and created designs so ahead of her times, that people continue to wear these styles even today. The signature quilted leather and leather-woven chain straps have survived the test of time, in fact, the Chanel Classic Flap bag is one of our evening bag favourites.
Louis Vuitton
The lure of the Louis Vuitton handbag has been strong for a long time now. With the iconic LV monogram and brown-toned checkerboard canvas, every bag from this design house is totally distinguishable.
Alexander McQueen
If elaborate is what you're after, Alexander McQueen has some absolutely stunning evening bags fit for the fanciest of formal occasions. You may have seen the knuckle-duster inspired Four Ring handles on some of McQueen's clutches – how fabulous!?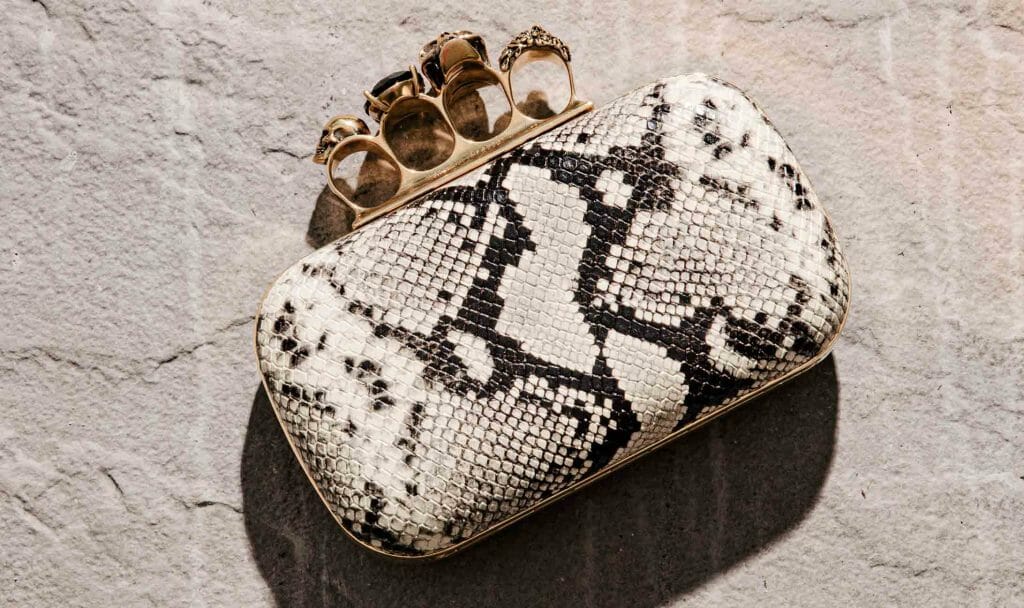 Givenchy
Givenchy evening bags are simple, but classic, with some being the perfect transition from day to night wear. With quirky features such as the tie-shaped strap of the Nano Eden bag to the chain fringe of the Minaudière, you can make a statement with your Givenchy evening bag.
More Evening Bag Designers
So many designers have such a unique talent for creating the most elaborate and beautiful evening bag designs, so here are a few more designers to inspire your evening accessory collection:
Edie Parker
Judith Leiber
Kotur
Lee Savage
Nathalie Trad
Rauwolf
Serpui
Our Top 10 Picks for Best Designer Evening Bags
So here it is, our list of the best designer evening bags. We've chosen some great pieces which would all make the ideal bag for a night out – whether you're going for drinks with your best friends or hitting up a high-end event or opening night, there's something for you in our top picks.
*Prices are correct for baseline models as of May 2020.
1. Saint Laurent Sunset Bag
Let's start the list with one of our favourite designer evening bags, the Saint Laurent Sunset Bag. This simple, but highly stylish bag is available in so many different colourways which means you can find one to suit your personal style perfectly. With a great adjustable chain strap feature, you can wear the Sunset as a shoulder bag or crossbody bag, giving it extra wearability with a variety of different fashion looks.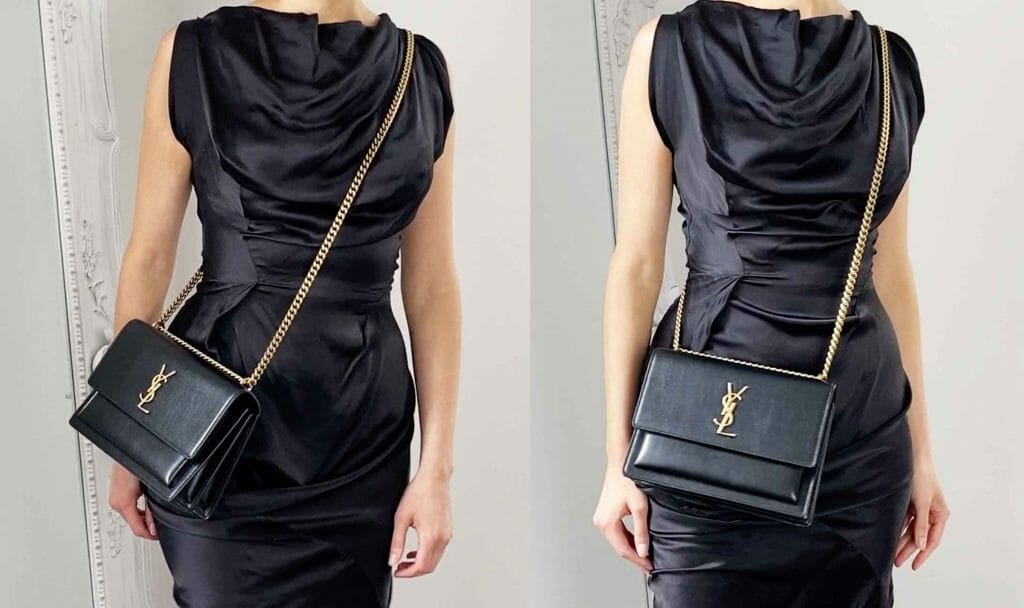 As an evening bag, the Sunset could not be more ideal. The well-structured design with plenty of compartments means you won't be fighting to find your lippy in the bathroom or locate keys at the end of the night.
There really is no wonder why this Saint Laurent bag is so highly sought-after.
Saint Laurent Sunset Evening Bag Stats
Prices Start from: £1,455*
Sizes: Small, Medium, Large
Handle type: Shoulder or Crossbody
Our Favourite Features
Well-structured
Lots of compartments
Multiple ways to wear
Easy to use
Simple, effective design works perfectly from day to night
Leather-topped chain strap for comfort
2. Chanel Classic Flap Bag
This is our second favourite – we had to choose two because both have such great features but differ in price quite drastically. The Chanel Classic Flap Bag is definitely a more expensive investment bag and is a very popular choice amongst designer handbag collectors. The quilted design and signature leather-woven chain strap both work together to create that classic Chanel look, not to mention the CC logo clasp. If you want to the full Chanel experience, this bag is available in black and white, dogtooth tweed, so you can channel your inner Coco!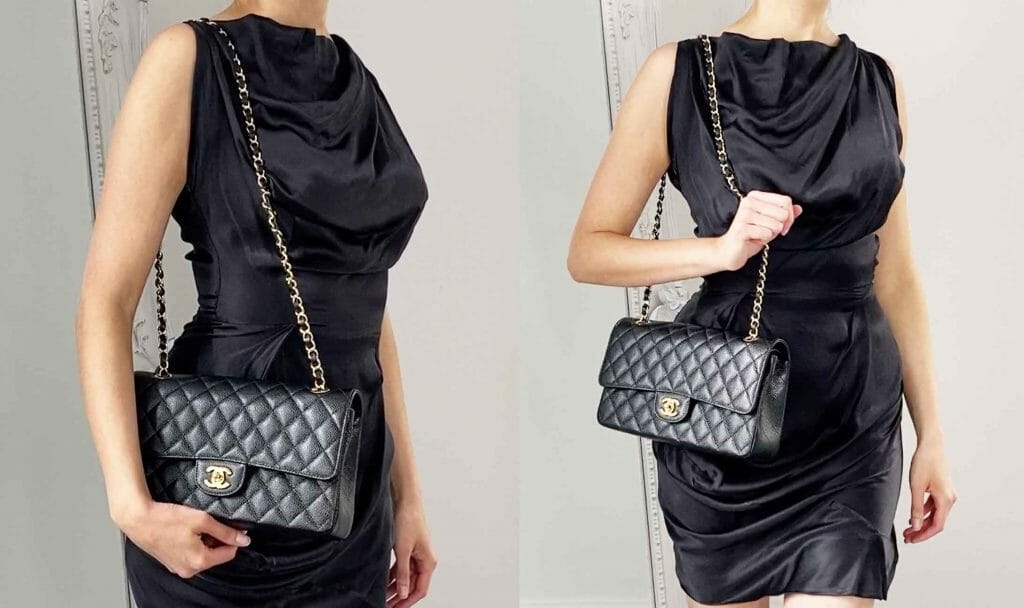 Even though this bag doesn't have the same number of compartments as the Saint Laurent Sunset, it has the added feature of the additional flap underneath the main one – this extra cover for the interior is great for security but can prove a little bit of a pain when trying to get things in and out of the bag. The soft calf leather interior is delightful, but it would be a great idea to use a handbag liner to protect this, as it can be prone to scratches.
Although the chain is adjustable, the length is much better suited to being doubled and worn as a shoulder bag – as a crossbody bag, it doesn't seem to sit as well.
Chanel Classic Flap Evening Bag Stats
Prices Start from: £4,800+*
Sizes: Mini, Small, Medium, Large, Maxi
Handle type: Shoulder, Crossbody
Our Favourite Features
Classic, timeless design
5 size options available
Multiple ways to wear
Iconic Chanel leather-woven chain
Additional interior flap
Soft calf leather lining
3. Chanel Boy Bag
One of the most searched designer handbags in the world – the Chanel Boy bag is proving to be very popular! The more masculine aspects of the bag's design really lend themselves to the versatility of this piece. The Boy bag can be taken from day to night so easily and goes with pretty much every outfit you could dream of.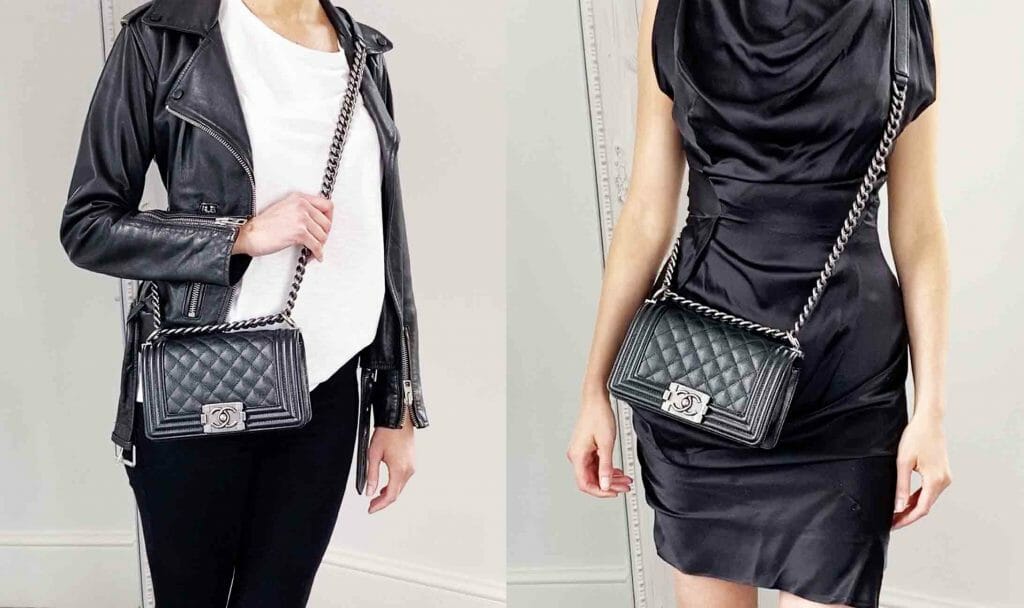 We love the chunky "gourmette" chain and graphic clasp on this bag, as it makes a real statement without having to be in your face. This adjustable chain strap means you can wear the Chanel Boy bag over your shoulder or as a crossbody. It's also great how many different colours this bag comes in and with a variety of finishes.
Make sure you take good care of your Boy bag by protecting the clasp and lining.
Chanel Boy Evening Bag Stats
Prices Start from: from £3,340* new
Sizes: Small, Old Medium, New Medium, Large
Handle type: Shoulder, Crossbody
Our Favourite Features
Day-Night
Classic design
Multiple ways to wear
3 size options available
Can be worn with ANYTHING!
Chunky chain
Graphic clasp
Soft calf leather lining
4. Givenchy Antigona Mini
You may have seen the Antigona make it into our list of 11 of the Best Designer Work Bags, but it really is so versatile that it would make an amazing evening bag too, only in one of the smaller sizes. We're talking about the Mini here – the ideal size for nighttime essentials and a great staple for your handbag collection.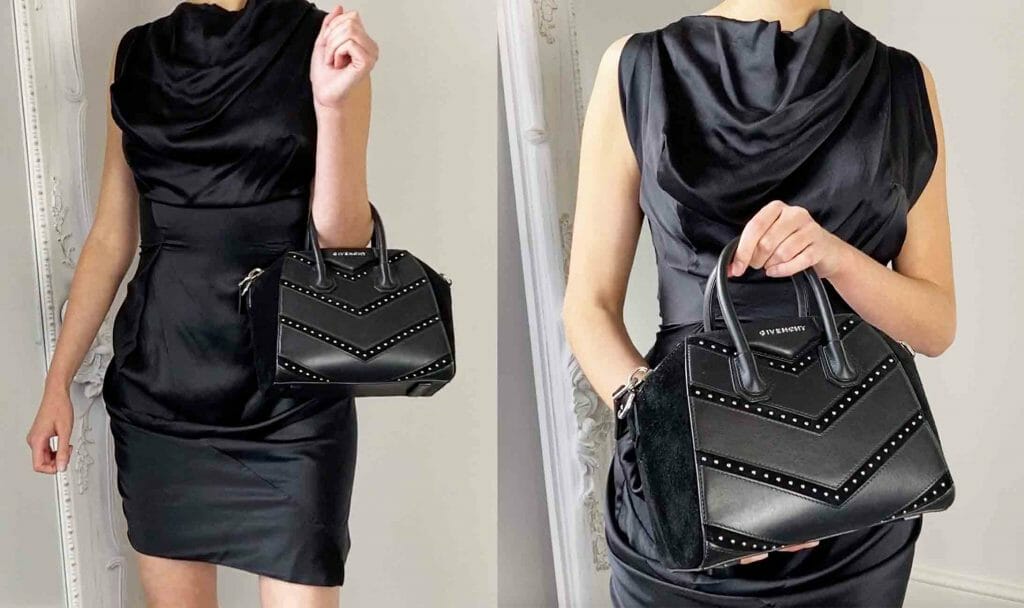 The Antigona is a well-built bag that would be very well suited to a more casual event or a night out. The small handles mean this can be carried in your hand or placed onto your arm, where it would sit neatly in the crook of your elbow. This bag isn't the lightest, even when empty, so if you want to carry a lot with you, you could end up with quite the heavy handbag.
Use a handbag liner with compartments to protect your bag's lining and keep all of your belongings organised and easy to find.
Givenchy Antigona Evening Bag Stats
Prices Start From: £1,250*
Sizes: Mini, Small, Medium, Large
Handle type: Handheld, Crossbody (with detachable handle)
Our Favourite Features
Casual evening bag
Structured shape
Multiple ways to wear
Detachable shoulder strap
Secure with top zip
5. Louis Vuitton Kirigami Pouch (Large)
The Large Louis Vuitton Kirigami Pouch is the ideal size for a clutch, fitting a few evening essentials inside – your phone, money and lipstick would easily fit in this simple envelope-shaped pouch. The smallest pouch in this set could be used to keep cards and money safe within the biggest pouch too.
This bag fits neatly under the arm or is easy to carry as a clutch in your hand. Due to the design of the LV Kirigami Pouch, it may be slightly limited as to which outfits it can be worn with – it could be better suited to more casual events. You can get conversion kits which turn the pouches into handbags and these also offer protection for the interior of your clutch. The hard-wearing monogrammed canvas of the Kirigami pouch means it should last you a long time.
Evening Bag Stats
Price: £460 (for the whole set)
Sizes: Small, Medium, Large
Handle type: Clutch (Crossbody with conversion kit)
Our Favourite Features
Set of 3 – pretty good value for money
Simple, chic envelope design
A conversion kit is available to make the pouch into a crossbody bag
Iconic LV monogram pattern
Easy to use
6. Louis Vuitton Capucines BB
The Capucines BB bag is a great choice for an evening bag, not only is it chic and stylish, but it is available in so many different colorways and some bold ones at that. Louis Vuitton's Capucines have the option to be worn as a crossbody or handheld, with a detachable shoulder strap and one shorter handle which allows the bag to sit in the crook of your elbow.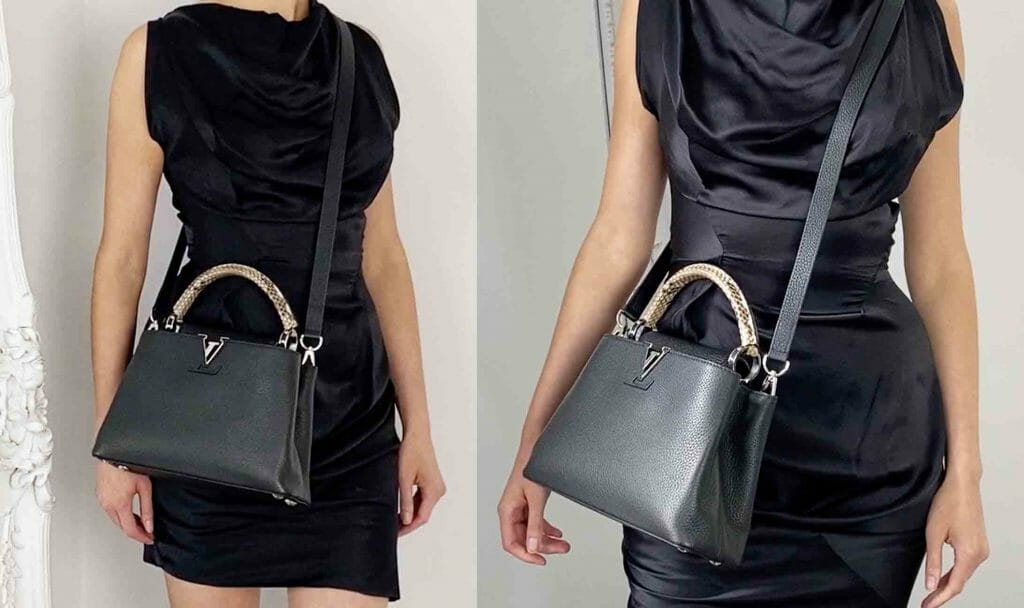 This is a decently roomy bag – for those who need to carry a few extra bits and pieces when they head out for the evening – with 2 large compartments and a zipped pocket for important items. Depending on the colourway you choose for your Capucines, this bag could take you from day to night and look gorgeous with every outfit.
To find the perfect sized Louis Vuitton Capucines bag for you, discover our blog comparing all the Capucines bag sizes with video here.
Louis Vuitton Capucines Evening Bag Stats
Prices Start from: £3,600+
Sizes: Mini, BB, PM, MM, GM
Handle type: Handheld, Shoulder, Crossbody (detachable)
Our Favourite Features
2 roomy compartments
Great design features
Multiple ways to wear
Detachable shoulder strap
Vast range of colour/design choices available
7. Chanel Business Affinity
The Chanel Business Affinity makes a fab choice for a night out – the Small and Medium sizes are ideal for the essentials – your phone, keys, money and a small amount of makeup should fit nicely in this bag. The Large size could also work as an evening bag for those needing to carry a little more – perhaps an iPad or notebook if you're attending a work do and need to hold interviews with prestigious guests or take down any information throughout the night. Multiple compartments make this bag perfect for those who love a little bit of organisation in their evening bag.
Because this handbag has a chain strap and top handle, that gives you two options for carrying it, so you can see which way works best with your chosen outfit. Since this bag has no metal stud feet, then be super careful where you place it down, wear can occur on the corners of the bag quite easily if you aren't careful.
Evening Bag Stats
Price: Upwards of £2,750*
Sizes: Small, Medium, Large
Handle type: Handheld, Crossbody, Shoulder
Our Favourite Features
Classic Chanel look but modernised
Lots of compartments
CC clasp for security
Large pocket along the back
Good investment (since Chanel no longer sell this design)
8. Gucci Marmont Small
The Gucci Marmont is quite a basic handbag shape but features chic golden hardware and luxurious chevron-quilted leather which really ups the appeal of this evening bag. Due to the more simple, semi-slouchy design, this bag could be better suited to a more casual evening affair. It is available in a wide variety of colours so you can find the one to suit your personal style the most.
The Marmont is the perfect bag to take you from day to night and should fit in all you need for a great night out. There is just one compartment to the interior of the bag, but there is a handy pocket to keep important items a little more secure. Keep the soft suede-like lining clean and safe with a designer handbag liner and get extra pockets as a bonus!
Evening Bag Stats
Prices Start from: £885*
Sizes: Mini, Small
Handle type: Shoulder, Crossbody
Our Favourite Features
Available in multiple colourways
Great for day to night
Good size for an evening bag
Gorgeous gold hardware and chain
Comfortable leather strap
Quirky tassel zipper
9. Saint Laurent Kate Bag
This classic evening bag is definitely one to invest in – the simple clean lines of this bag will never go out of fashion and will always make an outfit! The Kate is available in multiple sizes and also has a similar version which features a stunning chain tassel, which would really add some extra glam to an evening look.
The Small or Medium size of Saint Laurent's Kate clutch is ideal for carrying a smaller amount of items – just the essentials – so you can carry your phone, cards and money, lippy and your house/car key pretty easily. Carry this bag as a clutch or use the chain strap to wear over your shoulder or as a crossbody.
Evening Bag Stats
Prices Start from: £1,100* (Small), £1,300* (Medium)
Sizes: Mini, Small, Medium Large
Handle type: Clutch, Shoulder, Crossbody
Our Favourite Features
Classic evening bag that will never go out of style
Available in a range of sizes
Multiple ways to wear
Optional chain strap
Many colourways and fabrics available
10. Saint Laurent Envelope Bag
If travelling light just isn't your thing, then the Saint Laurent Envelope bag will be right up your street. The Large size of this designer handbag is big, but not so big that it looks out of place on an evening or night out. You can carry all of the essentials and more – take your favourite perfume or a small hairbrush, alongside your purse, keys and cosmetic fundamentals.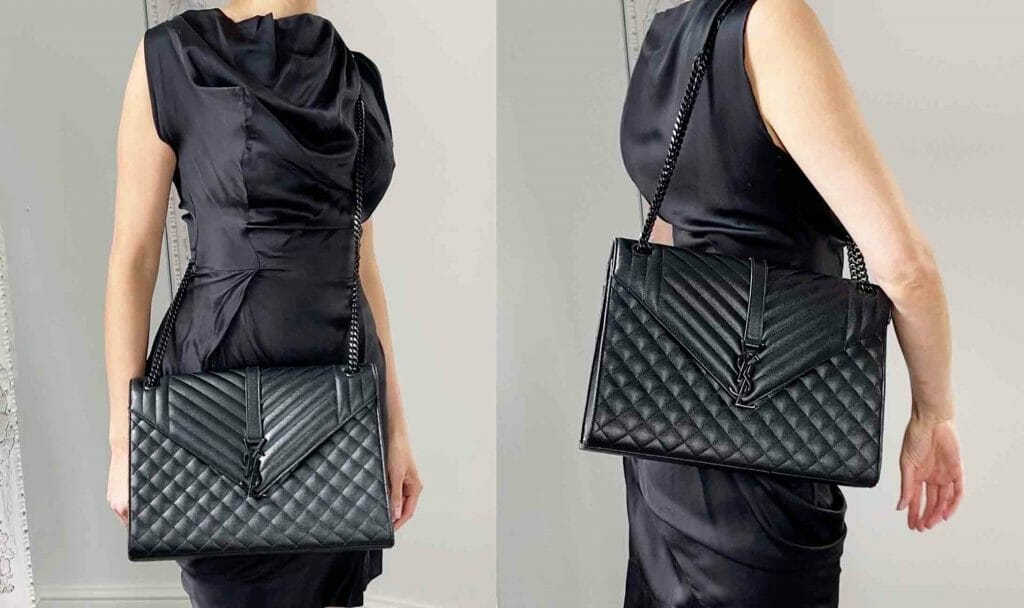 The Envelope is a very classy bag, perfect for fancy occasions. Its practical design, internal zipped compartment and full-width back pocket mean you can keep things a little more organised and safe on your evening out. Always make sure it is properly snapped shut, otherwise, it will pop open and your belongings could end up falling out.
Saint Laurent Envelope Evening Bag Stats
Prices Start from: £1,280* (Small), £1,455* (Medium), £1,665* (Large)
Sizes: Small, Medium, Large
Handle type: Shoulder, Crossbody
Our Favourite Features
Good-sized evening bag
Chic quilted and chevron stitching
Iconic logo hardware
Lots of colour variations available
Multiple sizes available
Extendable chain strap
Which designer evening bag is your favourite?
So there you have it, our top 10 designer evening bags. Which one is your favourite?
Of course, some of the bags in our list do come with a hefty price tag, and with Chanel's price increases in 2020, it could be a bigger investment than you're able to make. So always remember to shop preloved where you can to get some really great savings and find some absolute gems!

Discover our Top Designer Bag Deals page where we pull together some of the best pre-loved and new sale items into one page so you never have to miss a great deal again.