The History of the Givenchy Antigona Bag
The Givenchy Antigona Bag was first created in 2010 and released as part of Givenchy's Autumn/Winter collection for 2011. This amazing bag fast became a staple for many and still remains a solid favourite of those from a range of generations. The balance and contrast between masculine and feminine in the bag's design were influenced by the creative direction of Riccardo Tisci, and the name was inspired by Greek mythology – "Antigone" was a strong feminine figure whose name means "unbending" (1), which is very fitting for this robust and stand-out handbag.
The sleek, timeless and practical design made this handbag a classic – not just a fashion statement. With an almost boxy design and sturdy, easy to carry handles, this bag is an investment piece, which is sure to see you through your busy day-to-day for a long, long time! Not forgetting that it is ultra-stylish, for those who love to treat themselves to a bit of luxury fashion every so often.
The strong structure of this famous bag and its heavy-duty zip make this the ideal choice for those who need a good reliable bag that can be used to carry all the essentials and more – take a look further down this post for our section on how each size compares and what you can actually fit inside one of these spacious and beautiful Givenchy handbags.
Givenchy Antigona For Sale
If you're one of the many fashionistas who is coveting the Antigona but just hasn't yet gotten around to treating yourself, then look no further! Shop Givenchy Bags on NET-A-PORTER here.
Sign-Up for our email newsletter to make sure you don't miss out on your favorite designer brands and latest video releases!
Givenchy Antigona Size Comparison
The Givenchy Antigona was created in four different sizes, so there's something for every lifestyle. From the smallest model – the Mini, right up to the Large, which has since been discontinued. We really like all of the Antigona sizes and the Small is a great compromise if you can't choose between the Mini and Medium. Our size list and "what fits inside" guide below might just help you make the decision as to which size would suit you the most.
Givenchy Antigona Mini

Width: 22 cm or 7.48 inches
Height: 19 cm or 8.66 inches
Depth: 13 cm or 5.12 inches


Givenchy Antigona Small

Width: 28 cm or 11 inches
Height: 24 cm or 9.45 inches
Depth: 16 cm or 6.5 inches


Givenchy Antigona Medium

Width: 34 cm or 13.4 inches
Height: 29 cm or 11.4 inches
Depth: 19 cm or 7.5 inches


Givenchy Antigona Large (2)

Width: 38 cm or 14.96 inches
Height: 33 cm or 13 inches
Depth: 24 cm or 9.45 inches
Of course, as the size of your bag increases, the weight will also follow suit, so expect the Large to be relatively heavy, even when empty. How much the Antigona weighs will depend upon the fabric it is made from, so this would be another thing to consider when making your gorgeous Givenchy purchase. Keep reading to find out which fabrics the Givenchy Antigona has been produced in and see which one tickles your fancy the most.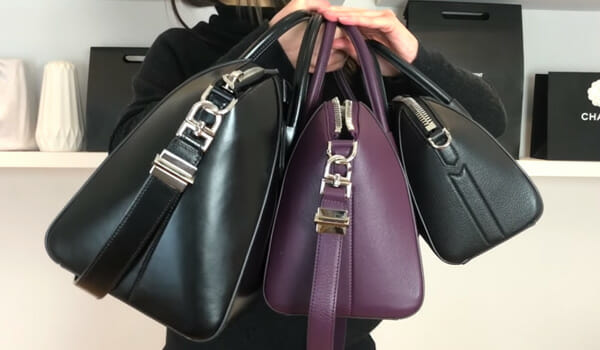 What fits inside the Givenchy Antigona Mini
The Givenchy Antigona Mini is the smallest of the range and is a great handbag for days (or nights) when you don't need as much with you. It features a detachable over-shoulder/crossbody strap which makes it easier and safer to carry if you were to take it on a shopping spree or to a busy event.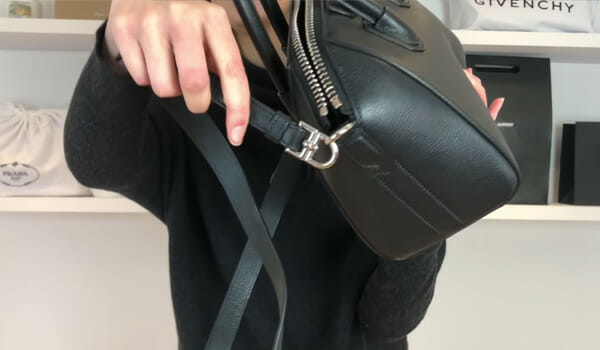 The Mini fits in all of the everyday essentials you would want with you on a day-to-day basis – your purse, keys, phone, a small amount of makeup and perhaps even your iPad mini if you need to work on the go. You wouldn't fit a bottle of water in the Mini Antigona unless you left the zip open, which we don't recommend. It wouldn't be a great idea to overfill the Mini Antigona, as due to the size of the bag in comparison with the chunky zip, it can feel a little stiff to fasten and unfasten as it is when empty, so having it busting at the seams (which we're pretty sure no one would do to their beautiful Antigona…) would only make it more difficult to close.
In summary, the Givenchy Antigona Mini is perfect for shopping and small errands.
What fits inside the Givenchy Antigona Small
The Givenchy Antigona Small has a fair few inches each way on the Mini, so fitting in more of your everyday fundamentals is a doddle. This would be the ideal size for work if you don't need to carry a laptop – you could fit your keys, phone, purse, makeup, iPad or notebook in this bag and you can stay hydrated with your bottle of water. Interior pockets do help to keep your belongings more organised, however, handbag liners can make sure you never have to dig in your bag to find anything ever again – keep reading to learn more about these handbag saviours. This bag could potentially get quite heavy if you carry a lot with you, so it may not be the greatest option for a long day of shopping!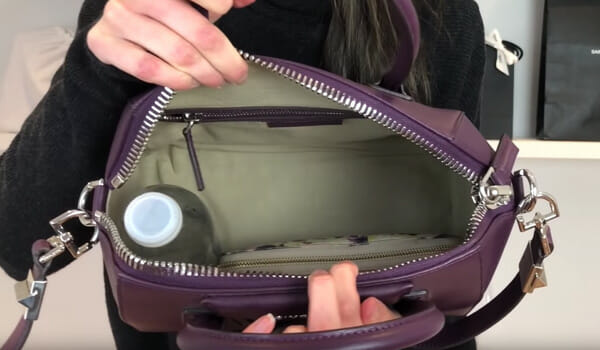 The Small also comes with a detachable strap, so you can wear this bag over-shoulder or crossbody style to give your arms a break if you need to. This is probably the most sought after size in the Antigona series.
In summary, the Givenchy Antigona Small is perfect for: Every day (and great for work if you don't need a laptop).
What fits inside the Givenchy Antigona Medium
Although known as the Medium Givenchy Antigona, this bag is definitely large on the scale of handbags. This is the ideal size for those who do require carrying a laptop for work or for those who take lots of weekend trips. This bag would fit a smaller laptop (up to 13 inches), notebook, pen, bottle of water, purse, keys, phone, makeup and perhaps even your iPad if you need it.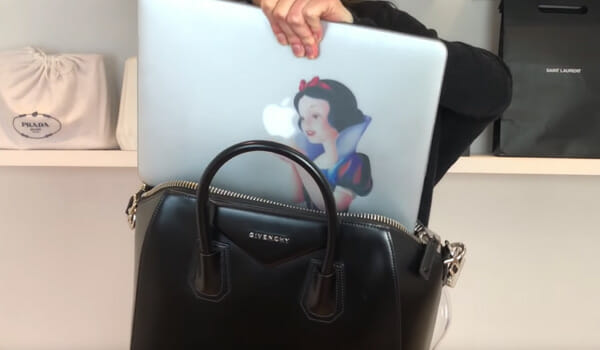 Just be aware that this bag is already a bit more weighty than the Small, even when empty, so adding in a laptop etc. will increase the weight considerably. The wide crossbody strap does help to make carrying the bag more comfortable when it comes to distributing weight, but, it could get a little painful if you were to carry a full bag around for an entire day. Of course, you can always carry the bag using the sturdy padded handles if you prefer.
In summary, the Givenchy Antigona Medium is perfect for: Work or a short trip away.
What fits inside the Givenchy Antigona Large
The Givenchy Antigona Large, as mentioned earlier, has been discontinued, but if you were to grab yourself a secondhand one, you can expect to fit a fair bit into your bag. The Large would easily fit a laptop and all of your essentials – phone, keys, purse, makeup, a bottle of water. It would fit in almost anything else required for work, or would be the ideal choice for travelling for a long weekend or minibreak! This bag is probably too large to use as an everyday handbag as it is quite heavy, even when empty.
In summary, the Givenchy Antigona SmallPerfect for: A long weekend trip.
Make sure to pop by our YouTube channel to watch our Mini, Small and Medium Givenchy Antigona size comparison video to see how the bags sit on the body and to get a really good idea of how much you can fit into each of the bags. You'll also find lots of other great videos with all of your favourite designer brands and LOADS of handbags… of course!
Givenchy Antigona Fabrics
This fabulous bag is available in a multitude of different materials, some of the most popular being sugar grained leather (goatskin), smooth leather (calf skin) and a multitude of colours, so you can choose an Antigona handbag to suit your personal style. Classic colours, such as black, have truly stood the test of time, from season to season and this is the only colour that is guaranteed to be included in each year's rerelease – people just can't get enough of those sleek lines and the statement, boxy shape of a Givenchy Antigona bag.
Here are some of the fabrics that have been featured in the Givenchy Antigona series (3) and a little about each material:
Box Calf Leather –

Firm
Soft to the touch
Attractive grain pattern


Smooth Calf Leather –

Firm
Soft to the touch
Reduced grain pattern
Slight shine to surface


Patent Calf Leather –

Firm
Highly shiny
Smooth, reflective, lacquered surface


Rubberised Canvas Leather –

Cotton
Coated in natural rubber
Durable
Water-resistant


Sugar Grained Goat Leather –

High quality
Supple
Soft surface
Durable
Naturally water-resistant


Coated Canvas –

Cotton
Coated in PVC
Durable
Water-resistant
Scratch-resistant
Light-weight


Nubuck –

Top grain leather
Soft
Sanded or buffed velvety surface


Ostrich –

Exotic & Rare/Expensive
Supple
Durable
Unique, small bumps on surface


Elaphe –

Exotic & Rare/Expensive
Durable
Water-resistant
Unique snakeskin patterning


Anaconda –

Exotic & Rare/Expensive
Durable
Water-resistant
Unique snakeskin patterning


Python –

Exotic & Rare/Expensive
Durable
Water-resistant
Unique snakeskin patterning
Does the Antigona Bag scratch easily?
The Givenchy Antigona handbag, like all other bags, does need a certain level of care to avoid scratches, stains or bumps – storing it in the dust bag whenever not in use is a great way to increase the longevity of the leather.
When it comes to scratches, the Antigona handbags which are made from the smooth leather would probably be the most likely to show scratches, due to their glossy and slightly reflective surface (4) – any faults would become more obvious in certain lights. As for being scratched easily, this definitely depends on how roughly the bag is treated. It is possible to avoid scratches by taking care of your Antigona, but general wearing will always happen with use.
Any scratches on the grained leather would be less visible, due to the textured surface appearing more matte and not reflecting light. If you do tend to be a little rougher with your handbags, then perhaps opt for the goatskin. Choosing a dark colour of leather means that any dirt or grease that your bag may come into contact with, would be less visible also.
If you want to avoid scratches at all costs, a coated canvas bag would be your ideal option, as this PVC coated fabric is scratch-resistant.
Is the Givenchy Antigona Handbag a Good Investment?
This entirely depends on your own personal reasons for wanting the Antigona bag. If you are investing in a stylish, luxury accessory which is highly practical and long-lasting, then this is the ideal investment for you. If you are looking after the bag, it would make a great piece to hand down to a child or a relative who shares in your passion for designer handbags.
With regards to the Givenchy Antigona falling out of favour with the fashion world, it would be a chance you would have to take – with almost a decade under its belt already, this handbag could continue to be a sought after classic for many more years to come.
If you really love the design, then the Givenchy Antigona would a good personal and practical investment for you. Just make sure to consider the size, colour and fabric type that would suit your fashion style (5) and lifestyle (use of the bag) the most.
Buy a Pre-Loved Givenchy Antigona Bag
Buying a pre-loved / second hand Givenchy Antigona bag is a fantastic way to recycle and spend less cash than on a brand Antigona bag. It also means you can gain access to many previous styles, colours and fabrics of the Givenchy Antigona bag which may not currently be available in the latest range of bags.
With a huge range of second-hand designer handbags, eBay can be a great place to find a pre-loved luxury bargain. Always purchase from a reputable seller with lots of positive feedback, and get your bag an Authentication certificate from a reputable authenticator service when it arrives to ensure the bag you have it Authentic. Shop Givenchy Handbags on eBay >
Protect the lining of your Givenchy Antigona Bag with a Handbag Liner
Of course, we mentioned earlier about keeping your Antigona in its dust bag when not in use to help preserve the external fabric, but it is always a good idea to keep the interior looking at its best too!
Protecting the lining of your Givenchy handbag could not be easier, all you need is a Givenchy handbag liner. Not only will a liner help to keep the interior fabric safe from wear and tear and unwanted stains, but you can choose a liner which features multiple compartments, ideal for organising your belongings – no more rifling around in your bag for your phone or purse! The Givenchy Antigona handbag is already very structured and holds its shape extremely well, but a liner could help your bag to stay in shape for even longer.
Handbag liners come in a whole host of sizes and styles, which means you can get one for all of your designer bags. There are so many perks to protecting your bag's lining, that this small investment could help your bag to retain more of its value over time.
Get your Givenchy Antigona handbag liner here and start protecting your gorgeous, stylish investment piece now. You will not regret it!

References
(1) https://bagista.co.uk/blogs/news/icons-only-the-givenchy-antigona; Isabel de Carteret; April 4th 2018
(2) https://ladylikei.wordpress.com/2015/05/13/givenchy-antigona-size-comparisons/; Nicole Birret; May 13th 2015
(3) https://www.purseblog.com/givenchy/the-ultimate-bag-guide-the-givenchy-antigona-bag/; Amanda Mull; March 30th 2015
(4) https://www.miamiamine.com/2019/07/my-honest-review-of-the-givenchy-antigona-bag.html; Maria Vizuete; July 25th 2019
(5) https://www.pursebop.com/givenchy-greatness-givenchy-antigona-reference-guide/; Maura Carlin – Editor; April 10th 2016