When it comes to choosing a designer handbag, there's one thing that may not be at the forefront of your mind when you see all the pretty options – practicality. But having a practical bag in your designer collection is such a great idea and we think crossbody bags are one of the most useable, day-to-day bags around!

Best Designer Crossbody Bags
When you're out shopping or running errands you want both hands free, so you can pick things up, open the car, carry parcels… whatever you have to get done that day. So why not opt for a bag that you can wear without sacrificing the use of your arms?!
Crossbody bags sit nicely across your chest and over your shoulder, keeping your belongings in close proximity and easily accessible, not to mention extremely secure. All while your hands are free to do what you please.
1. Louis Vuitton Pochette Metis Crossbody Bag
Price – from £1,500 (monogrammed canvas) or from £1,670 (leather)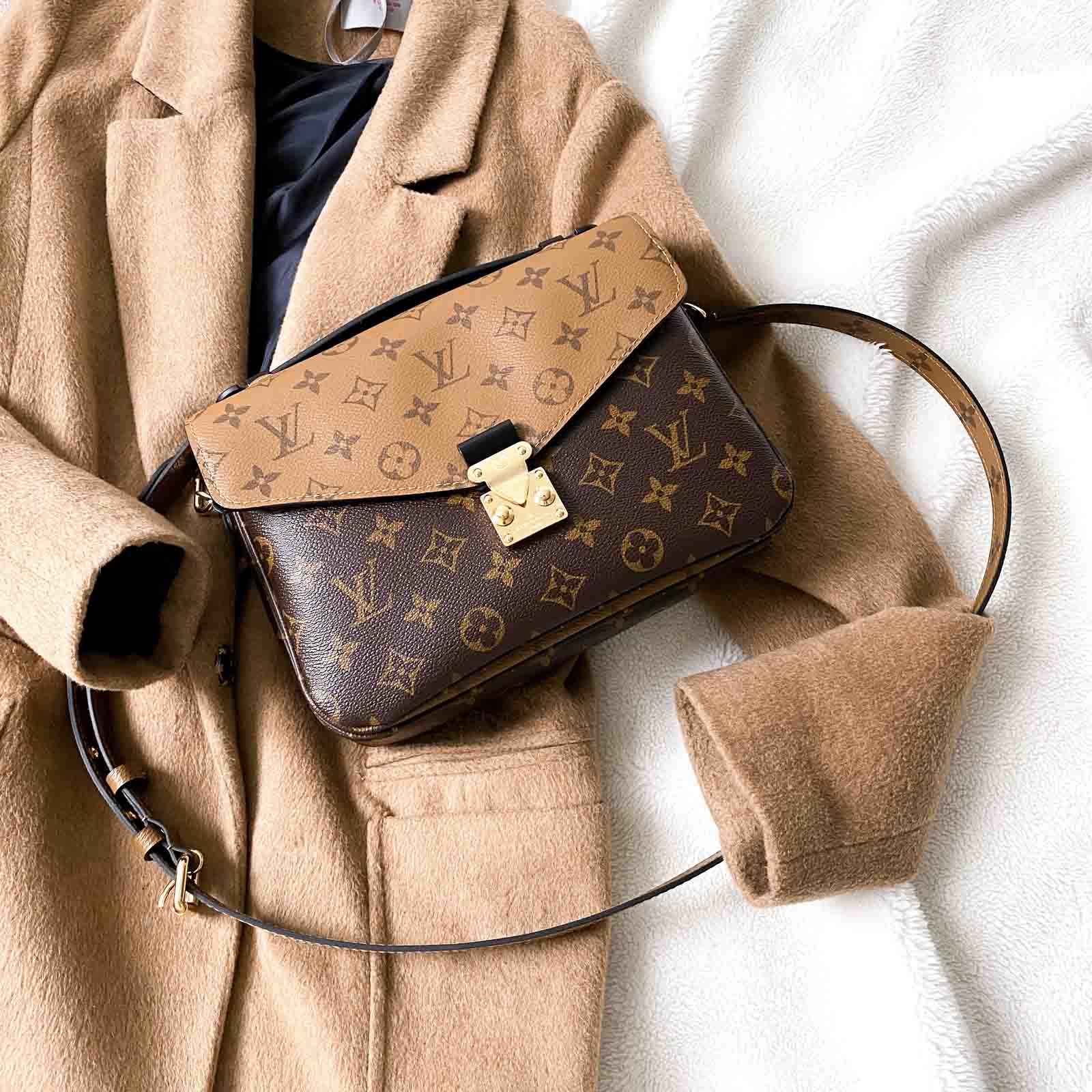 This is just one of the designer crossbody bags Louis Vuitton makes but it has to be one of our favourites. The Pochette Metis is the ideal size for everyday wear and, split into two compartments with an internal slip pocket and external zipped pocket to the back, is highly practical.
The LV Pochette Metis is only available in one size, however, it comes in both canvas and leather and in a range of colours, so you can choose the best look to match your signature style. Monogrammed canvas versions are slightly cheaper than the leather varieties, so if you're looking to save a that little bit more, opt for canvas.
The simple, yet elegant styling of the Pochette Metis makes this a timeless choice which you're bound to get lots of wear out of.
WE LOVE: The zipped pocket on the back of the bag that adds more security for items you want to have quick access to but want to keep safe, like you're phone or card purse.
Buy LV Pochette Metis Bag >

2. Louis Vuitton Odéon
Price – varies with size (see below)
Odeon PM – from £1,260
Odeon MM – from £1,350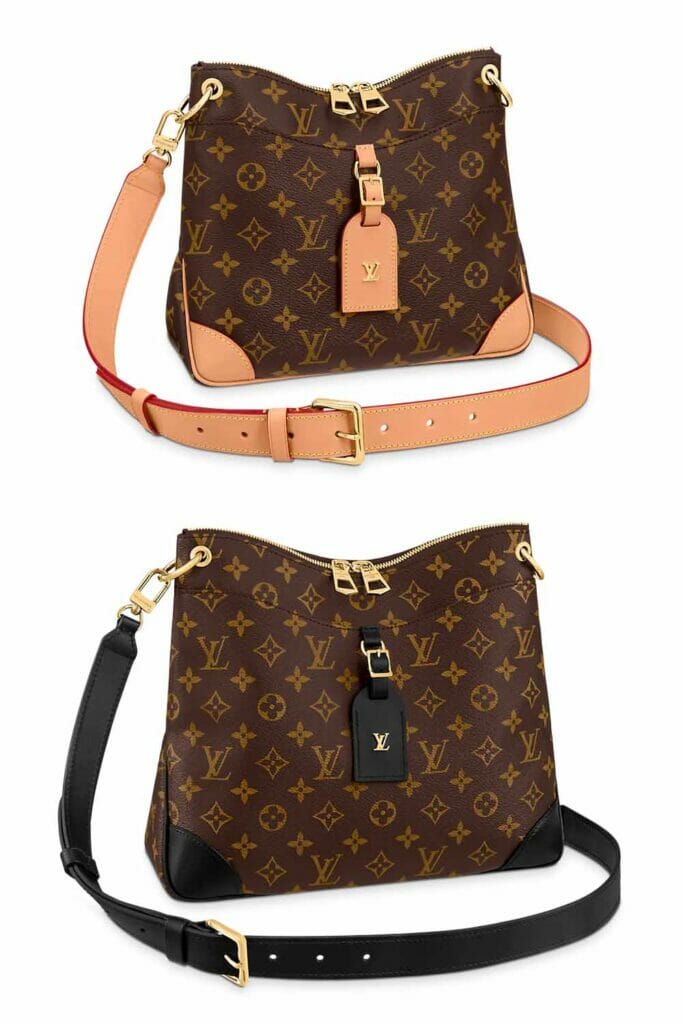 The LV Odéon bag has a bit more of a casual vibe which makes it ideal for day-to-day use. The zipper top means all of your belongings stay safe and secure but are super easy to access whenever you need them. There's also a handy slip pocket to the front of the bag which has a hidden magnetic closure – ideal for car keys or anything you need to grab quickly – and an internal slip pocket too.
The tapered shape of the Odéon means it sits really comfortably on your hip when worn over-shoulder or as a crossbody bag and the adjustable strap means it can be changed to suit all body-types. This leather bag strap is also removable, so could be used on other bags with handle loop attachments!
The more relaxed styling of this designer crossbody bag gives it a cool-ness that will work with a plethora of everyday outfits. Since the Louis Vuitton Pochette Metis and Odeon bags are both very good crossbody bag option below is a video comparing the two if you can't decide including outfit styling.
Buy LV Odeon Bag >
Price – varies with size (see below)
Speedy 25 – from £1,100
Speedy 30 – from £1,120
Speedy 35 – from £1,140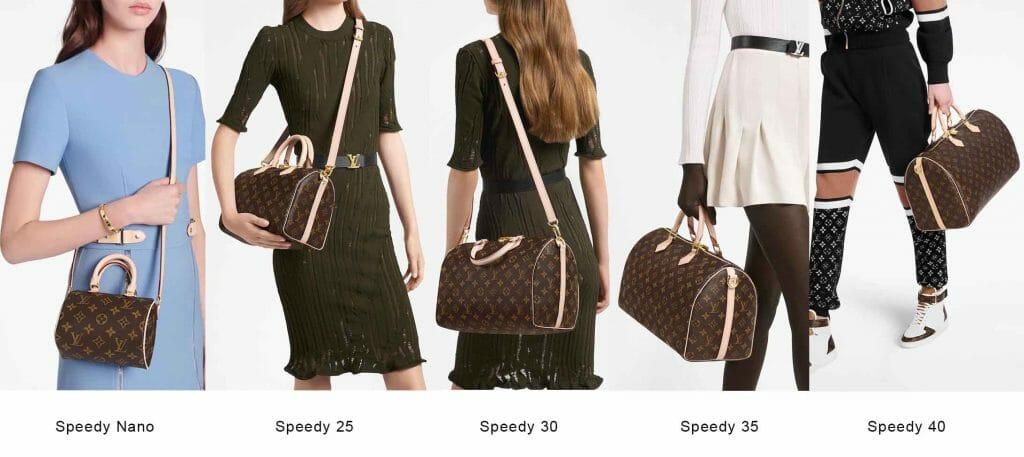 The crossbody or bandouliére version of the LV Speedy is a really great, versatile bag, perfect for popping on wherever your day takes you. With a really good-sized interior with a handy internal zipped pocket, this handbag will hold plenty and keep it securely zipped inside.
Depending on how light you tend to travel, you could opt for the Speedy in a size 25, 30 or 35 – sized indicate the measurement of the bag at its widest point. Just bear in mind, the larger the bag, the less comfortable it might feel sitting on your hip all day, especially when it has your everyday essentials inside. We love the Speedy 25's slightly more compact dimensions for running errands or going shopping.
Buy LV Speedy Bandouliere Bag >
Price – from £1,680
If you love the look of the Chanel 19's chunky chain strap, but don't want to pay the sky-high price, then Louis Vuitton's Passy bag could be a great alternative. Worn crossbody or over-shoulder, this bag is super wearable and translates well from day to night due to the statement, glossy LV hardware on the front.
Inside the relatively compact Passy are two compartments – one zipped for added security – and the bag has both front and back slip pockets for easy access to your phone or purse. This LV is a little on the smaller side, which is superb for those who tend to only carry the bare essentials.
WE LOVE: The chunky gold chain strap which gives this bag a touch of extra class and makes it wearable as an evening bag as well as all day. Crossbody for busy day mode, over-shoulder for after-work drinks.
Buy LV Passy Bag >
Price – from £945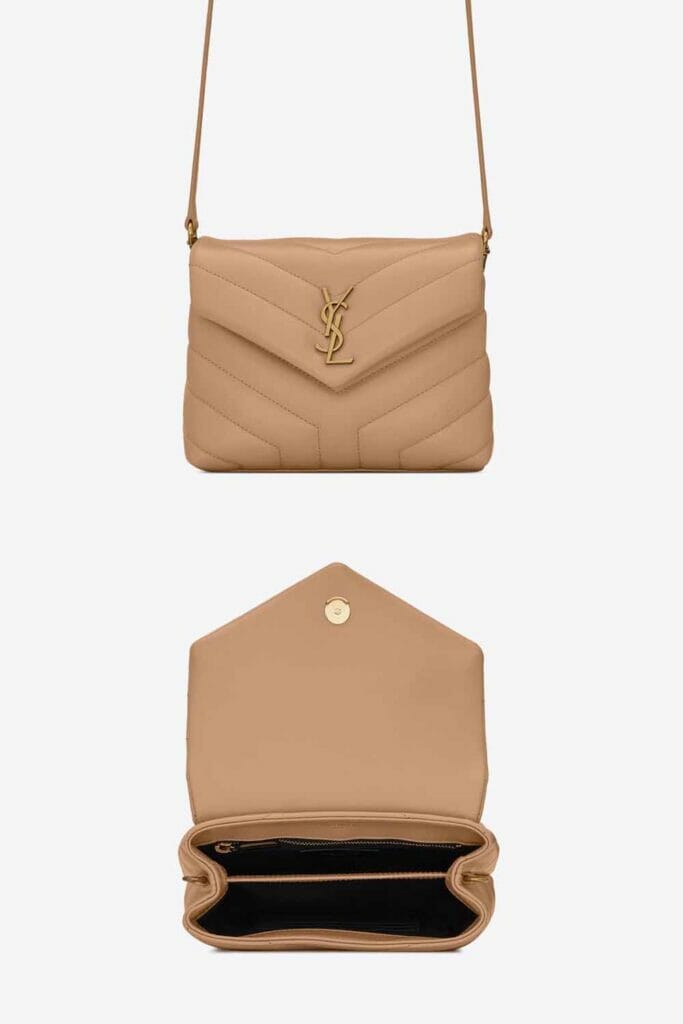 Perfectly simple in an envelope-style design, yet elevated to evening bag status by the luxe quilted texture of the leather and statement logo hardware – this neat little designer crossbody bag is Saint Laurent's Loulou Toy. Despite the more petite proportions of this bag, it is deceptively spacious and more than ample for night-out necessities.
The bag's interior is divided into two compartments by a central slip pocket and has a zipped pocket to the back for keeping money or keys and a small slot in the front to keep bank cards nice and safe. The detachable strap allows you to adjust it to suit your height and is made from leather, so comfortable for extended wear.
This is definitely more of an evening bag, just based on size and styling, and the simplistic design will lend itself really well to any ensemble. You can get the YSL Loulou Toy in black Matelassé leather with chic, matte black YSL hardware for £1,000, or with silver or bronze hardware for £945. If you're feeling a little more "out-there" but still want the perfect designer crossbody bag in black, the quilted patent Loulou Toy will be right up your street at £1,035.
Buy YSL Lou Toy Bag >
Price – from £1,700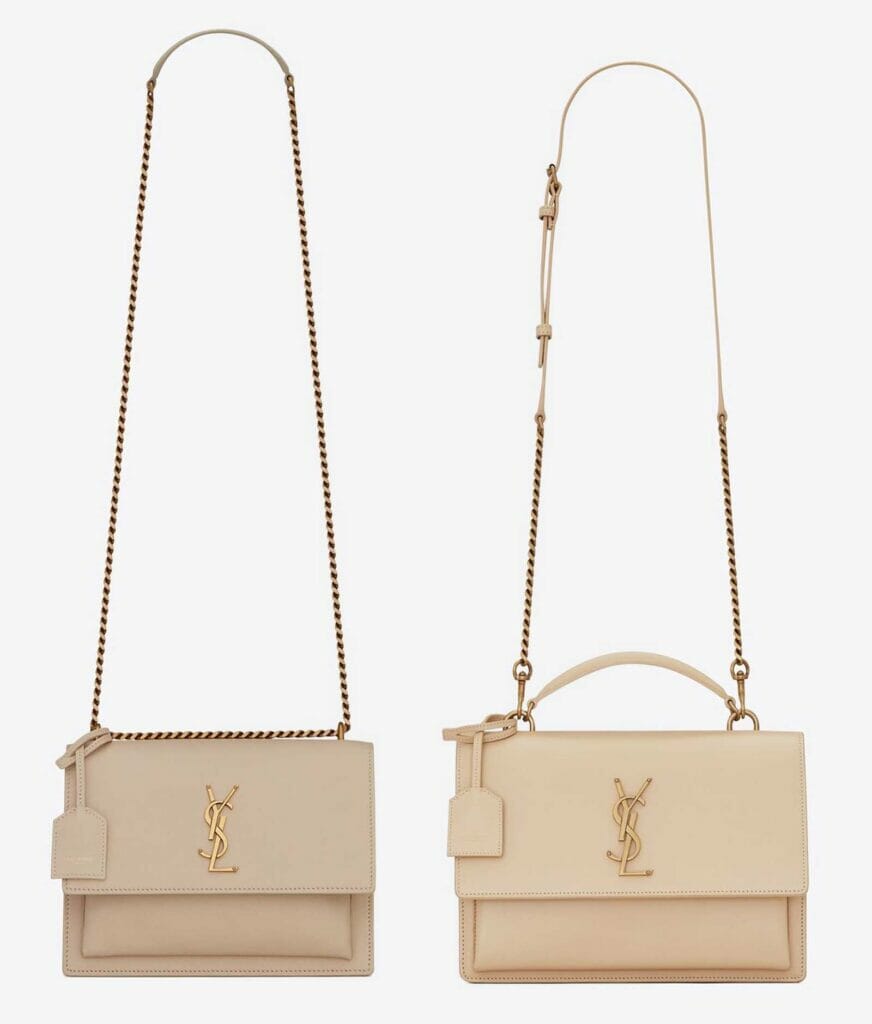 The YSL Medium Sunset crossbody bag is the pinnacle of a classy LBB (little black bag) with its clean straight lines, calf-skin leather and boxy curb chain. This bag is available in a good range of classic colours as well as a number of finishes, including smooth or grained leather for £1,700, croc-embossed leather for £1,760 and a stunning suede for £1,795. So you can opt for the look that best suits your personal style.
This is a great bag for keeping your items nice and organised inside. There are two open compartments and slip pockets to the back and front of the bag with another smaller slip pocket internally at the back. So, it's safe to say there's plenty of room in there for car keys, your phone, a bit of makeup, and your purse – all you need on a girly night out!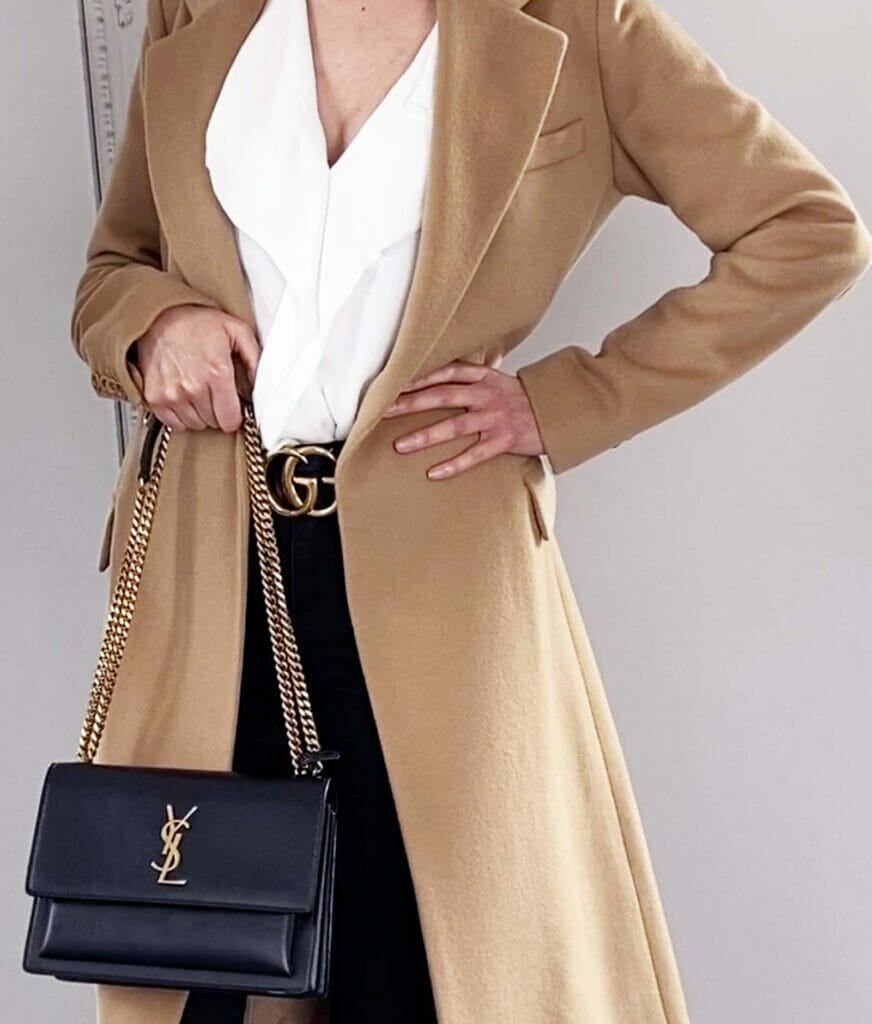 Buy YSL Sunset Bag >
Price – from £3,660
One of the more expensive designer crossbody bags on the list is the Chanel 19. Simply styled with their signature CC logo twist clasp and a flap closure, this bag is super versatile. There are a LOT of different colourways, fabrics, and styles available for this particular Chanel bag, so plenty of opportunities to show your true colours… if you've got in excess of £4,000 spare.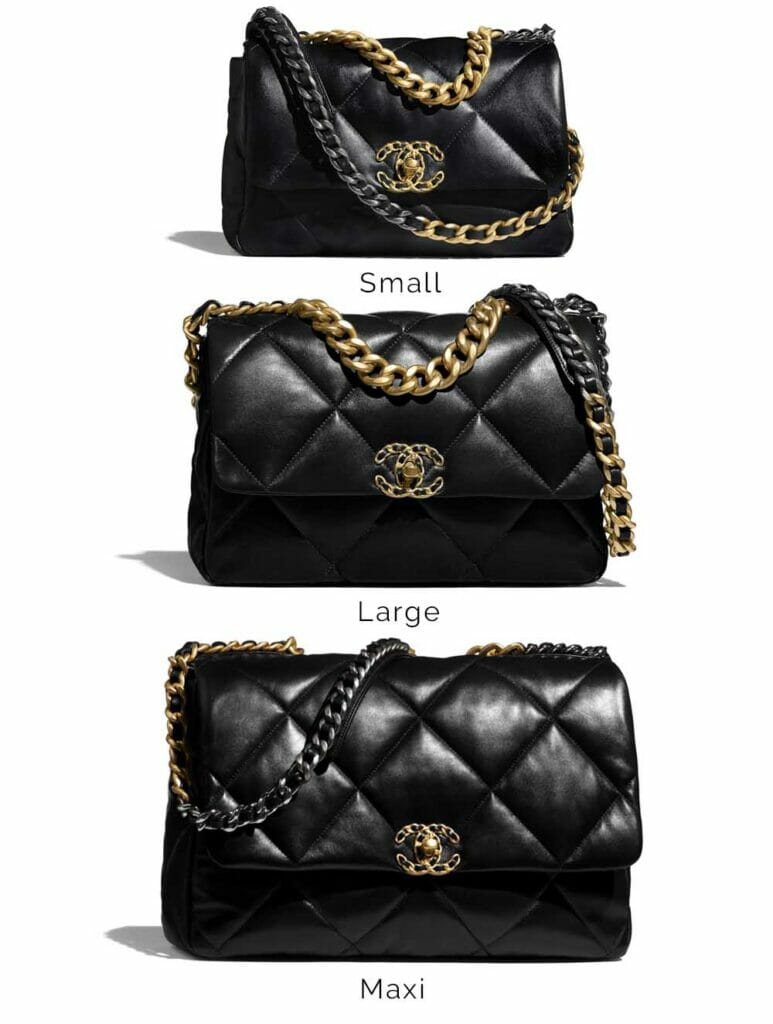 This bag is really roomy without being too chunky when worn across your body, with an external slip pocket to the back (ideal for your phone) and a zipped pocket in the back of the main compartment (perfect for cards or money). As there is one big compartment, you may want to invest in a handbag liner which gives you more organisation with pockets, this will also help to keep your bag's structure and protect the lining.
The Chanel 19 Flap bag is also available in a larger size for those of you who like to carry a little more around with you.
WE LOVE: The way the Chanel 19 holds itself open as you put things in and get things out of your bag. The chunky chain handle which allows the 19 to stay open is also an alternative way to carry the bag – if crossbody doesn't suit your outfit.
Buy Chanel 19 Bag >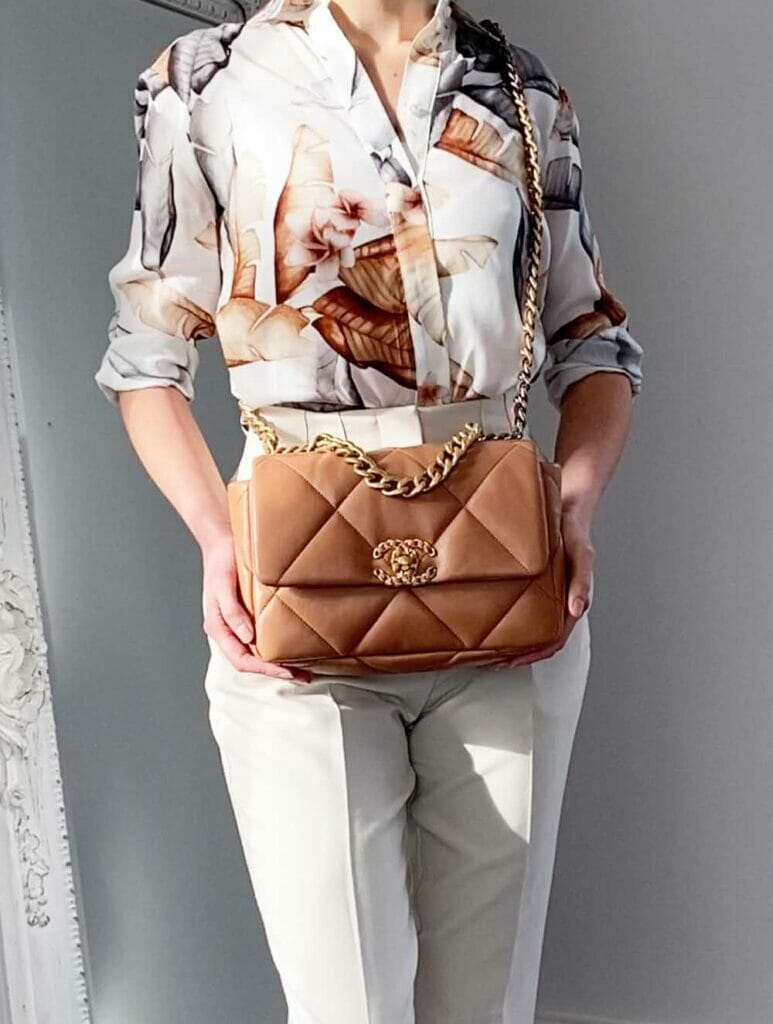 Price – varies with size (see below)
Small – from £3,930
Medium – from £4,300
Large – from £4,470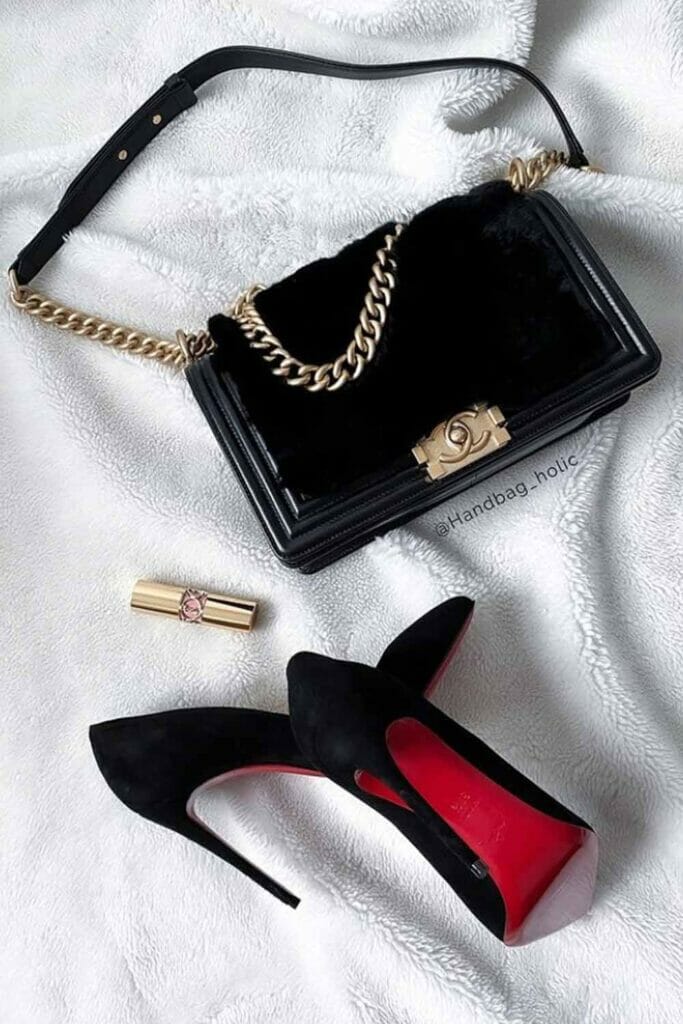 When it comes to an everyday crossbody bag, the Chanel Boy in the Medium sizing is ideal! With enough room for your keys, phone, a small purse and maybe a couple of items of makeup, this bag should definitely suffice for running errands and hitting the shops. One thing we do want to mention is that this bag isn't the most 'depthy', so we prefer the Chanel 19 (or Large Boy bag) if you are looking for a really practical Chanel crossbody bag.
The sleek and structured styling of the Boy makes it really desirable as it can be extremely versatile when it comes to pairing this bag with everyday outfits – a black or neutral-coloured Chanel Boy bag will fit right in with pretty much any getup.
If a tight budget is a factor in your hunt for the perfect designer crossbody bag, then keep reading to discover more options.
Buy Chanel Boy Bag >
Price – from £865
If you're looking for a super simple, lower-priced designer crossbody bag, then Gucci's Soho Disco could be the one for you. This (dare-we-say) cute handbag has lovely soft edges which mimic the shape of the embossed GG logo and a hint of bohemian with a leather tassel embellishment. A great bag for days when you want to travel light and be completely hands-free.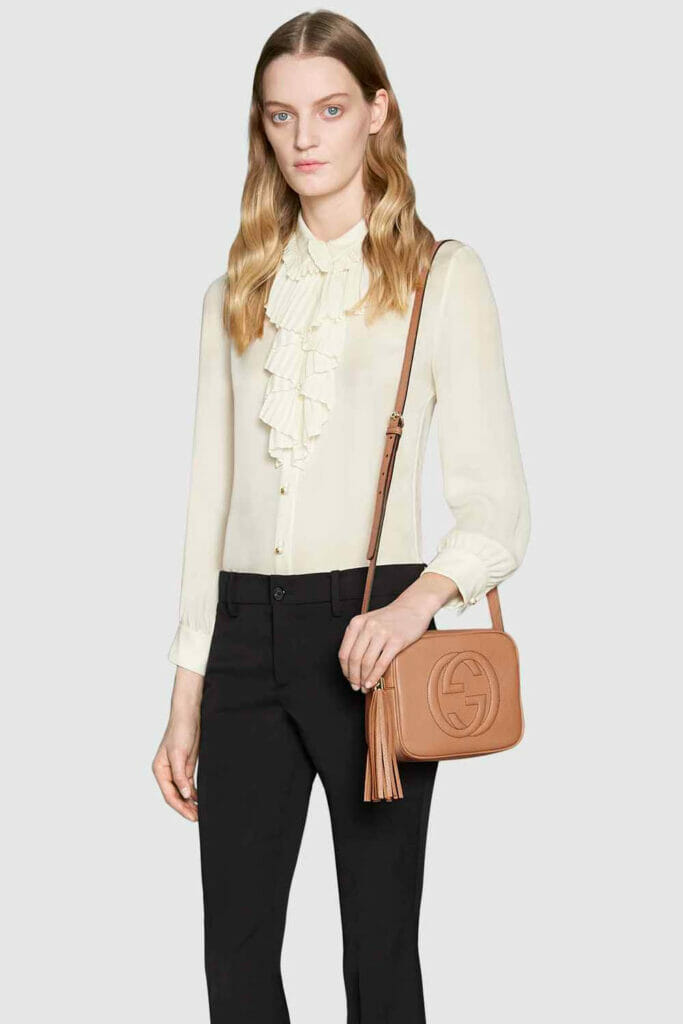 Perfectly casual, the Soho Disco bag may just become your go-to for every day. It is, however, a little on the small side in comparison to some of the other bags in our list, but still very much practical. The bag is made up of a single zipped compartment with a small slip pocket internally to the back, allowing for plenty of space for your purse, phone, and keys as well as sunglasses or a small selection of makeup items – perfect. The bag features a thin leather strap that is adjustable for ease of wear.

Buy Gucci Soho Disco Bag >
Price – varies with size (see below)
Marmont Matelassé Mini – from £930
Marmont Matelassé Small – from £865 (for Canvas) from £1060 (for Leather)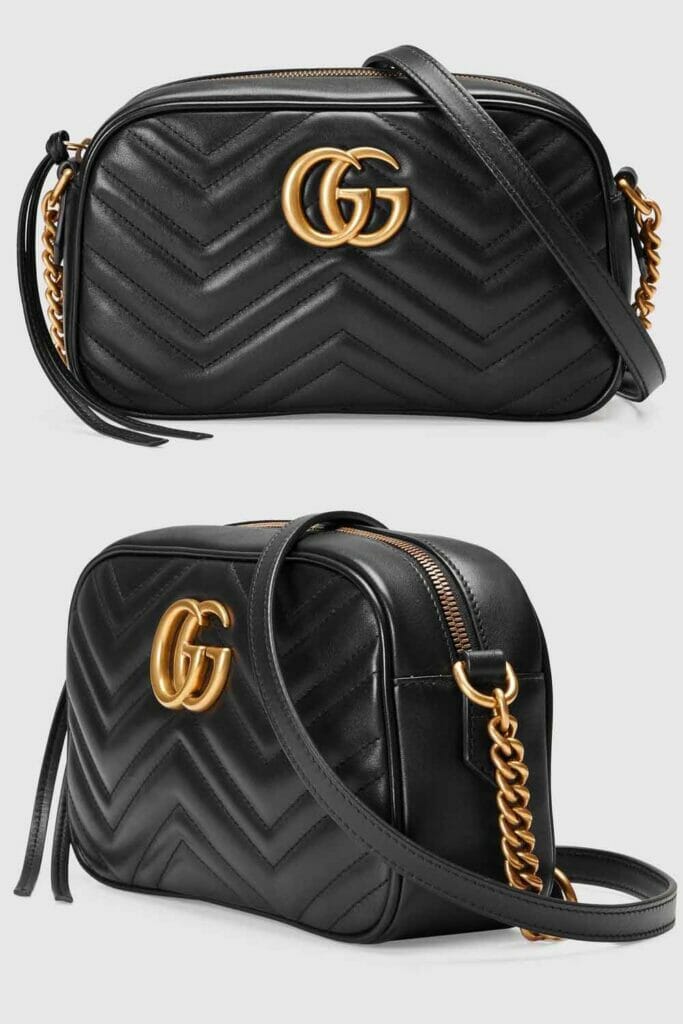 The Marmont Matelassé from Gucci is similar to the Soho Disco with regards to shape – more of a camera-style bag – but with the metallic GG hardware giving it a nudge towards becoming an evening bag. Although, we can see this being a great all-rounder, especially in a more neutral colourway and perhaps in the Small size as opposed to the Mini.
The part-chain, part-leather strap sadly isn't adjustable, so will sit at different points on the body depending on your height. The drop for the Mini is 60cm, so you'd have to make sure this was a good fit for you if you're looking for an everyday wear bag. Inside the Marmont Matelassé is a single compartment with a slip pocket to the back. There isn't a whole lot of space in the Mini, but it holds enough to take you on a night out without needing to leave any of your essentials at home.
Buy Gucci Marmont Camera Bag >
Price – varies with size (see below)
Antigona Mini (crossbody) – from £1,250
Antigona Small (not crossbody) – from £1,590
Antigona Medium (not crossbody) – from £1,690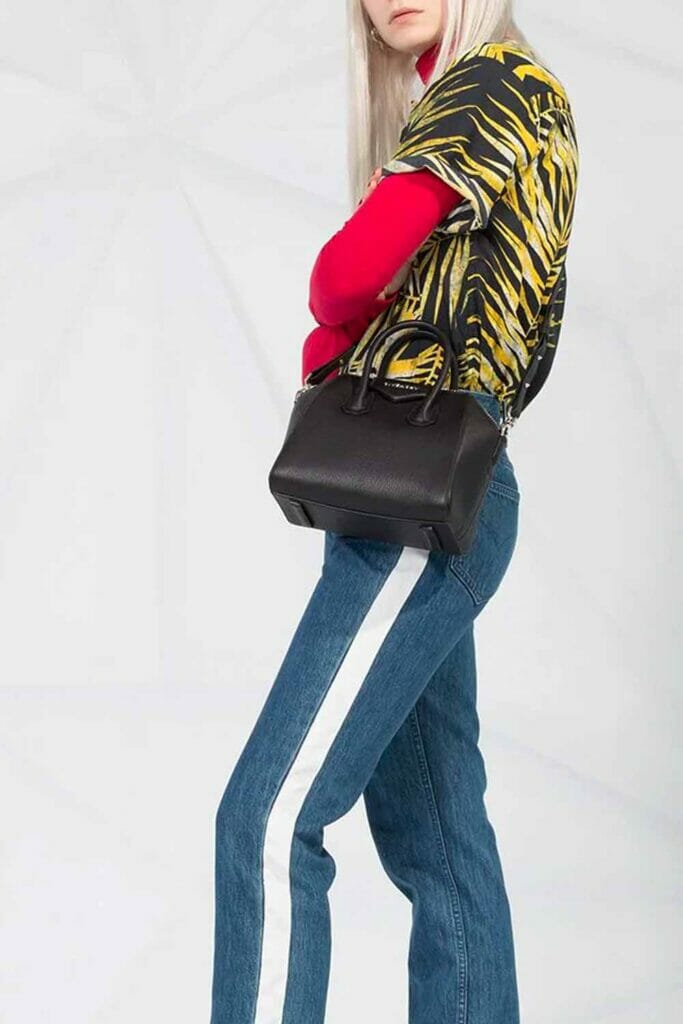 The Givenchy Antigona Mini is the ideal designer crossbody bag for everyday wear if you like a good, structured design that holds its shape. You may have seen the Antigona in a few other sizes, namely the Small, Medium and perhaps even Large, however, these bigger bags can't be worn as a crossbody. Take a look at our Antigona size comparison blog here – you may find you'd like one of the larger sizes as a work bag!
The Mini holds a good amount of stuff – you should get your purse, keys, phone, a small amount of makeup and perhaps even your iPad mini if you need to work on the go into this great little bag. Because the Antigona has top handles as well as an adjustable shoulder strap, you can wear it multiple ways depending on your outfit.
WE LOVE: The Givenchy Antigona in general! But talking about the Mini as a designer crossbody bag, it is ideal for traveling as it will fit your day-to-day holiday essentials as you go sightseeing or shop the boutiques.
Buy Givenchy Antigona Bag >
Price – from £2,400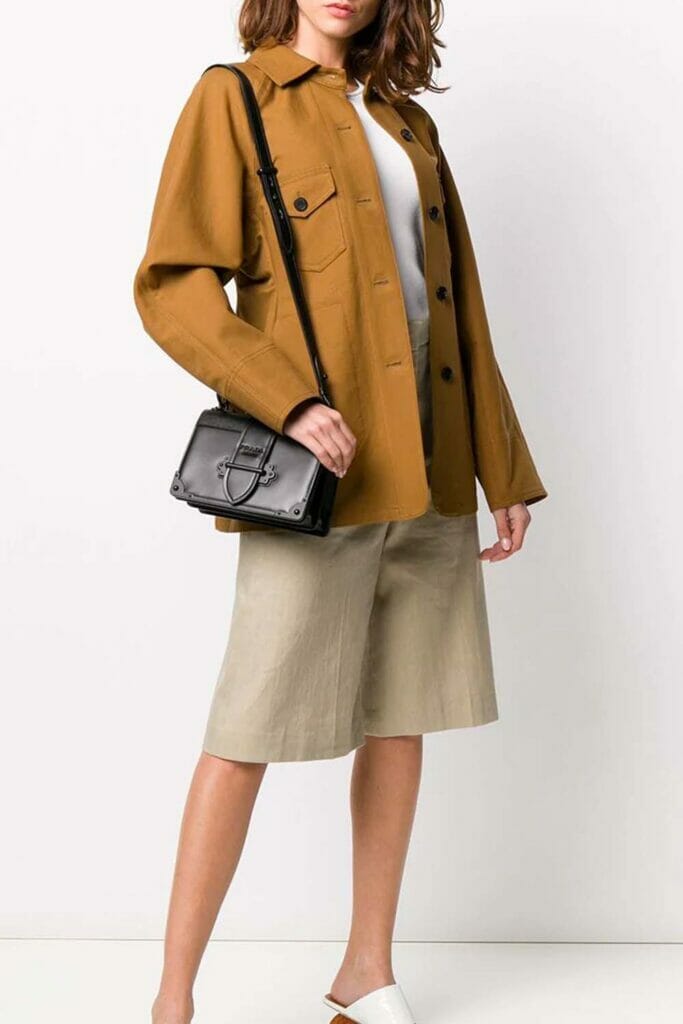 If you love the look of the Chanel Boy, but can't quite push to the budget for it, then the Prada Cahier could be a great alternative. The funky, boxy styling of this bag turns a casual LBB into a bit of a statement, especially if you opt for the bejeweled floral version.
The adjustable strap of the Cahier is a comfortable width that can be worn as a crossbody or shoulder bag, sitting around the hip. The bag's hardware is pretty unique with what reminds us of antique book cover edging, which is protecting the corners of the bag while making it look a little bit edgy and whimsical all at the same time. This metallic detailing does make the bag a bit heavier than you might expect for its size.
This Prada crossbody bag is a little on the small side, so maybe better as an evening bag or for events where you want an easy-to-wear bag that leaves your hands free for all of those networking handshakes. Inside there are 2 compartments with two small slip pockets, perfect for keeping cards or cash secure.
Buy Prada Cahier Bag >
Price – £950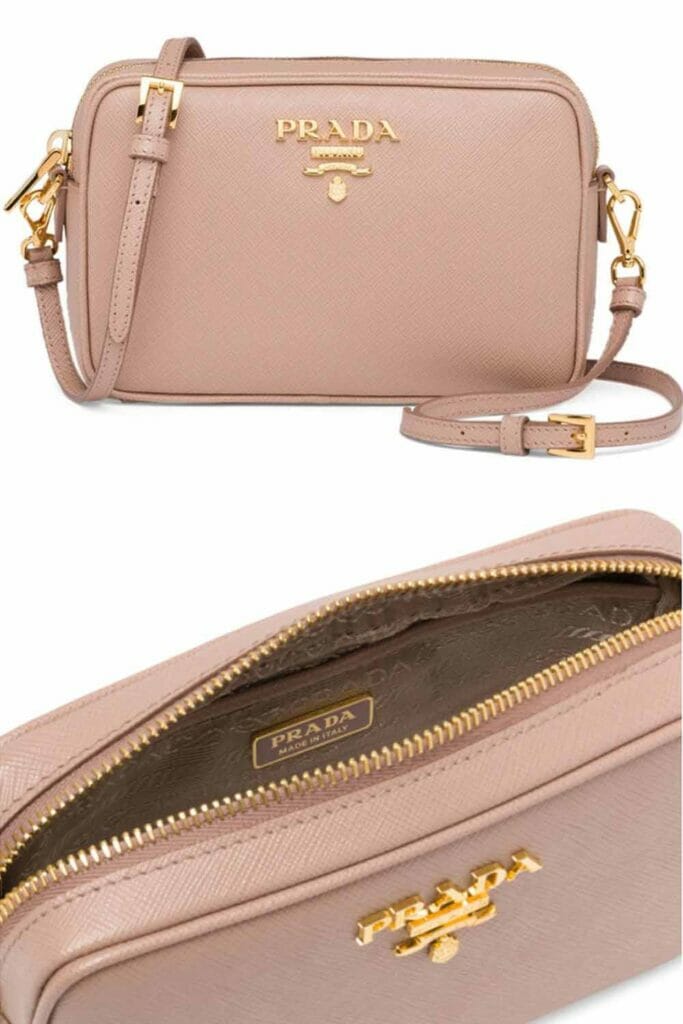 Our last designer crossbody bag on the list is Prada's Camera Bag. This super simple but elegant bag can be worn with almost anything – daytime or evening, casual or a little bit dressy – you can't really go wrong. It is quite small, however, so would only be good for the times you're traveling light.
The single zipped compartment has a few handy card slots and a slip pocket which is big enough to hold some models of phone or a small purse and the removable, adjustable strap allows you to wear the bag crossbody or over-shoulder at a length that suits your height. Overall, it may be little, but it makes for a great designer bag to have in your collection, ready for throwing on at a moment's notice.
Buy Prada Camera Bag >
Best Designer Crossbody Bags for Travel
Price – from £1,220 (for Canvas) or from £1,410 (for Leather)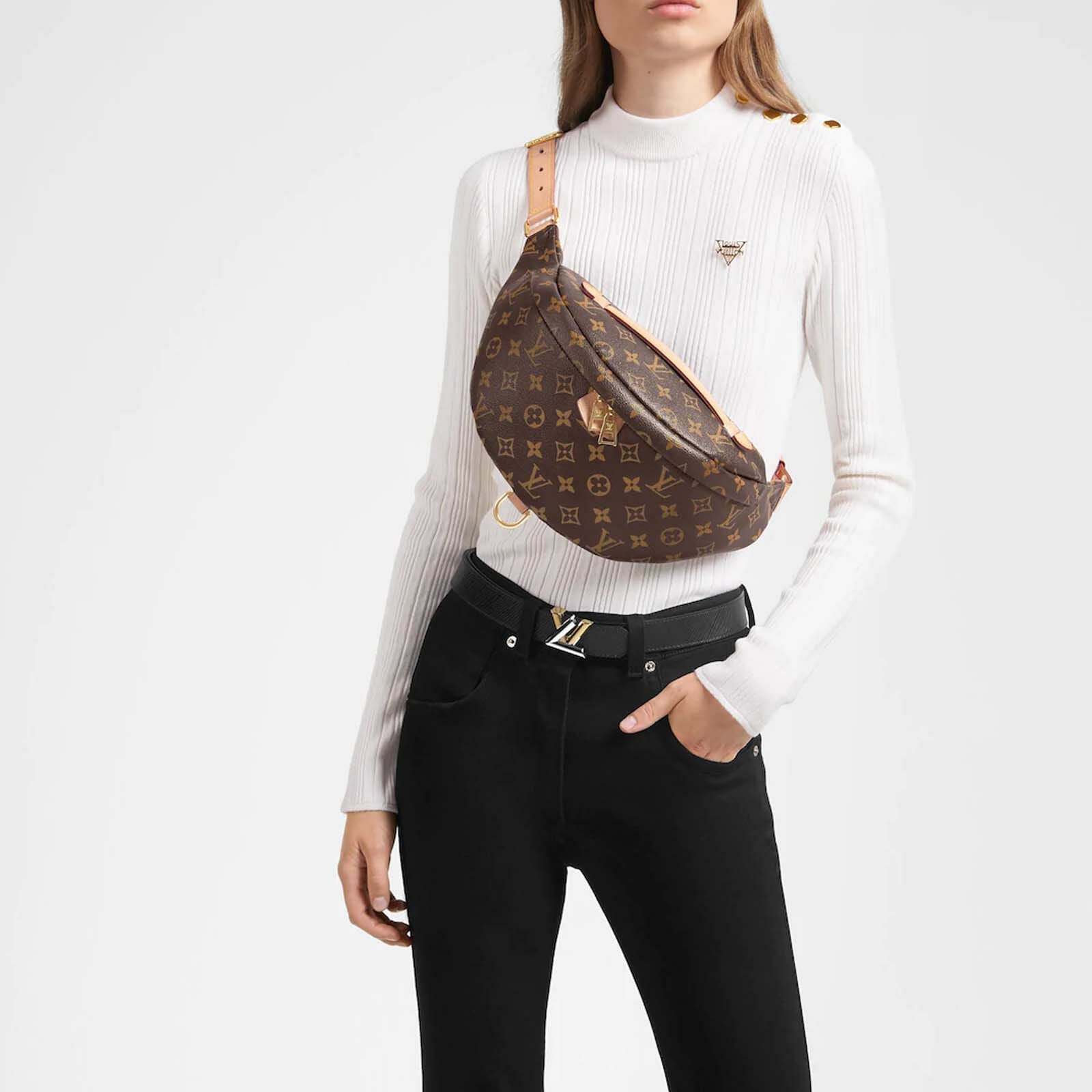 The LV Bumbag may not sound like a crossbody bag, and normally it wouldn't be, but wearing it in this way is super secure and great for travelling or even keeping your items safe while at a festival or busy event. It can be worn underneath a coat too if needed which is ideal for keeping your bag out of sight when navigating bustling market streets while discovering a new faraway city!
The Louis Vuitton Bumbag features a large zipped pocket on the back – ideal for important documents or your passport – and internally there is one main compartment that is big enough to fit a small coin purse, your keys, your phone… pretty much all of the items you need on the daily.
This handy crossbody bag is available in the Monogram Canvas as well as Monogram Empreinte Leather and we love both!
Other designer crossbody bags ideal for travelling include:
Designer Crossbody Bags Black
Black is a staple, classic colour when it comes to handbags – it goes with pretty much everything and won't show wear and tear as quickly as lighter coloured fabrics and leathers might. So here are some of our favourite designer crossbody bags in black:
Designer Crossbody Bags Under £1000
If you're looking to keep to a strict budget of under a grand, then there are some really lovely options for you from our list of designer crossbody bags:
If you can push that £1000 budget a smidge further, you could get the ultra-practical Louis Vuitton Speedy Bandouliére for £1,100.
Designer Crossbody Bags Louis Vuitton
Louis Vuitton is perhaps the king of designer crossbody bags, with a really good range of design styles to suit all occasions and pretty much any outfit. Definitely one of our faves here at Handbagholic!
Let us know which designer crossbody bag is your go-to – is it in our list? Or is there a life-changing bag we're missing out on?