A key part of the Louis Vuitton in-store shopping experience is the salespeople, referred to as client advisors. CAs (for short) can really make or break a customer's shopping experience and are a very important part of the luxury shopping culture. They're relied upon to keep their clients informed and up to date with the newest styles and assist with product knowledge, care, etc. Louis Vuitton is a multi-billion dollar company, so, how much do Louis Vuitton employees make?
How Much do LV Employees Get Paid?
The sales role at a Louis Vuitton boutique earns anywhere from $16-$31 an hour, with an average of $24. Factors like retail experience and sales skills determine the final rate. A hostess role will earn less than a CA, and there's no commission.
How much Louis Vuitton Employees make will vary based on country but on average salary ranges from $66,000 per year for a client-advisor (CA) and go up to $290,000 for a director.
How much commission do Louis Vuitton employees make?
To top up their salary, do Louis Vuitton employees make a commission on sales? It seems to vary but most LV employees do not make a commission on products that they sell, but instead may be involved in bonus schemes. This means that Louis Vuitton sales associates are less 'pushy' about sales as they don't make any direct profit from it. However, it may be that in certain countries employees can make commission and the structure is as follows:
Employees can earn sales commission based on the type of product they sell; 
0.25% on canvas bags
1% on leather goods
3% on exotics and hard-sided luggage
Canvas bags are the least expensive material and are considered an entry-level product in the Louis Vuitton culture. Find out what Louis Vuitton bags are made of here.
You'll find that employees generally prefer leather goods over canvas because the material is just an overall better investment. Canvas is easy to care for and durable but not real animal skin; it's made from Egyptian cotton and sealed with a plastic-like material over top. Monogram canvas is a trademark for LV, but recently they've been veering away from it by withholding canvas styles from the general public. This is in an effort to increase the consumption of leather goods, and clearly, employees are incentivized to steer clients in this direction by offering a higher commission rate.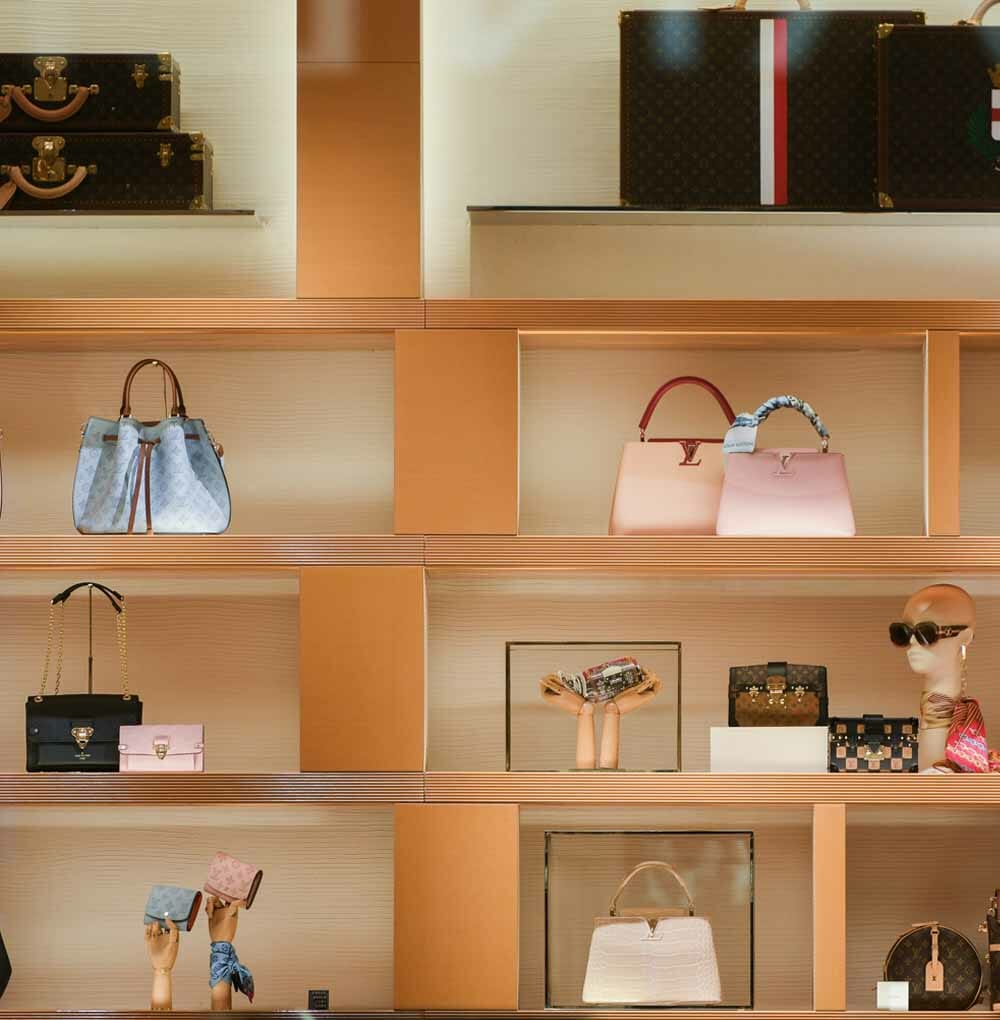 Exotics and hard-sided luggage have an even smaller demand, due to the expensive prices and niche appeal. This commission rate is higher but not obtained very often.
Considering Louis Vuitton is a multi-billion-dollar company, some might say that these commission rates are not high enough for their employees and that the company needs to do better. Unfortunately, retail jobs are notorious for being low-paying and it seems like no matter how luxurious the brand is, the front-line workers have to work extra hard to make a decent living.
Do Louis Vuitton Employees Get A Discount?
Yes, Louis Vuitton employees get a discount of 30%. They also have an internal website for staff only where LV will sell one-off styles at highly discounted rates. The items on the site are previously used as floor models or are defective pieces, and Monogram canvas is excluded. All sales are final on the employee website.
When it comes to understanding how much Louis Vuitton employees make, factoring in perks such as a 30% discount can mean for Louis Vuitton bag lovers, the job is even better paying.
All employee shopping must be done online with one exception; you can shop in person with the employee discount at the Louis Vuitton flagship store in France. This is by appointment only and there will be other employees shopping so there could be competition for popular styles.
How Much does a Store Manager at Louis Vuitton Make?
The salary can range depending on the individual's previous work experience, but typically they can earn upwards of 80K annually, which is extremely lucrative. There are also incentives based on previous years sales' that result in quarterly bonuses.
Is LV A Good Company to Work For?
Of course, there are pros and cons to any job, but generally speaking, Louis Vuitton is a good company to work for.
Pros:
Staff are given custom made uniforms and get free dry cleaning from the company. Female employees are also given shoes and a purse for free and are periodically updated with newer styles. If you leave the company you will have to give back the purse, sadly. Men receive a belt, a pair of shoes and two sets of suits and ties. Image is important to LV so they make sure their staff are taken care of when it comes to their appearance.
The staff receive a 30% discount and benefits.
Incentives are given when sales goals are reached, so the whole staff can receive a bonus which opens the doors to earn more.
Some store managers will have contests for sales targets and give away prizes making the working atmosphere more fun
Cons:
Working retail is physically taxing, you're expected to be on your feet for extremely long shifts, and might be running back and forth if it's a busy season.
The clientele who shop at Louis Vuitton spend large amounts of money and may take advantage of that fact by behaving in an entitled manner. This can be difficult and stressful especially if the customer is being unreasonable. This comes with any retail position when you're dealing with the public.
Retail demands long hours especially on the weekends when the boutiques are the busiest
How do you get a Job at Louis Vuitton?
You can apply to work for Louis Vuitton in multiple ways; you can do it the old-fashioned way where you walk into the store and drop off your resume – this method is good for creating a lasting impression. You can also apply through third-party websites like Indeed, and also through the Louis Vuitton website; There is a "careers" option at the bottom of the home page that will redirect you to the company's job openings page. You will need sales experience at a luxury company, without that it will be difficult to get an interview. Having a current clientele book is also an asset, as the company wants its staff to bring in customers.
When going for the interview, it's important to portray an image that's suited to the brand; class and elegance are what LV is known for, so you want to match that with your appearance. Hair should be tidy and neat, light makeup and an overall well-manicured appearance are expected. Of course, if you own any Louis Vuitton merchandise, be sure to wear it to the interview. Relatability and a proven sales record are also extremely important, being friendly and easy to talk to are assets. Having knowledge of the brand, its beginnings, and keeping up to date with it shows dedication and a genuine interest in the company, so brush up on LVs history in order to impress the interviewer.