If you're entering into the world of luxury and want to start with more affordable options, there are several styles to choose from that don't cost an arm and a leg. These 13 cheapest Louis Vuitton bags still make good investments and have great resale value, so even though they cost less you still get your money's worth. So what is the cheapest bag from Louis Vuitton? Keep reading to find out and discover the most affordable styles that Louis Vuitton has to offer.
13 Cheapest Bags From Louis Vuitton
These prices are correct as of March 2022. Louis Vuitton has regular price increases around 2-3 times a year. To follow price increases, we document all before and after prices of Louis Vuitton bags on the blog here.

Make sure you're subscribed to our email list, we'll always let you know when a new Chanel or Louis Vuitton price increase has happened.
Price: £920 / $. | Style code M69204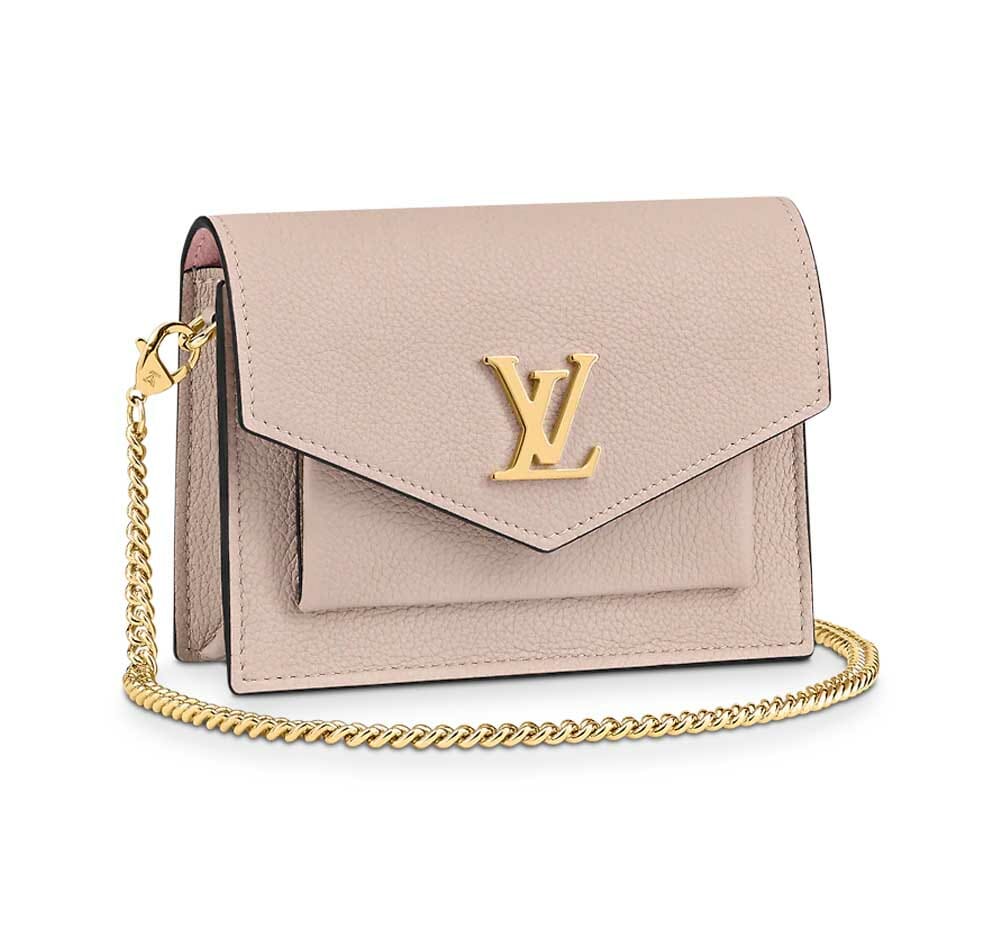 The Mylockme style comes in beautiful soft leather and is sleek and elegant. The chain strap is detachable and can be worn as a crossbody or clutch. The black leather with silver hardware is easy to style and makes a good option for everyday use. This is one of the smaller 'bags' / wallet-on-chain style bags available from the brand and would only be suitable for small items.
Price: £940 / $1350 | Style code M41346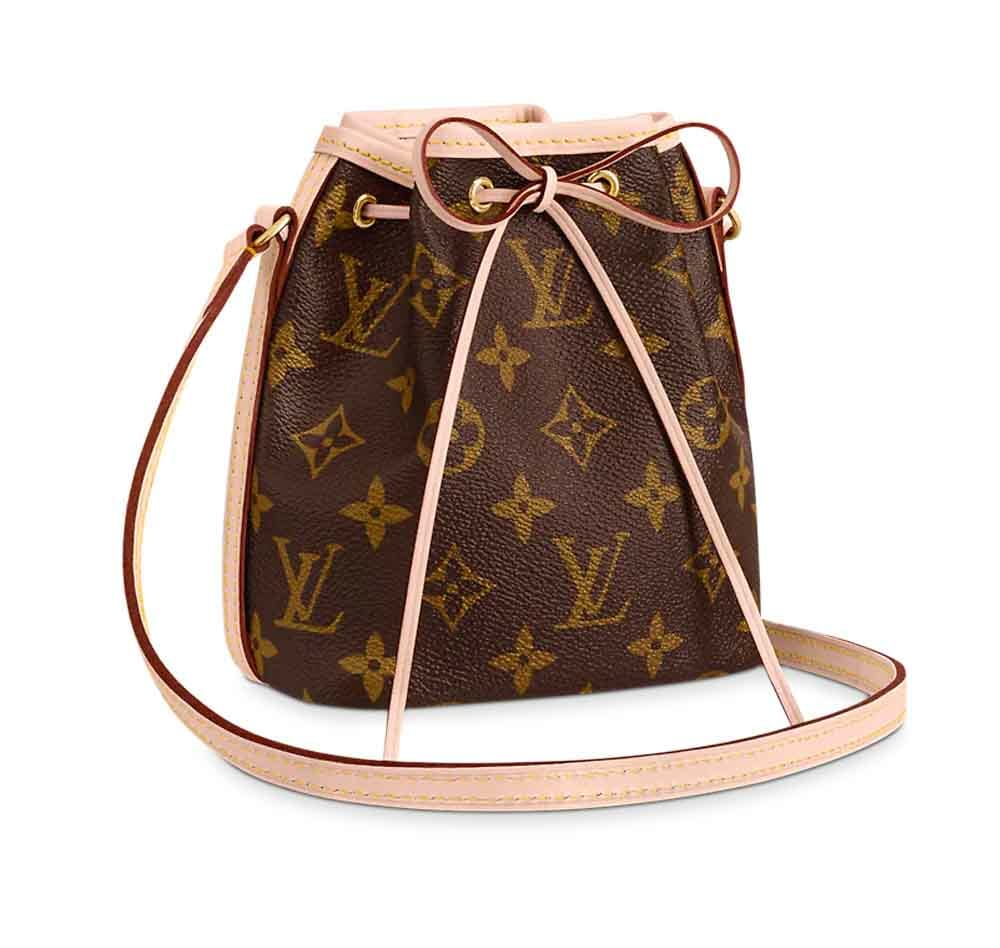 Similar to the Nano Speedy, the Nano Noe is the mini version of the popular Noe style. This cute bucket bag can hold your daily essentials and looks elegant and stylish.
Price: £985 / $1420 | Style code M69203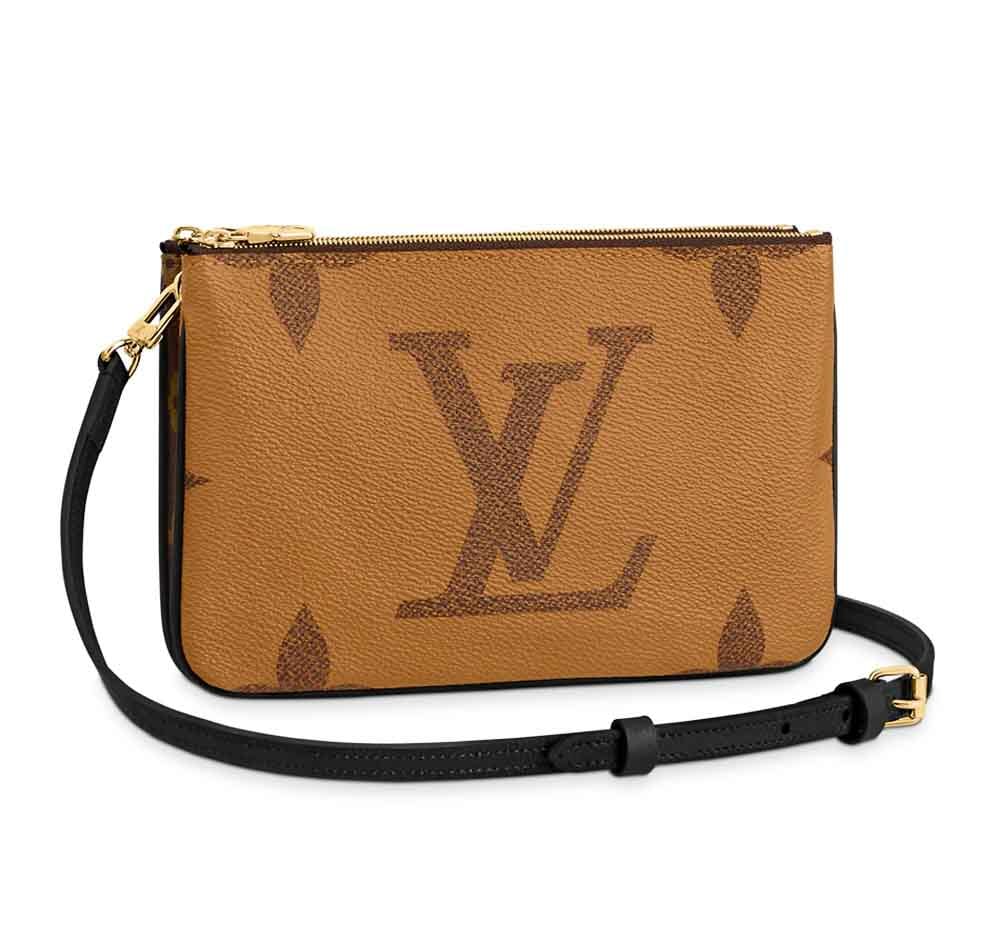 This Pochette Double Zip is similar to the Pochette Felicie; versatile and easy to wear. This style features an enlarged reverse monogram print on the front, and a classic monogram print on the back and can be worn either way to suit your mood or your outfit. The strap is detachable and can be worn as a crossbody or clutch.
Price: £1010 / $1530 | Style code M63926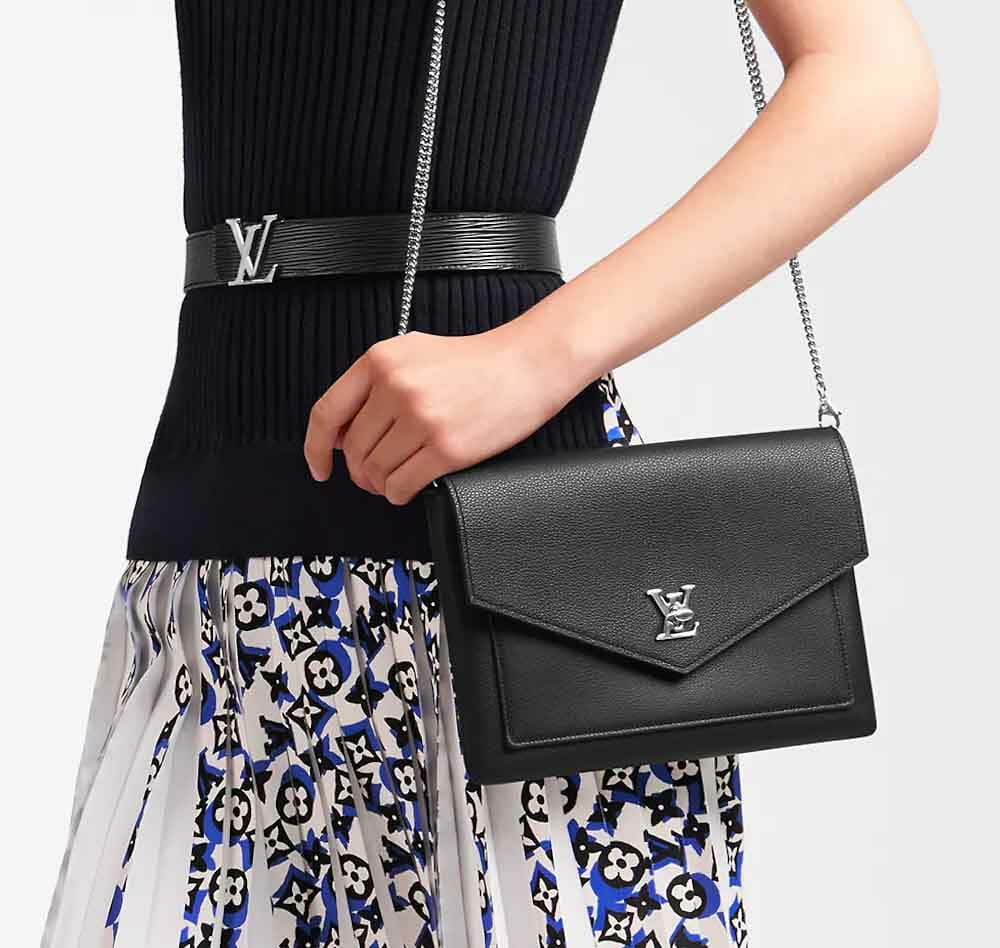 If you're looking for a more understated yet luxurious cheap bag from Louis Vuitton then the Lockme shoulder bag is a fantastic option. This bag is made from all leather and features the 'lock me' logo on the front – not too big but not too small. You can use this as a clutch, shoulder, or crossbody bag, making it a very versatile piece.
Price: £1030 / $1490 | Style code M61276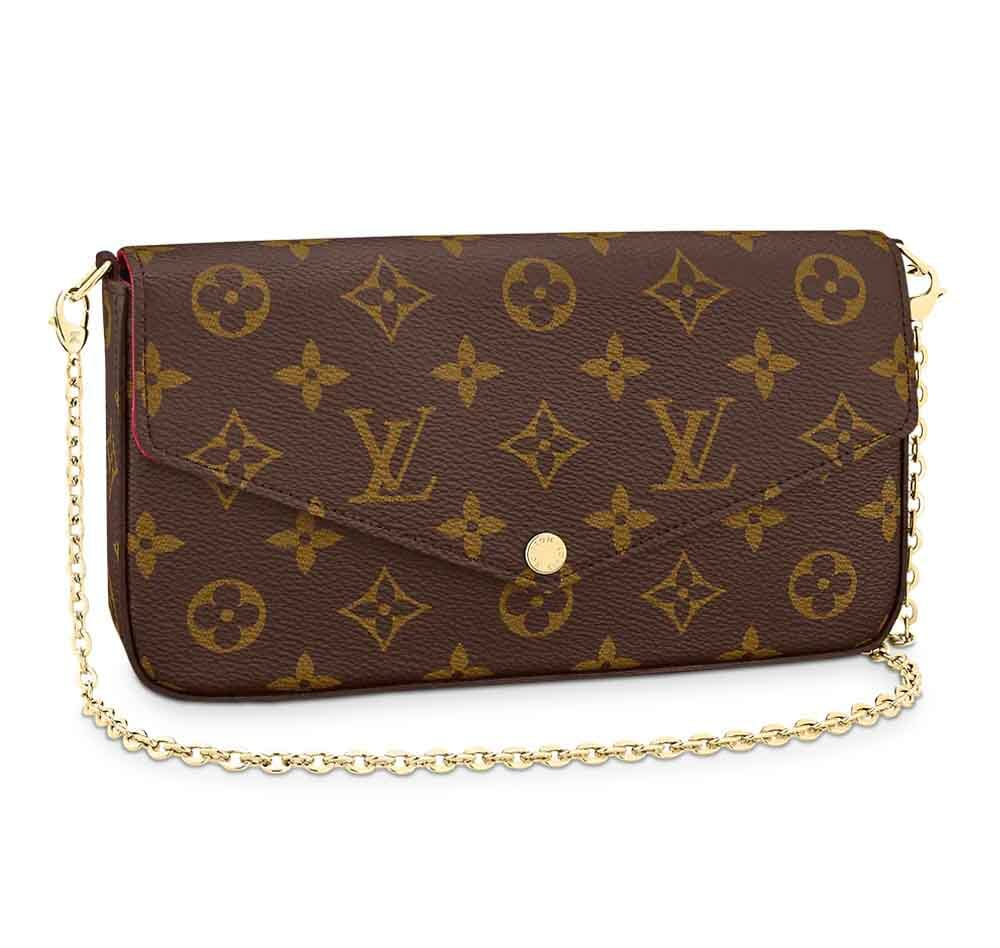 The Pochette Felicie pouch is sleek and versatile; It comes with a detachable chain strap so it can be worn as a crossbody or clutch. A style like this can easily go from daytime to evening and should fit most necessities like your smartphone, cardholder, and keys.
Price: £1030 / $1520. | Style code M69442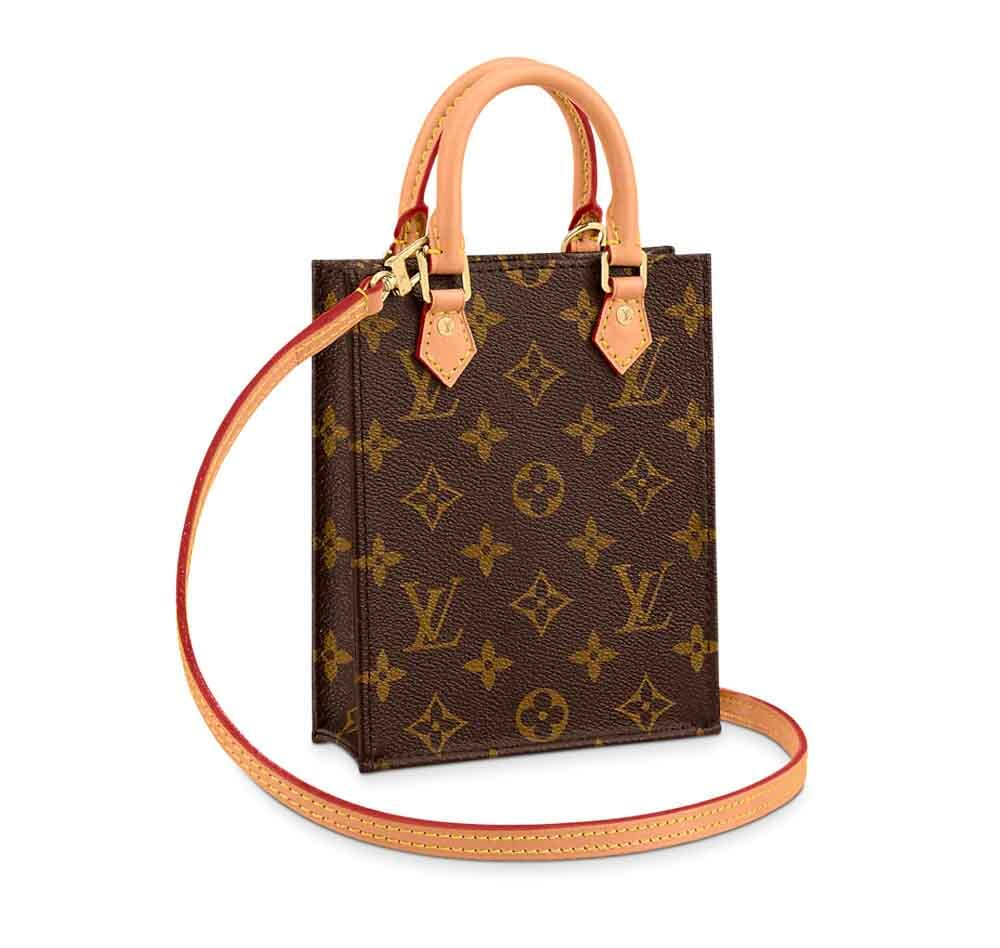 This is the mini version of the Sac Plat style, a chic tote that's roomy and easy to wear. A great everyday casual piece with a removable strap, this piece comes in monogram canvas and is roomy enough for everyday essentials.
Price: £1030 / $1490 | Style code M41109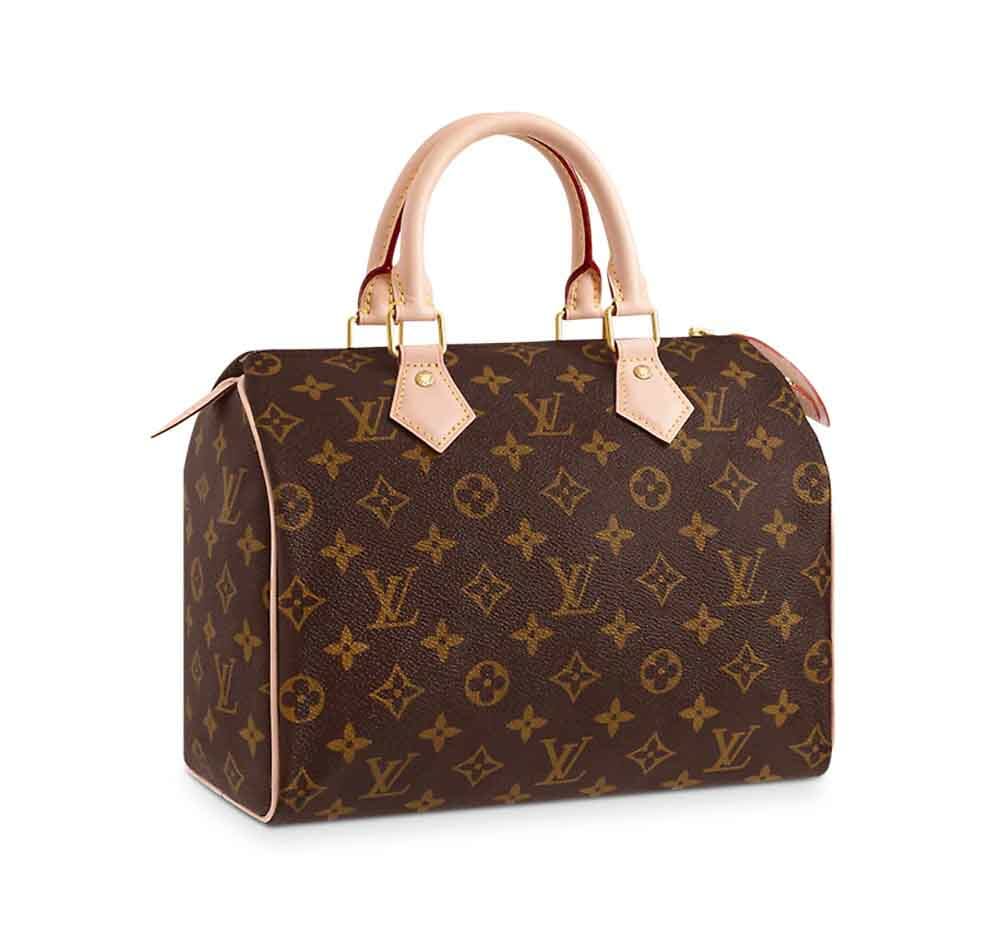 The Speedy 25 in Monogram canvas is a classic style and one of the most recognizable from Louis Vuitton. This style in monogram canvas is easy to care for and is a great option for everyday wear.
Price: £1080 / $1620 | Style code M81066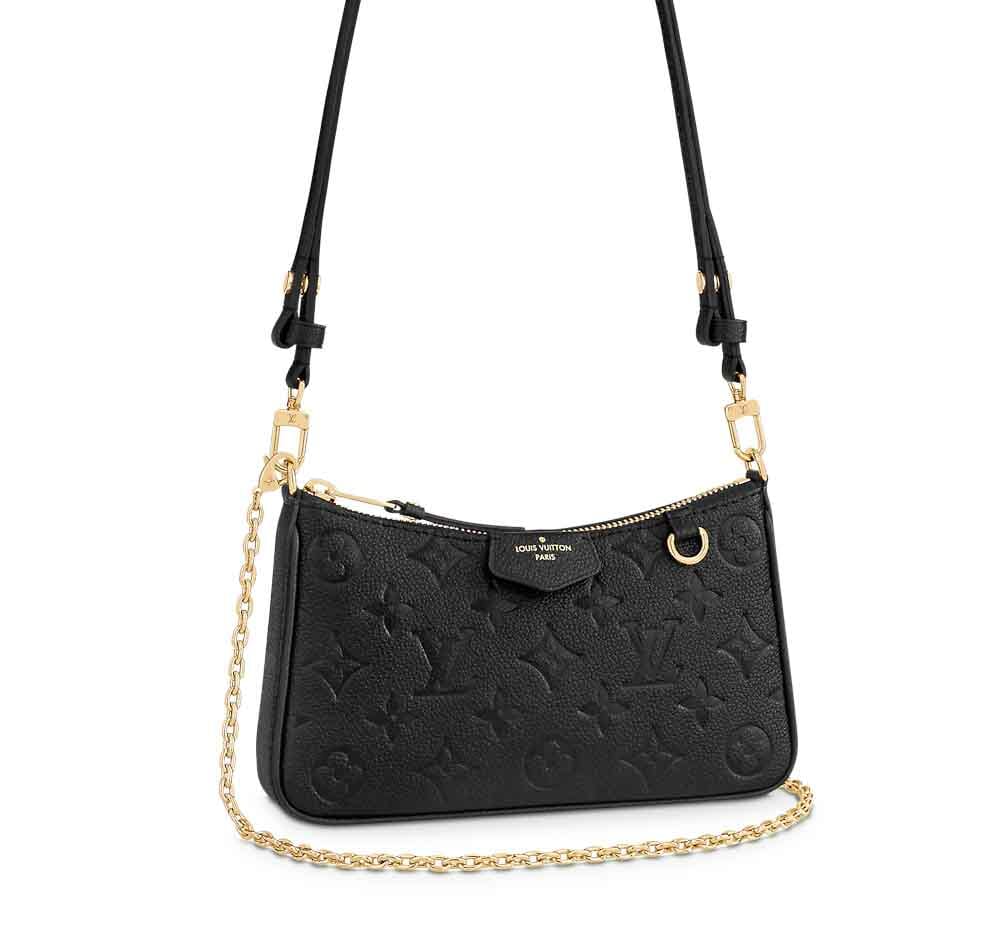 The Easy Pouch on Chain bag is a recently new addition to the range being introduced for spring 2022. If you're looking for a small shoulder bag that's simple yet features some extra 'bling' with a chain strap detail, this could be the bag for you. Considering this is made from Louis Vuitton's famous experience leather and not canvas, this is a great full-leather bag option that's on the cheaper side of Louis Vuitton's offering. The strap is adjustable and it can also be used as a crossbody bag, as well as the chain strap for an evening bag – this bag is winning all around!
Price: £1020 / $1620 | Style code M40817
The Noe BB was originally created by Louis Vuitton because a champagne producer propositioned him to create a bag that could hold 5 bottles of champagne in style. This classic bucket bag is still popular today and is a great option for everyday use. The interior is roomy enough to fit all your essentials and more, and the canvas is easy to care for.
Price: £1220 / $1350 | Style code M81085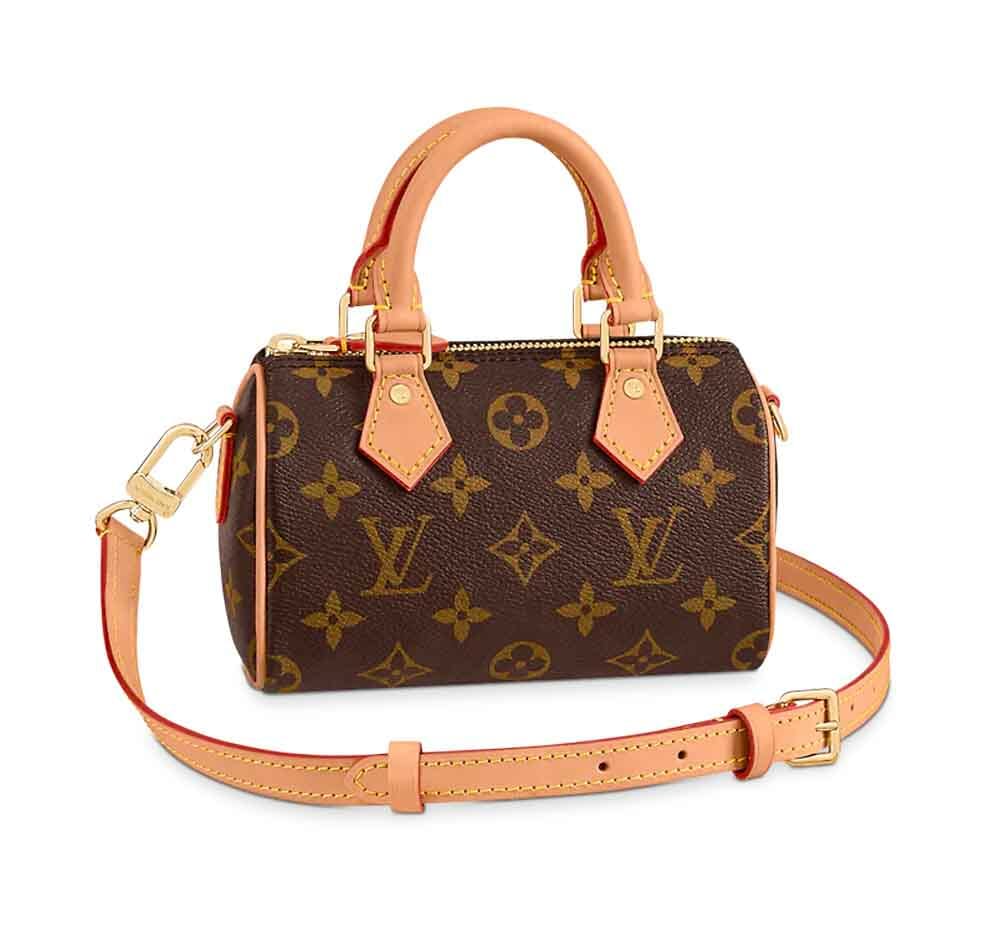 The mini version of the Speedy, the nano is compact and cute but surprisingly can still fit all your essentials. There's room for your smartphone, keys, and cardholder, and is a fun take on the classic version. Nano bags are also extremely popular right now and manage to maintain their resale value over time.
Price: £1220 / $1760 | Style code M43701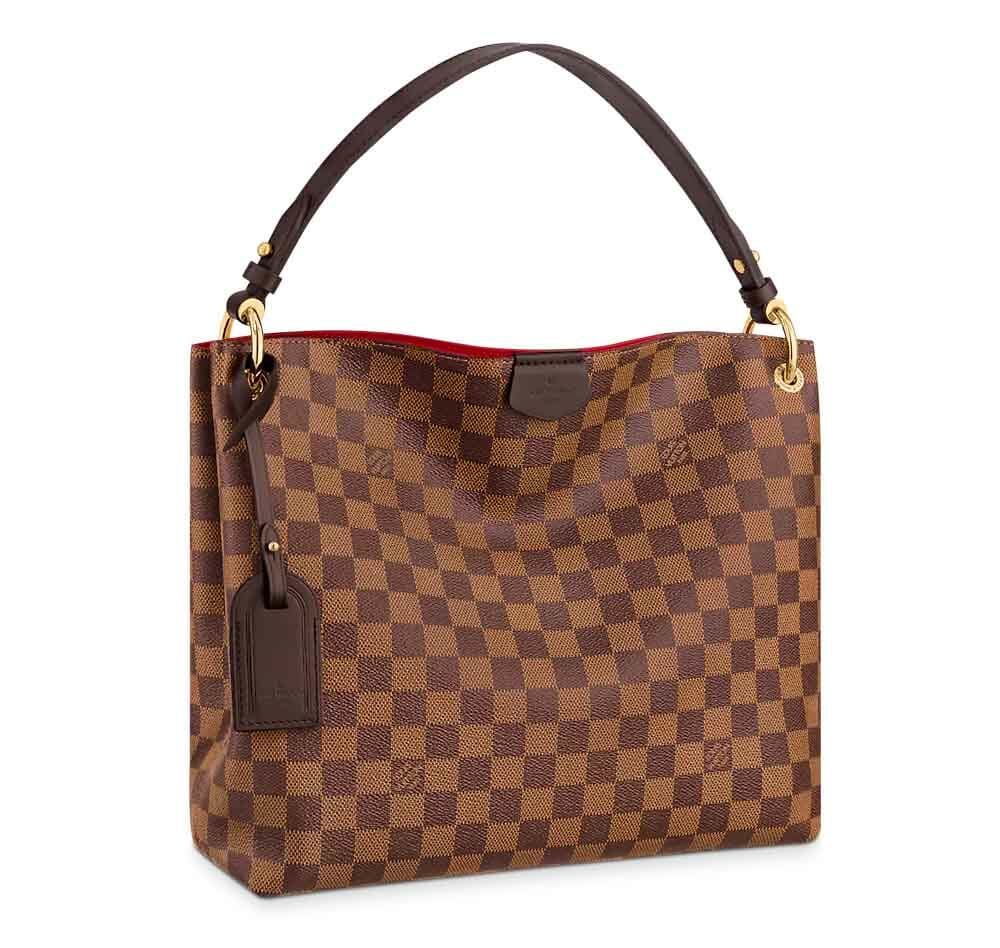 The Graceful PM is a hobo style that's perfect for someone who likes to wear larger bags. The ergonomic style makes it easy and comfortable to wear on the shoulder and is big enough to fit your essentials, a large wallet, a bottle of water, plus more. This makes for a great everyday bag.
Price: £1220 / $1760 | Style code M53152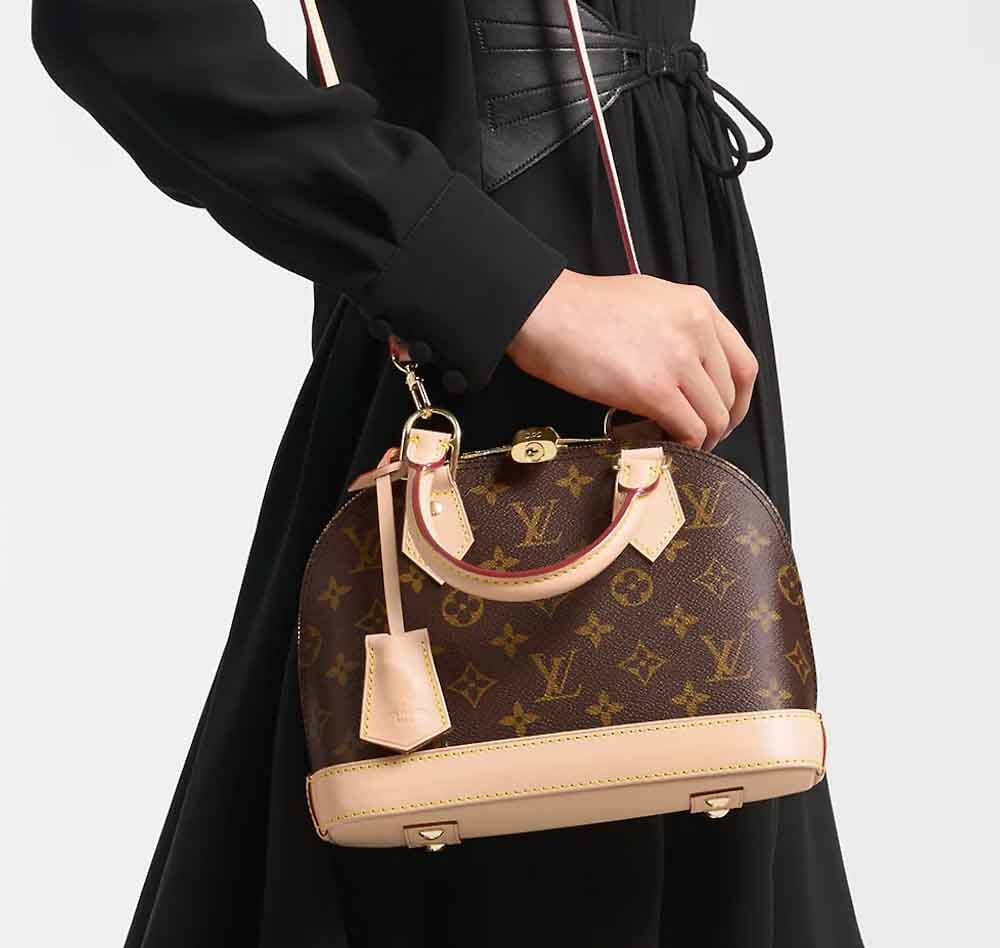 One of the most popular bags from Louis Vuitton due to its different style and shape is the LV Alma BB bag. This is my personal favorite size of the Alma bag from LV, since its proportions make it cute and this is the only size to come with an essential cross-body strap. This isn't the most user-friendly bag from LV, as this bag can be tricky to get into if in a rush, but it's good lucks to make many see beyond that.
Price: £1360 / $1960 | Style code M41245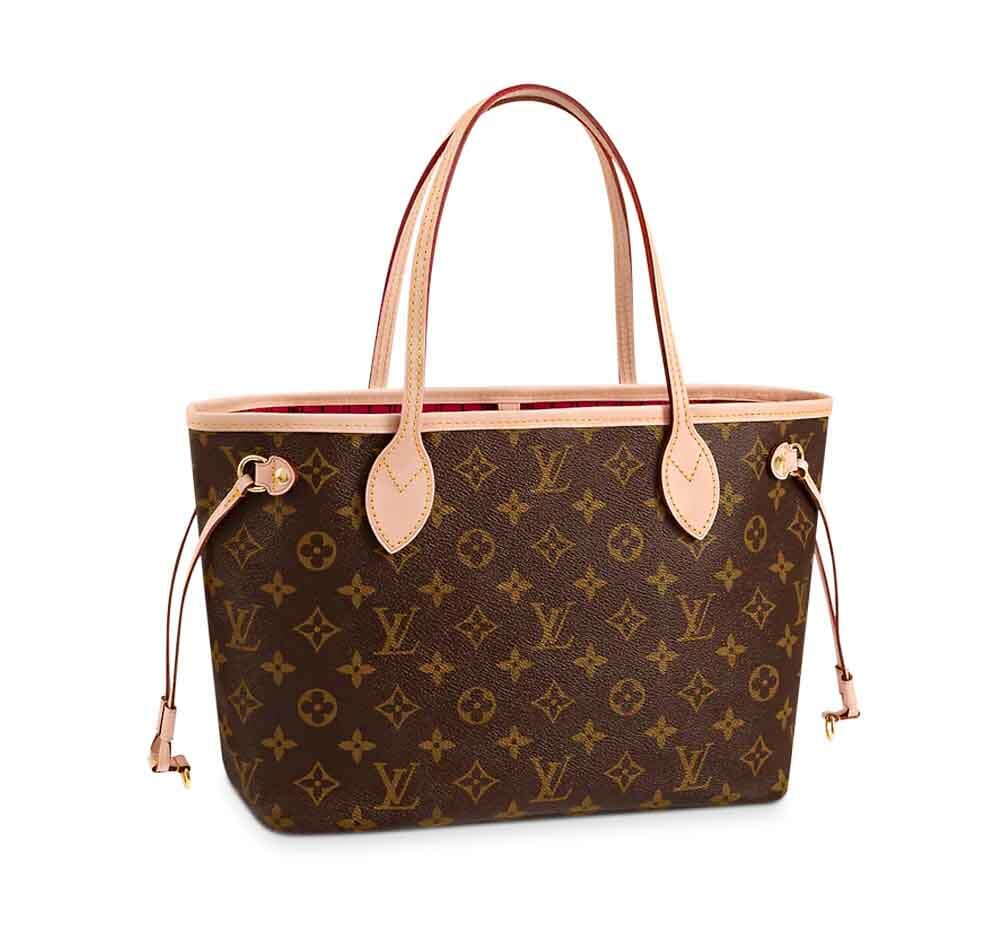 This is confirmed to be THE most popular bag from Louis Vuitton, the famous Neverfull tote bag. Available in three sizes the smallest size, the PM is the cheapest. However, we advise anyone investing this much to make the small jump to the MM size which is a fantastic tote bag that can hold everything including a laptop. You can't go wrong if you love an easy-to-use tote bag with the LV neverfull.
What Is The Cheapest Bag From Louis Vuitton?
You might be wondering what is the least expensive Louis Vuitton bag? Currently, the least expensive LV bag is the Pochette Accessoires in Monogram canvas, retailing at £755. This small shoulder bag comes with a detachable chain strap and can be used for daytime or evening wear. This style comes in several other materials and prints at a range of different price points.
What is the cheapest Louis Vuitton tote bag?
The cheapest Louis Vuitton tote bag is the Neverfull PM, retailing at £1,360. This style comes in 3 canvas choices; Monogram, Damier Ebene, and Damier Azure canvases, and includes a removable pouch that can be used as a clutch or makeup bag.

There are several other colorways and materials for this style that vary in price; the leather version for example costs £1,650. Similarly, there are other sizes such as the MM and GM which are a bit more expensive. This style is extremely versatile and one of the most popular from LV, although you may have a difficult time getting a hold of it because it constantly sells out online and in-store.
What is the Cheapest Louis Vuitton Backpack?
The Tiny Backpack is the cheapest backpack that Louis Vuitton offers at £1,360 / $1960. It has detachable straps so it can be worn in different ways and it's just big enough for your daily essentials. The pocket on the back of the bag is great for securing valuables and quick access.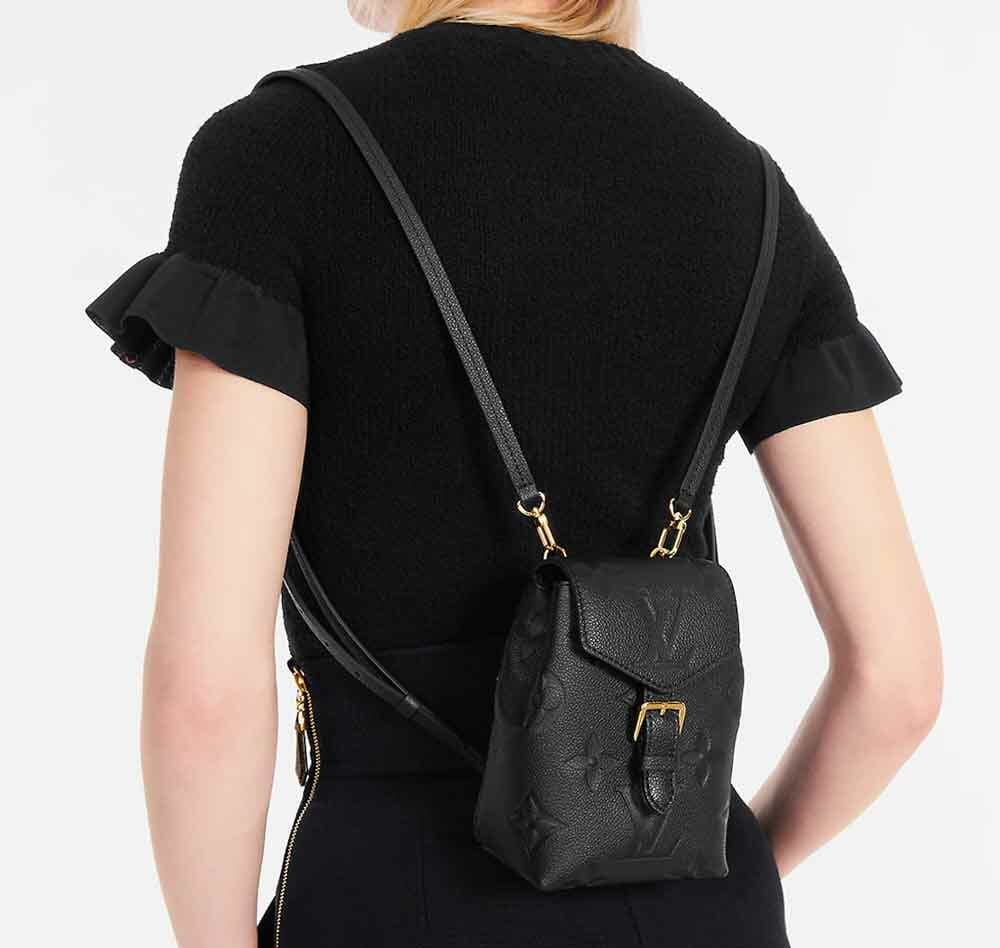 What is the cheapest country to buy a Louis Vuitton bag?
The cheapest country to buy Louis Vuitton products is where the headquarters are; Paris, France. This is because the company doesn't have to pay import duties and taxes on their goods, and their products will generally be cheaper throughout Europe compared to North America and other regions. What better way to commemorate a trip to Europe than to purchase a luxury item while you're there?
What is the cheapest item in Louis Vuitton?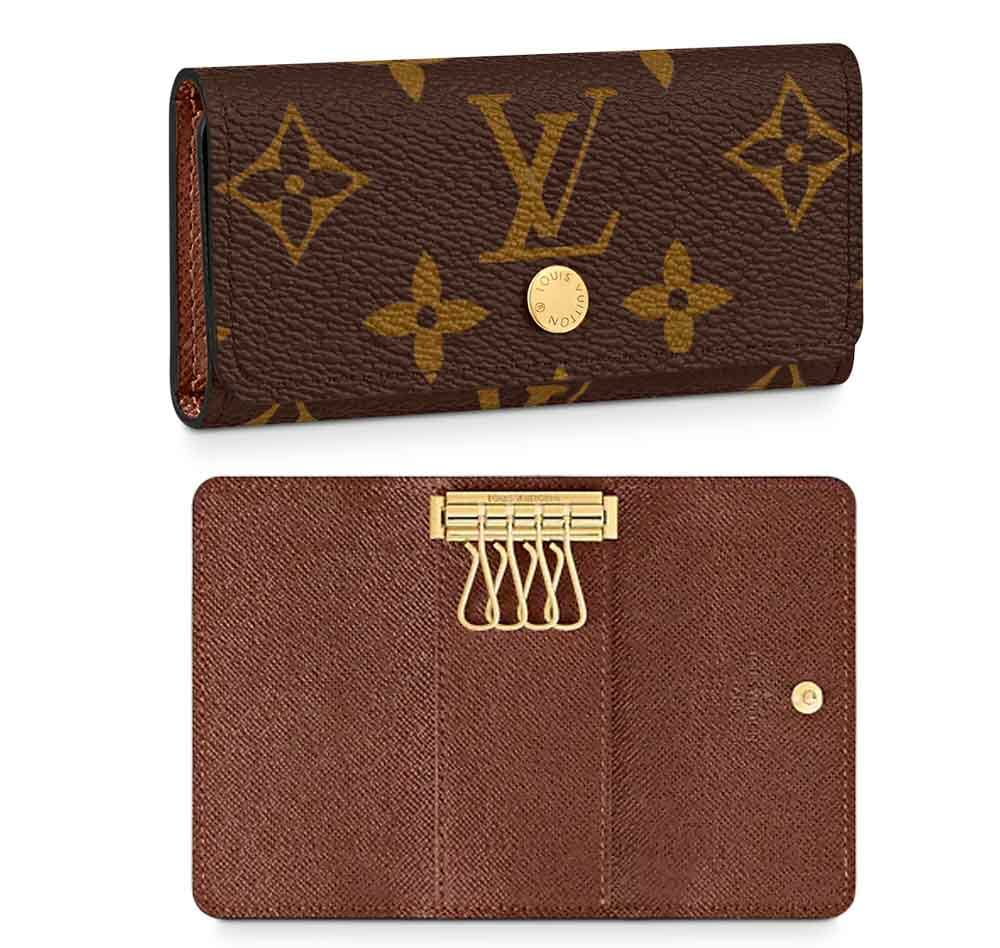 The cheapest item from Louis Vuitton is the 4 key holder, retailing at £180. It's a stylish way to keep your keys organized and easy to find in your purse. Other less expensive items are their silk scarves retailing from £160 upwards, and accessories like fashion jewelry will be on the cheaper side of the price range.