What to Gift a Rich Woman
Are you looking for the perfect gift for a rich woman who already has everything, without breaking the bank? You're in the right place…
In this blog, we'll be taking a look at some amazing gifts to give to a rich woman. Whether this rich woman is your mum, mother in law, friend, colleague, or girlfriend, we've covered some gift ideas for rich women that cater to all budgets.
Buying a gift for a woman who has everything can be hard, as she's most likely purchased everything she wants already. Start by putting some thought into the rich woman you are purchasing for, what does she like? If she values experiences and time with someone, consider a gift experience. If she likes to enjoy a celebratory drink, why not indulge her with a luxury champagne drink set.
What Not to Buy a Rich Woman
Because a rich woman is capable of purchasing the goods she desires, such as clothing, it's best to leave this shopping to her. Unless there is a specific item she has specified that she likes, buying a personal item such as clothing might not be the best way to go.
We advise buying a more generic, luxury gift for this rich woman.
All of the gift ideas below for a rich woman feature gifts at many different price points, so you don't need to over-spend to give her a gift she'll love.
The Best Gifts for a Woman who has Everything
Gift Experiences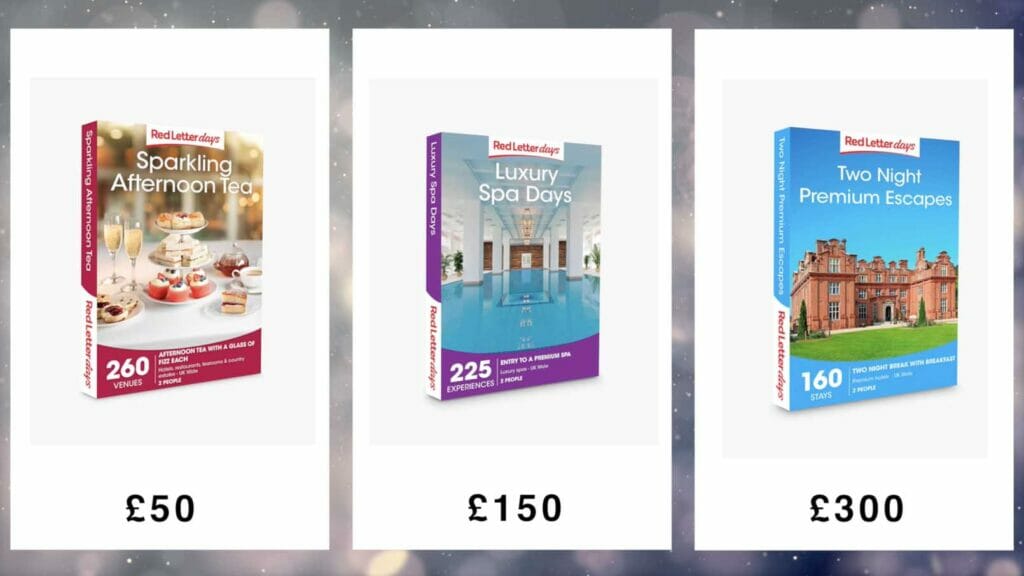 One of our favourite gifts for a rich woman is simply the gift of an experience. These gifts can reach far and wide and focus more on spending time with friends and family, as opposed to a material gift.
This gift idea, however, does require more thought. After all, no one wants a gift experience they aren't going to enjoy. Some luxury experience gift ideas for a wealthy woman include:
A luxury spa day
Afternoon tea at a restaurant
A night or weekend away at a luxury hotel
An escape room experience (if she likes interactive games)
Buy an experience via Red Letter Days here.
Champagne / Luxury Drinks Gifts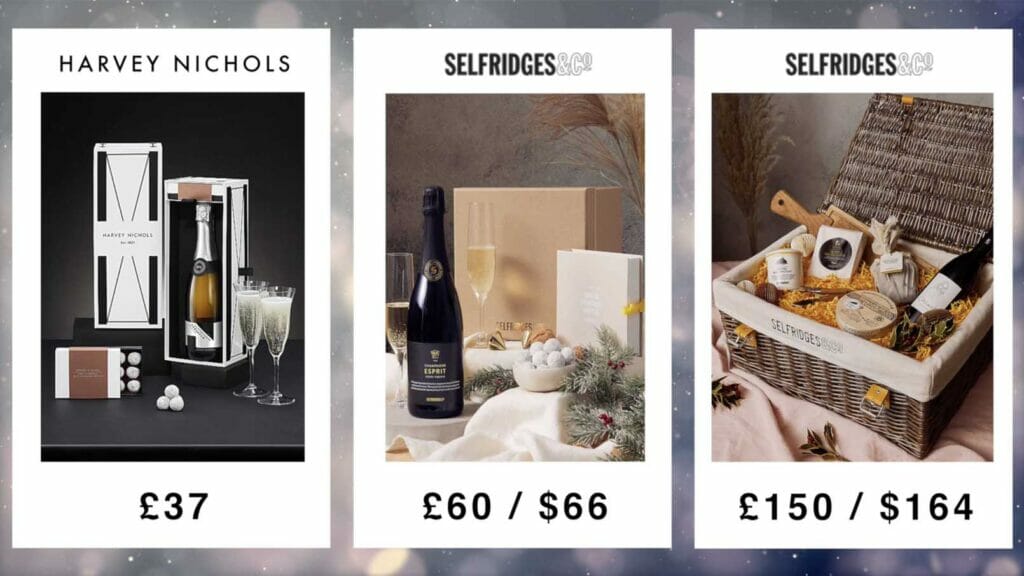 A simple yet luxury drinks gift can be a great gift idea for a rich woman. It's important to make sure that this woman does in-fact enjoy champagne, or alternative drink before purchasing the gift. If the rich woman you're purchasing for doesn't drink alcohol, you could seek tea or coffee alternatives if she does drink these.
Here are some of our top picks for champagne and luxury drink gift ideas:
For a simple, luxury gift for a rich woman, this Prosecco gift set from Harvey Nichols is perfect. This would be a great gift for a rich friend or colleague that you may not know too well.
We love the simplicity of this champagne and chocolate gift box set from Selfridges. The box is modern and features the brand's signature bright yellow color ribbon.
Indulge the rich woman you're buying a gift for with a more substantial gift hamper. This cheese and wine selection from Selfridges is sophisticated and perfect for cheese and wine lovers. They also have a large selection of luxury hampers for different alternatives.
Luxury Gift Hampers
One of our favourite gift ideas for a rich woman is a luxury gift hamper. Why? Because someone has already thought of everything for you! Simply find a hamper within your budget and ensure the contents are something the person receiving the gift likes… and you're done!
Gift hampers also come in a wide variety of shapes and sizes, including food hampers, drinks hampers, fragrance hampers, and even beauty hampers.
As we said, there's a luxury hamper for everyone! We love this vegan hamper from Selfridges for all those rich women who are vegan or want to try new foods and meat alternatives.
If the woman you're purchasing for likes making her home smell incredible, then the White Company Seychelles hamper could be the perfect gift. Featuring a reed diffuser to use around the house, as well as a bottle of perfume, this hamper is a gift any rich woman would be happy to receive.
This luxury hamper from Harrods is certain to light up someone's day. This hamper features a vast array of sweet treats, tea, and savory snacks. Harrods also has a much wider range of luxury hampers to choose from.
Fragrances and Candle Gifts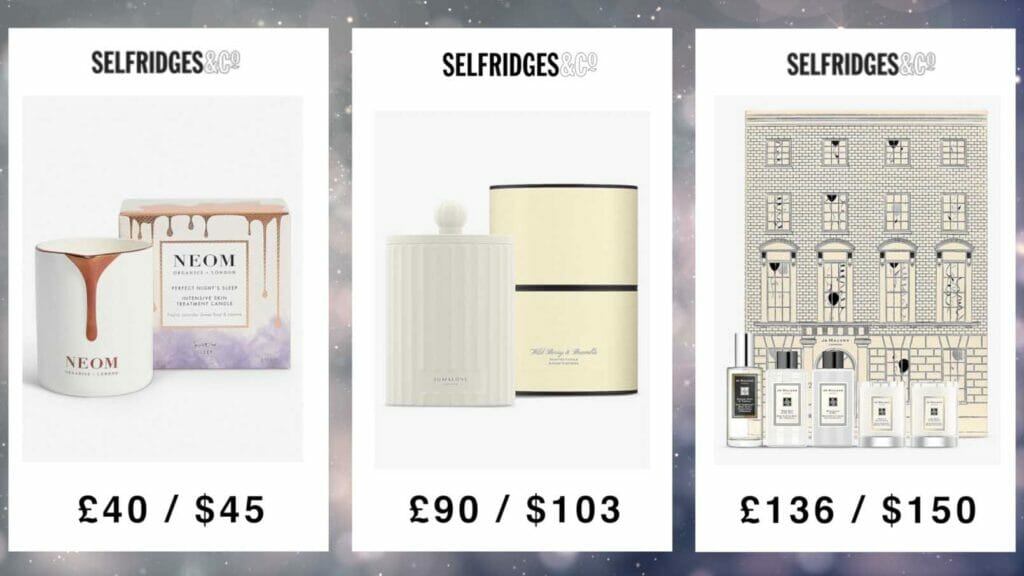 For the rich woman who loves a beautiful fragrance in her home, a NEOM candle is a great gift. These candles smell incredible and different sizes of candles cater to different budgets.
Jo Malone candles and scents are arguably some of the most popular in the world. The luxurious, yet simple packaging of a Jo Malone candle makes them fantastic gifts. Opt for 'best sellers' for the most popular scents.
Finally, if your budget can be stretched then a Jo Malone gift set is the ultimate fragrance gift! This stunning gift set is impeccably packaged and would be a rich woman's dream gift.
Flower Gifts for Her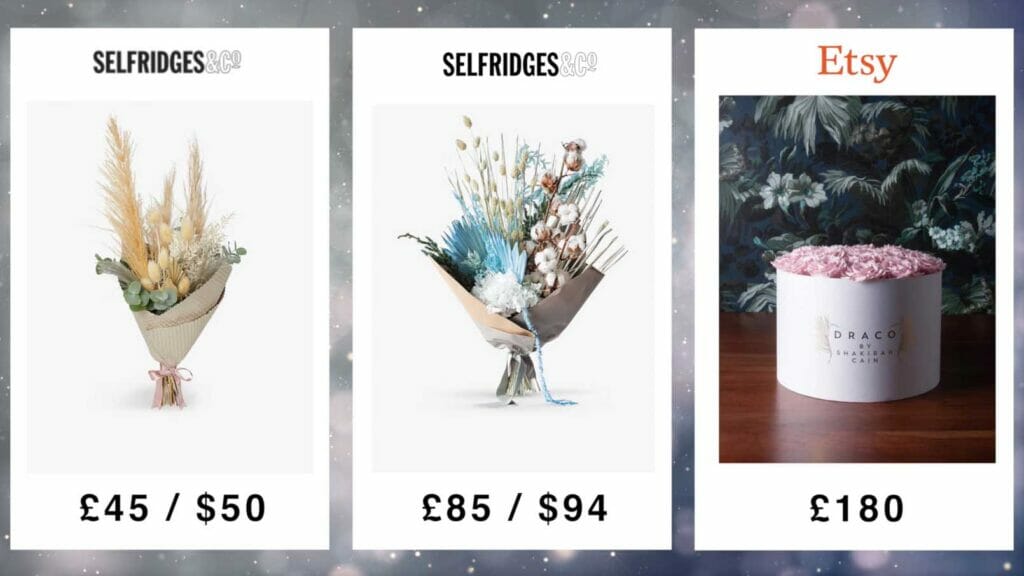 Why not buy her some flowers that'll stand the test of time. Rather than fresh flowers, dried flower alternatives not only look incredible but will last for many months, up to a year. Shop the amazing range of dried flowers at retailer Selfridges.
Why not give the gift of year long roses. This stunning large hatbox of roses is the perfect coffee table or dressing room decor. Pick your style of roses and size of hat box for the perfect combination.
The best retailers to buy gifts for rich women
If you're looking for more specific gift ideas of actual products, then check out the best luxury gifts for her under £300 / $300 here.
If you want to browse a wider range of gifts to surprise and delight the rich woman that you know, see our top selected retailers below: